---
AUSTRALIAN COUNTRY MUSIC NEWS ARCHIVE – OCTOBER 2016
---
THURSDAY, OCTOBER 20, 2016
From Crooked Mountain to Tamworth
The Pigs are on tour this Spring/Summer trekking from the Crooked Mountain Concert in the Warrumbungles to the annual Tamworth Country Music Festival.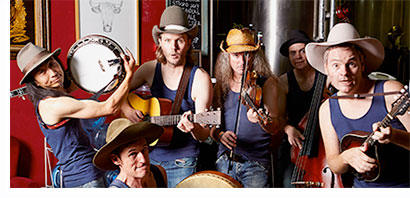 Stops on the way (if you can work it out!) include Ballarat, Bathurst, Canberra, the Gold Coast, Katoomba, Melbourne, Narooma, Orange, Shellharbour, St Arnaud and more Queensland dates to be announced.
Billed as "the misunderstood family band that play hillbilly pop and all things good" The Pigs have an impressive history spanning four albums, one EP, Golden Guitar Nominations, world tours and sore feet.
The band is known for its dynamic and entertaining live performances.
T-Bone, Stretch, Cousin Shamus, Cousin Montz and Cousin Bert are performing crowd-favourite tunes from 12 Years on the road on their way to Tamworth with double bass, acoustic guitars, mandolin, stand up drums, banjo and big bluegrass vocal harmonies.
Weblink – thepigs.com.au.
---
MONDAY, OCTOBER 17, 2016
Dixie Chicks return to Australia
Superstar country trio the Dixie Chicks will return to Australia in March next year for their first shows in more than 10 years.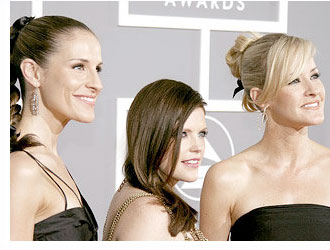 The trio is set to play a mini-tour of six concerts in Brisbane, Melbourne, Perth and Sydney plus a headline performance at the 2017 CMC Rocks Qld event.
The Dixie Chicks have 13 Grammy Awards to their credit, six Billboard Music Awards, four American Music Awards and countless Country Music Association Awards. They are a multi-platinum selling act across Australia, Europe and North America and one of only a handful of acts to have ever achieved "diamond" status in record sales surpassing the 10 million mark.
Since 1990, the trio has released seven studio albums, three live albums and a string of live DVDs.
Weblink – www.dixiechicks.com.
CMC Rocks line-up
CMC Rocks, meanwhile, have announced the full artist line-up for the 10th anniversary event.
The bill will include local stars Brothers3, Doug Bruce & The Tailgaters, Imogen Clark, Deep Creek Road, Morgan Evans, Col Finley, Adam Harvey, Kaylens Rain, Lee Kernaghan, Christie Lamb, New Zealand's Kayla Mahon, The McClymonts, Mustered Courage, Jasmine Rae, Caitlyn Shadbolt, the Viper Creek Band and The Wolfe Brothers.
In addition to the headlining Dixie Chicks, overseas acts will include Drew Baldridge, Craig Campbell, Charles Esten, Tyler Farr, Little Big Town, Kip Moore, Eric Paslay, Michael Ray, The Shires, Granger Smith and Ward Thomas.
CMC Rocks Qld 2017 will be staged Friday, Saturday and Sunday, March 24 to 27 at Willowbank, Ipswich.
---
WEDNESDAY, OCTOBER 12, 2016
New from Seleen
Seleen McAlister, winner of this year's Female Vocal honour at the Southern Stars, has released her second studio album, Follow The Journey.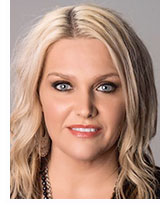 Produced by Simon Johnson and Drew McAlister, the new work caps off a hectic but successful time for Seleen who just a little over six months ago was involved in a serious car accident while touring far north Queensland and just one month ago was struck down with a life threatening infection that nearly took her leg and almost her life.
Seleen's appearances at the Mildura Country Music Festival were her first and she is looking forward to returning again in coming years.
"Mildura is a wonderful festival," she said, "bringing together the most diverse range of independent country music performers in Australia... it was an honour to perform and to win (the Female Vocal) award."
Seleen has just signed a two year sponsorship vehicle deal with Toyota and an endorsement with Australian guitar manufacturer Cole Clark as well as Australian Jewellery company Locketinn.
With a Golden Guitar kicking off 2016 and now a win at the Southern Stars, Seleen is all ready to Follow The Journey to what lies ahead.
Weblink – www.facebook.com/seleenmcalister.
---
MONDAY, OCTOBER 10, 2016
ABC signs Craig
Craig Heath is the newest artist to be signed to the ABC/Universal Music label with his first single, How Do You Do It now released and available on iTunes.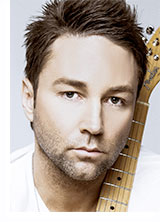 Craig's debut album Let It Ride is set for release early next year.
The single is backed by a video clip directed by Anthony Rose, who has been responsible for videos by Delta Goodrem and Shannon Noll to name a few.
Craig is a Melbourne based singer/songwriter who is a newcomer to the country music scene. Up until now his career has been spent playing in rock bands around Melbourne including recording with his own band Velvet City.
"I just gravitate toward that Nashville style of music," Craig said. "It's about the lyric telling a story from the get go and creating a musical journey for people to connect to. I love the new era of country music and artists like Keith Urban and Jason Aldean who get out there and deliver great shows.
"I am thrilled to be signed to ABC/Universal," he said, "and I am so excited about taking these songs out and playing live again. I feel like I have finally found my musical home with this album and I am so comfortable writing and performing country music – it is where I belong."
Stephen White Management, known for managing artists like Lee Kernaghan and The Wolfe Brothers has signed Craig with Steve himself saying: "I heard Craig's songs and I signed him immediately. He has a very commercial sound with great songs and I think he will be an important part of the growth of country music in Australia."

Weblink – www.facebook.com/craigheathofficial.
---
FRIDAY, OCTOBER 7, 2016
New album from Jody
Jody Direen is set to release a new album – Shake Up – in early November.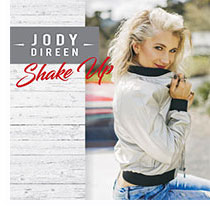 The first single from the album, Gimme The Beat, is out now.
Described as "a new sound for Jody" Shake Up will be "filled with anthems and big beats that have been influenced by '80s and '90s rock, combined with popular club synths, banjo, steel and massive country guitars" according to a spokesman for the artist..

Jody is currently touring with The Wolfe Brothers on their "This Crazy Life" tour alongsidee Caitlyn Shadbolt and Canadian star Australian-born Gord Bamford.
"The new single serves as the perfect entree to set the tone for the album," the spokesman said.
"Gimme The Beat is all about the party," Jody said. "All about stomping your feet. The song is a celebration of music and how it makes people feel."
For the album, Jody worked alongside award winning producer Stuart Stuart, who has previously been a key player in launching the sounds of The Veronicas and Sheppard.
"Stuart and Jody worked to tell a story for Shake Up from experiences with life, love and Jody's passion for music," the spokesman said. "Influences from many genres can be heard through Jody's powerful vocals as she stays true to her country roots.
Already the winner of a number of awards, including the 2015 Country Music Association of New Zealand Female Artist of the Year Award, Jody has also seen nominations for CMC Awards and has had top 10 hits in Australia and New Zealand.

Weblink – www.jodydireen.com.
---
WEDNESDAY, OCTOBER 5, 2016
ARIA finalists
The 2016 ARIA (Australian Recording Industry Association Awards) will be announced in Sydney on Wednesday, November 23.
Finalists for Best Country Album are the "self-titled" Adam Brand & The Outlaws, Cold Trail by Bill Chambers, Silos by Sara Storer, Small Town Big Shot by Fanny Lumsden and This Crazy Life by The Wolfe Brothers.
Keith Urban's The Fighter (featuring Carrie Underwood) is a finalist for the fan-voted Song of the Year award.
Weblink – www.ariaawards.com.au.
---
TUESDAY, OCTOBER 4, 2016
Tamworth Festival shows on sale
Tickets have gone on sale for a number of major shows for during the 2017 Tamworth Country Music Festival.
The Bushwackers, Carter & Carter, Tom Maxwell, Aleyce Simmonds, Felicity Urquhart and John Williamson are the latest to announce shows during Tamworth 2017. They join those already announced for Troy Cassar-Daley, Lee Kernaghan and The McClymonts.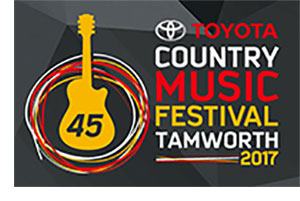 Festival Manager Barry Harley said: "The Toyota Country Music Festival is a celebration of Australian talent. Some of Australia's biggest country music stars launched their careers right here in Tamworth and we are really proud that the Festival continues to nurture the talent we have in this country."
The 2017 Festival will feature over 700 artists in 2,800 events across 120 venues in the city and surrounds and Barry says his plan is to promote as much Australian talent as he can.
"Visitors to the Festival always tell us that their favourite part is seeing Aussie talent and the array of emerging artists busking in Peel Street. That's why we try to maintain a 'home-grown' approach as much as we can."
He doesn't write off overseas acts though and says it is likely the Americana concert in Toyota Park will have such a flavour as will other shows planned during the 2017 Festival.
"We love having international artists performing here in Tamworth. It's a great way to give fans a taste of country music from around the world, and also showcase the Country Music Capital of Australia to the visiting artists," Barry said.
The 2017 Toyota Country Music Festival is expecting more than 50,000 to attend the 10 day-long event in January. The Festival kicks off on Friday January 20.
Weblink – www.tcmf.com.au.
---
SUNDAY, OCTOBER 2, 2016
Mildura winners
Allan Caswell is the big winner from this year's Australian Independent Country Music Awards announced in Mildura last night.
Allan swept the pool of awards taking home five trophies including the prestigious Independent Artist of the Year title.
His swag included Male Vocalist of the Year with Until The Hurtin' Starts, Single of the Year with Shelley's Song, Album of the Year for My Version Of The Truth and Heritage Track of the Year with One Last Muster.
Allan was also key to the win by Seleen McAlister of Female Vocalist of the Year as she took the prize with her version of the Caswell-penned On The Inside.
Group/Duo of the Year went to The Long And Short Of It with their song Two Thousand Years From Now.
Rising Star Female went to Hayley Jensen with The One while Ben Ransom was awarded Rising Star Male with Country Sky.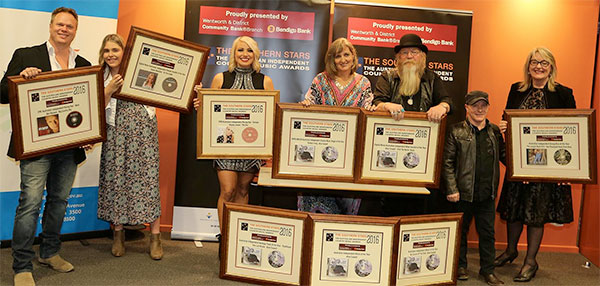 Photo: the 2016 winners (from left): Ben Ransom, Hayley Jensen, Aleyce Simmonds, Seleen McAlister, Allan Caswell and Patsy and Dave, The Long And Short Of It.
Weblink – www.milduracountrymusic.com.au.