---
FRIDAY, OCTOBER 30, 2015
Gidgee Coal Bush Ballad winners
Winners of this year's Gidgee Coal Bush Ballad Awards are...
Album of the Year... Take Me Back by Bruce Lavender; runners-up The Pride Of Australia by Tom McIvor and Murrumbidgee Mud by John Smith.
Female Vocalist of the Year... Kylie Castle with The Friend I've Never Met; runners-up Sharon Heaslip with The Drought and Rachel Jillett with Blue Gums Calling Me Back Home.
Male Vocalist of the Year...Terry Bennetts with Fitzroy River; runners-up Bruce Lavender with Take Me Back In A Song and John Smith with Old Axe Man.
Group/Duo/Collaboration... The Gunbarrel Highwaymen with Do It All Over Again; runners-up Sharon Heaslip & Keith Jamieson with Further Out and
Ged & Trudy Hintz with Looks Like The Drought Has Broken.
Songwriting... Tom McIvor with Tent Show Fighters; runners-up Terry Bennetts & Keith Lethbridge with Fitzroy River and Bruce Lavender with Our Bushmen Of Yesterday.
Instrumental... Terry Bennetts with Gnangara Sunset; runners-up Ray Pratley with Rabbit Flats and Peter Salata with Saddle The Wind.
Comedy/Novelty... Tom McIvor with Vegemite On Toast; runners-up Bruce Lavender with Santa Claus Is A Cowboy and John Smith with Mailman's Mate.
Legend Awards went to Rick Carey and Norma O'Hara Murphy, New Talent to Garth Brand and an Encouragement award to Rachel Jillett.
A special Award of Appreciation was presented to Keith Jamieson and Alisha Smith from John and Margaret Staunton, Ros Scotney and Friends of the Gidgee Coal Awards.
---
MONDAY, OCTOBER 19, 2015
CCMA's 50th
January 2016 will be a momentous month for the Capital Country Music Association (CCMA).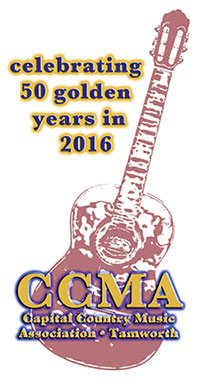 In it's 51st year, the CCMA will be staging its 50th National Talent Quest & Jamboree, a significant achievement for any organisation (even America's CMA Awards won't stage their 50th event until the following year).
The Capital Country Music Association formed initially as a branch of the Modern Country Music Association (MCMA) in October 1964. The MCMA had a number of branches in Queensland and NSW.
The CCMA name and structure was adopted in 1969 but the Association had run its first Talent Quest & Jamboree in June the previous year.
"But if it only started in 1968, that doesn't add up to 50," we hear you say! The thing is, in 1969, two Jamborees were staged, one in January and another in June.
So January 2016 will be the 50th CCMA National Talent Quest & Jamboree, and to celebrate the occasion, a special commemorative Jamboree Concert is being planned for Saturday January 23 on the main weekend of the Tamworth Country Music Festival.
The National Talent Quest will run for two days as usual on Thursday and Friday January 21 and 22 with a winner's concert to be staged on the Friday night.
On the Saturday afternoon, the special Jamboree will feature the male and female talent quest winners plus a multitude of previous winners who have come through the National Talent Quest over the previous 49 years.
The CCMA is joining with Tamworth Regional Council and Country Music Capital News to stage the special event in recognition of the significant role the CCMA has played in the development of the annual Tamworth Festival over the years.
In January 1973, the first Australasian Country Music Awards were staged which, together with the National Talent Quest & Jamboree, saw the official commencement of the Tamworth Country Music Festival as we know it today (a festival is defined as an activity featuring two or more events).
Invitations are currently being compiled to go out to previous winners of the National Talent Quest to develop a roster of artists for the commemorative Jamboree Concert.
The CCMA is also seeking information from some of the years where details of winners may not be known. A number of records have been lost for some years, especially in the earlier days, and the organisation would like to be able to fill in the gaps. Not only for this coming January but for the sake of historical accuracy.
Anyone who knows, or knows of anyone who might have information about any of the CCMA National Talent Quest years, is asked to contact the Association via the email info@ccma.net.au.
Entry in the Talent Quest is now open. Entry can be made on-line at the CCMA website www.ccma.net.au.
The Talent Quest and Winners Concert will be staged again at the Northwest Church Auditorium at the corner of Anne and Kathleen Streets, Tamworth.
The commemorative Jamboree event will be staged in the historic Tamworth Town Hall where it all began all those years ago.
Tickets can be purchased by clicking this link.
---
MONDAY, OCTOBER 5, 2015
Aleyce shines at the Southern Stars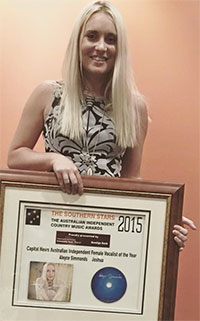 Country Music Capital based Aleyce Simmonds has taken top honours at the 2016 Australian Independent Country Music Awards – or Southern Stars – at Mildura.
Award winners were announced on Saturday night with Aleyce taking home Single of the Year and Female Artist of the Year with Joshua and being named Independent Artist of the Year.
The Bobkatz were also major winners capturing Group of the Year and Heritage Track of the Year with The Gallery.
Album of the Year went to Allan Caswell with Sometimes When You Lose You Win.
Heritage Track of the Year was taken out by The Bobkatz with The Gallery.
Male Artist of the Year was won by Michael Bryers with Sideshow.
The Rising Star Female award was taken out by Courtney Conway with Burning Your Memory Down while Rising Star Male went to Glen Moffat with Superman Lunch Box.
Nick Erby was presented with the Barry Thornton Memorial Award which recognises a significant contribution to country music.
Weblink – www.milduracountrymusic.com.au.
---
OCTOBER... 2015
New from Slim
To coincide with the long awaited opening of the Slim Dusty Centre and Museum at Kempsey in November, EMI Music will release a new Slim Dusty album, The Den Tapes.
Released on November 13th, the new album features all previously unreleased recordings by Australia's legendary King of Country. These are the last known unreleased recordings by Slim Dusty.
The Den Tapes is a 10 song collection of recently unearthed solo material recorded on cassette by Slim himself in his small office 'den' at home. These unique solo acoustic recordings show Slim's raw talent at its very best. His relaxed performances on this collection of home recordings are pure and simply brilliant...and it is simply Slim's voice and a guitar!
For posterity no doubt, sometime in the late 90's Slim started recording and collating these private recordings of his favourite songs from his youth, traditional Aussie songs which he grew up listening to back on his family farm, songs which probably inspired and shaped his own future musical direction. Slim's longtime producer Rod Coe discovered this personal collection of solo recordings on a single cassette by sheer accident when looking for something else in Slim's Den.
To quote Slim's wife and songwriter Joy McKean: "The songs you have here are some of those he heard and learned from the radio and the old portable gramophone when he was just a quiet country boy up in the isolated Nulla Nulla Creek. Many decades later, as a nationally known and loved singer and travelling showman, he still turned to the old songs for the pure enjoyment of singing them".
Leaving the final comments on The Den Tapes to Slim's wife, Joy McKean says, "These recordings reveal a very happy album; a man and his guitar, singing for the absolute joy of it…just singing".