NEWS ARCHIVE – OCTOBER 2014
---
FRIDAY, OCTOBER 31, 2014
Sydney Country Music Festival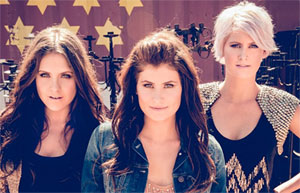 The Sydney Country Music Festival, once known as the Galston Country Music Festival – a real institution for NSW and country music followers – will run at Bella Vista Farm in the city's north west on Saturday, November 8.
Featuring Golden Guitar and ARIA winners, some of the artists headlining this year include Chelsea Basham, Beccy Cole, Ashleigh Dallas, McAlister Kemp, The McClymonts (pictured) and Luke O'Shea.
"This community event is driving thousands of people from all over Sydney, and its surrounding regions, to enjoy a day of country-infused merriment and over 10 hours of live entertainment," according to organisers.
More than 6,000 people are expected to attend.
Country... Can Assist
Lovers of country music will be spoiled tomorrow night at the Ex Services Club for the Cootamundra Can Assist Night of Stars.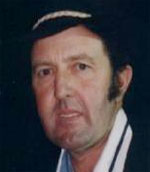 Billed as a country music spectacular, the night will see 10 "living legends" of the scene play a wide variety of covers and originals to suit anyone's tastes.
The night has primarily been organised by Norm and Joan McVicar who have dedicated much of their time to giving back to Can Assist after Norm received life-saving assistance not once but twice.
An avid country music fan, Norm made a lot of friends in the business over the 30 or so years he lived in Stockinbingal and he says he is excited to offer this night to his fellow music lovers.
"All my friends have come together now so we can say thank you to Can Assist, and thank you to the people of Cootamundra," Norm said. "We've lost many friends to cancer so all of us want to do what we can."
One of the acts performing on the night are Norm's friends Kath and Mike McCall. Mike grew up in Liverpool, England, but has been well and truly adopted by the Australian country music scene.
A performer of a diverse mix of musical tastes, he has been instrumental in running the Wagga Jazz and Blues Festival for the last 22 years. With his band Blueridge, he was also one of the first acts on the bill for the inaugural Illabo Country Music Stampede back in 1988.
Renowned steel and dobro guitarist Kenny Kitching will also appear together with his wife, well-known songstress in her own right, Emma Hannah.
Another big name on the bill is prolific songwriter Ernie Constance (pictured). Among Ernie's songwriting credits are the Slim Dusty hits Banjo's Man and Things I See Around Me.
– Cootamundra Herald
---
THURSDAY, OCTOBER 30, 2014
Vale – Pat Ware
Pat Ware – one of Australian country music's most noted authorities and collectors of the genre – was laid to rest in the Country Music Capital today after succumbing to illness a few days earlier.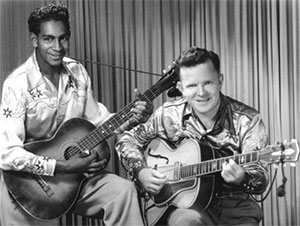 An early session guitarist in the industry, Pat recorded with Slim Dusty, The McKean Sisters and other singers in the 1950s. He was involved in developing and playing the first electric lead guitar in Australian country music, also introducing the first five-string banjo.
Pat discovered a young Jimmy Little (seen here in this photo with Pat) and helped kick-start Jimmy's career.
Max Ellis – writing in his definitive book "Stars, Guitars & Golden Guitars" – said: "A prolific songwriter with some 60 recorded works, Pat wrote for many singers including Jimmy, Buddy Williams and Rick & Thel Carey. He married Joy, one of The Bell Sisters and they moved to Tamworth in 1973 to be a part of the then 'country music revolution'."
In the 1970s and '80s, Pat presented Pat Ware's Country Corner on 2TM's famous radio program "Hoedown".
"Many people collect records but for some specialists, it's more than just a hobby," Max wrote. "Such a collector is Tamworth's Pat Ware, who has amassed an incredible library of more than 4000 78rpm country music records, LPs and historic tapes over the past 40 years.
"Many are extremely rare and to appreciate all the subtleties takes real experience and expertise. That's Pat!
"Over the decades, Pat has continually expanded his vast collection and he has developed an encyclopaedic knowledge of traditional Australian country music."
Pat was also widely recognised as an international authority on Tex Morton and his music and recordings.
---
FRIDAY, OCTOBER 10, 2015
Hit Country 2015
ABC Music yesterday released what it bills as "Australia's premier country compilation" – Hit Country 2015 – featuring "some of the most exciting local and international acts on the country music stage".
The CD/DVD set includes some of the biggest names in Australian country music... Adam Brand, Lee Kernaghan, McAlister Kemp, The McClymonts, O'Shea, Jasmine Rae, Sara Storer and The Wolfe Brothers, together with rising stars Adam Eckersley Band, Lachlan Bryan & The Wildes, Matt Cornell, Morgan Evans, Amber Lawrence, Jared Porter, Aleyce Simmonds, Victoria Avenue and the Viper Creek Band.
A number of American acts also feature, including The Band Perry, Dierks Bentley, Billy Currington and Kacey Musgraves.

Weblink – www.abcmusic.com.au.
Chart Update – The Sunny's break Adam's number one
The Sunny Cowgirls break Adam Harvey's grip on the number one place on the national Country Tracks Top 40 chart with their song The Shed hitting the top spot in tomorrow's chart.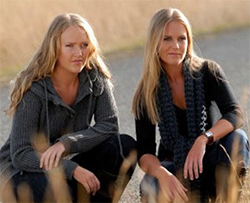 Amber Lawrence's Superhero bounds into second place from this week's number 18 position, The Wolfe Brothers' That Kinda Night is steady at three and McAlister Kemp's Fight Me re-enters the top 10 at number four.
Adam's former number one, She Don't Know She's Beautiful, is down to five, Doug Bruce's Broke Down Heart is at six and Jasmine Rae's These Hands is at seven.
Dean Perrett & Troy Cassar-Daley's My Country, My Land is at eight, Harmony James' Skinny Flat White is back in the top 10 at nine and the Davidson Brothers Take Me To The Mountain rounds out the leader board at 10.
Bullet performers for the week include Brothers3's They Call The Country (19 to 14), Sandra Humphries' Just One Night (25 to 20), Kasey Chambers' Wheelbarrow (33 to 27), the Viper Creek Band's Missing Me (40 to 28), Simply Bushed's Making Hay (new at 29), Kel-Anne Brandt's Green Door (re-entering the chart at 33) and Greta Ziller's Hunt For Love (new at 34).
Other new entries to the chart this include Jason Owen's Damn Right (new at 40).
The full chart can be viewed at www.countrytrackschart.com.au.
---
TUESDAY, OCTOBER 7, 2014
ARIA finalists announced
Finalists have been announced for the 2014 ARIA (Australian Recording Industry Association) Awards.
For Best Country Album, they are Adam Brand with My Side Of The Street, Kasey Chambers with Bittersweet, The McClymonts with Here's To You And I, Emma Swift with her self-titled album and Keith Urban with Fuse.
Country acts featuring in other categories include Kasey Chambers, a finalist for Best Female Artist, Buddy Goode with It's A Buddy Goode Christmas, a finalist for Best Comedy Album and Harry Hookey (pictured) with Misdiagnosed, a finalist for Best Blues & Roots Album.
Winners of this year's ARIA Awards will be announced in Sydney on Wednesday, November 26.
Weblink – www.ariaawards.com.au.
---
SUNDAY, OCTOBER 5, 2014
Luke dominates Southern Stars
Singer/songwriter Luke O'Shea dominated last night's Southern Stars – Australian independent Country Music Awards – held at the Mercy Theatre, Mildura (Vic).
Luke, who has previously won five Southern Stars, took home four more this year... Artist of the Year, Album of the Year, Single of the Year and Male Vocalist of the Year, mostly for his song Three Brothers (The Great War) and album Sing You Up.
The multi award winner said he was humbled at the wins and very appreciative of the Mildura festival because it had been a major influence on the growth of his career.
Aleyce Simmonds won Female Vocalist of the Year with Believe and Heritage Track of the Year, Traditional, went to Dean Perrett for I'm The Land" which is also the title of his new album.
Independent Rising Star Female went to Kate Cook her hit Girl with a Spanner while the Rising Star Male award went to Damian Howard for the song Once In A While.
Lachlan Bryan & The Wildes took out Group of the Year for their hit song Black Coffee and country legend Chad Morgan was named winner if the Barry Thornton Award.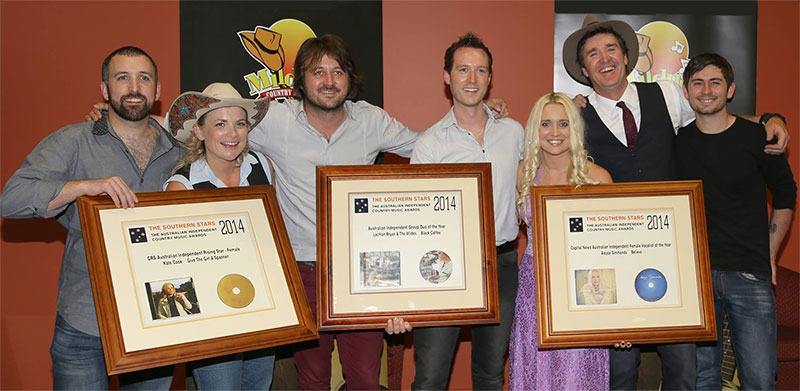 Weblink – www.milduracountrymusic.com.au.
---
FRIDAY, OCTOBER 3, 2014
Ballina festival this weekend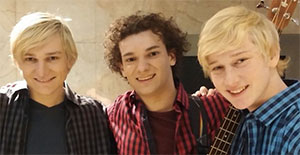 The third Coastal Country Music Festival is set for Ballina (NSW) this weekend.
Stars of the year's event include the The 4 Highwaymen, Brothers3 (pictured), Alderman Brothers, Luke Austen, Doug Bruce & The Tailgaters, Dale Duncan, Pete Denahy, Col Finley, Errol Gray, The Hillbilly Goats, Lonesome Train, Taylor Pfeiffer (The Banjo Girl), the Round Mountain Girls, Sami and Felicity Urquhart.
In addition to the entertainment, highlights of the festival will include busking, a special festival opening concert and the major concert on Saturday evening billed as a "Country Spectacular Under The Stars".
Weblink – www.ballinacountrymusic.com.
Chart Update – The Wolfe Brothers at number one
The Wolfe Brothers have hit number one on the coming week's national Country Tracks Top 40 chart with their hit That Kinda Night.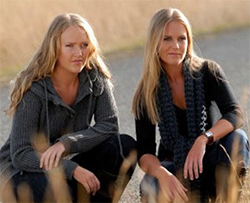 Dean Perrett & Troy Cassar-Daley's My Country, My Land jumps to number two while Doug Bruce's number one from last week – Broke Down Heart – is at three and Amber Lawrence's Superhero is at four.
The Sunny Cowgirls The Shed is at five, Carter & Carter's What A Wonderful World jumps to number six. in only its second week in the chart, and Adam Harvey's long-running former number one, She Don't Know She's Beautiful, is at seven.
Simply Bushed's Making Hay enters the top 10 at eight, Christie Lamb's Wish You Were A Cowboy is steady at nine and McAlister Kemp's Fight Me is at 10.
Bullet performers for the week include Luke O'Shea's Sing You Up (new at 12), Kristy Cox's This (17 to 13), Brothers3's They Call The Country (19 to 14), Dianne Lindsay's Jack Bridle (23 to 16), Graham Rodger's Australia's Colonial Sons (new at 21), Viper Creek Band's Missing Me (31 to 25), Georgia Fall's No Use For You (34 to 26), 8 Ball Aitken's My Tank's On empty (new at 33), Shaza Leigh's Hail Australia (new at 34) and Jared Porter & Kaylee Bell with Pieces (new at 35).
Other new entries to the chart this include Allan Caswell's Love In A Minor Key (new at 40).
The full chart can be viewed at www.countrytrackschart.com.au.
---
WEDNESDAY, OCTOBER 1, 2014
Parkes celebrates 47 years of country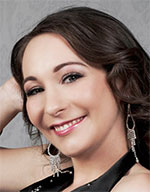 This year's 2PK Country Music Festival celebrates 47 years of country music in Parkes (NSW) this October Long Weekend and 12 months of organisation by a small and dedicated committee of the Parkes & District Country Music Association.
The Festival Committee has strived hard and long to compile a program of events in keeping with the long held traditions of this Festival, according to a report in the Parkes Champion-Post.
"The Awards Talent Quest trophies have been polished, the prizemoney counted and packaged and an entertaining field is set to face the judges in the Champion Post Australian Country Talent Seekers Quest, all suggesting an interesting two days of competition of the best of amateur performers," the newspaper reported.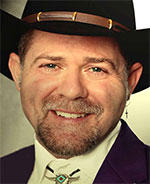 "Guest artists booked are sure to whet the appetite of any discerning country music devotee and a fine backing band has been engaged. The wonderful facilities of the Services Club will see the Starlight Lounge, function rooms and lounge all in operation for various events during the course of the festival."
A number of festival functions are at no cost to patrons but tickets for all other events can be purchased at the respective event entry doors. Admission prices have been kept to a minimum and there are discounted weekend and family passes available to purchase.

Featured Performers at this year's festival include Melissa Bajric (pictured), Country Keys & Strings, Garry Hemming, Steve Kelleher, Leather & Lace, Charmaine Pout, The Wayne Ryder Band, Justin Standley (pictured) and Jim Williams.
The Festival will open with a street concert tomorrow afternoon from 2pm with performers all members and representing the Parkes & District Country Music Association.
A Family Muster and Social will follow then, on Friday, a big program of activities will be staged... from the Poets Corner in the morning to the Cooke Park Concert and Walk-up Talent Quest from 10:30am, a busking competition concluding with Friday evening's Festival Country Concert.
Saturday features the Central West CM Awards Talent Quest, the Saturday Morning Footpath Concert, entertainment in the Club Lounge and Australian Country Talent Seekers Quest on Saturday night.
Sunday's program has the talent quest continuing, Gospel Service and Awards Night, including Winners Concert, from 7pm.
The Festival's Last Roundup Sausage Sizzle Breakfast will be conducted from 9am on the public holiday Monday morning.
Weblink here to full story with more detail.