---
SATURDAY, NOVEMBER 28
Shane wins 2015 Country ARIA
Shane Nicholson has taken out the 2015 ARIA Award for Best Country Album with Hell Breaks Loose.

Finalists for the award were Catherine Britt with Boneshaker, Troy Cassar-Daley with Freedom Ride, Lee Kernaghan with Spirit Of The Anzacs and Mustered Courage with White Lies And Melodies.
Lee Kernaghan was presented on the night with an Outstanding Achievement Award for his Spirit Of The Anzacs project.
Weblink – www.ariawards.com.au.
---
FRIDAY, NOVEMBER 27, 2015
Tamworth wins Silver
The Toyota Country Music Festival Tamworth was in the spotlight again overnight winning Silver in the Major Festival & Events category at the 26th annual NSW Tourism Awards in Sydney.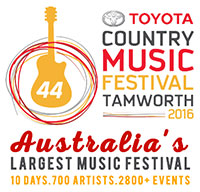 Tamworth Regional Council General Manager, Paul Bennett and Destination Tamworth Director John Sommerlad say they are ecstatic that the event continues to be recognised among the best major Festivals in Australia.
John accepted the award on behalf of the city and said it was humbling not only for Festival organisers and stakeholders but also the residents of Tamworth without whom, the Festival would not exist.
"Tamworth offers one of the best festival experiences in the world no matter your age, music taste or style and we are very proud to be accepting this Award on behalf of everyone in Tamworth," he said.
The Major Festival & Events category was hotly contested with a high calibre of finalists including Handa Opera on Sydney Harbour 2015, Vivid Sydney and the Byron Bay Blues Festival which took home the win.
Tamworth is no stranger to the awards, however, winning Gold in 2014 and previously winning the Australian Tourism Award.
"Just being a finalist in the category is a great accolade," John added, "so winning silver is fantastic and I would like to acknowledge our strategic partners Toyota and Destination NSW for helping make the Festival one of the best experiences in the world."
Tamworth Country Music Festival Unit Manager Barry Harley said: "This award has demonstrated that it really doesn't get any better than the Toyota Country Music Festival, Tamworth.
"For 10 days every summer, Tamworth shows the rest of Australia how to celebrate what's great about our country with free concerts headlined by the best in Australian country music and I encourage everyone to come and experience it for themselves."
The 2016 Festival will run from Friday to January Sunday 15 to 24.
Weblink – www.tcmf.com.au.
---
SUNDAY, NOVEMBER 22, 2015
Vale – June Smyth
Long-time Country Music Capital venue manager and promoter June Smyth has died, losing a battle with cancer yesterday.
June came to Tamworth in the mid 1980s to run the then new Longyard Hotel with her husband Don and was instrumental in helping boost the success of the January country music festival at the time.
After leaving the hotel, she worked for a time with the then Tamworth City Council as an events co-ordinator with specific duties connected to the festival.
In one of many facebook tributes to June, broadcaster Barbara Morison said: "June was a remarkable lady. Along with her late husband Don they were great supporters of country music.
"Most would know their days in Tamworth and the famous Longyard Hotel and the many hours of great entertainment that was hosted not just thru the festival but thru the year. It was the hotel that supported the music, the poets, the stars, and the ordinary bloke/woman; and always had a welcome to all."
---
FRIDAY, NOVEMBER 20, 2015
Slim Dusty Centre to open
The Slim Dusty Centre at Kempsey is set to open on Thursday.
Slim's wife Joy McKean will join distinguished guests, the country music community, locals and tourists to celebrate the life and music of Australia's national treasure as the centre is officially opened.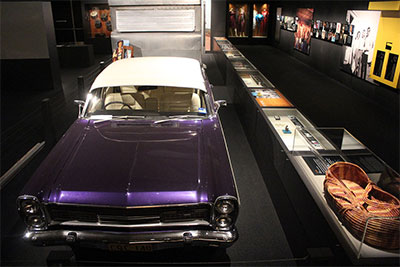 Radio personality Ray Hadley will be the MC for the opening ceremony that will run from 1pm for an hour on the grassed area in front of the Slim Dusty Centre in Slim's hometown.
Slim's daughter Anne Kirkpatrick and son David Kirkpatrick will also be in attendance while country star Graeme Connors will perform one of Slim's most famous recordings – We've Done Us Proud – and the West Kempsey Primary School Choir also will perform.
Key members of the country music community have already shown their support for the day with artists including Golden Guitar greats Lee Kernaghan, Troy Cassar-Daley and Adam Harvey expected to be there.
NSW Premier Mike Baird believes the Slim Dusty Centre is sure to become an "iconic landmark" for Kempsey and country music.
So says his message of goodwill to be conveyed by Oxley MP Melinda Pavey at Thursday's official opening.
The Premier wished the centre a "long and prosperous future" while Ms Pavey acknowledged it had been a "journey since 2001 which had walked all political paths".
The Slim Dusty Centre includes a museum, a travelling exhibition gallery, a visitors centre, a retail shop called The General Store, a function centre and the Dusty's Dinner Camp Cafe.
It's designed for schoolchildren, adults, fans, locals, international visitors, and will cater to all manner of ages and backgrounds because, in addition to being a tribute to the country music icon, it helps to tell the story of Australia and its history.
The Centre actually opened its doors to the public on October 17, with an average of more than 200 people per day visiting the multi-purpose facility during the first week. Visitors came from all over Australia, including Mt Isa, WA, Broken Hill, Brisbane, Victoria and New Zealand, and had only positive things to say.
The Slim Dusty Centre is located at 490 Macleay Valley Way, South Kempsey and opens daily from 10am-4pm.
Photo shows just one of the Centre's display areas including Slim and Joy's faithful touring car "Old Purple".
Weblink – www.slimdustycentre.com.au.
---
TUESDAY, NOVEMBER 17, 2015
Golden Guitar finalists announced
The 2016 Country Music Association of Australia (CMAA) Golden Guitar Awards finalists were announced today at a special industry gathering in Sydney.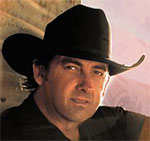 Seventy-five finalists have been determined by judges from more than 500 nominations and offer an exciting balance between industry heavyweights and the emergence of newer artists, according to the CMAA.
Nominated for eight Golden Guitars, Lee Kernaghan (pictured) is no stranger to the Awards and leads the finalists field with his album Spirit Of The Anzacs.
Nominated for seven Golden Guitars is Troy Cassar-Daley. The Brisbane based artist will celebrate his 35th year performing in Tamworth in 2016.
Also receiving seven nominations is Shane Nicholson with his sixth solo album Hell Breaks Loose. In addition to his seven individual nominations, the multi-talented artist is also the producer of Beccy Cole's album Sweet Rebecca which has been nominated for Album of the Year.
Beccy joins Catherine Britt to lead the female finalists with six nods apiece and will be up against one another in a number of categories including Album, Female Artist, Vocal Collaboration and Heritage Song of the Year.
The 2016 Awards sees debut nominations for a number of artists including reigning Toyota Star Maker Mickey Pye and 2014 X Factor finalists Brothers3 and Caitlyn Shadbolt all vying for the New Talent Golden Guitar.
CMAA Vice President Roger Corbett said 2015 had been an incredible year for Australian country music.
Finalists across all categories were of the highest calibre, he said. Male Artist of the Year was extremely strong and nearly 70 nominations were received for New Talent of the Year.
"We have also seen some of the most gifted ladies of country music contend for Female Artist of the Year, while Bush Ballad Of The Year sees very strong contenders in the award for Australia's unique musical style."
Tony Cramb, Executive Director of Sales & Marketing for Toyota Australia, said: "We're very excited to again be a part of the Golden Guitar Awards, it's such an important part of the country music industry and something we at Toyota are proud to support.
"The depth and calibre of the nominees, which includes a number of Toyota Star Makers, is a great thing and we're already looking forward to the big night."
At the function, NSW Minister for Trade, Tourism and Major Events Stuart Ayres said the Tamworth Country Music Festival, where the Golden Guitar Awards are staged every year, was recognised worldwide, attracting significant visitation to the State and delivered important economic and community benefits.
"Congratulations to all of the finalists announced today for the Golden Guitar Awards, the most prestigious award ceremony for Australian country music.
"The NSW Government is proud to support the Tamworth Country Music Festival through its tourism and major events agency Destination NSW, and we look forward to welcoming the many performers and visitors to Tamworth in January next year for a spectacular event," he said.
The Golden Guitar Awards is the pinnacle event of the Toyota Country Music Festival in Tamworth each year and in 2016 will be staged on Saturday January 23 in the Tamworth Regional Entertainment & Conference Centre.
The Toyota Country Music Festival Tamworth will run from Friday to Sunday January 15 to 24.
Tickets for the Golden Guitar Awards are on sale now and can be purchased here.
Weblink – www.country.com.au.
---
WEDNESDAY, NOVEMBER 11, 2015
Gala open day for Hall of Fame
The newly re-located Australian Country Music Hall of Fame will have a gala opening on Saturday January 16 from 10:30am.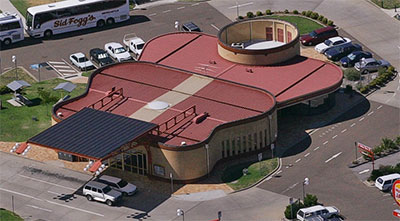 Special guests Lindsay Butler and Dianne Lindsay will cut the ribbon and Tamworth Mayor Col Murray will "unlock" the front door hand the keys to over.
The ceremony will also include announcement of the 2016 Hands of Fame and Broadcasters Hall of Fame inductees.
And then the doors will be opened to the public.
The Hall of Fame moved to the new building, formerly the Tamworth Visitor Information Centre which has re-located, at the corner of Peel and Murray Streets earlier this year.
It includes revamped displays from the previous building, new exhibits and the popular Walk A Country Mile interpretive centre.
The Hall of Fame is operated by the Australian Country Music Foundation (ACMF).
Foundation officer bearers continuing from this year's election are President Eric Scott, Vice President Lorraine Pfitzner, Secretary Athol Latham, Treasurer & Membership Officer Margaret Lansley and Directors Barrie Brennan, Barry Davis, Judy Loffel, Hilary Scott and Jon Wolfe. Max Ellis is Patron.
Photo (by Lou Farina): an aerial view of the new Hall of Fame building.
---
MONDAY, NOVEMBER 9, 2015
Vale – Nathaniel O'Brien
The Australian country music industry, fans and celebrities are mourning the tragic death of singer and X Factor contestant Nathaniel O'Brien, who has been killed in a car crash.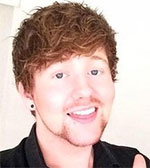 The 19-year-old's car left the road and hit a tree near Burra, in South Australia's mid-north, yesterday.
Earlier that day, Nathaniel had played at the Burra Country Music Festival, which his parents helped run, and was set to perform at the Tea Tree Gully Hotel, in Adelaide, that night.
The talented country artist has been described as a kind, caring and genuine young man in tributes that flowed over social media on Monday.
Singer Natalie Bassingthwaighte, who was Nathaniel's mentor on the reality singing show last year, tweeted her tribute to the budding artist.
"My heart goes out to Nathaniel's family after hearing of his tragic passing. What a spectacular young man with the voice of an angel," she wrote.
X Factor judge Dannii Minogue and host Luke Jacobz both expressed their sadness.
"I remember him as such a warm, sunny person," Dannii tweeted.
"Thoughts and prayers are with his family and friends at this sad time," said Jacobz.
As well as being heavily involved in country music in South Australia, Nathaniel was recognised as a rising star in the industry nationally.
He had numerous successes in talent quests across the country, including the presigious National Talent Quest in Tamworth in January 2014 and was a multi-finalist in the 2015 Australian Country Music People's Choice Awards.