---
WEDNESDAY, JULY 30, 2014
Kidgeeridge Music Festival
Tickets are about to go on sale for what will possibly be the greatest array of musical talent ever on display at the 2014 Kidgeeridge Music Festival, the last to be held at Graham and Vicki White's farm beside Lake Conjola in southern NSW.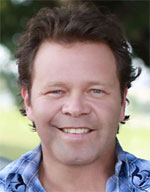 The Milton-Ulladulla Times rerports that Numbers for the event are limited to 500 and will be available from Friday, August 8.
The festival this year has attracted "the cream of Australia's musical talent across a wide range of styles, headed by country star Troy Cassar-Daley (pictured).
Multi award winning Troy will be joined by former Daddy Cool and Mondo Rock frontman Ross Wilson, who has also enjoyed tremendous success as a solo performer.
John Schumann, best known for his leadership of the legendary folk-rock band Redgum and his Vietnam veterans anthem I Was Only 19, will also appear. John has recorded nine albums and, with Redgum, toured the UK, Europe and Ireland where his songs are still played.
As will renowned songwriter and original Cold Chisel member Don Walker who, apart from penning many of Chisel's greatest hits, has also been prolific in the country music scene, including Charleville and Looking Forward Looking Back for the late Slim Dusty.
Folk/country/pop duo Busby Marou, rising Australian country act the Adam Eckersley Band and Doug Bruce & The Tailgaters also feature on the bill.
The Kidgeeridge Music Festival always enjoys a hearty dose of blues and this year will feature Australian blues guitarist and singer Fiona Boyes and Joe Louis Walker, known as being among the greatest bluesmen of his generation. 
And there will even be a traditional welcome to the region performed by Aboriginal elder Noel Butler.
The Kidgeeridge Music Festival will run Friday and Saturday, October 24 and 25, with tickets including "plenty of music, most meals, beer, wine and soft drinks, and weekend camping".
All profits from the festival help local charities.
Weblink – www.kidgeeridge.com.au.
---
TUESDAY, JULY 29, 2014
New from Doug
Doug McIntyre has released his third album, Riding Free.
"This great country of ours never fails to provide me with songs," Doug said.
"Riding Free was really born a few years ago in Tamworth during yarns with a mate. He loves to get away after working at his demanding job as a paramedic, and head out west on his red Ducati.
"It was great working with Golden Guitar winning producer Matt Fell to achieve the feel of those wide open spaces. As I wrote each of the 'newies' I found it hard to decide on a name for the album. Then out of the blue came the song Riding Free.
"I thought it said it all. I just love the magic that happens when writing! I hope you feel like you're sitting on that motor bike, out on a lonely highway, riding free!"
The album contains 10 new songs... Have A Little Good Time, Bondi Drover, Wild Fire, Frank The Fox, Australia Day, Back In The Little Town, Tamworth, Riding Free, Kandahar Lullaby and Can't Take The Bush Out Of The Boy.
Weblink – www.dougmcintyrecountrymusic.com.au.
RETURN TO TOP
---
MONDAY, JULY 28, 2014
Kenny returns to Oz
Kenny Rogers will tour Australia again in 2015 in a nine-date tour announced today.
The superstar will perform his first concert in Sydney on Friday January 23, then Tamworth on Sunday January 25 (at the end of the giant Tamworth Country Music Festival) followed by shows in Newcastle, Melbourne, Launceston, the Gold Coast, Townsville and Perth before wrapping up in Adelaide on Wednesday, February 11.
Kenny is well-known as an international country and pop star, for hits including The Gambler, Coward Of The County, Reuben James, Lucille, Ruby Don't Take Your Love to Town, Lady, She Believes in Me, Islands in the Stream, We've Got Tonight, Daytime Lovers and You Decorated My Life.
Honoured with an American Country Music Hall of Fame induction and Willie Nelson Lifetime Achievement Award in 2013, Kenny's accolades also include three Grammy Awards, 18 American Music Awards and eight Academy of Country Music Awards.
He will perform with Glenn Shorrock in Sydney, Adam Harvey and Beccy Cole in Newcastle, Melbourne, the Gold Coast and Townsville, Adam, Beccy and Amber Lawrence in Launceston, Adam, Beccy and Kasey Chambers in Perth and Amber Joy Poulton in Adelaide.
Weblink – www.kennyrogers.com.
TSA set for Tamworth 2015
TSA – Tamworth Songwriters Association – has announced details of its annual songwriting competitions and awards which will culminate during the 2015 Tamworth Country Music Festival.
Entries will open from August 1 for the National Country Music Songwriting Contest (for unreleased material), the Songwriter Salute Awards (for commercially released material between 30 September 2013 and 30 September 2014) and the APRA/TSA New Songwriter Award (for material released commercially between 30 September 2013 and 30 September 2014).

Entries this year will be via the TSA's online entry platform provider, Song Central – www.songcentral.biz/tsa.
"This year, there are some ground-breaking rule changes to ensure the TSA's contests are relevant and keep up with trends in music production, co-writing and commercialisation," according to a spokesman.
"In this regard, the National Country Songwriting Contest (for unreleased material) will enable songwriters with co-writers from outside Australia and/or songwriters from outside Australia to enter a new 'International' section. All rules are on the TSA website.
"To allow songs previously ineligible to enter the Songwriter Salute Awards, the TSA will be accepting MP3 files (rather than CDs only), for the contest for this year. In the past, only songs on commercially released CDs were eligible for entry.
"This year, songs for sale via iTunes, Reverbnation and/or other websites for sale will be eligible including songs for purchase from personal websites via MP3.
"The changes to both contests reflect the TSA's desire to move its contests with the times and trends in music," the spokesman said. "In the past, songwriters were precluded from entering the National contest due to international co-writers or precluded from entering the Songwriter Salute Awards if they commercialised songs via online retail sites as opposed to commercially released CDs.
"Sponsor of the new International section is the Tamworth Regional Council Sister City Committee which is keen to further galvanise relationships with the their five sister-city councils including those in Nashville, Tamworth in the UK and the Gore District in New Zealand. Having a section for entry by international entrants and co-writers from Tamworth's sister cities has the potential for further engagement and encouragement of visitors to the January Festival."
The TSA's annual Awards Concert will be held again at the Longyard Hotel on the Festival Tuesday (20th). "The concert is very popular with talented performers both established and new and has limited seating,." the spokesman said. "The Longyard will be selling tickets to the night from December."
"We also welcome as sponsors The Post Office Hotel and the Hogs Breath Café in Tamworth. TSA events in January will be held at these venues plus the Albert Hotel and of course the Longyard. TSA acknowledges and greatly appreciates these businesses as supporters of songwriters and the future of Australian country music.
Weblink – www.tsaonline.com.au.
---
FRIDAY, JULY 25, 2014
CMC Rocks North Qld forced to downsize
CMC Rocks North Qld has announced it has been forced to revise its lineup and downsize to a smaller venue for 2014.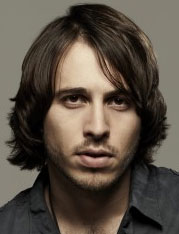 "Festival promoters are committed to the CMC Rocks events," organisers said in a statement, "with this being the third North Qld instalment since its first appearance in 2010. However, due to less than expected ticket sales, they have been forced to downsize this year's event and move to a concert venue."
The September 27 festival has been moved from Townsville's 22,000-capacity Reid Park to the 5,257-capacity Townsville Entertainment & Convention Centre.
Organisers have announced five artists for this year's event... Gary Allan, Blackjack Billy, Morgan Evans (pictured), Karrie Hayward and The Mavericks.
Promoters at Rob Potts Entertainment Edge, Foxtel's Country Music Channel and Chugg Entertainment have offered "generous placation" for the festival's current ticket buyers. Those unhappy with the changes can either receive a full refund, swap their festival ticket for the concert ticket and receive reimbursement of the difference or bring a friend for free.
Weblink – www.cmcrocks.com.
Chart Update – Adam takes the top spot
Adam Harvey ends Tanya Self's eight-week domination of the national Country Tracks Top 30 chart in the coming week with his She Don't Know She's Beautiful taking over the top spot.
The McClymonts' Here's To You And I is up one to number two while the Jasmine Rae/Kellie Pickler duet Bad Boys Get Me Good is also up one to three and Harmony James' Skinny Flat White bounds up six places to number four.
Adam Brand's What Your Love Looks Like is up two places to number five, McAlister Kemp's Fight Me is new in the top 10 at six as is The Wolfe Brothers' That Kinda Night debuting in the chart at seven.
The Jacaranda is at eight, Morgan Evans' Like A Tornado is back in the top 10 at nine, as is Christie Lamb's Manhunt at 10.
Bullet performers for the week include Pete Denahy's Looking At My Phone (27 to 14), Kirsty Akers' That's How You Get Famous (30 to 16), Lyn Bowtell's Heart Of Sorrow (26 to 18), Adam Eckerlsye Band's Tomorrow Night, Same Again (24 to 21) and Lachlan Bryan & The Wildes' Black Coffee (back in the top 30 at 24).
Other new entries to the chart this week include 2014 Toyota Star Maker Jared Porter's Deep End (in at 28).
The full chart can be viewed at www.countrytrackschart.com.au.
---
WEDNESDAY, JULY 23, 2014
Kimberley Salutes the Benning Brothers
The Benning Brothers were honoured last weekend with a tribute in the Kimberley.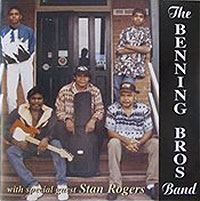 One of the first Aboriginal music groups from the Kimberley in the 1950s, the Brothers were influenced by artists including Slim Dusty, Buddy Williams and John Denver.
The derby tribute featured younger members of the Benning family and other local bands.
Glenys Benning still remembers the old wind up gramophone her family had in the 1950s, and the music they used to listen to. "The likes of Slim Dusty, Buddy Williams. John Denver was one of my Dad's favourites," she told the ABC.
"We grew up basically listening to his music, my Dad's music, and that was all country. The influence was strong on older brothers Frank Senior and Roy Stanley, who ended up forming one of the first Aboriginal music groups in the Kimberley in the late 1950s."
The Benning Brothers Band are now legends in the Kimberley music scene, but sister Glenys recalls the hard work they did in the early years to get a recording deal.
"They used my house on my front verandah to do the demo tape, plus he (Barry Benning) had to get support letters of people who knew our family band. Before we knew it they were packing and heading down to Canberra to do their first recording!"
Glenys remembers her brothers being asked to play for mine workers on Koolan and Cockatoo Islands, and the travel they did through the Kimberley and Northern Territory for concerts.
A tribute concert in Derby this weekend will feature younger generations of the Benning family, as well as other local bands.
Glenys says she is proud to see the music continue through the years, and credits the Derby community for their support. "I'm very proud being a part of the Derby community... all that support there when you want it."
The Barry Benning Tribute Concert is a part of the Derby Boab Festival. Glenys Benning spoke to Hilary Smale for ABC Kimberley.
---
MONDAY, JULY 21, 2014
New from the Davidson Brothers
Wanderlust is the latest album from the Davidson Brothers, Hamish and Lachlan, the band's seventh.
Pundits say the new work "is bound to gain them a swag of awards to add to their already impressive list (and possibly overflowing cabinet) of accolades".
Opting against heading to their usual stomping grounds in Nashville, the album was recorded in Australia with seasoned local musicians at Sing Sing Studios.
Both brothers are championship-winning multi-instrumentalists with talents showcased on banjo, mandolin, dorbo and fiddle across the album.
Highlights include the first track on the album, Every Time You Leave.
---
FRIDAY, JULY 18, 2014
Tyson wins at Sarina
He's only 14 years old, but Tyson Lucas' fellow competitors at the 30th annual Sarina Country Music Festival suggested his deep voice could one day rival that of experienced country crooner Adam Harvey.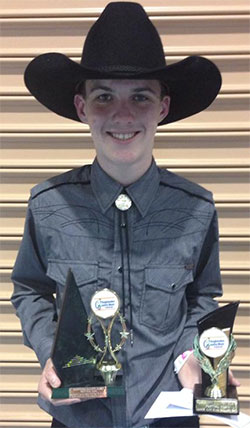 Channelling Slim Dusty on When The Rain Tumbles Down In July, the Townsville local (pictured with several of his trophies) easily won the Junior Australian Bush Ballad section at the Festival, also receiving a second and third place in other sections.
"I knew the song so I just played it and hoped everyone else would enjoy it," Tyson said.
Col Duncan, a festival judge of five years, said it was important to keep a hold on the heritage music of Australia. "Our younger competitors are now singing the iconic Slim Dusty songs and following storytellers like Sara Storer and bush balladeer Graham Rodger.
"Many of our great country musicians have passed on, but their legacy continues," Col said, whose own enduring ties with the festival have come full circle.
"I entered the Sarina festival in its early years. Then in 2002, the Year of the Outback, I was overall winner at Hughenden Country Music Festival, and a year later I was runner-up Bush Balladeer of Australia in Tamworth."
Sarina Country Music Association Secretary Jean Smith said the festival attracted singers from across the state, with 250 music items on the program this year.
"We"re looking to take the festival open air next year. Competitors will be able to camp onsite to make travel and accommodation a lot easier for them," she said.
The Association was recently granted $4000 from the Sarina Community Bank to cover running costs of the festival and pre-competition music workshops for young entrants.
Senior Overall Winner at this year's event was Kylee Champion, Junior Overall Winner Billie-Rose Copeland and Juvenile Overall Winner,Phoebe Foster Griffiths.
Another standout winner was Judah Kelly who took out Male Australian Bush Ballad, Male Vocal and Male Country Gospel.
Other winners included... April Evans (Junior Vocal); Laura Veasey (Juvenile/Junior Truckin'), Naomi Goodale (Adult Truckin'), Sunshine & The Cowboy (Duo Vocal), Jessica Cash (Junior Country Rock), Mark Absolon (Golden Oldies), Rose n Thorns (Trio Vocal) and Slim Jones (Songwriters).

RETURN TO TOP
---
WEDNESDAY, JULY 16, 2014
Don inducted to SA Hall of Fame
Former Robinvale (SA) country music singer Don Costa was recognised for his 27 years in the country music business with his induction into the South Australian Country Music Hall of Fame at Barmera on the weekend.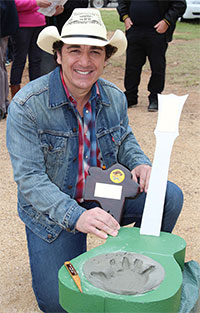 "It's the first recognition of this kind for me and I am really honoured," Don said. "Things have changed a bit for the independent artists and CD sales are not the same as they were and with country music festivals reducing budgets, it's always a challenge."
Don said he has travelled hundreds of thousands of kilometres in the pursuit of being a professional country music artist. "Getting my handprint in cement was awesome for me – the Barmera festival had a good vibe about it and there some good acts at it.
"I am now looking forward to appearances at the Mildura Country Music Festival this year in September and I am contemplating a new album for release at this year's event."
Don began his music career with brothers Paul, Noel and Anthony in the band Shadow Rock. Then followed seven years as a duo with Paul as a country duo, The Costa Brothers, before both embarked on solo careers.
Last year, Don produced a Country Cruisin' album which commemorated his selection as an artist on a seven day south Pacific cruise with the likes of Beccy Cole, Adam Harvey, Lee Kernaghan and Gina Jeffreys.
Country Cruisin' was Don's 14th self-funded album recorded by Don Hodge at Ballarat where he is likely do album number 15 in the next month or to.
Weblink – www.doncosta.com.au.
RETURN TO TOP
SA Country Music Awards
In other news from the Barmera festival, South Australian entertainer Jay J Shannon, who attended a number of Mildura Country Music Festivals 20 years ago, was presented with an industry award for his services to the South Australian country music industry.
Winners of the Festival talent quest (also known as the SA CM Awards), were...
Senior Gospel – Venessa Waara (Carrick, Tasmania), Junior Gospel – Josie Rains (Burra, SA), 16 yrs & under – Juliet Oliver (McLaren Vale, SA), 12 yrs & under – Josie Rains, Instrumental – Jason Gwiazda (Houghton, SA), Songwriter – Phil LeMay (Broken Hill, NSW) with Going Home, Duo – Bandanna Beau/Kaalua Cruz (Rushworth, Vic), Australian Bush Ballads – Venessa Waara, Female Vocal: Cynthia Lawrance (Horsham, Vic), Male Vocal – Bandanna Beau, Country Rock – Bandanna Beau, Senior Indigenous – Venessa Waara (New Zealand) and Junior Indigenous – Jamie Slape.
Bandanna Beau (Rushworth, Victoria) was presented with the Frank Harding Memorial South Australian Award of Excellence with Cynthia Lawrance (Horsham, Vic) runner-up.
RETURN TO TOP

---
MONDAY, JULY 14, 2014
New from The Wolfe Brothers
The Wolfe Brothers will release a new album on September 5, Nothin' But Trouble through ABC Music/Universal.
The band recorded the album over two weeks at Studio 301 in Byron Bay under the production of American Luke Wooten and is the follow-up to the band's 2013 debut It's On which hit 18 on the ARIA Album Chart and two on the ARIA Country Chart, the highest ever debut for a Tasmanian band.
Lead single from the new work will be That Kinda Night comes with an accompanying video.
"This ride that we have been on for the past two years just keeps getting better and better," aid band member Tom Wolfe. "We have travelled all over Australia, played to sell-out crowds, met the best fans in the world who have been so supportive of us and now we get to do it all again with a new album that we are very proud of.
"Our future is certain to be, Nothin' But Trouble, and we are loving every minute of it. Huge thanks from us to all who have supported the band so far, we are truly blessed… we hope you enjoy this new album and the music we have made. The best is yet to come."
Following their second placing in "Australia's Got Talent" 2012, The Wolfe Brothers, comprising brothers Nick and Tom Wolfe along with childhood friends Brodie Rainbird and Casey Kostiuk, were signed to ABC Music and scored a deal with Lee Kernaghan's management company.
Having "cut their teeth" over the past 18 months touring nationally with Lee Kernaghan as both his support act and backing band, The Wolfe Brothers have "hit every far-flung corner of Australia" and have now announced an extensive tour to support the release of the new album.

The tour kicks off in Burnie, Tasmania, on Friday July 18 and concludes in Hobart on Sunday December 21, visiting Western Australia, Victoria, NSW and Queensland, some shows in conjunction with Lee Kernaghan and more dates to be announced.
Weblink – www.thewolfebrothers.com.
RETURN TO TOP
---
FRIDAY, JULY 11, 2014
More stars announced for Slim Dusty Memories Week
More star guest artists have been announced for this year's Slim Dusty Country Music Memories Week at Kempsey.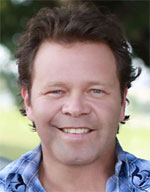 Joining Ray Kernaghan, Tania Kernaghan and Luke O'Shea will be Anne Kirkpatrick (a regular at this special event!), Amos Morris, Dean Perrett and Taylor Pfeiffer – "The Banjo Girl".
And what do our guest artists think of Slim Dusty Memories Week?
"I love my annual pilgrimage to Kempsey for the SDCMMW!" said Anne. "Who would have thought that Bruce and Trish Woods' idea to hold a Slim Dusty Memories afternoon at their property some 10 years ago, would have grown to this huge weeklong event with campers, caravans and motorhomes from all over Australia
converging on the showgrounds and a crowd that keeps growing every year?
"Well, I can believe it!... as right from the start, there was this wonderful 'extended family' feel to the whole event – backstage between the artists and between artists and audience. It's very special to our family that people want to come together to
'relive' their memories of my dad, Slim. So, as usual, I'm looking forward to another great Festival and catching up with everyone."
"I am truly looking forward to being in Kempsey for the Slim Dusty Memories week to perform my songs of the bush," said Dean, "and to also celebrate the timeless music that Slim left for us all to love and treasure.
"The music will be great and the atmosphere just like a big campfire singalong. So bring your mates and enjoy it to the full!"
Amos said: "I have been delighted to be involved with the Festival over the past 11 years and it warms my heart to think of how it has grown from an evening in the Woods' backyard to the major event it is now.
"Kempsey has always needed such an event to 'put us on the map' so to speak, and I can think of none better than the SDCMMW. May it continue to grow and flourish."
Taylor said: "I am extremely excited to be a part of the Slim Dusty Country Music Memories Week. Slim Dusty was an amazing man who had a huge influence on country music as we know it today. Sadly I never met him but I'm excited to be a part of this amazing week, to show my appreciation to Australia's country music legend.
"I'm looking forward to meeting people during the week and hearing all the stories about Slim by those people who did meet him. Thank you to the Australian Bush Balladeers Association and the SDCMMW Committee for this great opportunity."
The 2014 event is shaping up to be a cracker year, according to organisers. It will be held, as usual, at the Kempsey Showground and already, powered camping sites at the Showground have sold out.
"Unpowered sites are still available," organisers say, "and can be booked via the downloadable form from the Memories Week page on the slimdustycentre.com.au website.
"For more updates, join the Slim Dusty Country Music Memories Facebook page.
"Folks are welcome to bring along their generators for use at the Showground
and on unpowered sites. Also, there are many accommodation choices available in the Macleay Valley."
This year's Slim Dusty Country Music Memories Week will run from Monday to Sunday, October 20 to 26, and includes an Open Day at the Slim Dusty Centre on Tuesday the 21st, and a bus trip to Slim's boyhood home at Nulla Nulla on the 22nd.
---
MONDAY, JULY 7, 2014
New from The McClymonts
Here's To You And I is the latest album from country sensations The McClymonts, sisters Brooke, Mollie and Sam.
The album is "filled with heartfelt stories, irresistible tunes and that unmistakable honesty," according to a spokesman for the group.
"The multi-talented musicians from Grafton have come a long way since their 2007 debut album Chaos And Bright Lights. They picked up the ARIA for Best Country Album in 2010 for their second album Wrapped Up Good with hit singles Kick It Up, Hearts On Fire, A Women Is A Flame and the title track.
"Then they topped this in 2012 with their third album Two Worlds Collide featuring How Long Have You Known, Piece Of Me and, again, the title track."
Two Worlds Collide again won Best Country Album at the ARIAs. The group also picked up eight Golden Guitar Awards and an APRA Award along the way and won countless fans and critics as they toured extensively around Australia and the USA.
Then it all stopped, when eldest sister Brooke announced her pregnancy in 2012, the girls weren't sure what it would mean for the group. It turned out to be a blessing.
"We were just fried," said Sam, looking back. "After so many years on the road, there had been no time for life beyond the band. So while Brooke had daughter Tiggy, everyone took a well-earned break. Now our priorities are different. It's worked out for the best because music is still the number one priority but we are so much more happier because we have more balance."
"They are refreshed and ready to go again," said the spokesman. "They have been working on Here's To You And I for over a year and they wanted it to be perfect."
"We wanted every song to be reflective of us so we would sit down and talk about what we were going through," Sam said.
And there's been plenty to talk about. Aside from the birth of Brooke's daughter, Sam is planning a wedding to her long time partner Ben while Mollie has bought a home and been through a relationship break up.
"In the last seven years, we've gone through a lot and we've got a lot more experiences to sing about," said Brooke. "We wouldn't touch on a subject if someone wasn't comfortable," said Sam.
"Yet the trio remains disarmingly honest," according to the spokesman, "and unafraid to explore personal topics including life, love, heartbreak and family. In fact, these big life changes inspired the new album's title: Here's To You & I refers to their ever evolving relationships with each other and with those they are closest to."
Weblink – themcclymonts.com.au.
RETURN TO TOP
---
THURSDAY, JULY 3, 2014
Allan loses lawsuit
Allan Caswell has lost his lawsuit claiming American country band Alabama's song Christmas In Dixie copied his On The Inside, theme of the television series Prisoner.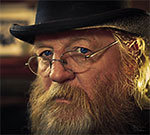 The writer failed in his bid to sue Sony, claiming he was "ripped off" by the publication of the similar composition.
Allan launched legal action against Sony Australia after hearing Christmas In Dixie in 2003.
He said the 1982 tune infringed the copyright of his 1979 hit and that Sony had failed to take appropriate steps to protect this copyright with their US counterpart.
If Sony had done so, substantial damages would have been recovered, he argued.
But Supreme Court Justice Michael Pembroke dismissed Allan's claim saying there was no evidence any copyright infringement claim by Sony Australia would have been successful.
During a hearing of the matter, the Court heard from a founding member of the band Alabama, Teddy Gentry, who "recalled with obvious and detailed affection the circumstances of the creation of Christmas In Dixie on a hot, mid-summer day in 1982 at Lookout Mountain in Alabama", Justice Pembroke said.
"He said that the first time he heard the plaintiff's song was many years later, in the Nashville office of Sony US, after the plaintiff had made a complaint."
Gentry lived on a farm and had little exposure to television.
"I am satisfied that it is unlikely that he could have heard the plaintiff's song by picking it up from the theme music of episodes of Prisoner," Justice Pembroke said.
The court also heard that the central element of both songs is "one of the most basic and common harmonic patterns in all music".
"There was no failure by Sony to exercise its discretion and, in the circumstances, nothing unreasonable, or lacking in good faith, in the way the discretion was exercised," Justice Pembroke said, dismissing the claim.
Allan is considering follow-up legal action.
RETURN TO TOP

---