---
MONDAY, JANUARY 31, 2016
Tamworth impacts music sales
A study of this week's ARIA (Australian Recording Industry Association) Country Albums Chart demonstrates the clear impact the Tamworth Country Music Festival, Golden Guitar Awards and generally heightened promotional impact has on record sales.
Because of the sheer weight of numbers and promotion from the United States mainly, country music album sales in Australia, and the resultant weekly chart, are usually always heavily weighted towards product of foreign artists.
In a typical week, it is rare for the number of Australian works to number more than about a dozen.
The current chart, however, the first reflecting a full week after the end of this year's Tamworth Country Music Festival, has exactly half of the entries by Australian acts, albeit also counting Keith Urban who is not currently part of the local country scene.
The 20 does not include compilation albums that only feature a small number of Australian acts.
Here at the Bulletin, we publish a weekly chart based on the ARIA Country Albums chart but only listing releases by Australian acts. Our rationale for this is that there are plenty of other outlets that do publish the broader chart which is usually heavily dominated by foreign acts.
---
FRIDAY, JANUARY 29, 2016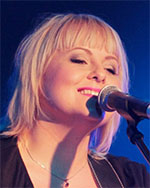 Lyn Bowtell takes over Tamworth
Lyn Bowtell says she has had one of her best Tamworths ever.
Oft described as one of the hardest working women in Australian country music, Lyn's Tamworth 2016 began with her new role as Director of the Country Music Association of Australia Academy of Country Music.
She then moved on to appearances with Beccy Cole, Adam Harvey and Shannon Noll at their Tamworth shows including the debut performance of a new song called FU Cancer with Lyn, Beccy and newly crowned Female Artist of the Year Catherine Britt.
This was followed by performances as a member of a new group Bennett, Bowtell & Urquhart at their debut album launch at this year's Golden Guitar Awards.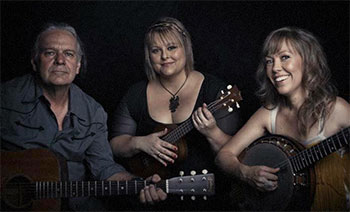 On top of that there was a packed interview schedule and three appearances at Toyota Fanzone as a solo artist and with Bennett, Bowtell and Urquhart.
Lyn's final Tamworth appearance marked the end of an era as she took to The Longyard stage with longtime friends Kate Ballantyne and Karen O'Shea as Bella.
On their 11th anniversary, Bella played their last ever show to a packed and sometimes tearful house.
Lyn's solo career continues to go from strength to strength as she recently released the third single (Selfish Heart) from her acclaimed Heart Of Sorrow album.
The new Bennett, Bowtell, Urquhart album comprises 10 tracks recorded with co-producer Glen Hannah. The first single from the album is I Hear Them All.
Weblink – www.facebook.com/Bennett.Bowtell.Urquhart.
---
THURSDAY, JANUARY 28, 2016
Catching up on Tamworth...
Lots of things happen during the annual Tamworth Country Music Festival and event organisers are not always aware they need to let the world know!
So it can take a while for news of various activities to become more widely known.
We generally get the Golden Guitar winners straight away, plus People's Choice, TSA, CCMA National Talent Quest as they happen. But others can take a while!
Here now, we include a few we have been able to learn...
Busking Championships
Tambourine Mountain based Mitch King was judged the winner of the 2016 Toyota Landcruiser Country Music Busking Championship on Saturday, January 24.
Port Macquarie based Andrew Cousins was named runner-up while singer/songwriter Matty Rogers came third.
Photo: Mitch with his winner's certificate.
Weblinks – mitchkingmusic.com.au, www.facebook.com/andrewcousinsmusic, www.matty-rogers.com.
Country Music Queen
Tweny-five-year-old Maddy Lang was named the Tamworth Queen of Country Music on Friday night (January 22) with 22-year-old Dominique Judd named Princess.
The local Northern Daily Leader reported the pair both said the idea of seeing the festival in a different light attracted them to enter the competition.
"I'd seen the girls doing it before at previous Festivals," Maddy said, "and thought it was a great opportunity to meet some more people and see the festival from a different side."
Dominique, who only moved to Tamworth from Newcastle less than a year ago, said the Queen Quest was a "great experience".
"It was lovely to meet all the girls and get to know them, as I've been here for six months," she said. "I loved everything about Peel Street during the festival.
The finishing concert was great and so were the fireworks at the beginning and end of the concert."
After being crowned, Maddy and Dominique took part in the annual festival County Music Cavalcade and attended the Golden Guitars Awards. The pair will now commence their roles as Tamworth Country Music Festival ambassadors.
Maddy will travel to Tamworth's sister city, Gore in New Zealand, in June for the city's own country music festival. She will present the Junior Encouragement Award to the overall junior winner at the New Zealand Golden Guitar Awards.
"I've been to Gore before, so it will be good to go back," she said.
Aristocrat 2016
By Anna Rose
There was plenty of talent, quite a few tears, but definitely no tantrums at the highly-charged Wests Aristocrat Country Entertainer of the Year quest in Tamworth this January.
Emotions ran high at the grand final where the inaugural Nathaniel O'Brien encouragement award was presented to Northern Territorians Melanie Gray & The Dirty Jeans Band.
The 2016 Aristocrat Country Entertainer of the Year winner, Matt Pratt, from South Australia, blitzed the field in his guitar-slinging assault at the title, winning $2000 and 10 hours' recording time.
With the swagger of a young Keith Urban, Matt won over grand final judges Beccy Cole, Libby O'Donovan, Anna Rose and Gina Timms.
The senior section came down to a Queensland-South Australian standoff, with Adelaide-based singer/songwriter Tanya Cornish the runner-up and Queenslander Amber Goldsmith placing third.
The junior section was hotly contested, resulting in a Queensland-New Zealand shoot-out, with the delightful Dennis Sisters claiming this year's title for the Sunshine State, plus a handy $700 in cash.
New Zealand instrumentalist Joseph Balfe secured his second consecutive runner-up prize and Cassi Hilbers took third prize home to Queensland.
After two heats, with contestants coming from all states and territories, as well as across the ditch, the grand final was once again not only a great showcase of talent, but a true concert experience for the audience in the grand ballroom of Wests' Diggers.
Sponsored by Aristocrat Leisure Industries, the Nathaniel O'Brien Encouragement Award honours the memory of the late Burra, South Australia, performer Nathaniel, who won both junior and senior divisions of the quest over an 11-year period.
Tragically killed in a motor vehicle accident at age 19, Wests and Aristocrat, together with quest co-ordinator Gina Timms, created the award to ensure Nathaniel's memory lives on in Tamworth with a perpetual trophy to be housed at Wests.
The lively Dirty Jeans Band, led by singer-songwriter Melanie Gray from Darwin, proved worthy winners of the inaugural award.
Photo: Senior and junior winners and placegetters, back from left, chief judge Gina Timms, Aristocrat representative Peter Henderson, Amber Goldsmith, Matt Pratt, Tanya Cornish, Joseph Balfe and Tiana Dennis. At front, Cassi Hilbers and Briannah Dennis. Click the image for a larger version. Photo by Robmac.
Mt Franklin
Winners in the 2016 Mount Franklin Junior Talent Quest held at West Tamworth League Club were...
Junior Winner: Rory Phillips
Junior Runner Up: Felicity Kircher
Senior Winner: Kaitlyn Thomas
Senior Runner Up: Heath Milner
Cavalvade winners
Thousands of spectators lined Tamworth's Peel Street on Saturday morning (January 23) for the annual Country Music Cavalcade that featured more than 100 entries.
The parade went very well until the last 10 minutes or so when the heavens opened and anyone not with coverage received a drenching.
Winners in the Non Commercial category were...
1 – Fire and Rescue NSW
2 – Cancer Council NSW
3 – Tamworth Regional Council
And in the Commercial category...
1 – Tamworth City Dance Academy
2 – King of the Ranges Stockman's Challenge
3 – Wavelengths 489 & Tunes in the Tropics presenting Ashleigh Dallas.
Winners will be presented with their prizes in the coming weeks.
---
WEDNESDAY, JANUARY 27, 2016
Gillian tours down under
Americana star Gillian Welch is heading down under for a seven-date series of concerts kicking off in Melbourne on Saturday in Perth.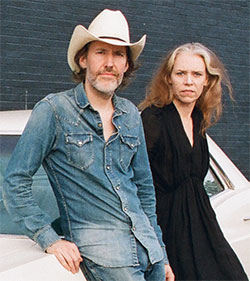 The singer/songwriter last toured Australia 11 years ago and has already sold out shows at Melbourne's Palais Theatre and two shows at the Sydney's Enmore Theatre.
Gllian will also play Melbourne and Sydney as part of the Dave Rawlings Machine concerts in Sydney on February 16 at the nmore Theatre and in Melbourne on February 19 at the Palais. The Machine also features Willie Watson (Old Crow Medicine Show), Paul Kowert (Punch Brothers) and Brittany Haas.
Having sold out one date at Banglow's A & I Hall, an extra Dave Rawlings Machine has also been added on February 14 and it is also expected to sell out soon.
"Tickets for all other Gillian Welch and Dave Rawlings Machine shows (sux dates) are moving fast," said a spokesman for the artists, "so what ever you do, don't wait for your chance to see them live."
Weblinks – www.gillianwelch.com, www.daverawlingsmachine.com.
---
TUESDAY, JANUARY 26, 2016
Jim Haynes OAM
Well-known singer/songwriter, author, broadcaster and bush poetry promoter and recording artist Jim Haynes has been honoured with an Order of Australia Medal (OAM) in this year's Australia Day honours list.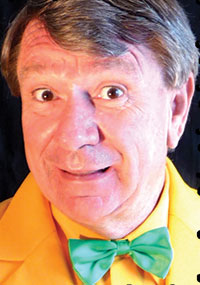 Jim's award was presented for service to the performing arts as an entertainer, author, broadcaster and historian.
With a long-time involvement in the country music industry in particular, Jim has recently authored many literary works ranging from compilations of bush poetry to trucks, trains and Gallipoli.
While teaching in Inverell, NSW, in the late 1970s, Jim formed the Bandy Bill & Co Bush Band. He rejoined in 1985 and the band recorded two albums on the Hadley label and had airplay on the ABC radio show "Australia All Over".
Jim worked weekend shifts on commercial radio station 2NZ, began providing stories and poetry readings for "Australia All Over" and quit teaching to work full-time on that program in 1988.
He had a minor hit with Mow Ya Lawn in 1989 and signed his first solo record deal with Festival's Kookaburra Label in 1990. Embarking on a career as an entertainer, performing at clubs and touring a school show called "Singabout Australia", Jim's "break" came when Warner/Chappell Music signed him to a publishing deal.
Two songs from his album It's Nothing Serious, produced by Greg Champion, became hits... Don't Call Wagga Wagga Wagga, recorded with Greg and Ted Egan, was a number two hit in 1994 and Since Cheryl Went Feral topped the country charts for five weeks in 1995.
Jim signed a three record deal with ABC Music and began touring his own show and also touring with other artists like Adam Brand, Greg Champion, Beccy Cole, Slim Dusty and Melinda Schneider. He has since recorded quite a few albums of songs, verse and humour on his own label Singabout Australia.
A double CD of old material, The Complete Jim Haynes Collection, was released in 2011 and an album of new songs, Galah Occasion, appeared in 2012, featuring duets with Melanie Dyer and Wayne Horsburgh.
Having "invented" the perfect country town of Weelabarabak in the 1980s, Jim began writing verse about the town and its characters and events. These poems were self-published as "I'll Have Chips!" which sold more than 10 000 copies. A book of short stories, "Memories Of Weelabarabak", followed, published by ABC Books.
Jim's "Aussie Verse" column was a weekly feature of the nation's oldest magazine Australasian Post until its demise in 2004 and for many years he has had a segment on Sydney radio station 2UE.
He was a long-time member of the Country Music Association of Australia board, ultimately being presented with Life Membrtship, and for some 14 years, compered the Australian Bush Laureate Awards in Tamworth.
Weblink – www.jimhaynes.net.
---
SUNDAY, JANUARY 24, 2016
Troy's night at the Golden Guitars
It was Troy Cassar-Daley's night at the Golden Guitar Awards in Tamworth last night, the star winning five of the prized trophies plus a special award for Producer of the Year.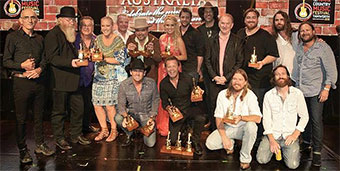 Following a tough personal 12 months and his ground-breaking self-produced Freedom Ride album release, Troy won Single of the Year, Song of the Year, Heritage Song of the Year (with Paul Kelly), Male Artist of the Year and Album of the Year.
Lee Kernaghan was a triple winner taking home Top Selling Album of the Year, Video Clip of the Year (directed by Duncan Toombes) and Vocal Collaboration of the Year for his album ("with friends"), Spirit Of The Anzacs.
Peter Denahy was a double winner with gongs for Instrumental with Cluck Old Hen and Bluegrass Recording of the Year with Singin' Shoes.
Catherine Britt was judged to be Female Artist of the Year with Boneshaker.
Alt Country Album of the Year went to Shane Nicholson with Hell Breaks Loose (produced by Matt Fell) and Group of the Year was won by the Adam Eckersley Band with The Second Album.
Allan Caswell & Manfred Vijars won Bush Ballad of the Year with One Last Muster and Christie Lamb was named New Talent of the Year with Broken Record.
Doug Gallacher was presented with a special Musician of the Year award and Graeme Connors was announced as the latest inductee to the Australasian Country Music Roll of Renown.
Photo (from Troy's facebook page) all winners, including Troy at front with his haul of Golden Guitars!
Weblink – www.country.com.au.
---
SATURDAY, JANUARY 23, 2016
Karin wins Star Maker
Karin Page of Wembley Downs, Western Australia, has won Toyota Star Maker 2016.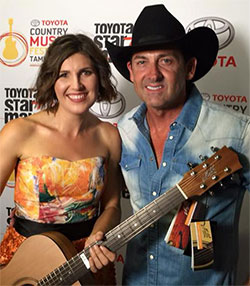 Karin took the title in a sing-off with Tamworth's Allison Forbers and Picton's Miss Lancaster.
The final was staged as part of Toyota's Concert for Rural Australia in Country Music Capital's Bicentennial Park last night.
Karin wins a huge prize including the full use of a Toyota vehicle for 12 months, recording and video production plus guaranteed performances at a number of venues including Tamworth and Nashville.
Photo: Karin pictured after winning the contest with one of Star Maker's most notable successes, Lee Kernaghan
Weblink – www.starmaker.com.au.
Jasmine, Campbell & Alyssa win CCMA's 50th
Jasmine Atkins and Campbell & Alyssa Landrebe have taken top honours in the Capital Country Music Association National Talent Quest in Tamworth, the 50th event in the Association's long history.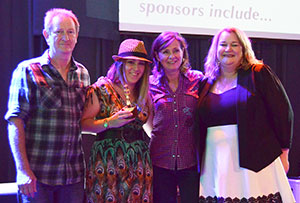 Jasmine, from Western Australia, was judged as Overall Senior Winner following her twin wins in the Female Vocal and Songwriting sections.
Campbell & Alyssa, who hail from New Zealand, won Overall Junior Winner after contesting other events individually in the talent quest and winning the Junior Group/Duo section to make their way into the winners concert.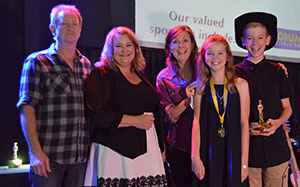 There were almost 150 individual entries in this year's National Talent Quest which introduced a new category – Golden Oldies – in recognition of the Jamdboree's 50th anniversary.
A full listing of section finalists, runners-up and winners follows...
Female Vocal Senior... winner: Jasmine Atkins, runner-up: Karen Maimon, finalists: Amber Goldsmith, Kim Kool, Amanda Quade.
Female Vocal Junior... winner: Shalani Thomas, runner-up: Jordana Jones, finalists: Sophia Chesworth, Tiana Dennis, Amy Pain.
Female Vocal Juvenile... winner: Felicity Kircher, runner-up: Kathryn Luxford, finalists: Bonnie Grant, Alyssa Landrebe, Hattie Oates.
Male Vocal Senior... winner: Kelvin Cummings, runner-up: Paul Crowder, finalists: Peter Armstrong, Matt Pratt, Adrian Thomas.
Male Vocal Junior... winner: Jack McDougall.
Male Vocal Juvenile... winner: Kasey Kilsby, runner-up: Owen Foster-Griffith, finalists: Campbell Landrebe, Jesse O'Brien, Rory Phillips.
Group/Duo Senior... winner: The Mason Boys, runner-up: Melanie Gray & The Dirty Jeans Band, finalists: Country @ Heart, Mikara & Ruby, Triple Threat.
Group/Duo Junior... winner: Campbell & Alyssa, runner-up: Just Between Us, finalists: The Dennis Sisters, Zoe & Jack.
Instrumental Junior... winner: Shalani Thomas.
Songwriting Senior... winner: Jasmine Atkins, runner-up: Paul Crowder, finalists: Peter Armstrong, Melanie Gray, Chris Stubbs.
Songwriting Junior... winner: Sophia Chesworth, runner-up: Kasey Kilsby, finalists: Tiana Dennis, Zoey Mills.
Golden Oldies... winner: Peter Armstrong, runner-up: Paul Crowder, finalists: Brian Galloway, Jim Hartley, Maurie Marion.
Photos: pictured with CCMA President Steve Newton and judges Anne Kirkpatrick and Tracy Coster... top: Jasmine Atkins, bottom: Campbell & Alyssa.
Weblink – www.ccma.net.au.
---
FRIDAY, JANUARY 22, 2016
Brothers3 and Graham Rodger dominate People's Choice 2016
Brothers3 and Graham Rodger, two of the perennial favourites in the Australian Country Music Peoples Choice Awards, dominated the 2016 presentations in Tamworth last night.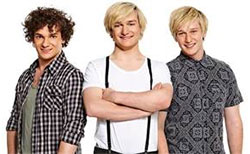 Brothers3, still riding a wave of popularity and success following their recent involvement on televsion's X Factor, took home Best Group, Best Video and Song of the Year, all for their self-penned song Brothers Never Part. The video was directed by Duncan Toombes.
Graham Rodger, who has built a formidable fan base over the last few years, took home Best Male Vocal and Best Album for They Answered The Call. The album was produced by Michael Fix.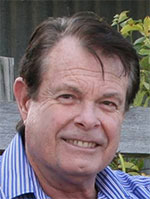 Amber Lawrence won her second People's Choice Best Female award, ending the grasp held on this category by Dianne Lindsay for the last two years.
Steve Passfield and Kathryn Jones were successful with Kathryn's song Even Cowgirls Sing The Blues in Best Vocal Event from the album Lil Gypsy that Steve produced for the North Coast based singer/songwriter.
Dale Duncan continued his successful People's Choice run with the Terry Bennetts/Keith Lethbridge-penned track The Old Camp Oven winning Best Bush Ballad.
North Queensland country singer/songwriter and rising star Becci Nethery was voted Most Popular Future Star by the thousands who voted in this year's Awards.
In the broadcast categories, Jane Kellaway of Sydney's 2MCR FM was named Most Popular Country Music DJ for the second year in succession while Alan Gilmour's Australian Country Songwriters Showcase on the NSW Central Coast's todayscountry94one was voted Most Popular Country Music Radio Program.
"All round, another very successful Australian Country Music People's Choice Awards," according to spokesman Bob Kirchner.
"Our voter numbers continue to grow year on year," Bob said, "and we are already looking forward to the next round of voting which should get underway in just a few months time."
Weblink – www.peopleschoiceawards.com.au.
---
TUESDAY, JANUARY 19, 2016
TSA winners
Winners in the 2016 Tamworth Songwriters' Association Salute Awards were announced in front of a good crown at Country Music Capital's Longyard Hotel tonight.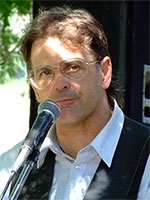 Keith Jamieson won the Bev Daniel Commemorative Award for Traditional Bush Ballad with Plain And Simple Drifter.
Dana Hassall took out Contemporary Song of the Year with Spinning Wheels while Brendan Smoother was successful in Contemporary Ballad of the Year with Warning Signs.
Peter Salata won Comedy/Novelty Song of the Year with The Wallaby Hotel with Virginia Hermel winning Gospel Song of the Year with Golden Bridge.
Jeff Aschmann took out Alt Blues Bluegrass Song of the Year with I Don't Need No Plastic Jesus while John Walsh & Imogen Clark won the special Anzac Song of the Year with While Women Wait.
Country Song of the Year was presented to Rodney Moar for 100 Years The Anzac. Rodney also won the APRA/TSA New Songwriter award
The special Tex Morton Award was presented to Lawrie Minson and Pat Drummond (pctured) was announced winner of TSA's prestigious Songmaker Award.
In the National Country Songwriting Contest...
Garry Koehler was named winner of both Open Traditional (with Spirit Of The New Frontier) and Open Contemporary (with No White Card).
Novice winner was Lloyd Clarke with Daisy Chains and the Youth title went to Sophia Chesworth with There For Me.
The Blues & Roots & Bluegrass award went to Billy Bridge with Ghost Town and the Lyrics Only category was taken out by Patricia Thompson with A Library Shuts Down.
Weblink – www.tsaonline.com.au.
---
MONDAY, JANUARY 18, 2016 – Tamworth Day Four
Allison, Karin and Missy: Star Maker Top 3
Allison Forbes, Missy Lancaster and Karin Page are a step closer to taking out the 2016 Toyota Star Maker prize after singing their way into the grand final of the talent search last night.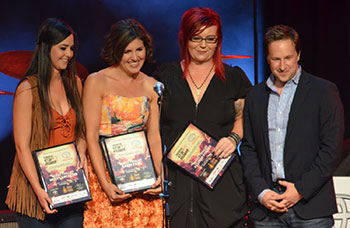 The three withstood tough competition to make the judges grade.
Allison, from Tamworth, was the solid local favourite while Missy is from Picton, NSW, near Sydney and Karin, from Wembley Downs, was one of three Western Australians in the Final.
The field of seven women and three men also included Damien Agius, Tom Coulson, Kate Hindle, Hayley Jensen, Sharmain Kendrick, Liam Kennedy-Clark and Hayley Marsten.
Friday night is the night the grand finalists come together to vie for the top prize of Toyota Star Maker 2016, including the full use of a Toyota vehicle for 12 months, recording and video production plus guaranteed performances at a number of venues including Tamworth and Nashville.
The Star Maker Grand Final will be staged as part of the Toyota Concert for Rural Australia on Friday night in Tamworth's Bicentennial Park.
Photo: the top three grand finalists, from left, Karin, Missy and Allison with Toyota Sponsorships Manager, National Marketing, Nic Lloyd.
Weblink – www.starmaker.com.au.
---
SUNDAY, JANUARY 17, 2016 – Tamworth Day Three
Four for Hands of Fame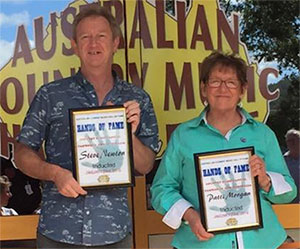 Four more well-known names were announced today for cementing in the Country Music Hands of Fame cornerstone next Saturday.
Bush ballad star Jeff Brown, country rock singer/songwriter Drew McAlister (half of the successful but now defunct McAlister Kemp duo), long-time country singing and recording star Patti Morgan (pictured) and leading producer, instrumentalist and industry figure Steve Newton (also pictured) will all be immortalised in concrete after the induction ceremony at Hands of Fame Park from 10:30am.
The honour for Patti and Steve is particularly poignant. Not that it was bestowed for this reason but they are currently Secretary and President, respectively, of the Capital Country Music Association which is running its 50th National Talent Quest in Tamworth this year.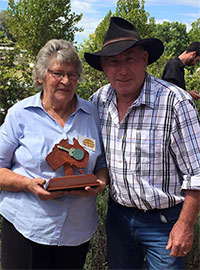 The inductees were announced yesterday morning by the Australian Country Music Foundation (ACMF), operators of Australia's Country Music Hall of Fame in Tamworth, together with a further inductee into the Australian Country Music Broadcasters Hall of Fame, Mike Kennedy of Newcastle.
Special recognition was also afforded to long-time ACMF Director and volunteer Judy Loffell who was presented with the special "Tamworth Appreciation" award by local country music stalwart Noel Smith. Judy is pictured here with long-time presenter of the special award, broadcaster Brian Howard.
Judy has worked continuously at the ACMF and the Hall of Fame since the mid 1990s, including as Treasurer and Museum Curator, often under difficult circumstances when the organisation was scratching for enough funds to keep the Hall of Fame doors open.
Golden Dampers on again
Followers and performers of bush poetry will be pleased to know that the famous Golden Damper Awards will be on again this year at the Tamworth Country Music Festival.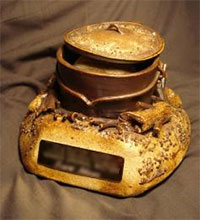 For 30 years, performers have competed in the Traditional and Original sections of what used to be called the Tamworth Bush Poetry Competition. Competitors vied for the locally made Golden Dampers and the name of the trophies has become the name of the competition. These days the competition is run by the Australian Bush Poets Association and has acquired the name of the ABPA Golden Damper Awards.
"If you are a performing poet this is your chance to strut your stuff," said a spokesman for the organisers. "But hurry, as spaces in the program are filling up quickly."
The competition heats will be held in the Outback Room at West Leagues Club, Phillip Street, West Tamworth, on Tuesday January 19, Thursday 21 and Friday 22, starting at 10:30am.
Finals will be held on Saturday January 23 in Blazes Auditorium at Wests with an early start of 7am.
This year's Finals is a ticketed show with a $5 entry fee.
"We strongly advise patrons to pre-purchase their tickets from the Box Office in the Club Foyer before the event to avoid congestion and delays entering the auditorium on the day," the spokesman said.
Pre-purchase tickets are also available on line from the Club at www.wtlc.com.au (then follow the link to Ticket Sales).
Anyone who would like to enter can contact the Competition Convenor on 0419 415 137 or email TheRhymerfromRyde@bigpond.com.
Star Maker tonight
The major event on today's Tamworth Country Music Festival program is the elimination final of Toyota Star Maker 2016.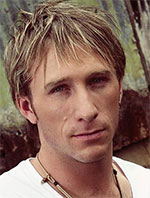 Ten acts will battle it out for three grand finalist positions to compete for the major prize next Friday night.
Going up against each other will be Damien Agius (from North Eton, Qld), Tom Coulson (Honeywood, Tas), Allison Forbes (Tamworth NSW), Kate Hindle (Collie, WA), Hayley Jensen (Pyrmont, NSW), Sharmain Kendrick (Landsdale, WA), Liam Kennedy-Clark Sippy Downs, Qld), Missy Lancaster(Picton, NSW), Hayley Marsten (Gladstone, Qld) and Karin Page (Wembley Downs, WA).
The show gets underway at 7pm in the Tamworth Town Hall and will also feature performances by reigning Star Maker Mickey Pye (pictured) and previous Star Maker winners Bob Corbett and Darren Coggan (Darren is also compere).
Tickets can be purchased here, or at the door, subject to availability.
Weblink – www.starmaker.com.au.
---
SATURDAY, JANUARY 16, 2016
Tamworth, Day Two
The biggest news about day two of the 2016 Tamworth Country Music Festival is about what's NOT on... namely the annual Roll of Renown Concert usually held in the Tamworth Town Hall.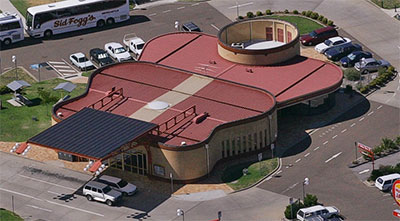 Organised and staged for many years by the Australian Country Music Foundation (ACMF) to announce a number of honours, including the Roll of Renown, the concert is not being held in 2016 following a move of the Roll of Renown announcement back to the Golden Guitar Awards next Saturday.
It also follows a move of the Australian Country Music Hall of Fame, also operated by the ACMF, to larger premises at the site of the former Tamworth Visitor Information Centre, a larger and more extensive building.
The Hall of Fame will announce inductees into the Country Music Hands of Fame Cornerstone and the Australian Country Music Broadcasters Hall of Fame during a gala official opening ceremony this morning from 10:30.
Meanwhile, fans will have to wait until the Golden Guitar Awards night to find out who will be elevated to the Roll of Renown this year.
Weblink – www.countrymusichalloffame.com.au.
Official Program
For the umpteenth year, Fairfax Rural Events (previously Rural Press Events) have published the Tamworth Country Music Festival Guide which includes the Official Festival Program.
The Guide is available at numerous locations throughout the Tamworth region and comes complete with a free souvenir CD.
Festival App
A companion to the Official Guide is the Official Guide App for both iPhone and Android users.
Apart from the full program, the App includes information on artists and venues, maps and bus routes, links to live streaming, ticket sales and allows users to see what's "on now" and what's happening "near me".
Festival FM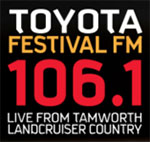 And rounding out the specialist festival information outlets is the specialist festival radio Toyota Festival FM broadcasting on 106.1.
The station broadcasts continuous Australian country music and has news and features, interviews and more all about the Festival.
Festival FM will also feature live broadcasts of the Toyota Star Maker Final and the 44th annual Golden Guitar Awards.
---
FRIDAY, JANUARY 15, 2016
Tamworth, Day One
For all the country music lovers waiting for the start of the 2016 Tamworth Country Music Festival, day one is here!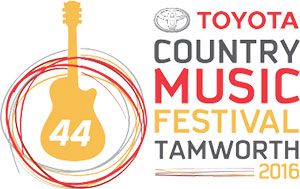 Over the coming 10 days, more than 700 performers and 2,800 shows will be staged across 120 different venues.
There will be hundreds of buskers on "the Boulevarde of Dreams" (Peel Street) providing a diverse range of entertainment each day, other free and paid hr
Free shows and paid shows abound throughout the city and environs.
A series of important Awards presentations will be made, including the Tamworth Songwriters' Association Awards, accolades handed out by the Australian Country Music Foundation and the Australian Country Music People's Choice Awards... all leading up to...
The pinnacle event, the Country Music Association of Australia's Toyota Golden Guitar Awards when the who's who of Australian country music gather with country music fans to see who will win the famous Golden Guitars.
Here at the Bulletin, we'll be keeping you up to date with all the news from the country music extravaganza, the 44th to be staged, as well as on-going and happening news of Australian country music everywhere.
---
THURSDAY, JANUARY 14, 2016
Warren H returns to Tamworth
Golden Guitar winner Warren H Williams, one of Australia's most loved and highly decorated Aboriginal artists, is returning to the Tamworth Country Music Festival this year.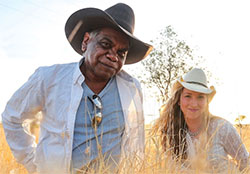 Warren has collaborated with emerging artist Dani Young to write and produce an album of "original yet traditional style" country duets aptly named Desert Water (due for release early this year).
The duo will debut their new music at the Festival on January 20 with a live band and a string of Australia's top artists as special guests at the city's Family Hotel from 3:30pm.
The pairing is described as "an historic musical union to their sound and journey, being the first Black (Aboriginal) and White Australian duo to record an album".
Tickets are available here or can be reserved by the venue by phone (133 390) or in person.
Weblink – www.facebook.com/warrenhwilliams.
---
WEDNESDAY, JANUARY 13, 2016
Jimmy bust for unveiling
The newest bronze bust to feature in Country Music Capital's Bicentennial Park – that of the late Jimmy Little – will be unveiled on day one of the 2016 Tamworth Country Music Festival, this Friday, at 10:30am.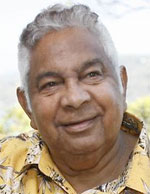 The honour was awarded to Dr James "Jimmy" Little AO in 2013, after which an extensive fundraising campaign kicked off, including a successful Bush Balladeers concert during the Hats off to Country event in July last year.
Members of Jimmy's family will be in attendance and are excited to witness this important point in Australian country music history.
Jimmy recorded his first single in 1956 and rose to prominence as an Aboriginal entertainer throughout the 1960s. His hit Royal Telephone shot him to fame in 1963 after it sold more than 75,000 copies and went gold.
Throughout his career, Jimmy was honoured with every major Australian music industry award, plus several honourary doctorates. He was elevated to the Australian Country Music Roll of Renown in 1994 and inducted into the ARIA Australian Music Hall of Fame in 2009.
Jimmy will join country music icons Stan Coster, Reg Lindsay, Tex Morton, Gordon Parsons, Shirley Thoms, Barry Thornton and Buddy Williams whose faces are all immortalised in bronze in the Park.
As well as Smoky Dawson, Slim Dusty and Joy McKean who have been honoured with lifesize statues in place in the city's busy Peel Street.
The busts are the work of countless hours of fundraising and are important in preserving the history of country music and its icons.
Chad coming next
Fundraising has already begun for the next artist to be recognised with a bronze bust... Chadwick (Chad) Morgan – "the Sheik of Scrubby Creek".
Chad was discovered on Australia's Amateur Hour radio program more than six decades ago and has had an extensive career to date after making his first recording with Regal Zonophone, a subsidiary of EMI, all those years ago.
Chad is considered an institution in Australasian country music, its most unique character and one of the biggest drawcards.
He has many accolades including being initiated into the Hands of Fame in 1979 and inducted to the Roll of Renown in 1987. He has received a Living Legend award at Kempsey and in 2004 was a recipient of an Order of Australia Medal (OAM) for his contribution to entertainment.
In 2010, Chad Morgan was the first person to be honoured with a Lifetime Achievement Award presented by the Country Music Association of Australia (CMAA).
The first fundraising concert for Chad's bust will be held at the Balladeers' Homestead, Goonoo Goonoo Road, Tamworth, at 7pm on Sunday, January 17.
It will feature performances by Rex Baldwin, Jeff Brown, Johnny Greenwood, Kate Hindle, Ged & Trudy Hintz, Tommy Kennedy, Lyn Manning, Tom Maxwell and the subject of the campaign himself, Chad Morgan.
A donation of $15 is payable at the door.
---
TUESDAY, JANUARY 12, 2016
CCMA introduces new talent quest category
Australia's Capital Country Music Association (CCMA) will introduce a new category to its National Talent Quest this January.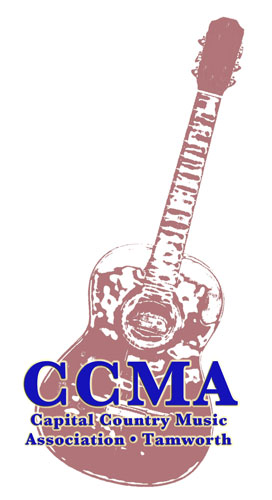 The category is for Golden Oldies, "a very appropriate addition to our category list given that 2016 sees the Golden Anniversary staging of the Talent Quest," said CCMA President Steve Newton.
Golden Oldies is a category for solo performers aged 49 or more as at the Talent Quest date, Thursday January 21, 2016.
"It's a category many other country music talent quests in Australia have had as a part of their roster for some time," Steve said.
"And so we thought, when our talent quest turned 50, it was only fair that we have a dedicated category for those of the same or similar vintage!
"People in this age group have always been able to enter our Talent Quest, of course, but they would have competed in senior male/female vocal categories.
"By having a dedicated category, we are providing a specific opportunity for amateur performers who have been singing and playing for many years.
"But it will also provide an opportunity for any 'late starters' to showcase their talents without being in direct competition with some of the younger acts."
First placegetter in the new category will win $1,000 of recording time at the city's Enrec Studios. The runner-up will win $500 worth of recording time.
The CCMA 50th Anniversary National Talent Quest runs in Tamworth on Friday and Saturday January 21 and 22 at the Northwest Church Auditorium in South Tamworth.
Entries in all categories except Songwriting remain open until the day of the Quest.
Entry can be made here, on line, at www.ccma.net.au.
---
FRIDAY, JANUARY 8, 2016
Bungendore finalists announced
Finalists in the Stan Coster Memorial Bush Ballad Awards, to be announced during this year's Bungendore Country Muster in February, are...
Male Vocal... Tom Maxwell (pictured) with Drift Back In Time, Pete Smith with Country Way of Life and Justin Standley with Return Of The Stockmen.
Female Vocal... Laura Downing with The Vanishing Breed, Dianne Lindsay with Charlie and Norma O'Hara Murphy (pictured) with Solid Gold.
New Talent... Graeme Doubleday with The Boy I Left Behind, Allan Herbert with Country Lovin' and Caitlyn Jamieson with My Mum And Dad.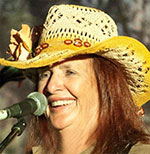 Duo... The Coad Sisters with Things Are Not The Same On The Land, Sharon Heaslip with Further Out and Shaza Leigh & Lynette Guest with Something Of A Privilege.
Instrumental... Lindsay Butler with Beneath The Old Moon, John Kilcullen with Freight Train Yodel and Ray Pratley with Rabbit Flats.
Album... Always On The Road by John Smith, Pictures In The Smoke by Tom Maxwell and Plain And Simple Drifter by Keith Jamieson.
Songwriters... Laura Downing with The Mt Tamborine Drover, Tootie Hiles with The Condamine and Keith Jamieson with Plain And Simple Drifter.
Comedy... Keith Jamieson with Baby Boomin' Grey Nomads, Country Hat and Thirty Sows And Pigs (bound to pick up a gong here!).
The Bungendore Country Muster runs on February 6 and 7.
Weblink – www.bungendorecountrymuster.com.au.
---
WEDNESDAY, JANUARY 6, 2016
The Winners 2016
The Winners 2016 – the Country Music Association of Australia (CMAA) compilation of finalists in the 44th annual Golden Guitar Awards, will be released on Friday.
Released through Universal Music Australia, The Winners 2016 compilation will continue last year's format that featured 38 songs across a double CD set.
The album represents all award categories and features artists including Adam Eckersley Band, Catherine Britt, Troy Cassar-Daley, Beccy Cole, Ashleigh Dallas, Lee Kernaghan, Amber Lawrence, Mustered Courage, Shane Nicholson, Luke O'Shea, Dean Perrett and Aleyce Simmonds.

Roger Corbett, Vice Chairman of the CMAA, said: "The CMAA is proud to be growing its membership and support of country music in Australia. We congratulate every artist named as a finalist. The Golden Guitar Awards celebrate the very best that Australian country music has to offer."

Weblink – www.country.com.au.