---
AUSTRALIAN COUNTRY MUSIC NEWS ARCHIVE – FEBRUARY 2017
---
MONDAY, FEBRUARY 20, 2017
Kasey on tour
To celebrate the recent number one ARIA chart debut of her 11th studio album Dragonfly, Kasey Chambers has announced the first dates of her 2017 Dragonfly Tour.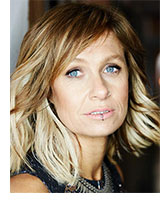 Dragonfly, Kasey's fifth number one album, features guests including Vika and Linda Bull, Harry Hookey, Paul Kelly, Ed Sheeran, Grizzlee Train, Keith Urban and Foy Vance.
The first disc of Dragonfly was produced by ARIA Hall of Famer Paul Kelly (The Sing Sing Sessions) while the second was produced by Kasey's brother Nash Chambers (The Foggy Mountain Sessions).
The latest single from Dragonfly is Satellite.
The Dragonfly Tour will kick off in April and see Kasey (and her band) take in capital cities and regional towns stretching from Tasmania across to Western Australia and Victoria, with more dates to be announced throughout the year.
Weblink – www.kaseychambers.com for full ticket details.
---
FRIDAY, FEBRUARY 17, 2017
Posthumous album launch for Hugh
Saturday, February 25, will see the posthumous launch of Hugh McDonald's last CD release, Bush Shenanigans.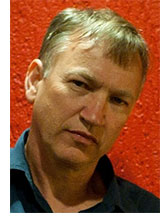 Well known songwriter and musician Hugh died in November of complications from prostate cander.
The album release adds to Hugh's legacy as a solo performer and to the music of Redgum and a supporter of worthwhile charities.
All profits from this special event go to Peter Mac, the Melbourne cancer centre.
It comprises a collection of classic bush tunes originally recorded for European release in 2007 by Hugh and some of his mates, all of whom are playing at the launch event.
Tickets are $40 and will include a copy of the album.
Artists will include Peter Anderson, the Davidson Brothers, James Clark, Sam Lemann and Kath McDonald.
The venue is Nardoo Farm, 1361 Kilmore Road, Monegeetta (between Riddells Creek & Romsey). Gates open at 6pm, live music 7pm-10pm.
More information and tickets can be obtained from James Clark on 03 5428 7907 or email clarkaudio@gmail.com.
Hugh's many songs include the now country classic Diamantina Drover that has been recorded by more than 40 artists including Lee Kernaghan, Redgum and John Williamson.
---
TUESDAY, FEBRUARY 7, 2017
Bungendore winners
Winners in the Stan Coster Memorial Bush Ballad Awards were announced during the Bungendore Country Muster at the weekend.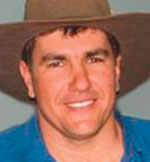 Jeff Brown (pictured) was the big winner taking home the Male Vocal award with The Drover's Boy and the Album award ith Wanderin' Man.
Dianne Lindsay took out the Female Vocal award with Touch Of Snow while the Group/Duo award went to The Coad Sisters with She Still Waits. Virginia Coad also won the Songwriter award for the same track.
The Instrumental award was presented to Lindsay Butler for The Namoi Flows In The Moomba Ranges, New Talent went to Emma Jene with The Beat Of A Drum and the Comedy award was presented to John O'Dea with Yesterday.
The Barry Thornton Encouragement Award went to Kate Daniel.
The Awards were first presented in 1998 and attracted 53 nominations. Over the years the number of nominations continues to grow with numbers increasing every year.
Weblink – bungendorecountrymuster.com.au.
---
MONDAY, FEBRUARY 6, 2017
Wauchope broadcaster presented with Lions award
Marcia Wells, from Wauchope, NSW, has been presented with the 2017 Peel Valley Lions Club Community Charity Award for her dedication and commitment to many organisations, charities and country music.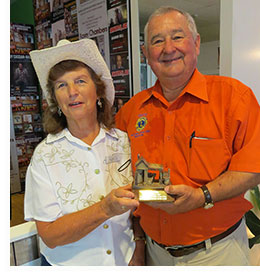 The Lions Club has been presenting this award every year since 1994 during the internationally renowned Tamworth Country Music Festival to someone who has made a significant contribution to their community by way of fundraising, helping others and through a connection with Australian country music.
Marcia has been a broadcaster with Community Radio 2WayFM for more than 40 years and through the station has been part of a team that has raised well over $130,000 for charities and other organisations.
Worthy causes that have benefited from Marcia's dedication include the NSW State Emergebcy Service, Wauchope District Memorial Hospital, Westpac Rescue Helicopter Service, Ronald McDonald House and Soldier On.
Other beneficiaries include the Wauchope Girl Guides, the children's ward and the oncology department at Port Macquarie Hospital, Blue Gum Lodge at Royal North Shore Hospital and the Bundaleer Gardens Hostel and Bundaleer Nursing Home.
Most recently, Marcia organised a concert to help raise funds for the bust of Chad Morgan to be erected in Tamworth's Bicentennial Park.
"Like many of the previous award recipients, Marcia is a quiet achiever," said Peel Valleyt Lions Club's Terry Hill, "going about her fundraising and charitable work with a humble attitude that belies the hard work behind it."
Marcia was presented with the traditional Fred Hillier "outdoor dunny" sculpture and a donation of $500 in her name to her local Riding for the Disabled, on Australia Day, live-on-air on Toyota Festival FM 106.1.
Marcia was nominated by the Lions Club of Wauchope.
Previous recipients of the award have been Bruce Moser, Vic (1994), Rocky Page, SA (1995), Olive Bice, Vic (1996), Lorraine Pfitzner, NSW (1997); Carol Lockhart, NSW (1998); Desree Ilona Crawford, Qld (1999), Merle & Graeme Gillis, Vic (2000), Shirley Llewellyn, NSW (2001), Bob Gray, NSW (2002), Peter Sheahan, Vic (2003) Peg & Ivan Spann, Qld (2004), Johnny Doyle, Vic (2005), Noel Smith, SA (2006), Frank Turton, SA (2007), Brian Letton, NSW (2008), Kay Willis & Barry Johnston, NSW (2009), Chris Doyle, Qld (2010) "Bidge" Boyd, Vic (2011), "Cactus" Martens, SA (2012), Murray Mac, SA (2013), Alison Ham & Mark Tempany SA (2014), Paul Ensbey. NSW (2015), Daryl & Robyn Freiberg Qld (2016).
Photo: Terry Hill presents the award to Marcia.