AUSTRALIAN COUNTRY MUSIC NEWS ARCHIVE
FEBRUARY, 2014
---
WEDNESDAY, FEBRUARY 26, 2014
New from the Adam Eckersley Band
New rising talent the Adam Eckersley Band will release its debut album – The First Album – on Friday March 14.
Since making their official debut at last year's Tamworth Country Music Festival, the band (Adam Eckersley, Scott Greenaway, Benny Elliot and Dan Biederman) have firmly positioned themselves as an act to watch in 2014.
The first single from the new album – Give Her The World – has gained widespread airplay and airplay chart success.
Following a wealth of musical experience from touring in Australia and the US, Adam began recording the album in late 2012. Songs then began to emerge during Australian co-writing sessions with songwriters such as Band bassist and session veteran Scotty Greenaway, Brooke McClymont (Adam's wife) and Lindsay Rimes.
The new album also has some American co-writes from Adam's time spent in Nashville and Atlanta; with the likes of David and Troy Johnson.
Weblink – www.adameckersleyband.com.
---
FRIDAY, FEBRUARY 21, 2014
New from Luke
Triple Golden Guitar winner Luke O'Shea released his latest single this week from his highly anticipated new album – Sing You Up – which is due to be launched mid March.
The single – Three Brothers (The Great War) – was written, Luke said, to "punch listeners in the nose – with the hope that the sting and the song's message will then be forever remembered!"
Luke picked up two Golden Guitars in January for back-to back Heritage Song of the Year and the coveted Song Of The Year with the Joy McKean inspired first single from the new album, Lady Of The Land.
Of the second single, Luke said Three Brothers is about July 28, 2014, the centenary of the first world war...
"With all the 'flag waving and cheers' that will resound throughout Australia this Anzac Day, WE MUST remember the terrible scar on humanity that the 'Great War' was.
"As a high school history teacher, my blood boils and my eyes glaze over as together we learn about the mistakes and the senseless waste of our gallant young men," he said.
"As most know, Australian troops defined themselves brilliantly given the circumstances and incompetence of our British Generals. Gallipoli was a disaster as was the massacre in France with 5,533 Australian casualties in Fromelles in one night, 28,000 casualties in the first seven weeks – these were not glorious deaths.
"I wrote this song to shout out to those unaware of the waste and damage of an event that happened 100 years ago and that we as a nation have never recovered from.
"As I tour around Australia I see so many once blossoming young towns frozen in time. Iconic rolls of renown stand pride of place in towns where the 'land has all been bought up and the shops are closing down'. For each young man that didn't return, an invaluable skill was lost – a husband, a father, a captain coach, a teacher or a farmer – there was so much 'future' lost.
"I get highly emotional with this song," Luke said, "and I hope to get people discussing, arguing and feeling the rage over our baptism of hell fire that went on to define us as our OWN race of people – Australians!"

Sing You Up will be launched at CMC Rocks The Hunter 2014 where Luke will perform on the final day, Sunday.
Luke explained the meaning behind the album title: "For 50,000 years indigenous Australians had a complex series of song lines that crisscrossed the country and when a man or woman went 'walkabout' they were on a serious mission to follow these set paths and to 'sing up the country'. If they failed in their responsibility it was believed the land would disappear.
"With white settlement, these traditions and 'song lines' have almost been lost or replaced with highways and red dirt roads – and with the advancement of digital technology and mass globalisation, it appears that if we do not continue this tradition of 'singing up' the land, it's history and it's people... then perhaps it's not just the land that is lost, but also our unique Australian culture.
"Indigenous Australians have always revered country music and country musicians," Luke said, "in particular Slim Dusty, as they traversed the land 'singing it up!' This is a tradition I am wanting to continue as I do see our magnificent Australian culture at risk. So let's not lose ourselves and let's get passionate about what we have and how lucky we are to have it!!"
Weblink – www.lukeoshea.com.
---
THURSDAY, FEBRUARY 20, 2014
Wendy wins Nashville award
Australian singer/songwriter Wendy Wood has been voted Songwriter of the Year in the annual Nashville Universe Awards.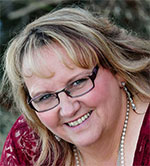 Wendy won the award from fellow finalists George Brunner Boettcher, Adrian "Addy" Taylor, Doug Zepp and Paul "Pez" Zukowski.
Nashville Universe is a social media website for musicians, singers and bands, similar to Facebook, and works so that people can "get together and get their music out there". The site has more than 5,500 members.
"Someone recommended I join up to it," Wendy told The Northern Daily Leader's Anna Rose, "so I did a few months ago and have had a pretty good response since then.
"You have to be nominated by somebody for the Awards and I was nominated for Female Vocal, Songwriter of the Year and Song of the Year. They had one round of voting and there were 20 people in the first round, then it had to be cut down to five."
After the public vote, Wendy made it into the finalists of Female Vocal and Songwriter of the Year. Voting closed at the end of January and winners were announced at the Awards night in Nashville on Monday night.
Another Australian finalist was The Viper Creek Band who were up for Video of the Year.
"I was totally shocked when I was told I'd been nominated in the first place," she said, "but I wouldn't be in the final five if it wasn't for the people who voted for me."
Wendy is no stranger to awards and during the recent Tamworth Country Music Festival she was up for a couple of People's Choice and Tamworth Songwriters' Association Awards.
---
WEDNESDAY, FEBRUARY 19, 2014
New from the Cartwheels
The Cartwheels have released a new album titled At Home.
Dave Patterson and Wendy Phypers from the Cartwheels met in the early 1990s. She was in a band called the Sparnetts (soon to be Golden Guitar winners) and he in the ARIA-nominated, Golden Guitar, triple "MO" Award winning band The Happening Thang.
Fast forward a few years and they had a son called Charley whom at a young age was drawn to the drums. In true Carter Family style, Dave, Wendy and Charley started playing at home and local venues eventually recording their debut album when Charley was eight.
Since then, the band has played at major festivals around Australia and most recently recorded their third album produced by Jeff Mercer, who, best known for playing with Slim Dusty's Travelling Country Band for eight years, completes the Cartwheels line-up.
Charley is a 2014 graduate of the Australian Academy of Country Music.
The new album, recorded near the family's hometown of Hepburn Springs (Victoria), is described as "capturing a family playing the music they love" and " unashamedly country, about love and life and playing music with family and friends... where the Cartwheels feel 'at  home'."
At Home has 12 tracks, nine originals by Wendy and three covers.
---
TUESDAY, FEBRUARY 18, 2014
Gladstone success
Organisers of this year's Elders Gladstone Country Music Festival report another successful event held earlier this month.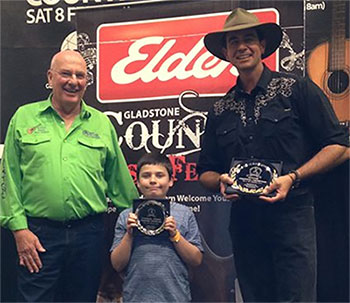 Jack Viljoen (from Bundaberg club) was named senior overall winner of the festival talent quest taking out also the vocal, country rock, gospel and Australian ballad sections.
Chandler Mowles (from the Northern Suburbs club) was named overall junior winner also taking out the juvenile vocal, country rock, gospel and Australian ballad sections.
Dawn Healey was presented with the senior achievement award while Skye Birthisel won the juvenile/junior achievement award.
In addition to the preceding section wins...
Jessikah Bailie (Pioneer Valley club) won junior vocal, as well as junior country rock, and Hayley Marsten took out senior female vocal.
In the Masters section, Greg Baldock was the winner while Bill Healey took out the grand masters section.
The overall adult vocal title was won by Kay Beale.
In adult female Australian Bush Ballad, the winner was Aleisha Sealey, who also won female gospel.
Hayley Marsten (Bundaberg) took out the adult female country rock section while Karina Kelley (also Bundaberg) was successful in junior gospel.
Open duo was won by Nance/Vera with AJH (Hayley Marsten) taking honours in country group.
Guy Cartwright won the Spirit of the Festival award.
Photo: Chandler and Jack with compere and major sponsor Colin Burke.
Weblink here.
Chart Update – two weeks at number one for Keith and Miranda
The Keith Urban/Miranda Lambert hit We Were Us retains the top spot on this week's national Country Tracks Top 30.
Last week's second, third and fourth positions remain unchanged this week... Lee Kernaghan's former number one – It's Only Country – at two, Amber Joy Poulton's Foolish Things at three and Aleyce Simmonds' Believe at four.
The Bobkatz' Reelin' One In jumps two places to number five, Adam Brand's Freedom Rebels is steady at six and 8 Ball Aitken's I'm Going To Jail is also up two to seven.
Two overseas acts, the Eli Young Band and Chris Young are at eight and nine, respectively, with Drunk Last Night and Aw Naw while Christie Lamb enters the top 10 at 10 with All She Wrote.
Bullet performers for the week include McAlister Kemp's Tats (26 to 23) and Bec Hance's Brand New Daddy (28 to 25).
New entries to the chart this week include The Wolfe Brothers' Lovin' In The Summertown (in at 28) and Kaylens Rain's She's A Wildflower (at 30).
The full chart can be viewed at www.countrymusicradio.com.au.
---
MONDAY, FEBRUARY 17, 2014
Courtney and Jonny shine at WA Awards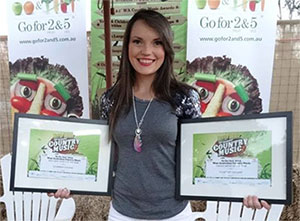 Courtney Conway and Jonny Taylor (pictured) dominated this year's Go for 2&5 West Australian Country Music Awards during the Boyup Brook Country Music Festival last week.
Courtney was named Female Artist of the Year as well as Best New Talent while Jonny won Male Artist of the Year, Independent Single and Independent Album of the Year.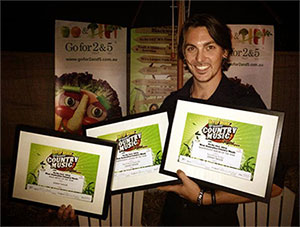 Group of the Year went to China Doll, Video Clip to Stoney Joe and Songwriter of the Year to Terry Bennetts & Keith Lethbridge with Fitzroy River.
Local girl Keely Morgan won Junior Vocalist of the Year.
Golden Guitar winners McAlister Kemp, Graham Rodger and Sara Storer were headline acts at this year's festival.
Weblink – www.countrymusicwa.com.au.
---
THURSDAY, FEBRUARY 13, 2014
Robie and Ben team up
Rising Australian country star Ben Ransom will join the legendary Rob E.G. (aka Robie Porter) for Sydney's Canterbury Country tonight.
Following his triumphant return to the stage at last month's Tamworth Country Music Festival, Robie – billed as "Australia's all-time number one hit record producer and former number one Australian selling recording artist" – will be joined by his new charge, Ben Ransom, as the "surprise" guest stars at tonight's concert at the Canterbury Hurlstone Park RSL Club.
As a record producer, Robie has scored 29 number one hits in Australia, the US and around the world including with such iconic Australian artists as Air Supply, Daddy Cool, Tommy Emmanuel, Colleen Hewett, Marcia Hines, Hush and Rick Springfield, as well as his "E.G." star persona.
As Rob E.G., Robie had a major hit with 55 Days At Peking as well as follow-ups including Si Senor and Jezebel.
Ben's new single, Somebody's Baby, produced by Robie for his Wizard Country record label, debuted at number 10 on Amrap's AirIT Great Southern Chart last week.
At tonight's concert, Robie and Ben will perform Somebody's Baby, together with other hit country tunes, closing with a "countrified" version of Australia's all-time number one hit, Eagle Rock, all produced by Robie.
---
WEDNESDAY, FEBRUARY 12, 2014
CMC Awards
Australia's Country Music Channel (CMC) will present a number of awards again in conjunction with the upcoming CMC Rocks The Hunter event at the Hope Estate at Pokolbin in the NSW Hunter Valley.
CMC selects a number of nominees in six categories and invites the public to vote on its website www.countrymusicchannel.com.au.
The finalists are, for Oz Artist of the Year... Chelsea Basham, Baylou, Adam Brand, Catherine Britt, Doug Bruce, Troy Cassar-Daley, Kasey Chambers, Travis Collins, Dianna Corcoran, Matt Cornell, Jayne Denham, Morgan Evans, Adam Harvey, Kaylens Rain, Lee Kernaghan, Amber Lawrence, McAlister Kemp, Shane Nicholson, O'Shea, Jasmine Rae, Tamara Stewart, Sara Storer, The Sunny Cowgirls, John Williamson and The Wolfe Bros.
For New Oz Artist of the Year... Luke Austen, Chelsea Basham, Baylou, Kaylee Bell, Brad Butcher, Matt Cornell, Ashleigh Dallas, Adam Eckersley Band, Kaylens Rain, Mustered Courage and The Wolfe Brothers.
For Male Oz Artist of the Year... Adam Brand, Doug Bruce, Troy Cassar-Daley, Travis Collins, Matt Cornell, Morgan Evans, Adam Harvey, Lee Kernaghan, Shane Nicholson, and John Williamson.
For Female Oz Artist of the Year... Chelsea Basham, Catherine Britt, Kasey Chambers, Dianna Corcoran, Jayne Denham, Amber Lawrence, Jasmine Rae, Tamara Stewart, Sara Storer and Chris E Thomas.
For Australian Video of the Year... Addicted To The Diesel by Jayne Denham, Be With You Tonight by O'Shea, Carry On by Morgan Evans, Don't Even Go There by Kaylens Rain, Flying With The King by Lee Kernaghan, The Girl, The Bottle, The Memories by The Wolfe Brothers, Good Hearted Woman by Troy Cassar-Daley & Adam Harvey, Green & Gold by The Sunny Cowgirls, Harder To Tame by McAlister Kemp, I Learned The Hard Way by Chelsea Basham, I Was Here by Adam Brand, If I Want To by Jasmine Rae, It's On by The Wolfe Brothers, Kids Forever by The Sunny Cowgirls, Lights On The Hill by Troy Cassar-Daley & Adam Harvey, Lovegrass by Sara Storer, Me by Ashleigh Dallas, Novocaine by Baylou, Prairie Hotel Parachina by John Williamson, Shelter by Jayne Denham, Small Town by Travis Collins, Thank You, Angels by O'Shea, Therapy by Dianna Corcoran, Ute Me by Lee Kernaghan and Waiting On A Bus by Kaylens Rain.
For International Video of the Year... Aw Naw by Chris Young, Better Dig Two by The Band Perry, Boys Round Here by Blake Shelton, Done by The Band Perry, Downtown by Lady Antebellum, Every Storm (Runs Out Of Rain) by Gary Allan, Get Your Shine On by Florida Georgia Line, Goodbye In Her Eyes by Zac Brown Band, Goodbye Town by Lady Antebellum, Highway Don't Care by Tim McGraw, Taylor Swift & Keith Urban, Hope On The Rocks by Toby Keith, If You Ever Get Lonely by Love & Theft, Little Bit Of Everything by Keith Urban, Mama's Broken Heart by Miranda Lambert, More Than Miles by Brantley Gilbert, One Of Those Nights by Tim McGraw, Pirate Flag by Kenny Chesney, Running Out Of Air by Love & Theft, See You Again by Carrie Underwood, Southern Comfort Zone by Brad Paisley, Southern Girl by Tim McGraw, Sure Be Cool If You Did by Blake Shelton, Tornado by Little Big Town, Two Black Cadillacs by Carrie Underwood and Whiskey by Jana Kramer.
For International Artist of the Year... Jason Aldean, Gary Allan, The Band Perry, Big & Rich, Dean Brody, Zac Brown Band, Luke Bryan, Kenny Chesney, Eric Church, Sara Evans, Rascal Flatts, Florida Georgia Line, Alan Jackson, Toby Keith, Lady Antebellum, Tim McGraw, Miranda Lambert, Little Big Town, Love & Theft, Brad Paisley, Blake Shelton, Taylor Swift, Carrie Underwood, Keith Urban and Chris Young.
Voting in the CMC Awards closes on Sunday March 2.
Winners are announced during CMC Rocks The Hunter which runs Friday, Saturday and Sunday March 14.
---
TUESDAY, FEBRUARY 11, 2014
Dan launches TCO
Dan Biddle, a label veteran of 15 years working for BMG, Universal Music and most recently Sony Music, has launched TCO Artists.
TCO (for Taking Care Of) Artists will handle management for country sister trio The McClymonts and the Adam Eckersley Band.
"I have always wanted to run my own business and work more directly with a selective roster of artists," Dan said. "The timing for this move just could not be better. I am thrilled to be working with two bands I respect professionally and personally and whose music I love.
"Having survived the steep decline of the record business through the 2000s, I can see that this is an entrepreneur's industry right now, and I believe time will show this to be one of the great eras in music business history. I am very positive about the future."
Setting up TCO as an all-round service provider, Dan's immediate focus is new releases from the two acts. The Adam Eckersley Band, from the NSW Central Coast, release their debut album The First Album through Island/Universal Music on March 14.
The McClymonts will release their fourth album through Universal Music mid this year. In the last seven years, the act has achieved three Gold albums (with two nearing Platinum), two ARIAs, seven Golden Guitars, and an APRA award. Singer songwriters Brooke, Mollie and Sam McClymont have also recorded in – and toured around – the United States.
Christie Eliezer
Music Network
Deniese is new Champs President
Multi award-winner Deniese Morrison has taken the reins of Queensland's Country Music Festivals Champion of Champions.
The three time Golden Guitar and "MO" award winner was elected President in a unanimous vote at the organisation's Annual General Meeting.
"I moved to Queensland recently, and I have always been a supporter of the work that the Queensland Champs does." Deniese said, "So, I decided that it was important for me to get involved and assist the organisation into the future."
The Queensland Champion of Champions is highly regarded as one of the most prestigious country music competitions of its kind in Australia. Winners from club competitions from around Queensland are invited to compete in the annual event for a swag of awards and industry opportunities.
Previous winners include multi Golden Guitar winners Lyn Bowtell, Sam McClymont, Kylie Sackley and Brendon Walmsley.
The Champion of Champions is staged each November in Brisbane.
Other committee members elected are Vice President Bill Healey, Secretary Terry Mowles, Treasurer Dawn Healey and Events Co-ordinator Sam Burgess.
Chart Update – Keith and Miranda take over top spot
The Keith Urban/Miranda Lambert hit We Were Us has taken over the number one position on this week's national Country Tracks Top 30.
Lee Kernaghan's number one from the last three weeks – It's Only Country – slips to second place while Amber Joy Poulton's Foolish Things is up one to three and Aleyce Simmonds' Believe is up another two places to number four.
The Jayne Denham/Shannon Noll duet Beyond These City Lights is at five, Adam Brand's Freedom Rebels is up one to number six and The Bobkatz' Reelin' One In jumps three places to number seven.
Kate Cook's Give The Girl A Spanner is at eight, 8 Ball Aitken's I'm Going To Jail enters the top 10 at nine and America's Eli Young Band is at 10 with Drunk Last Night.
Bullet performers for the week include Jasmine Rae's Just Don't Ask Me How I Am (19 to 15), Sara Storer's Come On Rain (20 to 16), Kaylee Bell's Little Bit Small Town (21 to 17), Dean Perrett's That Glory Bound Train (25 to 22), Kristy Cox's One Heartbreak Away (26 to 23) and Roo Arcus' Out On The Farm (27 to 24).
The full chart can be viewed at www.countrymusicradio.com.au.
---
THURSDAY, FEBRUARY 6, 2014
Boyup Brook coming up
The Boyup Brook Country Music Festival, Western Australia's biggest country music event, runs for four days from next Thursday (February 13).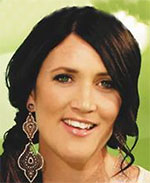 Also recognised as one of the nation's leading festivals, Boyup Brook promotes and recognises aspiring West Australians in their artistic endeavours.
While music is at the heart of the Festival, organisers sat "it's the fascinating combination of welcoming locals, friendly visitors, summer atmosphere and music that gives the place such an across the board charm. And there is always time for meeting new and old friends."
This year marks the festival's 29th year in the community "and offers a rich and vibrant program of activities" including local and national artists, staged entertainment, children's activities, the Go for 2&5 West Australian Country Music Awards, art exhibition and awards, workshops, a huge street carnival with street theatre, buskers and bands, ute and truck muster and what organisers describe as "a huge bush poets breakfast".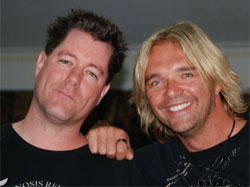 The event incorporates ticketed and free events and presents a program designed to appeal to all ages.
Boyup Brook is recognised as the Country Music Capital of Western Australia and is based in the south-west, some 270 kilometres from Perth. Country music fans from around the state and further afield make the annual trek to Boyup Brook.
"The town's normal population of 1,500 swells dramatically with thousands of caravanners and campers finding the best spot to settle for a few days of music, enjoyment and laughter."
Centred around the town's purpose built Music Park, with a permanent sound shell and stage overlooking a natural grassed amphitheatre area with tall trees, visitors are encouraged to bring a fold up chair or a blanket to throw on the ground.
For early campers, a welcome showcase will be held at the caravan park and the opening of the art exhibition on Wednesday evening. Thursday activities will comprise workshops, and special guest appearances including Buddy Goode (comedy) and Rohan Powell on the main stage.
Friday will consist of two showcases with a variety of talent at Harvey Dickson's Country Music Centre. Buskers perform at various locations around town.
Rob Black and the Kelly Gang and "the best of WA country music talent" will compete in the Go for 2&5 West Australian Country Music Awards in the Music Park.
The town centre is closed off on Saturday from 7am to 2pm with dozens of market stalls, art and craft, children's activities, buskers, bands and roving performers lining the streets. "The Ute & Truck parade will make its way through the streets in a bright and dazzling display of colour and noise and then line up at the Music Park for judging."
Saturday night this year will feature McAlister Kemp and Sara Storer.
The full line-up also includes Connie Kis Andersen, Ruby Boots, The Borderers, Mike Carr, China Doll, Codee-Lee, Courtney Conway, Theona Councillor, Eric Erdman, the Farmer Joe Show, The Kelly Gang, Kate Linke, Deb "Spoons" Perry, Graham Rodger, Stoney Joe and Jonny Taylor.
Weblink – www.countrymusicwa.com.au.
West Australian Awards finalists
Finalists in the Go for 2&5 West Australian Country Music Awards have been announced.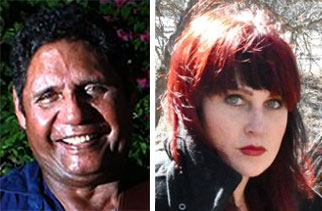 They are...
For Best Male Artist, Ginger Cox (pictured), Bill Shepherd and Jonny Taylor.
For Best Female Artist, Bex Chilcott (aka Ruby Boot, pictured), Courtney Conway and Theona Councillor.
For Best Group, China Doll, Polly Medlen Band and The Seals.
For Independent Single of the Year, 21 Days by Courtney Conway, Brighter Than You Feel and You'll Never Break Me both by Jonny Taylor.
For Independent Album of the Year, Hot Kerky by Stoney Joe, Something To Say by Jonny Taylor and Stay Where You Are by Kate Linke.
For Songwriter of the Year, Terry Bennetts & Keith Lethbridge for Fitzroy River, Courtney Conway for Daddy's Little Girl and Jonny Taylor with Brighter Than You Feel, Suffering In Silence and You'll Never Break Me.
For Video Clip of the Year, Dreamin' Tomorrow by Stoney Joe (produced by Luke Wissell), Kellie Anne by Ruby Boots (produced by Paul Komandina) and On The Inside – Tayla's Song by Katie O'Donnell (produced by Dean Butler).
For Best New Talent, Courtney Conway, Codee-Lee Down and The Seals.
For Junior Vocalist of the Year, Jasmine Atkins, Tori-Rae Davies and Keely Morgan.
Winners will be decided and announced Saturday of the 2014 Boyup Brook Festival.
Cowra's great music escape
The town of Cowra in southern NSW will stage its Great Escape Music Festival over both days of this weekend, billed as "a red-hot taste of the best Australian music has to offer".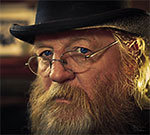 Cowra's Civic Centre will be transformed into "a mecca of musical miscellany" with 16 different genres on offer.
"Bush balladeers, Celtic dancers, Christian rockers, country music legends, crooners, divas and rock and roll dancers – they're all headed to Cowra for two days of jam-packed variety shows," according to organiser Nerallie Cheney.
Entertaining festival goers will be Golden Guitar winners Allan Caswell (top) and Reg Poole bottom), Stephen R Cheney, Tony Martin, Dave Prior, Melissa Robertson, Roland Storm and bush poetry champion Robyn Sykes and Roland Storm.
"There are two different stages during the festival. For those who perhaps want to just see different artists in a more intimate setting. And there is the opportunity to watch a variety of artists upstairs at the Civic Centre.
"Each of the artists will perform upstairs where they can present their own styles in the upstairs area. We are sure that everyone will enjoy the whole weekend with a great mix of various styles."
The Festival runs from tomorrow, Thursday (6th) to Sunday the 9th.
Festival passes are $75 for the weekend, which includes Friday Night, all day and night Saturday and all day Sunday; and $35 for each individual day.
Passes are available at the door and through the Cowra Visitor and Tourist Information Centre.
---
TUESDAY, FEBRUARY 4, 2014
Whittlesea Festival
The Whittlesea Country Music Festival will run this year for one day, this Saturday, February 8, with a big line-up of talent.
In alphabetical order, the line-up is Lee Bradshaw & The Horizon, The Brook Chivell Band, Katrina Burns, Carter & Carter, Greg Champion, Flaxxon, The Fry Brothers, Melissa Rose Holt, Damian Howard & The Ploughboys, Jetty Road, Christie Lamb, Ruckus, Glenn Shorrock, Kaitlyn Thomas and The White Goat Band.
The Festival comprises a "street party" during the day and a twilight concert at Whittlesea's Walker Reserve from 5pm.
Weblink – whittleseacountrymusicfestival.com.au.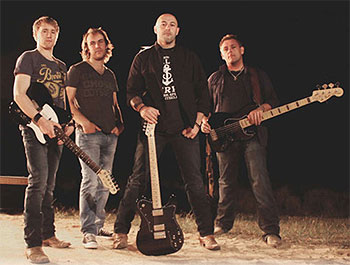 Derwent Valley Muster
Meanwhile, across Bass Strait and further south on "the apple isle", the Derwent Valley Country Music Muster will also run this Saturday.
Headline act is The Wolfe Brothers (pictured) supported by The Dirty Birds and Zak Walsh & The Young Guns.
The event kicks off at Boyer Oval, New Norfolk, at 10am.
Weblink – www.facebook.com/derwentvalleycountrymusicmuster.
Chart Update – Lee's three weeks at number one
Lee Kernaghan's latest hit It's Only Country is number one for the third consecutive week on this week's national Country Tracks Top 30.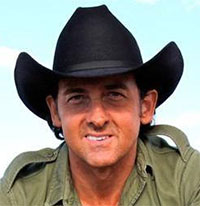 The Jayne Denham/Shannon Noll duet Beyond These City Lights is steady again at two while the Keith Urban/Miranda Lambert duet We Were Us is at three and Amber Joy Poulton's Foolish Things is steady at four.
Kate Cook's Give The Girl A Spanner is at five, Aleyce Simmonds' Believe is up two to number six and as is Adam Brand's Freedom Rebels to number seven.
The Bobkatz' Reelin' One In bounds into the top 10 at number eight while two American acts, Chris Young and the Eli Young Band, are at nine and 10, respectively, with Aw Naw and Drunk Last Night.
Bullet performers for the week include 8 Ball Aitken's I'm Going To Jail (14 to 11), Christie Lamb's All She Wrote (17 to 14), Doug Bruce's Clock Out At Five (18 to 15), Catherine Britt's Who Cares (19 to 16) and Roo Arcus' Out On The Farm (30 to 27).
New entries to the chart this week include McAlister Kemp's Tats (new at 28) and Bec Hance with Brand New Daddy (at 30).
The full chart can be viewed at www.countrymusicradio.com.au.
---
MONDAY, FEBRUARY 3, 2014
Bungendore winners
The 2014 Bungendore Country Muster was staged at the weekend with a very hot Saturday, cool and balmy Saturday evening for the Awards concert and announcement of winners in this year's Stan Coster Memorial Bush Ballad Awards.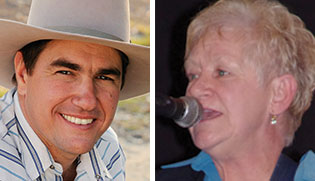 Jeff Brown (pictured), fresh from his Bush Ballad Golden Guitar win at Tamworth, was named Male Vocal winner with the Keith Jamieson penned award-winning track I Love Australia, and also took out Album of the Year with Hard To Let Go.
Patti Morgan (pictured) won the Female Vocal award with The Old Cattle Dog while the Group/Duo honour went to Bec Hance & Sharon Benjamin with In Queensland.
Pat Brown Jr was named New Talent winner with Those Mountains Of Mine and the Instrumental award went to Peter Simpson & Lindsay Butler for Wind Up Gramophone.

The Songwriter accolade went to Ernie Constance with I Worship The Water, Trevor Day took out the Comedy category with Lady Luck and Western Australia's Kate Hindle was presented with the Barry Thornton Encouragement Award.
After the Awards night, Sunday was again very hot and a lot of the campers found respite during the day in their air conditioned vans.
"Our numbers were down a little on previous years but we still enjoyed a good crowd," said a spokesman for the organisers.
"Next year will be our 30th anniversary and we have started planning for a weekend to remember."
Weblink – www.bungendorecountrymuster.com.au.
Gladsone this weekend
The new Gladstone (Qld) Entertainment & Conference Centre will come alive with the sounds of country this weekend for the 2014 Elders Gladstone Country Music Festival, a full two days of talent quest.

From 8:30am daily competitors will vie for trophies and talent quest honours
The event is supported by Elders (name sponsor) and Aurizon together with a number of trophy sponsors.
Bob Alloway, Tim Bacon, Frank Collimore, Steve Quinn and Brian Sonter will make up the backing band for all contestants and will support and feature in the invitation concert Saturday night.
Organisers say nominations are up in the senior events and slightly down in the junior events.
"Everyone is welcome to come along and watch the events throughout the weekend," a spokesman said. "Tickets are available at the door for weekend or daily passes.
Seven judges have been employed to judge the 24 events at the Festival and will participate in the Concert Saturday night... Sam Burgess, George Czender, Sharon Heaslip, Alli Hopkins, Tracy & Darryn Robinson and Savannah Sharpe.
---