---
AUSTRALIAN COUNTRY MUSIC NEWS ARCHIVE – APRIL 2017
---
SUNDAY, APRIL 30, 2017
Trans Tasman takes a break, festival goes ahead
Organisers of the Norfolk Island Trans Tasman Entertainer of the Year Award have announced the activity will be taking a break after this year's event.
The Norfolk Island Country Music Festival will continue in 2018 – the 25th to be staged – but the Trans Tasman will not be part of the event.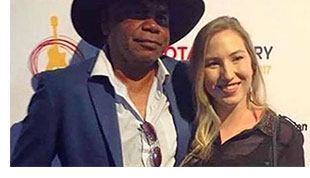 "After serious consideration, the Norfolk Island Country Music Association (NICMA) has decided to have a break for 2018 from our Trans-Tasman Entertainer of The Year Award," said Association President Sue-ellen Quintal and Trans Tasman Co-ordinator and NICMA Vice President Jilly Doidge.
"Our Committee is currently considering revamping the NICMA Festival in 2018 and onwards.cWe will advise further details once they are finalised.
"The NICMA Committee sincerely appreciate all of the New Zealand and Australian clubs support over... the years Trans-Tasman Entertainer of the Year has continued to be a part of our Festival on Norfolk Island."
This year's Festival, including the Trans Tasman Award, is just 14 days away running from Monday May 15 to Monday May 22.
In addition to the Trans Tasman, acts at this year's Festival will include Australian guest stars Drew McAlister, Shane Nicholson and Warren H Williams & Dani Young and New Zealand guest star Jody Direen.
Weblink – norfolkislandcountrymusic.com.
---
THURSDAY, APRIL 27, 2017
First artists announced for this year's Muster
Adam Brand, Busby Marou, Graeme Connors and Jessica Mauboy have been announced as headline acts for the 2017 Gympie Muster.

With more to be announced, this year's extended artist roster will include the Adam Eckersley Band, Kirsty Lee Akers, Bondi Cigarsm Catherine Britt, The Bushwackers, Travis Collins, Davidson Brothers, The Hillbilly Goats, Troy Kemp, Anne Kirkpatrick, Missy Lancaster, Amber Lawrence, Fanny Lumsden, Chad Morgan, Mason Rack, Caitlyn Shadbolt and the Travellin' Still Show – The Songs of Slim Dusty with Pete Denahy & The Travelling Country Band.
This year's Gympie Music Muster line-up is described by organisers as "the quintessential Australian music experience, featuring 100 percent homegrown Aussie talent".
Organisers are particularly pleased to have Jessica Mauboy on the bill. Although Jessica is a multi talented pop artist now, she launched her career via country music.
"I have ALWAYS dreamed of playing The Muster," Jessicac said. "This is an honour and a thrill and I am going bring my best country A game."
Now in its 36th year, the Muster is one of Australia's largest charity festivals. Held in the Amamoor Creek State Forest in the Queensland Sunshine Coast Hinterland just south of Gympie, the Muster is described as "the perfect way to kick back and enjoy some of the country's best talent".
The Muster will run from Thursday to Sunday August 24 to Sunday 27.
Gympie Music Muster Program Director Jeff Chandler said the 2017 Muster program would feature hundreds of performances across five stages, covering a range of genres including country, bluegrass, folk, blues and rockabilly.
The Muster is known for its fun-loving community atmosphere... "an unmissable and uniquely Australian event". One ticket price gives Muster goers free camping and multi-venue access to all performances.
Run by the community, for the community, the Muster is a not-for-profit charity event which has raised more than $15 million for charities Australia wide since its inception. It also gives a multi-million dollar boost to Queensland's tourism sector every year, providing an economic boom for the region.
Weblink – www.muster.com.au.
---
TUESDAY, APRIL 25, 2017
Anzac Day release from Busby Marou
Australian duo Busby Marou have chosen Anzac Day to unveil the official video for their track Paint This Land.
The video was co-directed by Wayne Blair (The Sapphires, Redfern Now and Cleverman) and Kate Halpin, produced by Mick Angus (Jerrycan Films) and filmed at Mount Tamborine in the Gold Coast hinterland.
Featuring Wayne Blair's father Bob Blair, who is a Vietnam War veteran and the first Aboriginal Regimental Sergeant Major in Australia and actor Tony Barry, the Paint This Land video acknowledges all soldiers who fought side by side, with attention to Indigenous soldiers who were sadly never recognised until significantly after.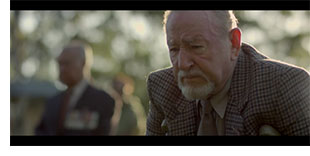 The video celebrates Australia's rich history through themes of solidarity, reconciliation and hope. "The aim was to pay homage to the past but look forward with a united and respectful vision; a timely sentiment as Anzac Day commemorations approach," according to a spokesman for Busby Marou.
Wayne said: "I have been a fan of Busby Marou since their inception. Our families grew up together in the same town of Rockhampton, how could I not. When the opportunity arrived to co-direct Jeremy and Thomas in this music video, with my mate Tony Barry and my own father, Bob Blair, playing the heroes of our story, I grasped it with both hands.
"People ask me where the impulse to perform was born. I never really knew the answer. Watching my Dad acting in this clip I now may have a more accurate response."
"The process of making this music video felt very much in alignment with the themes that we were exploring." said co-director Kate Halpin. "It was a case of life imitating art, with all of the cast and crew coming together and collaborating with huge amounts of generosity, integrity and respect.
"It felt like a very special project to be a part of, and it's been a huge privilege to work alongside Wayne, Jeremy, Thomas and the formidable cast and crew."
Tom Busby, half of Busby Marou, said: "Paint This Land is our song about the Australian spirit. It's everywhere, it's beautiful and it's alive!
"The song acknowledges our powerful Indigenous culture and celebrates our future. Working with Wayne Blair and watching the song and its message come to life through the power of film is without a doubt, our finest moment as a band.
Jeremy Marou said: "We feel like we've been part of creating something very special and we hope this makes the rest of the country feel proud to be Australian."
"Paint This Land was always one of my favourite songs on the album," he said. "However after then creating the music video it quickly became a special song for me. I feel we have played our important role not just acknowledging our war veterans but going a step further and paying special homage to Indigenous men and women who serve our country."
The video also features the mural artwork of Sydney street artist Hego, who tells Indigenous stories through photography, murals and documentaries, specifically through the process of 'wheatpasting' (large scale postering). Hego is about to launch a documentary on Black Anzacs and this is the first time he's done a mural that features both an Indigenous & a non-Indigenous soldier together.
Busby Marou will be heading out on an extensive Australian tour this May and June in support of their number one album Postcards From The Shell House. Tickets are available now from Busby Marou's official website.
The Paint This Land video can be viewed here... youtu.be/zJ93KWWIGkU

Weblink – www.busbymarou.com.
---
THURSDAY, APRIL 13, 2017
Toowoomba Day raises $25,000
Last Saturday's second annual Country Music Muster & Family Fun Day at Toowoomba doubled the $12,500 raised last year.

Funds raised this year go to LifeFlight air and medical crews, a service on call 24 days a week to make sure residents recieve lifesaving medical treatment when they need it, according to a report in The Chronicle.
Organisers said they would do anything they could to help raise funds for the service.
Many local businesses and performers came together to create a new stage, donate raffle prizes and plan an impressive fireworks display for the event.
Headline acts on the day were Georgia Fall, Troy Kemp and Mark Shay (pictured at right, top down), supported by Peter Campbell, Brook Chivell, Tyson Coleman. Amanda Faulkner, Reckless, Rhys Robert and McKenzie Timms. Other entertainment included a ute show, a truck show, 70 markets and food vendors and a mini sideshow alley.
LifeFlight's south-west community engagement officer Nikki Bloom said money raised from community events allowed LifeFlight to continue its lifesaving service and to "truly be there" for everyone in their hour of need.
"Events such as the Music Muster bring the community together and raise vital and much needed funds for our service," she said.
"We are so appreciative of the continued support we receive from all members of the south-west community."
---
WEDNESDAY, APRIL 12, 2017
Cyclone Debbie fundraiser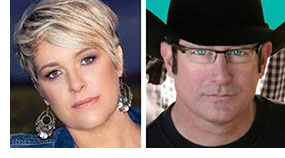 At least a dozen country acts are banding together for a Cyclone Debbie fundraiser at Noble Park, Vic, this weekend.
The charity fundraiser – to raise funds to suppiort victims of the cyclone and resultant flooding – will be held at the Noble Park Hotel from 12noon on Sunday (April 16).
Announced to appear are Doug Bruce (pictured) & The Tailgators, Bob Clarke, The Dalton Gang, Rene Diaz, Sandi Dodd, The Honky Tonk Rockers, Sandra Humprhies (pictured), Reg Poole, Danny Stain & Band, Allan Webster and "others if time permits".
Further details, including bookings, can be obtained by rining 03 9548 3750 or 0412 411 556.
---
MONDAY, APRIL 10, 2017
Vale – Jasper Somerville-Collie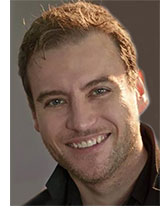 Jasper Somerville-Collie – artist and songwriter, brother of Jonah's Road's Jay Collie and nephew of the late Jon English – lost his battle with pancreatic cancer on Saturday (April 8).
Head artist at Elemental Arts Design Studio for some 20 years, Jasper worked for artists such as Kirsty Lee Akers, Victoria Baillie, Kaylee Bell, The Choir Boys, Tori Darke, Luke Dickens, Paul Greene, Kamahl, Tracy Killeen, Christie Lamb, Jason Lee, Melinda Schneider and The Sunny Cowgirls.
A prolific songwriter, since signing with Sony in 1999, he wrote part time and has co-written more than 600 songs across multiple genreswith more than 100 tracks officially released in Australia and overseas.
Jasper wrote songs for and with countless Australian and international artists including Phil Barton, Trey Bruce, David Campbell, Luke Dickens, his uncle Jon, Hayley Jensen, Jonah's Road, Jim Lauderdale and Shannon Noll as well as with brother Jay.
---
THURSDAY, APRIL 6, 2017
Rob wins prestigious CMA award
Australia's Rob Potts has been named the recipient of this year's prestigious Jo Walker-Meador International Award by America's Country Music Association (CMA).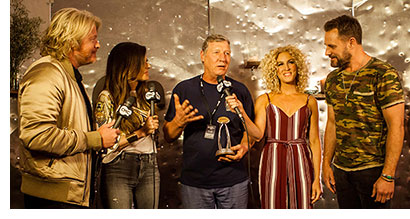 Named for American Country Music Hall of Fame member and long-time CMA Executive Director, the Jo Walker-Meador International Award recognises outstanding achievement by an individual or company in advocating and supporting country music's marketing development in territories outside the United States.
Rob, one of Australia's leading promotors, heads Rob Potts Entertainment Edge.
One of the founders of the CMC (Country Music Channel) Rocks festival franchise, including CMC Rocks Qld, Rob has been a member of the CMA Board of Directors for a number of years and serves as Chairman of the CMA Australian Advisory Group.
He was also a long serving board member of the Country Music Association of Australia where he was instrumental in many of that organisation's major achievements through the late 1990s.
Rob was presented with the award by award-winning American group Little Big Town at the just concluded CMC Rocks Qld event in Ipswich.
---
WEDNESDAY, APRIL 5, 2017
New festival for Tamworth
A new event, proposed to be an annual activity, debuts in Tamworth this weekend, the Sundance Beats 'N' Blues Festival.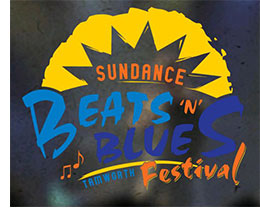 To be held at the Sundance Park Motel & Cattleman Steakhouse on the southern outskirts iof the city, the festival runs on Friday afternoon (7th) and Saturday (8th).
Headliners for the first festival are the Mal Eastick Band, widely considered to be "Australia's finest musical protagonist of the blues" along with leading Australian guitarist Phil Emmanuel.
Other artists to be featured will include 4 String Phil, King of Stomp Rock, Pop Standen, Prince of Promises, the "Queen of Honky Tonk" Wanita & The Honky Tonk Bar Dwellers plus Sally-Anne Whitten with her funky country/blues band The Rumour Mill and local rockabilly duo Lawrie & Shelley Minson.
The festival is the brain-child of Sundance Park Motel & Cattleman Steakhouse owners.
---
TUESDAY, APRIL 4, 2017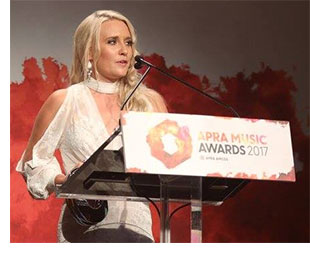 Aleyce wins Country APRA
Aleyce Simmonds won the APRA Music Award for Country Work of the Year at the gala ceremony in Sydney last night.
Aleyce won the award for her song Greatest Companion.
The 2017 APRA (Australasian Performing Right Association) Awards were hosted by Rockwiz host Julia Zemiro and featured guest presenters Morgan Evans, Bernard Fanning, Hayley Mary and Tex Perkins.
They were held in the Grand Ballroom of the new Sydney International Convention Centre at Darling Harbour.