NEWS - SEPTEMBER 2011
---
FRIDAY, SEPTEMBER 30, 2011
Mildura underway

The giant Mildura Country Music Festival gets underway today in the Victorian city and surrounds.

Australia's largest independent country music festival runs for 10 days in total, concluding Sunday October 9 following the Saturday night presentation of Southern Stars (Independent Country Music Awards).
More than 100 individual artists – all independents – will join perform during the event across 28 separate venues.
The Awards – presented by TransACT on Saturday night, October 8 – will feature stars Kalesti Butler, Allan Caswell, Courtney Conway, Marie Hodson, Tracy Killeen, Jason Lee, Dianne Lindsay, Markus Meier, Luke O'Shea, Dean Perrett, Amber Joy Poulton, Aleyce Simmonds, Camille Te Nahu & Stuie French and Chris E Thomas and will be hosted by Amber Lawrence and Mike Smith.
Weblink – www.milduracountrymusic.com.au.
The McClymonts second gig at The Opry
The McClymonts – Brooke, Mollie and Samantha – will perform for the second time this month, and in their career, at the Grand Ole Opry in Nashville tonight.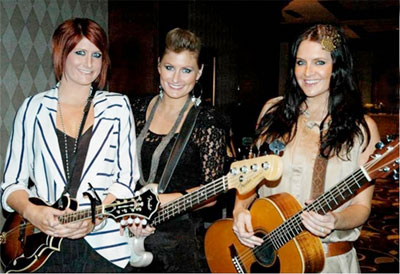 The girls' debut at the world-famous venue was on September 9.
Though they have critical and popular acclaim at home, it is quite an achievement to not only be invited but to be invited back so soon to play country music's most famous stage.
"When we were told that we had been invited back to perform at the Grand Ole Opry for the second time within a month, we thought they were joking," said Brooke. "The first experience was so awesome and so special. It was a lifetime memory to treasure. We all feel so honoured to be coming back again. We can't wait."
The McClymonts released their Wrapped Up Good album in America on August 23 via BSM Music. On August 22, "USA Today" listed the album on their playlist as a pick of the week.
Last year, their album was number five on the Australian country charts, outselling Kenny Chesney, Alan Jackson, Tim McGraw and Carrie Underwood. For the past four years, the sister trio has had a stranglehold on the Group of the Year Golden Guitar.
They picked up Best Country Album at the 2008 and 2010 ARIA Awards and their single Wrapped Up Good is currently at 44 "with a bullet" on Music Row's Country Breakout Chart in the States with the accompanying video showing on national networks GAC, CMT Pure, and TCN.
Throughout the American summer, The McClymonts have toured and visited stations throughout the US to support the debut of their album in the States. They are continuing the momentum through the American Autumn with stops in New York, Los Angeles and Las Vegas in October.
Photo: The McClymonts in Nashville.
Weblink – www.themcclymonts.com.au.
"Spirit of League" captured in song
This Sunday's National Rugby League grand final will feature a special song written by John Williamson.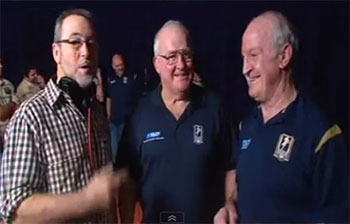 The Men Of League, commissioned by The Men of League Foundation, "captures the camaraderie felt by players of the game, current, past or future," according to a release announcing the song which will be performed by JW and the "Men of League Choir".
It is expected the song performance will be a major musical highlight of the day, "instilling pride in the game for all fans and players of the code".
The song has been recorded and will be available for download for a limited seven-day period from 9am grand final day this Sunday from www.bandit.fm.
The "Men of League Choir" will include rugby league legends Benny Elias, Mario Fenech, Brad Fitler, Bill Harrigan, Wayne Pearce, Neil Pringle and John Raper, "showcasing their musical talent".
The Men of League Foundation is a charity established in 2002 to assist rugby league players, coaches, referees, officials and administrators, from all levels of the game, and members of their families who have fallen on hard times.
---
THURSDAY, SEPTEMBER 29, 2011
Aussie Artists on Nashville stage again
A number of Australian artists will be showcased again in Nashville in October at activities surrounding the annual Americana Music Festival and Conference.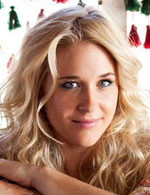 The Festival will run for four days, Wednesday October 12 to Saturday October 15.
Twenty different Australian acts will feature this year following last year's "invasion" by stars including Troy Cassar-Daley, Tommy Emmanuel and Sara Storer.
They include Kirsty Akers, Audrey Auld, James Blundell, Catherine Britt (pictured), Kristy Cox, Mia Dyson, Gleny Rae Virus and Her Tamworth Playboys, Caitlin Harnett, Harry Hookey, The McMenamins, O'Shea, Chris Pickering, Shandell and the Duke Wilde Band.
Australian music industry and government-supported organisation Sounds Australia is sponsoring the trip again through its strategic partnership with the Nashville-based Americana Music Association.

"The level of interest we experienced last year is a ringing endorsement by the Australian music industry of the original mission that Sounds Australia undertook to create a platform within the Americana event for our artists and business people," said Sounds Australia Manager Dobe Newton. "That mission was based on the belief that this emerging genre and event in the world's foremost music market was an ideal target event for a large number of our artists who share so many creative links with Americana's history and practice."
Australian Americana Music Festival and Conference-related activities include "A Taste of Australia" showcase at the Bluebird Café, "Are You Prepared To Be Known As A Country Artist Down Under?" (a panel at the AMA Conference with moderator Jeff Walker from AristoMedia), "Lunch With the Aussies" at The Second Fiddle and a number of special shows and AMA-sanctioned showcase performances at various venues.
Weblink – americanamusic.org/about-festival.
New from Clelia
River Valley Dreaming is the latest, and sixth, studio album from Clelia Adams.
The work is described as "undoubtedly her finest to date... just like a vintage Italian wine, her distinctive voice and songwriting has matured and Clelia shines in her artistry."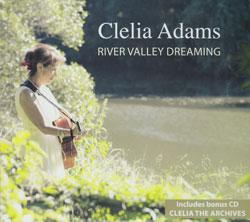 River Valley Dreaming has 14 new songs which follow on from the singer's recent international success, produced again by the award-winning Stuie French.
Eight of the tracks come from Clelia's pen and cover some familiar, yet interestingly varied theme, including a train song, a "spaghetti western", a yodel, a reflection, some divine intervention, a romp around the farm, a nature walk and a love song described as more autobiographical than not!
The music takes listeners from the streets of Tamworth during festival time to Clelia's country and rock inspirations.
First single from the album, Rainbird Yodel, is set for imminent release to radio.
From Clelia's humble career beginnings in 1975 singing on sessions at Tamworth's Hadley Studio on literally hundreds of recordings, to her latest global accolade, winning Production of the Year in the 2010 European Country Music Awards for her 2008 album Wildflowers, the journey has been described as "an amazing adventure, with many a twist and turn".
So much in a career that has spanned more than three decades to date that the singer is including a bonus 18-track CD from her extensive archives with the new release.
Included are songs from the award-winning gospel album Angel Band in 1985 through to Clelia's underexposed 1996 release Fine Company, plus "the classic country" of Bring It On (2001) and Heartbeat Highway (2004) to the multiple award-winning delights of Wildflowers.
Weblink – www.cleliaadams.com.
Chart Update – second week at the top for Lee and Dierks
The Lee Kernaghan/Dierks Bentley duet Scars is at number one for the second week on the national Country Tracks Top 30 singles chart this week.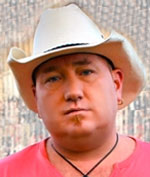 Adam Harvey's number You Don't Know My Love and The Bobkatz' Keen Eye For The Ordinary are steady at two and three, respectively, while Taylor Swift's Mean jumps two to number four.
Connie Kis Andersen's A Man In Boots is at five, Peter McWhirter's Devil's Daughter is at six and Markus Meier's A Perfect Night jumps three places to seven.
Adam Brand's 455 Rocket is steady at eight, Doug Bruce's Coffey Road enters the top 10 at nine as does America's Blake Shelton with Honey Bee at 10.
Bullet performers for the week include Harmony James' Pride (23 to 19), Tracy Killeen's Good Lies (26 to 23), Tori Darke's Everything Love Is (28 to 25), Beccy Cole's Shiny Things (new at 26) and Kel Anne Brandt's My Baby Loves Me (30 to 27).
Other new entries to the chart this week include Jason Lee (pictured) with Ordinary Guy (in at 30).
---
MONDAY, SEPTEMBER 26, 2011
Slim Mateship Awards
Nominations for the Slim Dusty Community Mateship Awards, now in their third year, close on Friday October 14.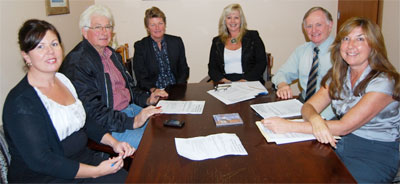 Slim lived his life through the ideals of fairness, mateship, family and community as well as a strong desire to learn, ideals that are now celebrated through the annual Awards which are announced at the Slim Dusty Country Music Memories Week at Kempsey on Saturday October 29.
The Awards are organised by the Slim Dusty Foundation with sponsors NAB and Essential Energy.
Foundation Chief Executive Kathryn Yarnold said: "Since we first started the concept these awards have proven extremely popular.
"The awards have been based around the qualities and values Slim aspired to live his life by."
Nominations are also sought for the Essential Energy Slim Dusty Community Youth Award which is open to youth between the ages of 12 and 18 and recognises those who have made a positive contribution to their community and society.
Nomination forms can be downloaded from www.slimdustycentre.com.au, www.slimdusty.com.au or www.macleayargus.com.au.
Pictured, the Slim Dusty Community Mateship Awards organising committee (from left): Brenda Hyde, Kevin Farrawell, Linda Coombes, Kathryn Yarnold, Neil Morgan and Melissa Killmore.
---
FRIDAY, SEPTEMBER 23, 2011
Duke Wilde Band to hit Nashville
Members of the Duke Wilde Band are packing their bags in preparation for their latest adventure, a trip to the Nashville.
The Award Winning group has been invited to showcase its live act in front of country music industry playmakers at the 2011 Americana Conference in October alongside stars like Marty Stuart and Greg Allman from the Allman Bros Band.
Group members will also be attending the Americana Awards.
Queensland country music's current Best Group and New Talent title holders will be included in the Sounds Australia delegation headed up by The Bushwackers frontman Dobe Newton who, the band says, has been a great support.
Showcases are scheduled for venues including the Bluebird Cafe and The Basement to coincide with the Nashville Kangaroos AFL team's Great Aussie BBQ.
The band will also be live on air within hours of touching down in Nashville's Tootsies Orchid Lounge on the Billy Block's Radio Show (September 25) with a further live performance on the same show October 4.
A quick trip to Knoxville for a Blackberry Smoke gig will follow, together with a guest appearance at the Rockabilly Hall of Fame in Jackson and a recording session at Sun Records Studio in Memphis.
"To be offered recording time at Sun Records is a dream come true," Duke said. "We are all very excited to be in the same studio where Jerry Lee Lewis, Johnny Cash, Carl Perkins and of course Elvis Presley made music history.
"Hopefully some of that magic will rub off."
Duke added that while this was "the trip of a lifetime", the band was planning on getting back "stateside" as early as next year.
Weblink – www.dukewilde.com.
The Fiddle celebration concert
A concert to celebrate the new ABC Music release The Fiddle: Greatest Hits of The Devil's Instrument will be held at Notes in Newtown, Sydney, in November.
The Fiddle is the follow-up to last year's successful award-winning album The Banjo from John Kane and Ian Simpson who have this time shifted focus to the fiddle and brought renowned Australian fiddler Mike Kerin to centre stage.
The album features the greatest hits of "the devil's instrument" from the wild ride of the Orange Blossom Special to well-known fiddle tunes like Arkansas Traveller to the gentle lament of Ashokan Farewell (as featured in Ken Burns "Civil War" series) and the country swing of Bob Wills, Dixie Hoedown, Charlie Daniels' The Devil Went Down To Georgia and the Chicken Reel.
The concert will feature John on guitar, Mike on fiddle, Ian on banjo and Michael Vidale on bass, with special guest Genni Kane, Anne Kirkpatrick and more.
John, Mike and Ian spent many years together as The Flying Emus, together with John's sister Genni and Michael Vidale.
Between them, the artists appearing at the concert represent a very large slice of Australian bluegrass, country and folk music history.
John is regarded as one of the pioneers of bluegrass flat-picking guitar and mandolin in Australia. These days he is a well respected record producer and screen composer, having worked with the likes of The Bushwackers, Judith Durham, Ted Egan, Anne Kirkpatrick, Jay Laga'aia and Georgie Parker; and composing music for TV programs as diverse as the ABC's "Good Game" and the 2008 Paralympic Games.
Mike is a consummate fiddler. Apart from nearly 10 years with The Flying Emus, he was Slim Dusty's fiddler for more than 20 years. He has toured as a soloist with Richard Tognetti and the Australian Chamber Orchestra and produced and recorded albums for many artists including Anne Kirkpatrick. He currently performs with Anne, and also premier Australian Celtic Folk band Wheelers and Dealers.
Ian Simpson is Australia's leading bluegrass banjo-player. His playing has graced recordings and live performances of a who's who of world-renowned artists including Slim Dusty, Paul Kelly and Keith Urban. He is a stalwart of the Perth music scene where he now lives and works producing recordings, playing sessions and performing with Jane Germain.
Michael Vidale has played bass both live and in the studio with The Bushwackers, Slim Dusty, Anne Kirkpatrick, Don Walker and The Whitlams, to name a few.
Add to this the legendary singing of Genni Kane and Anne Kirkpatrick, plus a few surprises, and the concert at Notes promises to be memorable.
---
THURSDAY, SEPTEMBER 22, 2011
WA Country Music Awards entries close September 30
Entries in the 2012 Western Australian Country Music Awards close on Friday September 30.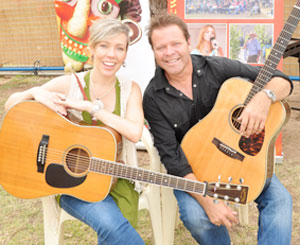 Presented as part of the annual Boyup Brook Country Music Festival, the WA Country Music Awards have been the launching pad into the national and international music industries for many Western Australian based country music performers since their inception more 25 years ago.
Entry forms can be downloaded from the website www.countrymusicwa.com.au.
Finalists in the Awards are selected by a panel of experienced judges and will be invited to perform during the Festival.
The Awards comprise a number of categories Senior Awards for male and female artist, group/duo and independent single and album of the year. These are entirely pre-judged with finalists invited to showcase their talents during the Festival.
Songwriter Awards will also be entirely pre-judged and presented in two sections, senior and junior (less than 18 years of age).
Development Awards will be determined during the Festival from performances by finalists in three categories... new talent, teenage artist and sub-teen artist.
"The West Australian Country Music Awards are unique, giving acknowledgement and recognition to artists in our state," said a spokesman for organisers.
"With the country music industry often being largely associated with the eastern states, many of these hard working and talented people would otherwise go unrecognised."
Photo: Felicity Urquhart and Troy Cassar-Daley, headline acts at the Festival last February.
---
WEDNESDAY, SEPTEMBER 21, 2011
Mildura Festival identities laid low
The two original organisers of the annual Mildura Country Music Festival – John Arnold and Max Thorburn – are both recuperating from heart surgery.
John's surgery took place in Adelaide two weeks ago following a heart attack while Max was operated on in Melbourne last week after suffering three heart attacks earlier this month.
This year's Mildura Festival, incorporating the annual Australian Independent Country Music Awards, starts next Friday (September 30) and is expected to be ably run by it's small committee.
John is still chief organiser of the event.
Both John and Max are also councillors on the Mildura Rural City Council. John is Mayor.
Chart Update – Lee and Dierks at number one
The Lee Kernaghan/Dierks Bentley duet Scars hits number one on the national Country Tracks Top 30 singles chart this week.
Adam Harvey's number one from the last three weeks, You Don't Know My Love, slips to number two while The Bobkatz' Keen Eye For The Ordinary two to number three and Connie Kis Andersen's A Man In Boots is steady at four.
McAlister Kemp's Hard Work is at five, Taylor Swift's Mean is at six and Peter McWhirter's Devil's Daughter jumps three places to number seven.
Adam Brand's 455 Rocket bounds into the top 10 at eight, Rose Carleo's Runaway Heart is at nine and Markus Meier's A Perfect Night enters the top 10 at 10.
Bullet performers for the week include Doug Bruce's Coffey Road (18 to 13), Luella's Mother's Love (17 to 14), Graham Rodger's duet with Sara Storer, An Affair Of The Heart (20 to 17), Jasmine Rae's I Faked It (24 to 21) and Harmony James' Pride (27 to 23).
New entries to the chart this week are Tori Darke's Everything Love Is (in at 28) and Kel Anne Brandt's My Baby Loves Me (at 30).
---
FRIDAY, SEPTEMBER 16, 2011
New album from Carter & Carter
To The Moon And Back is the title of the latest album from hitmakers Carter & Carter.
Already it is being labelled as their most personal album yet with Sue Jarvis, a reviewer for Capital News, calling it 'breathtakingly beautiful' and "with an energy and joy that is almost tangible".
From their debut chart single You Were There in 2000, the list of achievements, awards and accolades has been both imposing and constant for the duo.
With six albums and a DVD now to their career credit, major awards include a Golden Guitar for Candlelight And Kisses, an APRA Most Performed Country Work Award for Lead Me Home, Industry Achiever Award for Independent Entertainer of the Year for three consecutive years, 10 Australian Independent Country Music Awards, multiple TSA songwriting, People's Choice and Victorian Country Music Awards.
To date, Carter & Carter have achieved eight national number one country music hits as well as nine other Top 10 hits, an impressive chart history.
The new album looks set to continue the duo's ride with 12 new new songs "told in only the way Carter & Carter can," according to a news release about the new work.
"With songs from the heart and borne of their amazing life experiences of the past few years, To The Moon And Back is a continuation not just of the music, but of the journey of Carter & Carter's lives in song."
First single from the new album is Dance In The Rain, described as a song of celebration, of letting go and embracing the joy of living.
An accompanying video can be viewed on the website www.carter-carter.com.
Lukes go cross country
Two of Australia's most promising singers, Luke Austen and Luke Dickens, are joining forces this October, "Crossing the Country" from Tamworth to Perth, "bringing their music to the outback".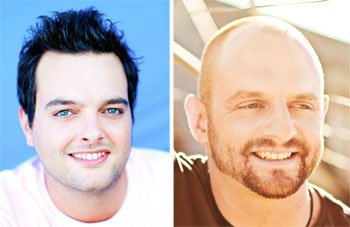 Luke Dickens and Luke Austen are the most recent winners of the prestigious Toyota Star Maker title, following in the footsteps of artists like Lee Kernaghan and Keith Urban.
The "Cross Country" tour will leave Tamworth on October 7 heading west through NSW, South Australia,
through south Western Australia to Lake King, landing on the west coast at the Ravenswood Hotel before jetting off to Brisbane to perform for the Brisbane Convoy for Kids on Saturday October 29.
Not only will the boys be performing their own tunes but they will also be raising money for two important charities, Camp Quality Kids for Convoy and the Newborn Intensive Care Foundation. Both charities are close to their hearts with each having a young child of their own.
Along the way, the Lukes will be uploading daily blogs to facebook and YouTube of their adventures through the Australian Outback. As "old mates" the pair have decided to have a friendly competition to see who can get the most "Likes" on facebook. Whoever wins will get to watch the other Luke wash his Toyota at the end of the trip!
After becoming good friends while touring together in 2011 with the Country's New Stars, it was only a matter of time before the Lukes decided to hit the road together.
Luke Dickens has just released his brand new album, Devil In The Wind, his 2011 Star Maker prize produced by
ARIA award winning Nash Chambers.
The album is described as "a rootsy country rock mix of songs". Lead single off the album is True Love Never Dies, now at radio.
In January, Luke Austen took home two Golden Guitars out of the four his debut album Light Of Day was nominated for, with Heritage Song Of The Year Sacred Bones, a co-write with Troy Cassar-Daley and Bush Ballad Of The Year with Everytime He Travels Through Cloncurry written by Pete Denahy.
Two Miles Down is the latest single release from Light Of Day.
Weblink – www.crossthecountrytour.com.au.
---
WEDNESDAY, SEPTEMBER 14, 2011
New release from Gene
Legendary Australian "outlaw" country singer Gene Bradley Fisk will release a new album next month, Up North Down South Out West.
The album will be released at a special concert at Malmsbury, Victoria, near Kyneton, on Saturday October 22.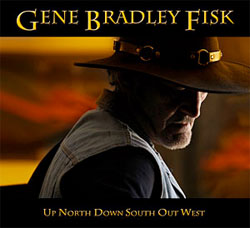 Gene's daughter Donna "and friends" will play support on the day.
Gene Bradley Fisk is a "pioneer" and an "outlaw", having carved his own musical path and influenced the direction of many fellow travellers along the way, and developed a strong reputation as a broadcaster.
Born near the shores of Lake Colac in Victoria, within easy reach of Australia's Highway One, reputed to be the longest road in the world, Gene was bound to travel. From 1951, he served his country for 15 years in the Royal Australian Air Force, including overseas postings to Thailand and Butterworth, Malaysia, where he began his broadcasting career with Radio RAAF Butterworth in 1960 as one of their first announcers.
Back in civvy street, Gene became a disc jockey on commercial radio in Victoria at 3HA Hamilton in 1967 and went on to 3CV Maryborough, 3BO Bendigo and 3GL Geelong. At 3UZ in Melbourne, he hosted a top-rating country music program from 1977 until 1980 followed by similar programs on 3GL Geelong and community stations 3CCC Bendigo, 3PBS Melbourne and 3YYR Geelong in the 1980s and 1990s and Country FM Geelong from 1994 to 2005.
Gene championed the sound of the "Outlaw Country" movement in Australia and was instrumental in the spread of its popularity, becoming the leading exponent of the genre in this country.
As a performer, Gene's musical career began when he joined a banjo club at the age of 11, playing concerts and radio shows. In 1959, while in the RAAF, he formed his first band, The Sidewinders. Throughout the following decades he fronted many bands.
In 2001, Gene won four separate awards; Male Vocal, Best Independent release, Best Duo Open Section and Best Duo Victorian (with his daughter Donna Fisk) at the Victorian Country Music Awards with his release Way Over The Edge.
His song Kidman, which he wrote about legendary Australian cattle king Sidney Kidman, won the 2003 Australian Independent Country Music Award for Best Heritage Track of the Year and stayed in the Australian Country Music Charts Top 20 for 15 weeks.
Gene was inducted into the Australian Country Music Broadcaster's Hall of Fame in 1999 and into the Country Music Hands of Fame in 2005.
He considers his new album a crown on his 50 year career to date in country music.
Chart Update – Adam at number one for third week
Adam Harvey's You Don't Know My Love gains a stranglehold on the number one spot on the national Country Tracks Top 30 singles chart this week for the third week in a row.
The Lee Kernaghan/Dierks Bentley duet Scars jumps four places to number two, McAlister Kemp's Hard Work is steady at three while Connie Kis Andersen's A Man In Boots is up one to four.
The Bobkatz' Keen Eye For The Ordinary is up three to five, Rose Carleo's Runaway Heart edges up one to six and Jetty Road's former number one, Runaway Heart, is at seven.
Shane Nicholson's Famous Last Words is at eight, Taylor Swift's Mean is at nine and Peter McWhirter's Devil's Daughter enters the top 10 at 10.
Bullet performers for the week include Markus Meier's A Perfect Night (16 to 13), Jasmine Rae's I Faked It (27 to 24), Kaylens Rain's Is That All There Is (29 to 26) and Harmony James' Pride (new at 27).
The other new entry for the week is Tracy Killeen's Good Lies (in at 28).
---
MONDAY, SEPTEMBER 12, 2011
Poets to work with Australian Bush Laureate Awards
Following wide ranging discussions between representatives of the Australian Bush Poets Association (ABPA) and organisers of the Australian Bush Laureate Awards, an agreement has been reached for the two organisations to work together for the ultimate benefit of all Australian bush poets.
The Bush Laureate Awards were started in 1996 by Judith Hosier and Jim Haynes to recognise and encourage excellence in published and recorded Australian rhyming bush verse. After Judith's death, Max Ellis Marketing took over the administration of the Awards in partnership with Jim who organises the annual concert.
Over 16 years, the Awards have made a major contribution to promoting and encouraging the Australian poetry scene, according to Chief Executive Max Ellis. As years passed, many changes have been made but there have also been some areas, including categories and procedures, which many nominees felt strongly should be revised, he said.
Under ABPA President Manfred Vijars, an ABPA Awards Committee was formed and Manfred and Carol Heuchan (elected by the ABPA Committee) visited Tamworth for discussions earlier in the year.
Broadly three areas were discussed with the following results...
The Bush Laureate Awards have agreed to introduce a new system for scrutineering nominations, a new independent process to audit judging and they have agreed to seek input into the independent Awards judging panel from the ABPA....
Ongoing discussion on categories and criteria have already produced outcomes with changes being made in several categories for the 2012/13 Awards. Other changes have been signalled for consideration in the future...
And the ABPA has been invited to present its own trophy at the presentations in January as well as being asked for comment on the show.
An ongoing schedule of consultation between the ABPA and Bush Laureate Awards has also been agreed on and this will continue throughout the year.
Max said that while the Awards would remain a privately owned and run event, the organisers were delighted to be able to work with the peak body for Australian bush poetry.
"We are confident this co-operation will produce a better, more transparent and more effective outcome for the ultimate benefit of all poets."
Manfred said he was delighted that the poets themselves, through the ABPA, now had a voice in how the Bush Laureate Awards were organised and run.
"This is an important event for us and it's vital that our views and comments are given consideration. I am confident that this co-operation will do just that."
Nominations are now open for the 2012 Australian Bush Laureate Awards. Further information can be obtained from the website – www.bushlaureate.com.au – including the nomination form which can be downloaded.
Enquiries can be directed to telephone 0267 622 993.
---
FRIDAY, SEPTEMBER 9, 2011
Aleyce trusts in "the healing hands of time"...
The Healing Hands Of Time is the latest single from Aleyce Simmonds' debut album Pieces Of Me.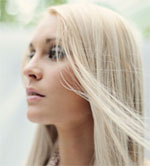 The track was written by Aleyce and the album's producer Rod McCormack and is described as being "simply about a girl with a broken heart".
"When you're too lost in love to see the writing on the wall, from everything to nothing's such a long, long way to fall," Aleyce said.
The single's associated video clip by Ross Wood can be viewed here.
Recently returning from the Gympie Music Muster's 30th anniversary, the one-time Telstra Road To Tamworth winner was thrilled to perform at the annual event for the fourth time.
"It was so great to be part of the 30th anniversary... it was the best Gympie ever. The attendance was up, spirits were high and we even had our own masseuse!"
The thrills kept coming for Aleyce when she was announced as a finalist for the AIADA (Australian Independent Artist Development Awards, formerly the Golden Saddle Awards) People's Choice Award.
Weblink – www.aleycesimmonds.com.
Entries open for 2012 Blackened Billy
Entry has opened for the 2012 Blackened Billy Verse Competition which culminates at the Tamworth Country Music Festival in January.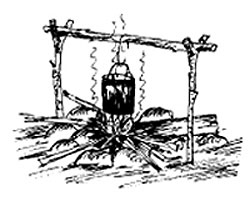 "New and old writers of bush verse are again invited to enter," said Jan Morris on behalf of the competition organisers, the Tamworth Poetry Reading Group.
The Blackened Billy is reputed to be the most popular and highly contested bush poetry prize in Australia with the winner a awarded the "much sought after" Blackened Billy trophy as well as $500 in prizemoney. There are also cash prizes for second and third in the competition.
"Bush poetry is a traditional style of verse that carries on the traditions of the early poets such as Paterson and Lawson," Jan said. "Modern bush poetry reflects the Australian way of life, whether it is life in the bush or the city.
"Recent winners have encompassed subjects from war, through bushfires, to death. If this sounds tragic, you might like to brighten our judge up with something funny this year!"
Bush poetry must be written in the rhythm and rhyme of traditional bush verse.
Entry forms are available by sending a stamped, self-addressed envelope to Jan Morris, PO Box 3001, West Tamworth NSW 2340, or by emailing janmorris33@bigpond.com.
Entries close on November 30.
---
WEDNESDAY, SEPTEMBER 7, 2011
Melody set to launch EP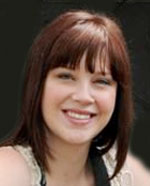 Melody Feder, 2011 Trans Tasman Entertainer of the Year and a big winner at last January's Capital Country Music Association National Talent Quest is set to launch her debut EP Dirt Roads And Diamonds.
The six-track released was produced in Adelaide by Anthony Stewart and features award-winning songs all written by the young singer and backing by some able musicians including B J Barker on drums, Hamish Davidson on fiddle and instrumentalist/engineer Trent Williamson.
A launch will take place at The Albion Hotel in Kilburn on September 18 with support acts Ryan & Tanya Cornish with backing by three of Adelaide's most promising up and coming musicians Steph Jacob (fiddle), Hollie May Candy (vocal harmonies) and Emily Smith (guitar).
Weblink – www.melodyfeder.com.
New from "The Rhymer"
Graeme Johnson – The "Rhymer from Ryde" – has released a new two CD boxed set of Australian bush verse titled Home Brew.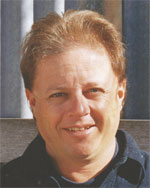 One of the most recognisable and well known characters in the Australian bush poetry field, Graeme has established a strong reputation for both his writing and performing skills over the past 15 years.
To date, he has won more than 150 Awards including some of the country's most eagerly sought after prizes including the Banjo Paterson and Henry Lawson Literary Awards as well as the Leonard Teale Spoken Word and Bobby Miller Memorial Awards.
Graeme's experience as a performer has seen him hired for major folk festivals and other events all over the country where crowds have enjoyed his easy going manner and entertaining style of delivery.
His performances are known for their vibrancy, humour and "heartfelt emotion".
Graeme is also a well established compere and stage manager and promoter who currently works with many Sydney local government councils at their various family orientated events.
His success in his chosen field has seen him recognised and accredited by the Australian Bush Poet's Association as a recommended judge for both written and spoken word competitions across Australia.
To date, he has released two books, two cassettes and five CDs.
His poem Barangaroo & the Pontiff too (winner of the Golden Damper Award at this year's Tamworth Country Music Festival) has been released to radio.
---
MONDAY, SEPTEMBER 5, 2011
AIADA finalists
Katrina Burgoyne, Rose Carleo, Tori Darke, Pete Denahy, Jetty Road and Markus Meier have been announced as finalists for the major Professional Development Award as part of the Australian Independent Artist Development Awards (AIADAs).
The announcement was made on Friday night at Rooty Hill RSL Club in Sydney together with finalists in a number of other categories.

Apart from the title, the major award carries prizemoney of $20,000.
Finalists in the Video of the Year category are Katrina Burgoyne, Damian Howard, Jetty Road, Tracy Killeen, Jason Lee, Markus Meier and Craig Morrison.
After the first round of voting in the AIADAs' People's Choice Award, it was announced that those progressing through to the second stage were Katrina Burgoyne, Tori Darke, Jackie Dee, Jetty Road, The Prairie Oysters and Aleyce Simmonds.
The second round of voting commences today and will end at midday on Friday October 14 with the winner receiving a cash prize of $10,000.
The AIADAs, formerly known as the Golden Saddle Awards, is billed as the country's richest independent annual awards program.
It is organised by the Australian Independent Artists Development Organisation (AIADO), a charitable organisation aiming to ensure young artists and musicians with talent and potential have opportunities to develop their skills regardless of background or location.
As well as staging the Awards, AIADO's main initiative is Generation Country. The annual AIADAs serve as AIADOs main annual fundraiser.
Tickets to the gala finals showcase and awards ceremony, to be held at Rooty Hill RSL on Saturday, October 15, are now available from the club, telephone 02 9625 5500.
As well as the announcement of the three winners, finalists in both the Artist Development category and the People's Choice category will perform on the night.
AIADO Chief Executive Donna Boyd said she was overwhelmed by the standard of entries to the inaugural competition.
"It really reflects on the strength of independent music in this country," she said."Each of our finalists show a great passion and commitment for what they do.
"The life of an independent artist is by no means an easy one. It's much more than just the music and each of these performers are to be commended for being able to take big steps towards turning their dreams into a livelihood," Donna said.
Pictured above (from left): Katrina Burgoyne, Rose Carleo, Tori Darke, Pete Denahy, Jetty Road and Markus Meier.
---
FRIDAY, SEPTEMBER 2, 2011
Joy to release book of her travels with Slim
Joy McKean will release a book in October based on the songs, lyrics and life with she shared with her husband, Slim Dusty.
Through the lyrics of their much loved songs, Joy will take readers into the life she shared at home, on the stage and on the road with country music legend Slim.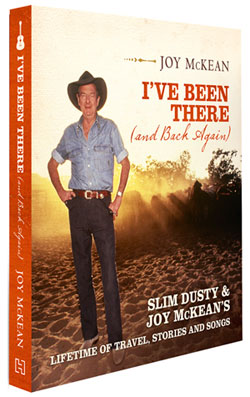 Married for more than 50 years, Slim and Joy toured all over Australia singing, writing and performing.
"I've Been There (and Back Again)" will include many never seen before photographs from the couple's own family albums and also an extensive range by internationally acclaimed photographer John Elliott who photographed Slim and Joy, their band and family for decades.
Including many lyrics from the iconic songs they sang together, Joy reminisces about each song... who, how, when and where they were.
"The bush ballads and the bush life are recounted in detail as Joy tells of an Australian way of life that is almost gone," said a spokesman for the book publishers, Hachette Australia. "From the old showgrounds of the 1950s to the grand theatres of the big cities, the old-time music halls of country Australia and some of the most remote areas of the continent, this is a country music love affair."
Slim Dusty sold more than seven million albums in Australia and was the nation's most prolific recording artist. Even today, he is still one of Australia's all time biggest selling recording artists. Slim passed away in September 2003.
Joy herself has been awarded six Golden Guitars for her songwriting, including the very first ever presented, "and her skills as a writer and storyteller shine in this beautiful book," the publishers said.
Joy also wrote the best-selling biography "Another Day, Another Town" about Slim's life.
An illustrated hardback edition of the new book will be published on Tuesday October 25.
To coincide with the release of the book, EMI Music Australia will be releasing the CD I've Been There (and Back Again) on the following Friday (28th). The album will act as a soundtrack, providing the 25 songs featured throughout the book.
A special limited edition (print run of 1,927 only) collector's set will be produced with special release CDs at $100.
Weblink – www.slimdusty.com.au.
---
Click here for recent news
---