| AUSTRALIAN COUNTRY MUSIC NEWS — OCTOBER 2012 | |
| --- | --- |
---
WEDNESDAY, OCTOBER 31, 2012
John back on the "airwaves"
Award-winning national country music broadcaster John Nutting is back on "air" – albeit via the Internet.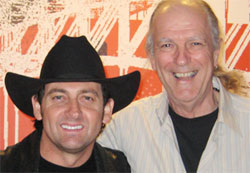 During his many years on radio as the host of ABC Radio's "Saturday Night Country" John (pictured here with Lee Kernaghan) created and sustained the program that became, and is still now, under the hosting of Felicity Urquhart, considered one of the nation's most important outlets for country music.
John's new foray into "broadcasting" is with his internet radio station "Australian Country" and a new format that features only Australian country music.
The station goes to "air" via the multi internet radio site live365.com 24 hours a day seven days a week.
"Using live365 allows the listener freedom to listen at home, or on the move using a wide range of apps on offer to suit their needs in high-quality audio," John said.
"You will hear fresh new material, constantly updated, as well as some of the best of the past 40 years... music that reflects Australia today, in its stories of the land, every day life and of course love found and love lost! There are drinkin' songs, leavin' songs and cheatin' songs. Songs about people, place and time and of course This Land, Australia."
Weblink – www.auscountry.com.au.
Call for Tamworth Festival Program listings
Publishers of the Official Guide to the Tamworth Country Music Festival have issued a call to entertainers, promoters and venue owners and operators to enter free gig listings on-line for the 2013 Official Program.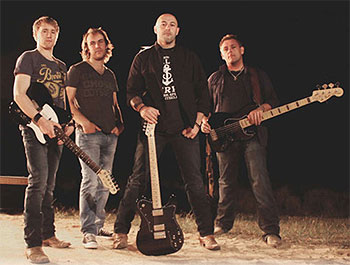 The Guide, produced and published by Capital News, is recognised as one of the world's biggest festival publications. It is the primary source and most comprehensive guide to the Festival featuring the Official Daily Program and also includes events and activities in the Festival countdown seven days prior to the main event.
Tamworth Country Music Festival gigs for 2013 can be entered at www.tamworthcountrymusic.com.au/officialguide where "you will have the opportunity to update and take control of your listing information," according to a spokesman for the publishers.
"Performance and artist details published in the Guide and the artist directory will now be under your total control as an online user. And it will be as easy as 1, 2, 3… (1) go to the website, (2) log in (or register if you are not already a member then log in) and (3) click on 'Tamworth Country Music Festival Gigs' and follow the prompts."
The 2013 Official Guide would be a bumper issue with 258 pages, the spokesman said.
"The most popular feature of the Official Guide is the exclusive A to Z Artist Directory which is a treasured index for fans to follow their favorite artists' concerts during the Festival.  It includes where the artists are appearing, times and dates as well as numerous artist photos and biographies."
Venue information, including venue map, the Tamworth town map, bus routes and timetable, country music points of interest and helpful visitor guide information to Country Music Capital and the district are all included.
"In celebrating the 41st Festival year, the Official Guide will feature historical facts and inside stories about the foundation events including the Golden Guitar Awards, Toyota Star Maker talent search, Hands of Fame, Roll of Renown, Capital Country Music Association National Talent Quest & Jamboree, the Cavalcade plus new music product releases, artist CD launches, and more key events and new insightful stories into the famous Festival."
---
TUESDAY, OCTOBER 30, 2012
The Wolfe Brothers at Tamworth 2013
The Wolfe Brothers have announced that the first show after the release of their debut album, It's On, will be in Tamworth during the 2013 January Country Music Festival.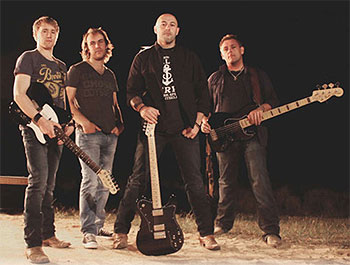 Nick and Tom Wolfe, together with Brodie Rainbird and Casey Kostiuk, will appear in the Tamworth Regional Entertainment Centre at 12:30pm Thursday January 24.
The band will release their album the previous Friday (January 18) after being signed to ABC/Universal. The first single from the album, the title track, will be released to radio in November.
Following their amazing run on the nationally televised 7 Network prime time show "Australia's Got Talent" everything has changed for the Hobart based quartet of close mates. The band has been performing around the traps in Tasmania for years, paying their dues and ultimately becoming recognised nationally for their "electric" live performances and original songs, thanks to the television show.
After Tamworth, the band will travel with Lee Kernaghan on his national tour throughout 2013 as his special guests and will open all his shows. Lee was so impressed with the band's level of musicianship he has also recruited them to play in his band for the tour.
The Wolfe Brothers have also signed to Steve White Management who also manage Lee and The McClymonts.
Although the album won't be released until January, the band has made it available for pre-orders on their website. "Everyone who pre-orders the album will get their signed copy delivered to their address by Australia Post on the day of release in January," said a spokesman.
"In addition, a free copy of the group's first EP will be included in the pack.
The Wolfe Brothers Tamworth concert will also feature three other rising stars of Australian country music, Adam Eckersley, Morgan Evans and Markus Meier.
Weblink – www.thewolfebrothers.com.
Chart Update – Roo takes over the top spot
Roo Arcus has taken over the top spot on the national Country Tracks Top 30 singles chart this week with his hit This Here Cowboy.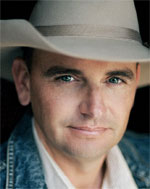 Harmony James' number one from the last three weeks – Emmylou's Guitar – drops to number two, Kasey Chambers & Shane Nicholson's Adam & Eve edges up one to number three, as does Tamara Stewart to number four with Sisterhood (Of Feeling Good.
The Bobkatz are also up one to five with Underneath The Hat, as are Luke O'Shea & Dianna Corcoran at six with New England Sky while Troy Cassar-Daley's Home jumps two to number seven.
Chelsea Basham's Laugh It Off is steady at eight, McAlister Kemp debut in the top 10 at nine with Home and Adam Brand's There Will Be Love is at 10.
Bullet performers for the week include Kaylens Rain's Outta Here (22 to 19), The McClymont's Two Worlds Collide (25 to 21), Jetty Road's Wrong (28 to 25) and Luke Austen's Drive (29 to 26).
New entries to the chart this week include Graeme Connors' The Love I Leave Behind (in at 29).
The full chart can be viewed at – www.countrymusicradio.com.au.
---
FRIDAY, OCTOBER 26, 2012
More festival activity this weekend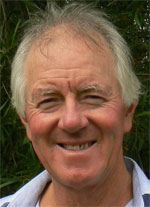 More great country music festival activity happens this weekend from Mulwala on the NSW/Victorian border to Dorrigo and Kempsey in northern NSW and the Queensland Champion of Champions in Brisbane and the Fleurieu Folk Festival in South Australia. 
Club Mulwala presents its annual Country Music Spectacular today, tomorrow and Sunday with stars including Rick Bartlett, Terry Bennetts, Lindsay Butler, Peg Gilchrist, Terry Gordon, Shaza Leigh, Brian Letton (pictured) and Graham Rodger.
Weblink –www.clubmulwala.com.au.
The 11th annual Dorrigo Folk & Bluegrass Festival also runs today, tomorrow and Sunday, with featured artists including Bob Corbett (pictured) & The Roo Grass Band, Breaking Hart Benton, poet Peter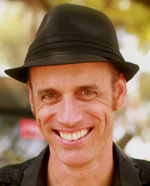 Mace, Mustered Courage, Ross Nickerson, Richo & the Rakes featuring Paul Wookey, Fred Smith & Liz Frencham and The Whitetop Mountaineers... and many more.
A key feature of the Dorrigo event has always been the workshops conducted by some of the top artists in their field, who pass on their knowledge, skills, experience and heritage to a new generation of folk enthusiasts.
This, instrumentalists and vocalists from The New Worlds, The Whitetop Mountaineers, Ross Nickerson and more award winners in their field will present a diverse range of workshops to choose from in addition to the popular Festival Choir Workshop to be conducted this year by Fred Smith & Liz Frencham.
Weblink – dorrigofolkbluegrass.com.au.
The Fleurieu Folk Festival is another event that runs from today until Sunday... and features headline act Eric Bogle (pictured) and artists including the Adelaide Scottish Fiddle Club, Senor Cables, Country Express, Cripple Creek, The Go Set, Lasseter's Gold, Old South Bluegrass, Taylor Pfeiffer (The Banjo Girl), Danny Spooner, The Stetson Family, Kelli Taylor and dozens more.
As well as "the usual" variety of kid's entertainment and activities, Fleurieu has more opportunities this year for young people to perform, including the Young Talent Concert and the "Fresh Folk" (18-25 year old) events featuring concerts and workshops with peer age group musicians.
Weblink –www.fleurieufolkfestival.com.au.
The Slim Dusty Country Music Memories Week concludes this weekend with the Slim Dusty Memories Song Contest tonight, guest artists and announcement of winners in the 2012 Dick Smith Slim Dusty Community Mateship & Youth Awards tomorrow night, bush poets breakfast and guest artist gospel performances on Sunday.
Weblink –www.slimdustycentre.com.au.
Queensland Champs runs tomorrow and Sunday from 9am at the Kedron-Wavell Services CLub, where "the best of Queensland's up and coming country music artists will compete for the chance to win recording time, cash, prizes, and a scholarship to the Australian Academy of Country Music.
Champs is recognised as one of the leading talent quest series in the nation where the winners from member clubs come together to find, well, "the champion of Queensland's champions".
Weblink –www.qldchamps.com.au.
---
THURSDAY, OCTOBER 25, 2012
A star for Troy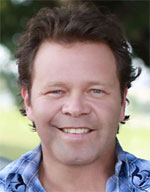 Troy Cassar-Daley will be honoured this Sunday for his 2009 Published Song of the Year win with Big Big Love in Queensland's Q Music Awards.
Troy will have a star laid in his honour in the Brunswick Street Mall "Walk of Fame" as a permanent recognition of his ability, talent, hard work and dedication to music.
He will be in good company joining the likes of the Bee Gees, Powderfinger, Savage Garden and Keith Urban. 
Weblink – www.qmusic.com.au.
Tamworth launches "all new" busking championship
Tamworth Regional Council today launched what it has described as an "all new Australian Country Music Busking Championship" for the 2013 January Country Music Festival.
"Every year, over 55,000 visitors flock to Tamworth to enjoy the biggest music festival in the Southern Hemisphere," Council said. "For over 40 years, Tamworth has been the place where country music stars are born and dreams are made.
"Each January, the streets of Tamworth are lined with over 600 buskers performing live and entertaining crowds of thousands. Peel Street, Tamworth has become known as the 'Boulevard of Dreams' where stars such as Keith Urban, Troy Cassar-Daley, Kasey Chambers and Beccy Cole were discovered and started their careers."
This January, Council will be introducing a number of changes to busking in the city's main street, including the launch of a dedicated website for the Busking Championship and a requirement for buskers to apply to perform in the city's Peel Street.
Council says the street will be "transformed into a hub of entertainment" structuring the busking precinct so that designated busking positions will be allocated and buskers will be strategically spaced with busking performances to be scheduled on a rostered basis.
Paul Sullivan, Director of Business and Economic Development at Council, says he had a vision for busking in the 2013 Tamworth Country Music Festival.
"When walking along Peel Street during previous Festivals, my team and I felt that over-crowding of buskers, noise levels and the mix of so many genres of music meant that busking had become a mash-up of activity and artists were not being heard. I had a vision to create a busking competition that would allow talented buskers to win a position on Peel Street by uploading a Youtube clip to a new busking website.
"The public can vote on their favourite clips and voting would be linked to the Australian Country Music Busking Championships. I am delighted to say that we have achieved this vision and we are launching this new format today."
In the past, buskers have secured positions on Peel Street by approaching retailers to busk in front of their shops.
"In 2013, however, the face of busking will change to showcase the very best in busking talent along Peel Street. Anyone now wishing to busk must first upload a Youtube clip of their performance to the new busking website. A panel of judges will then view the clips and select those to be invited to busk.
"Fans will also have the opportunity to have their say. A new online voting system allows fans to vote for their favourite videos by clicking the 'Like' button beside their favourite clip. Buskers featured in the most popular clips will then be eligible for the 'peoples choice award'."
Busking Coordinator Deniese Morrison says that nobody will be left out.
"As is tradition in Tamworth, nobody is ever left out! All buskers are welcome to Tamworth. Those not selected to busk in Peel Street will be allocated positions in Bi-Centennial Park and the high traffic pedestrian areas in Kable Avenue in the food precinct and around the CBD."
Busking competitions in Tamworth have been a significant source of talent identification for many years with country music artists like Christie Lamb, Ryan Sampson, and bands like the Perch Creek Family Jug Band finding a path to success on the busking stages at Bi-Centennial park.
Ten buskers will be selected during the Festival to perform at the Best of the Buskers Concert on Australia Day. Buskers will be judged across three categories and winners will take away with them "some very generous cash prizes".
The website is – www.tamworthbusking.com.au.
---
WEDNESDAY, OCTOBER 24, 2012
Entries open for 2013 CCMA Talent Quest
Entries are now open for one of Australia's longest running country music talent searches, the Capital Country Music Association (CCMA) National Talent Quest to run during the 2013 Tamworth Country Music Festival.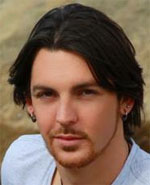 The talent quest started about five years prior to the Tamworth festival and has been a major part of the festival's success since it began in 1973 providing young (and not so young) up and coming country music talent from Australia and New Zealand a platform from which to develop their careers in the music industry.
Stars like Allan Caswell, Lee Kernaghan, Keith Urban and Felicity Urquhart all cut their performing teeth at the CCMA National Talent Quest on their way to stardom.
More recent success stories have come from the likes of Brett Clarke, Justin Standley and Jonny Taylor (pictured), all winners or participants from the 2012 Talent Quest prior to their involvement later in the year in "The Voice" (Brett), "Australia's Got Talent" (Jonny) and "The X Factor" (Justin).
Once again, prizes, prizemoney and trophies valued at more than $10,000 will be on offer in 11 categories including female and male vocal, group/duo, instrumental and songwriting.
The Talent Quest will run on Thursday and Friday of the main Festival week with winners to perform at the CCMA Jamboree Concert the following day, Australia Day, in the famous Tamworth Town Hall.
Full details are available from the Association website – www.ccma.net.au – where contestants can download an entry form or enter on line.
Chart Update – Harmony's third week at the top
Harmony James' Emmylou's Guitar remains at number one on this week's national Country Tracks Top 30 singles chart for the third week in succession.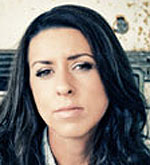 Roo Arcus' This Here Cowboy edges up one to number two, Adam Brand's There Will Be Love is at three and Kasey Chambers & Shane Nicholson's Adam & Eve is steady at four.
Tamara Stewart and The Bobkatz are steady at five and six, respectively, with Sisterhood (Of Feeling Good) and Underneath The Hat while Luke O'Shea & Dianna Corcoran bound into the top 10 at seven with New England Sky.
Chelsea Basham's Laugh It Off edges up one place to number eight, Troy Cassar-Daley's Home enters the top 10 at nine and America's Dierks Bentley is at 10 with 5-1-5-0.
Bullet performers for the week include McAlister Kemp's Home (15 to 11), Colin Buchanan, Lee Kernaghan & Sara Storer's collaboration of Song Of Australia (17 to 14), John Williamson's The Big Red (18 to 15), Bob Corbett's Blown Away (20 to 17), Kaylens Rain's Outta Here (25 to 22), Camille & Stuie's Things Change (27 to 23), Morgan Evans' While We're Young (28 to 24) and The McClymont's Two Worlds Collide (29 to 25).
New entries to the chart this week include Jetty Road's Wrong (in at 28) and Luke Austen's Drive (at 29).
The full chart can be viewed at – www.countrymusicradio.com.au.
---
MONDAY, OCTOBER 22, 2012
Slim Dusty Week kicks off today
The Slim Dusty Country Music Memories Week kicks off in Kempsey (NSW) – birthplace of the late, great King of Australian Country Music – today.

Organised and staged by the Rotary Club of Kempsey West in conjunction with the Slim Dusty Foundation, the weeklong activity centres on the Kempsey Showground.
The program includes nightly entertainment up until, and including,Thursday, then entertainment and activities through the day and night Friday and Saturday then Sunday morning.
Following bush poetry performances from 7:30am until 9am the "Slim Dusty Memories" song competition runs on Friday with open and junior sections, the invited and guest artists perform on the "main stage" from 12noon until 10pm.
Saturday features invited artists on the main stage until 5pm, followed by the Slim Dusty Country Music Memories "Not So Dusty II" concert from 6 through until 10.

The Dick Smith Slim Dusty Awards will be announced on Saturday from 6.
Sunday begins again with bush poets including Ray Essery, Gary Fogarty and Sam Smyth. From 9:30, a gospel event featuring the Salvo Country Band plus invited artists will be staged concluding at 12noon.
Guest artists at this year's Slim Dusty Country Music Memories Week include Clelia Adams, Jeff Brown, Tracy Coster, Laura Downing, Gary Habgood, Ged & Trudy Hintz, Glenice Hollis, Keith Jamieson & Alisha Smith, Kathryn Jones, Ben Kelly, Anne Kirkpatrick, David Kirkpatrick, Dianne Lindsay & Pete Simpson, Ken "Chainsaw" Lindsay, Tom Maxwell, Amos Morris, Steve Passfield, Ricky Shipp, Ricky Shipp, the Travelling Country Band (Charley Boyter, Rod Coe, Mike Kerin, Robbie Souter and Mike Tyne).
Weblink – www.slimdustycentre.com.
---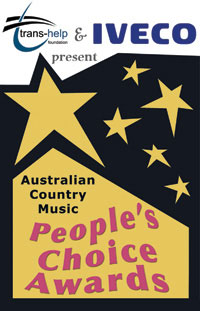 FRIDAY, OCTOBER 19, 2012
People's Choice voting opens
Voting has opened for the Australian Country Music People's Choice Awards.
A total of 11 categories are involved this year, including the new category for Vocal or Musical Event of the Year which is for a unique collaboration by two or more separate performing identities (could also include instrumental collaborations, for example, two well known instrumentalists on a recording of Duelling Banjos).
Voting in the Awards will close on November 30 with finalists announced shortly thereafter.
The People's Choice Awards will be sponsored from this current year by the Trans-Help Foundation and Iveco.
Weblink – www.peopleschoiceawards.com.au.
Youth bluegrass scholarship
Leading Australian bluegrass duo the Davidson Brothers have announced the establishment of the Australian Youth Bluegrass Scholarship to encourage and nurture singers and musicians who demonstrate exceptional talent and dedication in the field of bluegrass music.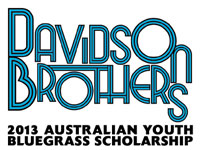 "There are many young people in Australia who possess rare musical gifts," Lachlan and Hamish said, "where a small nudge in the right direction may help pave the way toward their musical dreams.
"The recipient of the 2012 Australian Youth Bluegrass Scholarship will win a cash prize of $1,500 which they may wish to put toward a regional tour, a recording project, a new instrument, enrolment fees at the Academy of Country Music, or a flight to Raleigh, North Carolina so they can attend the IBMA World of Bluegrass convention," they said.
"The recipient will also receive a recording package generously donated by the folks at Pacific International Music [for] one professionally recorded song of the winner's choice, recorded and mixed to international broadcast standard, featuring the winner along with Australian and Nashville session players."
The winner will also be presented with a trophy for themselves to keep and a perpetual trophy that will remain the property of the Davidson Brothers, which will be passed on to the recipient of the following year's scholarship.
Details can be obtained from the website www.davidsonbrothersband.com.
Joan resigns as head of CMAA

Country Music Capital's daily newspaper "The Northern Daily Leader" reported today that Tamworth hotelier and businesswoman Joan Douglas had resigned as head of the Country Music Association of Australia (CMAA) at a board meeting in Sydney yesterday.
Joan took on the role in September 2011 having served in the position of Secretary, succeeding long-serving Chairman Rod Laing, the Chief Executive officer of Wests Entertainment Group.
"The Leader" said it was understood the board elected artist manager and Gympie Muster Music Co-ordinator Jeff Chandler to fill the position of Acting Chairman until the annual general meeting on December 11.
---
WEDNESDAY, OCTOBER 17, 2012
More festivals this weekend
There's another big line-up of festivals set for this weekend through NSW and Queensland.
Munna Creek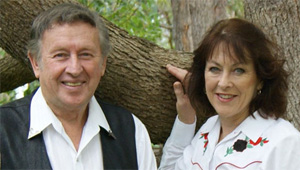 The Munna Creek Hall Country Music Festival actually runs from today with what organisers describe as "four days and nights of country music, cold beer, home style cooking and country hospitality"!
Artists on the bill include Lynne Bennett, Charley Boyter, Jamie Davis, Paul Ensby, Terry Gordon, Kev Groves, Jed & Trudy Hintz, Glenn Jones, Lex K, Dianne Lindsay & Peter Simpson (pictured), Lawrie Minson, Buddy Thompson, Lindsay "Waddo" Waddington, Tony Wagner and Clarrie Weller plus Gary Fogarty ("and his poets").
As well as the musical entertainment, the festival includes two market days (Friday and Saturday), an old time dance and an attempt to break the world record for the number of Lagerphones played at the same time at the same event.
Munna Creek is off the Bruce Highway in Queensland between Gympie and Maryborough.
Weblink – www.munnacreekhall.com.
Kangaroo Valley Folk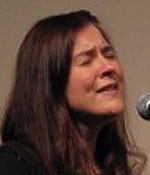 In NSW, the village of Kangaroo Valley stages its Folk Festival for three days from Friday.
Glenmack Park is the main festival venue with a strong line-up of performers including Alanna & Alicia, Andy Gordon, Bowralhouse, Breaking Hart Benton, Chooks On A Hot Tin Roof, Ciderjam, Doctor Stovepipe, Paul Greene, Sarah Humphries, Cilla Jane, Karen Lynne, Doug McIntyre, The Roaring Forties, The Schlockmeisters, The Songcatchers, Southerly Change, Danny Spooner, Phil Stormer, Aaron Strickland, Thirsty Night Singers, Bruce Watson, The Wongawilli Band and many more.
Music, singing and dance workshops will all be included in the extensive program as well as performances by school choirs and bush poets and a poetry competition.
Weblink – www.kangaroovalleyfolkfestival.com.au.
Hunter Poetryfest
Staying on the poetry theme, Hunter Bush Poets will stage their annual Poetryfest from Friday until Sunday.
Workshops, wordgames, entertainment and "bloody good fun" will be the order of the days where visitors can dabble in everything from writing, publishing, competition, poetry for kids, yarnspinning and more.
Featured performers during the weekend will be Frank Daniel, Pat Drummond, Carol Heuchan (pictured), Milton Taylor and Noel Stallard.
Representatives from the Fellowship of Australian Writers will help writers with talks on "The Perils of Punctuation" and "Grammatical Gaffes".
Weblink – www.hunterbushpoets.org.au.
Ariah Park Festival
The Ariah Park Music Festival will be staged on Saturday.
Featured performers will be Peter Coad (pictured) & The Coad Sisters, Trish Fairman, George Farnham, Joe Reeves, Keith Ryall, John & Christine Smith and Len Teelow.
The festival will also include a poets breakfast and will be followed by street markets and craft demonstrations on Sunday. A quilt exhibition will run all weekend.
Ariah Park – billed as "the birthplace of Australian bulk grain – is located 20 minutes west of Temora in NSW.
Weblink – www.ariahpark.com.au.
---
TUESDAY, OCTOBER 16, 2012
Paul announces Tamworth Festival show
Rising country star Paul Costa has announced details of his Capitol Theatre concert during the upcoming January 2013 Tamworth Country Music Festival.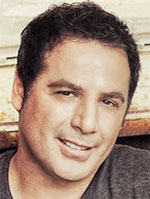 The show will be staged on Australia Day, Saturday January 26 from 11am.
Singer/songwriter Paul has had a big year so far with his new album Wheels & Steel enjoying critical and public acclaim. The first single from the album, Tractors & Bikes, rocketed to the top  of the national Country Tracks Top 30 chart.
Other songs from the album, like Buying Back The Farm, Ribbon Gang Lane, and "a barnstorming team-up" with Amber Lawrence on a cover of the Joe Camilleri classic Chained To The Wheel, are all attracting a lot of airplay, Paul said.
"Tamworth really sets the whole year up, I feel. If you have a successful Tamworth, then the rest of the year just flows," he said. "From a feel-good level, the atmosphere at the festival is so great. Tamworth is really amazing – it's a genuine country music institution."
Wheels & Steel is the fourth album from the Mallee-born musician. Critics have praised it for being hard hitting, raw and honest. Eleven of the tracks were co-written by Paul, with collaborators Drew McAlister, Rod McCormack, Matt Scullion and Tamara Stewart as well as a co-write from Drew McAlister and Allan Caswell.
Tractors & Bikes was written by Paul with Drew McAlister and Tamara Stewart and is described by Paul as an "affectionate nod to [his] childhood on a Victorian farm. On the farm there were two main ways to get to work on the property every day, you drove a tractor, or you rode a motorbike," he said.
"I remember riding the bike across the levy bank to other places – some I was allowed to ride to, and some I wasn't. And I remember having tractor races with my brothers, all the time hoping Dad wouldn't catch us. They are very fond memories."
The 2013 show marks Paul's return to the Capitol Theatre, the second year in a row. He said after the success of the 2012 show on the last Saturday of the festival, he secured the same coveted spot for the 2013 event.
And Paul says he really looks forward to performing in Tamworth, feeling like he has returned home when taking to the stage in the country music town. "Going back to Tamworth to perform is kind of like a huge get together for special friends that share a common bond, the love of country music," he said. "All topped off with an atmosphere that can be described as electric, making it an event that keeps you wanting to go back."
Tickets for the concert are on sale now via www.capitoltheatretamworth.com.au.
Weblink – www.paulcosta.com.au.
Chart Update – Harmony still at number one
The top three places on this week's national Country Tracks Top 30 singles chart remain unchanged with Harmony James' Emmylou's Guitar at number one,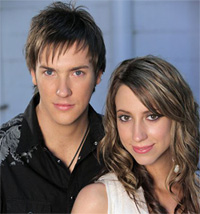 Adam Brand's There Will Be Love at two and Roo Arcus' This Here Cowboy at three.
Kasey Chambers & Shane Nicholson's Adam & Eve bounds up three places to number four, Tamara Stewart's Sisterhood (Of Feeling Good) is steady at five and The Bobkatz' Underneath The Hat is also up three places to number six.
Paul Costa's former number one, Tractors & Bikes, is at seven, Kristy Cox's Miles & Timezones is at eight, Chelsea Basham's Laugh It Off enters the top 10 at nine and America's Dierks Bentley is at 10 with 5-1-5-0.
Bullet performers for the week include Troy Cassar-Daley's Home (15 to 12), The Harmonators' Save Her Soul (17 to 14), McAlister Kemp's Home (19 to 15), Colin Buchanan, Lee Kernaghan & Sara Storer's collaboration of Song Of Australia (20 to 17), John Williamson's The Big Red (21 to 18), Benn Gunn's I Like Girls That Drink Beer (22 to 19), Bob Corbett's Blown Away (23 to 20) and Kaylens Rain (pictured) with Outta Here (28 to 25).
New entries to the chart this week include the title track to The McClymont's current album Two Worlds Collide (in at 29).
The full chart can be viewed at – www.countrymusicradio.com.au.
---
MONDAY, OCTOBER 15, 2012
Entries roll in for 2013 Toyota Star Maker
Entries are rolling in for the 34th Toyota Star Maker – Australia's longest running search for a new country music star.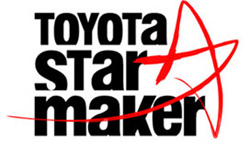 Star Maker has been the launching pad for the professional careers of many of today's leading country stars including James Blundell, Beccy Cole, Lee Kernaghan, Samantha McClymont and Keith Urban.
"In 2013, the competition is as tough as it's ever been with the Australian country music scene crying out for a new superstar," according to Barry Harley, General Manager of Rural Press Events, organisers of the talent search, "and the quality of performers continues to grow in line with interest in the event.
"In its 34th year, Toyota Star Maker continues to take country music to new heights by elevating a new artist every year who has the most potential to go all the way in the country music industry."
The talent search offers the winner, who is judged to"an individual who has the greatest potential to take advantage of the opportunities offered in the prize package that includes the recording of a full album with a leading producer, full use of a Toyota motor vehicle (including fuel card) for their winning year, guaranteed performances at major festivals throughout Australia, monthly media exposure in Country Music Capital News, introductions to many of Australia's leading industry personnel, a return flight to Nashville to attend the CMA Music Festival (by courtesy of Travelworld Tamworth), a performance at the CMA Global Artist Showcase and much more.
Entry form for Toyota Star Maker 2013 can be downloaded at www.tamworthcountrymusic.com.au.
 
Weblink – www.facebook.com/starmakeraustralia.
Roger returns from US tour
Aboriginal music legend Roger Knox returns tomorrow from what has been described as a whirlwind tour of the USA.
During the tour, Roger promoted his new album – Stranger In My Land – from San Francisco to Chicago performing at shows with some of the biggest names in American folk and country music.
The album was recorded in Australia but "re-versioned" in America with cameo appearances from American country music stars like Charlie Louvin.
Roger says one of the highlights of the tour was performing at the Hardly Strictly Bluegrass Music Festival where he joined 80 bands to perform to more than 750,000 music fans over three days.
He said the Festival, held in the Golden Gate Park, San Francisco, was an eye opener for him where he got to perform on numerous occasions.
"...Getting to perform here at a popular event such as the Hardly Strictly festival was a buzz. The crowds over here have been great with people coming up to me saying they relate to my music, which has been an amazing experience."
Roger has been touring with Jon Langford, with whom he collaborated on Stranger In My Land, and the Sadies and alternative country artist Sally Timms. The album speaks of the affiliation of Aboriginal Australia and country music.
Weblink – www.facebook.com/pages/Roger-Knox/108025529219144.
---
FRIDAY, OCTOBER 12, 2012
Total Country weekend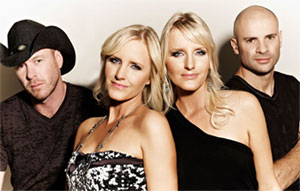 A "Total Country" weekend is running this weekend at Sydney's Rooty Hill RSL Club.
First up is a concert tonight with the award winning Jetty Road plus the Aaron Daniels Band from Melbourne at 8 o'clock.
Tomorrow night will feature Adam Brand and Sunday will see the Bushwackers perform in the lounge.
The "Total Country" weekend kicked off last night with a show featuring Luke Dickens and Aleyce Simmonds.
Upcoming shows at the Rooty Hill RSL include Buddy Goode on Sunday October 28, "Kings Of Country" on Saturday November 3 and "A Taste Of Tamworth" on Friday November 23 featuring Carter & Carter, Tracy Killeen and Travis Sinclair.
Weblink – totalcountry.com.au.
The Harmonators in Tamworth
Hit-makers The Harmonators will play two shows in Tamworth, Australia's Country Music Capital, this weekend.

The duo, Liz Kinnimont and Rae Moody, is playing tonight at the West Tamworth League Club and Saturday night at the the revamped Post Office Hotel in the city.
The Harmonators are riding high with their current single Save Her Soul at 17 "with a bullet" on the national Country Tracks Top 30 singles chart.

Weblink – www.theharmonators.com.
---
THURSDAY, OCTOBER 11, 2012
Port Pirie Festival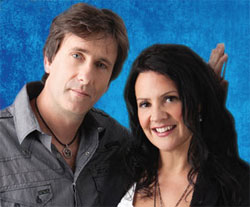 The annual Port Pirie (SA) Music Festival, organised by the Northern Country Music Association, runs from today until Sunday with dozens of artists on the bill including competitors in the talent search.
Artists include the Blackhats Band, Gary Burrows, Carter & Carter (pictured), Country All The Way, Krystal Donnelly, Mark Hannig, David & Heather Hoffman, Megan Laurie, Cactus Martens, Trevor Philby, Tracey Rains & Claypan, Kim Ritchie, Ryan Sampson, Kiera Smith, Mitchell Steele, Sandy & Rob Wattling, Des Will, Chooka Williams and Paul Wilson.
The talent search runs on Saturday offering prizemoney in the order of $2,000.
Weblink – www.portpiriefestival.com.
Widgee weekend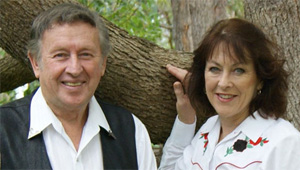 Meanwhile, up in Queensland, at Widgee near Gympie, the annual Bush Balladeers Muster is also running from today until Sunday.
The Muster program today features a walk-up artists session compered by Alan Luscombe and Teddy Thompson with an old time dance tonight in the Widgee Hall.
Bush poets take their place tomorrow morning, Saturday and Sunday with further walk-up sessions and appearances by invited artists.
In addition to those already mentioned, artists appearing this year include Alice Benfer, Jeff Brown, Barry & Lynne Chandler, Ginger Cox, Col Edmonds, Marge Graham, Kevin Groves, Sharon Heaslip, Ged & Trudy Hintz, Keith & Caitlyn Jamieson & Alisha Smith, Viv & Shirley Kehl, Dianne Lindsay & Peter Simpson (pictured), Claude McLachlan, Sel Munt, Anita Ree, Graham Rodger, and Paul Seils.
Bush poets appearing include John Best, Ray Essery, Gary Fogarty and Peter Riddle.
Weblink – www.widgee.info/balladeers/index.htm.
---
WEDNESDAY, OCTOBER 10, 2012
Adam and Michael to lead country seminar
Adam Brand and Michael Chugg have been announced to head the list of "industry heavyweights" at the 2013 seminar in Tamworth designed to boost country music airplay on Australian radio.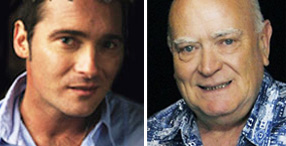 Organised by the American Country Music Association (CMA) Australian Advisory Group, the seminar will be held on Thursday January 24 during the giant Tamworth Country Music Festival.
"At a time when country music is growing in profile, particularly amongst a younger demographic, radio programmers and the country music industry is coming together to find ways to dramatically change the way, and increase the amount of, country music being played on Australian radio," said Group Chairman Rob Potts.
Michael Chugg Executive Chairman of Chugg Entertainment, a pioneer in the Australian music industry, will deliver the keynote address to the seminar.
As one of Australia's leading recording artists, Adam Brand will be a speaker at the Seminar.
Other panelists will include Kath Letch, General Manager of the Community Broadcasting Association of Australia, Noel Macdonald, General Manager of Sydney's Cool Country 2KA and radio veteran Trevor Smith of Aloha Media.
"Radio remains the most direct way for country artists to reach album, song and ticket buying fans," said Rob, who is also Chief Executive of Entertainment Edge.
"The growth of many new country radio stations in Australia, plus the advent of digital radio, is providing many more opportunities for Australian and international country music and the Australian radio industry. We are keen to see the development of a more hit-driven radio format similar to ones that already exist for most other music genres.
"It is critical for radio broadcasters, programmers and presenters and the country music industry to come together regularly and discuss ways to grow our respective industries," he said. "Our seminar is based on the highly successful Country Radio Seminar held annually in Nashville which has worked to grow country music into the most successful radio format of any genre in the USA."
Weblink – cmrsa.com.au.
---
TUESDAY, OCTOBER 9, 2012
Bedgerabong Country Campout 
The annual Bedgerabong Country Music Campout  gets underway today at Bedgerabong near Forbes in NSW.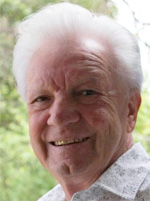 Running until Sunday, the Campout kicks off with camper's walk-ups today followed by poet's breakfasts tomorrow and Thursday, more camper's walk-ups, a "camper's surprise" and a sports afternoon.
Another poet's breakfast and more camper's walk-ups are scheduled for Friday with a Bedgerabong School Marimba Performance, Forbes Country Music Club Showcase and an old-time dance with Peter Horan.
Saturday and Sunday features a big program of continuous entertainment from artists including Bill Bedford, Sami Cooke, Rex Dallas (pictured), Errol Gray, Lynette Guest, Peter Horan, Tom Maxwell, Bret & Josh Petty, Charmaine Pout, The Ritchie Family and Vicki Walsh.
A "Market Day" will run Sunday morning.
Further information can be obtained by email ed@forbescountrymusic.com.
Weblink – www.forbescountrymusic.com/bedgerabong.html.
Craig to release Christmas song
Currently working the American market, Craig Morrison is set for a Christmas release in November of Santa Claus Boogie.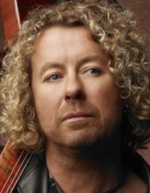 Craig is currently having some success with his current single Fences on the national MusicRow chart and is preparing for a busy start to 2013 with several major festival appearances in the next six months.
During the recent American summer, he was particularly busy visiting radio stations across the country, performing at the CMA (Country Music Association) Music Festival and making personal appearances.
Craig's self-titled 2012 album was produced by Grammy-nominated record producer, ex-pat Aussie Mark Moffatt and released through Lucky 53s/GMV Nashville and is available at all major digital retailers including iTunes and Amazon.
The singer/songwriter is also maintaining a career in Australia where his Just Another Sundown single reached number four on local charts earlier this year.
He will be back home early in 2013 for a number of appearances including CMC Rocks The Hunter, the Central Coast Music Festival and the Country in the Snowys festival in Thredbo, all in March.
In April, Craig will make multiple stops in France, including a performance at the Plouha Festival on Saturday, April 20.

Weblink – www.CraigMorrisonMusic.com.
---
MONDAY, OCTOBER 8, 2012
Rosewood Festival
Details have come to hand for the 2012 Rosewood Country Roundup at Rosewood near Tumbarumba, NSW.
The Roundup runs from Wednesday October 24 to Sunday the 28th in the Rosewood Golf Club Grounds with a special guest artist lineup.
Stars this year include Gavan Arden, Don Costa, Johnny Greenwood (pictured), Dale Hooper, Peter Horan, Wayne Horsburgh and Sharon Smith plus bush poets Chris & The Grey and Gary Lowe.
Invited walk-up artists will include John Muyr, Frank Palmer, Lyn Payne and John Smith
The Roundup entry is $55 which includes camping and entertainment. Day passes are available for $15 each.
Organisers are promoting the Roundup as a family friendly event by admitting children for free.
Further information can be obtained from Ailsa on 0421 044 633 or Albert on 02 6948 8226.
Chart Update – Harmony hits the top
Harmony James has taken over the number one position on this week's national Country Tracks Top 30 singles chart with her hit Emmylou's Guitar.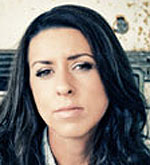 Adam Brand's There Will Be Love is up one to number two, Roo Arcus jumps two places to number three with This Here Cowboy and Paul Costa's Tractors & Bikes, number one from the last two weeks, is at four.
Tamara Stewart's Sisterhood (Of Feeling Good) is up two to five, Kristy Cox's Miles & Timezones is steady at six and Kasey Chambers & Shane Nicholson's Adam & Eve bounds into the top 10 at seven.
Chris E Thomas' Stone Cold edges up one to number eight, The Bobkatz' Underneath The Hat enters the top 10 at nine while Catherine Britt's former number one, Always Never Enough, is at 10.
Bullet performers for the week include Chelsea Basham's Laugh It Off (15 to 12), Luke O'Shea & Dianna Corcoran's New England Sky (16 to 13), Troy Cassar-Daley's Home (20 to 15), McAlister Kemp's Home (22 to 19), John Williamson's The Big Red (24 to 21) and Bob Corbett's Blown Away (27 to 23).
New entries to the chart this week are Camille & Stuie's Things Change (in at 29) and Morgan Evans' While We're Young (at 30).
The full chart can be viewed at – www.countrymusicradio.com.au.
---
SUNDAY, OCTOBER 7, 2012
Luke dominates Independent awards
Singer/songwriter Luke O'Shea dominated this year's Australian Independent Country Music Awards (or Southern Stars) taking home four of the nine awards up for grabs.
Luke won Album of the Year, Male Vocalist of the Year and Heritage Track of the Year from his album The Drover's Wife and was also named Artist of the Year.
Tracy Killeen won Female Vocalist of the Year with Good Lies.
Three-time finalists Camille & Stuie picked up Single of the Year for their hit song Beverley Joy.
Jetty Road took out the Group award for the third time in four years with their song I'm A Dreamer.
First time winners at the Independent Awards were Rising Star winners Benn Gunn with Rawsonville Road and Kristy Cox with Little Bit of Wonderful.
The Awards, sponsored by iiNet, are held annually as a climax to the huge Mildura Country Music Festival. This year's Awards were presented last night.
Photo (by Greg Sylvia): Luke accepts his Male Vocalist of the Year award.
Weblink – www.milduracountrymusic.com.au.

---
THURSDAY, OCTOBER 4, 2012
ARIA finalists announced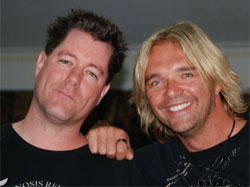 Catherine Britt, Troy Cassar-Daley, Beccy Cole, McAlister Kemp (pictured) and The McClymonts are the finalists for Best Country Album in the 2012 ARIA (Australian Recording Industry Association) Awards.
The finalists were released yesterday.
Catherine is a finalist for her hit album Always Never Enough, Troy for Home, Beccy for Songs And Pictures, McAlister Kemp for Country Proud and The McClymonts for Two Worlds Collide.
Other country or country connected finalists are Keith Urban, a finalist for Best Male Artist with For You, Buddy Goode, a finalist for Best Comedy Release with Unappropriate and Matt Fell, producer for Graeme Connors among others, who was a finalist for Engineer of the Year in the Artisan Awards (winners for these have already been announced with Francois Tetaz, engineer of Gotye's Making Mirrors album, taking the title).
ARIA Award winners will be announced at the Sydney Entertainment Centre on Thursday November 29.
For a full list of finalists in all categories, visit www.ariaawards.com.au.
---
WEDNESDAY, OCTOBER 3, 2012
Tamworth "early-bird" tickets on sale
"Early-bird" tickets for the 2013 Tamworth Country Music Festival were released today.
Shows in the first release raft include John Williamson (pictured) with his "The Big Red" concert, Troy Cassar-Daley "and Friends", Jetty Road "Live in Concert" and the Golden Guitar Awards.
More than 40 shows have been placed on sale with an estimated further 60 or more to go on sale between now and January.
Peter Ross, Manager of Entertainment Venues for Tamworth Regional Council, said "early-bird" tickets were "a fantastic way for Festival fans to get in early and secure their tickets before they sell out".
"Events such as the Country Music Awards of Australia and many of the headlining acts are so popular that they often sell out well in advance of the Festival. We advise Festival fans to purchase their tickets through the Festival website – www.tcmf.com.au (freshly upgraded for 2013) – or from Destination Tamworth on 02 6767 5300 as soon as possible as tickets disappear quickly."
Tamara releases Women In Song
Tamara Stewart has released a tribute to female Australian country pioneers Thel Carey, Joy McKean and Shirley Thoms titled Women In Song.
Co-written with Colin Buchanan, the song is the latest single from Tamara's acclaimed album Apple Seed.
In Tamara's words, "the track honours three female trailblazers of Australian country music, with the spotlight on living legend Joy McKean.
"We all know Joy well as the wife of the 'King of Country' Slim Dusty, and one half of The McKean Sisters with sister Heather, but Joy was also the first person to ever win a Golden Guitar award (Song Of The Year 1973) for writing Slim's monster hit Lights On The Hill along with many more accolades and honours in a career spanning many  decades.
"Joy McKean has had such an incredible career plus she has been so supportive of up and coming talent. As a female songwriter she has inspired me with not only her success but also her kindness and encouragement," Tamara said.
As the song is a celebration of the female talent in our country, Tamara said, it seemed fitting that she invite friends and fellow "women in song" Sara Storer and Felicity Urquhart to join her on the recording.
"What a pleasure it was to take this song to those two ladies," Tamara said. "I have known them both for many many years, and both Sara and Felicity are two of my favourite female singer/songwriters."
The film clip for Women In Song was shot by Rusty Gate Films' Robb Cox and Mick Jones. Set under a tree, the clip also includes some footage and photographs of Thel, Joy and Shirley, images provided to Tamara by Rick and Lynne Carey (Thel's husband and daughter), Lorraine Pfitzner and Joy McKean.
"The authenticity on this clip was vital," Tamara said. "I'm so proud and pleased that the visual part of this song captures and continues to re-live the incredible talents and eternal value that these women have to our industry."
Weblink – www.tamarastewart.com.au.
Chart Update – Paul hangs on to number one
Paul Costa's hit Tractors & Bikes remains at the top of the national Country Tracks Top 30 singles chart for the second week this week.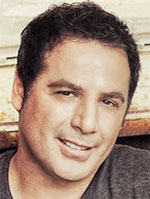 Harmony James' Emmylou's Guitar jumps two places to be in second place, Adam Brand's There Will Be Love is steady at three and Catherine Britt's former number one, Always Never Enough, is at four.
Roo Arcus and Kristy Cox are steady at five and six, respectively, with This Here Cowboy and Miles & Timezones while Tamara Stewart's Sisterhood (Of Feeling Good) bounds into the top 10 at number seven.
Natalie Howard's You Oughta Marry Me is at eight, Chris E Thomas' Stone Cold is steady at nine and America's Dierks Bentley is at 10 with 5-1-5-0.
Bullet performers for the week include Kasey Chambers & Shane Nicholson's Adam & Eve (14 to 11), The Bobkatz' Underneath The Hat (15 to 12), Luke O'Shea & Dianna Corcoran's New England Sky (19 to 16), The Harmonators' Save Her Soul (20 to 17), Troy Cassar-Daley's Home (24 to 20) and McAlister Kemp's Home (25 to 22).
The full chart can be viewed at – www.countrymusicradio.com.au.
---
TUESDAY, OCTOBER 2, 2012
Country music and scarecrows
The 16th annual Kurrajong Scarecrow Festival is coming up on Sunday October 28 and this year will feature a number of well-known country stars supporting the main scarecrow activity.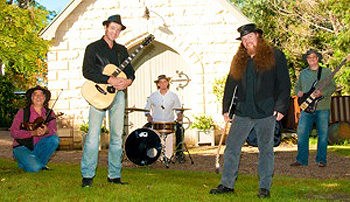 Bowen & Clare, Brothers3 and Simply Bushed (pictured) are among the acts that will perform at the Festival, supported by Gateway 23, Green Tree Serenade, Miss Money Penny and Remo St.
Kurrajong, located north west of Richmond on the outskirts of Sydney and described as "framed by rolling hills... a quiet and quirky village with it's quaint cafes and unique gift shops" will be "buzzing with energy, creativity, music and colour!" according to organisers.
"Loads of amazing stalls, great food, displays and so much more [will be there] so come join in the fun!
"This not to be missed event reminds us of the importance of community in these days of busy living. The focus has always been about bringing us back to our country roots and what better mascot than the Scarecrow.
"Over the past years many locals have delighted passers by with their scarecrow displays. Each year residents of the Kurrajong and surrounding area are invited to enter this annual competition with a chance to win some great prizes."
Several local schools show off their talents with dance and music displays as well as exhibiting their School Scarecrows leading up to the festival.
"Another much enjoyed and fun event at the festival is the Doggy Dress up competition. Dogs of all shapes and sizes just love to strut about in their latest fashion!  Entry forms for both competitions are available from Kurrajong Newsagency or can be downloaded from our website www.kurrajong.org.au."
Community volunteers run the event which is sponsored by several local business, including Bendigo Bank and Hawkesbury City Council.
Lions look for country music volunteer award nominations
The Country Music Capital based Peel Valley Lions Club is seeking nominations for its annual Australian Country Music Service Award that will be presented for the 20th time this coming January.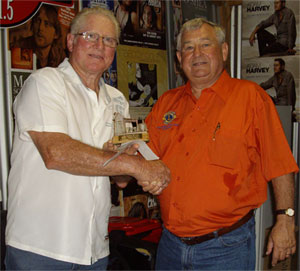 Since 1994, the Club has sought out and honoured a country music personality who has given voluntary service to the community through his or her connection with the genre.
Over the 19 years of the Award to date, recipients have included singers, songwriters, musicians and those who work "tirelessly behind the scenes".
"And invariably they are quiet achievers who have never sought recognition or superlatives for their charity or community efforts," said Club President Terry Hill.
Anyone can nominate someone who they think are deserving of recognition, Terry said. "Anyone with a country music connection who has given of their time and talent is eligible.
"It may be someone who entertains older members of their community, works on major country music fundraising events, or even something as simple as giving their time for free to help out in caring and support programs."
Nominees don't have to be Lions Club members but nominations need to be made through a Lions club in writing to: The Secretary, Peel Valley Lions Club, PO Box 957, Tamworth, NSW, 2340. Nominations close on December 18.
A panel of country music identities and members of the Peel Valley Lions Club will sift through nominations to determine a winner who will be announced during the January Festival. In addition to the accolade, the winner will receive a one-off trophy crafted by respected artist Fred Hillier and will also be given the opportunity to nominate a charity to receive a $500 donation on his or her behalf from Peel Valley Lions Club.
Enquiries can be directed to Terry on (02) 6765 6042 or by emailing terryanddihill@bigpond.com.
Previous recipients of the award have been Bruce Moser, Vic (1994), Rocky Page, SA (1995), Olive Bice, Vic (1996), Lorraine Pfitzner, NSW (1997), Carol Lockhart, NSW (1998), Desree-Ilona Crawford, Qld (1999), Merle & Graeme Gillis, Vic (2000), Shirley Llewellyn, NSW (2001), Bob Gray, NSW (2002), Peter Sheahan, Vic (2003), Peg & Ivan Spann, Qld (2004), Johnny Doyle, Vic (2005), Noel Smith, SA (2006), Frank Turton, SA (2007), Brian Letton, NSW (2008), Kay Willis & Barry Johnston, NSW (2009), Chris Doyle, Qld (2010), Ian "Bidge" Boyd (2011) and "Cactus" Martens, SA (2012).
Photo: Colin "Cactus" Martens receiving his award from Terry Hill this year.
ARIA chart action
The top four places on the ARIA (Australian Recording Industry Association) Australian Country Chart this week remain unchanged again with the Kasey Chambers/Shane Nicholson album Wreck And Ruin at number one, Keith Urban's The Story So Far at two, Adam Brand's There Will Be Love at three and The McClymonts' Two Worlds Collide at four.
Adam Harvey's Falling Into Place re-enters the chart this week at number five, as does his Best So Far release at eight.
The Very Best Of Slim Dusty slips to number six and Lee Kernaghan's Ultimate Hits is at seven.
Busby Marou's self-titled album is up two to nine, as is John Williamson's Absolute Greatest : 40 Years True Blue at 10.
Keith Urban's Greatest Hits: 18 Kids is down two to 11, Beaut Ute Anthems 2012 is down four to number 12, Catherine Britt's Always Never Enough is at 13 and Adam Brand's Greatest Hits 1998-2008 re-enters the chart this week at 14.
Check the full listing here.
---
MONDAY, OCTOBER 1, 2012
New album from Luke
Golden Guitar winner Luke Austen will release his second album – Truth Is Simple – this Friday (October 5).
Though still only 31, Luke has spent nearly half his life trying to realise his dream of building a career in country music and, as most pundits would agree, "he's doing a great job so far".
"His new album... is proof of what can be achieved with the right blend of talent, application and fearlessness," according to a spokesman for the artist.
"The album gathers 10 of his songs, most co-written with an array of collaborators including Shane Nicholson, Troy Cassar-Daley and Jerry Salley, to create an album that not only highlights what a bright future Luke has but also how firm is his grasp of the history and breadth of country music."
Luke himself said: "I believe in this album. I also believe it will work in a modern day Industry. There are common reflections from the last album (his debut, Light Of Day, which was recorded and released as part of his major prize as winner of the 2010 Toyota Star Maker competition) that are expected from someone with strong country roots, but there is more of me to hear, and the best way to do that is to show the versatility and diversity in my sound."
Luke says Truth Is Simple involved top shelf personnel and co-writers in the making, including Jeff McCormack as co-producer. As well as being the long time bass player for Kasey Chambers, Jeff has made his name as the go-to engineer for many of Australia's premier country acts.
The core band on Luke's new release includes Jeff, Peter Cooper, Tim Crouch, Steve Fearnley and Chris Haigh.
"Jeff McCormack gave me the confidence I needed to have complete creative freedom," Luke said. "We strived to keep our approach as raw and organic as possible, so the listener can hear each individual instrument, the patience in the playing, the heart in the lyric, and the soul in each song."
Weblink – www.lukeausten.com.au.
First artists announced for CMC Rocks the Hunter 2013
The first round of artists that will star at next year's CMC (Country Music Channel) Rocks the Hunter have been announced.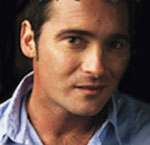 The annual event regularly features a number of leading local and overseas country acts.
Initially, Australia's Adam Brand (pictured), Canada's Corb Lund and America's Rascal Flatts (pictured) have been announced as headliners.
Local artists The Bluegrass All-Stars, Doug Bruce & The Tailgaters, Catherine Britt, Bob Corbett, Morgan Evans, Amber Lawrence, Craig Morrison, Aleyce Simmonds and The Wolfe Brothers are among the first support acts announced.
Ex-patriate Australian country pioneers, the US-based The LeGarde Twins will also appear, together with America's The Band Perry, Billy Ray Cyrus, David Lee Murphy and Chris Young and Canada's Dean Brody and the Hurtin' Albertans.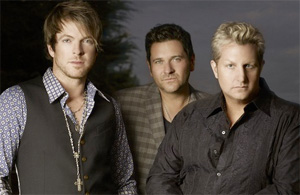 Now in its sixth year (originally staged in the Snowys), CMC Rocks the Hunter has established itself as the biggest international "country and roots" event of its kind outside of North America and is billed as one of the premier events on the Australian music calendar.
The event will be staged again at the Hope Estate at Pokolbin, for 2013, Friday, Saturday and Sunday March 17.
Previous years have seen performances by stars like Dierks Bentley, the John Butler Trio, Kasey Chambers, Faith Hill, Alan Jackson, Tim McGraw, Ian Moss, Pete Murray, Joe Nichols, Sugarland, Taylor Swift and The Waifs.
Tickets for CMC Rocks the Hunter 2013 go on sale this Thursday (October 4) via the event website www.cmcrocks.com.au.
---
Click here for recent news
---