WEDNESDAY, NOVEMBER 28, 2007
2008 Australian Country Music People's Choice Awards finalists
Finalists for the 2008 Australian Country Music People's Choice Awards have been announced.
They are...
For Best Female Vocal... Denise Brooks, Rose Carleo, Beccy Cole, Jayne Denham, Nicki Gillis, Amber Lawrence, Keri McInerney, Cat Southern, Sara Storer and Felicity Urquhart.
For Best Male Vocal... James Blundell, Adam Brand, Karl Broadie, Troy Cassar-Daley, Travis Collins, Steve Eales, Adam Harvey, Lee Kernaghan, Steve Passfield and Bryen Willems.
For Best Group or Duo... Carter & Carter, Jetty Road, Jonah's Road, The McClymonts, The Noll Brothers, Simply Bushed, Sunny Cowgirls, Tall Timbre, Wildseed and the Wolverines.
For Most Promising Future Star... Kirsty Lee Akers, Denise Brooks, Rose Carleo, Jayne Denham, Steve Eales, Morgan Evans, Lee Forster, Amber Lawrence, Steve Passfield and Bryen Willems.
For Best Album... The Battler by Steve Eales, Beat'n Round The Bush by Simply Bushed, Counting Down The Days by Jonah's Road, Dirt Roads – City Lights by Jetty Road, Everything I Need by Rose Carleo, Goin' It Alone by Steve Passfield, I'm Doin' Alright by Adam Harvey, No Boundaries by Travis Collins, Pioneers & Poets by Denise Brooks and Spirit Of The Bush by Lee Kernaghan.
For Best Song... A Man Will Risk It All by Steve Passfield (written by Steve & Rod McCormack), A Scene From Long Ago by Denise Brooks (written by John Seers & Bob Magee), Chick Ute by Jayne Denham (written by Jayne), Counting Down The Days by Jonah's Road (written by Jay Collie, Jasper Sommerville & Travis List), Dads Cruiser by Simply Bushed (written by Chris Reiger), Little Miss Understood by Cat Southern (written by Cat, Jasper Somerville & Jay Collie), Shining Star by The Noll Brothers (written by Adam & Damien Noll), Spirit Of The Bush by Lee Kernaghan, Adam Brand & Steve Forde (written by Lee with Colin Buchanan & Garth Porter), 'Til I Find Me Again by Rose Carleo (written by Rose & Drew McAlister) and When A Cowboy Gets The Blues by Steve Eales (written by Steve).

For Best Bush Ballad... A Bushman's Life by Ashley Cook (written by Dennis Evan & Shaza Leigh), The Battler by Steve Eales (written by Steve), Cangi Bridge by Simply Bushed (written by Paul Grierson), Fair Dinkum Aussie by Craig Giles (written by Craig & Lorna Nelson), Land Cries Out by Sara Storer (written by Sara), Our Women Pioneers by Denise Brooks (written by Ray Rose), Sign Of The Times by Amos Morris (written by Ian Quinn), Spirit Of The Bush by Lee Kernaghan, Adam Brand & Steve Forde (written by Lee with Colin Buchanan & Garth Porter), To Sing With Slim by Steve Passfield (written by Steve) and Woman On The Land by Graham Rodger (written by Graham).
For Most Popular Country Music DJ... Bill Beerens (from Community Radio Network's "Good Morning Country"), Larry Cann (KIX FM), Nick Erby ("Country Music Radio"), Rebecca Gray (MAX FM Narrabri), Brian Howard ("Country Music Radio"), Daryl Kirkup (101.5 FM), Brendon T Moylan (Curtin FM), John Nutting (ABC "Saturday Night Country"), Dan Rennie (98.9 FM Brisbane) and Tim Ryan ("Truck'n With Tim").
For Most Popular Country Music Radio Station or Program... 2MAX FM Narrabri, 98.9 FM Brisbane, ABC "Saturday Night Country", Cool Country 2KA West Sydney, Cool Country Radio 94.1 Central Coast NSW (now Today's Country 94one), "Country Music Radio", Curtin FM Perth, Community Radio Network's "Good Morning Country", KIX FM Queensland and "Truck'n With Tim" Victoria.
The 2008 Australian Country Music People's Choice Awards will be staged at 2pm Thursday, January 24, in Country Music Capital's Regent Theatre during the upcoming country music festival with a star-studded line-up of performers to be announced shortly.
Earlybird tickets at $20 each can be purchased by downloading the ticket booking form here...
www.peopleschoiceawards.com.au/EarlybirdTicketBookingForm08.pdf
and faxing with credit card details before the close of business this Friday, or by sending cheque or money order postmarked Friday or earlier.
After Friday, tickets at $25 each will be available from the Regent, in person or by telephone (02 6766 3162).
Kane wins final Telstra Road to Tamworth heat
Kane Harrison has won the Albury (NSW) heat of the Telstra Road to Tamworth competition held at Kinross Woolshed on Saturday afternoon, the last in the lead-up to finals and the grand final to be staged in Country Music Capital.
Kane, 29, from Wodonga, joins Kristaly Atkins, Liam Brew, Caitlin Harnett, Ngawara Madison, Claye Middleton, Annalea Mitchell, Tammy Moxon, Michelle Murphy, Christie Polinelli, Jasmine Rae, Tiffney Stroh, John Thewlis, Taryn Trautsch, Kris Wason, Mark Wells, Flynn Wheeler, Rebecca White, Chad Bernard Woods and Craig Woodward competing in the finals series of the talent search in January 2008.
The overall grand final winner will be awarded an all expenses paid return trip to Nashville and a full album deal with ABC Music, distributed by Warner Music Australia.
From playing drums at age three to his first guitar lesson at age 10, music runs in Kane's blood. He fronted the Albury crowd like a true local, according to a spokesman for the organisers, "providing great entertainment for the enthusiastic crowd who sat in the 30 plus degree heat to witness the showcase of talented artists that competed."
Kane performed the Keith Urban crowd pleaser Stupid Boy followed by an original song, Some Degree Of Happiness. He runs a busy schedule, dividing his time between a full-time job as a concreter and his gig as television presenter on Victoria's Channel 31 "Cruising the Country" but enjoys performing every chance he gets.
Having had previous music success by reaching the top 40 of Australian Idol last year, Kane was happy to add the Telstra Road to Tamworth heat win to his list of accolades, "It was a pretty tough competition, the other contestants were all great so I'm a bit surprised to be receiving this trophy," he said.
Weblink – www.beinvolved.telstra.com/countrymusic.
People's Choice Awards finalists to be announced this afternoon
Finalists in the 2008 Australian Country Music People's Choice Awards will be announced this afternoon.
Final checking of voting tallies has been completed with notification going out to finalists this morning.
Once again, thousands of votes have been recorded, mainly on line but also on paper, to determine winners in "the people's country music awards".
---
TUESDAY, NOVEMBER 27, 2007
Jade is "the voice" of Maccas Australia
Rising young country star Jade Mellor has been named Australia's "Voice of McDonalds".
At just 16 years of age, this accolade follows Jade's placing in the top 100 of this year's "Australian Idol" back in April. She was only 15 then.
From Beaudesert, south of Brisbane, Jade beat thousands at the Channel 10 show's Queensland auditions with an emotive song about the death of a mate's father.
The next step in the McDonalds competition will see Jade competing against 35 others from around the world for a chance to make it to the grand finals at the 2008 McDonalds Worldwide Convention in Orlando in the USA.
The grand prize in the competition is US$25,000 with cash prizes for the first and second runner up and all finalists who proceed to the Convention.
In addition to the finalists' cash prizes, their local Ronald McDonald House Charities also receive a cash donation in their name. Supporter of Jade, Leisa Bye, said: "I spent time in one of the Australian Ronald McDonald Houses as a teenager and the work that these folks do is invaluable.
"We only have until the 10th of December to get our votes in for Jade – so support one of our own and let's try to help this talented young lady get to the States," she said.
Fans and other members of the public can vote for Jade at www.mcdonalds.com/usa/voice.html – click on "click here to voice your choice" and look for Jade's name.
Troy launches Don't Waste Tamworth 2008
Troy Cassar-Daley will be back in Country Music Capital tomorrow (Wednesday) to launch a new year as the city's number one waste warrior.
It's become a regular annual event now for the country music superstar to promote a cleaner and greener country music festival each January... 2008 will be the sixth year.
Tamworth Mayor James Treloar said the city was honoured and proud to have the Golden Guitar winner supporting the city recycling campaign again.
"It is really important that our visitors to the city get involved and participate in the Don't Waste Tamworth Campaign and having a superstar like Troy as an ambassador of the campaign lifts the awareness within the Festival community," he said.
"Seven-point-nine tonnes of recycling was collected during the 2007 Festival bringing the total amount of recycling in the last five years to 41.5 tonnes, the equivalent to 52 tip trucks of recycling since the Don't Waste Tamworth campaign was first launched."
This coming January will continue to see a major focus on recycling during the Festival. Special recycling "rouseabouts" will be patrolling city centre streets and the Riverside camping grounds spotting people doing the right thing. They'll be in line for daily and weekly prizes, including Troy concert tickets.
Council says residents and visitors should look out for the yellow recycling bins so they don't waste a chance to win for themselves – and the environment – during the 2008 Tamworth Country Music Festival presented by Telstra.
Tomorrow's launch will be held in the Tamworth Town Hall at 12.30pm. Troy will perform songs from his recently released "best of" album Born To Survive.
Photo: James Treloar and Troy Cassar-Daley "talking rubbish" at this year's Tanworth Country Music Festival.
Weblinks – www.tamworth.nsw.gov.au, www.troycassardaley.com.au.
Meanwhile, Tamworth Regional Council has also opened entries for next January's biggest single event of the country music festival, the Country Music Cavalcade.
The 2008 event coincides with celebrations for Australia Day and event organisers expect huge Saturday crowds in the city.
Among those taking part will be the Newcastle Marching Koalas, a special guest marching band who will join the traditional dozen music groups that add to the beat each year.
There mightn't be any horses in the Peel Street parade next year because of the threat of equine influenza spread, but more motorised and push/pull/pedestrian entries will make up for it, Council says, and some horse groups have indicated they'll still be strutting their stuff but without their stock.
This year's cavalcade saw 65 floats take part with the winning entry, from the Tamworth Hospital, depicting "a century of health care" including a simulated surgical procedure with doctors acting out a bizarre lifesaving operation complete with limbs and body parts. The float included a "centenary ambulance".
Cavalcade sponsor Toyota will again contribute a fleet of vehicles to carry a contingent of Festival celebrities.
Speaking on behalf of Council, Jodie McKenna said: "Special Cavalcade kits provide lots of tips and information on putting together a float so there's no blood, sweat and tears – and that the end result is a creative, colourful float."
Photo: Lee Kernaghan and NSW State Premier Morris Iemma lead the 2007 Cavalcade.
The kits are available from Council. Entry forms can be downloaded from www.tamworth.nsw.gov.au/cavalcade.
---
MONDAY, NOVEMBER 26, 2007
For the first time in their careers, Sara Storer and Neil Murray will perform together.
With both artists releasing new albums earlier this month, this will be an opportunity for them to showcase some of their new songs as well as perform many audience favourites from their past albums, according to their publicist.
"The shows will be an intimate acoustic evening of songs and stories. Sara and Neil will be performing solo sets along and with some surprises!"
And they will be joined on stage by the multi talented Bill Chambers.
Sara has had a busy 2007, writing and recording her highly anticipated fourth album Silver Skies which was released on November 3 through EMI Music.
Apart from the shows with Neil, Sara is also touring with The Waifs, with Beccy Cole and Gina Jeffreys as "The Songbirds" and with international star Suzanne Vega in early 2008.
Neil has just returned from his second trip to the US co-writing and performing in New York, Los Angeles, Atlanta and Nashville. His new album Overnighter was released by ABC also on November 3. The album was preceded by the first radio cut and video clip – Lights Of Hay.
Neil continues to tour Australia in solo, band or two songmen mode, the latter with his great friend Shane Howard.
The special guest opening act for the Sara & Neil shows – at The Harp, Tempe (Sydney) this Friday night (November 30) and The Heritage Hotel, Bulli, NSW, on Saturday December 1 – will be Bec Willis, an up and coming name in the country music industry with her recently released, self-titled, debut album produced by Kasey and Bill Chambers.
Weblinks – www.sarastorer.com.au, www.neilmurray.com.au, www.becwillis.com.
New album for Matt
Four years after the release of his debut country album Son Of A Gun, Matt Frost is back with a brand new album called All That I Am.
After being diagnosed with cancer in 2005, undergoing chemotherapy treatment, going into remission but again being diagnosed in 2007, Matt decided to resume the life he loved by recording again.
Get A Little Love is the first single to be released from Matt's new album, being distributed to radio in December via NfS.
As a result of his own battle with cancer, Matt has decided to donate $5 from every album sold to the Australian Cancer Research Foundation.
Weblink – www.mattfrost.com.au.
SCU sponsors songwriting award
Building on its reputation for being an Australian leader in educating musicians and performers, Southern Cross University (SCU) will again be sponsoring a major national songwriting award at the Tamworth Country Music Festival in January.
The University is sponsoring the Contemporary Country Song of the Year award at the annual TSA Songwriters' Salute Awards of Australia which was won last year by Beccy Cole (pictured).
The Salute Awards concert is traditionally a sellout event and a major festival highlight. It features performances of the short-listed songs by the artists themselves.
Dr Jean Griffiths, Head of the School of Arts and Social Sciences at SCU, said this was a unique partnership in that no other university had ever forged ties with the long-established and much respected TSA Awards.
"Not many people would be aware of just how many graduates Southern Cross University has turned out in the past 10 years," she said, "many of whom are now making a professional living in the music industry."
The honour roll of Southern Cross University graduates includes Glen Hannah (Kasey Chambers' band/Felicity Urquhart band), guitarist, songwriter and producer Sam Hawksley, Scotty Hills (The Flood) and singer/songwriter Jodi Martin, to name a few.
Weblinks – www.scu.edu.au, www.tsaonline.com.au.
Leading US steel guitar player John Hughey – a member of the American Pedal Steel Guitar Hall of Fame whose deft instrumental work graced recordings by Vince Gill, Conway Twitty, Elvis Presley, Willie Nelson, Marty Stuart, Loretta Lynn and other greats – has died. He was 73.
"This is a pure heartbreaker," said Marty Stuart who brought John Hughey into the studio to play on the 1992 hit album, This One's Gonna Hurt You. "John was a top-drawer statesmen who helped define the whole 20th century sound of country music," he said. "The work he leaves behind is timeless."
John was known for an atypical sound that focused on the steel's high tones. His use of the metal bar to produce a tremulous tone led some to refer to his "crying steel" guitar, and his Hall of Fame plaque refers to him as the master of "bar shiver". That sound appealed to country artists from the 1950s through to the present and also to rockers such as Elvis and Dickey Betts and soul man Isaac Hayes.
"He gave my music definition," said Vince Gill, for whom John played steel in the studio and on the road for 12 years. "His introduction to Look At Us makes that song recognisable by what happens before any words even get sung."
John began learning the steel when he was in high school, playing at church and at school with his classmate Harold Jenkins. After graduation, Harold went into the military and John played steel guitar in the Memphis area. In the 1960s, the former schoolmates reunited as Harold, by then calling himself Conway Twitty, became a country star. John performed and recorded with Conway for 20 years.
During his decades with Conway, John also found time in the studio to record with Elvis (From Elvis In Memphis), Willie Nelson (Phases & Stages), Dickey Betts (Highway Call) and others. He left Conway's band in 1988 and it looked as if the steel player's career in music was winding down. But soon Vince Gill hit with When I Call Your Name, a single that featured prominent steel, and he needed a star steel player for the road band and for recording.
John stopped touring around 2002 but continued to play, "because," he said, "I love it."
Weblink – www.johnhughey.com.
Gary announces Australian tour
Californian singer/songwriter and country rocker Gary Allan has announced he will undertake a series of Australian performances in March, his fourth tour "down under".
Currently touring America with Keith Urban, Gary has just released his eighth album, Living Hard, which is riding high on both the US and Australian charts.
"This album took almost a year to make," he said, "and I think the music reflects the incredible personal change I've been through since my last record.
"I wanted this ... tour to be more of an event this time around," he said. Gary will be joined for his shows by two of Australia's hottest Aussie stars, Morgan Evans and Steve Forde, plus Canada's Blues & Roots Artist of the Year Corb Lund.
Weblink – www.garyallan.com.
Dolly's "9 to 5" musical launching in LA
A stage musical of "9 To 5", which was scored by Dolly Parton, will premiere in Los Angeles in September next year.
The musical will include songs from the hit movie and new material Dolly has written for the production.
Allison Janney, Stephanie J Block, Megan Hilty and Marc Kudisch will star in the show which will be mounted by the Center Theatre Group at the Ahmanson Theatre. Joe Mantello ("Wicked", "The Ritz") will direct.
– CMT.com
Brooks & Dunn hang on to number one at CMC
Brooks & Dunn are at number one for the second week on the CMC (Country Music Channel) Top 50 playlist this week with the clip of their latest hit Proud Of The House We Built.
Kenny Chesney is also steady at two with Don't Blink while Adam Harvey's Someone Else's Dream jumps to four, The McClymonts are up to six with their clip of My Life Again and Sara Storer's Land Cries Out is at nine.
Bullet performers this week include Beccy Cole's Lifeboat (18 to 14), Steve Forde's Summer's Little Angel (19 to 16), Amber Lawrence's Gonna Fly (21 to 18), Nik Phillips' My Town (26 to 23), Karl Broadie's Count Your Blessings (new at 27), Corrina Steel's Evening Star (41 to 36), Peter Denahy's The Ringing Of Steel (43 to 39), Rose Carleo (pictured) with Till I Find Me Again (new at 42), Stephen Rowe & Tania Kernaghan with Let's Fall In Love Again (46 to 43) and Nicki Gillis with Remember Me (new at 45).
Other new entries to the playlist this week include the Harmony James with Somebody Stole My Horse (in at 50).
CMC's Country Pick for the week is Troy Cassar-Daley's Last Mile Home, the second new song from his "best of" album Born To Survive. The clip was filmed in South East Queensland.
The full list can be viewed at www.countrymusicchannel.com.au.
---
FRIDAY, NOVEMBER 23, 2007
Jonah's Road win Country Musicoz
Jonah's Road was awarded Best Country Artist in the 2007 Musicoz Awards held at the Enmore Theatre in Sydney last night.
The accolade was for the title track and hit single from the album Counting Down The Days and follows the trio's win in January of the Country Music People's Choice Award for Best Group.
The video clip of the song reached number two on the CMC chart and the single had widespread radio support around the country, featuring in the top 10 of several of the major radio charts.
Jay, John and Rod (pictured at last night's presentation) said they were thrilled with the award and the support and recognition that Musicoz provided for unsigned artists and thanked family, friends and fans as well as the many people in the industry who had supported them over the past few years.
Billed as "the unsigned ARIAs" by Australia's streeetpress, Musicoz has gone from strength to strength since its inception seven years ago. It is now the premier event for independent artists covering 17 genres and attracting more than 5,000 entries in 2007 from around Australia.
Jonah's Road have also announced they will appear, performing live and unplugged, on the 7 Network's Morning Show next Wednesday, November 28 at 9.50am.
Weblinks – www.jonahsroad.com.
Final call for listings in 2008 Tamworth Festival Guide
Rural Press Events, publishers of the Tamworth Country Music Festival presented by Telstra Official Guide have issued a final call to entertainers, promoters and venue owner/operators for listings in the 2008 Official Program.
The Official Guide includes the Official Program for the 10 days of the Festival and the Festival Countdown seven days prior.
The publishers say the most popular feature of the Guide is the artist by artist listing which allows fans to follow their favourite artists' concerts during the Festival.
Venue information with venue map, the Tamworth town map, bus routes and timetable, country music points of interest and other helpful information are included.
The Tamworth County Music Festival is long established, 2008 will be the 36th year and the Official Guide will feature historical facts including previous winners of the Golden Guitar Awards and other major events, history of the Festival, Toyota Star Maker finalists, Hands of Fame and Roll of Renown inductees, new product releases and CD launches and new insightful stories about the famous festival.
The last date for receipt of listing information for the Guide is tomorrow, November 24.
Listings can be made on-line at www.capitalnews.com.au (click on the "official guide" menu item) where forms can also be downloaded if required. Listing forms can also be emailed or faxed by contacting Sandy Patterson on 02 6762 2399 or by emailing sandy.patterson@ruralpress.com.
Billy to launch new album in January
The highly anticipated new album from Billy Bridge will be released at the 2008 Tamworth Country Music Festival.
Titled Doin' OK, the album is the follow up to Billy's successful Post-It Note Proposal release which included the radio hits Nothing Can Stop Me and
the Golden Guitar nominated Mallee Dust.
Billy says the album has been crafted over time with himself in the producer's chair this time around.
"It's a blend of up tempo tracks with some emotionally charged ballads that is sure to get the country music world's attention," he said. "The mix of writers brings together a blend of writing styles, from Nashville hits to up tempo rockers it is sure to please every country music listener."
The quality of the songs has seen Billy secure publishing representation for the album in Nashville and interest from distributors in a possible US release to coincide with the Australian release.
The first single from the album – Everything I Needed To Say – will be released on video to CMC and to radio via the NfS radio sampler in February.
"This song is a personal account of when I first went back to visit my dad's grave after he passed from Motor Neurone Disease in 1998," Billy said. "I was going through a lot of change and turmoil in my life and I found that pouring my heart out to dad was one of the best things I could do. It is about making sure you never leave unfinished business with anyone, as you never know when they may be gone. It took me a long time to be able to sing this song and then even longer to record it and share it with everyone, but it helped me immensely through this time of turmoil and I hope it will make a difference to those who hear it."
To raise awareness and help the Motor Neurone Disease (MND) Association of Victoria, Billy will be raising money at his album launches to be donated to "this great organisation that helped my family so much during dad's battle with this incurable disease."
Five dollars from all albums sold at the launches will be donated to MND Victoria. At the Tamworth launch, entry by gold coin donation will be donated to MND Victoria.
"As a special treat, singer/songwriter Jessica Belle will also appear at the Tamworth launch," Billy said.
The Tamworth launch will be at Country Music Capital's Southgate Inn at 8pm on Monday, January 21.
For details of other launch dates, see Billy's weblink following.
Weblinks – www.billybridge.com, www.mnd.asn.au.
Port Augusta Festival 2008
Port Augusta (SA) and Districts Country Music Club has announced details for the Top of the Gulf Country Music Festival 2008.
The Festival will be held from April 24 to 27 at a number of venues and will include a main concert starring Troy Cassar-Daley (pictured) and the Wolverines with Fine Form and guest Wilbur Klein and more acts to be announced.
The Festival will also feature a foreshore concert, busking competition, workshops, a talent quest and an inaugural truck muster.
More information will be released as the festival draws nearer.
Weblink – www.saccm.com/padcmc.
Chart update – fourth week at number one for Carter & Carter
Carter & Carter (pictured) are at number one for the fourth week on the coming week's Country Tracks National Top 30 Singles Chart with their hit The Best Things In Life Are Free.
Felicity Urquhart jumps two places to second place with No Mistakes while the Tim McGraw/Faith Hill duet I Need You is steady at three and Adam Brand's That Changes Everything rises to four.
Brad Paisley's Online is steady at five, Troy Cassar-Daley's Everything Is Going To Be Alright is down to six and Brooks & Dunn's Proud Of The House We Built is at seven.
Sara Storer's Land Cries Out bounds into the top 10 at eight, as does Adam Harvey's Someone Else's Dream at nine and Steve Forde's Metropolis at 10.
Bullet performers for the week include The McClymonts' Save Yourself (15 to 11), Morgan Evans' Big Skies (20 to 15), Graeme Connors/Fiddlers Festival with Guess Who's Got Kids (19 to 16), Jetty Road's I Wanna Go Home (24 to 18), Harmony James' Somebody Stole My Horse (26 to 20), Beccy Cole's Lifeboat (new at 25) and Dianna Corcoran's If You Hear Angels (30 to 27).
Other new entries for the week include Karen Lynne with The Healing Kind (in at 29) and The Sunny Cowgirls with The City Thing (at 30).
The Top 30 Countdown goes to air Sunday night on CMR (Country Music Radio) on the Super Radio Network.
The full chart can be viewed at www.nfspublicity.com.au.
---
WEDNESDAY, NOVEMBER 21, 2007
Lee named Queensland's 2008 Australian of the Year
Lee Kernaghan was last night named the 2008 Queensland Australian of the year.
The prestigious title was presented by Premier Anna Bligh at a gala presentation at Customs House, Brisbane. Lee is now a contender for the Australian of the Year award to be announced in Canberra on January 25.
Premier Bligh cited Lee's charity work for communities in need in awarding him the title.
"Lee's from the bush – he cares and gives back," she said. "Just like Slim Dusty, his trademark black hat and smile mark him as a decent bloke making life happier for those he entertains. He's a worthy winner."
Lee followed these sentiments when accepting the award.
"Throughout my life and my music career I have been deeply affected by the spirit of the bush, the people, the communities and the strength of the family unit in rural Australia have been and continue to be a true inspiration to me."
Lee is currently patron of the charity Aussie Helpers whose founder Brian Egan was named as Queensland's Senior of the year for his work in establishing the charity to aid farmers severely affected by drought.
Brian Young, the last of the travelling showmen, will launch his album of that name this Friday night in Country Music Capital, Tamworth, NSW.
As a travelling showman who conceived the mighty Brian Young Outback Touring Show – by road and by plane – Youngie has nurtured the career of many a fine young artist. Troy Cassar-Daley is one of those who served as Youngie's apprentice on the road of song, as is country queen Beccy Cole and many others.
Some of those performers have come together to join Youngie on this disc, in duet. The 13-track outing – described by producer Lindsay Butler as "the most significant to come out of the LBS studio" – has some very some special guests – in addition to Troy, Royden Donohue, Shaza Leigh, Kathryn Pitt, Laura Downing and more.
"I've toured many times with Youngie, produced and played guitar on most of his albums," Lindsay said. "This album has been a labour of love for me. Not an easy one though, due to Youngie's recent health problems, but we've both given it our best shot."
Lindsay thanked Opal Records founder Ross Murphy for having the foresight to kickstart Youngie's career again in the '70s and for continuing to support LBS with those old masters today. He also thanked fellow Tamworth recording studio proprietor John Grills for supplying the masters to several of the tracks used for this latest project.
"Thanks also to Eric Scott for 'cooking' the old magnetic tapes for re-recording purposes and to Shaza Leigh for her dedication in producing the cover, as it's been a huge project," Lindsay said. "Thanks must also be extended to all the artists who joined Youngie in the duets and the Tamworth musicians who contributed to this album. This is one of the most special and important albums out of the LBS Studio. Youngie deserves to be saluted. Just listen to the last track on the album, I'm Proud To Be An Aussie. That says it all!"
Youngie is a rarity in that he's achieved legendary status in three distinctive areas during his lifetime. In the '50s and '60s, he was prominent on the Australian rodeo scene, competing all over the country and in 1954 he won the World Champion Bull Riding title at Home Hill.
When he entered the world of country music, Youngie wrote and recorded some of this country's best songs and, in 1991, he won a Golden Guitar – the ultimate accolade.
When he took his music on the road, Youngie did it like no other – he chartered planes when road access was not a viable proposition and went where no other white man had ever ventured, becoming a legend, known as Tjilpi (old man), among the Aboriginal people of outback Australia.
Friday night's launch of The Last Of The Travelling Showmen takes place at Tamworth's Oasis Hotel.
As Youngie is, and always has been, a man of the people, he would love to have as many friends and fans as possible to help launch his album. See you there.
– Anna Rose
The final five in categories at this year's Musizoz Awards have been announced.
In country categories, the finalists are Katrina Burgoyne (pictured) with Perfect, Harmony James with Tailwind, Jonah's Road with Counting Down The Days, Luke O'Shea & Medicine Wheel with Ragged Bloody Heroes and Felicity Urquhart with Big Black Cloud.
Carter & Carter are also top five finalists in the Christian/Spiritual category with When God Takes A Photograph.
Winners will be announced tomorrow night (Thursday) in Sydney.
Weblink – www.musicoz.org.

Tiffney wins Telstra Road to Tamworth heat
South Australia's Tiffney Stroh, a three time graduate of Tamworth Camerata and a participant in the upcoming 2008 Australian College of Country Music, has won the Melrose, SA, heat of the Telstra Road to Tamworth talent search.
"This caps off what has been a very big year for the 17 year old determined to present herself as a serious contender for a career in country music," a spokesman for the young artist said.
"This last 12 months has seen Tiffney cement herself as a young performer to keep your eyes on as her commitment and determination keep her on track to achieving her goals.
"Adding this award to her mantelpiece alongside accolades including Toyota Muster grand finalist, SA Senior Champion of Champions and many others from NSW, SA and Victoria was an awesome experience for Tiffney."
"I wanted so much to win this heat," she said. "To have this opportunity is a privilege and to be able to win in my home state and represent South Australia in Tamworth at the finals is such an honour.
"Being accepted into the College put me on a high and now to be able to graduate and go into the Telstra Road to Tamworth is such a challenge and will be such a learning experience. I love the Tamworth festival and can't wait for January 2008."
The final Telstra Road to Tamworth heat will be held this Saturday (November 24) at the Kinross Woolshed, Thurgoona (Albury, NSW). The concert will feature a special guest appearances from Telstra Road to Tamworth Ambassador Adam Harvey, 2007 Telstra Road to Tamworth winner Morgan Evans and 2007 Telstra Road to Tamworth Songwriter's Award winner Briana Lee together with Mike Carr and Steve Forde.
Weblinks – www.beinvolved.telstra.com/countrymusic, www.tiffney.com.au.
Six bands will compete for $40,000 worth of prizes this Saturday at Rockhampton's Great Western Hotel in Queensland for their first ever Australian Country Music Battle of the Bands.
The action kicks off at 1pm with the Aaron Daniels Band (pictured), The Craig Morrison Band, Faze 4, Fuse, Nebraska Red and Nellie Donnovan and Band competing.
The music side of things will be preceded on Friday night with Battle of the Bulls bullriding competition with a $2,000 purse.
Event organisers say a film crew shooting the new full length feature film "Shadows of the Past" around Queensland will be at the Great Western Hotel the entire weekend filming the bullride, the Battle of the Bands and some scenes around the Hotel.
"Audience members will have plenty of chances to participate in the film and maybe a lucky audience member could take home a brand new LCD portable TV as an incentive prize on Friday night's bullride during filming," Event Manager Phill "Redback" Hearn said.
"All in all, what a great way to spend your weekend, the weekend we choose to elect a new government (or keep the old one) and a great way to treat the whole family to a weekend of music, rodeo and history making and quite possibly be in a new movie!"
Tracy continues to make her own mark
Tracy Killeen, already well known for being one half of the former duo SweeneyKilleen, and with previously reported strong album sales at two of Australia's biggest country music events – the Toyota National Country Music Muster at Gympie and the Mildura Country Music Festival – continues to make her own mark in the industry.
Over the last month, Tracy has been busy appearing on air with John Nutting on ABC "Saturday Night Country" to talk about her debut album – back there, performed for Children's Variety at the Sydney Markets Annual Cherry Auction, appeared on television's "The Today Show" with Steve Jacobs, performed at the St Arnaud Country Music Hoedown in Victoria, and had her Sydney album launch at the Hawkesbury Hotel Windsor.
Tracy reports the first single from her album – A Little Time – is receiving plenty of airplay across Australia, as is her video clip out now on CMC.
Weblink – www.tracykilleen.com.
The team at Redbak Recording Studios – Mark Hillier, Marcus Hooper and Sharon Benjamin – have issued a statement of congratulations for the achievements of artists associated with the studios over the last year or so.
The long list includes...
Leigh Monegetti, winner of a special encouragement award during last weekend's Gidgee Coal Bush Ballad Awards and a recently announced finalist for New Talent at the 2008 Stan Coster Memorial Bush Ballad Awards.
Reg Poole, winner of the Comedy/Novelty section at the Gidgees and a finalist placing for the Male Vocal award.
"Redbak Recording Studios has had a great year," said Mark, "with our artists winning or being nominated for some of Australia's most prestigious independent awards.
"Reg Poole has won no less then nine awards this year from best male vocal to best album and was also nominated for an ARIA Country Album Of The Year gong in 2006.
"Sharon Benjamin has also had a great year, with a top five finalist nomination for independent album. As a prolific songwriter, Sharon has received international recognition with awards coming in thick and fast. Australian artists have also recognised her talents as a songwriter, recording many of her songs. As an artist, Sharon is one of Australia's most sought-after singers.
"And Craig Giles this year completed his 12th album at Redbak, an album with re-recorded songs from earlier works that are no longer available". The album was only recently released at the 2007 Mildura Country Music Festival and, Mark said, the song He Rides Alone – sung by Craig but written by Sharon Benjamin, made the semi finals of the UK Songwriting Competition
Weblink – www.redbakstudios.com.au.
"High Voltage" book available in print and digital formats
Australian music industry writer Christie Eliezer's latest book "High Voltage Rock 'n' Roll – The Movers And Shakers In The Australian Rock Industry" is now available in shops or via the IMMEDIA! Bookstore.
The book takes a look at the financial deals and creative achievements of Mushroom founder Michael Gudinski, SonyBMG chief Denis Handlin, record producer and broadcaster Ian Meldrum, managers John Watson and John Woodruff, entrepreneur Glenn Wheatley and entertainment lawyer Shane Simpson. It is published by Music Sales/Pan MacMillan whose managing director Norm Lurie came up with the concept as a sequel to Music Sales' best seller, Shane Simpson's "Music Business".
"High Voltage Rock 'n' Roll — The Movers And Shakers In The Australian Rock Industry" is launched as a 328-page physical softcover title at $34.95 and a $29.95 digital version, downloadable as a protected PDF. The website is www.immedia.com.au/HighVoltage with an introductory 5,000 word excerpt from three chapters on Gudinski, Watson and Wheatley available for free reading.
Among the stories uncovered are the executive who took his star act to see the Pope to get a "special blessing", the exec who was chased as a teenager for setting up a pirate radio station, the milestone American deal signed by an Aussie act, why "Countdown" was almost axed by an angry ABC-TV management, which manager was tapped on by the Prime Minister to run for a seat, and the exec whose "fiery message from God" finally led him to abandon his ambitions to be a rock star and become one of the best managers in Australia.
All copies of the print edition ordered by November 26 from IMMEDIA! are shipped free, immediately, anywhere in Australia. They even gift wrap for free for Christmas presents and send to the recipient.
APRA, AMCOS post 12.8 percent revenue rise
Christie Eliezer reports in his column at themusic.com.au that the Australasian Performing Right Society (APRA) and the Australasian Mechanical Copyright Owners' Society (AMCOS) jointly posted a combined revenue of $189.7 million Australian in the 2006/07 financial year.
This was a growth of 12.8 per cent on the 2005/06 year. APRA has managed the day-to-day operations of the AMCOS business since 1997.
APRA distributed more than $122.9 million in royalties – up by 11 percent – to songwriters, composers and music publishers in Australia and overseas. APRA has 48,548 members in Australia and NZ made up of 48,091 writers and 457 publishers. AMCOS distributed more than $42.7 million ($38. 04 million) – an increase of 21 per cent. AMCOS had 1,319 members, including 1,050 writer members and more than 260 music publisher members.
The figures were announced by APRA and AMCOS' CEO Brett Cottle (pictured) at the AGM in Sydney on November 16.
APRA's gross consolidated revenue rose 11 percent to $141 million. Its final expense to revenue ratio was 12.6 percent, which remains at or near world's best practice, according to Cottle. The biggest revenue growths were in public performance licensing where revenue grew by 19 percent to $35.2 million; a 19 percent in pay and subscription television to $9.7 million; a 12.8 percent rise in foreign income to $19.4 million; while online and mobile revenue grew by 134 percent, albeit off a modest base, to $2.94 million.
Gross revenue for AMCOS' rose 18.6 percent to $48.7 million mostly due to the Australian industry's greater use of digital platforms. Digital delivery royalties, excluding settlement recoveries, increased by more than 179 percent to $2.7 million, and mobile ringtones were up a further 35 percent to $6.8 million. Mechanical royalties, covering both audio and audio-visual formats, were up 20 per cent to $10.8 million. Audit recoveries, including control account recoveries, were up 92 percent to $1.62 million.
APRA, AMCOS director elections
At the AGM, four retiring Board directors – Bob Aird (Publisher Director) Arthur Baysting (NZ Writer Director), Fifa Riccobono (Publisher Director) and Jenny Morris (Writer Director, pictured) – decided to stand for re-election and were returned.
APRA and AMCOS directors serve three successive annual year terms in office.
An additional vacancy, created by the resignation of Peter Karpin in August this year (head of the former BMG Music Publishing which was purchased by Universal Music Publishing), was filled by newcomer to the APRA Board, Matthew Capper (Warner/Chappell Music Australia Pty Ltd). At the APRA Board Meeting held immediately following the AGM, Mike Perjanik and Ian James were both returned as Chairman and Deputy Chairman, respectively.
Retiring from the AMCOS Board were John Anderson, Philip Burn and Catherine Gerrard who decided to stand for re-election and were returned.
Additional vacancies created through the resignation of Mark Callaghan in July this year (in order to head publisher association AMPAL) and Peter Karpin were filled by AMCOS Board newcomers Clive Hodson (Shock Music Publishing) and Keith Welsh (Rough Cut Music Publishing).
Weblinks – www.apra.com.au, www.amcos.com.au.
---
TUESDAY, NOVEMBER 20, 2007
Winners in the 2007 Gidgee Coal Bush Ballad Awards were announced at the weekend.
Jeff Brown took out the Male Vocal award with Old Singer Sam, Dianne Lindsay the Female Vocal title with The Local Mary Magdalene.
The Instrumental award went to Lindsay Waddington with By A Fire Of Gidgee Coal, Group/Duo was taken out by Terry & Jenny Bennetts with I Miss The Good Old Days while the Comedy/Novelty title was won by Reg Poole with Ode To A Bull.
The Songwriter award went to Peter Coad with I Heard A Hillbilly Song, Best Album to Jeff Brown with Harvest Time Again and New Talent to Denise Brooks with A Scene From Long Ago.
Leigh Moneghetti, a finalist for New Talent, was presented with a special encouragement award.
Photo: New Talent winner Denise Brooks with Male Vocal winner Jeff Brown.
---
MONDAY, NOVEMBER 19, 2007
More country acts head OS to entertain troops
A group of young Australian performers, including Amber Lawrence and The McClymonts (pictured), are on their way to Timor-Leste as part of the 11th Tour de Force concert tour.
The entertainers, together with comedian Troy Kinne and musician and actor Daniel Lissing, are volunteering their time and talent following a long-established tradition that pre-dates the Vietnam War.
Concerts will be performed in several locations around Timor-Leste in order to provide a "taste of home" for Australia's forces deployed there, giving them a chance to hear new Australian voices and stories, as well as see the live shows.
Some of the entertainers are already well-versed in these tours... The McClymonts spent Christmas 2006 entertaining troops in the Middle East and Daniel Lissing was part of the Tour de Force in the Solomon Islands in August 2004.
Amber Lawrence, who is participating in the program for the first time, said: "I think it must be so hard and lonely for our troops overseas at times, so they deserve to have someone come over and sing them a few songs."
It will also be the first trip for Melbourne-based Troy who hopes the concerts will serve as a reward for the work Australian troops are doing.
"They are over there working 'for us' taking all the risk themselves, so hopefully we can help too by giving the troops a break from work, so that they can then continue to do their job," he said.
"It is also a way of acknowledging that their efforts and sacrifices are appreciated, and not going unnoticed."
Boyup Brook supported by EventsCorp
The Country Music Club of Boyup Brook in Western Australia has been successful in attracting funding from EventsCorp, a division of Tourism WA.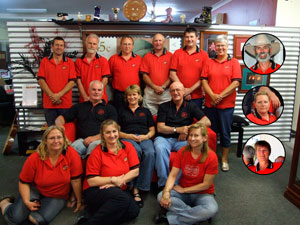 The funding will assist the Club to promote the Boyup Brook Country Music Festival and the Boyup Ute & Truck Muster more widely, especially to encourage intrastate, interstate and overseas visitors to the region.
Club secretary Sharon Tuckett said: "This is a very exciting step for the Club and will allow us to incorporate new advertising targets. Funding like this helps to keep our spirits alive and the enthusiasm of small groups active."
Festivities will take place next February (14-17) and organisers say they have raised the benchmark by putting together "an unforgettable and truly spectacular tribute to country Australia with Adam Brand, The McClymonts, Topp Twins, Laura Downing, Amber Lawrence, Tom Curtain, plus West Australian performers like Country Horizon, Frisco, Ronni Rae Rivers, Supa Dextas, and many more.
"The river and towering gums make a perfect setting for the thousands of people who will flock to Boyup Brook for the festival and soak up the phenomenal atmosphere," Sharon said. "Boyup Brook is renowned for showcasing Western Australia's finest entertainment and creates a festival experience in a small country town that is as much about camaraderie and good times as great music."
Photo: Boyup Brook country music volunteers getting ready for the February Festival... (back left) – Dave McFadyean, Bob Campbell, Malcolm Armstrong, Neville Parker, Daly Winter, Rhonda Parker and Bill Gordon (inset); (middle row) – Brad Mead, Kaye Kerruish, Tom Oversby and Kathy Langley (inset); (front) – Deborah Bendall-Chambers, Sharon Tuckett, Jo Hales-Pearce and Carol Lander (inset).
Australian Music Month special radio feature
In celebration of November, Australian Music Month, Peter Hons of Country Music Capital's 2YOUFM, is making a special Australian music dedication to late '60s/early '70s success story Du Monde Records and producer Martin Erdman (pictured).
Martin was responsible for some of the biggest country, rock and pop hits coming out of Sydney at that time. Acts such as Elm Tree with John Paul Young, Flake, Galadriel, King Fox, Nev Nicholls & the Country Playboys, Donnie Sutherland and The Trailblazers featuring Tommy & Phil Emmanuel are just some of many recorded with Du Monde.
Martin also secured the first Australian million selling single with The Lord's Prayer by Sister Janet Mead from Adelaide.
All tracks featured during the tribute will be taken from The Du Monde Years Special Collectors Edition released two years ago by Martin.
Jim Guider will be Peter's special guest on his Late Shift program as Jim had an association with Martin and an intimate knowledge of the Sydney scene at that "innovative time" when Martin was most active producing a major component of Sydney's best live acts (he also produced major acts for Festival Records, "but that's another story," Jim said).
The Late Shift Australian Music Month Du Monde special airs this Thursday night (November 22) at 10pm.
Brooks & Dunn number one at CMC
American country superstars Brooks & Dunn (pictured) have hit the top of the CMC (Country Music Channel) Top 50 playlist this week with the clip of their latest hit Proud Of The House We Built.
Another American star, Kenny Chesney, is at two with Don't Blink while last week's number one, Land Cries Out by Sara Storer, is at three.
Adam Harvey jumps to six with Someone Else's Dream while the clip of The McClymonts first single from their debut album – My Life Again – enters the top 10 at number nine.
Bullet performers this week include The Noll Brothers' Shining Star (21 to 16), Beccy Cole's Lifeboat (22 to 18), Steve Forde's Summer's Little Angel (new at 19), Amber Lawrence with Gonna Fly (26 to 21), Nik Phillips' My Town (30 to 26), Corrina Steel's Evening Star (49 to 41) and the Stephen Rowe/Tania Kernaghan duet Let's Fall In Love Again (new at 46).
Other new entries to the playlist this week include the Brewster Brothers' duet with Anne Kirkpatrick, Keep Your Woman (in at 49).
The full list can be viewed at www.countrymusicchannel.com.au.
---
FRIDAY, NOVEMBER 16, 2007
Sara's new album debuts at number three
Acclaimed singer/songwriter Sara Storer's fourth album – Silver Skies – has debuted at number three on this week's ARIA Australian Artist Top 20 Country Albums Chart.
Adding to the good news is confirmation that the lead single Land Cries Out is gaining widespread airplay and the video for the song also recently peaked at number one on the Country Music Channel's Top 10 Countdown.
"The success on this week's charts sets Sara up nicely at next year's Tamworth Country Music Festival where, in 2004, (she) took home a record seven Golden Guitar awards," said a spokesman for her record label.
The album 'Silver Skies' was co-produced by Matt Fell together with The Waif's Josh Cunningham. Sara and Matt laid out the demos for the album in a few days late last year. She was confident her original songs, as well as co-writes with Paul Kelly (Second Time Around) and Boh Runga (Long Live The Girls) were among the best she had ever collected.
It has also been announced that Sara will tour with Suzanne Vega early next year.
Weblink – www.sarastorer.com.au.
Frank to host National Country Showcase
Frank Ifield will host the 15th annual National Country Showcase at St Marys Leagues Club in Sydney on Saturday November 24 at 3pm.
The Showcase will be sponsored this year by St Marys Council in association with MATS (Music & Arts Talent Search).
Judges for the show will include Nicki Gillis (winner of the 2007 Cooper's Golden Saddle Award) and Sydney's most highly acclaimed country music presenter Barbara Morison from Radio 2SER-FM 107.3.
Throughout the day, the city of St Marys will be holding its ever popular Country Music Festival with many activities happening all over town. This will include a personal "Meet & Greet" with Frank Ifield at his book and CD launch at St Mary's Sound Centre from 11am.
Chart update – Carter & Carter, third week at the top
Carter & Carter are at number one for the third week on the coming week's Country Tracks National Top 30 Singles Chart with their hit The Best Things In Life Are Free.
Troy Cassar-Daley's Everything Is Going To Be Alright is steady again at two while the Tim McGraw/Faith Hill duet I Need You is up to three and Felicity Urquhart bounds up to four with No Mistakes.
Brad Paisley is at five with Online, Adam Brand is up two places to six with That Changes Everything and Kirsty Lee Akers' Little Things is down to seven.
Travis Collins' Yeah She Does is down to eight, Tom Curtain's Wearing Out Leather falls to nine and Brooks & Dunn are at 10 with Proud Of The House We Built.
Bullet performers for the week include Sara Storer's Land Cries Out (15 to 12), Adam Harvey's Someone Else's Dream (16 to 13), The McClymonts' Save Yourself (20 to 15), Morgan Evans' Big Skies (25 to 20), Jetty Road's I Wanna Go Home (27 to 24) and Harmony James with Somebody Stole My Horse (30 to 26).
New entries for the week include Dianna Corcoran (pictured) with If You Hear Angels (in at 30).
The Top 30 Countdown goes to air Sunday night on CMR (Country Music Radio) on the Super Radio Network.
The full chart can be viewed at www.nfspublicity.com.au.
---
THURSDAY, NOVEMBER 15, 2007
Destra partners with Compass Brothers
Destra Entertainment, a subsidiary of Destra Corporation, Australia's leading independent digital media and entertainment company, yesterday announced a new partnership with leading Australian country music record label Compass Brothers Records.
In an exclusive arrangement, from January 2008, Destra will sell and distribute Compass Brothers Records music releases. Destra will also represent Compass Brothers Records on-line catalogue internationally in an exclusive worldwide arrangement.
"Destra Entertainment is extremely excited about the long term strategic alliance... which will offer both parties a symbiotic and synergistic long term goal to grow market share in Compass Brothers Records music product and maximise Destra Music's longstanding expertise in sales and distribution in a wide range of music categories," said Ken Outch, Chief Executive of Destra Music.
"Since it's inception in 2000, Compass Brothers has built an impressive roster that includes multi platinum selling Adam Brand, multi gold selling Melinda Schneider, The Sunny Cowgirls, James Blundell, Anne Kirkpatrick, Dianna Corcoran, Peter Denahy, Rob Black, Brendon Walmsley, Jim Haynes and 2007 Toyota Star Maker winner Kirsty Lee Akers," a spokesman for the company said.
In the label's short history, its artists have collected 16 Golden Guitar awards including two for Album Of The Year – Adam Brand's Good Friends in 2000 and Melinda Schneider's Family Tree in 2005.
Compass Brothers Records won the Australian Country Music Achiever Award for Record Company Of The Year in 2003, 2005, 2006 and 2007.
The label's Graham Thompson said Compass Brothers was delighted to be associated with Ken Outch and the Destra team and looked forward to a long and prosperous relationship.
Photo (from left): Graham Thompson, Ken Outch and Compass Brothers Roxanne Brown.
New single release from the Davidson Brothers


The Davidson Brothers have released a single – I Miss The Sound Of Rain – from their forthcoming self-titled album.
This year, the brothers – Hamish and Lachlan – were finalists in the Golden Guitar Awards, won two TIARAs (Tamworth Independent Artist Recognition Awards) for Independent Album of the Year and Best Instrumental, and scored the Best Bluegrass & Traditional Country Award at the Victorian & National Country Music Awards.
The new album was recorded in Nashville by Mark Thornton and features, in addition to the brothers, bluegrass musicians Rob Ickes on dobro and Bryan Sutton on guitars.
It will feature eight Davidson originals. I Miss The Sound Of Rain was inspired by the boys visiting many parts of Australia that have been affected by the absence of rain.
Weblink – www.davidsonbrothersband.com.
---
WEDNESDAY, NOVEMBER 14, 2007
Campaign established for Shorty Ranger memorial
A committee has been established to raise funds for the erection of a memorial in Kempsey to the late Shorty Ranger.
Chairman Bluey Shelton, who also broadcasts on Tank community radio in the town, says a fundraising CD has already been put together. It's available for $25 plus $2 postage.
Also available is an A4 coloured framed photo of Shorty and his wife Ruby outside their "Winter Winds" cottage. It is available for $20 plus $12 postage.
"This week," Bluey said, "we have completed production of a DVD which traces Shorty's life from a small baby in his mother's arms to the time of his passing. This contains some never before seen photos and I consider to be of 'historical and heritage' listing.
"The price of this will be decided at a committee meeting this Thursday, but I expect it to retail for $30 or $35 plus postage."
Among other activities, a concert is planned for the Kempsey Macleay RSL Club on Saturday April 26 next year with some of Australia's top bush balladeers starring including the Coad family and the Young Balladeers.
Further information can be obtained from Bluey on 02 6581 1148 or email froghollow1@aapt.net.au.
Bush poet Ben Jacobs has recorded an album of verse which will be launched at the January 2008 Tamworth Country Music Festival.
The album was recorded at Country Music Capital's LBS Studios with producer Lindsay Butler also adding some instrumentation to the work which, Ben says, brings out the best in the verse.
Born in Queenland, Ben lived in various parts of Australia before settling down in "the west". Like all who are involved with country music or bush verse, he says he has a great love for all things Aussie. "I can tell and write a humorous story but find deep within a passion for telling stories that can tug at the heart strings, stories that tell the real truth of our pioneers and battlers, the teamsters and settlers, and the timber cutters and the life on the land as we know it today."
Ben has written for different artists but lately has found himself involved with LBS writing lyrics for various artists with Shaza-Leigh "putting down some pretty decent melodies" to his songs.
Ben's own CD, he feels, will have a format that will appeal to all. "I am looking forward to meeting a lot of new friends in Tamworth," he said.
Toyota Muster "Blues" TV special
The Toyota National Country Music Muster 2007 "Blues" television special is scheduled to air on the WIN Network in Queensland this Sunday (November 18) and all other States on Saturday November 24.
The program presents "Muster Blues at their best" with WIN Television's host Paul Taylor chatting to his idol Joe Camilleri (The Black Sorrows) and interviews with The Bondi Cigars, Vika and Linda Bull, Dallas Frasca, Extended Family and other great moments and music from Toyota Muster 2007.
The Queensland telecast runs from 5pm; the "other states" schedules run from 5.30pm.
This year, all profits from the sale of Muster Merchandise will be distributed to 11 non-profit community groups from throughout drought affected rural Australia.
Weblink – www.muster.com.au.
Claye wins Telstra Road to Tamworth Dalby heat
Claye Middleton has won his way through to the final of the 2008 Telstra Road to Tamworth talent search by taking out the Dalby heat of the competition on Saturday night.
Taking a break from his part-time job in a cafe, Claye, 20, embraced his other part-time role as a musician when he walked on stage, strapped on his guitar and "gave his all" to the audience.
Thirteen performers entertained the local crowd who supported each act equally and were impressed by the artists who took to the stage, vying for a spot in the finals as the competition completes the last few heats for the year, a spokesman for the organisers said.
Claye, who describes his style as "contemporary country", performed two original songs 1933 and Cruising. Judges say they were impressed with Claye's lyrics and his relaxed, confident performance style.
"I'm really humbled by this win," he said. "I totally wasn't expecting it, given the talented contestants who have performed here tonight."
Claye is a keen songwriter and interested in constructing fresh lyrics which differ from the standard formula. Citing Bill Chambers and Steve Earl as two of his idols, Claye said he grew up surrounded by country music with both his parents running a country music club and musicians in their own right.
Weblink – www.beinvolved.telstra.com/countrymusic.
Connie returns from successful US tour
Connie Kis Andersen has returned from a successful five week solo tour in the United States.
And though it's been less than a week, she is already finalising plans for her visit to Tamworth in January 2008.
"Each time I visit the US, the experience seems to be greater than the last," she said. "I would rate it as the best yet – even if it was very hard work."
In support of her US radio single Wicked Game, and to promote her new album, Once Again, Connie Kis drove more than 7,000 km through six US states visiting radio stations and performing on 12 different showcases.
"Highlights of the tour were many," says Connie, "with each week offering something special, from guest performances at Nashville and Smoky Mountains Cowboy churches, the Midnight Jamboree, The Bluebird Café, Tootsies, the Australian Festival in Florida, Veets Bar and Grill and University Coffee House performances (in Mobile, Alabama, as special guest of recording artist Tim Kinsey), Nashville Airport, several songwriter rounds in Nashville, to going back to school and studying the craft of songwriting with master teachers from the Nashville Songwriters Association International.
"The songwriting workshop was fantastic," Connie said, "just what I needed to get inspired and lift my songwriting skills to the next level.
"With many of the performances being filmed, broadcast and/or telecast live, along with print media coverage, I was under pressure to do Australia proud, and judging from the feedback I received, it seems I did."
During her visit to Tamworth 2008, Connie will be a host on the Country Music Express (train) and perform guest spots at the festival, as well as run a voice workshop at the Musicians Headquarters on "protective vocal technique".
"I am really looking forward to being a host on the train and to catching up with radio presenters and fans who have been so supportive of not only my current Australian single, but my music in general.
Photo: Connie performs on America's Midnight Jamboree.
Weblink – www.conniekisandersen.com.au.
Universal Australia launches digital store
Christie Eliezer reports in his weekly column at themusic.com.au that Universal Music Australia (UMA) is claiming a first for an Australian major record label – its own digital download store.
The entire UMA catalogue of more than 200,000 tracks is available for purchase through the store, with a single track priced at $1.69 and standard album at $16.99. "The extensive digital catalogue caters for every music lover and contains music from all genres such as pop, rock, alternative, urban, classics and jazz and will feature exclusive music content available for music subscribers," according to a spokesman for the company.
As part of its new onlinemusic destination GetMusic (www.getmusic.com.au), also includes all the latest music news, gossip, competitions, ringtones and tour information. Get Music encourages users to participate in music forums, view and share music video clips and poll the latest music gossip.
"The launch of Get Music is a critical step forward in achieving the best possible relationship between artists and their fans," commented George Ash, Managing Director, Universal Music Australia. "To have a vehicle that allows this direct interaction means a much closer connection between artists and their fan base. Get Music is focused on all music genres and artists and is a key part of our future online strategy in the Australian marketplace."
Added Meagan Henderson, General Manager, Digital for UMA, "Including a download store and mobile shop is a natural contextual fit with the Get Music destination. It makes perfect sense that a music fan would want to see an artist's new video clip, read their biography, check out when they are next touring and then purchase the content all at one destination, this site is all out delivering the best possible customer experience for music fans."
Weblink – www.getmusic.com.au.
---
WEDNESDAY, NOVEMBER 7, 2007
Toyota Star Maker finalists announced this weekend
The top 20 finalists in Toyota Star Maker 2008 will be announced in Country Music Capital this weekend.
Star Maker winners James Blundell (1987, right) and Travis Collins (2004) will make the announcement while appearing in the city as part of James' "Ring Around The Moon Tour".
The announcement will be made on Sunday afternoon at the Tamworth Services Club.
Country Music Radio (CMR) host and long serving Toyota Star Maker compere Nick Erby will broadcast the recorded finalists announcement during the "Coffee Break" segment on his program via the Super Radio Network on Sunday night.
The top 20 are invited to appear in the Toyota Star Maker Final on Sunday, 20th January from 10:30am with the Grand Final that night from 7:30pm.
Tickets for both the Final and Grand Final, both usually in high demand, are now available from www.visittamworth.com.
Further information about Toyota Star Maker can be found at www.capitalnews.com.au.
James Blundell, meanwhile, has written and recorded a song in commemoration of the 90th anniversary of the Charge of Beersheba which was marked in Armidale (NSW) over the weekend.
James performed the song, The Charge of Beersheba, at a special function in the city on Saturday night.
"The celebrations were everything we could have asked for," according to Warrant Officer Class 2, Shane Green from the 12/16th Hunter River Lancers (reported in "The Armidale Express").
The weekend got under way on Friday night with a charity concert to raise money for Legacy. On Saturday, the Lancers challenged and exercised their freedom of entry to the city and conducted a short street parade.
James wrote and recorded The Charge of Beersheba especially for the 12/16th Hunter River Lancers.
Weblink – www.jamesblundell.com.au.
Crazy Love, the new album for LA-based, honorary Australian and New Zealand singer/songwriter Jackie Bristow, is set for release on December 1.
The first single from the new work, The World Is Turning, was delivered to radio on Monday (the associated video clip will be distributed to television next Monday).
"It's a summer love song that I wrote on my birthday in Los Angeles on my way back to Australia after a summer of travelling and performing through Europe and the UK in the summer of 2005," Jackie explained. "It was a very liberating and exciting time for me and I had had a whirlwind summer romance with a handsome French man!"
Crazy Love, which is the follow-up album to Jackie's acclaimed 2002 debut album Thirsty, is described as "a hauntingly beautiful collection of new material showcasing (her) alluring vocal ability and songwriting smarts."
The album was recorded and produced by well-known American engineer Helik Hadar and producer Mark Howard (Tom Waits, Lucinda Williams) with with a line-up of notable Australian and international musicians... Mark Punch (Renee Geyer), Larry Klein (bass, Joni Mitchell, Peter Gabriel), Tim Pierce (guitar, Tom Petty, Tracy Chapman, Rod Stewart), Brian MacLeod (drums, Sheryl Crow), Zak Rae (keys, Alanis Morissette, Macy Gray), Jay Bellarose (drummer, Melissa Etheridge, Madeleine Peyroux), Daryl Johnson (bass, Rolling Stones, Bob Dylan, EmmyLou Harris), Michael Chaves (guitar, John Mayer, Sarah McLachlan), Larry Goldings (keyboard, James Taylor) and Don Heffington (drums, Bob Dylan, Lucinda Williams).

Weblink – www.jackiebristow.com.
Butler/Urban Funky Tonight download for Indigenous health
Christie Eliezer reports in his weekly column at themusic.com.au that "the blitzing jam" on John Butler's Funky Tonight between the John Butler Trio and Keith Urban at last week's ARIA Awards won the final ARIA Award with 86 percent of Channel 10 viewers voting it "the hottest performance of the night" as part of a competition that will see two viewers flown to attend the Brits (the UK's equivalent of the ARIAs) early next year.
The recording of the duet is being made available as an exclusive download on iTunes with all proceeds being donated to the Close The Gap campaign, a campaign calling on Australian governments to take action to achieve health equality for Indigenous Australians within 25 years.
Executive Director of Oxfam Australia, Andrew Hewett said: "It is fantastic and inspirational to see Australia's music heavyweights, John and Keith, supporting the Close the Gap campaign. Bringing together more than 40 Indigenous and non-Indigenous organisations, including Oxfam Australia, the campaign calls on federal, state and territory governments to commit to closing the life expectancy gap between Indigenous and non- Indigenous Australians within a generation. Funds raised for the Close the Gap campaign will help Oxfam continue to work with Indigenous groups and other partners to advocate for equal health rights for Indigenous people."
John Butler said: "It strikes me as a great injustice that whilst our nation's economy is booming, Indigenous Australians are suffering a life expectancy lower than many third world nations and can expect to live 17 years less than non-indigenous Australians. It is with great honour that all proceeds from the live performance of Funky Tonight recorded at the ARIA's with our special guest Keith Urban, will be donated to the Close The Gap campaign to help address this national tragedy."
Keith said: "Speaking about and wanting equality is one thing, acting on it is an entirely different matter. I'm honoured to join with John in bringing awareness and action to Close The Gap and seek the love and justice our brothers and sisters deserve."
A video of the performance is included at right.
To access the exclusive iTunes download, click here.
Weblink – www.closethegap.com.au.
Keith to appear at Blues & Roots Music Festival
Meanwhile, it's been announced that Keith Urban will tie in an appearance at the 19th annual International East Coast Blues & Roots Music Festival at Byron Bay (NSW) during his one-off performance visit "back home" in March.
Keith was among the first group of performer names announced this week for the Festival which also included the John Butler Trio.
The Festival will take place between Thursday March 20 and Monday March 24 (the Easter long weekend) at a new location, Belongil Fields, an original Festival home when the event first went outdoors in 1993.
In 1996, Bluesfest moved to the Rugby League Club grounds. With Belongil Fields now an interim site, organisers are working on being at a new permanent location in 2009 for the 20th anniversary Festival.
Weblink – www.bluesfest.com.au.
Gertrude Skinner, an Australian poet of note with connections to the country music industry, has died.
Gertrude, who was hospitalised at Nazareth House in Tamworth for some years, died on Sunday. She was 94.
Some of her most notable poems included Avocados, All For Free, Hot Pants/Cold Feet and The Bushman's Wife. Gertrude published several works of poetry selling thousands of copies.
In tribute to Gertrude, fellow poet Duncan Williams wrote the following...
G.M. Skinner

Gertrude Skinner is the writer, of larrikin verse and pun,
As a bushman's wife she battled, before her poet days begun.
On properties in the outback,The depression years and wars,
With loneliness and hardship, long daily household chores.

No essential modern comforts, she learnt to sew and mend,
Cooked for gangs of shearers, as a highly respected freind.
Was made a full life member, for supporting Mungindi show,
The fine displays of products and produce crops she'd grow.

She moved from yarrawa station, on the Gilgil creek out west,
Gertrude decided on retirement, to enjoy a well-earned rest.
With her talented gift of writing traditional bush ballad ways,
The poems are true experiences from those early bygone days.

At eighty she still entertains, and recites her works of art,
Performed on Kookaburra music label filmed on video she took part.
So next time you're in Tamworth at the festival held each year,
Go and visit Gertrude Skinner, top bush yarns you're bound to here.
Gertrude's funeral will be held at the Alston Chapel, Lincoln Grove Memorial Gardens, Gunnedah Road, Tamworth, at 11am tomorrow, Thursday, November 8.
Polly Medlen has taken out the Country category of the 2007 WAM (West Australian Music) Song of the Year Awards.
Polly won her award with the song Take Me With You. She was also named Regional Winner with a song entitled Two Months.
Winner of the Gospel category was Paul Morrison with My Hallelujah.
Bob Corbett has taken out the Country category of the 2007 1233 ABC Newcastle Music Awards.
Bob won the gong with his song Share Crop Gone.
Grace Turner received the ABC Music Publishing/APRA Songwriters and Composers Recognition Award for her Folk entry One Way Street and also took out the Best Young Talent award.
Weblink – www.abc.net.au/newcastle/musicawards.
---
MONDAY, NOVEMBER 5, 2007
$6 million pledge to Slim Dusty Centre
The proposed Slim Dusty Centre at Kempsey (NSW) has taken a substantial step forward with the announcement in Kempsey on Saturday night by Deputy Prime Minister, Leader of The Nationals and local Member of Parliament Mark Vaile that a Federal Government grant of $6 million would be made to the project under a re-elected Coalition Government.
A spokesman for the Centre said concept, planning and architectural designs for the project, on a 35 acre site on the southern outskirts of Slim's home town, are already well advanced.
Chairman of the Slim Dusty Foundation Joy McKean hailed the grant saying it would enable the project to get underway in the near future and she paid tribute to those who had worked so hard to make Slim's vision a reality.
Joy said the Foundation wanted to thank Prime Minister John Howard and Mark Vaile for their strong, on-going support of the Slim Dusty project, and also singled out the Minister for Defence, Brendan Nelson, for his "unwavering commitment over many years".
"There are so many people to thank for their part in bringing the project to this point", Joy said. "In the forefront are the vast number of fans of Slim Dusty who have contributed so much enthusiasm and support for so long. The Area Consultative Committee which worked on the grant process, along with the people and Council of Kempsey have played a huge role and the release of crown land under lease from the NSW State Government have also been very important in moving the project forward.
"Finally," Joy said, "the Slim Dusty Foundation's Kathryn Yarnold deserves a special accolade for the dogged determination, unflagging energy, boundless optimism and vast skill she has shown in steering the project development through such a complicated maze over the past few years. Kathryn and her dedicated staff have earned our heartfelt appreciation. There is still so much to be done, but with this grant, we now have the means to make the Centre a fitting and outstanding memorial to Slim Dusty and his music."
Kathryn Yarnold echoed Joy's words emphasising the amount of work that lay ahead. "The fundraising does not stop here. We still await a final decision from the State Government for our application for $1.5 million in funding and continue to progress by moving into the Construction Certificate phase. And we are undertaking on-going involvement with potential exclusive sponsors of some of our exciting and innovative internal displays."
Speaking from Kempsey after the announcement, Kathryn paid tribute to the team and "the incredible positive effect being felt by everyone involved. This funding announcement will certainly pump new life into a dedicated team and, a little closer to home, we could never have reached this stage without the dedication and hard work of the Slim Dusty Foundation Board and Patrons and the inspiration and commitment of members of Slim's own family. Equally important are our Foundation Donors who have generously (provided) funds and services from the crucial initial stages."
The Grant was announced at the Slim Dusty Country Music Memories Show in Kempsey on Saturday night, attended by more than 600 people raising some $14,000 for the Slim Dusty Centre appeal.
The funding would be made available through an extension of the Northern Rivers and North Coast Sustainable Regions program.
Weblink – www.slimdustycentre.com.au.
Photo, by courtesy of Laurie Bullock, The Macleay Argus, Kempsey (click on the pic for a larger image): Joy McKean (centre) with (from left) Kempsey local State MP Luke Hartsuyker, daughter Anne Kirkpatrick, Mark Vaile and son David Kirkpatrick.

Lee on shortlist for Australian of the Year
Lee Kernaghan has been announced as one of 32 finalists for next year's Australian of the Year award.
Lee is one of the Queensland finalists for the award which will be presented in Canberra on January 25 next year.
His finalist citation says Lee... "is a towering figure in Australian country music and a fine ambassador for his craft.
"He gave his first public performance at the age of five, formed his first band when he was 12, and released his first commercial single in 1983. His tally of Golden Guitar awards... os 24, second only to the legendary Slim Dusty.
"Lee has a passion for his music and his country and brings these together in his support for country communities across Australia. To many people he represents the very essence of the spirit and values of contemporary rural Australia.
"In the past 10 years, his 'Pass the Hat Around' tours have raised more than a million dollars for communities in need and his participation in the 'Spirit of the Bush' concerts raises spirits as well as money for farming families doing it tough in the drought."
State and Territory recipients for all categories in the awards will be announced at capital city events throughout November and will then proceed to national judging for the Australian of the Year Awards to be announced on the lawns of Parliament House in Canberra on 25 January, 2008.
Weblink – www.australianoftheyear.gov.au.
Barry Thornton bust to be unveiled in January

The fifth bronze bust of an Australian country music pioneer, Barry Thornton, will be unveiled in Country Music Capital's Bicentennial Park on Monday, January 21.
Barry is widely regarded as the creator of the bush ballad style of guitar picking, a unique sound he conceived while touring Australia's highways and byways with Slim Dusty. Who could forget that famous riff in Slim's recording of the Shorty Ranger tune, Winter Winds?
This is the fourth bust in the park sculpted by Canberra artist Peter Latona whose amazingly realistic images of pioneers Tex Morton, Stan Coster and Gordon Parsons stop many a tourist in their tracks while wandering through Tamworth's leafy heart. The first bust to be erected in Bicentennial Park was that of Buddy Williams, and is the only bust in the park not created by Peter.

The unveiling ceremony, at 11am on the day, is set to be a major event of the 2008 Tamworth Country Music Festival which the public is more than welcome to witness.
There will be speeches and formalities prior to the unveiling as the Country Capital Bronze Bust Committee, chaired by tireless country music supporter Lorraine Pfitzner, officially hands over the bust to Tamworth Regional Council for safekeeping – and for posterity.
"To install a bust of this quality, which is so life-like, takes a lot of hard work and skill by the sculptor, but it also takes a lot of giving by the country music fraternity of Australia, who willingly donate to the cause," Lorraine said. "For the past four years, we have been fundraising for this event. A number of individuals have donated sizeable amounts while other money has come in via competitions and concerts."
Lorraine said it was vital for country music fans who come to Tamworth to become familiar with the faces and stories of our pioneers.
"It was these hard-working entertainers who forged ahead and paved the way for the country music industry of today, so they should always be honoured. In that way, their memory lives on forever," she said.
– Anna Rose
Finalists have been announced for the 2007 NSW Gold Medallion Awards.
They are...

For Male Vocalist of the Year – Neil Buttsworth, Steve Forde, Brian Letton (pictured), Drew McAlister and Peter Pratt.

For Female Vocalist of the Year – Kirsty Lee Akers, Nikki Gillis (pictured), Lynette Guest, Dianne Lindsay and Felicity Urquhart.
For New Talent of the Year – Greg Bain, Lou Bradley, Dean Johnson, Amber Lawrence and Mistin.

For Musician of the Year – Charley Boyter, Lindsay Butler, Peter Horan, Bob Howe and Nev Malloy.

For Bush Balladeer of the Year – Peter Coad, Tom Maxwell, Amos Morris, Slim Newton and Charmaine Pout
For Touring Artist of the Year – Lindsay Butler, Peter Coad & The Coad Sisters, Brian Letton, Tom Maxwell and The Sidey's

For Songwriter of the Year – Peter Coad, Dianne Lindsay & Peter Simpson, Drew McAlister & Alan Caswell, John Seers, Geoff Sidebottom & Shaza Leigh and Wendy Wood.
Winners will be announced during a gala concert at the Hexham Bowling Club (near Newcastle) on Saturday November 24. The concert will feature Golden Guitar winners Lindsay Butler and Slim Newton supported by Ian Betteridge, Sharnee Fenwick, Shaza Leigh, Dianne Lindsay, Karen Lynne, Tom Maxwell and Lindsay Waddington with backing by Peter Simpson & The Sideys. Radio personality Mike Kennedy will compere.
Awards finalists are invited to appear during the presentation.

LBS Studios have announced inductees to the Australian Country Music Wall of Honour in 2008.
"The wall is dedicated to Australian country music artists making an important contribution to our professional recording industry," said a spokesman for LBS.
The 2008 inductees will be Clelia Adams (pictured), Arthur Blanch, Johnny Greenwood, Slim Newton and The Webb Brothers.
An initiative of the LBS Music Group, as well as being located at the LBS Tamworth studio, the Wall of Honour us judged by a panel of executives working within the Australian country music industry.
The inductions take place during the main week of the January country music festival in Tamworth.
Weblink – www.lbsmusic.com.au.

Telstra Road to Tamworth winner 2007 Morgan Evans (pictured) scores his first number one this week with the video clip of his hit song Big Skies reaching the top of the CMC (Country Music Channel) Top 50 playlist.
Sara Storer's Land Cries Out jumps to second position while American stars Kenny Chesney and Brooks & Dunn take over third and fourth places, respectively, with Don't Blink and Proud Of The House We Built.
Previous number ones, Stupid Boy by Keith Urban and Metropolis by Steve Forde are at six and 10.
Bullet performers this week include Adam Harvey with Someone Else's Dream (17 to 12), The McClymonts' My Life Again (new at 15), Rob Black's Regular Guy (22 to 18),The Noll Brothers' Shining Star (28 to 25), Beccy Cole's Lifeboat (30 to 26), Amber Lawrence with Gonna Fly (new at 29), Nik Phillips's My Town (39) and Simply Bushed with Cangi (49 to 43).
The full list can be viewed at www.countrymusicchannel.com.au.
---
SATURDAY, NOVEMBER 3, 2007
Toyota Muster 2007 television special
The Toyota National Country Music Muster 2007 television special is scheduled to air tomorrow, Sunday November 4, on the WIN Television Network.
WIN stations in NSW, Queensland, Victoria, South Australia (not Adelaide) and Tasmania will air the special at 5pm. Stations in Western Australia (not Perth) will air the special at 4.30pm.
The program presents a snapshot of the Toyota Muster 2007 site and follows one of the guest Rural Aid Appeal families who experienced their first holiday for a number of years away from their Queensland rural property. This year, all profits from the sale of Muster merchandise will be distributed to 11 non-profit community groups from throughout drought affected rural Australia.
"This year" a spokesman said, "the Toyota Muster special highlights the diverse program with appearances by country favourites Lee Kernaghan, Adam Harvey and Troy Cassar-Daley, Marcia Hines, Thirsty Merc, Augie March, Kate Miller-Heidke, the Umbilical Brothers and The Kransky Sisters, Blues artists including The Black Sorrows, Vika & Linda Bull and Bondi Cigars plus a 'parade' of performances around the Muster site."
Scheduling details for a separate program – the "Toyota Muster Blues 2007" – are yet to be announced.
Photo: Lee Kernaghan in full flight at the Muster.
Weblink – www.muster.com.au.
Bush balladeer Ashley Cook has released a second single from his current album, Beneath The Queensland Moon.
The new release is A Bushman's Life, written by Ben Jacobs and Shaza Leigh, and the singer says the song could have been written about him.
It follows Big Cod Fishing Hole, a song co-written by Ashley with Wave Jackson that made it to 28 on the country charts.
"Most bushmen from the land (could) identify with A Bushman's Life," Ashley said. "They would all rather be home on the farm mustering the cattle or driving the tractor ploughing rather than being in the 'rat race' of the towns and cities."
And Kimberley releases her first
While Ashley is having success with his recording, daughter Kimberley, who has been singing country music and bush ballads since she was seven, has released her first single.
Title of the track is Remember The Anzac, a song Kimberley co-wrote with Shaza Leigh and recorded with Lindsay Butler at LBS Studios in Queensland.
Born in Biloela and living on her family property at Scoria, Thangool, in Central Queensland, Kimberley performs at shows with her father and had, prior to the new release, recorded a duet with him on his Cattle Dust And Leather album (the old Stan Coster classic Lead Me Down To The Stockyard, also recorded by Slim Dusty).
Kimberley was sponsored by the Australian Bush Balladeers Association to participate in Camerata last year where she says she learnt "a lot on mandolin, lead guitar and songwriting from other leading musicians".
"Kimberley comes with a pedigree for performing bush ballads," said Shaza Leigh from LBS. "While her counterparts pursue contemporary careers, Kimberley is content and focused on the style of music that she loves and respects."
---
FRIDAY, NOVEMBER 2, 2007
Finalists announced for 2008 Bush Ballad Awards
Finalists have been announced for the 2008 Stan Coster Memorial Bush Ballad Awards to be announced in Bungendore, NSW, in February.
They are...
For New Talent... Greg Bain (pictured, right) with Can I Sing Trumby, Denise Brooks with Scene From Long Ago and Leigh Moneghetti with The Shakedown On The Floor.
For Male Vocal... Brian Letton with Driving Through A Postcard, Amos Morris with Follow The Footsteps and Graham Rodger (pictured below) with Woman On The Land.
For Female Vocal... Lynette Guest (pictured) with Murray River Blues, Shaza Leigh with You Can't wrap Your Arms Around A Memory and Dianne Lindsay with Local Mary Magdalene.
For Instrumental/Group or Duo... Lindsay Butler with Ramblin' Guitar, Tom Maxwell & Lynette Guest with A Bushman Can't Survive and Dean Perrett & Peter Pratt with Riding Down The Valley.
For Album of the Year... Jeff Brown with Harvest Time Again, Dean Perrett with Return Of The Stockman and Graham Rodger with Thunderbolt.
For the Songwriter award... Trevor Day with An Empty Plate, Lex Kunst with Lakes Creek Judas Bullocks and Graham Rodger with Woman On the Land.
And for Comedy Song... Trevor Day with The Homemade Chair, Keith Jamieson with Old Pete's Yellowbelly and Peter Pratt with Mary Kathleen.
The 2008 Stan Coster Memorial Bush Ballad Awards will be staged as part of the annual Bungendore Muster on Saturday February 2.
Weblink – www.bushballadeers.com.au/bungendore.htm.
Further to yesterday's report on tickets going on sale for Tamworth 2008 events, Tourism Tamworth, the key selling point for many events during the annual festival, has issued a release reporting on sales activity to date.
"At 9am this morning, a queue of festival enthusiasts had gathered at the front door of the Tamworth Visitor Information Centre whilst queues of callers waited patiently to place their order," said Tourism Tamworth Marketing Manager David Woodward.
"A festival ticket pre-sale was made available online only October 1 with today having the added channels of phone and counter sales included in the mix. With more than 4,000 tickets to various concerts sold already, Festival-goers are encouraged to purchase tickets as soon as possible to avoid missing out on their favourite shows," he said.
"Tickets on sale now include the hugely popular 'Songbirds' show featuring Beccy Cole, Sara Storer and Gina Jeffreys, the 36th Country Music Awards of Australia, Melinda Schneider, John Williamson, Toyota Star Maker Final and Grand Final, Telstra Road To Tamworth Final and Grand Final, Adam Brand's 'Boys Will Be Boys' show as well as Felicity Urquhart and Mark Seymour at The Regent Theatre and over 40 other shows.
"Tourism Tamworth works for approximately three months prior to any tickets going on sale with promoters to ensure we can promote all the biggest and best things to see and do at the Festival," said Tourism Tamworth General Manager Rebel Thomson (pictured). Shows this year offered a great variety and included so many special events that artists have put together themselves.
Yesterday also marked the annual increase in ticket-seller staff numbers and volunteers at the Visitor Information Centre to ensure the demand for tickets is met with friendly faces and easy access.
"Gearing up for the Festival is always really exciting; with tickets on-sale and enquiries steadily getting busier there is a great atmosphere building in the Information Centre and in Tamworth; our job is to ensure that visitor service expectations and questions are met and answered."
Tourism Tamworth is also encouraging callers and visitors to check out the Festival program put together by the West Tamworth League Club which will have tickets for an array of large shows for sale from December 1.
"Ticket sales aren't the only bookings that have raised Festival fever to a high," David said. "Moteliers throughout the city are once again at capacity for the duration of the Festival with only a few rooms on selected days still available. Tourism Tamworth is encouraging visitors interested in attending the 2008 Tamworth Country Music Festival to investigate alternative options such as home hosting, 'Tent City', coach packages plus caravan/camping in the hope to accommodate the 50,000 plus visitors set to descend upon Tamworth for the upcoming Festival."
Further information about the upcoming 2008 Tamworth Country Music Festival presented by Telstra and tickets can be obtained by telephoning Tourism Tamworth on 02 6767 5300 or by visiting www.visittamworth.com.
Chart update – Carter & Carter hit the top
Carter & Carter (pictured) hit the top of the coming week's Country Tracks National Top 30 Singles Chart with their latest hit The Best Things In Life Are Free.
Troy Cassar-Daley's number one from the last four weeks – Everything Is Going To Be Alright – slips to second place while Kirsty Lee Akers edges up one to number three with Little Things, as does Travis Collins' to four with Yeah She Does.
Tom Curtain's Wearing Out Leather jumps to fifth position, the Tim McGraw/Faith Hill duet I Need You is at six while Markus Meier is steady at seven with Walk In The Rain.
Graham Rodger's Woman On The Land is down to eight, Felicity Urquhart's No Mistakes enters the top 10 at nine as does Adam Brand's That Changes Everything at 10.
Bullet performers for the week include Steve Forde with Metropolis (18 to 14), the Graeme Connors/Fiddlers Feast duet Guess Who's Got Kids (24 to 21), Sara Storer's Land Cries Out (26 to 22), Adam Harvey's Someone Else's Dream (27 to 23), The McClymonts' Save Yourself (28 to 24), Rob Black's Regular Guy (30 to 26) and Morgan Evans' Big Skies (new at 28).
Other new entries to the chart for the coming week are John O'Dea's Parachilna Sunset (in at 29) and Jetty Road with I Wanna Go Home (at 30).
The Top 30 Countdown goes to air Sunday night on CMR (Country Music Radio) on the Super Radio Network.
The full chart can be viewed at www.nfspublicity.com.au.
---
THURSDAY, NOVEMBER 1, 2007
Troy Cassar-Daley, The McClymonts and Melinda Schneider have been named winners at the 2007 ACE (Australian Club Entertainers) Awards.
The three took out this year's country categories at the Awards which were presented last night in Sydney.
Weblink – www.aceawards.com.au.
Keith announces Australian concert
Hot on the heels of his 2007 ARIA win on Sunday night, Keith Urban has announced he will headline a concert in Sydney early next year.
The concert will be staged at the Hordern Pavilion on Wednesday March 26.

Earlier this year, Keith sold out shows and performed to more than 45,000 people when he brought his "Love, Pain & The Whole Crazy World Tour" to Australia.
Tickets go on sale through Ticketek at 9am Tuesday November 13.
Weblink – www.keithurban.com.au.
Adam, Steve and Lee announced for 2008 Golden Guitars
Adam Brand, Steve Forde and Lee Kernaghan are the first artists announced as performers on the 2008 Country Music Awards of Australia (or Golden Guitar Awards).
The Awards, presented by Jayco, will be staged on January 26, Australia Day, during the annual Tamworth Country Music Festival at the Tamworth Regional Entertainment & Conference Centre.
Organisers have also announced that Network 10 television personality Georgie Parker has been confirmed as host for the Awards, the 36th to be staged since Radio 2TM launched the scheme in 1973, and 10's entertainment reporter Angela Bishop will host the "red carpet" coverage.
Tickets for the Awards went on sale today (see below).
More tickets on sale for Tamworth 2008
Tickets for the bulk of the remainder of shows being sold through Tamworth's Visitor Information Centre for the January 2008 country music festival went on sale today.
These include the Golden Guitar Awards and online sales can be accessed via the website www.visittamworth.com.
Tickets for all shows through the Information Centre can now also be purchased over the counter and by telephone on 02 6767 5300.
Catherine returns to prepare for new album release
Catherine Britt will return to Australia this month to prepare for the release of her third album in January.
The new album is called Little Wildflower and will be preceded by the release of the first single – the title track – to radio on November 17. A video clip will be produced for television.
Songs for the album have been recorded over the last two years with producer Brett Beavers and include the US Top 40 hit What I Did Last Night.
Special guests on the album include Tommy Emmanuel, Buddy Miller and Keith Urban.
Catherine says she is extremely excited about the new album and is looking forward to promoting it in Australia.
Weblink – www.catherinebritt.com.
The first annual Beenleigh (Qld) Jamboree will be held on Sunday November 11.
The Beenleigh Historical Village will be hosting some of Australia's finest talent all day from 10am to 6pm on the day, according to organisers.
A full line up of local and interstate country artists will be performing, including (in alphabetical order) 8 Ball Aitken & his band, Balyana, Adam James, Jaxonville, Jim Haynes (pictured), Christy Kilpatrick (pictured), the Redlands Bluegrass Boys, The Reversals, Rich Man's Hoax, Juzzie Smith, Brendon Walmsley and Casey Watt.
The event will feature original songwriters and bands on two stages, as well as a licensed bar, market stalls, and a range of workshops for budding musicians in the areas of singing and vocal harmony, beginners' bluegrass, artist management in the music industry and songwriting.
The Beenleigh Jamboree is supported by the Regional Arts Development Fund, a Queensland Government and Gold Coast City Council partnership supporting local arts and culture.
"It is an excellent initiative to have the Gold Coast City Council supporting new original live music,"says event organiser 8 Ball Aitken. "There are some established performers and some up and comers on the bill. I think we are in for a great surprise."
8 Ball, who has just finished recording his third album with renowned country producer Garth Porter, as well as playing shows across the USA, Fiji and Japa, will be launching his new single Cowboy Movie at the Jamboree (the album is due for release in March).
Weblink – www.beenleighhistoricalvillage.org.au.