NEWS ARCHIVE - MAY 2010
---
FRIDAY, MAY 28, 2010
Troy shines among APRA Awards nominees
Troy Cassar-Daley features among the nominees for this year's APRA Song of the Year award, the most prestigious of the annual presentations.
Troy's song Big Big Love is a finalist against the more contemporary Sarah Blasko with All I Want, newcomers Abby Mandagi & Lorenze Sillitto of Melbourne band Temper Trap with Sweet Disposition, Kate Miller-Heidke & Keir Natall with The Last Day On Earth and Luke Steele, Jonathan Sloan & Nick Littlemore with We Are The People.
Troy also features among the final nominees for Country Work of the Year with Big Big Love, alongside Brad Cole with Come Home, Steve Forde with I Ain't That Guy and Brooke McClymont (and co-writer Trey Bruce) with Kick It Up.
More than 70 songwriters covering country, rock, pop, urban, blues and roots and dance were announced this week as nominees "showcasing Australia's diverse and eclectic writing talents," according to a spokesman for APRA, the Australasian Performing Right Association.
America's Taylor Swift is a finalist for International Work of the Year with her hit Love Story.
Other nominees with some country interest include Jessica Mauboy, first winner of the Telstra Road to Tamworth competition and now pop act, with Been Waiting up for R&B Work of the Year and Running Back (co-written with Audius Mtawarira & Sean Mullins) a finalist for Urban Work of the Year. Jessica is also up for Breakthrough Songwriter of the Year.
The APRA Music Awards will be held at the Sydney Convention Centre on Monday June 21.
Weblink – www.apra.com.au.
Melinda joins "Dancing With The Stars"
Melinda Schneider is taking to the floor and putting her dancing skills to the ultimate test after being announced as one of the contestants on the tenth series of Channel Seven's "Dancing With The Stars".
A leading light of the "new breed" of Australian country music artists for several years now, Melinda has enjoyed great success both here and in the USA.
Six albums and 10 years on, she has won numerous awards – six Golden Guitars (including Top Selling Album for Stronger in 2008 and Vocal Collaboration of The Year in 2009 for her duet Still Here with Paul Kelly), seven "MO" awards for excellence in live performance and has achieved two Gold records.
Melinda is currently in rehearsals with her partner Serghei Bolgarschii and enjoying every minute. "I am so thrilled to be part of 'Dancing With The Stars' this series. I love the show and I'm very excited to be the first female country artist to be chosen," she said.
Melinda has selected Olivia Newton-John's Cancer & Wellness Centre as her charity. Olivia recorded Melinda's song Courageous with her as a duet for the "Great Walk" album A Celebration In Song – Olivia Newton-John & Friends after Melinda took part in the Great Walk To Beijing in 2008.
Between an upcoming trip to Nashville in June, recording a brand new album and appearing on "Dancing With The Stars", 2010 is shaping up to be Melinda's most successful year to date.

Weblink – www.melindaschneider.com.
This year's line-up on the dancing program includes footy wag and celebrity photographer Alex Fevola, Miss Universe Australia 2009 Rachael Finch, Kyle Sandiland's wife Tamara Jaber, former NRL star Jason Stevens, AFL legend David Wirrpanda and actor Blair McDonough.
They'll be joined by Channel Seven personalities including George Houvardas, Esther Anderson and Rob Palmer from "Better Homes and Gardens". Daniel MacPherson and Sonia Kruger will once again host the show, and returning to the judging hotseats are Todd McKenney, Helen Richey and Mark Wilson.
Our photo shows Melinda with fellow 2010 "Dancing With The Stars" members Esther Anderson, Alex Fevola, Rachel Finch, Tamara Jaber and Jo Beth Taylor.
Catherine's latest album released
Catherine Britt latest album is officially released today.
The self-titled work was recorded towards the end of last year at Melbourne's iconic Sing Sing Studio and produced by Shane Nicholson and Bill Chambers.
After returning home from the United States, the first thing Catherine had on her mind, apart from a dip in the blue Pacific Ocean, was to head to the studio and record an album that she says truly summed up where she was as a songwriter and artist.
The result is the self-titled release, described as "an un-compromising, heartfelt album born of love, pain, loss and sorrow that is certainly her most personal, diverse and mature to date".
With Catherine either writing or co-writing all 14 tracks on the work "it is a true songwriters album and stands its ground based on the songs written and subsequently recorded," a spokesman for the artist said. "As it should be. No duets needed. No special guests required.
"Catherine came along with the strongest bunch of songs any artist could want for a new album, which made our job easy," said co-producer Shane. "She was really inspired to make this record. It's a brave album in many ways, and she was completely up for the challenge. I think she is one of the top female artists in the game, in any genre."
The first single, which was released to media on April 23, is the "hook laden" Can't Change A Thing, which was born while Catherine was driving down the F3 between Newcastle and Sydney.
"I arrived in Sydney and once I got inside I busted out my guitar and we pretty much wrote the song in a few minutes," Catherine said. "It features Jim Moginie's Wurlitzer piano but it was he that also suggested adding ukulele to the track. Every now and again you get lucky and come up with something that's catchy and fun."
Like all her previous albums, Catherine Britt will be released on the ABC Music label.
"Catherine Britt has always been an extraordinary artist," said Robert Patterson, Head of ABC Music. "When she first signed to ABC at the age of 15 her prodigious talent was more than evident as both a gifted songwriter and vocalist. As we prepared for the release of Catherine's fourth career album, I am reminded again of this talent."
Weblink – www.catherinebritt.com.
---
WEDNESDAY, MAY 26, 2010
Keith among top country music earners
Keith Urban has been ranked number six on the world's top 10 list of country music earning artists, according to "Forbes" magazine.
Keith's income, estimated by "Forbes" from concert box office receipts, merchandise revenue, album sales, publishing royalties and income from endorsement or licensing deals from June 2009 to June 2010 was $28 million.
Keith did not feature on the list last year. His estimated earnings then were $8 million.
Top earner on the list again was Kenny Chesney with $50 million, down from $65 million last year with Toby Keith coming in second with $48 million (ranked number three last year with $52 million).
At number three was Taylor Swift with $45 million (up from last year's $18 million and fourth place) and Rascal Flatts (also $ 45 million, down from last year's $60 million and second place on the list).
Tim McGraw came in at number five with estimated earnings of $30 million, up from last year's $23 million but still at number five.
George Strait cam in at number seven with $25 million. He was not ranked last year and there was no estimate of earnings.
Brad Paisley is at eight with $22 million, down one from last year's seventh place with $15 million estimated earnings.
Alan Jackson is at nine this year with $15 million, up one from last year's 10th place (and $12 million) while Carrie Underwood rounded our the top 10 with $13 million, down two from her eighth place last year.
Kirsty Lee, McAlister-Kemp, Liam and Chelsea join forces
Kirsty Lee Akers, McAlister-Kemp, Liam Brew and Chelsea Basham have announced details for the latest leg of their "Guys, Girls, Guitars & Bars Tour" which is currently performing a series of dates through NSW, Queensland and Victoria.
A Golden Guitar winner and former Star Maker winner, Kirsty Lee Akers is one of Australia's most successful young solo country performers.
McAlister-Kemp are described as "the country's latest new super duo" – the combination Golden Guitar winner Drew McAlister and popular solo performer Troy Kemp. They released their debut album All Kinds Of Tough on the ABC label in January.
Liam Brew won Star Maker in 2009 and has made a big impact on the country music scene since emerging with his debut album Wild Heart the same year 2009.
Chelsea Basham is a new name on the country scene but one the industry is hearing a lot about. After touring with Adam Brand last year, the 20-year-old was a 2010 Star Maker Grand Finalist who is now working on her debut album.
For a list of tour dates, visit our On Tour page.
Weblinks – www.kirstyleeakers.net, www.mcalisterkemp.com.au, www.myspace.com/liambrewmusic, www.myspace.com/chelseabasham.
Chart Update – Sara hangs on to the top spot
The top five positions on this week's national Country Tracks Top 30 chart remain unchanged from last week with Sara Storer retain the number one spot for the fifth week in a row with her hit Calling Me Home.
Jetty Road's Road To Nowhere remains at two while America's Allan Jackson's It's Just That Way is at three, The Lees' It Ain't Me Babe is at four and Darren Colston & Victoria Baillie are at five with Will You Stay.
The Bobkatz' The Writer edges up one place to six, while America's Carrie Underwood slips one to seven with Temporary Home.
Sarah Kay's Feel The Rain is up one to eight, Tracy Killeen's Brave bounds into the top 10 at nine and Clelia Adams' Honky Tonk Stardust Cowboy is steady at 10.
Bullet performers for the week include Markus Meier's A Different Land (24 to 20) and the Adam Harvey/Wendy Matthews duet Easy (30 to 26).
New entries to the chart this week are The Heartleys' (pictured) Leaving Home (at 29) and Steve Passfield's Old Friends (at 30).
Weblink – www.countrymusicradio.com.au.
---
TUESDAY, MAY 25, 2010
The Valley Studio praises artists
The Valley Studio, with record producer Roger Corbett at the helm, is singing the praises of his artists.
Committed to taking artists to the next level of their country music career, Roger says he is quietly proud of all the artists who have recorded albums at his studio.
"In the spotlight are four who are successfully forging careers. Gaining places on the Australian Country Tracks Top 30 are family band The Lees (pictured) who continue their outstanding run with It Ain't Me Babe from the album Welcome Road.
"Country favourite Tracy Coster is making her way toward the top with Not Forty from the album Moving On at number 19. Newcomer Natalie Brandt has entered the chart for the first time with a single from her debut self titled EP with the track The End Of The World and New Zealand's duo sensation The Heartleys have entered the charts
at number 29 with Leaving Home from their self titled album.
"This is the age of independence," says Roger. "Everything we do at The Valley is designed to support independent artists take their career to the next level. It's a philosophy that has seen the studio deliver consistent results with an 'A Team' of Australian songwriters, musicians and industry professionals for over 10 years, more than 60 albums, Golden Guitar wins and nominations."
An imminent re-launch of The Valley Studio website, new branding and an extended list of services and innovations is designed to propel artists on the roadmap of their country music careers, Roger said.
The new look website will be launched early this month at www.thevalleystudio.com.au
Wendy in Nashville
Country Music Capital based songwriter Wendy Wood is off to Nashville in June for some intensive writing work.
Wendy is also a member of the successful local trio Those Gals and a dedicated mum of two, who lists her best moments as spending with family.
"No small feat as many friends and family have grown to understand," according to friend and industry associate Rhonda Sinclair.
"A tough call when dealing with the severity and complications of illness" Rhonda said, "plus the demands and support needed when one of your children is diagnosed with cystic fibrosis as Wendy's daughter Cassy was not long after her birth."
It meant endless trips by car, never-ending kilometres and long hours Wendy would travel weekly, for more than five years between Tamworth and Brisbane when Cassy was hospitalised for long periods of times.
"Wendy took it in her stride, something a mother does in the care of her child, coping better by making positive time to create lyrics in her head, or run with a word or a phrase and turn into a song."
Wendy is visiting Nashville to attend the Songwriters' Festival which will run from June 4 to 6 in the leadup to the CMA Music Festival, and "escape into the world of American country music with a four-day CMA Music Festival pass".
"On Friday (May 21) she was in Brisbane visiting her now adult children before departing on Tuesday June 1, when she and the songwriter group of 15 she's part of will fly direct to Los Angeles for two days and nights in the west coast capital with guided private bus tours around Venice beaches and timeout on the famous Santa Monica Pier, before heading east to Nashville to attend the Songwriters Festival and visit renowned songwriter live-playing venues like The Bluebird, Commodore and Douglas Corner, and join tours of the Ryman Auditorium and the American Country Music Hall of Fame."
"Going to Nashville is something that I only ever thought that I would dream about," Wendy said. "I feel so sorry for everyone that has been affected by the floods and storms over there.
"Just being in the same place some of my favourite songwriters have been, to see what they have seen. I just can't believe that it is true! I'm particularly excited about going to the Bluebird Cafe and sitting there listening to writers singing their own versions of their original songs.
"There's nothing like hearing a songwriter sing the original version of their song. It might have been recorded by someone else but hearing it the way that it was originally written is something very special," Wendy said.
The group will attend co-writing sessions with Nashville writers, tour local copyright collection organisations ASCAP and BMI and meet with established writers, offering opportunities for advice, feedback and insight in the music business.

"It's a trip of a lifetime for the writer who, whenever there's a chance, is a keen supporter of Australian country music and Country Music Capital's own songwriter nights," Rhonda said.
Weblink – www.songwritersfestival.com.
New independent releases
Independent distributor WJO has announced it's latest list of Australian country music distributions.
First out is Steven Jaymes' Things Get Better, with a release date of June and Johnny Chester (pictured) with his April album release Memories That Linger.
Artist George Sich's February EP release – True Story, I Swear – is another title under distribution by WJO together with Bruce McCumstie's 2009 release Unsung Heroes.
Leanne Melmoth's Perfect Day is another work under re-distribution by WJO.
WJO is a relative newcomer to the Australian country music scene now with artists including Carter & Carter, Bill Chambers, Sandra Humphries, Amos Morris, Graham Rodger, Dallas Steele and J R Williams on their books.
The company will be presenting a showcase at the upcoming Bluewater Country Music Festival featuring some of their client artists.
Weblink – www.wjodistribution.com.
Chart Update – Sara still leading
Sara Storer retains the number one spot on this week's national Country Tracks Top 30 chart with her hit Calling Me Home.
Jetty Road's Road To Nowhere is at two while America's Allan Jackson is at three with It's Just That Way and The Lees' It Ain't Me Babe is at four.
Darren Colston & Victoria Baillie are at five with Will You Stay, America's Carrie Underwood is at six with Temporary Home and The Bobkatz' The Writer is at seven.
Dianna Corcoran's Thank You For Cheating On Me is at eight, Sarah Kay scores her first top 10 with Feel The Rain at nine and Clelia Adams is at 10 with Honky Tonk Stardust Cowboy.
Bullet performers for the week include Tracy Killeen's Brave (18 to 13), Keith Urban's Til Summer Comes Around (19 to 15), Lee Forster's duet with Stuie French, Drink Up And Be Somebody (27 to 23), Markus Meier's A Different Land (28 to 24) and Tori Darke's It's Not My Time To Fly (28 to 25).
New entries to the chart this week are Natalie Brandt with The End Of The World (in at 29) and the Adam Harvey/Wendy Matthews duet Easy (at 30).
Weblink – www.countrymusicradio.com.au.
---
WEDNESDAY, MAY 19, 2010
Cessnock Festival this weekend
The 2010 LJ Hooker Cessnock Country Music Festival is this weekend (Friday 21 to Sunday 23) at the East Cessnock Bowling Club.
Headline act The Wolverines (pictured) will star on the Saturday evening show while Paul Costa and Victoria Baillie will present the Friday evening show. Both start at 8 with tickets available from the Club.
More than 30 artists will appear during the weekend including The Bobkatz, Kel-Anne Brandt, Darren Coggan, Jodie Crosby & Steve Newton, Donella, Lee Forster, Tara Naysmith, Steve Passfield, Grant Richardson (currently starring in the television series "Australia's Got Talent") and Mitchell Shadlow.
Performing at the Balladeers Day on Sunday will be Greg Bain, Charley Boyter (and his band), Ernie Constance, Christina George, Lynette Guest and Slim Newton.
Weblink – www.cessnock-country-music-festival.com.
The Pigs take Berlin
Australian bluegrass sensation The Pigs have hit the road for their first European Tour and will base themselves in the German capital Berlin.
A family of Australian hillbillies, The Pigs are described as "a one-of-a-kind musical export.
"Their combination of fine musicianship and wicked humour has been enjoyed by festival-goers all over Australia, most recently at the 2010 Port Fairy Folk Festival," said a spokesman for the band.
"This June, the band begins a six-week tour of Germany and Denmark, promoting their new album, Horses.
Vocalist and guitarist T-Bone Pig, is both excited and confused: "I'm not sure if they'll understand our accents. We've been practicing singin' and talkin' into German microphones for months now, so hopefully that will pay off when we get there."
The Pigs will launch a series of mini-tours across Germany from their Berlin base, including an appearance at Kunstfest in the nation's capital. The tour climaxes with a performance at the popular Skagen Festival in Denmark.
"The idea for this whole tour came to us one afternoon when a German friend of ours was describing the size of the beer glasses over there," explained drummer Cousin Billy-Bob Pig. "In life, all you need is a little inspiration."
Horses, The Pigs second album, was recorded at Country Music Capital's Enrec Studios.
The first single from the album – Single Ladies (Put A Ring On It) – is a banjo-driven version of the Beyonce song. The band performed the song live on Channel Nine's "Mornings with Kerri-Anne" and on ABC "Saturday Night Country".
The video was made Indie Clip Of The Week on ABC TV's "Rage".
"Alongside Single Ladies, you'll find great original songwriting on Horses," the band spokesman said, "including the hilarious Hey Christina and Macho Moisturiser.
"A fine collection of 'smoking' bluegrass covers complete the album, including such unexpected tracks as Technotronic's Pump Up The Jam, Puccini's Nessun Dorma and Rage Against The Machine's Killing In The Name.
Weblink –www.thepigs.com.au.
---
TUESDAY, MAY 18, 2010
Guitar auction
A special Tomkins Custom star signed vintage guitar is up for auction.
The rare, fully working and playable guitar comes from guitar maker Allan Tomkins private collection and is being auctioned to raise funds to help the Tomkins family with on-going medical treatment for Allan's wife Barbara who is battling lung cancer.
The guitar has an Alder body with a maple neck, custom single coil pick-ups, Gotoh machine heads and the signatures have all been sealed with a clearcoat over the top to protect them. A custom clear perspex pick guard is also on the guitar.
As with all Tomkins guitars, the instrument is fully handmade and described as a "very rare and collectable instrument".
"The starting price is what this guitar would cost without the rare signatures," said a spokesman for auction organisers.
Also described as "a beautiful Tomkins electric 'T' style guitar" the instrument has been signed by many well-known and famous Australian and American country music artists, including Troy Cassar-Daley, Joe Diffie, Steve Forde, Stuie French, Merle Haggard (and his band), Jim Lauderdale, John Michael Montgomery, Hank Williams Jnr and Wylie & The Wild West Band.
The auction ends this Saturday (May 22).
Weblink – http://cgi.ebay.com.au/ws/eBayISAPI.dll?ViewItem&item=14040801289
Mick wins Urban Country Guitar Unleashed
Mick Atholwood, from The Redhanded Band, won the first Guitar Unleashed: Long Live The Lead Break competition to be held at the Urban Country Music Festival earlier this month.
Mick joins an illustrious list of previous Guitar Unleashed winners, said organiser Jim Guider, including Rob Bostock, Joe Robinson and Dan Ebbels.
Sponsored by Cutting Edge Music and supported by the Moreton Bay Regional Council, the youth focussed Guitar Unleashed made it's Queensland debut on Saturday May 1.
"The Town Square Stage was the launch pad for Guitar Unleashed," Jim said, "with blues, blues/rock, hard rock, country, alternative rock being the main genres delivered by GU participants.
"'Guitar Gods' emulated by entrants included Stevie Ray Vaughan, Jimi Hendrix, Joe Satriani, Angus Young, Santana plus more. Entrants playing their hearts out, in order, were Tony Laplanche, Jarrod Salata, Mick Atholwood, James Carroll and Nicko Rolfe."
As the ultimate winner, Mick took home the first prize Blade California Climax electric guitar, valued at more than $2,000, from sponsor Cutting Edge Music.
Each Guitar Unleashed entrant was deemed a runner-up and received a $100 sample bag of guitar goodies courtesy of the sponsor.
Special guest on the day was Mickey Pye who "wrapped up a guitar perfect Guitar Unleashed debut at Urban Country Music Festival 2010.
"Mickey and his hot band The Mickey Pye Band kept the climactic guitar wave going to a fantastic grand finale," Jim said.
"To all entrants taking part in Guitar Unleashed: Long Live the Lead Break at Urban Country Music Festival 2010, Guitar Unleashed salutes you! See you in 2011!"
Photo: Mick Atholwood (right) and Warrick Steel from Cutting Edge Music.
Chart Update – Sara hangs on to number one
Sara Storer retains the number one spot on this week's national Country Tracks Top 30 chart with her hit Calling Me Home.
America's Allan Jackson is at two with It's Just That Way, Jetty Road's Road To Nowhere is steady again at three and Dianna Corcoran's former number one – Thank You For Cheating On Me – is at four.
The Lees' It Ain't Me Babe is up two to five, as is the Darren Colston/Victoria Baillie duet Will You Stay to six and America's Carrie Underwood to seven with Temporary Home.
The Bobkatz' The Writer is also up two to eight, Harmony James' Pretty is at nine and Felicity Urquhart's Girl In The Mall is at 10.
Bullet performers for the week include Clelia Adams Honky Tonk Stardust Cowboy (15 to 11), Sarah Kay's Feel The Rain (16 to 12), Keith Urban's Til Summer Comes Around (19 to 16), Tracy Killeen's Brave (22 to 18), Tracy Coster's Not 40 (23 to 20), Jayne Denham's Trucker Chicks (29 to 25) and Lee Forster's duet with Stuie French, Drink Up And Be Somebody (30 to 27).
New entries to the chart this week are Markus Meier (pictured) with A Different Land (in at 28), Tori Darke's It's Not My Time To Fly (at 29) and Jason Lee with A Memory (at 30).
Weblink – www.countrymusicradio.com.au.
---
FRIDAY, MAY 14, 2010
Country scores in "MO" Awards
It was a big night for Australian country music in Sydney on Tuesday night at the 34th Australian Entertainment "MO" Awards.
Ever-rising stars The McClymonts took out the Country Performer or Band Award from a tight field which included Donna Boyd, Kel-Anne Brandt, Nicki Gillis, Wayne Horsburgh and Melinda Schneider.
Bob Howe won the Instrumental or Vocal Instrumental category and one-time country music industry identity Brian Cadd won the Rock Performer award.
Strongly country aligned acts Darren Carr and The Robertson Brothers were named winners, respectively, of the Specialty Performer and Vocal Group awards.
But the highlight of the night was the announcement of Australian Country Music Roll of Renowner Frank Ifield's induction into the "MO" Hall of Fame.
A patron of the Awards, together with Brian Cadd and Barry Crocker, Frank said after the presentation: "I thank my peers and the Awards for making this night totally unforgettable for me and I shall treasure my statuette of the legendary character of 'Mo' who was a giant radio star of my own youth."
Photo: Frank with his wife Carole and his "MO" Awards statuette.
Weblink – www.moawards.org.au.
First Junior Saddles finalists for the year
Nathan Lamont and Trudi Summerfield have been announced as the first finalists in the 2010 Junior Saddles Competition.
The two were successful at the first competition heat staged at Wagga Wagga, NSW, at the weekend.
Both 17, Nathan (from Wagga Wagga) and Trudi (from Young) beat out the competition to secure their places.
Nathan performed two songs including an original, Playing My Way, while Trudi also sang an original – I Didn't Mean To – and the hit by Lianna Rose, last year's Golden Saddle Awards winner, I Want My Tractor Back.
Singer/songwriter Nathan is currently studying with the Talent Development Project in Sydney (hopefully to graduate next year).
Nathan and Trudi will join eight other finalists from around NSW at the Junior Saddles Competition Final in Sydney on Saturday October 9 at Rooty Hill RSL.
This year's competition winner win take home $1,000 and will perform at the prestigious Golden Saddle Awards that night.
Weblink – www.juniorsaddles.com.au.
NFSA gets behind the Slim Dusty Centre
The Slim Dusty Foundation has announced that the National Film and Sound Archive (NFSA) is the newest Foundation Donor of the Slim Dusty Centre.
Based in Canberra, the NFSA is the official "treasure house" of Australia's most important audiovisual history.
NFSA representative and Recorded Sound Specialist Nick Weare said this week: "This new agreement with the Slim Dusty family and the Slim Dusty Foundation will see much of Slim's priceless collection of country music memorabilia and Australiana moved to the national capital to be stored and preserved by the NFSA until the Slim Dusty Centre opens."
Slim Dusty, as well as being a hugely influential figure in the history of Australian music, was an assiduous collector, Nick said. "He kept absolutely everything which makes his collection an absolute treasure-trove... the National Film and Sound Archive is absolutely delighted to be involved in this partnership."
All of the Slim Dusty Foundation Donors have offered their services and support in many various ways," Slim Dusty Foundation Chief Executive Kathryn Yarnold said.
"Some have contributed significant monetary donations or have lent many hours of their time in either a professional capacity or as an avid fan whilst others have offered their business services as an 'in kind' donation.
Support is still very much needed by the Foundation, she said: "Whilst construction of the building is underway and due for completion at the end of the year, the internal sections of the museum are now under intense development. This includes the exhibitions and displays, and high level professional assistance such as that offered by the NFSA, is vital.
"Nick Weare and his team are to be congratulated for recognising the unique and huge heritage value of the Slim Dusty story to the Australian community."
Weblink – www.slimdustycentre.com.au.
---
WEDNESDAY, MAY 12, 2010
Nicki releases I Remember You
Nicki Gillis has released a new recording of Frank Ifield's 1962 hit I Remember You.
"I've always been a fan of classic tunes," Nicki said, "and enjoy singing nostalgic songs when not working on original material.
"While I hadn't sung this song in particular, I knew it was a classic and thought an update could be a nice inclusion on my forthcoming Collaboration 2 album with Bob Howe."
Nicki's contemporary version of the first million selling single in Britain was recorded and produced at Bob Howe's Kenilworth Studios in Sydney.
"Bob was absolutely fantastic, he not only produced the song, he played all the instruments and as the song evolved we decided to retain as many of the signatures from Frank's version as possible. It was a logical progression to then ask Frank to get involved and allow us the use of his voice."
Bob and Nicki trialled 13 different versions of the song that ranged from a big band swing rendition through to a "Status Quo/Glam Rock" sounding mix. Eventually the final recording was faithful to Frank's version but with a more contemporary feel., Nicki said.
Nicki's release of I Remember You comes hot on the heels of her number one self-penned hit Be A Star that topped the UK Country Chart for four consecutive weeks. The hard copy single, that can be purchased online at Nicki's website, includes the accompanying Ross Wood produced video clip which premiered at the 2010 "MO" Awards during Frank Ifield's Hall Of Fame induction.
The single will be officially launched at Canterbury Country's 10th Birthday Celebrations at Canterbury Hurlstone Park RSL tonight (May 13).
Weblink – www.nickigillis.com.
Keith's guitars ruined
Keith Urban says the Nashville floods may have ruined his guitar collection and concert equipment, but that is nothing compared with the devastation suffered by others.
Through various media, Keith and wife Nicole Kidman were reported to have donated money to help victims of the flood, which killed at least 29 people in Tennessee, Mississippi and Kentucky and caused an estimated $US1 billion damage in Nashville alone.
The Australian glamour couple has a home in Nashville.
"I know that the Red Cross facilities are maxed out," Keith said, "but there are so many people offering their support, offering to take people in and that sort of thing. So everybody's doing their little bit, and I'm sure there's going to be benefit concerts to help people as well.
"My wife and I are helping financially as well right now."
Like most major country music stars based in Nashville, Keith keeps his music equipment at the storage facility Soundcheck which suffered major damage from the floodwaters.
Together with fellow country star Brad Paisley, Keith is set to embark on their ironically titled "H20" joint concert tour in America on May 21 but most of the staging and musical equipment for the tour was stored at Soundcheck.
They will not know just how much damage was caused until floodwaters subside and they can get into the facility.
"I may have lost all my road equipment, and all my guitars and amps," Keith said.
Weblink – www.keithurban.net.
More Nashville flood country music impacts
Meanwhile, reports from America say that the most serious, and perhaps lasting, damage to Nashville country music infrastructure, appeared to be to the sprawling Opryland Hotel and nearby Grand Ole Opry Theater (pictured).
Sitting in an oxbow of the Cumberland River several miles from downtown Nashville, they were inundated and more than a thousand hotel guests were bused to a nearby high school, with photos suggesting extensive damage to the hotel's lower floors.
The Opry stage, meanwhile, was submerged under two feet of water. Performances were relocated to other Nashville venues.
Gaylord Entertainment, which owns the Opry and the hotel, did not know, at press time, when the hotel would reopen. As the hotel is the source of nearly 20 percent of the hospitality taxes collected in Davidson County (and $8 million in property taxes), a lengthy closure would have a big impact on the region's finances, reports said.
Damage to the Country Music Hall of Fame and Museum in Nashville was reportedly minor
Museum Director Kyle Young was on site during the flood, as was Seab Tuck, the building's architect. Both filled sand bags.
The Hall of Fame's collection was never threatened as it is housed in climate-controlled stacks high in the building, but its charming 213-seat Ford Theater, slightly below street level, was flooded, as was a basement equipment room.
Nashville flood fundraisers
As Keith Urban indicated above, he will join the likes of Brooks & Dunn, Faith Hill, Tim McGraw, LeAnn Rimes, Taylor Swift and Carrie Underwood for a flood relief benefit on Tuesday, June 22.
This will follow a telethon to benefit flood recovery being organised by pay TV network Great American Country (GAC) this Sunday (May 16).
The telethon, titled "Music City Keep On Playin' – A Benefit For Flood Relief", will feature performances by Americam country stars including Dierks Bentley and Brad Paisley from the city's historic Ryman Auditorium (original venue of the Grand Ole Opry).
Photo: Tim McGraw and Faith Hill.
CMT flood affected
One of America's dedicated country music pay TV networks, CMT, suffered damages as a result of the Tennessee flooding.
The network's headquarters were closed the week of the flooding due to power outages, but was able to remain on the air through remote operations. Extensive damage to warehouse facilities was suffered and some production vehicles were lost.
But CMA Music Festival goes ahead
Despite the flooding, organisers of the annual CMA (Country Music Association) Music Festival, which kicks off on Thursday June 10, will go ahead as planned, as will the CMT Music Awards which coincides with the Festival.
The awards are slated for a venue which was affected during the flooding but is expected to be operating well before the June 9 awards date.
Following enquiries in regard to the status of the 2010 CMA Music Festival after the Nashville flooding, Steve Moore, Chairman of the CMA Board of Directors, issued the following statement...
"Our first thoughts and prayers are with the people of Middle and West Tennessee who have endured so much tragedy and heartache during these last few days.
"CMA Music Festival is Nashville's signature music event, which brings in more than $22 million in direct visitor spending to the City each year and supports music education in Metro Nashville public schools.
"We have every intention of holding the event as planned June 10-13 in downtown Nashville. We cannot think of a better way to help our local economy at this time of great need than to continue the 39-year tradition of CMA Music Festival."
The CMA subsequently announced that 50 percent of proceeds from the Festival would go to flood relief.
Weblink – www.cmafest.com.
Return of "the travelling show"
Rising country star Lou Bradley (pictured) is spearheading a return of "the old travelling family show" with her family and special guests The Cartwheels.
"In the tradition of the Slim Dusty Family, the Carter Family and the Dead Ringer Band, two family bands will join forces to deliver a unique touring family show the old fashioned way," a spokesman for show promoters said.
The two families hit the road this month heading around Australia performing their show in outback towns... in country halls, music and cultural festivals, "and even in the odd caravan park along the way".
"Turning one's back on regular life... the house, the day job, the school routine... is a big, big step!" Lou said.
"That is, unless you've been itching for years to hit the open road, realise your dreams and travel to share your music with others.
Lou's debut album. Love Someone scored an ARIA nomination and two Golden Guitar nominations. Her new album, La La La Not Listening, produced by ARIA award winner Shane Nicholson, was picked up by Nulla Records and released through EMI Music.
And now, Lou says, "it's time to get out there and show it off!
"After recently signing with Slim Dusty and Joy McKean's Nulla Records label, I really can't see any better or more appropriate way to share my work. My family are always part of my show and are all so talented and we stick pretty close, so i figure travelling together and playing music is pretty much our everyday life anyway
"Joy has kindly donated a cute old caravan for us to get around in. It is way cool! Nothing flashes for us in the near future but to me there is no grander way of living, than the grass roots way of life."
The Cartwheels (formerly the Sparnets) features Wendy Phypers (songsmith and front lady) and partner Dave Patterson (on bass) with their son Charlie on drums.
As The Sparnets, Wendy and Dave won the Group of the Year Golden Guitar in 2000 with their song Rollin' Along.
Weblink – www.loubradley.com.
---
TUESDAY, MAY 11, 2010
2010 Forbes to Leeton Music Trail
From Saturday October 2, country music fans can start a festival trail that runs from Forbes to Leeton.
First up is the Forbes Ben Hall Festival on the October long weekend (2nd to 4th) with star acts including Mulga Bill's Bicycle Band and Norma O'Hara Murphy (pictured).
This will be followed by the Bedgerebong Country Music Campout from October 5 to 12 featuring acts including 2010 ABBA Star Quest winner David Baldi (pictured), Sharon Benjamin, Peter Horan, Tom Maxwell, Peter Pratt and Rachel Richards.
The Ariah Park Mary Gilmore Music Festival will run from October 15 to 17 with stars including Greg Bain, The Battlers, Lindsay Butler and his band, Peggy Gilchrist, Shaza Leigh, Brian Letton and Greg Williams.
Ernie Constance, Rex Dallas, Lynette Guest & Rodney Walker, Peter Horan, Dianne Lindsay and Peter Simpson will star at the Rosewood Country Roundup which runs from October 20 to 24.
The final event, the Leeton Country Music Roundup, runs from October 20 to 24 with activities including Chris & The Grey's Bush Poets, Ballads and Yarns Show.
Organisers of the respective festivals say: "You may not feel it's worth travelling to just take in one festival but here's a trail that will make October a month to remember!"
Further information can be obtained from Merv Webster at email thegrey@tpg.com.au.

Weblink – users.tpg.com.au/thegrey/Festival.htm.
Cedar Creek Band in demand
Once again the Cedar Creek Band, after a popular performance last year, has been booked to perform for the American Consul General Judith Fergin and special guests in Sydney on July the first to celebrate America's fourth of July get together.
The band, meanwhile, recently had a lineup change with the inclusion of Keith Longman on drums.

A former member of Grand Junction, Keith appeared with the group on a number of variety television program including the Super Flying Fun Show on Channel 9 back in the '70s and regularly with the band for shows at the Smoky Dawson Ranch, along with Smoky and his "wonder horse" Flash.
Keith, along with Dave Tyne (Grand Junction), Dave's son Clint, John Blight and Peter Figget, will team up with Dave's brother Mike Tyne (also ex Grand Junction) for the Consul General's "command performance".
After handing over the reins to current Grand Junction drummer John Fraser in the late '70s, Keith went on to drum for Ol' 55, the Cadilacs and various country bands around Sydney before making the move to the NSW mid north coast.
Weblink – www.myspace.com/cedarcreekaustralia.
---
MONDAY, MAY 10, 2010
Ernie Constance (pictured) was recognised with two honours at the Northern Territory Country Songwriting Awards.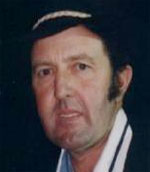 He was named winner of the Bush Ballad and Northern Territory Song of the Year categories with his composition Milestones.
Debbie Beckett won the Contemporary category with her song Riverwood while Bec Hance won Comedy/Novelty with Jack The Dog and the late
Yvonne Bradley took out the Unreleased Professional category with Our Journey while Peter Simpson won the Lyrics Only category with Charts And Graphic Arts.
Other finalists in the Awards were John Battle, Terry Bennetts, Patricia Cruzado, Wave Jackson, Stan Lenz, Dianne Lindsay, Lindy Lou, Craig Morrison, Evan Platschinda, Ray Rose, Lana Ross, John Seers, Pete Smith, Joanne Weismann and Yoris Wilson.
Chart Update – Sara takes over the top spot
Sara Storer takes over the number one spot on this week's national Country Tracks Top 30 chart with her hit Calling Me Home.
Dianna Corcoran's number one from the last five weeks – Thank You For Cheating On Me – slips one to number two while Jetty Road's Road To Nowhere is steady at three and America's Allan Jackson is at four with It's Just That Way.
Harmony James' Pretty is at five, Felicity Urquhart's Girl In The Mall is at six and The Lees' It Ain't Me Babe is up to seven.
The Darren Colston/Victoria Baillie duet Will You Stay is at eight, America's Carrie Underwood is at nine with Temporary Home and The Bobkatz' The Writer enters the top 10 at 10.
Bullet performers for the week include Sarah Kay's Feel The Rain (19 to 16) and Tracy Killeen's Brave (26 to 22).
New entries to the chart this week are Jayne Denham with Trucker Chicks (new at 29) and Lee Forster & Stuie French with Drink Up And Be Somebody (in at 30).
Weblink – www.countrymusicradio.com.au.
---
FRIDAY, MAY 8, 2010
A dispute has arisen over claims that the Allan Caswell song On The Inside has been "ripped off' by American country group Alabama.
The song, composed by Allan in 1978, became the well-known theme song to the television series Prisoner.
Allan says Alabama's song Christmas In Dixie is a "dead ringer" for his former number one hit sung by Lynne Hamilton.
When he asked his publisher ATV Sony if they agreed, they enlisted the services of an expert musicologist to advise whether an infringement had taken place.
The expert's opinion said: "... it is my opinion that a case can be made that the two works bear a level of similarity that goes beyond what I would consider to be a random occurrence or sheer coincidence... (and) further reinforces my viewpoint that one work is reproducing a substantial part of the other work."
Despite this, the company has done nothing for a number of years and Allan says he is "pretty disgusted".
"(There are) two successful songs. They're both the same tune and I wrote it first. I'd like to benefit from the work that I've done and benefit from the fact they used my tune. It's theft."
But, he said, compensation was an unlikely outcome given he and the country music super group were signed to the same record company.
"I'm signed to ATV Sony and Alabama is signed to Sony Music," he said. "They basically can't take action – they'd be suing themselves."
His claim comes just months after a court ruling that Australian band Men at Work used part of a popular Australian folk tune in the band's 1980s hit Down Under.
In February, a Federal Court judge found the famous flute riff from the Aussie band's hit record was "unmistakably the same as Kookaburra, the tune penned for a Girl Guides competition". Record company EMI has appealed against that decision.
A campaign has been launched to try and get something done about the dispute involving Allan's song.
Weblink – bastardsstolemysong.wordpress.com.
The McClymonts secret backyard concert
The Armidale Express reports...
A quiet cul-de-sac in Armidale (NSW) was treated to a private concert... by Australia's hottest country music trio – The McClymonts.
Dave "Chooky" Clark and his wife Toppy were the lucky recipients of "The McClymonts play in your backyard promotion" run by Telstra during the 2010 Tamworth Country Music Festival.
Chooky and Toppy faced a slight dilemma when hearing the news of their prize. Both retired, they left their Cooktown (Qld) home more than two years ago and have been on the road travelling around Australia in their trusty Ford F250 and caravan with no fixed abode ever since.
First time visitors to Tamworth and to the festival in January, Chooky and Toppy said they'd met some life-long friends during their stay, one of whom offered to host the concert in their Armidale backyard.
While fans of the old greats like Slim Dusty, Johnny Cash and Hank Williams, the couple were impressed by The McClymonts when they saw them perform at Tamworth.
"It was the first time we'd seen the girls play, and we managed to catch them a couple of times during the festival, they really know how to put on a great show," Chooky said.
In Armidale , The McClymonts treated the backyard audience to a rocking acoustic set, featuring favourites from their first album plus new tracks off their current album Wrapped up Good.
"It's a beautiful autumn day here in Armidale, the sun is shining and you've made us feel so welcome, it's been a real pleasure to play for you this afternoon," Sam McClymont told the crowd.
Overwhelmed by the occasion and the intimate performance by the girls, Chooky made an impromptu speech thanking them for making it such an unforgettable day.
"Having spoken to the girls, they are just such beautiful people on the inside and out, and they've made such an effort to be here today – they flew in especially to perform for us and now they have to get on a plane and play a show back in Cronulla tonight," he said.
Weblink – www.themcclymonts.com.
---
TUESDAY, MAY 4, 2010
Tommy and Joe gain guitarist accolades
Aussies Tommy Emmanuel and Joe Robinson (pictured) have been named as leading guitarists by readers of the respected American "Guitar Player" magazine.
Tommy was named Best Acoustic Guitarist for the second year in succession while Joe won this year's Best New Talent category.
Brad Paisley was named as Best Country Guitarist.
The awards are testament to the players' strong talents.
Tommy's popularity is increasing around the world. Although he lives in Nashville, he spends most of the year on the road, playing to packed houses in all corners of the globe, communicating his music through what he calls the "universal language" of the guitar.
This year sees Tommy perform in Italy, Canada, America, Sweden, Finland, Germany, Russia, Poland and the UK, before coming home to Australia in December for a special 50th Anniversary reunion tour with his brother and fellow-guitarist, Phil.
The tour will also feature Tommy's hand-picked All-Star band and will be the first time the Emmanuel Brothers have toured together since 2004.
Tommy recently recorded an "electrifying take" on John Williamson's classic Old Man Emu for John's new tribute album 40 Years True Blue which also features contributions from Kasey Chambers, The Waifs and James Reyne.
Weblinks – www.tommyemmanuel.com, www.joerobinson.com.
Jonah's Road have been signed up to support Tim McGraw on his Australian tour in September.
"This is a real honour for us," said band member Jay Collie. "It's our first multi-city international support and it really doesn't get much bigger than Tim McGraw.
"They wanted a 'Lady Antebellum' kind of act so it's a nice justification of the international appeal of the music we are writing. We are very grateful to Rob Potts and everyone at Entertainment Edge for their unwavering belief and support. I can't wait."
"Looking forward to watching this giant of country do his thing close up," said band member John Kater. "This will no doubt be a crash course in what it takes to be an international star."
Weblink – www.jonahsroad.com.
---
MONDAY, MAY 3, 2010
Tim announces first tour down under
American country superstar Tim McGraw will tour Australia for the first time this September.
Although only playing the three east coast capital cities, he represents the biggest name in country music to grace our shores for many years.
In America, his tours regularly outsell major pop acts like Madonna and The Rolling Stones.
Tim has released 16 albums (his latest 2009's Southern Voice), has sold more than 40 million units and landed 31 singles at number one in America including his latest, the title track to his current album.
He has taken home 50 Awards including three Grammys and featured in seven films – he plays Sandra Bullock's husband in the Academy Award-nominated "The Blind Side" and has just finished filming "Love Don't Let Me Down" with co-stars like Gwyneth Paltrow.
Tim's song Something Like That was the number one played song on US radio for the first decade of the 21st Century and with 7.8 million spins, he is the most-played artist.
"My career's been going for a while and I've been looking for opportunities to come down (to Australia)," Tim said, "and this is the first time the timing's worked out. I'm very excited."
The tour is being co-promoted by Chugg Entertainment and Rob Potts' Entertainment Edge.
Michael Chugg said: "This is big news, full stop, but for country music fans, it's massive!"
"Tim is a true superstar and many of his Aussie fans have been waiting almost two decades to see him," said Rob Potts.
"When Tim's on stage he's having a great time. He puts on a show that reaches out, mixes it up and makes sure fans have a great time too."
In Australia Tim's setup will include an 18-metre catwalk that takes him up the centre floor and puts him "in the thick of it" with audiences.
He plays the Brisbane Entertainment Centre on Thursday September 16, Melbourne's Rod Laver Arena on Sunday the 19th and Sydney's Acer Arena on Tuesday 21st.
Tickets go on public sale Monday May 17 from ticketek.com.au or by telephone on 132 849.
Tim McGraw fanclub members can buy pre-sale tickets at www.mcgrawfan.com from noon Monday May 10 until 5pm Tuesday May 11 (Australian Eastern Standard Time).
Caboolture's Urban Country Music Festival has been hailed a huge success with tens of thousands of visitors pouring in to town.
Queensland's "Northern Times" reported Moreton Bay Regional Council Mayor Allan Sutherland saying early estimates had met the 35,000 day visitors that organisers had hoped to attract.
"The popular Burbs 'n Bush Party in Caboolture's Town Square on Friday night really set the scene for us," he said, "with families turning up in droves.
"I'm pleased to say that Urban Country is really building a reputation for itself as one of the friendliest and liveliest festivals on the Australian country music calendar.
"We've had some top talent from all over Australia perform in town over the past few days and I'm proud of the way our businesses and residents turned out to support the many and varied events packed into the long weekend," Mayor Sutherland said.
"Our Main Concert on Saturday was an extraordinary experience with our special guest Diana Trask as well as a star studded line-up including John Williamson, Kasey Chambers and her band, Troy Cassar-Daley and Beccy Cole who delivered polished performances that captured the crowds.
"Figures are still being finalised, but we estimate there were around 5,000 at the Main Concert."
Beenleigh best friends Bre Gerritsen and Jade Mellor, both 18, who perform as country pop duo Brade (pictured) took out the Voice Of Urban Country title.
They have been performing together since they met at a music event six years ago.
Strathpine-based four-piece band Local Residents won the competition's seniors title, with Melissa Thomson of Eagleby named the junior winner and Meg Ripps of Balmoral taking out the juvenile title.
Jahmarley Dawson of Caboolture won both first place and the People's Choice title in the busking competition for his captivating didgeridoo skills.
Melissa Thomson was second in the busking competition and Gympie duo Bliss was third.
Weblink – www.urbancountry.com.au.
---
SATURDAY, MAY 1, 2010
Troy and Harmony lead inaugural Queenslanders
Troy Cassar-Daley and Harmony James (pictured) head the winners list in the inaugural Queensland Country Music Awards (the Queenslanders) announced in Charters Towers last night.
When he wrote his hit single I Love This Place, Queensland was surely at the forefront of Troy's mind, say Awards organisers. Now, the song has taken out the Queensland Male Vocalist of the Year category for Troy, adding to his impressive list of accolades to date.
Troy shared in another Queenslander with The McClymonts in the Vocal Collaboration category with Ain't Gonna Change For You, the same track that won them a Golden Guitar in January.
Harmony James, who is one of Australia's fastest rising country stars, took out the the Queenslander for Female Vocalist of the Year for her song Precious Little.
Bush balladeer Dean Perrett picked up the Queensland Bush Ballad/Heritage trophy with his recording of the Ian Quinn song The Dust Of Kalkadoon from his acclaimed multi-award winning album A Thousand Campfires.
Group of the Year went to popular Brisbane-based band The Smokin' Crawdads with their high-energy track She's Crazy For Leavin'.
Rising star Shea Fisher, who has spent the last few months in America where she released her debut self-titled album, collected the Queensland New Talent of the Year award with Getaway Heart.
Triple Golden Guitar winner and internationally recognised guitarist Michael Fix was presented with the Instrumental of the Year award with his track Light At The End Of The Tunnel, a song he penned with fellow Awards finalist Rose Carleo to raise funds for, and build the profile of, Suicide Awareness.
He dedicated the track to Suicide Awareness founder Val Rowe who passed away recently following the diagnosis of a brain tumour.
Weblink – www.charterstowerscountrymusic.com.
---
Click here for recent news