AUSTRALLIAN COUNTRY MUSIC NEWS ARCHIVE — JUNE 2013
---
THURSDAY, JUNE 20, 2013
Vale – Slim Whitman
Slim Whitman, the high-pitched yodelling American county music singer whose productive career spanned decades, died of heart failure Wednesday in Florida at age 90.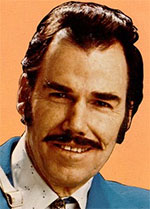 The singer/songwriter, born Ottis Dewey Whitman Jr, gained fame in Australia and Europe as well as the United States. Love Song Of The Waterfall, which a Country Music Television biography called his "breakthrough" hit, was released in the early 1950s.
His next single, Indian Love Call, brought him stardom, according to the bio.
"Whitman joined the Grand Ole Opry, and then went to Britain in 1956 as the first country singer to play the London Palladium. Throughout the late '50s and early '60s, he had a string of hits, including Tumbling Tumbleweeds, Unchain My Heart and I'll Take You Home Again, Kathleen," the bio said.
He gained cult status after he filmed a TV commercial that touted a released of his top greatest hits, a compilation that was a great success.
"Between 1980 and 1984, Whitman had a small run of minor hits, highlighted by 1980's number 15 hit When. In the late '80s, he returned to television-marketed albums, releasing Slim Whitman: Best Loved Favorites in 1989 and 20 Precious Memories in 1991. During the '90s, Whitman recorded infrequently but continued to tour successfully, particularly in Europe and Australia," CMT said.
His music was featured in the 1996 film "Mars Attacks!" In the film, the sound of Slim's Indian Love Call made the heads of invading Martians explode.
Slim's son-in-law Roy Beagle released a statement saying: "We had a 90th birthday party for him in January and he looked good, but he had been in failing health since then."
The star had a fascination with early country music while a child but didn't consider a music career until after getting out of the Navy during World War II. He worked at a Tampa, Florida, shipyard while honing his musical skills, eventually joining a band called the Variety Rhythm Boys.
Slim's big break came in 1948 when Colonel Tom Parker heard him singing on the radio which led to him being signed by RCA Records. While his early releases were not hits, he finally made it in 1952 when his Love Song of the Waterfall made it to number 10 on the Country Singles chart.
Indian Love Call, which was originally from the 1924 Broadway operetta "Rose Marie", became a hit later in the same year. It fit his singing style which included yodelling and falsetto passages and went to number two on the Country Singles chart in America, nine on the Pop Singles chart as well as internationally.
Over the next three years, he hit the country top 10 six more times including the title song from Rose Marie which made number four in the US but stayed at the top of the UK charts for 11 weeks, a record that would stand for 36 years.
His final album was 2010's Twilight On The Trail, his first studio album in 26 years.
Slim was married to Alma "Jerry" Crist Whitman for 67 years before she died in 2009. They had a daughter and a son.
---
TUESDAY, JUNE 18, 2013
First APRA for The McClymonts
Leading Australian country group The McClymonts took home their first gong from the APRA Music Awards in Sydney last night.
The band won Country Work of the Year with their song Piece Of Me, co-written by Samantha McClymont, Frank Mers and Lindsay Rimes.
Fellow finalists up for this award were Charlestown Road by Catherine Britt, Country Is by Troy Cassar-Daley with Colin Buchanan, Country Proud by Troy Kemp and Drew McAlister with Steven Tassone and Waitress by Beccy Cole.
Photo: The McClymonts at the 2013 APRA Music Awards, Samantha, Brooke and Molly.
Chart Update – Lady Antebellum at number one
America's Lady Antebellum has taken over the top spot on this week's national Country Tracks Top 30 singles chart with their hit Downtown.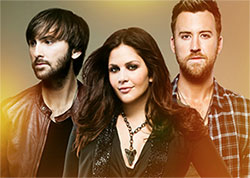 Paul Costa's number one from the last two weeks, Big End Of Town, is at number two while Carrie Underwood's Two Black Cadillacs is steady at three and America's Blake Shelton is at four with Sure Be Cool If You Did.
Kaylens Rain's Don't Even Go There is at five while two more American acts, Toby Keith and Kenny Chesney are at six and seven, respectively, with Hope On The Rocks and Pirate Flag.
Kristy Cox's I Hate That I Still Love You is at eight, Natalie Howard's Hit The Hay is at nine and the Catherine Britt/Tim Rogers duet Troubled Man is at 10.
Bullet performers this week include Jayne Denham's Addicted To The Diesel (20 to 15), Tamara Stewart's Ribbons And Stars (27 to 24) and Morgan Evans' Carry On (28 to 25) and Graeme Connors' Flesh And Blood (new at 27).
Other new entries to the chart this week are Doug Bruce with Thank God I'm A Cowboy (in at 29) and the Jason Owen/Amber Lawrence cover of the Kenny Rogers/Dolly Parton hit Islands In The Stream (at 30).
The full chart can be viewed at – www.countrymusicradio.com.au.
---
MONDAY, JUNE 17, 2013
Slim coin released
The Royal Australian Mint has officially launched a coin recognising Slim Dusty's contribution to Australian society.
It is the latest release in the Mint's Inspirational Australians series which recognises and celebrates individual achievements and commemorates unique Australians.
The uncirculated coin design, released during the Slim Dusty Birthday Bash at Rooty Hill in Sydney last Thursday (June 13, Slim's birthday), was developed in collaboration with the Slim Dusty Foundation and depicts Slim Dusty with his famous acoustic guitar in the background, the accessory he never went without.
Chief Executive of the Mint Ross MacDiarmid said the name Slim Dusty had been synonymous with Australian country music for nearly 70 years.
"Slim inspired many with not only his songs about real Australians but also his passion for life and it is fitting that he be included in this honoured series and that we officially launch it tonight amongst some of his biggest fans," he said.
Slim Dusty's career included more than 100 albums, songwriting and recording awards.
Joy McKean, Slim's wife and head of the Slim Dusty Foundation, said 2013 also marked 10 years since the singer's passing.
"Slim has so many loyal fans that spread the legacy... but having this coin in this special series will help extend the reach even further and for longer, reminding everyone around the country about the values that Slim loved singing about," Joy said.
The collectible coin retails for $13.50 with a percentage of the proceedings going to the Slim Dusty Foundation and can be bought by visiting the Royal Australian Mint's online store at eshop.ramint.gov.au.
---
WEDNESDAY, JUNE 12, 2013
Inaugural Broadbeach festival
The inaugural Broadbeach (Qld) Country Music Festival is on next weekend with more than a dozen top acts headlining.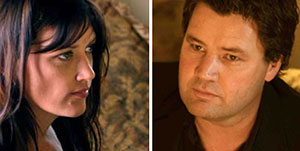 Presented by the Broadbeach Alliance, the festival runs for three days, Friday to Sunday June 21 to 23 with the following artists booked at this stage... Kirsty Akers, Roo Arcus, Luke Austen, Baylou, James Blundell, Catherine Britt, Doug Bruce & The Tailgaters, Beccy Cole, Bob Corbett, Luke Dickens, Dozzi, Morgan Evans, Benn Gunn, The Harmonators, Damian Howard, Harmony James, Gina Jeffreys, James Johnston, Kaylens Rain, Tania Kernaghan, Christie Lamb, Amber Lawrence, Mustered Courage, Luke O'Shea, The Perch Creek Family Jug Band, Thor Phillips, The Pigs, Ryan Sampson, Dane Sharp & The Touchwood Band, The Stetson Family, Tamara Stewart, Sara Storer, The Sunny Cowgirls, Jonny Taylor, Chris E Thomas, Carl Wockner and Mia Wray.
As well as the huge roster of local performers, a visiting act from America, Paul Thorn, will also appear.
More than a dozen venues and entertainment precincts will feature entertainment, ranging from the Broadbeach Mall to Jupiters Casino which will play host to a Golden Guitar winners showcase featuring Beccy Cole, Adam Harvey, Gina Jeffreys and Sara Storer.
Pictured: two of the festival's acts, Sara Storer and Damian Howard.
Full details can obtained from the festival website... www.broadbeachcountry.com.
Chart Update – Paul still at number one
Paul Costa retains the number one position on the national Country Tracks Top 30 singles chart this week with his hit Big End Of Town.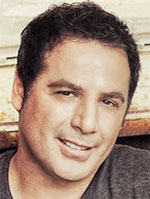 America's Lady Antebellum and Carrie Underwood are steady at two and three, respectively, with Downtown and Two Black Cadillacs while Kaylens Rain's Don't Even Go There is up two to number four.
O'Shea's Thank You, Angels, is at five, America's Blake Shelton is at six with Sure Be Cool If You Did and Kristy Cox's I Hate That I Still Love You is at seven.
The Troy Cassar-Daley/Craig Campbell duet The Sunshine Club is at eight, Natalie Howard is new in the top 10 at nine with Hit The Hay and America's Toby Keith is at 10 with Hope On The Rocks.
Bullet performers this week include The Harmonators' Everyone Thinks I'm Lonely (24 to 21), The Sunny Cowgirls' Kids Forever (27 to 23), The Bobkatz' What's Wrong With Crazy (28 to 24) and Tamara Stewart's Ribbons And Stars (30 to 27).
New entries to the chart this week are Morgan Evans with Carry One (in at 28) and the Troy Cassar-Daley/Adam Harvey cover of Lights On The Hill (at 30).
The full chart can be viewed at – www.countrymusicradio.com.au.
---
TUESDAY, JUNE 11, 2013
Lee is Australia's number one
More than six months after its official release, Lee Kernaghan's Beautiful Noise album has hit the number one Australian artist release position on this week's ARIA (Australian Recording Industry Association) sales charts across all genres.
The album features the number one Australian country singles Beautiful Noise and Ute Me and the album's latest single, Flying With The King, which is already gaining chart success.
Two and a half weeks ago, a Deluxe Tour Edition of Beautiful Noise – with 18 songs and nine video clips and featuring special guest appearances – was released to co-incide with Lee's latest national tour.
Lee's record label, ABC, has also announced the album has achieved Gold sales status.
"I want to take this opportunity to thank the fans for supporting the entire Beautiful Noise project," Lee said. "We are having so much fun on the road this year playing the album live to sold-out houses around the country. But I have to say seeing the album jump back up to the charts to be the number one Australian album this week is just amazing."
Lee will appear at the Slim Dusty Birthday Bash at Rooty Hill RSL on Thursday night with Kasey Chambers & Shane Nicholson, Adam Harvey, The McClymonts, The Wolfe Brothers and the Adam Eckersley Band to celebrate what would have been Slim's 86th birthday... a special charity event raising funds for Slim's final legacy, the Slim Dusty Centre at Kempsey (NSW).
In other album chart news this week, "Australia's Got Talent" runner-up Jonny Taylor's debut album, Something To Say, has debuted at number two on the Australian country albums chart behind Lee and at number seven on the mainstream Australian artist chart.
---
MONDAY, JUNE 10, 2013
Country music identities recognised
This year's Queen's Birthday Honours list, announced today, includes recognition of a number of identities involved in Australian country music in one way or another.
Key among the awardees are Mike Brady and Heather McKean... Mike recognised with an AM (Member of the Order of Australia) for significant service to the community, and to music as a composer and performer, and Heather with an OAM (Order of Australia Medal) for service to the performing arts as a country music entertainer and promoter.

Heather, particularly, is well renowned in Australian country music as a pioneer singer/songwriter/performer, industry veteran and one of the earliest to be inducted to the Country Music Roll of Renown (with sister Joy as The McKean Sisters).
Among his accolades, Mike, who has released a number of country works in addition to his numerous other commercial works, has been a Director of Variety Victoria for some 15 years and a supporter of a range of fundraising events.
Mary Chapman, Chairman of the recent appeal to have a statue of the late Smoky Dawson erected in Tamworth, has been awarded an OAM. Mary's award was also made for a wide range of service to the community including in local government, Probus, the Asthma Foundation and the local show society.
Harry Ellis, formerly a long-time resident of Tamworth, was awarded an OAM for his involvement with numerous local organisations including the Capital Country Music Association (CCMA) where he was a judge for more than 15 years and President for several. Local government service was also a factor, together with the Tamworth Chamber of Commerce, Tidy Towns Committee, Lions, Apex and many more.
John George has been awarded an OAM predominantly for service to the welfare of children in Cambodia but was also the founder and inaugural President of the South Australian Council of Country Music (now Country Music SA) from 1991-1999.
Bob Kirchner, editor and publisher of this website, was awarded an OAM for services to Toastmasters and to country music. Among his many country music activities over the years, Bob was President of the Australian Country Music Foundation and Hall of Fame from 2002 to 2009 and Secretary from 1996 to 2002, editor and publisher of the Country Music Bulletin since 2003 and currently Vice-President of the CCMA.
Tom McClelland of Nundle (NSW), awarded an OAM for community service, whose significant local involvement over many years included service as a committee member of the CCMA from 1975 to 1989.
Susan Manton, awarded an OAM for service to the community of Gympie (Qld) including as a volunteer at the Gympie Country Music Muster.
Pictured: Heather McKean, Mary Chapman, Bob Kirchner.
Weblink – www.gg.gov.au.
---
SATURDAY, JUNE 8, 2013
Tamworth and Nashville now "sister cities"
The Mayors of Tamworth and Nashville signed a "treaty" yesterday at America's Country Music Hall of Fame that officially made the two "music cities" into "sister cities".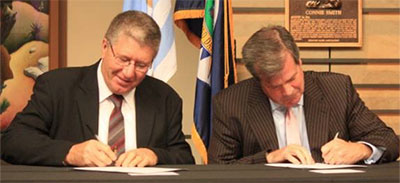 Nashville Mayor Karl Dean (photo, right) joined Tamworth Mayor Col Murray for the signing which coincided with the CMA (Country Music Association) Music Festival. Tamworth is the seventh sister city to Nashville while Nashville is Tamworth's fifth.
Tamworth is known as Australia's Country Music Capital and annually hosts the giant Tamworth Country Music Festival in January, the largest in the southern hemisphere.
Nashville is known as America's Music City and hosts a number of major events annually including the CMA Festival and American country music's industry week including the CMA Awards.
"Our shared love and appreciation of country music make this Sister City partnership a natural fit," said Mayor Dean. "I look forward to a rich and long-lasting relationship that gives our citizens opportunities for musical, artistic, cultural and educational exchanges."
"There have been many links developed between Tamworth and Nashville over the years through the affinity both cities have for country music," Mayor Murray said. "It is fantastic that we are now formalising our Sister Cities relationship after years in the making."
Ten delegates from Tamworth, including three city councillors, are visiting Nashville to take part in the ceremony and the Festival. Tamworth officials also have an educational booth at Fan Fair X as part of Festival activities.
Tracy Kane, President of the Sister Cities of Nashville board of directors, said: "For the past several years, citizens from Nashville and Tamworth have been travelling to each other's cities as part of an informal exchange process that leads up to the official sister city designation. This visit is the culmination of those exchanges and an opportunity for leaders of both organisations to discuss plans for the future."
As part of the Sister Cities gift exchange, Mayor Dean presented Mayor Murray with a framed gold record commemorating the Sister Cities signing while Mayor Murray presented Mayor Dean with a watercolor landscape of Tamworth by Tamworth artist Yvonne Overton.
Weblinks – www.nashville.gov, www.tamworth.nsw.gov.au.
---
FRIDAY, JUNE 7, 2013
Troy on the mend
Troy Cassar-Daley is recovering from throat surgery in America after he was diagnosed with a nodule and several serious vocal cord ruptures earlier this year.
The country star noticed a reduction in his vocal range while touring his award winning album Home and underwent surgery in Boston by world renowned laryngeal surgeon Steven Zeitels who has also operated on the likes of pop stars Adele, Roger Daltrey and Lionel Richie and country stars John Mayer and Keith Urban.
Although on complete vocal rest for six more weeks, a spokesman said the diagnosis was good and Troy was looking forward to performing with the Queensland Pops Orchestra for the Queensland Festival in July and touring with mate Adam Harvey performing songs from their new album The Great Country Songbook which is set for release next Friday.
In a short note to fans, Troy said: "I have had two rounds of vocal surgery in Boston with the amazing Dr Steven Zeitels and the prognosis is very good, I thought the lack of range was just a bit of old age, but the doctor said it looks like a whole lot of hard work and not much recovery time.
"I told him that's what we call touring mate! And probably singing through illness which I have done quite a bit in the last couple of years. All in all the hardest part of the healing process has been to be quiet (full vocal rest) which means to shut up and anyone that knows me will know this was going to be tough for me!
"So all is good. Take care and I look forward to getting back to what I do best... Talk!! Then maybe some singing!!"
Weblink – www.troycassardaley.com.au.
Bluewater Festival this weekend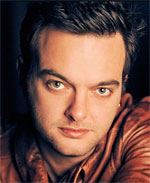 The 2013 Bluewater Country Music Festival at Port Stephens (NSW) runs from this Friday to Monday.
Stars on the weekend bill include Luke Austen (pictured), Brothers3, Camille & Stuie, Sami Cooke, Bob Corbett, the Adam Eckersley Band, The Harmonators, Johanna Hemara, Margie May Hockey, Kelly Hope, Kristy James, Troy Kemp, Dianne Lindsay, Jamie Martens, Karen O'Shea, Steve Passfield, The Pigs, Ryan Sampson, Dane Sharp, Aleyce Simmonds, Craig Stewart, Tamara Stewart and Rob Wilson.
Numerous shows will take place across a dozen venues.
Bush poets feature as well with Poets In The Marquee and stars including Graeme Johnson, "The Rhymer From Ryde".
Weblink – www.bluewatercountrymusic.com.au.
Kylie wins Trans Tasman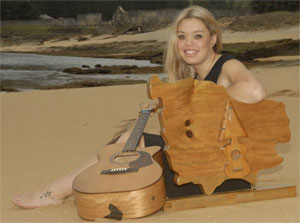 New Zealander Kylie Price has taken out the Trans Tasman Entertainer of the Year title at this year's Norfolk Island Country Music Festival.
Although hailing from the land of the long white cloud and representing New Zealand as Gore Gold Guitar Awards champion, Kylie was also competing as overall winner of the Capital Country Music Association National Talent Quest in Tamworth in January.
Runner-up in the competion was Justin Standley representing Queensland Champion of Champions.
The Dead Ringer Band Encouragement Prize went to Chelsey Cameron from New Zealand while the Allen (Puds) Buffett Perpetual Trophy for the Most Original Song also went to Kylie and the Kathy LeCren Most Promising Trophy was taken home by Justin.
Also competing in the final were Debz Standen, representing New Zealand's Auckland Awards and Kym Wilson representing South Australia's Champion of Champions.
Trans Tasman winners over the years have been Darren Coggan (1995), Tina Martyn (1996), Paul Sharplin (1997), Nyree Gardner Klip (1998), Brendon Walmsley (1999), Kylie Sackley (2000), Cam Clayton (2001), Megan Shaw Laurie (2002), James Ray Still (2003), Samantha McClymont (2004), Victoria Baillie (2005), Briana Lee (2006), Kylie Austin (2007), Annette Hawkins (2008), Kristal McDonald (2009), Angela Easson (2010), Melody Feder (2011) and Hayley Smith (last year).
---
WEDNESDAY, JUNE 5, 2013
Larry to leave Kix
Well-known and award-winning country music broadcaster Larry Cann will leave Kix Country this Thursday to take up an opportunity in the rodeo industry in announcing, marketing and broadcasting.
"I have been offered an opportunity to help the sport I love in rodeo both in promoting and through television as their announcer along with pursuing my own rodeo flavoured singing career on the side," Larry said.
"This involves promotion, announcing, TV production and music and is a very exciting new page in my life. I am taking up a position with Big Screens Australia both as rodeo/bull ride production manager and working on a highlights TV program spotlighting this extreme family sport which looks to be marketed domestically and internationally in New Zealand, Canada and the USA.
"I will be doing updates after events with short highlights on youTube and also working in their sales department as we roll from event to event," he said.
Kix Country General Manager Trish Mears said it was the end of an era. "Larry has been with Kix Country from the start and has made a tremendous contribution to the promotion and appreciation of country music in Australia. We wish him all the very best and thank him for the amazing work he has done for over 10 years."
In 2010, Larry was presented with the Australian Country Music People's Choice Award for Most Popular Country Music DJ and the CMA (Country Music Association, America) International Broadcaster of the Year award.
Volkswagen to release the Beetle Fender
Fender guitars have partnered with Volkswagen and the result is the Volkswagen Beetle Fender.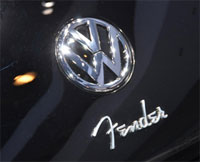 The Internet music news service noise11.com reports that 200 limited edition Volkswagen Fender Beetles will be released in Australia at the end of this month.
The special edition VW Beetle features a dash styled on the Fender Stratocaster and the sound system is a Fender Premium Audio System with eight speakers, a subwoofer and a 400-watt amplifer.
Inside and outside of the vehicle, the VW Fender is also badged Fender and features 18-inch alloy wheels and bi-xenon headlamps with LED daytime running lamps.
The Australian edition will sell for $34,990 driveaway.
---
TUESDAY, JUNE 4, 2013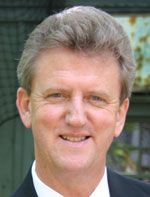 Country crooner wins the "Mo"
Country crooner and this year's inductee to the Country Music Roll of Renown Wayne Horsburgh has been announced as winner of this year's Country "Mo" award, or the 2013 Slim Dusty Country Act of the Year.
Sponsored by "Mo" Patron Frank Ifield OAM (also on the Roll of Renown), the award was announced in Sydney last week.
Geoff Mack – another country act and yet another Roll of Renown inductee – was elevated to the "Mo" Hall of Fame during the awards presentation.
Country-aligned Darren Carr took home the "Mo" for Best Specialty Act.
Chart Update – Paul hits number one
Paul Costa has taken over the number one spot on the national Country Tracks Top 30 singles chart this week with his hit Big End Of Town.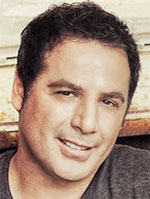 America's Lady Antebellum and Carrie Underwood are at two and three, respectively, with Downtown and Two Black Cadillacs while last week's number one, O'Shea's Thank You, Angels, is at four.
The Troy Cassar-Daley/Craig Campbell duet The Sunshine Club is at five, Kaylens Rain's Don't Even Go There is steady at six, as is The McClymonts' Little Beat Up Heart at seven.
Kristy Cox's I Hate That I Still Love You is up one to eight, America's Blake Shelton is at nine with Sure Be Cool If You Did and Amber Joy Poulton's Lovin' Is The Easy Part is steady for the third week at 10.
New entries to the chart this week include Tamara Stewart with Ribbons And Stars (in at 30).
The full chart can be viewed at – www.countrymusicradio.com.au.
---
MONDAY, JUNE 3, 2013
James runs for the Senate
James Blundell has put his hand up to run as a candidate for the Australian Senate in the September Federal election.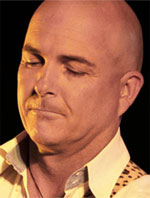 The 48-year-old multi Golden Guitar winner has been announced as the lead Queensland candidate for Bob Katter's Australian Party.
According to an AAP report in "The Australian", James admits the prospect of holding the balance of power in Australian politics is "somewhat daunting".
"That's the thing that's given me most pause for thought," he said when asked of his entry to politics and how he would handle the pressure of power.
"But the issues that I think are most relevant are the ones I've already spent the most time considering and hearing the opinions of those I know and respect and will have the opportunity to represent. That said, it's pretty daunting."
Considering matters of current debate, James admitted that issues impacting on rural life were his greatest priority.
"If it came down to me to cast a deciding vote on gay marriage, for example, I really couldn't say what I would do until I was in that position," he told AAP.
"I don't give (gay marriage) enough thought to consider it an important issue, but recognise that it is such an emotional issue for so many people.
"I just don't see it as being as important as chewing up the live export trade or driving job creation for our young people."
The father of three boys, who is soon to become "dad" for a fourth time, describes himself as semi-retired from the music business, but hopes to keep writing and performing around political obligations.
"My music has always been my outlet but I just feel that there is such profound public fatigue with party political processes, that it would help for the community to hear some independent thinking," he said. "I would not have taken up an opportunity with the Liberal National Party or Australian Labor Party."
James said he respected Federal School Education Minister and former Midnight Oil frontman Peter Garrett who made the transition from music to politics in 2004, but said he would struggle to suppress his own thoughts for the sake of a political party.
Bob Katter welcomed his new party candidate as "a breath of fresh air".
"James is anything but a career politician, which sadly 95 percent of our MPs are," he said. "Like most Australians, James spent almost a decade of his young adult life in knockabout, hands-on jobs."
If successful at the September 14 poll, James would join the senate in July 2014.
Weblink – www.ausparty.org.au.
---
Click here for recent news
---