NEWS ARCHIVE ... JUNE 2011

---
WEDNESDAY, JUNE 22, 2011
Kasey wins 2011 APRA
Kasey Chambers has won the 2011 Country Work of the Year award with her composition Little Bird.
The win was announced during the annual APRA (Australasian Performing Right Association) Awards in Sydney last night.
Kasey took the title from fellow finalists Catherine Britt with Can't Change A Thing (co-written with Melanie Horsnell), McAlister Kemp's Hell Yeah (written by Drew McAlister and Troy Kemp), Lee Kernaghan's Planet Country (written by Lee with Colin Buchanan, Garth Porter and Matt Scullion) and The McClymonts Wrapped Up Good (written by Brooke, Mollie and Samantha McClymont and Nathan Chapman).
During the awards presentation, Paul Kelly was honoured with the Ted Albert Award for Outstanding Services to Australian Music.
Weblink – www.apra.com.au.
---
TUESDAY, JUNE 21, 2011
Telstra Road to...?
By Ann Newling, The Northern Daily Leader
Telstra Road to Tamworth, the national talent quest that gave the city a huge boost in music exposure for the annual country music festival, has reached a dead-end.
The competition is now a road to nowhere as far as the city's name is concerned – the corporate giant has announced it will now be the road to... Discovery, instead of Tamworth.
And the quest won't be purely country music from now on and it's likely any traditional country artist will find it a tougher gig to get a star spot.
The new road goes down the track of popular music and is looking to uncover artists from the blues and roots, folk and country.
Although the Tamworth road is less golden, industry experts aren't all surprised or devastated by the move, and some simply describe it as "evolutionary".
"It's not the end of the world. It is one of many acts the festival has seen. The beauty has been that we have had it for eight years. Everyone moves on and sponsors change their emphasis," one festival stakeholder said.
"It's a reality of sponsorship and commercial marketing and obviously Telstra has changed their target market. But in the end Tamworth has been able to get a fair bit out of it. It's been very valuable to the city."
Industry pundits suggest the interest from here will lie with whether Telstra will retain its prominent presence in the festival landscape – the huge marquee in the centre of the CBD, it's high profile marketing brands, like street banners and flags, and its push with artists appearing throughout city venues.
In a media release, the North West Area GM Tricia Wilson said Telstra was committed to nurturing local talent and would hold the final of the new TRT...Discovery at next year's Tamworth festival in January.
Country Music Associaition of Australia Chairman Rod Laing said that the Telstra decision was disappointing but it had afforded the city plenty of exposure and promotion and he believed the telco would continue to have some involvement in some shape or form in the future.
There has been no mention of the longer term future but it could be that next year will be the last festival TRT... final because the quest just doesn't fit the country music image of the January event anymore and has no reason to host it.
There has been no mention either of future sponsorships. In the past Telstra paid Tamworth Regional Council a substantial sum for naming rights for the festival, including tough contract negotiations that gave it priority with some events and civic functions and high profile media exposure.
The commercial festival presence and benefits to Telstra are believed to have been significant, with huge traffic in SMS and big mobile sales reported a few years ago.
In 2008, Telstra said it had clocked up 1.2million voice calls and 1.5million SMS calls in Tamworth during the festival.
The Telstra bottom line on commercial festival results might not be big when compared to metropolitan events but it is probably enough to ensure it hangs around in the future, otherwise a competitor might fill their spot.
MONDAY, JUNE 20, 2011
Cessnock Festival success
Another successful Cessnock Country Music Festival was held at the East Cessnock Bowling Club in May.
A weekend of fabulous country music was enjoyed by the enthusiastic crowd, according to organisers.
"We had a huge Friday night show to start our weekend with 'A Celebration of Country Music' featuring Rob Wilson and Lisa White with Makaylie Foodey, Tara Naysmith and Alby Pool with Melody Pool. Our artists finished the evening with a great version of 'We Are Australian'.
"The Apprentices kicked off our Saturday in fine style followed by Daniel Thompson, Bob Pigott and The Working Man's Dream, Peter Pratt, Bruce McCumstie, Camille Te Nahu and Stuie French.
"Saturday evening showcased Anne Kirkpatrick and the Travelling Country Band with Peter Denahy supporting and joining the band for some fabulous twin fiddling with Mike Kerin. What a fantastic show. The crowd showed their appreciation loudly with lots of applause.
"Sunday morning, Bruce McCumstie captivated the crowd with his Willie Nelson Tribute and Steve Passfield kept the good music coming followed by Sarah McMonagle, Makaylie Foodey and Travis Collins. Karen Lynne and Pat Drummond finished our festival in fine style.
"Our great band for the weekend was Simon Johnson on bass, Greg Franks on guitar with Brad Bergen and Andy Gatus sharing drumming duties.
Sunday at the same time we had a fine selection of balladeers performing in the Bistro."
Artists included Bob Easter, Slim Newton, Bob Easter, Bec Hance, Henry Hollis and Norma O'Hara Murphy who were all reportedly very well received by an appreciative crowd. They were supported by Charley Boyter and his band.
Dates for the 2012 event have been set as Friday to Sunday May 25 to 27.
---
FRIDAY, JUNE 17, 2011
Martin to launch Australian Spirit
Renowned Australian record producer Martin Erdmann has announced the upcoming launch of a new project, The Australian Spirit.
Country music writer Anna Rose reported in her weekly "Northern Daily Leader" column yesterday that Martin would launch the new album in Australia's Country Music Capital on Friday July 8 during this year's Hats Off to Country festival.
Martin, who, among many other achievements, was responsible for putting together the classic album My Country Australia, will launch The Australian Spirit at leading Tamworth venue The Pub.
"Martin tells me that several artists on the CD will be there to perform a few songs from the album," Anna wrote.
The album contains tracks like the title track by Steve Passfield (pictured), 8 Ball Aitken's Cyclone Country, Ron Odgers' Gulf Country and Harry Young's Back O' Bourke Girl.
Redlands 2011
The 2011 Redlands Bluegrass Convention will be staged from Friday July 8 to Sunday July 10.
Organisers say this year's event is going to be "our best yet. We have lined up a great weekend full of workshops, concerts, jam sessions and lots more."
Friday and Saturday nights will feature showcase concerts, workshops will be for instruments and vocals and there will be "lots of opportunities for jam sessions".
A Saturday afternoon feature will be a blackboard concert, a Bill Monroe Tribute Concert will be staged and on Sunday morning a Gospel sing along will be conducted.
All accommodation, meals, drinks, licensed bar and showers are available on-site throughout the weekend at the Kindilan Convention Centre off Redland Bay Road, Redlands Bay, in Queensland.
Feature local acts will include Hardrive, Melbourne's Coolgrass, the 4.33's, Fatchance, Brisbane's Groundspeed and the Redlands Bluegrass Boys.
International acts this year will be Adam Chaffins, Ryan Drickey, Dave Goldenberg and Josh Philpott.
Weblink – www.redlandscountrymusic.asn.au/bg.htm.
New songwriting competition launched
The Coopers animal health company has launched a songwriting competition with a total prize pool including $20,000 cash.

"Coopers is celebrating its long history with country Australia in 2011," according to the release announcing the competition which is titled "Coopers Country, The
Australian Song Competition".
"Coopers is looking for a new anthem and is proud to be supporting grass roots country musicians to create a song that captures Australia's rural pride, history and people," a spokesman for the company said.
In addition to cash, the winner will also received two days in Sony's Sydney recording studio with a leading music producer to professionally record their track.
"Coopers has been working with Australian farmers for seven generations and is searching for the music that best reflects this historic partnership." the spokesman said.
Entries in the competition are now open and close on Wednesday, August 31.
Contestants can upload their songs to www.cooperscountry.com.au with an expert judging panel deciding the winners in September.
First prize is $15,000 plus the two days recording time. The song will be used for the new Coopers Animal Health television commercial in 2012.
A "people's choice award" carries a prize of $5,000.
AIADAs grow out of Golden Saddles
The establishment of a new country music awards scheme has been announced as a progression from the recognition program formerly known as the Golden Saddles.

Boasting a total prize pool valued at more than $35,000, the AIADAs (for Australian Independent Artists Development Awards)opened for entry on Wednesday and will close on Sunday July 24.
"The AIADAs are Australia's newest and richest indie country music awards," according to the announcement release.
Entries are open to artists Australia-wide whose recordings and videos are self-funded and were commercially released between June 1 2010 and May 31 2011.
Full entry details are available from the website www.aiado.org.au.
Finalists will be announced on Saturday September 3.
"The AIADAs are professional development awards and, as such, award winners are recognised for excellence in the independent country music scene," the release said.
The AIADAs are also the main fundraising event for the new charitable organisation, the Australian Independent Artists Development Organisation Inc (AIADO) which aims to support the development of young artists and musicians with its initiative Generation Country.
Generation Country has been established to provide access to music-making projects and activities and a nation-wide performance program that includes a competition.
"For many young people, being given the chance to experience the power of music is life changing," the spokesman said. "AIADO's goal is to ensure that young artists and musicians with talent and potential have opportunities to develop that talent regardless of background or location."
The annual fundraiser for Generation Country is the AIADAs which will be held annually at Rooty Hill RSL in Sydney as part of their Total Country Weekend.
This year's awards presentation will be held on Saturday October 15.
---
THURSDAY, JUNE 16, 2011
Nicki in Nashville
A seven concert showcase series at the Sheraton Downtown Nashville plus two performances in historic venues has seen Nicki Gillis wow fans in Nashville, America's home of country music.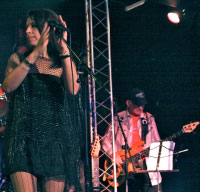 Hot on the heels of being named Best Country Performer at the MO Awards, Nicki has impressed fans from around the world with her performance at the Tomkins Guitars' Showcase with a troupe of fellow Aussies.
Artists featured included Barbara Baillie, Victoria Baillie, Kimberley Bowden, Doug Bruce, Darren Carr, Bob Howe, Sandra Humphries, Briana Lee, Travis List, Craig Morrison, Dan Murphy and Chuck Vandenbelt.
Each evening they put on a four hour show at the Sheraton to audiences consisting of not just country music fans but also expat Aussie artists, Nashville record producers, other industry executives and organisers of the 2011 CMA Music Festival.
"It has been three years since I was last here," Nicki said, "and this time I decided to keep a low profile and help out with the showcase. Instead, I have been approached by a few Nashville companies with some very exciting offers for the next 12 to 18 months."
Unable to divulge the details just yet, Nicki indicated that "a very exciting project" to help young Aussie talent was soon to be announced.
"I just wish I could say something now but we have to wait for the official go ahead from all parties before we announce it formally," she said.
This Nashville venture is the second leg of Nicki's international touring this year. She went to New Zealand in May and is heading off to Britain for her third UK tour in July with possibly another one or two trips to Nashville before the year is out.
Photo: Nicki performs with Alan Tomkins in Nashville.
Weblink – www.nickigillis.com.
Daughters of Country
Anne Kirkpatrick and Dianne Lindsay have combined for a Daughters of Country tour.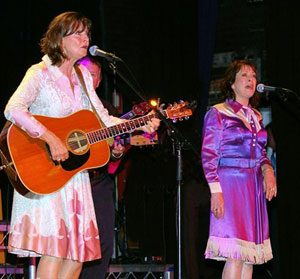 The tour is billed as "their own very special show featuring the legendary music and family memories of Australia's Country Music greats, Slim Dusty, Reg Lindsay and the McKean sisters".
Anne, of course, is the daughter of Joy McKean and the late Slim Dusty while Dianne is the daughter of Heather McKean and the late Reg Lindsay.
The two have been performing off and on at various functions and special occasions for several years now.
Tour dates are Goulburn Workers Club, Friday June 17, Wollumla Hall, Wollumla (near Bega), Saturday June 18 and Queanbeyan Kangaroo Club, Sunday June 19.
Weblinks – www.annekirkpatrick.com.au, www.diannelindsay.com.
---
WEDNESDAY, JUNE 15, 2011
Southern Stars entries close June 30
Entries in this year's Australian Independent Country Music Awards (or Southern Stars) close on Thursday June 30.
Entry is invited in eight categories with a ninth award – for Independent Artist of the Year – determined from entries in all categories.
The categories are Single of the Year, Album of the Year, Heritage Track of the Year
– Traditional, Rising Star Male and Female, Male and Female Vocalist of the Year and Group/Duo of the Year.
Four finalists from each of the eight categories open to entry will be announced in August.
Entry forms can be downloaded from the website www.milduracountrymusic.com.au.
The Awards are sponsored by Neighbourhood Cable.
Award winners will be announced during the 2011 Mildura Country Music Festival which will run from Friday September 30 to Sunday October 9.
Entries are also open for the Top of the State Talent Quest which runs during the Mildura Festival.
Forms for the talent quest can also be downloaded from the website with entry closing September 9. Songwriter entries close on August 19.
Artists featuring at this year's Mildura Festival (as at the date of this story) include Kaylee Bell, Sharon Benjamin, Olive Bice, Owen Blundell, Kel-Anne Brandt, Carter & Carter, Peter Coad & The Coad Sisters, Don Costa, Jayne Denham, Royden Donohue, Laura Downing, Lee Forster, Craig Giles, Terry Gordon, Bec Hance, Johanna Hemara, Marie Hodson, Peter Horan, Sandra Humphries, Tracy Killeen, Amber Lawrence, Jason Lee, Diane Lindsay, Tom Maxwell, Dan Murphy, Slim Newton, John O'Dea, Luke O'Shea, Steve Passfield, Dean Perrett, Reg Poole, Amber Joy Poulton, Brendan Radford, Graham Rodger, Mitchell Shadlow, Gary Smith and Camille Te Nahu & Stuie French.
New album release from Lee

Lee Kernaghan is set to release a new double album featuring 42 of his top hits.
Lee Kernaghan's Ultimate Hits will be released on the ABC label on September 30 marking a major milestone in a music career that has produced 30 number one chart hits and record sales approaching two million units in Australia alone.
Lee invited his fans on the internet and social media phenomenon Facebook to help him select the top 42 hits of his career and the response almost sent his site into meltdown.
"It was just awesome to get all the feedback." he said. "I have been through each suggestion individually and it has made all the difference in putting the songs together for this double CD release."
"The Ultimate Hits will capture Lee's entire musical journey from his debut ARIA Award winning The Outback Club album (1992) right through to his latest hit album, Planet Country," said a spokesman for ABC.
"At the age of 27, Lee exploded on to the Australian music scene with a new brand of rural rock that redefined contemporary country music in Australia. His music was undeniably country but (he) had learnt how to rock in the pubs and clubs of regional NSW.
"His music cut through to a younger generation of Australians and paved the way for an unprecedented string of hits that has made him one of Australia's most loved artists."
Weblink – www.leekernaghan.com.au.
Chart Update – Kasey's fourth week at the top
Kasey Chambers' Beautiful Mess has a stranglehold on the number one spot on this week's national Country Tracks Top 30 singles chart for the fourth week in a row.
America's Brad Paisley at two for the second week with This Is Country Music while Luke Austen's Two Miles Down jumps another two places to number three and Kaylee Bell's Love Was Just A Fairytale is steady at four for the third week.
Amber Joy Poulton's Break Even edges up one to number five, Dianna Corcoran's Keep Breathing is up three to six and The Harmonators' Woohoohoo is steady again at seven.
Jasmine Rae's duet with Joe Nichols, I'll Try Anything bounds into the top 10 at eight, America's Miranda Lambert is at nine with Heart Like Mine and Doug Bruce's Honky Tonk Shoes is at 10.
Bullet performers for the week include McAlister Kemp's Hard Work (28 to 24) and Jetty Road's Serves You Right (29 to 25).
New entries to the chart this week are Jayne Denham's Farmer's Wife (in at 29) and Shane Nicholson's Famous Last Words (at 30).
---
TUESDAY, JUNE 14, 2011

Shania makes history
Country superstar Shania Twain has been honoured for reaching worldwide sales of more than 75 million, making her the top-selling female artist in the history of country music.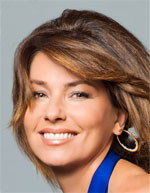 Luke Lewis, Chairman of Universal Music Group Nashville, paid tribute to Shania's talent, vision and determination during an afternoon gathering in Music City.
It was a full-circle moment for Shania because she was surrounded by several of those who helped start her career, including Nashville attorney Dick Frank and producers Buddy Cannon and Norro Wilson, as well as hit producer Nathan Chapman.
The celebration came as Shania is set to release her first new recording in six years, Today Is Your Day.
"The purpose of writing Today Is Your Day in the first place was self- inspiration," Shania, who co-produced the song with Nathan Chapman, said. "I was talking to myself and saying, 'Today is your day. You can do it.'
"But the decision to even write the song and share it was a big decision for me, to find myself as a songwriter again, independently, for the very first time after all these years. Then the lyrics started flowing. It was genuinely a melody that's cheering me up."
June has been a hectic month for Shania with several significant milestones including a best-selling book, a star on the Hollywood Walk of Fame, a successful TV series and news of a headline residency at Caesars Palace in Las Vegas.
Weblink – www.shaniatwain.com.
---
MONDAY, JUNE 13, 2011
OAMs for Joy, Charley and Shane
Music industry identities Joy Batchelor, Charley Boyter and Shane Simpson have been awarded Medals of the Order of Australia (OAMs) in today's Queen's Birthday Honours.
Joy was granted her OAM for service to music through the Bunyip Country Music Festival.
Over many years, Joy has been the driving force behind the annual and very successful Festival in Victoria.
Charley (pictured) received his for service to the performing arts as a country music entertainer.
Originally from Windsor NSW, Charley has been entertaining audiences for almost 45 years.
Among his achievements, he has made numerous recordings and played as a featured instrumentalist with many of Australia's biggest names in Australian country music including the late Slim Dusty.
Charley joined Slim's Travellin' Country Band in 1975 and toured most of Australia, New Guinea and the Solomon Islands while he was with the band through the next 20 years or so.
He featured on so many of Slim's albums, Slim once remarked: "Charley has played on more of my albums than any other guitarist."
Shane was recognised for service to the law and to the arts through leading roles in intellectual property and entertainment law, and as a contributor to a range of cultural organisations.
A copyright and music lawyer, he is well known in the industry for his "Music Business" book, the most authoritative work on doing business in the Australian music industry.
Gore winners
Winners in various competitions staged as part of the annual Gore Gold Guitar Week were determined earlier this month.
Donna Dean took out both New Zealand Country Music Awards, Best Album with What Am I Gonna Do and Best Song with the album's title track.
Donna is pictured here receiving Best Country Song award.
In the separate Songwriting Award Kristin Macdonald was named the winner with Sorry while runner-up was Aaron Jury with 29.
In the Gold Guitar Awards talent quest, Vickie Evans from Kaitangata was named Senior Winner with Matthew Mcneilly Blenheim runner-up.
Vickie also won the NZ Composition section while Tempo from Dunedin took out the Group section and Timwinpoint from Pleasant Point won Vocal Group honours.
Male Vocal Solo went to Matthew Mcneilly from Blenheim, Female Vocal Solo to Catherine Short from Dunedin.
Daniel Cosgrove from Invercargill won Instrumental, Matthew Mcneilly from Blenheim, Traditional and Vicki Evans was successful in Gospel.
Cameron & Vickie from Kaitangata won Duet, Craig Adams from Cromwell, Country Rock and Paul Nees from Nelson, Yodelling.

This year's Junior Winner was Zoe Scott from Geraldine.
Details of all section winners can be found at the website www.goldguitars.co.nz.
Adam Newton was named as Gore's Gold Guitar Young Ambassador with Tarryn Gerken runner-up.
---
WEDNESDAY, JUNE 8, 2011
Tommy wins Global Artist Award
Australia's Tommy Emmanuel has been presented with this year's Global Artist Award by the American Country Music Association (CMA).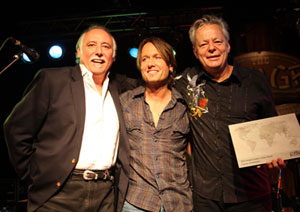 The award was presented to the guitar legend on Monday by fellow Aussie artist Keith Urban in front of a standing room only crowd at the Global Artist Party in Nashville during 2011 CMA Music Festival Week.
After performing acoustically to an enthralled crowd, Tommy was surprised when Keith joined him on stage for the presentation.
The award recognises outstanding achievement by an artist who has furthered country music's popularity and brought attention to the format in their foreign-based territory.
It follows numerous accolades received by the star over the years including one of the most significant, the elevation in January this year, with brother Phil, to Australia's highest country music honour the Roll of Renown.
Previous Australian winners of the Global Artist Award are Troy Cassar-Daley, Kasey Chambers, Slim Dusty, Adam Harvey and Lee Kernaghan.
"This award means so much to me because I spend 90 percent of the year on the road, travelling around the world playing music," Tommy said.
Photo: Tommy receives his award from Keith and CMA Chief Executive Steve Moore. Photo by Christy Walker-Watkins/AristoMedia
Weblink – www.tommyemmanuel.com.
---
MONDAY, JUNE 6, 2011
Chad now a star on film
Australian country star Chad Morgan is the subject of a documentary called "I'm Not Dead Yet".
Put together by Sydney director Janine Hosking, the work is described as "equal parts road movie and observational documentary".
It is narrated by long-time Chad fan Tex Perkins and tracks Chad as he and his second wife, Joanie, make their way around NSW and Queensland, playing in an array of typically low-key venues – shopping centres and RSLs, country pubs – on their way to Chad receiving a lifetime achievement award at the 2010 Tamworth Country Music Festival.
"Chad is one of the original country music legends," director Hosking says.
The movie also offers a "loving look back" at the artist's career which began in 1952 when the nervous 19-year-old appeared on "Australia's Amateur Hour" to sing a self-penned song, the now famous, The Sheik Of Scrubby Creek.
"With his enormous, buck-toothed donkey grin and now legendary 'nappy hat', Morgan made an unlikely star but his performance that night won him a record contract, setting the stage for an unconventional and turbulent career," Hosking said.
"I've never changed," Chad is quoted as saying. "People can see a lot of themselves or someone they know in the songs I write and it makes me seem like I'm one of them. I'm not on a big pedestal. I mix with the fans. I don't have bodyguards and I don't have (an) agent..."
"I'm Not Dead Yet" (which refers to a recent incorrect report of Chad's passing) will screen as part of this year's Sydney Film Festival on Tuesday June 14 at Event Cinemas.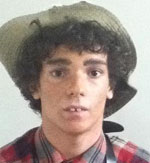 Another country star featured in "I'm Not Dead Yet" is Tayzin from Brothers3 who plays the teenage Chad (photo). Tayzin says he had a great time working on the ABC documentary and said it was fascinating how they made the teeth for him.
He said it was also an honour for him to meet Chad Morgan on the red carpet because Brothers3 often sing his legendary songs.
Weblink – sff.org.au.
Dolly confirms tour down under
Country star Dolly Parton has confirmed she will tour Australia with dates announced for November.
It's reportedly her first tour of Australia in almost 30 years.
The star will begin her visit in Perth on November 8 before heading to Adelaide (Nov 12), Sydney (Nov 15), the Hunter Valley (Nov 19 and 20), Melbourne (Nov 23) and Brisbane (Nov 26).
Her two-and-a-half hour show will feature new sets, costumes and music from her forthcoming album Better Day which is due for release later this year.
One of the most successful female country music artists ever, Dolly has 25 number one singles and 41 top 10 country albums to her credit.
She has also won seven Grammy, 10 Country Music Association, five Academy of Country Music and three American Music awards and is one of only five female artists to win the Country Music Association's Entertainer of the Year award.
Tickets for Dolly's down under tour go on sale through Ticketek on Monday June 20.
Weblink – www.dollyparton.com.
---
FRIDAY, JUNE 3, 2011
SA Festival underway
The 2011 South Australian Country Music Festival gets underway in the state's Riverland region today and runs through to Monday the 13th.
The SA Country Music Awards talent quest, the 33rd to be staged, will run over the weekend June 11 and 12 comprising 12 sections through three venues.
Winners of all talent quest sections will compete for the SA Award of Excellence at the Sunday Spectacular in the evening of Sunday the 12th at Lake Bonney, Barmera.
The talent quest is designed to discover and encourage new and young talent.
Presentations will be made at the South Australian Awards Concert on Saturday night, June 11 in the Bonney Theatre Barmera.
National artists perform at some 90 shows during the festival's 10 days together with "the best South Australian talent," according to organisers.
Guest artists this year will include Olive Bice, Angela Easson, Melody Feder, Wayne Horsburgh, Meagen Laurie, Jason Lee, Brian Letton (pictured), Charlie McCracken, Amber Joy Poulton, Dave Prior, Mark Tempany & Alison Hams, Rodney Vincent
Thousands of visitors from across mainland Australia, Tasmania and New Zealand make the trip to the Riverland to enjoy the annual event plus visitors from as far away as England, Sweden and the USA in the past.
As well as the festival events, Barmera also boasts a "hands of fame" and "country music hall of fame".
Weblink – www.riverlandcountrymusic.com.
Graeme to open AICM
Graeme Connors (pictured) will officially open the Australian Institute of Country Music (AICM) at Gympie (Qld) on Friday June 10.
Based in the original Gympie Court House, the AICM has developed the building over several years from a disused shell into a vibrant, exciting hub of creativity that now features classrooms, offices, a live performance venue and a recording studio, according to a spokesman for the organisation.
"Providing education and opportunities for local students, artists and performers, the AICM aims to develop the next generation of Australian country music stars as well as promoting the Gympie region.
"The building work and investment program has been undertaken with an initial grant from the Apex Club of Gympie and then, in 2010, a further grant as part of the Government's 'Job Creation Fund' through the Department of Employment, Education and Work Relations with dozens of jobs and a lasting Gympie land mark being created."
At the opening night, dignitaries and other invitees will be a part of the naming of the performance hall as "The Apex Auditorium". The evening will feature live performances from The Duke Wilde Band and Sista Burley as well as local students Aiming High and special guest Graeme Connors.
Examples of AICM students' work will be on show together with an exhibition of photographer John Elliott's classic photos.
Those attending will also be able to experience the workings of the new recording studio (dubbed "The Bunker"), built in the original Gympie air raid shelter from the 1940s.
With a 48 track, state-of-the-art Pro-tools system and its own drum room and vocal booth, the new studio will give artists the opportunity to record and deliver music that is capable of competing on the world stage, the AICM spokesman said.
AICM Manager Laurie Cokell said: "The night of the 10th June is not only about thanking all those people who have helped us get to where we are today and celebrating our achievements, but is also about looking to the future and the opportunities that exist to take the Australian Institute of Country Music forward."
Weblink – www.aicm.org.au.
Artist line-up announced for 2011 Deni Muster
Adam Brand, Troy Cassar-Daley, Beccy Cole (pictured), Adam Harvey, McAlister Kemp and The Sunny Cowgirls are the headline country acts for this year's Deni Ute Muster.
The Muster and Play On The Plains Festival, which takes place on Saturday and October 1 and 2, will also highlight the talents of pop group Icehouse, "one of Australia's greatest musical artists and exports" and international rock star Suzi quatro.
The non-country bill will also feature Eskimo Joe, Mental As Anything and Guy Sebastian.
Support country acts will include up and coming Australian country music stars including Kaylah Anne, Paul Costa, Crakajack, Tori Darke, Jayne Denham, Luke Dickens, Makaylie Foodey, Harry Hookey, Kelly Hope, Amber Lawrence, The Noll Brothers, Hannah Smith and Georgia White.
Weblink – www.deniutemuster.com.au.
---
WEDNESDAY, JUNE 1, 2011
JW celebrates "the outback"
John Williamson's "Song of the Outback" documentary is set for release this month.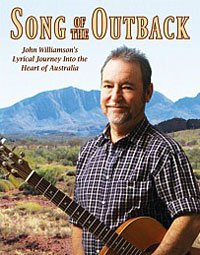 Filmed over a three week period in May 2009 under the direction of semi-retired BBC documentary maker Andrew Gosling, the documentary is described as a musical journey through the Centre.
With John's songs, and John as the narrator, the production links the history of "the outback" from early settlers and their unsuccessful attempts to make a living out of unsuitable land around Wilpena Pound, to the early cameleers, the old Ghan railway, the opal miners at Coober Pedy, Albert Namatjira and his inspiration of the landscape around Hermannsburg and much more.
"'Song of the Outback' is a celebration of the Australian outback," said a spokesman for the producers, "its beauty, its past and its extraordinary people.
" Part travelogue, part environmental history and part music video, the documentary tells the story of the land through the stories of those who live there."
"Song of the Outback" will go to air on Austar's Country Music Channel (CMC) on Monday June 13 at 7pm followed at 9pm by John live at CMC Rocks the Hunter.
The doco will be repeated on Tuesday June 14 at 9am and Sunday 19th at midday.
John also features on the cover of the June "Austar Magazine".
Weblink here.
Chart Update – Kasey hangs on to number one
Kasey Chambers' Beautiful Mess remains at number one on this week's national Country Tracks Top 30 singles chart for the second week.
Doug Bruce's Honky Tonk Shoes is also steady at number two as is America's Brad Paisley at three with This Is Country Music.
Kaylee Bell's Love Was Just A Fairytale jumps two to number four, America's Zac Brown Band with Alan Jackson is steady at five while Amber Joy Poulton's Break Even edges up one to six and The Harmonators' Woohoohoo jumps two places to number seven.
America's Reba McEntire is at eight with If I Were A Boy, Luke Austen's Two Miles Down enters the top 10 at nine as does Alyece Simmonds' When I Say Too Much at 10.
Bullet performers for the week include Jasmine Rae's duet with Joe Nichols, I'll Try Anything (16 to 13), Amber Lawrence's Always Kiss Me Goodbye (21 to 17), Tori Darke's Someone Else's Baby (25 to 21), Graeme Connors' Watching Byron Raise The Flag (26 to 22) and Keith Urban's Without You (27 to 24).
New entries to the chart this week are Catherine Britt (pictured) with I Want You Back (in at 29) and Marie Hodson's Little Things (at 30).
---
Click here for recent news
---