NEWS ARCHIVE - JUNE 2010
---
MONDAY, JUNE 28, 2010
Global events kick off successful CMAFest
The annual Global Artist Party staged as a curtain-raiser to America's biggest country music festival kicked off a record-breaking CMA Music Festival earlier this month.
The CMA (American Country Music Association) reported overall attendance at the Festival surged an impressive 16 percent this year. And with that jump came some of the biggest crowds yet to attend Nashville's annual international artist showcases, known as the global events.
A total of 17 acts from around the world performed at this year's showcases now in their fifth year.
"The global events have served as a sort of unofficial kick off for the festival each year," said organiser Jeff Walker, a CMA board member and head of AristoMedia in Nashville, "as fans and industry get to survey some of the best country music talent from all corners of the globe.
"This year's events spotlighted artists from five different countries – Australia, Canada, New Zealand, Norway and the United Kingdom.
The CMA Global Artist Party included sets from Luke Austen (Australia's 2010 Toyota Star Maker winner), Jaydee Bixby (Canada), David Bradley (UK), Sinead Burgess (Commercial Radio Australia's Breakthrough Country Artist), Cameron Clayton (New Zealand's Horizon Award winner), Tim McKay (UK), One More Girl (Canada) and Alex J Robinson (Canada).
Canadian singer Adam Gregory hosted the show.
"Considering much of downtown Nashville was underwater only a month earlier due to the catastrophic floods that caused millions of dollars of damage in Middle Tennessee, it was quite an accomplishment that the global events showcases were held at all this year," Jeff said.
"More than ever, Nashville needed the support of country music fans from around the world, and that's exactly what Music City got this year," said the UK's David Bradley, who closed out the Global Artist Party. "I was thrilled to hear that this was one of the most highly attended CMA Music Fests ever, and both of the Global Events showcases were packed, too."
The following AristoMedia Global Showcase continued the global goodwill with sets from artists Travis Collins (Australia), Jessie Farrell (Canada's Best New Artist winner), Emma King & The Heartsets (UK), Jo Hikk (Canada) Steven Lee Olsen (Canada), Ronnie Rae Rivers (Australia), Joe Robinson (2009 "Australia's Got Talent" winner) and Norwegian trio The European Highwaymen. Australian duo O'Shea handled hosting duties.
According to Jeff Walker, more than 1,200 people attended the showcases.
"I think that this year's lineup continued the high standard of excellence at our global events," he said. "The crowds were enthusiastic, and they were very receptive to these international artists. We've known for some time now that Canada and Australia have a history of producing successful country acts, so it's encouraging to see places like Norway and the UK producing quality country music, too."
Photo, by courtesy AristoMedia Group (from left): Artists and industry executives gather at the 2010 CMA Global Artist Party – Chip Huffman (Four Seasons Coach Leasing), Britt McKillip (One More Girl, Canada), Steve Moore (CMA), Carly McKillip (One More Girl, Canada), Cameron Clayton (New Zealand), Alex J. Robinson (Canada), David Bradley (UK), Adam Gregory (Canada), Jeff Walker (AristoMedia), Mark Moffatt (CMA Global Artist Party producer), Tim McKay (UK), Jaydee Bixby (Canada), Sinead Burgess (Australia), Luke Austen (Australia).
Chart Update – Tracy hits number one
Tracy Killeen has hit number one on this week's national Country Tracks Top 30 chart with her hit Brave.
Alan Jackson slips to number two with It's Just That Way while Markus Meier's A Different Land is at three and Sarah Kay's Feel The Rain is at four.
America's George Strait is at five with I Gotta Get To You, Jayne Denham's Trucker Chicks is at six and America's Kenny Chesney is at seven with Ain't Back Yet.
Canadian outfit Doc Walker holds the eighth place with If I Fall, Sara Storer's Calling Me Home is at nine and the Lee Forster/Stuie French duet Drink Up And Be Somebody enters the top 10 at 10.
Weblink – www.countrymusicradio.com.au.
---
FRIDAY, JUNE 25, 2010
New album for Beccy
In a special gesture to her closest fans, Beccy Cole is releasing her new album, Pre-Loved, directly to her mailing list and facebook fans before it is officially released to the general public in music shops across Australia.
The album is a collection of pre-recorded songs that are, as she puts it: "Songs that I sang along with, cried my eyes out to, took lessons from and wished I'd written.
"Part of my life's soundtrack..."
Weblink – www.beccycole.com.
And Brent...
Brent Lillie's debut album Over The Moon has been released.
The album is described as "a must-have" for fans of Australiana and comedy/novelty.
Comparisons include Rolf Harris, Ray Stevens and Aussie icon John Williamson but Brent possesses a unique style of his own that sets him apart from other artists, said a spokesman for the artist.
"His songs often feature an unexpected 'twist in the tail' that can suddenly set an audience on its head."
Over the years, Brent has amassed an impressive list of national and international songwriting accolades, including runner-up and finalist placings in respected and prestigious contests such as the International Songwriting Competition, the USA Songwriting Contest and the Australian Songwriting Awards.
He recently received an invitation to perform his original material at Nashville's famous Bluebird Cafe.
Over The Moon contains 10 original tracks led by Brent's international award winner I've Done It. Others include Bundy Barramundi, How Good Is It To Be Australian and Too Right I'm From Queensland.
Weblink – www.myspace.com/brentlilliemusic.
---
MONDAY JUNE 21, 2010
Troy wins Country APRA
Troy Cassar-Daley has won this year's APRA Award for Country Work of the Year with his song Big, Big Love from his latest album release I Love This Place.
The song also won Song of the Year and Single of the Year at this year's Golden Guitar Awards in January.
Big, Big Love was inspired by a text message Troy received from Keith Urban sharing the news that his wife Nicole Kidman had given birth to their daughter, Sunday Rose.
Katie Noonan has always loved Troy's song, and tonight wowed the APRA Music Awards audience with her rendition.
This year's APRA (Australasian Performing Right Association) Awards also recognised country's Jimmy Little with the prestigious Ted Albert Award for outstanding services to Australian music.
The recipient of the Ted Albert Award is chosen every year by the APRA Board of Writer and Publisher Directors for their contribution in shaping and developing the Australian music landscape. Previous recipients include some of Australia's most respected music industry figures including Bill Armstrong, Don Burrows, Slim Dusty, Angus & Malcolm Young and last year's recipient Denis Handlin.
APRA|AMCOS Chief Executive Brett Cottle said: "Jimmy Little and Australian music are synonymous. His career has spanned six decades and his music, pioneering community work and soft diplomacy has touched many."
"I am truly honoured and thankful for this recognition by APRA," Jimmy responded. "To be recognised by industry peers who I've sat beside, wrote beside, performed beside and lived beside, is an absolute honour. Ted Albert was one of the inspirational modern Australian music icons and to be honoured by an award created in his memory is humbling."
Jimmy began his recording career in 1956, firstly with Regal Zonophone and then with Columbia before signing to Festival Records in 1959. Forty-five years later, Jimmy is still making music with the Festival Mushroom Group who only recently celebrated their 50th year as a record company.
Jimmy's first Festival recording was a 45rpm extended play record called Ballads With A Beat that reached top 10 in the popular Australian music charts. This heralded a steady stream of extended plays, singles and albums throughout the 1960s, including the chart topping Royal Telephone in 1963. Selling more than 75,000 copies, it achieved gold record status and became one of his signature tunes.
By the time the west coast American country rock sound began to dominate the airwaves in the early '70s, Jimmy was acknowledged as one of Australia's premier country music stars. Although mostly recognised for his country musical style, he kept his fondness for big orchestral sounds alive in his 1972 album Winterwood, quickly followed by another top 10 hit single Baby Blue.
The 1980s saw Jimmy assume a mentoring role for the indigenous adult education course at the Eora college for performing arts in Redfern. Today, Jimmy remains committed to indigenous education and continues to use his recognition and success as an entertainer, spending considerable time as an ambassador for the Department of Training, Youth and Education's literacy and numeracy indigenous education program.
In 2004, a public vote named him a "National Living Treasure" and Jimmy received an Order of Australia (AO) for his life in the entertainment industry and his on-going work with indigenous education and health. Queensland University of Technology have also awarded Jimmy an honorary Doctorate and recently he received the Classic Rock Performer "MO" award of 2004.
---
THURSDAY, JUNE 16, 2010
Hats Off to Country
Details have been announced for this year's Hats Off To Country festival in Tamworth.
The festival will run over four days from Thursday July 8 to Sunday July 11 as a "cool contrast" to the huge January event.
Local venues the Albert Hotel, Central Hotel, Court House Hotel, Good Companions Hotel, Imperial Hotel, Longyard Hotel, Oasis Hotel, The Pub, Southgate Inn, Tamworth Services Club, Treloar Park Tennis Club, Tudor Hotel, Wests Diggers and West Tamworth League Club, and more, including The Dag Sheep Station at nearby Nundle which is planning to join in the celebrations with an "all day fair of music and fun" on the Sunday with stars Jeff (Gibbo) Gibson, Bruce McCumstie, Luke O'Shea and special guests.
Tamworth Shoppingworld is also getting involved with a program of entertainment and the local Harvey Norman store will be hosting a Country Music Hall of Fame fundraising barbecue with special guests including Bill Chambers, McAlister Kemp, Amos Morris and more.
This 2010 festival will mark a special year for Hats Off as it combines with the Australian Academy of Country Music – a merging of the College of Country Music and Tamworth Camerata – run by the Country Music Association of Australia.
The Academy aims to deliver a senior and junior curriculum in keeping with the success of the previously held separate College and Camerata.
Students of the Academy will perform their graduation concerts on the Thursday and Friday nights of the Hats Off Festival, billed as "two concerts not too be missed".
The Academy running in conjunction with Hats Off "reinforces Tamworth's branding as the Country Music Capital of Australia," said Tourism Tamworth General Manager Rebel Thomson.
Major event of Hats Off will be on the Saturday night (July 10) at West Leagues, the Hats Off to Legends of Country concert. Confirmed in the line-up are country stars Catherine Britt, Beccy Cole, Ted Egan, Adam Harvey (pictured) and Felicity Urquhart.
Another feature event will be the Australian Bush Balladeers' Association Ballads of the Bush Fundraising Concert at Southgate Inn on Saturday at 2pm featuring Tracy Coster (pictured), Lynette Guest, Peter Pratt and more.
A special feature edition of the official Hats Off to Country program will be published by "The Northern Daily Leader" a week before the festival on Saturday July 3. In the mean time, a tentative program has been created and is available to download here.
"The Hats Off committee truly appreciates the generous support from 'The Northern Daily Leader' and local venues," Rebel said.
Artists appearing, in addition to those already mentioned, include Victoria Baillie, Katrina Burgoyne, Rob Cass & the Cosmic Cowboys, Trevor Coombes, Don Costa, Wild Bill Davey, Graham Doubleday, Dale Duncan, Rod Dowsett, Christina George, Marie Hodson, Brian Howard & the Wire Strainers, Jonah's Road, Vanessa Lea & Road Train, Brian Letton, Dianne Lindsay, Gemma Luxton, Chad Morgan, Dan Murphy & the Outlaws, Luke O'Shea & Medicine Wheel and Those Gals.
Further information can be obtained by telephoning Tourism Tamworth on 02 6767 5300.
Chart Update – Alan hangs on to number one
America's Alan Jackson is at number one for the second week on this week's national Country Tracks Top 30 chart with his hit It's Just That Way.
Tracy Killeen's Brave jumps three more places to be in second place while Sara Storer's former number one Calling Me Home slips to number three and Jetty Road's Road To Nowhere is at four.
Sarah Kay's Feel The Rain is up two places to number five, America's Carrie Underwood is down two to six with Temporary Home and The Bobkatz' The Writer is at seven.
The Lees' It Ain't Me Babe is steady at eight and two more American acts, George Strait and Kenny Chesney, enter the top 10 at nine and 10, respectively, with I Gotta Get To You and Ain't Back Yet.
Bullet performers for the week include Markus Meier's A Different Land (16 to 12), Jayne Denham's Trucker Chicks (20 to 15), Natalie Brandt's The End Of The World (26 to 23), Lee Kernaghan's Australian Boy (new at 25) and Troy Cassar-Daley's Chasin' Rodeo (new at 26).
The other new entry to the chart this week is Catherine Britt (pictured) with Can't Change A Thing (in at 30).
Weblink – www.countrymusicradio.com.au.
---
MONDAY, JUNE 14, 2010
Order of Australia Award for Tommy
Tommy Emmanuel – one of Australia's most loved musical exports and the man Eric Clapton calls "the best guitar player I've ever seen – has been made a Member of the Order of Australia (AM) in this year's Queen's Birthday honours list announced today.
Tommy, who still calls Australia home despite being based in Nashville with an endless touring schedule that sees him regularly circumnavigate the globe, says receiving the award is a tremendous honour.
"This is such a thrill for me. It means so much to me to know my homeland has awarded me such a prestigious award. I couldn't be more proud," he said.
Previous recipients of the award have included fellow musicians Angry Anderson, Peter Garrett, Rolf Harris and Col Joye.
Tommy can now add the letters AM to his name, after CGP (Certified Guitar Player) – which was bestowed upon him by the late Chet Atkins.
The Order of Australia was established "for the purpose of according recognition to Australian citizens and other persons for achievement or for meritorious service".
Tommy's Order of Australia citation reads: "For service to the music and entertainment industries as a guitarist, and to the community as a supporter of Kids Under Cover."
An unofficial ambassador for Australia and fiercely proud of his birthright, Tommy spends most of his time on the road spreading his message of love and harmony through the universal language of the guitar".
During the course of a year, he will play everywhere from the USA to Russia, UK to Japan and China to New Zealand.
Many of his original compositions meld the influence of American fingerpickers like Chet Atkins and Merle Travis with traditional indigenous music from Australia.
Tommy is planning to tour Australia again later this year.
Weblink – www.tommyemmanuel.com.
---
FRIDAY, JUNE 11, 2010
One Stop Entertainment liquidation – update
Grenville Turner, the founder and former proprietor of One Stop, has advised he will be undertaking to identify all independent artist stock and facilitate its return to the owners.
Grenville still owns the warehouse the business has operated from, and once he gets access to it he will be able to know whose stock is there, and how much.
"Brisbane based artists will be able to make arrangements to collect it and I will work with everybody else to try and re-unite them with their stock," he said.
"Each artist will need to contact me at grenville_turner@iinet.net.au to make arrangements, and they will need to include a mobile phone number. Obviously I will need the artist to accept whatever cost is involved in returning their stock to them, and will need to co-ordinate pick-up times, etc, as I will not be at the warehouse full time.
"Bernie Saxby, who is known to pretty much the whole world has kindly offered to help me in this task, as have others, so it will happen quite quickly.
"On a personal level, I'm devastated that this has occurred," Grenville said, "and that the independent artist distribution service built so brilliantly by Roxanne and Bernie, then continued by Katania, has gone. I know it was something we were all terribly proud of and passionate about."
One Stop Entertainment in liquidation
Australian independent music group Shock has closed three of its companies, including One Stop Entertainment and Shock Music Publishing.
Lars Brandle reported the news on the billboard.biz on-line site on Tuesday.
The Melbourne-based firm cited the global financial crisis, prolonged tough trading conditions and ever-changing consumer behaviour for the closures. Shock Publishing GM Clive Hodson (formerly with ABC Music) is among the staff let go.
One Stop Entertainment was placed into voluntary administration with effect from June 8.
Bellbird Music's Meryl Davis was right on to the news and rang the Bulletin to suggest we might be able to help let independent artists know about the One Stop closure so they may retrieve any outstanding stock.
Lawler Draper Dillon have been appointed administrators. Their phone number is 03 9679 2222. Direct contact is Glen Franklin on mobile 0419 499 977.
"If any independent artists have stock they have sent direct to OSE, it will definitely pay to call Glen Franklin urgently, to see if he can advise whether you have any outstanding stock you might be able to take back," Meryl said.
"Please don't delay! Once they have finished stocktaking, the warehouse will close and judging by what I have seen it will only be another day or two at the most."
Meryl said she was able to collect unsold Bellbird consignment stock from the OSE warehouse without any problems, but re-iterated that artists should not delay getting there, as once they finish their stocktake the premises will be vacated.
"If you can't make it yourself, find a friend or fellow artist who might be able to do it for you," she said, "but remember to email/fax a note giving them permission to collect on your behalf."
Glen Franklin advised Meryl that once the stock has been counted, it will still be available for collection by the owners (the artists) from a warehouse somewhere, but she suspects it might be a little harder to get to.
"As far as outstanding payment for stock already sold, I reckon we will be waiting a long time to never, but no harm to cross your fingers."
Calls cannot be made to OSE direct as their phone line has been redirected to Impulse Entertainment and they are unable to assist with anything at all. "And apparently they are not taking any new suppliers at present either (that is, taking independent artist stock)," Meryl said.
Catherine and Amber support Gold Week Telethon
Catherine Britt and Amber Lawrence are two Australian country stars lending their support to the Channel 9 Gold Week Telethon which runs from 9am to 7pm today, Friday, June 11.
Channel Nine in conducting the telethon in partnership with the Sydney Children's Hospital Foundation.
Amber will be performing her latest hit Women Like Me (Don't Like Girls Like You) around midday while Catherine will perform Where Do You Go from her new album at around 12:30. Both will be answering phones and taking donations from 9am in support of the Children's Hospital.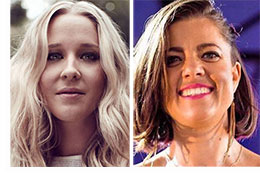 The telethon is aiming to raise as much money as possible for children who need a helping hand as part of Gold Week, the Hospital's major annual fundraising campaign. Each year Sydney Children's Hospital, Randwick, touches the lives of more than 300,000 children from across NSW and beyond.
Adam Check, Chief Executive of Sydney Children's Hospital Foundation, said: "Thanks to Channel Nine, everyone in NSW will have a golden opportunity to support our sick and injured children and help make their futures brighter.
"The funds raised in the telethon will purchase life-saving technology, vital services and equipment, and go towards research and refurbishments to make the Hospital a better place for families.
"We urge Nine's viewers all over the state to show they care by supporting this special telethon."
Tom Malone, Nine's Head of Morning Television, said the telethon was a fantastic opportunity for the Nine Network to make a major contribution to the community. "We'd love everyone to get behind this – people at home, schools, sporting teams, workplaces so we can make a real difference to thousands of families."
The Gold Week Telethon will broadcast live from the Nine studios in Sydney, hosted by favourite Channel Nine personalities with live crosses to the Sydney Children's Hospital throughout the day.
Donations can also be made on-line.
Weblink – www.goldweek.org.au.
Footnote: Amber has advised she will be appearing on the ABC television program "Spicks and Specks" this coming Wednesday, June 16.
Details announced for Telstra Road to Tamworth 2011
Details have been announced for the 2011 Telstra Road to Tamworth (TRTT) talent search.
Country music performers and songwriters are invited to enter.
Now in its eighth year, TRTT helps introduce independent musicians to established music artists, publishers, songwriters and industry organisations to give them first-hand experience of how the industry works and the tools they need to succeed.
A 12-month music mentorship, including a trip to Nashville, domestic and international performances as well as recording opportunities are awarded to the most outstanding talent.
"So if you, or someone you know, have got what it takes to be mixing it with the best in the industry... sign up today," said a spokesman for the organisers.
Winners in the songwriting category also receive a 12 month music mentorship, including a return trip to Nashville. "The winning songwriter will work with some of country music's best songwriters," the spokesman said.
Both the performer and songwriter competition winners will become a Telstra Ambassador for 12 months receiving Telstra products and services.
A total of 12 performance heats will be staged plus a "digital heat".
Heat locations and dates, in chronological order, are...
Darwin NT, Saturday July 24
Brisbane Qld, Saturday August 7
Gunnedah NSW, Thursday August 19
Dowerin WA, Thursday August 26
Cairns Qld, Sunday August 29
Toowoomba Qld, Thursday September 2
Adelaide SA, Sunday September 5
Perth WA, Saturday October 2
Canberra ACT, Sunday October 10
Geelong Vic, Saturday October 16
Orange NSW, Thursday October 21
Huon Tas, Saturday November 13
Entries in the digital heat are now open and will close on October 31.
Heat winners will attend the Telstra Road to Tamworth Boot Camp in Sydney, a two-day music mentoring workshop, from December 1 to 3. At Boot Camp, semi-finalists will get to spend time with a large number of music industry experts.
Each semi-finalist will perform two songs live on stage on Saturday December 4 as part of the Sydney Telstra 500 V8 Supercars event and from there, the top seven performers progress to the Telstra Road to Tamworth Finals as part of the Tamworth Country Music Festival in January.
Weblink – www.beinvolved.com.au/trtt.
Lana's second album
Lana Ross has released her second album – Restless Wind – a follow-up to her debut work released, Stories To Tell, released in Tamworth in January 2008.
Two singles have been released from the new album, Little Western Gully in Australia and The Walls to the international market.
Lindsay Butler produced the album for the Mackay Queensland based recording artist. Lindsay also produced Lana's first release.
"Lana obviously felt the pressure to produce a second album," a spokesman for LBS said.
"Lindsay and I felt the pressure to deliver a great second album after the success of the first album," Lana said. "It was Lindsay's cool head and meticulous production that has made this a fantastic album."
Seven of the songs on Restless Wind were written by Lana. Other tracks include a Shirley Thoms classic and selected songs from songwriters Ben Jacobs and Manfred Vigars who have contributed a track each, both co-written with Shaza Leigh.
"I'm excited about the co-write with Shaz (The Walls)," Lana said. "The result of this song, is magical! It was a first choice when we discussed releasing a track overseas. (It's) a very special song to write having recently lost a grandparent leaving behind his widow of 50plus years and to see her waiting as if behind... a very heartfelt emotion."

International feedback for The Walls already received indicates the song is receiving strong airplay and is among the favourites of most of the DJs on the media boards. "But it's still a bit early to tell," Lana said.
"I love what I'm doing. The first album taught me not to be afraid! To be myself! I have learnt many industry lessons over the past two years and I'm sure I will learn a few more over the coming years."
Weblink – www.lanaross.com.
---
WEDNESDAY, JUNE 9, 2010
Tamworth Country Music Festival Stakeholders Group disappointed with "blueprint" recommendations
The Tamworth Country Music Festival Stakeholders Group has expressed disappointment with many of the recommendations released recently by a partnership of the Country Music Association of Australia, Events NSW, Tamworth Regional Council and Tourism Tamworth.
And it says it will vigorously push for positive changes and offer definite alternate proposals for the future.
The Group formed late last year when it became apparent that "the partnership" (representing only a small group of Festival stakeholders) announced it was going to establish a "blueprint for the future of the Tamworth Country Music Festival".
A Sydney consultancy was employed to help with the "blueprint" and, without any consultation outside "the partnership", several dramatic and radical changes were made immediately, or foreshadowed, for the then upcoming January festival only months away.
These included a dumping of Rural Press Events out of the Tamworth Regional Entertainment & Conference Centre which that organisation had successfully built into the major Toyota Country Theatre Festival venue over a period of years.
After some strong immediate negative reaction, "the partnership" then undertook a lengthy consultation, which resulted in the release of its recommendations for the "blueprint".
Throughout the consultation period, members of the Group, representing dozens more stakeholders in the Festival and the Tamworth country music industry in general, made numerous comments and suggestions to "the partnership".
"We are disappointed that virtually all of our suggestions have been ignored to date," said Barry Harley, Chairman of the Stakeholders Group.
At a general meeting of the Stakeholders Group after the launch of "the partnership" recommendations, members discussed various aspects of the recommendations and endorsed a submission compiled by the Group's executive members in response.
"Apart from ('the partnership') being broadly unrepresentative, we query how any of the subsequent recommendations may be adopted, implemented and funded, let alone effectively in time for the January 2011 Festival," Barry said.
"We are also worried that no suggested timetable has been foreshadowed regarding the recommendations, as stated or amended. Indeed, we are concerned that all of this is being done too hastily and will result in continuing last-minute ad-hoc adjustments to the upcoming Festival.
"One of our major responses will be to push for the formation of an independent 'festival umbrella co-operative' which would not compete with other Festival players but would co-ordinate and work with all the many individuals and organisations that help contribute to creating the Festival." Barry said.
Other Group concerns relate to…
Suggestions to widen the appeal of the Festival by targeting a younger age group instead of focusing on the core, and expanding, mature market…
A perceived desire for "the partnership" to have control over aspects of the Festival they should not have…
A query about how a proposed "Council Curator" position (as suggested in the "blueprint" would work…
Proposals to exclude previous Festival sponsors and supporters by organising exclusive sponsorship deals and media partnerships…
And a general lack of broader stakeholder involvement.
Numerous other fears, the Stakeholders Group says, include suggestions to have a "heritage committee" (which already exists in the Australian Country Music Foundation) and a mentoring program between top country music artists and "emerging talent" (which already happens with the very successful Australian Academy of Country Music).
The Group has submitted its response formally to "the partnership" and is now awaiting a reply.
In the meantime, the Group has highlighted its response document on its website (see below) together with "the blueprint" released by "the partnership" for the benefit of anyone who may not have seen it.
"We will also be publishing a series of articles outlining some of the areas of major concern," Barry said. These would also be published on the Group's website.
"We welcome comments on our submission and, of course, anyone who wishes to join our cause may do so on our website."
Weblink – www.festivalstakeholders.org.
Entries open for Golden Saddle Awards
Entries have opened for the 2010 Golden Saddle Awards and will close on Thursday July 15.
The Golden Saddles aim to recognise excellence in the independent Australian country music scene.
Independent country music artists who have commercially released physical CDs and/or digital tracks between February 1, 2009 and May 31, 2010 are eligible to enter.
The Golden Saddles grand prize is $5,000 cash – the largest cash prize in Australian Country Music.
A second, people's choice, award carries a cash prize of $1,000.
Entries are open to independent artists residing in the ACT, NSW, Queensland, Tasmania and Victoria.
Golden Saddle Awards winners will be announced at the Awards Concert on Saturday October 9 at the Rooty Hill RSL Club.
Weblink – www.goldensaddles.com.au.

Chart Update – Alan at number one
America's Alan Jackson (pictured) takes over the number one spot on this week's national Country Tracks Top 30 chart with his hit It's Just That Way.
Sara Storer's number one from the last five weeks – Calling Me Home – slips to number two, Jetty Road's Road To Nowhere is at three and America's Carrie Underwood is at four with Temporary Home.
Tracy Killeen's Brave jumps four places to number five, The Bobkatz' The Writer is steady at six while Sarah Kay's Feel The Rain is up one more to seven.
The Lees' It Ain't Me Babe is eight, Darren Colston & Victoria Baillie are at nine with Will You Stay and Canada's Doc Walker is at 10 with If I Fall.
Bullet performers for the week include Markus Meier's A Different Land (20 to 16), the Lee Forster/Stuie French duet Drink Up And Be Somebody (22 to 18), Jayne Denham's Trucker Chicks (23 to 20), the Adam Harvey/Wendy Matthews duet Easy (26 to 23) and Jason Lee's A Memory (28 to 25).
Weblink – www.countrymusicradio.com.au.
---
MONDAY, JUNE 7, 2010
Gympie Stampede starts today
The Gympie Classic Country Music Stampede kicks off today and runs for a week through to and including this coming Sunday the 13th.
Attendance numbers at the Stampede have doubled each of its three years to date, according to organisers.
Jeff & Lyn Brown, Phil & Chris Coad, Laura Downing, Craig Giles, Keith Jamieson & Alisha Smith, Dianne Lindsay (pictured) & Peter Simpson, Ian B Macleod, Reg Poole and Anita Ree feature among this year's performers on the Saturday and Sunday together with pedal steel guitarist Sandy Atkinson and the band Just Jack.
The main event kicks off on Friday although walk-up artists are encouraged to appear through the week.
Gympie Showground Pavilion is the venue.
Further information can be obtained from Joy on 0414 873 178. Camping at the showground is available.
Riverland plays host to country music festival
ABC Riverland radio reports that more than 5,000 people are expected to converge on South Australia's Riverland region over the next week and a half for the annual South Australian Country Music Festival.
Festival coordinator Dot McDonnell said the Festival began on Friday night at Cobdogla and would culminate with the South Australian Country Music Awards (talent quest) & Gala Concert in Barmera over the long weekend.
She told the ABC more than 40 local and interstate artists would perform around the region.
"Early in the week, you've got Graham Butterworth and Cheryl Lethlean who are being inducted into the (South Australian Country Music) Hall of Fame," she said.
"Then, as we head on into the week, we will have our major artists coming in like Doug Bruce and the Tailgaters... they're one of Australia's top country bands and were a big hit in Tamworth in January, and Brian Letton.
"And we've got Ruckus who are really ploughing up the popularity charts... they're a great group." Plus the likes of Bill Bedford, Olive Bice, Gary Burrows, Royden Donohue, Megan Laurie, Harry Letton, Charlie McCrackem, Murray Mac & True Grit, Bob Magor, Amber Poulton, Dave Prior, Tiffney Stroh, Mark Tempany & Alison Hams, Jay Tobin and Chooka Williams.
The South Australian Country Music Festival & Awards has for the past 32 years remained the biggest and most prestigious of its kind in the State, according to organisers.
"Thousands of visitors from across Australia and New Zealand make the trip to the Riverland to enjoy 10 days of fun each year (with) fans visiting from places as far away as Sweden, England and the USA."
Weblink – www.riverlandcountrymusic.com.
Aussie country compilation released
The Country Music Association of Australia has released a double CD album of Australian country music.
Billed as a "stunning double CD collection of timeless favourites from the superstars of the local country music scene", a total of 42 tracks are featured from artists including...
Kirsty Lee Akers, James Blundell & James Reyne, Lou Bradley, Adam Brand, Catherine Britt, Carter & Carter, Troy Cassar-Daley, Kasey Chambers, Beccy Cole, Dianna Corcoran, Davidson Brothers, Peter Denahy, Slim Dusty, Tommy Emmanuel, Shea Fisher, Adam Harvey, Sam Hawkesly, Gina Jeffreys, Jetty Road, Lee Kernaghan, Tania Kernaghan, Anne Kirkpatrick, Amber Lawrence, The McClymonts, Amos Morris, Jasmine Rae, Melinda Schneider, Sara Storer, Warren H. Williams, John Williamson, The Wolverines and Felicity Urquhart.
---
THURSDAY, JUNE 3, 2010
Luke, Sinead, Cameron, Travis and Ronnie Rae perform in Nashville

This year's Toyota Star Maker winner Luke Austen (pictured) will join fellow Aussies Sinead Burgess, Travis Collins and Ronnie Rae Rivers, as well as New Zealand's Cameron Clayton, performing at this year's CMA (Country Music Association) Global Events Showcases as "curtain-raisers" to the annual CMA Music Festival.
They will join 10 other prominent international country artists who will feature in the showcases which will be staged on Monday and Tuesday June 7 and 8 and the annual AristoMedia Global Showcase on Tuesday June 8. The Music Fest kicks off officially on the 10th.
Fellow performers will be Jaydee Bixby, Jessie Farrell, Jo Hikk, Steven Lee Olsen, One More Girl from Canada and Alex J Robinson from Canada, David Bradley, Emma King & The Heartsets and Tim McKay from the UK and the European Highwaymen from Norway with Canada's Adam Gregory serving as host.
"Each year, some of the brightest country music talents from around the world come to Nashville for CMA Music Festival and our Global Events," said AristoMedia Group President and CMA Board member Jeff Walker. "This is our fifth year holding these international showcases, and each year we have a fantastic lineup of talent performing and a packed house to greet them. We're looking forward to this year continuing that tradition."
Previous performers at the annual showcases have included George Canyon, Troy Cassar-Daley, the McClymonts, Jasmine Rae, Johnny Reid, the Road Hammers and Doc Walker, among others.
Nashville record producer (and ex-pat Aussie) Mark Moffatt handles music coordinator duties for the events. The AristoMedia Group serves as executive producer.
Slim Dusty Memories Week
Details have been announced for the 2010 Slim Dusty Country Music Memories Week which will run in Kempsey from Monday, October 25 to Sunday 31st.
Expanded from the original concert event which would have been in its seventh year this year, the new festival is organised by the Rotary Club of Kempsey West in conjunction with the Slim Dusty Foundation.
The Memories Concert, to run on Saturday night October 30, will still be a major party of festivities which will now include music and songwriting workshops, performance areas for walk-up artists, bush poetry, a Slim Dusty Memories song contest and a gospel concert.
Artists to appear this year will include members of the Slim Dusty family, the Slim Dusty Travelling Country Band (Rod Coe, Charley Boyter, Mike Tyne, Mike Kerin and Doug Bligh), Clelia Adams (pictured), Chris Haigh, Glenice Hollis, Kathryn Jones, Judy Hawes Stevens, Brian Letton, Dianne Lindsay, Ken "Chainsaw" Lindsay, Dan & Matt Manning, Tom Maxwell, Doug McIntyre, Amos Morris, Norma O'Hara Murphy, Steve Passfield, Dean Perrett, Ian Quinn, Anita Ree, Lana Ross, Peter Simpson and Pete Smith.
Enquiries can be directed to Co-ordinators Bruce & Trish Woods on telephone 02 6562 4795 or email woodsbt@bigpond.com.
Slim's "Truckies Tribute" to close soon
In other Slim Dusty news, participation in the "Truckies Tribute To Slim" – a special fundraising feature of the Slim Dusty Centre – will close on July 1.
This feature of the Centre is designed to illustrate and commemorate Slim's links with truckies and the transport industry.
For a tax deductible donation of $50, truckies can have their name and the name of their rig engraved into a paver at the Centre.
Construction of the Slim Dusty Centre at Kempsey NSW is well and truly underway. The site clearing and levelling has been completed, piers and footings have been set on the site and construction of the slab and walls are underway.
Completion of the construction phase is expected by the end of 2010.
As completion of the Centre is nearing, donations of "Truckies Tribute" pavers must close on July 1 this year to enable them to be manufactured, inscribed and laid at the Centre for opening day.
Chief Executive of the Slim Dusty Foundation Kathryn Yarnold said: "Slim held the trucking industry in high regard and so many of his fans were truckies, playing his albums as they traversed the country.
"It is fantastic to see the progress of the construction of the Centre. Slim's dream is coming to fruition and we want to ensure that all truckies don't miss the opportunity to donate their paver before the closing date.
"Other areas of the Centre will feature similar inscribed pavers giving fans the opportunity to have their name, message or personal salute to Slim engraved. Think how exciting it will be for you, or in years to come, your children and grandchildren, to visit the Slim Dusty Centre and be able to walk through the courtyard and find your name or message as part of history."
Further information can be obtained by telephoning 1800 18 SLIM (1800 18 7546) or via the website www.slimdustycentre.com.au.
Deni Ute Muster 2010
Kasey Chambers (pictured), Lee Kernaghan and John Williamson will headline the country line-up at this year's Deniliquin Ute Muster.
They will be supported by this year's Toyota Star Maker Luke Austen, Tori Darke, Steve Forde and Jasmine Rae.
Canadian country act Corb Lund will also appear as will legendary Australian rock band Cold Chisel.
The Muster will run on Friday and Saturday October 1 and 2.
Weblink – www.deniutemuster.com.au.
WA young guns
Lynwood Arms Hotel in Perth comes alive on Sunday June 13 at 2:30pm when 13 young up and coming artists take to the stage in a showcase of modern and traditional country music.
Hosted by Brendon T Moylan, "Country Young Guns of WA" features young artists ranging in age from 11 to 21 years old.
"Supported by WA's fabulous country band, Outback and featuring guest artists the Amber Forsyth trio Third Time Lucky and Emma Neasham, this must see family show includes a three course meal in the ticket price of $30," said a spokesman or the organisers.
Tickets can be obtained from the Lynwood Arms Hotel at 558 Metcalf Road, Ferndale, telephone 08 9451 8577.
Photo (from left): some of the "young guns" – Kristy Elvin, Tahya Magill, Ashleigh Magill, Kate Hindle and Shenae Magill.
Cessnock CMF success
The 2010 LJ Hooker Cessnock Country Music Festival – the fourth such weekend of Australian country music – has been hailed a success by organisers.
Paul Costa, with Victoria Baillie and Holly Wilson supporting, opened the Festival "presenting a fantastic show which the whole audience enjoyed," said spokesman Rhonda Astill. Holly won the Reg Lindsay Scholarship to the Australian College of Country Music presented to her at the 2009 Cessnock Festival and will attend the 2010 College in Tamworth in July this year.
"The Wolverines were very well received by a large enthusiastic audience on Saturday evening," Rhonda said. "They did their usual meet and greet at the door and met with fans in the break. They did not let their fans down, presenting their usual brand of country music mayhem.
"Jon Wolfe did a great job compering our musical weekend. Ros Lindsay presented Jon with clothing including hat and boots and an early show poster belonging to Reg Lindsay for display in the Australian Country Music Foundation (Jon is Secretary of the Foundation).
Performers throughout the weekend included Lisa White, Makaylie Foodey, Bob Pigott and his band, The Working Man's Dream, Tara Naysmith, Lee Forster, Jodie Crosby and Steve Newton, Steve Passfield, Queensland's The BobKatz, Kel-Anne Brandt, Donella, Mitchell Shadlow and Darren Coggan who capped off this great weekend and held the crowd to the end," Rhonda said.
"Victoria McGee stepped in at the last moment when Grant Richardson had 'Australia's Got Talent' commitments in Melbourne. Fine musicians Simon Johnson, Greg Franks and Brad Bergen backed the artists all weekend.
"On Sunday, a full program of balladeers ran on the second stage with the Australian Country Music and Bush Ballad Association, Slim Newton, Christina George, Greg Bain, Ken 'Chainsaw' Lindsay, Lynette Guest and Ernie Constance backed by Charley Boyter, Ben Kelly and Tony Machlin. Boris Bajric supplied the sound for the room with Kevin Parsons doing a fine job as compere."
Planning is already underway for next year's Festival which will be held on the weekend of May 27 to 29.
Photo: Jon Wolfe accepts the Reg Lindsay donation from Ros.
Weblink – www.cessnock-country-music-festival.com.
---
Click here for recent news