NEWS ARCHIVE ... JULY 2011
---
THURSDAY, JULY 28, 2011
Wildflowers wins for Clelia
Wildflowers has been a landmark album in NSW North Coast singer/songwriter Clelia Adams' career and now, the work has been announced as Production of the Year at the 21st annual European Country Music Association (ECMA) Awards.
Three years after its release, Wildflowers is still earning accolades for the artist with this most recent award for the production team behind the album.
The 21st ECMA Awards covered product commercially released from May 2009 to May 2010 and Wildflowers was up against albums from artists the world over.
"I am so thrilled that my producer Stuie French has finally been recognised internationally for his incredible talents," Clelia said. "Stuie is not only one of the finest guitar players in the world, he has absolute integrity when it comes to the albums produced at his Swingin' Doors Studio in Sydney."
When he learned of the latest Wildflowers win, the Stuie said: "I'm very proud to have won this award. Having a great artist and good songs to work with makes my job easy.
Clelia said she would cherish winning this category because it took in not only the production of the album, but the overall package, which was a fine testament to the team of gifted musicians, singers, family and friends who helped produce the end result.
The album's unique presentation was created by graphic artists Syd Geary and Jane Purchase of Mullumbimby Printworks.
"I am honoured to win Production of the Year on an international level, because it recognises everyone's achievements," Clelia said.
"Thanks to Rafel Corbi, the staff and voting members of the ECMA, radio presenters around Australia and throughout Europe for believing so strongly in Wildflowers, and Ross Allen from Hillcrest, Canada, who distributes my music in Europe."
Hillcrest was named winner of the Compilation Service of the Year award.
Weblinks – www.cleliaadams.com, www.europeancma.com/New_Awards.htm.
Closing date extended for AIADAs
The closing date for entry into the 2011 Australian Independent Artists Development Awards (AIADAs) has been extended to this coming Sunday, July 31.

Billed as Australia's newest and richest "indie" country music awards, the AIADAs offer independent artists the chance to win cash from a prize pool of $35,000.
The closing date has been extended "due to the complexity of the entry requirements and in response to numerous artist requests," organisers say.
Entries are open to artists Australia-wide whose recordings and videos are self-funded and were commercially released between June 1 last year and May 31 this year.
Full entry details can be obtained at www.aiado.org.au.
Finalists in the 2011 AIADAs will be announced at Rooty Hill RSL on Friday September 2.
Chart Update – Amber still leads
Amber Lawrence's Always Kiss Me Goodnight retains the number one spot on the national Country Tracks Top 30 singles chart this week.
Jetty Road's Serves You Right jumps four more places to be at number two while Graeme Connors' Watching Byron Raise The Flag edges up one to three as does Tori Darke's Someone Else's Baby to four.
Keith Urban's Without You is up two to five, Dianna Corcoran's Keep Breathing is at six and McAlister Kemp's Hard Work jumps another three places to be at seven.
Troy Cassar-Daley's Ladies In My Life is steady at eight, the Jasmine Rae duet with Joe Nichols, I'll Try Anything, is at nine and Catherine Britt's I Want You Back debuts in the top 10 at 10.
Bullet performers for the week include Shane Nicholson's Famous Last Words (16 to 12), Connie Kis Andersen's A Man In Boots (17 to 14), Rose Carleo's Runaway Heart (20 to 16), Adam Harvey's You Don't Know My Love (24 to 18), Peter McWhirter (pictured) with Devil's Daughter (27 to 22) and The Bobkatz' Keen Eye For The Ordinary (new at 28).
Other new entries for the week include Adam Brand's 455 Rocket (in at 28) and Luella's Mother's Love at 30.
---
TUESDAY, JULY 26, 2011
Support grows for Slim Centre
Support of the Slim Dusty Centre at Kempsey (NSW) is growing now that the building has taken on its final shape.
According to the Slim Dusty Foundation, operators of the Centre, planning for the building's interior exhibition is to begin soon with businesses in the local area increasingly donating time, produce and services to the latest stage of the Centre's development.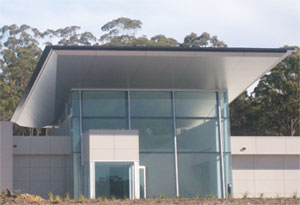 The Kempsey, Macksville and Port Macquarie business sectors are fully realising the potential flow on benefits that the iconic new Centre would bring to their businesses and communities, said the Foundation's Kathryn Yarnold, "and they accordingly have really rallied behind it.
"I think visually, the completion of the building has had a real and major impact on people. After years of anticipation, people can actually see something tangible and the excitement is growing.
"People driving by have been watching the steady completion of the building and the landscaping now starting to take shape, especially now with the surprise appearance of the 40 foot Comet windmill, the Centre is now the talk of the town," Kathryn said, expressing the importance of the local support received to date.
"We could not have come this far without donors, the fans and supporters. This is a community project, proudly owned by the locals. The Centre can only succeed with the support of the community."
Kathryn thanked a number of local community supporters...
The newly erected landmark windmill was donated and erected by Darren and Melissa Fitzgerald and Lyle Spalding from Comet Windmills in Macksville.
"We are proud to be associated with the team at the Slim Dusty Centre," Melissa said. "The Comet Windmill and Slim Dusty are both iconic Australians, both symbols of the Australian outback in their own right. We wish the Centre every success in keeping the Slim Dusty tradition and his stories alive."
The Edwards family (Bevan, Janne and Doug), of the Valley Garden Centre,who donated all labour for the landscaping, agreed...
"A great project and we see this as our contribution to the local area and to encourage local tourism, bringing people into the town after the bypass... something to be supported for Kempsey's future. We felt privileged to be involved," Janne said.
In addition to the landscaping work, all the rockery work was donated by Midcoast Riverstone's Mark Roach and Bruce Penson with the assistance of Plant Manager Col Ibbotson. "And Colin Thomas from the Hastings has added something special to the Centre landscape with his massive Grass Tree gift which takes pride of place along with the special Slim Dusty Rose bushes (from Lansdale Roses)," Kathryn Yarnold said.
Doug Cheetham from Wrights Chartered Accountants donated his time to conduct an Audit. Doug said: "The team here at Wrights has been working within this community for decades, and we believe that the Slim Dusty Centre is a wonderful thing for the region. We are happy to support community organisations and proud to give back to our town."
"Book keeping services are being provided by Belinda Fowler of Compu-Account Consultancy who is a popular and regular visitor to the offices, now located at the Centre," Kathryn said.
Looking forward to the long awaited opening, Belinda said: "I'm really proud to be able to help out the Foundation, and being able to work in the building even before the fit-out, you can clearly see what a fantastic facility it's going to be."
Michael Reid of Clybucca Earthmoving who donated a substantial amount of plant hire, echoed the local business supporters. "I believe it is good for the valley, and I believe that in business if you are doing alright you should put something back into the community," Michael said.
Wayne Donaldson is to provide professional security patrols and responses as his donation to the Centre. "I've been doing security in the area for 13 years," Wayne said. I'm proud to be involved with the centre. I grew up with Slim Dusty and he is my idol. Now I can give something back to him."
Photo: the front of the Slim Dusty Centre in June.
Weblink – www.slimdustycentre.com.au.
---
TUESDAY, JULY 19, 2011
Country Music Capital cabs support the 40th Festival
Country Music Capital's Northern Daily Leader has reported that local taxi cabs are going out of their way to support the upcoming 40th Tamworth Country Music Festival in January.
"Taxis are a wheelie big deal for country music artists in the lead-up to (Festival)," the paper said.
Tamworth Radio Cabs' Kevin Smith has adorned nearly all his fleet of taxis with the names of mostly local country music artists to promote them in the countdown to the celebrations in January 2012.
Those being featured include Lindsay Butler, Tracy Coster (pictured), Rex Dallas, Graeme Doubleday, Lynette Guest, Shaza Leigh, Brian Letton, Tom Maxwell and Those Gals.
The Leader reported that Tracy was a bit dumbfounded when she got a call from Kevin asking if he could put her name on the side of a taxi, but warmed to the idea when she heard about the promotional venture.
"I moved back to Manilla last year, so I've been home for about 18 months, and I really enjoy getting involved in the local music scene, including being on the Capital Country Music Association (CCMA) committee," she said.
"There are plenty of second-generation artists who live in Tamworth, including Lawrie Minson and Steve Newton, and we need to strengthen country music in as many areas as we can.
"I'm very honoured to have my name on the side of a taxi to help support country music and the 40th
Festival."
Third "Boys" album released
The third issue in ABC Country's Boys From The Bush series has been released.
The 20 track compilation, themed on "great Aussie songs" features tracks from some of Australia's favourite male country artists.
Those featured include Luke Austen, James Blundell, Adam Brand, Troy Cassar-Daley, Travis Collins, Luke Dickens, Steve Forde, Lee Kernaghan, McAlister Kemp, Jason Lee, Markus Meier, Peter McWhirter,Craig Morrison, Luke O'Shea, Matt Scullion, Greg Storer, Warren H Williams and the Wolverines.
The album was released on Friday.
Weblink – www.abcmusic.com.au.
Chart Update – Amber hits number one
Amber Lawrence's Always Kiss Me Goodnight has hit number one on the national Country Tracks Top 30 singles chart this week.
Dianna Corcoran's Keep Breathing slips to number two while the Jasmine Rae duet with Joe Nichols, I'll Try Anything, is steady at three and Graeme Connors' Watching Byron Raise The Flag jumps two places to number four.
Tori Darke's Someone Else's Baby is steady at five, Jetty Road's Serves You Right jumps four places to number six as Keith Urban's Without You edges up one place to seven.
Troy Cassar-Daley's Ladies In My Life enters the top 10 at eight, 8 Ball Aitken's Rogue Pony is at steady at nine while McAlister Kemp's Hard Work jumps four places to enter the top 10 at 10.
Bullet performers for the week include Catherine Britt's I Want You Back (15 to 12), Jayne Denham's Farmer's Wife (19 to 15), Shane Nicholson's Famous Last Words (20 to 16), Connie Kis Andersen's A Man In Boots (21 to 17), Tania Kernaghan's Twinkle In My Eye (23 to 19), Rose Carleo's Runaway Heart (24 to 20), Adam Harvey's You Don't Know My Love (29 to 24) and Peter McWhirter's Devil's Daughter (30 to 27).
---
THURSDAY, JULY 14, 2011
More artists confirmed for 2011 Muster
A second round of artists has been announced to appear at this year's Gympie Muster in June, the 30th to be staged.
Luke Austen, Kaylee Bell, The Bostocks, Catherine Britt, Liam Brew, Busby Marou, Troy Cassar-Daley, Rose Carleo, Bill Chambers, Crakajak, Luke Dickens, the Duke Wilde Band, Fiddler's Feast, Jim Haynes, Steven Jaymes, Buddy Knox, Amber Lawrence, Markus Meier, Luke O'Shea, The Pigs, the Round Mountain Girls, Tenielle, John Williamson (pictured) and the Wolverines are among those who will join those already announced for the six day event.
Muster organisers also announced a number of confirmed events for 2011, including APRA (Australasian Performing Right Association) Songwriters Sessions, CD launches, the Star Maker Showcase and 2011 Winner Album Launch, the 30th Birthday Opening Night Muster Gala Bush Ball, Music Industry Forum, Songwriters Workshops, line dancing, Talent Search and the Musterbeenbloodygood Poetry Slam.
The Muster will be held on the event's dedicated site in the Amamoor Creek State Forest near Gympie from Tuesday August 23 to Sunday August 28.
With more than 40 acts previously announced in May, ticket sales to the event continue strongly. Organisers say indications are that the 2011 event may attract the largest ever Music crowd "to share the 30th birthday celebrations".
Muster Chief Executive Officer Vickii Cote said: "We knew from the very beginning that getting the right line-up confirmed for the 2011 Optus Gympie Music Muster was critical. Our event attracts such a wide demographic of music fans and those simply seeking the experience. We've worked really hard and believe we have a great line-up of sensational talent on offer that will provide something for everyone, of all ages."
Event stalwart and Australian icon John Williamson expressed his excitement to be returning to the Muster stage: "I am delighted to be performing at the 30th Gympie Muster. I can proudly say that I've been to more than any other artist.
"It is Queensland's most significant contribution towards our own brand of country music. It has continued to build from the first one held on the property of the Webb brothers. Why? Because it is extremely well run. The Gympie Muster is different to the great Tamworth festival as it is held at Amamoor Forest.
"It's in the bush where our music comes from. Come rain, hail or sunshine the loyal fans never miss it. They jealously hold on to their camping spots and every year create a massive tent-village with their mates. This gives the Muster a feeling of the pioneering days that take us back to our roots. I can't wait! See you there."
Weblink – www.muster.com.au.
Muster distributes $100,000
At the recent Gympie Muster "Round-Up Event" more than $100,000 was distributed to worthwhile causes.
More than 200 stakeholders attended the function which also paid tribute to the small army of volunteers involved in delivering the nationally recognised event.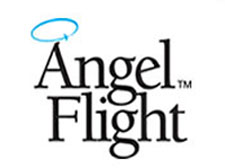 The major presentation was to last year's Charitable Beneficiary Angel Flight who received a donation of $71,388. Each year a major beneficiary is selected who is awarded all profits from the official Muster merchandise which adds to the overall donated amount.
As we as recognising those who contributed to the event's delivery, a special dedication and several tributes were made to the recently passed Marylou Goodall, a long-time friend of the event who had been heavily involved in the Muster.
Reiterating pride in the event was Carl Green, 2010 Muster Committee Chairman, who said: "We are proud to have raised over $70,000 for our major beneficiary Angel Flight to enable them to carry on the good work they are doing in Rural areas.
"We are also proud to support our community group beneficiaries who will use funds donated... to further enhance their community. We thank our local community groups who helped make... a great festival. I would also like to thank all of my fellow Apexians and their partners in running the 2010 Muster. Without them the workload would have been enormous!"
In addition to the Angel Flight presentation, more than $30,000 in other major donations were presented at the to worthy groups, associations and charities selected as 2010 event recipients.
The "Round-Up" function also announced the establishment of of Gympie Muster Ltd, an independent organisation established to drive the event forward into its 30th birthday in 2011 and beyond.
All staff were introduced with CEO Vickii Cotter expressing her appreciation to all involved.
"The Round-Up dinner reminds us all why the... Muster is so special and differing to so many other international Festivals. Whilst our event provides the ultimate experience to fans, it is the return it provides to worthy charities and organisations that truly sets it apart."
Adam releases Falling Into Place
Award-winning Australian country artist Adam Harvey has released his seventh studio album, Falling Into Place.
With a career that spans 10 years, three Gold albums, total sales upwards of 300,000 albums and seven Golden Guitars (including two for Album of the Year and two more for Male Vocalist of The Year) Adam is already at the forefront of Australia's most acclaimed country music entertainers.
"Falling Into Place brings to life the friends, family and people who share Adam's idyllic life around Bateau Bay on the NSW Central Coast," said a spokesman for the artist.
"Adam has shown that home is an inspiring place for his heart by using its sanctuary and surroundings to write and record the new album, with longtime producer Rod McCormack at the helm.
"Falling Into Place is Adam's most personal album. He sings about the things that have genuine meaning in his life; his wife and family, the mates he drinks with at the local pub, the characters he's met and his love of fishing."
"I think people will recognise the characters I sing about and relate to them amongst their own friends and relatives," Adam said.
Adam invited Troy Cassar-Daley and Beccy Cole, two Australian country music artists that he admires the most, to co-write songs and contribute vocals on tracks on the album. "Both are Adam's close friends and regular touring partners and therefore the inspiration came easily. His frequent songwriting partners Colin Buchanan and Rod McCormack also contributed," the spokesman said.
"I wrote the title track with Troy," Adam said. "It's the story of when I was offered a record deal provided I moved from Melbourne to Sydney (or closer to it!). I was studying horticulture and had doubts about tossing in a regular wage to chase a music career but my wife Kathy bought me a little plaque that said: 'As long as we're together the rest will just fall into place'. It's one of my favourite songs on the album.
Troy has a similar sense of satisfaction about the song: "I really wanted to relate this song to both our lives. It's about a bloke's fear of failure starting out on a career of any sort and the girl who holds it all together while he's out there paying his dues."
"Bordertown is Adam's own experience of a modern day dilemma of reconciling working away from home with romance."
"I wrote this with Bucko and Rod," he said. "It's from my truck driving days when love was young and I couldn't wait to get home to see Miss Kathy."
"Hooked is self-explanatory if you know how much Adam loves fishing."
"Even if I don't catch anything it's good for the soul and gives me time to think. As the chorus says: 'bad day fishing beats a great day working'!"
"Beccy Cole's contribution with Adam includes the humour of A Good Woman Can, a song about men and women and the way men perceive females."
"It goes over really well at our live shows and I think it's a winner," Adam said.
"Falling Into Place reaches the challengingly high standards Adam Harvey has set himself since arriving on the country music scene as a songwriter and performer a decade ago," the spokesman said. "This album will be welcomed by his army of fans around Australia and internationally as further testament that he just keeps getting better."

The album was released on July 8.
---
TUESDAY, JULY 12, 2011
Catherine among song comp finalists
Catherine Britt has been named one of the 12 finalists for the 2011 APRA organised and promoted Vanda and Young Songwriting Competition.
Catherine made the finals with her song Sweet Emmylou.
Winner of the competition will be announced this Friday, July 15.
Finalists were determined by an 18 strong industry judging panel for the competition that drew entries from aspiring songwriters all over the world.
The winner will receive an prize package valued at more than $50,000 while second and third placegetters will share in cash and prizes worth more than $10,000.
The Vanda and Young Songwriting Competition is in its second year but has quickly become Australia's most prestigious and lucrative songwriting competition, according to APRA, the Australasian Performing Right Association.
This year, more than 4,000 entries were received, 1,500 more than the inaugural year.
All money raised from entries goes directly to supporting Nordoff-Robbins Music Therapy Australia (NRMTA). The total amount of money raised will also be announced on Friday. The charity benefitted from more than $130,000 raised in the first year.
Since 1984, NRMTA has promoted and developed the understanding, training and practice of creative music therapy. Therapists work with children and adults, utilising music's interactive and participatory nature as an agent for change and healing.
The competition is sponsored by APRA|AMCOS, Alberts, Berklee Music, Gibson Foundation, Kensaltown Records, PPCA, Roland, Show Group, Song Summit, Studios 301 and XYZ Networks.
CMAA General Manager resigns as Awards investigation "wraps up"
The General Manager of the Country Music Association of Australia Cheryl Hayes announced her resignation today as the organisation announced that the independent investigation into the staging of this year's Golden Guitar Awards had "wrapped up".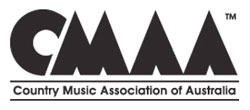 Association Chairman Rod Laing said the Board had now put in place a series of initiatives to ensure there was no repeat of the events of the 39th Country Music Awards of Australia.
But there would be no announcement of the full results of the investigation.
"The Board accepts that on the night there was human error involved and no disciplinary action is to be taken against any individual," he said.
"The Board notes that the independent investigation confirmed that no member of the Board was present backstage or was consulted at the time the key events occurred at the awards night."
There was no announcement in relation to the confusion surrounding the mix-up which immediately followed presentation of the Album of the Year Golden Guitar to Lee Kernaghan and producer Garth Porter instead of the rightful winners Graeme Connors and producer Matt Fell.
The confusion extended through the night and much of the following day before the Association finally admitted a mistake had been made and apologised.
---
TUESDAY, JULY 5, 2011
Chart Update – Dianna, three weeks at number one
Dianna Corcoran's Keep Breathing hangs on to the top spot on the national Country Tracks Top 30 singles chart for the third week this week.
Amber Lawrence's Always Kiss Me Goodnight jumps two places to number two, the Jasmine Rae duet with Joe Nichols, I'll Try Anything, is at three while America's Brad Paisley is at four with This Is Country Music.
Tori Darke's Someone Else's Baby is also up two places to five, as is Graeme Connors' Watching Byron Raise The Flag with America's Miranda Lambert at seven with Heart Like Mine.
Keith Urban's Without You bounds into the top 10 at number eight, 8 Ball Aitken's Rogue Pony is at nine and Jetty Road's Serves You Right is new in the top 10 at 10.
Bullet performers for the week include McAlister Kemp's Hard Work (18 to 14), Jayne Denham's Farmer's Wife (22 to 19), Shane Nicholson's Famous Last Words (23 to 20) and Connie Kis Andersen's A Man In Boots (24 to 21).
New entries to the chart this week are Adam Harvey's You Don't Know My Love (in at 29) and Peter McWhirter's Devil's Daughter (at 30).
---
FRIDAY, JULY 1, 2011
More plans announced for Tamworth's 40th festival
Country Music Capital's historic Tamworth Town Hall was the setting today for the announcement of more plans for the 40th annual Tamworth Country Music Festival which will be staged in January 2012.
Announcements included detailing of the Council team that would work to deliver the 40th festival and a renewed emphasis on the Town Hall as a major focus for the January 2012 event.
The team will be lead by Council's Director of Commercial & Community Enterprises Paul Sullivan with Manager of Entertainment Venues & Festival Creative Peter Ross and Festival Co-ordinator Peter Greenaway.
During the function, founders of the Country Music Capital concept were recognised for the role they played, especially in laying the groundwork for the Festival which launched in 1973 with the first staging of the Australasian Country Music Awards.
Pictured at right are the CMC founders (from left), then Radio 2TM executives and staff Warwick Higginbotham, John Minson, Max Ellis, Eric Scott and Kevin Knapp with Joy McKean who won the first ever Golden Guitar for her song Lights On The Hill. Also pictured at the back of the photo is function compere Gavin Flanagan who is the current 2TM Manager.
Tamworth Mayor Col Murray announced that Joy, who was a special guest at the function, had agreed to the use of the title of the Don Walker penned Slim Dusty hit Looking Forward Looking Back as the 40th Festival's "logo statement".
"The announcement by Joy McKean that she and Don Walker had given approval to use the title of Looking Forward Looking Back as a statement attached to the (40th Festival) logo, is the icing on the cake. It is a real bonus and it's what this coming Festival is going to be about. We will recognise our past and we will move forward."
Mayor Murray also announced a Festival Artist & Musicians Green Room would be established in the Town Hall's first floor administrative rooms named in honour of "Mr Hoedown" John Minson.
"The John Minson Artist & Musician's Green Room is a major approach by Tamworth Regional Council to seek the support of artists, musicians and technicians by offering their facilities in the old Mayoral Chambers to support the industry," a Mayor said.
"The Green Room will be a place for artists and musicians to relax, catch up or do a little bit of business."
Plans were also announced for a Festival Theatrette to be located in the Town Hall's Passchendaele Room (or Small Town Hall).
---
Click here for recent news
---