---
AUSTRALIAN COUNTRY MUSIC NEWS - JANUARY 2012
---
TUESDAY, JANUARY 31, 2012
8 Ball sacrifices his beard
Well-known rising Australian country star 8 Ball Aitken has sacrificed his beard for charity.
And he's still looking for donations to support the Leukaemia Foundation.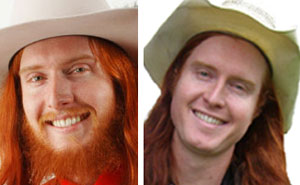 When 8 Ball played his song Rogue Pony at the Toyota Star Maker grand final in Tamworth, few in the audience could imagine how he would look without his trademark beard.
"I feel naked," he said after the shave. "This beard's been growing for almost a decade – all the time I've been touring with my music, so fans won't know me anymore."
But now it's gone and as our photos show, there's a striking difference. So why did the singer/songwriter decide to mess with his image in such a big way?
"I lost a dear mate to Leukaemia last year and wanted to do something to honour him and raise money for research into this horrible disease," 8 Ball said.
During the just-concluded Tamworth Country Music Festival, he sat quietly on a Tamworth street while his face got naked for the Leukaemia Foundation's World's Greatest Shave.
Standing at his side before a huge cheering crowd were the River Oak Cowgirls, in long, red wigs and Happy, the St George Bank dragon.
The forerunner of many more shaving fundraisers in the peak month of March, 8 Ball hoped timing his shave during the festival would generate more money for the Leukaemia Foundation.
"$10,000 was my goal and although I didn't reach it, I'd made a promise, so I figured nobody looks ugly after midnight and hoped for the best," he said.
One of his pub crowd favourites, Nobody Looks Ugly After Midnight is just one of his many popular and lively songs, including Pitbull Is Off The Chain, Rogue Pony, Cyclone Country and Outback Booty Call on his latest live album, Alive In Tamworth, released a fortnight ago.
"You can still donate and make my big sacrifice worthwhile," he said, "just search for '8 Ball' on the Leukaemia Foundation's www.worldsgreatestshave.com website."
There's even a video of the shave on his Facebook fan club website.
8 Ball kicks off a new tour starting Saturday February 4 with a headline performance at Warwick's Killarney Cup Race Day.
Weblink – www.8ballaitken.com.
Golden Harmonica Champions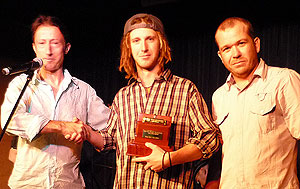 This year's Hohner Golden Harmonica Championships were staged again as part of the annual Tamworth Country Music Festival.
Chris Maunder from Melbourne won the open section with Ray Lechminka from Sydney as runner-up.
The encouragement prize went to Brennen Fell.
And James Norton won the audience prize.
Pictured (from left): Championships organiser Lawrie Minson, Chris Maunder and sponsor representive Gerard Hohner.
Meet'n Greet Awards
The 2012 Meet'n Greet Country Awards were announced at Tamworth's Family Hotel on Monday January 23.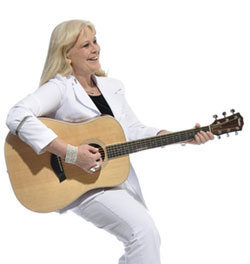 Dedicated to recognising independent artists, this year's winners were...
Dane Sharp (Most Popular Independent Male Artist), Connie Kis Andersen (pictured – Most Popular Independent Female Artist, Christie Lamb (Most Popular New Independent Artist), The Noll Brothers (Most Popular Independent Group/Duo), Melody Feder (Most Popular Independent Rising Star), Adam Toms' Holding My Breath (Most Popular Album), Luke O'Shea's Midnight Train (Most Popular Film Clip), Kalesti Butler (Street of Dreams Award for Bush Poets and Balladeers), Vickiree Melouney of Nambucca Valley Community Radio in NSW (Most Popular Radio Presenter), June Underwood (Photographer Award) and Chris Lee (President's Encouragement Award).
At the awards presentation, performances were given by Amanda Jane Halloran, Vanessa Lea & Roadtrain, Dan Murphy, The Noll Brothers, Luke O'Shea and Tamara Stewart. The event was hosted by Meet'n Greet's ambassador Col Finley and included a surprise special guest, Warren H Williams.
In its third year, the Awards were established out of a desire for followers to connect with, and acknowledge, their favourite independent artists and media during the Tamworth Country Music Festival.
Finalists in each category were voted for on-line by fans over several months in the lead up to the Festival.
Team leader and organiser Donna Lowe said: "We are so thrilled to see this event grow from strength to strength. It really reflects the intense desire of fans to connect with artists in an up close and personal way.
"Not only do we appreciate and acknowledge the tremendous effort independent artists put into their careers just so that we can enjoy their music, but we wouldn't be able to hold this event without the support of our sponsors and so we extend our sincerest thanks to them also."
Weblink – www.meetngreetcountry.net.
---
MONDAY, JANUARY 30, 2012
Dimity is Tamworth's new Country Music Queen
Dimity Chaseling has been crowned Country Music Capital's Queen of Country Music for 2012.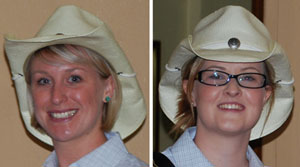 And Shae McIntosh has been announced as Country Music Princess for the coming year.
The wins were announced last night at the Crowning Dinner in Tamworth's famous Town Hall.
Dimity, sponsored by TAFE New England, and Shae, sponsored by NAB, now have a busy year ahead involved in a range of civic and community events including guest speaking engagements, social and cultural presentations and corporate and festival functions.
They will also travel to Tamworth's sister city Gore in New Zealand to attend the 2012 Gore Country Music Festival and represent Australia's Country Music Capital.
Photos: Dimity (left) and Shae.
Busking winners
The 2012 Tamworth Country Music Festival Busking Championship was taken out by Melbourne group Tasha (pictured) from a field of 550 street performers.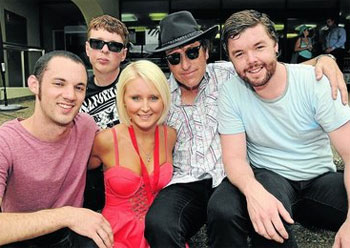 Country Music Capital's "Northern Daily Leader" reported that the five-piece band, fronted by Tasha Amoroso, impressed the judges and 2000-strong crowd at Saturday's Best of Busking finals in Bicentennial Park to take the title.
The group in its current formation has been together for just six months, the paper said, although bass player Glen Impey and drummer and manager Chris Potter are long-time members.
Tasha, Glen and Chris first came to Tamworth on a whim last year and had such a good time they decided to do it all again with new guitarists Rhys Warden and Dan Ebbels.
"You never go into these things thinking you're going to win," Tasha said, "you're just happy to be there."
Band members said they were especially grateful for the support they've had, particularly from locals.
Wellington NSW's Jonno Nicholson was runner up in the country section while the Andrew Winton Two from Perth took out the non-country section with the Perch Creek Family Jug Band second.
The People's Choice award went to Jenny Biddle, another Melbournian.
---
SUNDAY, JANUARY 29, 2012
Cavalcade winners
Tens of thousands of people lined Tamworth's Peel Street yesterday morning for the Toyota Country Music Cavalcade, the annual procession of vehicles in many different forms carrying big and not so big names in Australian country music.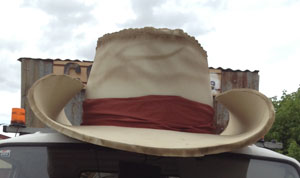 As part of their participation, cavalcade entries are judged by a panel in several categories.
The winning float this year in Best Commercial Business was 8 Ball Aitken with Tamworth City Dance Academy second and Qantas highly commended.
Don't Waste Tamworth with Troy Cassar-Daley won in Best Non Commercial Section with Tamworth Songwriters' Association in second place and Tamworth Business Chamber highly commended.
In the Equine section, Carlton United Breweries took out first place, Australian Miniature Horse Association and John Richardson, The Camel Man, joint second.
Judges also highly commended the Capital Country Music Association (CCMA) and Uniting Care Aging St, Andrews Village, entries. The CCMA had a theme that highlighted some of today's stars who had come through the Association while the float itself featured stars of tomorrow with a number of finalists from this year's National Talent Quest.
The Cavalcade featured a total of 110 entrants.
Photo: part of the front of the CCMA float.
Country Entertainer of the Year
New Zealander Cameron Scott was named Aristocrat Country Entertainer of the Year at West Leagues in Tamworth on Monday night.
Second place in the senior section of the competition went to Brett Clarke from Tamworth while Katie Mason from Mornington in South Australia placed third.
New Zealand was strongly represented this year with another Kiwi, Zoe Scott, taking out second place in the junior section.
South Australian Nathaniel O'Brien won the junior section overall after his fifth year in the competition.
Young four-piece outfit Disbanded took out third place in the junior section.
Event co-ordinator and judging panel chair Gina Timms said the talent this year was outstanding.
"It's very exciting to have both heats full prior to the event," she said. "Last year due to the Queensland floods, I was walking Peel Street handing out entry forms, but that wasn't the case this year."
Photo (front from left): Disbanded members Ben Wight and Aiden Patrick with junior winner Nathaniel O'Brien and fellow Disbanded member, Jasper Barr; back (from left): Aristocrat's Peter Henderson with Disbanded member Olivia Nolan and Brett Clarke, Katie Mason, Cameron Scott, guest judge Beccy Cole and Zoe Scott.
Golden Fiddle winners
Quatro (pictured), the youthful string quartette from Bundaberg that won the hearts of the 2011 Golden Fiddle show audience with their choreographed performance on Thursday won the hearts of the Golden Fiddle judges in Tamworth.
Last year, they were highly commended in the Youth Achievement category, but at this year's Awards, they won it outright against stiff competition.
The four girls in Quatro, Amity Brand, Radha Shukla, Vanessa Smith and Claudia Vogel, with an average age of 15, just managed to escape the Bundaberg floods to appear in Tamworth last year, then spent most of their spare time raising money to take home to help their local townsfolk.
They have since appeared on radio and television, have cut their first album and are in demand for
corporate gigs.
A young fiddler who began playing at age four and grew up on stage in the family band Fiddlesticks was today named as 2012's best fiddle player as a soloist. George Jackson is a fourth generation fiddle player who received scholarships to America in 2006 and 2008 to study fiddle and went on to win the Australian Fiddle & Banjo Championships in 2010 along with the Young Folk Musician of Australia Award.
The northern NSW band the Round Mountain Girls, and in particular their resident fiddler Paul Rabbit Robinson, were top scorers in the 2012 Golden Fiddle Awards.
Rabbit was honoured with the Lifetime Achievement Award for his contribution to fiddle playing and teaching. In a rare acknowledgement, he was honoured at the same time by winning the category for best fiddle teacher. As well as being an active member of the Round Mountain Girls (in which there are no girls), Rabbit teaches violin in three schools and has produced a training program that is now selling in five countries.
Not to be left out, Rabbit's fellow band members joined him on stage when they were named the best band featuring a fiddler. The band has produced two albums with a third on the way.
Another band that scored well at this year's Awards was The String Contingent, a trio of acoustic string players comprising Australians Chris Stone (violin) and Holly Downes (double bass) with Scotsman Graham McLeod (guitar).
They took out the Award for best CD by an ensemble. Their bassist Holly Downes beat rival bids from fellow bandsman Graham McLeod and last year's Lifetime Achievers, Leaping Lizards, to win the best fiddle composition award.
The award for Best CD By A Fiddler as a Soloist went to Emma Nixon who shared a Golden Fiddle award last year as best fiddle teacher.
Awards chairman Mark Mitchell said 2011 was probably the worst year in history for professional fiddle players who were caught up in cost cutting in entertainment and corporate events industries.
"Despite that, new material was still being produced, and there was no shortage of competitors with huge talent for the 2012 awards."
Weblink – www.goldenfiddleawards.org.au.
---
SATURDAY, JANUARY 28, 2012
Golden Guitar winners...
This year's Golden Guitar Awards winners are...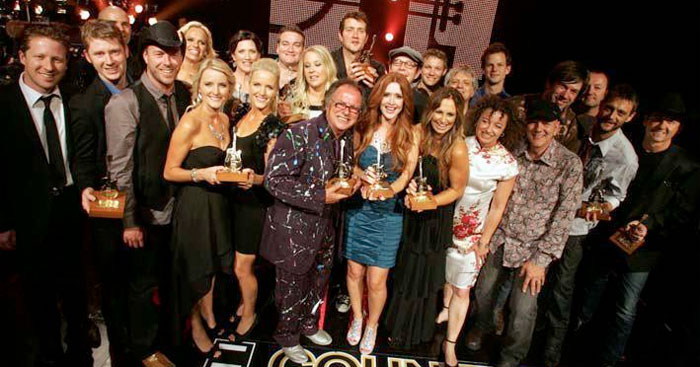 Single of the Year - Sweet Emmylou by Catherine Britt.
Video of the Year - Children Of The Gurindji by Sara Storer & Kev Carmody, directed by Duncan Toombs.
Bush Ballad of the Year - Channel Country Ground, written by Merv Maltman, recorded by Dean Perrett & Lee Kernaghan.
Instrumental of the Year - OMFG by the Davidson Brothers.
Vocal Collaboration of the Year - Millionaires by Beccy Cole & Kasey Chambers.
Group or Duo of the Year - Jetty Road with Serves You Right.
Engineer of the Year - Ted Howard.
Producer of the Year - Matt Fell.
Musician of the Year - Mark Punch.
New Talent of the Year - O'Shea with Smash.
Heritage Track of the Year - I Am Australian by The Bushwackers.
Top Selling Album of the Year - Get Closer by Keith Urban.
Song of the Year - Bad Machines. written and recorded by Shane Nicholson.
Female Artist of the Year - Beccy Cole with Waitress.
Male Artist of the Year - Keith Urban with Long Hot Summer.
Album of the Year - Falling Into Place by Adam Harvey, produced by Rod McCormack.
Photo, from CMAA Facebook page, facebook.com/australiancountrymusic.
---
THURSDAY, JANUARY 26, 2012
People's Choice winners
Winners were announced in the 2012 Australian Country Music People's Choice Awards in Tamworth on tonight.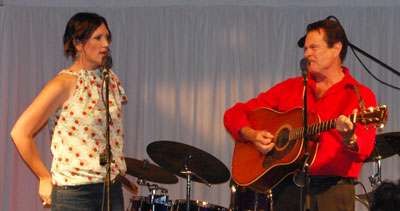 Beccy Cole took out the Best Female Vocal award for the second year running while balladeer Graham Rodger won the Best Male Vocal award.
Another second time winner in the same category was Brothers 3 who took out the Best Group Award.
Best Song went to Hard Work, a composition penned by Drew McAlister & Mike Carr and recorded by McAlister Kemp.
Brian Letton won Best Bush Ballad with his recording of Kiandra Gold while McAlister Kemp took out their second for the night, Best Album, with All Kinds Of Tough.
Brisbane based Paul Cowderoy was successful as Most Promising Future star while the video by Kirsty Akers & Bob Evans, In Spite Of Ourselves, won Best Video Clip.
Winners in the broadcasting categories were Carter Edwards of the Super Radio Network as Most Popular Country Music DJ and Today's Country 94.1 on the NSW Central Coast as Most Popular Radio Station.
A good crowd attended the Awards night to witness the presentations and performances by a number of finalists and hosts Greg Champion and Steve Passfield.
Special awards were presented to Dale Duncan & Shaza Leigh and Graham Rodger & Sara Storer for Vocal Event of the Year, a category which up until this point has not existed in the Australian Country Music People's Choice.
Two songs – Walking In My Shoes (Dale & Shaza) and An Affair of The Heart – received so much support, the Awards organisers have decided to react to the demand by including the new category for 2013 onwards as such recordings do not fit any of the current categories.
Voting for the 2013 Australian Country Music People's Choice Awards will get underway around mid year at www.peopleschoiceawards.com.au.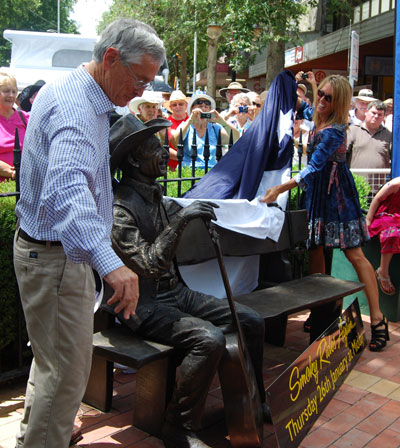 Smoky rides again!
The statue of Smoky Dawson was unveiled by close friend Dick Smith and sculptor Tanya Bartlett in Tamworth on Australia Day.
Sitting on a bench that allows for plenty of photo opportunities for fans and tourists, Smoky is a new welcoming figure on the Country Music Capital landscape in Tamworth's main street, Peel Street, in front of the city's council headquarters building.
A capacity crowd of donors, dignitaries and festival-goers attended the unveiling that was billed as "Smoky Rides Again".
Dick and Tanya, who is also responsible for works including the Waler Memorial in Tamworth and the Don Bradman statue at Bowral, performed the unveiling following short addresses from Mary Chapman, head of the committee that co-ordinated the appeal, Tamworth Mayor Col Murray and Festival founder and fundraising committee member Max Ellis.
Our photo shows Dick and Tanya performing the unveiling.
---
WEDNESDAY, JANUARY 25, 2012
National Talent Quest entries pass 200
Well over 200 entries have been received for the Capital Country Music Association's 2012 National Talent Quest.
The iconic Tamworth Country Music Festival activity runs at the Light City Church performance venue at the corner of Anne and Kathleen Streets tomorrow and Friday January 26 and 27 from 9am.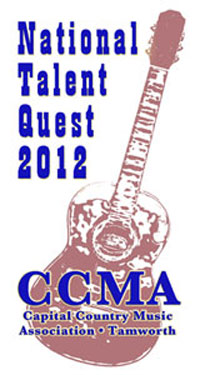 As one of the nation's leading amateur country music talent quests, the National Talent Quest has been running ever year since 1967 and was one of the two key events that created the Festival when the Golden Guitar Awards launched in 1973.
While the Tamworth Country Music Festival celebrates its 40th year, the National Talent Quest and associated Jamboree Concert are celebrating their 46th year.
Visitors are welcome to attend the talent quest to be in the audience to witness the performance of many who will be singing and/or playing for the very first time.
"This is where Keith Urban gained major exposure for the first time in Tamworth," said CCMA President Steve Newton. "It's where Lee Kernaghan featured first here, and Felicity Urquhart, Allan Caswell, Colin Buchanan, The McClymonts, Aleyce Simmonds, Katrina Burgoyne and hundreds more."
The biggest section in this year's talent quest is junior female vocal, which has attracted almost 50 young future stars.
Contestants compete in 10 sections… Male and Female Vocal Senior and Junior, Juvenile (or sub-junior), Group or Duo Senior and Junior, Instrumental Senior and Junior and Songwriting.
The National Talent Quest carries prizes and prizemoney of more than $10,000 including a place on the Junior Australian Academy of Country Music and an invitation for the Senior Overall Winner to attend the Trans Tasman Entertainer of the Year quest on Norfolk Island later this year.
Special awards will also be presented for the best performances of an Australian composition, bush ballad, gospel and alt country songs.
Finalists and winners in the Talent Quest will be announced at the CCMA Jamboree Spectacular in the Tamworth Town Hall from 1:30pm on Saturday where all winners will perform in a winners' concert.
Special guest performers at the Jamboree will include 8 Ball Aitken, The Crosby Sisters, Pixie Jenkins and Warren H Williams plus the overall winner of last year's talent quest Arianne Baker.
Visitors are welcome to attend the Talent Quest on Thursday and Friday. Admission is just $5 a day.
And tickets for Saturday's Jamboree are still available from the Tamworth Visitor Information Centre at the corner of Peel and Murray Streets, from Festival Headquarters in the Tamworth Regional Council building in the heart of Peel Street.
Tickets can also be purchased by ringing 6767 5300 or on-line at www.tcmf.com.au. They will also be available at the door, subject to availability.
Line-up announced for People's Choice Awards show
The line-up of artists appearing at the 2012 Australian Country Music People's Choice Awards have been announced.
They are finalists Brothers3, Kalesti Butler, Paul Cowderoy, Dale Duncan, Melody Feder, Dale Hooper, Kathryn Jones, Graham Rodger and Adam Toms.
Co-comperes for the event will be Greg Champion and Steve Passfield (both pictured at right) who will also perform during the evening together with a special surprise guest or two.
The Awards will be held at the Light City Church performance venue at the corner of Anne and Kathleen Streets, South Tamworth, from 7:30pm tomorrow night (Thursday January 26).
Winners will be announced and presented in 10 categories – Best Male and Female Vocal, Best Group or Duo, Best Song, Best Album, Best Bush Ballad, Best Video Clip, Most Promising Future Star and Most Popular Country Music DJ and Radio Station or Program.
Tickets will be available at the door at $15 for adults, $10 for children and pensioners. Doors will open at 7.
More information about the Awards can be obtained from www.peopleschoiceawards.com.au.
Vale – Norm Burke
Norm Burke, noted Australian country music songwriter, died last week at the age of 73.
Born Norman Morris Burke at Springvale in Melbourne on March 24, 1938, he is survived by his wife Coral, daughter Karen, 37, and sons Stewart, 43 and Leigh, 35. 
Norm was the winner of two Henry Lawson music awards and had success with several of his songs including If I Win Tattslotto (recorded by Alan Hawking), In The Chapel Of The Lord (Paul McCloud), Why Country Songs Are Sad (Desree-Ilona Crawford), Bar Room Cowboy and Before I Go (both recorded by Colin James).
Together with his successful songwriting career, Norm was well-known and respected as a community radio presenter of country music and a writer of Victorian country music columns in "Capital News".
He was also author of the book "The Hillbilly Addict" published in 2000 which was billed as a humorous history of hillbilly music in Australia, "a personal, amusing and often controversial memoir of a committed country music all rounder… composer, compere, musician, writer, radio presenter and, of course, fan, all delivered with a strong Melbourne slant!"
---
TUESDAY, JANUARY 24, 2012
Bush Laureate winners
Winners in the 2012 Australian Bush Laureate awards were announced in Tamworth this afternoon in front of an almost sell-out audience.
Book of the Year went to Noel Stallard for his work "Aussie Verse", his sixth book which is billed as one "to make you laugh, cry and think" featuring "genuine Aussie characters – the original Australians, the pioneers, the soldiers, the harassed school teachers and their irrepressible students".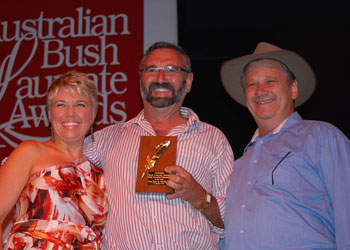 Album of the Year was won by Grahame Watt for his release, G'day. Although Grahame has published three books, G'day is his first foray into recording, a successful debut at that!
Published Poem of the Year went to "Musquito – The Black Bushranger" by Max Merckenschlager as published in the book "Captured Moments". The poem had previously won a Rolf Boldrewood Literary Award, an awards scheme run by The Macquarie Library that aims to foster the writing of prose and poetry with an Australian content.
Single Recorded Performance of the Year went to First Date by Bob Magor from his album The Best Of Sumo Mick, a selection of poems taken from his book "Sumo Mick... And Other Verses".
Children's Poem of the Year was presented to Bessie Jennings for her book "Aussie A-B-C", a delightful work that takes up an entire book, with illustrations by Patricia Gardner, Bessie's sister, aimed at helping children learn their "A-B-Cs" from a distinctly Australian perspective.
The winner of the Judith Hosier Heritage Award – for outstanding achievement in nurturing Australia's heritage of verse – was named as Ellis Campbell for his long association with bush poetry as a poet, poetry performer, judge and as one who works tirelessly to help and encourage new poets beginning to write.
Two retrospective awards that had previously been overlooked were also announced today... a 2009 award for Album of the Year – Original Verse which went to Ray Essery for Coming Home and a 2010 award for Album of the Year – Original Verse won by Carol Heuchan with I Say.
This year was the 16th year for the Bush Laureate Awards which were established in 1997 to recognise excellence in published and recorded Australian bush poetry.
The Australian Bush Laureate Awards will be held in Tamworth again next January, with nominations scheduled to open in August.
Further information can be obtained from the website www.bushlaureate.com.au.
Photo (from left): Special guest presenter Melinda Schneider with Bob Magor and his Golden Gumleaf and President of the Australian Bush Poets Association Manfred Vijars.
Andrew and Kelly win Telstra Road
Andrew Redford, 19, from the Sunshine Coast in Queensland and Kelly Menhennett, 30, from Barmera in South Australia, were crowned the major category winners of the Telstra Road to Discovery during a star-studded event at the 40th Tamworth Country Music Festival tonight.
Performer category winner Andrew and Songwriter category winner Kelly each receive a 12-month music industry mentorship prize package designed to elevate their careers. The prize includes a trip to Nashville in America, songwriting and recording opportunities and domestic and international performances to "help take their music to the masses," according to organisers.
The third Queensland performer of the night, Andrew opened his performance with an original love song This Night and hit a crescendo with a second self-penned track, Wings.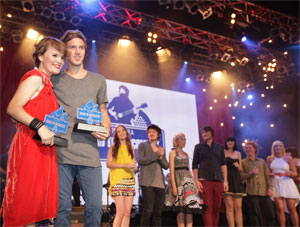 A full-time musician, he learnt the guitar at the age of 10 and is now a multi-instrumentalist, describing his music style as indie/pop/folk. He has won a raft of awards including the 2010 Billy Thorpe Scholarship at the Q song Awards and released his third EP in late 2011.
"I'm totally speechless," he said after being announced a winner. "It's been amazing to meet everyone involved in the program and the incredible talent on stage here tonight. Thank you, I just can't believe it."
Kelly was announced as the winning songwriter after performing two original tracks from her impressive repertoire, Fly In A Web and World Of Mine.
Born and bred in South Australia, Kelly is a professional winemaker by trade but is now a full-time working musician. This win tops off successful year for the artist, which featured a performance at the iconic Woodford Folk Festival in December.
"Honestly, everyone deserved to win," Kelly said. "You come into these programs expecting artists with similar sounds, but there was such a strong and diverse range of talent. I'm very blessed to be standing here, but please give a round of applause to my fellow songwriters."
Telstra Road to Discovery is a national music development program formerly known as the Telstra Road to Tamworth.
The program's new name reflects the discovery of up and coming musicians from across Australia, and now embraces independent artists from a more diverse range of musical genres including blues and roots, folk, country and alt country.
Telstra's Regional Sales and Service Director, NSW and ACT, Brett Riley, presented Andrew and Kelly with the major prize and praised the diversity of talent in this year's Telstra Road program.
"Telstra Road has unearthed an impressive range of emerging talent in this year's program and tonight's show was nothing short of extraordinary," he said.

"Telstra developed this program nine years ago to create opportunities for independent musicians to share their talent with a wider audience across the nation and abroad. This year, during the Tamworth Festival's 40th year, we're proud to shine the spotlight on two stand-out artists who are part of the next generation of enthusiastic and talented Australian musicians."
Former Telstra Road alumni include inaugural winner Jessica Mauboy, as well as (in order of winning) Aleyce Simmonds, Nick Kingswell, Kirsty-Lee Akers, Morgan Evans, Briana Lee, Jasmine Rae, Mark Wells, Peter McWhirter, Corey Colum, Luke Webb, Tenielle, Harry Hookey and David Garnham.
Other elements of the Telstra Road prize for the Performer winner, include... a recording session in Australia with a leading producer; the opportunity to perform as part of a showcase in Nashville; production of a video clip and a professional photo shoot; media training, and professional music industry career guidance; and admission into the Australian Academy of Country Music.
For the Songwriting winner... other elements of the prize package include... songwriting appointments with leading Nashville songwriters; the opportunity to record a professional demonstration track in a US or Australian studio; music marketing, promotional support and songwriting guidance from Mushroom Marketing and Mushroom Music; and admission into the Australian Academy of Country Music.
Weblink - www.telstra.com/trtd.
TSA winners
Winners were announced this evening in the various awards and competitions conducted and presented by the Tamworth Songwriters' Association (TSA).
The Association's New Songwriter Award went to Melody Feder with her song RSVP.
An encouragement award, an addition this year in the New Songwriter section, was won by the duo The Long And The Short Of It.
In the Songwriter Salute Awards...
Traditional Bush Ballad of the Year went to Graham Rodger (pictured) for Son Of The Red Dirt Country.
Contemporary Song of the Year was won by Karen Lynne & Allan Caswell with The Road That Brought Me Here while Country Ballad of the Year was presented to Peter Coad with A Garden Full Of Roses.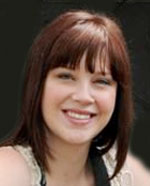 Peter Coad was also successful in Comedy/Novelty Song of the Year with The Kid On The Kangaroo and Country Song of the Year with A Garden Full Of Roses.
Children's Song of the Year was awarded to Tony's Farm by Brothers 3 & Alita Fahey and Gospel Song of the Year went to Dean Perrett & Sherry Foster with There's Room At The Cross.
TSA's Tex Morton Award was presented to Lorraine Pfitzner.
And for the Songmaker award, two plaques were handed out this year, one to Coral Dasey and her late Dad George Dasey and to the late Ray Rose.
In the TSA's 2012 National Country Songwriting Contest, Patricia Thompson won the Amateur Traditional section with Western Plains Drover while Emma Leigh & Peter Bailey took out Amateur Contemporary with You Smile.
The Professional Traditional winner was Garry Koehler with Underneath The Hat while Danny Hooper won Professional Contemporary with You Don't Need Wings To Fly.
The Blues & Roots & Bluegrass section was taken out by Lachlan Davidson & Kristy Cox with Keep On Loving You, the Junior section was won by Romany Elmas with Save My Brother First, and Alec Raymer was successful in the Lyrics Only section with A Lot Like Home.
Weblink – www.ccma.net.au.
---
MONDAY, JANUARY 23, 2012
Special party to celebrate the Tamworth Country Music Festival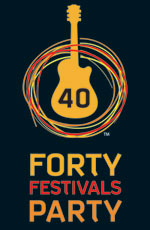 Hundreds of people responsible for making the giant Tamworth Country Music Festival the success it is today will come together to celebrate their efforts at a special party next Sunday.
The 40 Festivals Party will bring together those people who played crucial roles in the earliest days of the annual festival as well as the many who continued to build the event to become one of the top 10 music festivals in the world.
Fittingly, the party will be held in the historic Tamworth Town Hall where the first Golden Guitar Awards were staged in January 1973. Although there had been plenty of country music happening in and around Tamworth prior to 1973, it is generally accepted that it was the staging of the Awards that created the first festival event.
Although the word has been spread far and wide, and hundreds of people have already registered to attend the Party, organisers are issuing a final call today in an effort to catch people in Tamworth for the Festival who have not heard about the event.
Anyone intending to attend who has not already registered can do so at the website www.40festivalsparty.com or telephone Deniese Morrison on 02 6767 5581 or 0407 276 934 or Bob Kirchner on 0419 998 386.
35 enter Queen competition
Thirty-five hopefuls have entered the 2012 Country Music Queen competition run by Country Music Capital's Business Chamber.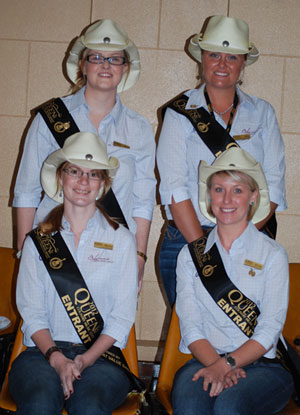 They are... Sarah Adams (sponsored by Specsavers), Katrina Allan (Tamworth Dressage Club), Kate Baylis (New England Mutual), Tamara Beard (Cornish's), Sian Begley (Westpac), Gabrielle Bower (Country Chickens), Amanda Brodbeck (AgriRisk Services), Brianna Callaghan (ATAC), Georgina Campbell (Bank of Qld), Johanna-Lea Campbell (Joblink Plus), Dimity Chaseling (TAFE New England), Amanda Dobson (Corey's Catering), Emily Docking (Quality Hotel Powerhouse), Jane Fox (Tamworth Shoppingworld), Emma Gillies (East West Enviroag), Felicity Handley (Blooms The Chemist), Alison Herden (Castlereagh Imaging), Melanie Hussey (Westpac Rescue Helicopter), Erin Jones (Tamworth Discount Drugstore), Alyson King (Cascada), Mika Langdon (ATAC), Marina Lawrence (Great Value Garages), Katelyn Loffel (Tudor Hotel), Emily Maher (Cavorte), Shae McIntosh (NAB), Tahlia Mihell (Club Synergy), Kate Moore (Essential Energy), Cherkira Rogers (Kabucci), Rebecca Shaw (Tamworth Discount Drugstore), Melanie Singleton (Poolwerx), Tahnee Smitham (The Greater), Shereena Tattersall (2TM/FM92.9), Kellie Tulacz (Tamworth Regional Council), Alice Torr (Quality Hotel Powerhouse) and Amy Walker (The Pavilion Function Centre).
The Queen entrants have been getting involved in a big range of Festival functions and will continue to do so up until Sunday night January 29 when the Crowning Dinner will be held in the Tamworth Town Hall.
This year's Queen of Country Music will then spend the next 12 months involved in a range of civic and community events including guest speaking engagements, social and cultural presentations and corporate and festival functions.
She will also travel to Tamworth's sister city Gore in New Zealand to attend the 2012 Gore Country Music Festival.
Pictured at the Town Hall where they were helping out with the Roll of Renown Concert are (clockwise from top left): Shae McIntosh, Mika Langdon, Dimity Chaseling and Marina Lawrence.
---
SUNDAY, JANUARY 22, 2012
Bob wins Toyota Star Maker
Newcastle (NSW) singer/songwriter Bob Corbett has been named Toyota Star Maker 2012.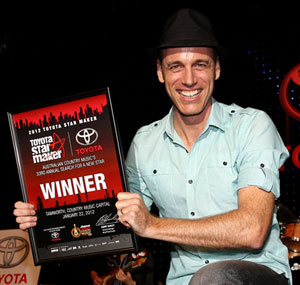 Bob won the competition from fellow top six grand finalists 8 Ball Aitken, Kaylee Bell, Nick Kingswell, Nathan Lamont and Olivia Robins in Tamworth tonight.
Bob has numerous accolades to his credit prior to tonight's win including nine 1233 Newcastle ABC Music Awards.
In 2009, he received a Contemporary Music Touring Program Grant from the Australian Government, launching him and his band on an extensive national tour from coast to coast.
During his acceptance speech tonight, he paid tribute to his band, the Roo Grass Band.
In 1998, Bob released the critically acclaimed album Storyboard and reached the national finals in both the MusicOz and Australian Songwriters Awards.
In his career up until now, he has been invited to open shows for many of Australia's premier acts including Daryl Braithwaite, Brian Cadd, Richard Clapton, Diesel, Marcia Hines, Bruce Mathiske, The McClymonts, Russell Morris, Sara Storer and Ross Wilson.
This year's Toyota Star Maker winner was announced by Lee Kernaghan who was presented with a framed certificate by quest organisers Rural Press Events to mark 30 years since he won Star Maker in 1982.
In addition to the grand finalist performances, the night featured Lee, The McClymonts and outgoing Toyota Star Maker Luke Dickens.
Photo: Bob Corbett holds up his winner's plaque.
Studios present...
Two Country Music Capital recording houses will host studio concerts today.
LBS Studio will stage their annual Open Day Concert at Moonbi from 10am until 2pm.
The Open Day Concert has been a regular festival feature for many years at the Moonbi studio on the New England Gully Road.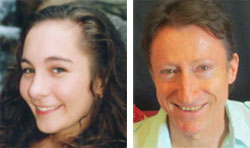 "This concert hosts an amazing roster of LBS talent and is without a doubt one of the biggest traditional country music concerts in Australia with over 20 leading recording artists, backed by The Butler Showband," said an LBS spokesman.
Artists appearing will include Trevor Adamson, Glen Bain, Melissa Bajric (pictured), Barry Benning, Lindsay Butler, Ashley Cook, Dale Duncan, Bob Easter, Dusty Fraser, Peggy Gilchrist, Lynette Guest, Shaza Leigh, Rachel Jillett, Brian Letton, Tom Maxwell, Graham Pearson, Lana Ross, Peter Simpson, Paul Seils, Pete Smith, Judy Stevens, Chic Taylor, Manfred Vijars and Greg Williams.
"The event is held in the front yard of the studio complex... in a relaxed environment under the marquees and trees and is one of the best value concerts at the festival with a ticket price of only $20 for the non-stop four hour concert!"
Enrec Studio will host its studio showcase at the North Tamworth Bowling club in Bligh Street from 2pm.
Studio stars will include 8 Ball Aitken, the bands Byg Swig and Brewn, The Crosby Sisters, Craig Dean, Errol Gray, Brent Larkham, Doug McIntyre, Lawrie Minson (pictured), Slim Newton and Dave Prow.
Enrec is run by record producer Steve Newton, long time engineer for John Williamson.
Toyota Star Maker 2012
The third major event of the first Tamworth Country Music Festival weekend – Toyota Star Maker – takes place today and this evening.

Twenty finalists spent yesterday rehearsing for the elimination finals that get underway at 12:30pm with grand finalists to be chosen to compete in the grand final tonight from 7:30pm in the Tamworth Regional Entertainment Centre.
The 20 are 8 Ball Aitken (from Tamworth NSW), David Agius (Greystanes NSW), Kaylee Bell (Waimate NZ, now Bathurst NSW), Lance Coassin (Shailer Park Qld), Bob Corbett (Maryville NSW), Paul Cowderoy (Manly West Qld), Sarah Head (Robina Qld), Jasper Hollis (Nashville USA, now Sydney NSW), Rebecca Houlihan (Cork Ireland, now Randwick NSW), Stephanie Jansen (Camden South NSW), Nick Kingswell (North Gosford NSW), Christie Lamb (Kirkham NSW), Nathan Lamont (Wagga Wagga NSW), Kristen Lane (Raworth NSW), Brittany Pavlo (Eden Park Vic), Ben Ransom (Randwick NSW), Olivia Robins (Maroochydore Qld), Ryan Sampson (Caloundra Qld), Chad Shuttleworth (Eumundi Qld) and Adam Toms (Benalla Vic).
Toyota Star Maker 2012 will win a full album deal and big budget recording session, use of the title Toyota Star Maker 2012 Winner; 12 months use of a new Toyota motor vehicle; a fuel card for the 12 months after winning Toyota Star Maker; distribution and promotion of at least two tracks to radio and other media from the prize album; production of a professional video clip of one of the tracks by an award-winning director; a number of gigs throughout the winning 12 months; and Maker Grand Final in 2013; and return air tickets to Nashville for the CMA Festival in June 2012 courtesy of Travelworld Tamworth; and a performance at the annual CMA (American Country Music Association) Global Artist Party in Nashville.
Campaign launched for Slim and Joy statue
It wasn't the best kept secret, but a campaign to raise enough money for a lifesize statue of Slim Dusty and Joy McKean was launched by Country Music Capital Mayor Col Murray on Friday night at the Tamworth Country Music Festival opening concert.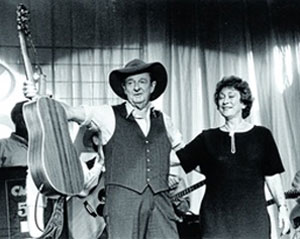 Contributions of $50,000 from Tamworth Regional Council and a $10,000 donation from the NSW government have kickstarted the appeal (NSW Premier Barry O'Farrell made his announcement also from the opening concert stage).
"The Northern Daily Leader" reported the statue would honour and pay tribute to the enormous role Slim and Joy have played to develop and support the Country Music Capital, its annual festival and the Australian country music industry, the Mayor said.
A committee has been formed and has set a target of $180,000 for the project which has been endorsed by Tamworth's Council and the late Slim's family.
The statue will be erected in Tamworth's main street, Peel Street, and will follow the unveiling of the life-size Smoky Dawson statue sculpted by Tanya Bartlett that will be unveiled this Australia Day.
Fundraising Appeal Committee Chairman John Sommerlad said it was fitting that Slim and Joy were to be honoured in this way by Tamworth. He said they were great supporters of the annual country music festival and its Golden Guitar Awards.
Prior to Slim's death in 2003, he said, Slim and Joy had only missed two festivals and during their careers were outstanding advocates of Tamworth's special place in Australian music history.
"This statue of Slim and Joy arm in arm will replicate a photograph taken at a concert in 1996 (above), which honoured Slim's 50 years as a recording artist," John said.
"Slim and Joy were a great team. Joy won the first Golden Guitar at Tamworth and is the first lady of Australian country music, while Slim is an Australian icon whose achievements are unmatched in Australian music history."
For more than six decades, Slim Dusty and Joy McKean took their music to every corner of Australia and, in the process, created a unique musical heritage.
Longtime friend and appeal committee member Max Ellis said their songs reflected and celebrated the traditional character of Australia and its people. "The songs are national treasures and have been enjoyed by country music fans over more than 60 years," Mr Ellis said.
"As leaders of Australian country music, Slim and Joy played an important and active role in turning Tamworth into Australia's Country Music Capital. They helped create a national focal point for country music, and their unwavering support was vital to the credibility and development of the Golden Guitar Awards and the festival."
The appeal's main fundraising will take place during the next 12 months. The statues are expected to be unveiled no later than January 2014.
---
SATURDAY, JANUARY 21, 2012
Terry elevated to the Roll of Renown
Terry Gordon was today announced as the 41st inductee to be immortalised on the Australian Country Music Roll of Renown.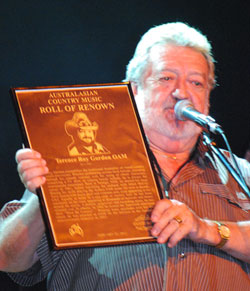 The announcement was made during a star studded concert in the famous Tamworth Town Hall by the Mayor of Country Music Capital Col Murray. Terry was presented with his plaque by fellow Roll of Renowner Lindsay Butler.
His plaque reads... Terry Gordon exemplifies the traditional Australian all round country music entertainer. Whether performing serious bush ballads, clowning through his comedy routines... compering a TV show... he is always the consummate entertainer.
After travelling the outback with pioneer Athol McCoy and honing his skills on the Sydney club circuit, Terry toured with major local and visiting acts, including in the USA.
Equally at home in a city club or country hall, he is constantly on the road... A prolific songwriter and recording artist...
Terry's plaque will be unveiled at the Roll of Renown in front of the TRECC on Wednesday (January 25) at 10:30am.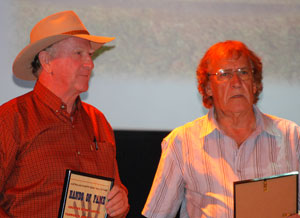 Three for Hands of Fame
Three new hands will be set in concrete next Saturday (January 28) at the Australian Country Music Hands of Fame cornerstone.
Victorian entertainer Gavan Arden (pictured at left), leading record producer Stuie French and Country Music Capital recording studio owner Johnny Grills (pictured at right) were announced as this year's Hands of Fame inductees at today's Roll of Renown Concert.
The imprinting ceremony gets under way next Saturday at 11am following the Country Music Cavalcade.
Two more for Broadcasters' Hall of Fame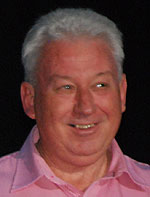 Geoff Gregory (pictured) and the late Clive Arundel were announced today as the latest inductees to the Australian Country Music Broadcasters' Hall of Fame.
After co-hosting a teenager's music show on Sydney's 2SM as an 18-year-old, Clive's interest in radio lay dormant until the early 1980s when the opportunity arose for him to get heavily involved in community stations including 2SER-FM, 2NBC-FM and 2GLF-FM.
His achievements and successes as a broadcaster over the years, one of his proudest moments being when a gospel music program was relayed for broadcast in the United Kingdom.
Clive died of a heart attack in 1990 at just 55 years of age.
Now retired from broadcasting, Geoff Gregrory was a pioneering country music broadcaster on commercial radio station 2HD in the Newcastle (NSW) area.
He developed and maintained a Sunday night program "Country Sounds" as one of the highest rating programs in the city.
Geoff is credited with paving the way for Carter Edwards' now Saturday and Sunday night country music programs that are now broadcast across the Super Radio Network.
He was also a judge, especially in the early days, of the Golden Guitar Awards.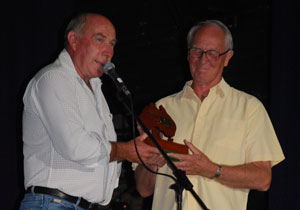 Max presented with "Tamworth Award"
Max Ellis – one of the founders of the Tamworth Country Music Capital concept and a long-time worker for and promoter of "Tamworth country music" – has been presented with the "Tamworth Award".
The "Tamworth Award" is a special trophy made by local cabinet-maker and wood-worker extraordinaire Noel Smith and presented for services to Tamworth country music.
Photo: Brian Howard, long time presenter of the "Tamworth Award" on behalf of Noel, makes this year's presentation to Max.
"Stars, Hurrahs and Golden Guitars"
"Stars, Hurrahs & Golden Guitars" is the title of a new book released yesterday by Max Ellis, a founder of the Tamworth Country Music Capital concept and long-time promoter of the annual Tamworth Country Music Festival.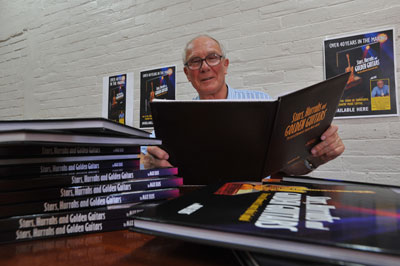 Sub-titled "the story of Tamworth, Country Music Capital" the book tells the story from Max's perspective as arguably the most significant player in both the promotion of the city's country music brand and the resultant now 10 day festival that has been recognised as one of the leading music festivals on the planet.
Until now, the story of how Tamworth became "Country Music Capital" has never been told in any depth outside country music circles and tourism events.
As a man who has given much of his life to creating and maintaining the city's "country music" success, Max has put pen to paper and told the exciting story.
"It is told from his perspective," said Barry Harley, General Manager of Rural Press Events who is publishing the book. "But who else could possibly write about it with his authority based as it is on his personal experience."
Arriving in Tamworth in 1966 as a journalist at Radio 2TM, Max quickly became involved in the burgeoning country music scene. He saw John Minson's "Hoedown" radio program starting to attract listeners all over eastern Australia and he watched as Slim Newton's Redback On The Toilet Seat topped the charts.
Then, as a member of the small founding group at 2TM (with Warwick Higginbotham, Kevin Knapp, John Minson and Eric Scott), he quickly saw the potential for promoting the city as a focal point for Australian country music.
As 2TM's Station Manager and Chief Executive of the Golden Guitar Awards at their inception, Max played a seminal role in setting up Country Music Capital in 1969, the Festival and Awards from the early 1970s, and then their consolidation and expansion throughout the more than four decades that followed.
Throughout this time, Max has been an industry leader, passionately involved in virtually every aspect of Australian country music. Even now he is still deeply involved in the Festival and the country music scene
"'Stars, Hurrahs and Golden Guitars' paints an exciting picture of the colourful kaleidoscope of people and events that have shaped  this mighty and quite unique festival," Barry said.
The book, which contains more than 300 photos, is available in all bookshops and newsagents in Tamworth during the 40th Festival and can also be purchased on-line via www.tamworthcountrymusic.com.au.
FOOTNOTE: Festival Media Centre named in Max's honour
In recognition of Max's contribution to Tamworth and it's country music activity and identity, Tamworth Regional Council yesterday named the Festival Media Centre the Max Ellis Media Centre.
This announcement completed the triumvirate that commenced on July 1 last year with the movement of the Festival Office to the Town Hall – "the spiritual home of country music in Tamworth" – and the naming of significant rooms after Festival founders and pioneers.
First to be announced was the John Minson Artists & Musicians Green Room, followed by the announcement that the Town Hall's Paschendaele Room would be turned into The McKean Sisters Theatrette during the Festival.
The naming of the rooms previously used by the Tamworth Development Corporation as the Max Ellis Media Centre allowed recognition of the principal founder of the Festival and Golden Guitar Awards, according to a Council spokesman.
Roll of Renown Concert today
The most significant event on the Tamworth Country Music Festival calendar today is the Australian County Music Hall of Fame's Roll of Renown Concert.
To be held in the Tamworth Town Hall from 2 o'clock this afternoon, the concert will include the announcement of this year's inductee or inductees to Australian country music's highest honour, the Roll of Renown.
Other announcements to be made will be of 2012 inductees into the Country Music Hands of Fame and Australian Country Music Broadcaster's Hall of Fame.
In addition to the honours announcements, the concert will feature performances by Leslie Avril, James Blundell, The Bushwackers, Allan Caswell, Tracy Coster, Allison Forbes, the Gunbarrell Highwaymen, Wayne Horsburgh, Peter Pratt and Rodney Walker.
Tickets for the concert will be available at the door of the venue, the famous Tamworth Town Hall, from 1:30pm.
Hall of Fame activity
The Australian Country Music Hall of Fame in Brisbane Street is a central focus for country music in Tamworth year round but especially during the annual January festival conducting a range of activities.
Every year, the Hall of Fame hosts a series of "Meet The Pioneers" sessions at 10:30am daily during the main festival week. This year, the sessions will feature bush balladeer Tom Maxwell on Monday (23rd), all round country entertainer and comedian Terry Gordon on Tuesday (24th), leading female country artist Lynette Guest on Wednesday (25th), Roll of Renowner "Tangletongue" Geoff Mack (pictured) on Thursday (26th) and country balladeer Gavan Arden on Friday (27th).
The Hall of Fame will host the unveiling of the new Roll of Renown inductee or inductees at the Roll of Renown in front of Tamworth Regional Entertainment Centre on Wednesday 25th at 10:30am.
Saturday 28th will see the imprinting of this year's Hands of Fame inductees at the Hands of Fame cornerstone at the corner of Bridge Street and Kable Avenue (in front of the Coke tent) at 11:00am.
The next day, Sunday the 29th, the Hall of Fame will conduct a "museum day" as a farewell to Festival visitors.
A new activity this year is a "Great Record, Book & Poster Sale" that will run for the duration of the Festival with a range of items that are either surplus or not relevant to collection requirements.
The Hall of Fame is open extended hours throughout the Festival in Brisbane Street, Tamworth. Visitors can gain easy access via the Centrepoint free (three hours) carpark which is accessible from Marius and Brisbane Streets.
Weblink – www.countrymusichalloffame.com.au.
---
FRIDAY, JANUARY 20, 2012
Tamworth 2012 starts officially today
The 40th Tamworth Country Music Festival is officially underway with crowds flocking downtown, campers and caravanners filling the parks and sportsfields and hundreds of artists in town entertaining our thousands of visitors.

The local country music club – Capital Country Music Association – staged a highly successful curtain-raiser to the Festival last night with its Young Guns concert and the free official Festival opening concert kicks off in the city's Bicentennial Park this evening from 7.
Signalling the start of 10 days of country music festivities, the opening concert (dubbed the "opening celebration) will commence with a brief official ceremony including the raising of the country music flag and will showcase more up-and-coming talent, traditional and contemporary artists.
With production by Golden Guitar winner and Festival office staffer Deniese Morrison and musical direction by Bill Gleeson and Peter Ross, the show will star The Bushwackers (pictured), Bill Chambers, Harmony James and "Tamworth's own Golden Girl" Felicity Urquhart.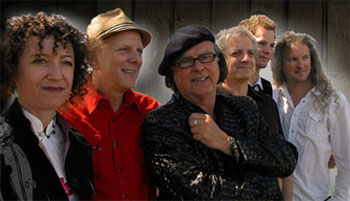 Local Golden Guitar winners Lindsay Butler, Andrew Clermont, Tracy Coster, The Crosby Sisters, Rex Dallas, Pixie Jenkins and Lawrie Minson will appear, together with didgeridoo virtuoso Mark Atkins, 2011 Toyota Star Maker winner Luke Dickens, 2011 Telstra Road to Tamworth winner Harry Hookey and 2011 Southern Stars Australian Independent Award winner Ryan Sampson.
Anne Kirkpatrick and The Travelling Country Band will join Joy McKean and Nick Erby in a special tribute to the history of the Festival and the integral part played by Slim Dusty and Joy McKean.
And Mark O'Shea, a twice Golden Guitar winner from the 1990s, now based in Nashville, will perform with his wife Jay as the duo O'Shea.
The concert was billed, largely, as a showcase of local acts including a number of potential future stars in Anna Crosby, Kayla Crosby, Ethan Crosby-Wolfe, Daniel Hutchison, Ryan Hutchison, Googoorewon (Goori) Knox, Amy Pain, Loren Ryan, Jared Scott and Kelsey Strasek-Barer.
Vale - Tony Pearson
Tony Pearson – long time former manager of Country Music Capital's Tourism Tamworth (now Destination Tamworth) – died this morning after being diagnosed with cancer just last week. He was 73.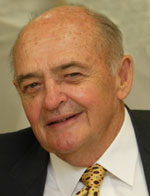 Originally from Coonamble, NSW, Tony was educated at Scots College in Sydney. After selling the family farm, Tony and his wife Penny moved to Melbourne where he held various jobs including with the National Australia Bank in their publication and communication section. At the same time raising a young family in Melbourne.
Tony worked for Tamworth City Council, Tourism Tamworth and Tamworth Regional Council for 20 years from 1988 to 2008 and had a very strong involvement with the city's country music festival and other activity including the one time monthly Tamworth Country Theatre concert.
As Tourism Manager with Tourism Tamworth, Tony recorded many achievements, such as the development of all year round country music products and services, obtaining government funding for projects like the New England Highway Marketing Committee and special event funding for the National Cutting Horse Futurity.
He was successful in bringing more than $20million worth of conference and event business to Tamworth, created marketing strategies to promote the Tamworth "Country Music Capital" and Tamworth" Heart of Country" brands and was instrumental in trade missions to and from New Zealand including the early development of the Gore Sister City Relationship.
It was under Tony's leadership that the now thriving ticketing business operated by Destination Tamworth was initiated and nurtured.
He was a member of the Big Sky Country Regional Tourism Organisation, the New England Highway Committee, Newell Highway Committee, Bushman's Way and Fossicker's Way tourist groups.
Tony loved his cricket and helped develop junior talents at South Tamworth Cricket Cub.
He is survived by Penny, Matt and Kim, Lisa and Colin and five grandchildren.
Tony's funeral will be held at St John's Anglican Church, Carthage Street, Tamworth, at 2pm this Wednesday, January 25.
---
THURSDAY, JANUARY 19, 2012
Organisers of the Victorian & National Country Music Awards have announced finalists for this year's event.
In the National Section, they are...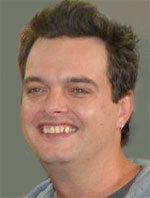 For Male Vocalist of the Year... Luke Austen (pictured) with Two Miles Down, Luke Dickens with Devil In The Wind, Benn Gunn with Keep On Drivin' and Adam Toms with Fighting For.
For Female Vocalist of the Year... Rose Carleo with That Season Again, Sal Kimber with Southbound, Rebecca Lee Nye with In The Face Of A Child and Aleyce Simmonds with Healing Hands Of Time.
For Group... Carter & Carter with Dance in the rain, Davidson Bros with My heart Can't Believe My Eyes
Jetty Road with I'm A Dreamer, and The Stetson Family with Old Black Canoe.
For Duet... Gene Bradley Fisk & Donna Fisk with Evening In Paris, Carter & Carter with Keep Getting Better,
Luke Dickens & Catherine Britt with Friend Of Mine, Dean Perrett & Lee Kernaghan with Channel Country Ground.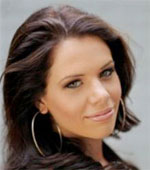 For Hawking Bros Best New Talent...Tori Darke (pictured) with Someone Else's Baby, Luke Dickens with The Long Way Home, Benn Gunn with Rawsonville Road and Jasmine Rae with Hunky Country Boy.
For the APRA Songwriter award... Bob Corbett with Don't Look Right Through Me, Tori Darke with Someone Else's Baby, Hamish & Auckland Davidson with Write Me A Letter and Sal Kimber with Southbound.
For Smoky Dawson Best Independent Release... Luke Austen with Light Of Day, Carter & Carter with To The Moon & Back, Davidson Brothers with Here To Stay and Jetty Road with Far Away Places.
For the Trailblazer's Heritage Award... Davidson Bros with Victoria, Doug McIntyre with Going Home Some Day,Dean Perrett & Lee Kernaghan with Channel Country Ground and Rod Williams with A Fencer From The Outback.
For the Merv Lowry Traditional Country award... Clelia Adams with Rainbow Yodel, Luke Austen with Everytime He Travels Through Cloncurry, Bec Hance with The Ballad Of Castlereagh and Doug McIntyre with Carrathool Races.
For Instrumental of the Year... Davidson Bros with OMFG, Bob Corbett & the Roo Grass Band with Frankenbeanz,Michael Fix & Brendan Radford with Demolition Derby and Lindsay Waddington & Charlie Boyter with Big Fella Wadumbah.
For the Bluegrass award... Bob Corbett & the Roo Grass Band with Frankenbeanz, Davidson Bros with Rather Be Gone, Suzy & Hunter Owens with Heartache Blues and The Stetson Family with Fool's Gold.
In the Victorian section, finalists are...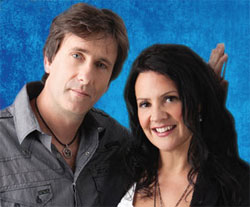 For Album of the Year... Carter & Carter (pictured) with To The Moon And Back, Davidson Bros with Here To Stay, Jetty Road with Far Away Places and Adam Toms with Holding My Breathe.
For the Group award... Davidson Bros with Victoria, Jetty Road with I'm A Dreamer, Sal Kimber & the Rollin' Wheel with Rollin' Wheel and The Original Snakeskins with Darkest Hour.
For Duet... Amity (Penelope & Rebecca Somerville) with What Does It Take, Carter & Carter with Keeps Getting Better, Gene Bradley Fisk & Donna Fisk with Evening In Paris and Patrick, Leanne & Kennedy Glen with In A Town This Size.
For Male Vocalist of the Year... Rick Bartlett with Who'll Be There When I'm Gone, Gene Bradley Fisk with Boomer's Lullaby, Andy Mahony with My Guitar And Me and Adam Toms with Fighting For.
For Female Vocalist of the Year... Bec Hance with The Place Where I Belong, Sal Kimber with Southbound, Susan Lily with Broken and Rebecca Lee Nye with In The Face Of A Child.
For Victorian Entertainer of the Year... Carter & Carter, Sandie Dodd, Jetty Road and Adam Toms.
Weblink – www.whittleseacountrymusicfestival.com.au.
---
WEDNESDAY, JANUARY 18, 2012
Golden Guitar Awards line-up
The Country Music Association of Australia (CMAA) has released the names of artists who will perform at the annual Golden Guitar Awards during the 40th Tamworth Country Music Festival which kicks off officially on Friday.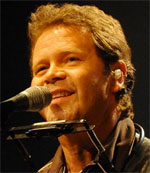 Kirsty Akers, James Blundell, Troy Cassar-Daley (pictured), Beccy Cole,, Luke Dickens, Adam Harvey, Jetty Road, Shane Nicholson, O'Shea, Jasmine Rae and Aleyce Simmonds will all appear at the Jayco 40th Country Music Awards of Australia on Saturday January 28.
Tickets to the general public are on sale now from $55 and can be purchased directly from www.tcmf.com.au or by calling 02 6767 5300.
The Awards are the pinnacle event of the Festival and will be preceded by the traditional red carpet arrivals from 5.30pmin the forecourt of the Tamworth Regional Entertainment & Conference Centre.
Weblink – www.country.com.au.
Young Guns Thursday night
One of the most significant concerts of the Tamworth Country Music Festival Countdown is the Young Guns Concert staged by the Capital Country Music Association (CCMA).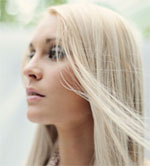 This year's concert will be staged at the Light City Church performance venue at the corner of Anne and Kathleen Streets in South Tamworth getting underway tomorrow night from 7pm.
The Young Guns concept is to provide an opportunity for rising talent to perform and recognise successful artists whose development has included a substantial involvement in CCMA activities, including workshops, run on a year-round basis.
One such artist is Aleyce Simmonds (pictured) who has been steadily building a substantial career in the music business, to the point now where she is up for three Golden Guitars at this year's Country Music Awards, including the prestigious Female Artist of the Year title.
Supporting Aleyce will be two acts whose careers may get a substantial boost this January... Melody Feder who is a finalist in the Telstra Road to Discovery talent search and Brittany Pavlo who is a finalist in Sunday's Toyota Star Maker talent search.
Also on the bill, one of last year's big winners at the CCMA National Talent Quest, Jono Nicholson, plus rising stars Brett Clarke, Allison Forbes and The Harmonaters.
The concert will be compered by Super Radio Network country music personality Carter Edwards.
Tickets for the show can be obtained from www.tcmf.com.au, by telephoning 6767 5300. Tickets – at $20 for adults and $15 for children and pensioners – will be available at the door, subject to availability.
Weblink – www.ccma.net.au.
---
MONDAY, JANUARY 16, 2012
Tamworth's Country Time Walk
An innovation in Country Music Capital for the 40th Tamworth County Music Festival is the Country Time Walk.
To symbolise the 40th anniversary Festival theme – Looking Forward Looking Back – businesses in the city's main street, Peel Street, are being encouraged to decorate their premises with various aspects of the Festival's rich history.

A key plank of the promotion, especially with visitors in mind, is a competition with a $35,000 Jayco caravan as the prize.
The promotion has been put together to "reinvigorate Peel Street and the Tamworth central business district," according to organisers.
Peel Street already hosts the buskers who come to the city every January, but the Country Time Walk is designed to give locals and visitors alike "a walk down memory lane from 1973, when the Festival began, up to 2012..."
The Time Walk will run from White Street to Bourke Street.
Customers who shop in participating retailers during the Festival and spend more than $20 will go into the draw to win a the Jayco pop-top caravan.
The promotion is sponsored by Tamworth's daily newspaper "The Northern Daily Leader".
At the date of this report, participating retailers, who will display stickers in their window showing their support for the Country Time Walk, include Adairs, Addimi Express, Ali's, ANZ Bank, Athlete's Foot, Aussie Bush Leather, Bali Imports, Beno's Newsagency, Best & Less, Blooms Chemist, Burke & Smyth, Cafe Vivaldi, Camping World, Cash Exchange, Cheapa Music, Collins Booksellers, Commonwealth Bank, Corporate Express, Country Capital Newsagency, Country Topshop, Crazy Clark's, Davidson Cameron McCulloch, Decorama, Dirtwater Beach, Easy Living Footwear, Elston Partners, Escape Travel, Eyecare Plus, Fashion Fair, First National, Gai Abandon, Gloria Jeans Coffee, Handy Hands, Harvey World Travel, HCF, Headquarters Hair Design, Hog's Breath, HQ Hair Design, Jess and James, Just Irresistible, KB's Sun & Sea Surf, Kelly's Real Estate, Loot Homewares, Lowes, Markers Cakes, Material World, N/W Archery, NAB, Narnia Books, New England Mutual, Newcastle Permanent, N R Hockley, NRMA, OPSM, Optus, Pandora Perfect Pieces, Pizza Hut, Pluka's Chicken, PnB Music, PRD Nationwide, Professionals Jackson Rural, Red Embers Pizza, Ridgey Didge Pies, RM Williams, Safari Club, SaltWater Wine, Sandy McKinnon Jewellers, Single Builders, Solea, Specsavers, St George Bank, Subway, Suncorp, Sweet Secrets Lingerie, Tamworth Colour Copy Centre, Telstra Shop, The Greater Building Society, Tony Windsor, Town & Country Boutique, Tudor Hotel, Tuff N Tidy, URXS, Westpac, Woopi Doo, Your Place Thai and Yum-to-go.
In addition to these, a number of retailers in each of the city's three main street shopping centres – The Atrium, Centrepoint and K Mart Plaza – will also be involved.
Retailers not yet signed up can do so with Caroline Hurley, telephone 6767 5306.
---
FRIDAY, JANUARY 13, 2012
Tamworth underway
The 40th Tamworth Country Music Festival got underway unofficially today in Australia's Country Music Capital.
Unofficial because the official start of the Festival is NEXT Friday (January 20) although for many years now, the "Festival Countdown" has provided a focus for artists, venues and visitors a full week before.
More than a hundred separate items are listed in the "Official Guide" for the countdown period with, of course, many "unlisted" items all over town.
Already – even before the countdown started – there were buskers in the streets and some of the major venues featured entertainment as usual.
Campers and caravanners have been steadily arriving in town to take up their favourite spots in caravan parks and in the massive temporary camping areas along Tamworth's Riverside.
Indeed, as always happens, there were a good number of campers and caravanners in town before Christmas who got in the earliest.
The countdown period concludes next Thursday, January 19, with two major curtain-raiser events... the Capital Country Music Association's Young Guns Concert at the Light City Church and the Tamworth Country Music Charity Ball in the Town Hall.
More information on the Young Guns Concert (including how to get tickets) can be found here.
TSA songwriting finalists announced
Finalists in the Tamworth Songwriters' Association National Songwriting Contest have been decided with winners to be announced at the Awards night confirmed for the Longyard Hotel, Tamworth on Tuesday night January 24 from 7pm.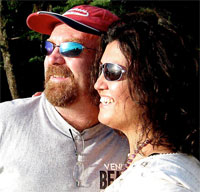 They are...
In the Professional, Traditional section... Garry Koehler with Underneath The Hat, Maurie Marion & Warren I Kearney with Creaking Leather, Doug McIntyre with Frank The Fox and Graham Rodger with The Old Coopers Notebook and Whoever Gets My Dog.

In the Professional, Contemporary section... Emma Barlow with Winter, Patricia Cruzado & Paul Bonner Jones (pictured) with Batchelor Of Hearts and Home To Heaven, Danny Hooper with You Don't Need Wings To Fly and Mary Martin with They Say That She's Crying.
In the Amateur, Traditional section... Brian Carter with Thin Yellow Line, Justin Standley with Ochre Man, Gill Summerville with Rain Up On The Range and Patricia Thompson with Fair Dinkum Aussie Bushman and Western Plains Drover.
In the Amateur, Contemporary section... Noreen Kane & Siobhan Skates with Following My Heart, Emma Leigh & Peter Bailey with Your Smile, Emily Markham with I'm There For You, Charlotte Reid with You Were Meant For Me and Lisa Scelzi with Where The Angels Fly.
In the Blues & Roots & Bluegrass section... Terry Bradford with After The Fire, Brothers3 with I Should Have Listened, Patricia Cruzado & Paul Bonner Jones with Family Tree and Trigger Happy Farmer and Lachlan Davidson & Kristy Cox with Keep On Loving You.
In the Junior section ...Romany Elmas with Save My Brother First, Jennifer Renee Hannam with Bumpy Ride and He's History, Makirum with What Makes A Balladeer? and Taylor Pfeiffer with I Love My Style.
In the Lyrics Only section... Alec Raymer with A Lot Like Home, John Walsh with Boyfriend Jail and Going Nowhere and Merv Webster with McIntyre Melodies and Please Don't Get Me Wrong.
Also to be announced and presented on the night are winners of the TSA's New Songwriter award and the Song Salute Awards (click here for finalists).
The Awards night will be hosted by Amber Lawrence and Peter Leslie with artists appearing including Greg Bain, Dean Perrett, O'Shea, Steve Passfield (pictured) & Handpicked, Amelia Richards, Runaway Dixie and Tamara Stewart and Virginia Coad will present a tribute to Shirley Thoms.
"And there's always a surprise guest or two," said a TSA spokesman.
Tickets for the Awards night are available from the Tamworth Visitor Information Centre on 02 6767 5300 or online via www.tcmf.com.au.
Weblink – www.tsaonline.net.au.
---
THURSDAY, JANUARY 12, 2012
Urban Country line-up announced
Organisers of Caboolture's Urban Country Music Festival have announced the event's 2012 line-up.
To run over four days, Friday May 4 to Monday May 7, Urban Country this year will be headlined by Beccy Cole (pictured), Troy Cassar-Daley, Adam Harvey, Lee Kernaghan and Shannon Noll (pictured).
(With the number of country gigs Shannon Noll is getting these days, it looks like he's following in the country footsteps of his brothers Noll! At least one other major country gig will be this Australia Day when the 2003 Australian Idol runner-up will play the Tamworth Festival. – Ed)
Supporting the main line-up will be stars including Busby Marou, Doug Bruce & The Tailgaters, Jayne Denham, Markus Meier and The Sunny Cowgirls.
And many more acts will feature during the four day country extravaganza.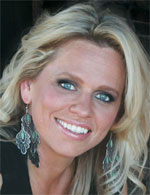 Announcing the line-up, Moreton Bay Regional Council Mayor Allan Sutherland said the Urban Country Music Festival would also continue to support up-and-coming talent with the winner of Tamworth's Toyota Star Maker contest also to be included on the bill.
"We're kicking up our heels and rounding up some of the best names in the business for four days of hot country under cover at Caboolture's Queensland State Equestrian Centre," the Mayor said.
"In addition to the ticketed concert events on Friday and Saturday nights, there's a stack of free entertainment including the urban rodeo, ute muster, bush poets' breakfast, the Voice of Urban Country talent quest, song writers cafe and the whip-cracking action of the Stockman's Arena.
"There really is no excuse not to be a part of Caboolture's 2012 Urban Country Music Festival – there's something for everybody," he said.
Weblink – www.urbancountry.com.au.
Morgan's new EP
Telstra Road to Tamworth winner 2007 Morgan Evans has just signed to Warner Music Australia and will release a new five-track EP – Live Each Day – on Friday January 20.
The EP was recorded in Sydney with Golden Guitar winning producer Matt Fell.
"Morgan's an incredible talent," Matt said, "fantastic singer and a great songwriter. Live Each Day is dynamite and I can't wait for people to hear the finished tracks."
Morgan was awarded last year's Commercial Radio Australia (CRA) Scholarship "for country music's most promising artist" and performed Austalian commercial radio's New Artist 2 Radio (NA2R) Showcase at the 2011 National CRA Conference on the Gold Coast in October where he debuted the title track of the new EP.
The CRA Scholarship includes a trip to Nashville in June 2012 to perform on the Country Music Association Global Artist Showcase. Previous winners of the prestigious Scholarship include McAlister Kemp and The McClymonts. 
Morgan's first single – Big Skies – was a number one hit at radio as well as number one on the CMC Top 30 playlist and earned the Newcastle-based singer/songwriter two Golden Guitar nominations, including New Talent of the Year.
Weblink – www.facebook.com/morganevanslive.
Big line-up at the Frog & Toad
Country Music Capital's Frog & Toad Function Centre has become one of the city's major performance venues during the annual Country Music Festival and this year will be bigger and better still, according to organisers.

The venue, on Goonoo Goonoo (Sydney) Road, will feature five full days of entertainment aimed at catering to a range of musical tastes.
Shows will be presented by the likes of Golden Guitar winner Jeff Brown (pictured, left), Laura Downing (pictured), Ted Egan, Alan Mackey, John O'Dea, Dean Perrett, Peter Pratt, Anita Ree, Rod Williams (pictured, right) and Warren H Williams.
Artists featuring as guests on the shows will include Kalesti Butler, Kingley Day, Bec Hance, Ged & Trudy Hintz, Ken "Chainsaw" Lindsay, Melissa Partridge and Lana Ross.
Apart from the dedicated artist showcases, a number of special events will take place.
On Monday evening, Stuie French & Camille Te Nahu, Karen Lynne & Martin Louis will present "Where Country Began" with guests Dean Perrett, Amber Joy Poulton and Peter Pratt. The artists will be digging into their archive of special songs that inspired them to "walk the country music road".
And on Friday afternoon (January 27), Ted Egan and Warren H Williams will present "Territory Voices" – "a unique array of songs about the people and the lifestyle of the Northern Territory" – as a tribute to the late Ntjalka Gus Williams, Warren's Dad, who died last year."
Further information on all shows can be obtained from www.deanperrett.com.
Tickets are available from the Tamworth Visitor Information Centre, by telephone on 02 6767 5300 or online via www.tcmf.com.au..
Dean's Tamworth
Dean Perrett, meanwhile, is heading to Tamworth 2012 with a swag of award nominations under his belt, especially as a result of his latest album Cattle Town.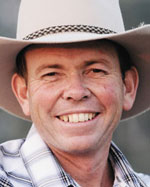 The bush ballad singer/songwriter says he us excited to have received so many nominations.
Heading the list is his finalist nomination for Vocal Collaboration of the Year with Lee Kernaghan in the Golden Guitar Awards for Channel Country Ground.
The album's title track has also been named a finalist for Best Bush Ballad in the People's Choice Awards and for Bush Ballad of the Year at the TSA Awards.
Another track from the album, Holding The Redhide, is a finalist for TSA's Country Ballad of the Year.
And the song There's Room At The Cross is a finalist for Gospel Song of the Year at the TSA Awards.
Away from Tamworth, Channel Country Ground is also a finalist for the Heritage and Duet gongs at the Victorian Country Music Awards and for Group or Duet at Bungendore.
And Holding The Redhide has given Dean a finalist nomination for Male Vocal of the Year at Bungendore.
"I would like to thank radio, media and fans alike for their valued support in 2011 and continuing association for a successful 2012," Dean said..
Keith writes and records song for "Act Of Valor"
Keith Urban has written and recorded a song for the upcoming movie thriller about the America's Navy Seals, "Act Of Valor".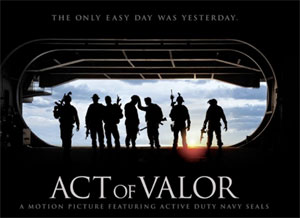 Titled For You, the song, co-written with Monty Powell, is the first Keith has written and recorded specifically for a motion picture.
The song will feature at the end of the movie and during the film's credits.
Slated for release in February, "Act Of Valor" stars a group of active-duty Navy Seals along with Jason Cottle, Roselyn Sanchez, Nestor Serrano and Alex Veadov, and "tells a powerful story of contemporary global anti-terrorism," according to a spokesman for the film's makers.
"I loved the challenge of writing for a film," Keith said. "I've never done that before. After seeing (the movie) Monty and I wanted to capture the essence of not only what these men and women do so extraordinarily, but how that relates to all of us.
"'Valor' shows us what they are willing to give their all for, which made me wonder, 'what am I willing to give my life for?' For You is intended to allow the listener to define who that is for them."
The song was co-produced by Dan Huff and Keith, engineered by Mark Dobson and Todd Tidwell, mixed by Mike Shipley and mastered by Brent Blackwood.
The Act of Valor soundtrack, featuring the For You, will be available digitally on iTunes and physically in music retail locations on Tuesday February 21. Yet to be announced additional original songs inspired by the film from more of today's top country music artists are yet to be announced.
"'Act of Valor' takes audiences deep into the secretive world of the most elite, highly trained group of warriors in the modern world," said a spokesman for the movie's producers. "When the rescue of a kidnapped CIA operative leads to the discovery of a deadly terrorist plot against the US, a team of Seals is dispatched on a worldwide manhunt."
Weblink – www.actofvalormovie.com.
---
THURSDAY, JANUARY 12, 2012
Instrumental collection for release tomorrow
The Ultimate Instrumental Collection, featuring classic hits from three of the world's favourite instruments, will be released by ABC Music tomorrow (Friday January 13).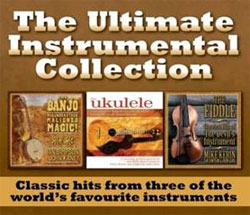 Specifically released in time for the Tamworth Country Music Festival, the three CD set comprises...
The Banjo features two of Australia's most accomplished banjo players, Ian Simpson & John Kane with "the most loved and famous banjo tunes in history from Duelling Banjos and Foggie Mountain Breakdown to The Ballad of Jed Clampett and Dixie Breakdown.
The Ukulele is a collection of traditional ukulele favourites and popular songs given new life by John Kane with special guests Azo Bell, Jay Laga'aia and Sam Lemann with tunes such as Aloha Oe, Wipeout, Ukulele Lady, Michael Jackson's Human Nature, Somewhere Over the Rainbow and What A Wonderful World.

The Fiddle is a descibed as "a rollicking ride of dazzling fiddle accompanied by banjo and guitar". Featuring Mike Kerin, Ian Simpson and John Kane, the album has 20 tracks including "all of the most popular and well-known fiddle tunes, from classics like Dixie Hoedown, The Devil  Went Down To Georgia and The Chicken Reel to lilting laments like The Ashokan Farewell (from Ken Burns' documentary "The Civil War") and Tennessee Waltz.
Weblink – www.shop.abc.net.au.
Plan for Reg statue
An appeal has been launched for funds to erect a life-size bronze statue of country pioneer Reg Lindsay in his adopted home town of Cessnock in the NSW Hunter Valley.
His widow and driver of the Reg Lindsay Rodeo held each year, Ros Lindsay, is leading the project which aims to raise $75,000 to create the statue.
The first major fundraiser will be a tribute concert at the East Cessnock Bowling Club on Saturday February 11 with stars including Allan Caswell, Adam Harvey, Wendi Jackson, Bruce McCumstie and members of the Reg Lindsay Homesteaders Showband – George Boyer, Eddie Fisher, Steve Newton and Alan Tomkins.
Lee Kernaghan can't make the concert but has donated an Outback Club signature hat for auction on the day.
A Fender guitar, a pair of Reg's stage boots and a rodeo saddle that belonged to him will also go under the hammer.
Ros said she would meet with Cessnock City Council about the idea for the statue and where it should be placed.
She said the statue was a fitting way to honour the memory of of her husband, presenter of the "Reg Lindsay Country Hour" and the first Australian country artist to feature on Nashville's Walkway of Stars, as well as acknowledging his love of Cessnock.
Reg died on August 5, 2008, at age 79.
"Reg lived his last days in Cessnock... he loved the place, he made it his home town," Ros said. "And he's buried at Kearsley. So it's a fitting place for the statue."
Ros said she had already scouted for sculptors to create the monument.
"It will be six feet tall (1.8 metres) and hopefully be of Reg playing his guitar," she said. "I'm confident we can raise the money. We will start off with this concert and go from there."
Tickets to the concert cost $20 per person and are available from the Club, phone East Cessnock Bowling Club on 4990 1444 or Ros Lindsay on 4991 1585.
Album release from the Field Brothers
1964 is the title of the Field Brothers self-produced debut album.
The brothers are Paul and John Field, formerly of the hit-making '80s pop band The Cockroaches.
In the band with Paul and John was their brother Anthony Field and Jeff Fat who established the highly successful children's band The Wiggles in 1991.
When he's not actually playing music, Paul manages The Wiggles and John is a frequent songwriter for the band.
1964 was mixed by multi-award winning producer Nash Chambers and features guest appearances from popular Australian country acts Troy Cassar-Daley, Diana Corcoran, Amber Lawrence and Shane Nicholson.
The Cockroaches recorded four albums in the 1980s and '90s. They had eight songs reach the top 40 in Australia, one went big – She's the One, one went biggish – Some Kind Of Girl and six went well enough for the band to tour Australia on a fairly non stop basis.
1964's opening single – We Don't Talk About Love – features Australian country artist and 2007 Female Artist of the Year Golden Guitar winner Dianna Corcoran.
The release has a total of 15 tracks and a DVD featuring four music videos and a special documentary. It was released in November 11 and officially launched at The Vanguard in Sydney in December.
Weblink – www.fieldbros.net.
---
TUESDAY, JANUARY 10, 2012
Vale – Eric Watson
Eric Watson – the first recognised historian of Australian country music – has died at the age of 85.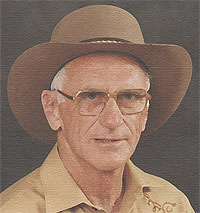 The author, who was also well known as a songwriter, record producer and record label operator, died in The Cedars Nursing Home at Casino in northern NSW on Sunday night.
Eric had been battling serious ill-health for a number of years and it was reported his condition had deteriorated significantly over the last few months.
As the owner/operator of the Selection Records label, Eric was responsible for the solo recording careers of Owen Blundell, Evelyn Bury, Glenn Jones, Reg Poole and Barry Thornton and many more Australian independent artists.
In a tribute to his former record label boss, Reg said Eric's passion was to protect the health and wealth of Australian country music and he was never backward in coming forth with his views. "He was a prolific songwriter and a wonderful Australian," Reg said.
During his long career in the Australian music industry, Eric was involved in numerous activities that furthered "the cause", not the least of which was his time with the Tamworth Songwriters' Association of which he was a long time committeeman and President on numerous occasions.
As a songwriter, Eric had much success. When radio arrived in his part of the world in 1935 (when he was just nine), he soon knew all the songs of Tex Morton and other artists by heart. At the age of 12, Eric began to write his own songs. With a move to Sydney in 1952 and with the help of leading studio musician Pat Ware, he had his songs recorded by Glen Davis and Jimmy Little.
In 1962, Eric was back in Sydney and writing again. Slim Dusty recorded his song When Snowy Sings Of Home. Soon after, Reg Poole, Rick & Thel, Eddie Tapp, Buddy Williams and many other artists used his songs.
But it was his coverage of country music in his two books "Country Music In Australia" volumes one and two that will most likely be Eric's most significant legacy to the Australian country music industry.
The first volume was published in 1975 to great acclaim with public demand leading to the second volume in 1983.
Volume one followed the 16 original artists and groups who recorded before the 1950s arrived and volume two went from there up until the early 1980s, exploring the explosion of interest in country music in the cities during that decade.
Apart from a number of rare photos in the books, one of the most notable elements is a series of extensive discographies of the artists.
Following a number of years out of print, in 2005 the two volumes were republished as one book.
In 2006, Eric was presented with the inaugural Australian Country Music Literary Award that was immediately named in his honour as the Eric Watson Award. The new award was designed to encourage the recording and writing of Australian country music history.
On Australia Day 2004, his services to country music were recognised by the nation with the announcement je was to receive an OAM (Order of Australia Medal).
Eric's funeral will be on Monday (January 16) at the Casino Uniting Church at 11am. He will be interred at the Casino Lawn Cemetery.
A memorial service will be held in Tamworth on Tuesday January 24 at 11am in Tamworth's Uniting Church opposite the Big Golden Guitar on the Sydney Road.
Lee returns for his annual free Tamworth concert - CanTeen named as charity beneficiary
Lee Kernaghan returns to the Tamworth Country Music Festival this year to headline the annual free Toyota Concert in the Park and CanTeen has been named as the beneficiary of funds to be raised.
Toyota's Concert in the Park has been a major feature of the Festival for the past five years on the main Friday night (this year the 27th) attracting crowds of around 15,000 to Country Music Capital's Bicentennial Park.
The company's Manager of Events, Promotions and Sponsorships, Andrew Wearing, said that organisation was very proud to throw its support behind CanTeen and carry on the tradition of providing aid to charitable organisations and programs through the annual concert.
Almost $100,000 has been raised for worthy causes through the annual show, "and we hope to continue that success this year for CanTeen," he said.
"Toyota has a great history of supporting regional and rural Australia through the charity concerts. This assistance will help to creative positive futures for young people whose lives have been interrupted by cancer, many of whom reside in regional communities like Tamworth."
CanTeen Acting CEO Dr Claire Treadgold said she was looking forward to carrying out the organisation's good work with the help from donations raised during the 2012 Toyota Concert in the Park.
"It's an amazing opportunity to have Toyota and all the artists get behind CanTeen at Tamworth," she said." It really demonstrates the generosity and supportive nature of regional Australia."
CanTeen is the national support organisation for 12-24 year olds living with cancer and is the only organisation of its kind. "We are really pleased to be able to provide support to young people in regional areas, ensuring that they are able to travel to, and access all our programs, free of cost."
---
MONDAY, JANUARY 9, 2012
Smoky Dawson / Pro Hart exhibition
A special exhibition of Pro Hart paintings has been set up in Tamworth in conjunction with a Smoky Dawson exhibition being staged in conjunction with the unveiling of the Smoky Dawson memorial statue.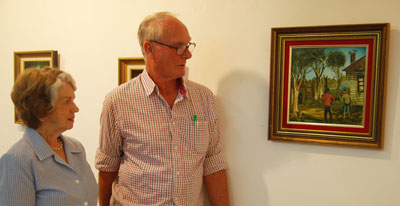 "Painting a Song" is the title of the exhibition which, in addition to the Smoky memorabilia, comprises 11 paintings created for Smoky by renowned outback artist Pro Hart.
In 1985, Smoky published an autobiography simply entitled "'A Life" and he asked his mate Pro to illustrate it. For each of 11 episodes of Smoky's eventful and colourful life, Pro painted a picture reflecting the essence of the story Smoky was telling.
As well as being long time friends, the pair were "naturals" working together.
In Smoky's own words: "Pro and I have so much in common, especially our love for Australia and its people. Communicating in the best way we knew, we have tried to paint the world in the colours we would like it to be. All it took was a phone call to Broken Hill, and Pro's magic brush set to work translating my words and music into these paintings."
"And how fitting it is that, although both artists died some years ago, an exhibition celebrating their combined work should be exhibited for the first time ever in Tamworth during the Jayco Tamworth Country Music Festival," according to a spokesman for Tamworth Regional Council who organised the exhibition with the assistance of the Smoky Dawson Memorial Statue Committee and the support of the Dawson family.
Speaking at the exhibition unveiling today, Committee member and Tamworth Country Music Festival founder Max Ellis said he understood it was the first time all of the 11 paintings had been shown together in public.
Smoky, who died in 2008, was a legendary country music figure who had entertained and inspired millions of Australians over some seven decades. Pro, who grew up on a sheep station near Menindee, died in his beloved Broken Hill in 2006. By then, the renowned outback painter was an internationally recognised artist with his work represented in collections throughout Australia and around the world.
The "Painting a Song" exhibition formally opens to the public tomorrow (Tuesday, January 10) in the foyer of Council's admin building Ray Walsh House in Peel Street which also acts as Festival Headquarters during the official 10 days of the annual event.
In a separate area of the foyer, Smoky's long lost 1950 classic feature film "Cowboy From Down Under" will be shown together with a film biography.
The free exhibition complements the unveiling by Dick Smith on Thursday January 26 at midday of the much anticipated statue of Smoky Dawson in front the Council Headquarters.
Not So Dusty II for release this week
Fourteen years after the release of the first Slim Dusty tribute album Not So Dusty, Not So Dusty II (The Bushies Tribute To Slim Dusty) is set for release later this week.
That original album, released in 1998, featured an eclectic mix of Australian artists including Troy Cassar-Daley, Kasey Chambers, Paul Kelly, Mental As Anything, Midnight Oil and the Screaming Jets.
The album proved to be a tremendous success receiving critical acclaim and sales well in excess of ARIA's Gold Record status.
"Now with the release of the second instalment in the series... we are taken down some quite different Dusty roads," said a spokesman for Slim's record label.
This time round, the tributes are performed by many of Australia's leading traditional country music artists including Charley Boyter, Jeff Brown, Nathan Charlton, Peter Coad & The Coad Sisters, Tracy Coster, Peter Denahy, The Flying Emus, Keith Jamieson, Roger Knox, Dianne Lindsay, Tom Maxwell, Norma O'Hara Murphy, Dean Perrett, Reg Poole and Daly Stephenson.
"Of special interest, and an industry first we believe," the spokesman said, "the two closing tracks on Not So Dusty II features two Slim Dusty tributes sent in by Slim fans. The tributes (by Brade and Merv Webster)."
The new collection features 24 Slim Dusty tracks and is described as "a unique blend of Slim favourites mixed in with some lesser know Slim songs".
The Not So Dusty II album will be released nationally through the Slim Dusty family label Nulla Records (distributed by EMI Australia) this Friday January 13 (13, incidentally was Slim's lucky number!) and will be available on both CD and digital formats.
"It seems appropriate that the Not So Dusty II album release should coincide with the 40th Tamworth Country Music Festival celebrations," the spokesman said.
"The synergy between the two is so strong and even more meaningful when you take into account the fact that Slim and his wife Joy McKean were the first ever Golden Guitar winners (with Lights On The Hill in 1973) and then of course there's the major contribution Slim and Joy have made to the Festival over all of its four decades."
Artists announced for Bush Laureate Awards
A raft of well known names in both bush poetry and country music will grace the stage of the 2012 Australian Bush Laureate Awards in Tamworth later this month.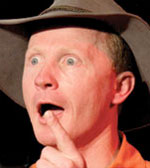 Among the bush poets appearing will be a number of finalists for this year's Awards.
The line-up is... Trisha Anderson, Graeme Johnson ("The Rhymer From Ryde"), Bob Magor, Gregory North (pictured), Glenny Palmer, John Peel, Manfred Vijars, Grahame Watt and Stephen Whiteside.
Leading the country guest stars charge will be Golden Guitar winners Pete Denahy and Melinda Schneider (pictured) with Wayne Horsburgh, Amber Lawrence, Dianne Lindsay and Dean Perrett, compere Jim Haynes and "some amazing young kids from Grant Luhrs Young Aussie Talent Team".
Highly sought after Golden Gumleaftrophies will be presented in five categories...Book of the Year, Published Poem of the Year, Album of the Year, Single Recorded Performance of the Year and Children's Poem of the Year.
The winner of this year's Judith Hosier Heritage Award (named in honour of the Awards founder) will also be announced.
Tickets for the gala Awards presentation are available from Tamworth Visitor Information Centre on 02 6767 5300 or on-line from www.tcmf.com.au.
The Awards will be staged from 2pm on Tuesday, January 24 in the Tamworth Town Hall.
Further information can be obtained from www.bushlaureate.com.au.
Finalists for the Great NSW Country Pub Songwriting Competition announced
Finalists in the 2012 Tooheys New Great NSW Country Pub Songwriting Competition have been announced with the winner to be decided at Country Music Capital's The Pub later this month.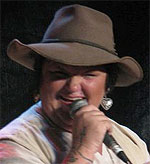 Entries were received from across the nation and judges were reportedly "very impressed" with the high standard of songs presented, celebrating pubs and pub life.
The finalists are... Rick Caballo from Windang NSW with Everybody Knows Everybody, Jim Edwards, Paul Bonner Jones & Patricia Cruzado from NSW with Womboin Wallop, Louise Egan from Lavington NSW with Bar Flies, Tootie Hiles (pictured) from Toowoomba Qld with At The Pub Baby, Terry Lockley from Lidcombe NSW with The Local, Grant Luhrs from Wagga Wagga NSW with The Chook Raffle Song, Louis Nowra & Stewart D'Arrietta from Kings Cross NSW with Thank God For Beer, Brett Ralph from Eden NSW with Since The Pit's Closed Down, The Really Good Guys (John Vallins) from Bellingen NSW with Here's To You, Sonny Rolfe from Wellard WA with Your Pub, Simply Bushed from Douglas Park NSW with Chook Raffle, Merv Webster from Bargara Qld with A Pub We Call Shindy's Inn and Geoff Williams from Mona Vale NSW with The Pub Song.
Finalists are aged from 25 to 74 years of age, according to a spokesman for competition organisers, and include several well-known country music identities such as Grant Luhrs and Merv Webster, Tootie Hiles who wowed the audience at last year's winners concert, south coast NSW local Rick Caballo who was a grand finalist in the 2010 Toyota Star Maker Contest and President of the Belrose Country Music Club, Geoff Williams.
These songwriters have now been invited to perform their entry at the Winners Concert at 12noon on Tuesday January 24 at The Pub and are in the final round to take out the prize money of $3,000 first prize, $1,000 second, $750 third and $250 fourth.
Entry to the concert is free.
---
FRIDAY, JANUARY 6, 2012
People's Choice Awards finalists announced
Finalists have been announced for the 2012 Australian Country Music People's Choice Awards to be announced in Tamworth later this month.
The announcement has been delayed this year due to the large number of votes and the time taken for the important process of validating and cross-checking ballots, said Awards spokesman Bob Kirchner.
"Once again, we have had a big increase in the number of votes, and because we don't limit voters in their choices, it can take longer to make sure everything is checked properly and validated.
"This year, we have received well over the 10,000 mark with literally hundreds of artists, groups, duos, albums, songs, videos, radio stations and presenters put forward," Bob said.
"And that is an excellent result which clearly shows how much appreciation the fans have for their favourites."
The finalists (in alphabetical order by artist or song) are...
For Best Female Vocal – Kasey Chambers, Beccy Cole, Shaza Leigh, Tamara Stewart and Sara Storer.
For Best Male Vocal – Adam Brand, Troy Cassar-Daley, Dale Duncan, Dale Hooper and Graham Rodger.
For Best Group or Duo – Brothers 3, Carter & Carter, Jetty Road, McAlister Kemp and Simply Bushed.
For Best Song – The Closing Of The Day (written by Val Butler, recorded by Kalesti Butler), Hard Work (written by Drew McAlister & Mike Carr, recorded by McAlister Kemp), Kelsey's Song (written by Makirum & Alita, recorded by Brothers3), The Shape I'm In (written & recorded by Graham Rodger) and Walking In My Shoes (written by Dale Duncan, Shaza Leigh & Ben Jacobs, recorded by Dale Duncan).
For Best Bush Ballad – Cattle Town by Dean Perrett, The Closing Of The Day by Kalesti Butler, Kiandra Gold by Brian Letton, Lyrebird On The Roof by Brothers3 and The Silent Deep Lagoon by Graham Rodger.
For Best Album – All Kinds Of Tough by McAlister Kemp, Far Away Places by Jetty Road, This Land by Graham Rodger, Wattle Fire by Brothers3 and Yesterday's News by Kathryn Jones.
For Most Promising Future Star – Kalesti Butler, Paul Cowderoy, Melody Feder, Kathryn Jones and Adam Toms.
For Best Video Clip – Butterfly by Tamara Stewart, Hard Work by McAlister Kemp, In Spite Of Ourselves by Kirsty Akers & Bob Evans, Leaving Home Now by Brothers3 and Serves You Right by Jetty Road.
The Australian Country Music People's Choice Awards also recognise popularity in country music broadcasting with two awards, the finalists being...
For Most Popular Country Music DJ – Bill Beerens of the Community Broadcasting Association's "Good Morning Country", DeanO & Sgt Ron (Dean Mackin and Ron Trundle) of Today's Country 94.1, Carter Edwards of the Super Radio Network, Geoff Williams of Radio Northern Beaches and George Young of the "Good Morning Country".
For Most Popular Country Music Radio Station or Program – 2RRR 88.5 FM (Sydney), Cool Country 2KA (Sydney, NSW), "Good Morning Country", Radio Northern Beaches (Sydney) and Today's Country 94.1 (Central Coast, NSW).
Winners of 2012 Australian Country Music People's Choice Awards will be announced at a gala presentation function at 7:30pm Thursday, January 26 at the Light City Church concert venue at the corner of Anne & Kathleen Streets, South Tamworth.
A number of Awards finalists and previous winners will perform during the night.
Tickets can be purchased via the website, www.peopleschoiceawards.com.au or at the door, subject to availability.
Tamworth "Official Guide" released
The "Official Guide to the Tamworth Country Music Festival" – produced and published by "Capital News" – is out now.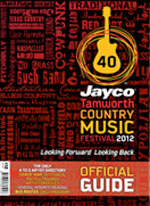 Recognised as one of the world's biggest Festival publications the "Official Guide" is billed as "the original and definitive Tamworth Country Music Festival guide featuring the official day-by-day program and an exclusive A to Z artist directory.
A bumper issue with more than 260 pages, the "Guide" highlights Festival special features and also includes a rundown of events and activities that run during the Festival "countdown" (seven days prior to the official start of the Festival).
This year, the "Guide" includes a special "Capital News" souvenir music CD reflecting "Tamworth".
Venue information, including venue map, the Tamworth town map, bus routes and timetable, country music points of interest and helpful visitor guide information to Country Music Capital and the district are all included.
The Tamworth Country Music Festival is long established, now in its 40th year. The Festival "Guide" features historical facts and inside stories covering the finalists of the Golden Guitar Awards and other awards and competitions, the 33nd Toyota Star Maker talent search and other major events.
Hands of Fame and Roll of Renown inductees, new music product releases and artist CD launches, talent quests and new insightful stories into the famous Festival are a feature.
The Official Guide is now available from newsagents in and around Tamworth and selected newsagents throughout NSW, Queensland and Victoria.
Copies can be purchased online via tamworthcountrymusic.com.au or from Rural Press Events on free call 1800 649 866 for $12 a copy plus postage and handling and including the free souvenir CD.
---
TUESDAY, JANUARY 3, 2012
New album from The Borderers
Tales Of Love & Loss/Rise Up is the name of the new album released in November by The Borderers.
It's the 10th release from the band, predominantly Jim Paterson and Alex, and is dedicated to Jim and Alex's son Rowan who took his own life in January 2010.
The album was launched at South Australia's Norwood Live on Saturday November 19, coinciding with International Suicide Survivors Day: A day dedicated to the family and friends who are left behind.
First single off the album is Love Them While You Can.
The multi-award winning The Borderers formed in 1994 and have released eight albums, four EPs, two children's albums and have been included on 31 compilation albums all around the world.
To date, they have sold more than 70,000 CDs and DVDs.
This month, the band has a number of performances in their home state before performing two shows at the Tamworth Country Music Festival and then dates in the Northern Territory, Victoria and the ACT.
Weblink – www.theborderers.com.au.
Red Hill Festival this weekend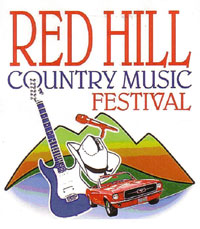 The 2012 Red Hill Country Music Festival will be staged this Sunday (January 8).
Held at the Red Hill Recreation Reserve on Arthur's Seat Road in the Melbourne suburb, this year's event will star, in alphabetical order, Rick Bartlett, Peter Baylor's Roadhouse Romeos, Jayne Denham, Gunslinger, Christopher Lee, Markus Meier, Amber Joy Poulton, Rough Cut and Cooper West.
Compere will be Gary Turner.
The Festival will include a Hot Rod Show & Ute Muster and will have children's rides, food and bar, market stalls. The venue is described as "all weather".
Weblink – www.redhillcmf.org.au.
Chart Update – Jetty Road at number one
Jetty Road's latest hit I'm A Dreamer has taken over the number one spot on the national Country Tracks Top 30 this week.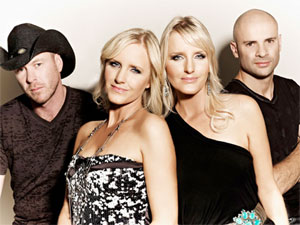 Beccy Cole's Shiny Things is at two while Adam Harvey's Falling Into Place edges up one to three and Carter & Carter's Dance In The Rain is at four.
Lee & Robby Kernaghan's cover of Fire is also up one to five, Shane Nicholson's Jimmie Rodgers Was A Vampire is up three to six and Katrina Burgoyne's White Flag is up one to seven.
Kaylee Bell's Strawberry Sunset is up two to eight, Graeme Connors' I'm Travelling At The Speed Of Life is at nine and Dianna Corcoran's Here's Your Damn Song enters the top 10 at 10.
Bullet performers for the week include Tamara Stewart's Butterfly (18 to 15), Luke Dickens' True Love Never Dies (20 to 17), Travis Collins' Fired Today (24 to 21), Benn Gunn's Laughter And Beers (27 to 24) and Troy Cassar-Daley's Country Is (new at 27).
The other new entry to the chart this week is Melinda Schneider's Wish You Were Here (new at 30).
---
Click here for recent news
---