Australian Country Music News, January 2011
---
MONDAY, JANUARY 31, 2011
Vale - "Slim" Jim Pike
Country pioneer "Slim" Jim Pike died last week at his home in Liverpool (Sydney).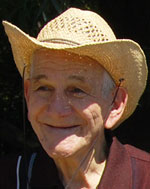 Jim was a popular country act around Sydney and well known for his yodelling during the 1950s and early '60s.
He had his own travelling show and toured the east coast of Australia from Victoria right through to northern Queensland.
Although Jim recorded two sides for Regal Zonophone, they were never issued.
He was inducted into the Australian Country Music Hands of Fame in January 2010.
His funeral is tomorrow (Tuesday) at the Forest Lawn Cemetery at Leppington (Sydney).
New from 8 Ball
8 Ball Aitken pre-released a new album during this year's Tamworth Country Music Festival.
But it wasn't an easy exercise as the new work, titled The Tamworth Tapes, fell victim to the Queensland floods.
Having invested considerable time, energy, and money in writing and recording the new album in Country Music Capital's Enrec Studio in December, 8 Ball sent his album master and artwork off to the CD duplication company he has always used... in Brisbane's west end.
The albums were due to be collected for shipping to Tamworth prior to the Festival. However, before he could even think about picking them up, 8 Ball received word that the CD facility in had been evacuated and the business closed down for the duration of the flood.
Despite the setback, 8 Ball managed to source stock from an alternate supplier, just enough to get through the huge 10 day country music extravaganza.
With many Queensland friends and family members isolated in the rising flood-waters at the time, 8 Ball had serious concerns, but chose to take a classic Aussie larrikin approach to the situation.
"People have been telling me for years that they think my music sounds like swamp country music," he said. "I realised, as the CDs were then stuck in a Brisbane swamp, that it must be true after all!"
Ironically, the musician already lost $6,000 worth of CDs in the 2010 Nashville floods. "It seems my music is all about getting your feet wet," 8 Ball chuckled.
The Tamworth Tapes is the fourth album for the red-headed "guitar-slinger".
It was recorded "straight to tape" at Enrec, self-produced and with 8 Ball playing every instrument on the album himself, including guitars, slide-guitars, banjo, harmonica, bass, and percussion.
First single and music video from the album is Rogue Pony which will be released at the same time as the album isofficially released on February 18 nationally through MGM Distribution and Phoenix Movement Records.
---
FRIDAY, JANUARY 28, 2011
Awards investigation officially announced
The following statement was uploaded to the Country Music Association of Australia website today.
"Independent investigation into 39th Jayco Country Music Awards of Australia to take place.
"The Country Music Association of Australia has requested the assistance of former police prosecutor Ian Burkinshaw to undertake an independent investigation into the 39th Jayco Country Music Awards of Australia.
"With some 34 years experience as a police prosecutor, coupled with his membership of the Tamworth Regional Council's Ethics Committee, Ian is well qualified and highly regarded, enjoying the respect of the Tamworth community.
"Mr Burkinshaw will specifically investigate the incorrect announcement of Lee Kernaghan's Planet Country as Album of the Year in place of Graeme Connors' Still Walking.
"Country Music Association of Australia Chairman Rod Laing said: 'The Board and I are incredibly embarrassed at this error and wish to formally apologise to Graeme Connors, Matt Fell, Lee Kernaghan and Garth Porter and thank them for the graciousness displayed by each of them as a result of this unfortunate incident.
"'It is our intention to ensure that a completely independent party is able to identify how the error occurred and to provide advice to assist us in ensuring it never happens again,' he continued.
"'Mr Burkinshaw is familiar with inquiries of this nature and I have no doubt he will carry out a thorough and ethical investigation,' said Mr Laing.
"Following Mr Burkinshaw's investigation, the findings on how the error took place will be reported to the Board of the CMAA and other stakeholders.
"In addition, the CMAA will undertake a review of all aspects of the Awards.
"'The review is a precautionary step to ensure that all other aspects of the Awards were carried out to the highest professional standard expected by the Board, sponsors, stakeholders, artists and fans of country music,' stated Mr Laing."
Aristocrat Country Entertainer 2011
One of the most popular talent quests of the annual Tamworth Country Music Festival is the Aristocrat Country Entertainer of the Year, and the 2011 quest title was no less sought after than in previous years.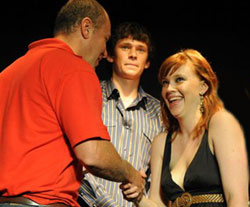 South Australia's Melody Feder was named senior Country Entertainer of the Year while fourteen-year-old Kiara Rodrigues won the Junior Entertainer of the Year title.
A tough field of 17 finalists, determined from two very successful heats, competed at Wests Diggers on the Monday evening of the Festival.
Melody took home $2,000 in cash and 10 hours recording time while Kiara won $700 cash.
Last year's second placed junior Mitchell Murdock, now 18, competed as a senior and came in as runner-up. He won a $1,000 cash prize.
New to Tamworth, Belinda Stone took third place in the senior competition.
Kylie Price from New Zealand was placed second in the junior competition Nathaniel O'Brien third.
This was Aristocrat's 21st year as major sponsor of Entertainer of the Year and local sales representative Peter Henderson announced the company would be on board again next year to support "awesome Australian talent".
Competition co-ordinator Gina Timms said: "We had a full complement of acts this year and the talent just gets better and better... I have been judging here for 19 years and we have seen some amazing performances, some that make you laugh, some that make you cry.
"Australia certainly does have a huge depth of young talent... Rod Laing and his crew from Wests Entertainment Group are to be applauded for their on-going support of country music here in Australia."
Photo (by Bob McGahan): Melody is congratulated on her win by Peter Henderson while Mitchell Murdock looks on.
Still more winners
Wests, meanwhile, had a number of other talent quests running through the Festival.
Following are the results of these...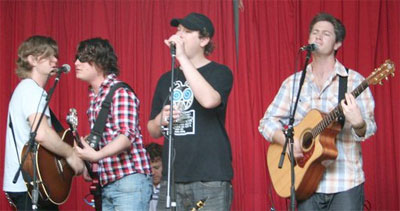 Battle of the Country Bands... first place (and $1,000) went to Burning Violet Bridges (pictured), second (and $500) to Red Handed with third place (and $300) going to The Corbys. A Tomkins guitar valued at $3,000 was presented to Mick Atholwood who was judged as the best lead guitarist in the competition for the second year running.
Mount Franklin Wests Kids Talent Quest... senior winner Ooh La La (Laura Patterson & Lauren Hodge), senior runner-up, Olivia Nolan. The junior winner was Kay-Lea Brown, runner-up, Sarah Grace Buckley.
Mother Karaoke Competition... first place, Saelyn Guyton; second, Neil Douglas; third Kim Ritchie.
Weblink – www.wtlc.com.au.
---
THURSDAY, JANUARY 27, 2011
Record entries for APRA PDAs
A record number of entries (almost 2,500) has been received for this year's APRA (Australasian Performing Right Association) Professional Development Awards (PDAs) presented every two years in conjunction with music organisations and institutions involved in the representation or education of Australian music creators.
These have been reduced to 250 and will be further reduced to eight on March 14 who will each receive prizes that will substantially support their burgeoning careers as songwriters and composers.
Each awardee will receive a prize package valued at more than $25,000 including $12,000 cash and an Apple MacBook Pro 15-inch plus Logic Studio by courtesy of APRA|AMCOS, a full day of studio time, including engineer, at Studios 301, a distribution deal with MGM/Leading Edge (Popular Contemporary, Country, Film & TV, Indigenous winners only), a digital distribution courtesy of MGM (Popular Contemporary, Country, Film & TV, Indigenous winners only), a PCR300 Controller Keyboard and DR80C Condensor Microphone by courtesy of Roland and a unit of study in the Australian Institute of Music's (AIM) Bachelor of Music Program.
Two additional awards are administered as part of the APRA Professional Development Awards program, the Jessica Michalik Contemporary Music Endowment and the UTAS - Stephen Schwartz Songwriting Award. Each of these awards will provide a promising Australian songwriter or group with development grants of $10,000.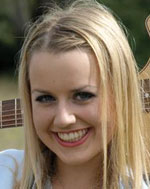 Eight awards will be presented in six categories... Classical, Country, Film & Television, Indigenous, Jazz and Popular Contemporary.
The country music finalists (and their nominees) are 8 Ball Aitken (CMAA, pictured), Steve Brown, Lachlan Bryan (MusicVIC), Sophie Clabburn (CMAA), Kimberley Clemens (MMF), Andrew Cochrane (qmusic), Kristy Cox (MusicVIC), Noel Downs (Music NSW), Abraham Dunovits (Multicultural Arts VIC), Morgan Evans (TDP), John Flanagan (PUSH), Dana Hassall (qmusic), Leanne Hawkins (AIR), Bill Jackson (MusicVIC), Rebecca Jackson (CCMC), Kate Jacobsen (qmusic), Harmony James (CMAA), Christie Lamb (TDP, pictured), Robert Lonetree (AIR), John Lynam (MMF), Julian Mathews (MusicVIC), Grant Millar (ASONG), Craig Morrison (ASONG), Michael Pye (AIM), Sonny Rolfe (WAM), Susan Jane Russell (MusicVIC), Fred Ryan (WAM), Joshua Shelton (qmusic), George Sich (CMAA), Jo Kelly Stephenson (ASONG), Greg Storer (CMAA), Jim Turner (MMF), Sean Van Doornum (ASONG), Luke Webb (ASONG), Danny Widdicombe (qmusic), and Mike Wilkinson (WAM).
Weblink – www.apra-amcos.com.au.
Awards mix-up panel nearing
Little has been heard from the Country Music Association of Australia (CMAA) since it was confirmed on Sunday that a major error had occurred in the presentation of Golden Guitars on Saturday night.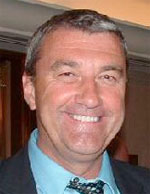 In The Northern Daily Leader yesterday, however, it was reported that a "Golden Guitars awards mix-up post-mortem panel" was due to be confirmed later in the day and that Awards organisers had said an independent review could be completed within a week.
Up to three panel members would form the investigations team, the newspaper reported, "but late yesterday, CMAA Chairman Rod Laing (pictured) was still negotiating with the men to determine if they were available and would be part of the inquiry panel this week.
"The three all have extensive legal backgrounds and qualifications and have also acted as members of civic ethics committees in the past," The Leader reported.
Television news last night reported that former Police Prosecutor Ian Burkinshaw had been confirmed to head the panel.
"Mr Laing said he was hoping the three will be able to take up the brief to examine what went wrong at last Saturday's awards golden stuff-up where Lee Kernaghan and Garth Porter were incorrectly presented with the night's biggest prize, Album of the Year, instead of the true winners, Graeme Connors and his producer Matt Fell," The Leader reported.
"The bungle subsequently descended into farce overnight with a number of actions that amounted to a virtual cover-up of the on-stage and back-stage fallout from the 'Sarah Murdoch moment' and an embarrassing scramble the next afternoon by the board of the CMAA to reverse that presentation."
The Leader reported the Golden Guitar inquiry would start immediately the investigators are briefed.
"Mr Laing said they will talk with five key witnesses, believed to be directly associated with the Awards staging and on the floor that night, but could decide they want to interview up to another 15 who have some knowledge or background information about how the mix-up could have occurred and what happened subsequently."
"The investigators will decide who they need to speak with and I expect that they will need some answers to a few questions about what happened on the night and the background to it," The Leader reported Rod Laing saying.
Awards telecast
It has been confirmed, meanwhile, that the national telecast of the Awards will take place on Saturday as planned.
The telecast is scheduled to commence at 2pm cross Australia on the TEN Network, including in all metro and regional areas but excluding remote areas.
Commentators say the Awards telecast will be watched with interest by many this year, especially to see how an amended presentation or announcement of Album of the Year is handled.
Wolumla flood relief concert
More than $4,500 was raised at a Queensland flood relief country music concert at Wolumla north of Merimbula (NSW) on Sunday.
Shirley Rixon reported in the Merimbula News Weekly that the concert was staged in the Wolumla Hall with several hundred country music lovers attending "an extremely vibrant and responsive musical concert".
The concept came to fruition from Ron Millner's idea to assist fellow Australians in their time of need, Shirley reported. Ron and his family are well known in country music circles in the area.
The Wolumla Hall Committee jumped at Ron's idea which resulted in a number of established country music artists travelled from all directions to support the cause.
A captive audience comprised mainly Merimbula residents and other nearby locals but also including travellers from the ACT, Victoria and other parts of NSW.
---
WEDNESDAY, JANUARY 26, 2011
An OAM for Auriel
Renowned Aboriginal country singer Auriel Andrew has been awarded a Medal of the Order of Australia (OAM) in today's Australia Day Honours.
The honour has been bestowed for Auriel's service to country music as a singer and to the Indigenous community.
Described by writer Neil Jameson as a "sixty something songbird who dared to dream, Auriel has a thousand tales to tell." He says he was all ears when he caught up with Auriel.
"It might easily be the alternative version of 'Australia' the movie," he said. "The opening sequence begins on stage at the Sydney Opera House where a 61-year old grandmother is being presented with the 2008 Jimmy Little Lifetime Achievement Award.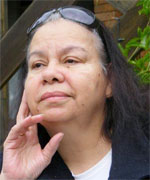 "Then, as she turns slowly to address the audience, the applause fades as the scene dissolves into an aerial view of the vast red mass of Central Australia. Like a gliding wedge-tailed eagle,the camera cuts a languid path high above the desert country to hover over the modest post-war township of Alice Springs before swooping in a low arc through the front door of a house where a young Aboriginal girl, her eyes fixed on her mother, is standing on a table.
"Sing Auriel, sing!" Myrtle Andrew prompts and, like a bird, the tiny four-year-old throws back her head and lets the sound fly up and out through the kitchen, out the front door and right up there into the thin, cooling air where the eagle soars.
"It is voice that will carry Auriel far from her home, into a world of television, radio and a lifetime of live performance. It is a voice that will be heard by popes and queens, tribal natives and big city executives. It will survive a childhood on the poverty-stricken fringes of bush society, dusty outback camps, a thousand rickety stages at country shows and the fickle whim of modern trend.
"And," Neil says, "no matter where it goes, it will remain filled with all the wonder and candour of that tiny four-year-old standing on that kitchen table all those years ago."
Auriel is an Arrente woman who has been living quietly in Newcastle (NSW) for the past almost 30 years.
Longtime country music fanatics can cast their memories back 40 years to when Auriel became the first Aboriginal female performer on Australian television and a regular on The Reg Lindsay Show and, later, live on The Ernie Sigley Show.
A few may recall her on the bill at the Opera House opening of 1973. Others may have caught her on TV in episodes of "A Country Practice", "Blue Heelers", "Heartland" or in the indigenous music doco "Buried Country".
Auriel has a number of awards and accolades in addition to the Jimmy Little Award and now the OAM, including induction into the Country Music Hands of Fame at Tamworth (1991) and the Northern Territory Indigenous Music Awards Hall of Fame.
Cyril Green and Doug Peters – two former members of the Jimmy Little Trio – have been awarded the Order of Australia Medal.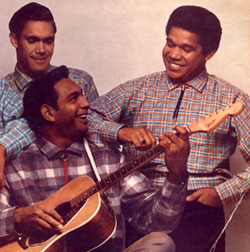 Cyril (lead guitar) and Doug (drums), together with the late Neville Thorne and Max Kim, worked in a re-formed Jimmy Little Band from the earli 1960s providing a highly professional backing band for the star, creating a sound that contributed greatly to his continuing success.
Country music industry veteran Max Ellis said that musically, the band played country in a very popular, straightforward and traditional way, which tended to differentiate it from other bands of the time.
"Cyril Green was one of the first country musicians in Australia to popularise the so called 'thumb style' of guitar picking, which was also utilised by Chet Atkins in Nashville.
"Over the decades, they toured constantly, playing in hundreds of venues including town halls, clubs of all kinds, theatres and even the Sydney Opera House as well as countless remote outback communities all over the nation."
The Trio featured with Jimmy on his early Album, Jimmy Little Sings The Country & Western Greats on Festival Records in 1963 and in doing so became the first Aboriginal country band to record.
Later, in 1963-64, they established another first when they appeared on national television. Their first record was called The Richest Man In The World and it was also recorded in Festival Studios more than 40 years ago.
Though carrying the name of the artist they worked with, The Jimmy Little Trio was a talented group in its own right.
Cyril and Doug were recognised for their outstanding contribution to Australian Aboriginal cultural and social progress and to Australian country music.
Trudy receives Cultural Award
Country singer Trudy Hintz (pictured) was announced as the winner today of the Crows Nest (Queensland) Cultural Award.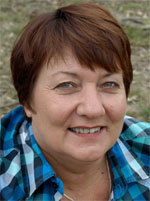 The Toowoomba Chronicle reported that over the past 12 months, Crows Nest had witnessed the launch of a successful music career for Trudy which had "certainly put the township, and Trudy, on the map at country music festivals".
Trudy took out the award for Best New Talent and was a finalist at the annual Gidgee Coal Bush Ballad Awards in the Female Vocalist category which included well-known artists Dianne Lindsay and Anne Kirkpatrick.
She won the Slim Dusty Memories Award at the Kempsey Music Festival and is also a finalist in both Female Vocal and New Talent categories at the Stan Coster Bush Ballads Awards at Bungendore in February.
"She is an artist getting worthy recognition for a style of music she describes as 'Australian Ballads – great stories about our beautiful country'," the Chronicle said.
Trudy has been performing with her husband Ged since 2007 and released an album in 2010.
Bluegrass champions decided
Australian National Bluegrass Champions 2011 were decided on the last day of this year's Tamworth Country Music Festival.
Jens Koch (pictured) took out the Bluegrass Banjo Championship while George Jackson was runner-up and Montz Matsumoto was in third place.
The 2011 Bluegrass Fiddle Championship was taken out by George Jackson. Luke Moller was runner-up and Ashleigh Dallas came third.
Jamie Clark won the Flatpick Guitar Championship with Innes Campbell second and Josh Bennett third.
Bluegrass Mandolin Champion 2011 is Luke Moller, followed by Michael Patrick in second place and Daniel Watkins third.
An encouragement award was presented to Chloe Nott.
Hosts the Davidson Brothers and Instrumental Golden Guitar winners from the night before, Ian Simpson and John Kane, were among the guest performers together with America's Jerry Salley.
Chart Update – Keith takes over number one
Keith Urban's Put You In A Song has taken over the top spot on the national Country Tracks Top 30 singles chart this week.
McAlister Kemp's Hell, Yeah is up one to be in second place, Jayne Denham's former number one, Feral Kev & General Leroy, is at three while America's Reba McEntire is at four with Turn On The Radio.
Troy Cassar-Daley's Yesterday's Bed is steady at five, Catherine Britt's Sweet Emmylou is up two to six and Jonah's Road is steady at seven with End Of The World.
America's George Strait is at eight with The Breath You Take, Allan Caswell's Who Gets The Friends enters the top 10 at nine as does the Kristy Cox/Davidson Bros duet Breakin' New Ground at 10.
Bullet performers for the week include Doug Bruce & Amber Joy Poulton's Close Enough (16 to 13), Rose Carleo's That Season Again (18 to 14), Adam Harvey's Good Enough For Me (20 to 16), Lee Kernaghan's Dirt (22 to 17), Connie Kis Andersen's Steamy Dreams (21 to 18), The McClymonts' A Woman Is A Flame (23 to 19), Sandra Humphries' Heartaches, Highheels And A Halo (24 to 21), The Bostocks' Done And Dusted (26 to 23), Tara Naysmith & Rob Wilson's Do You Wanna Dance (29 to 26) and Steve Passfield's Timberman (30 to 27).
New to the chart this week are Jasmine Rae's Hunky Country Girls (in at 29) and Sarah McMonagle's C'est La Vie (at 30).
---
TUESDAY, JANUARY 25, 2011
Golden Harmonica winners
Eighteen-year-old Michael Diamond from Nowra (NSW) is the 2011 Hohner Golden Harmonica Champion, decided at this year's 32nd Championship staged during the Tamworth Country Music Festival.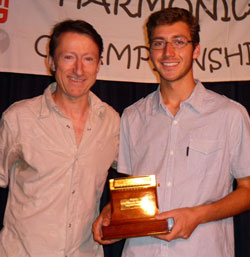 Championship runner-up was Brian Cain while James Norton won "the audience prize" and Kiam Adcock was presented with an encouragement award.
Event organiser Lawrie Minson applauded the venue, The Family Hotel, for its support of the Championships. "The comp ran smoothly," he said, "and the format was great. The Pub Group and XXXX Gold even gave some lucky members of the audience their own 'golden' harmonicas as a take home gift."
House band for the event comprised Steve Newton, Kirk Steel, Anthony Walmsley and Randall Wilson who did "a great job," according to Lawrie.
Feature act for the afternoon was Christian Marsh's trio with Paul Burton and Andrew Toner while Kevin Anderson was compere and PJ Kevo from Newcastle helped Lawrie with the judging.

Michael reportedly had a smile "a mile wide" when Lawrie presented him with his trophy, a gold plated Hohner 270 Chromonica mounted on a hand crafted red cedar trophy.
Noel Smith from Tamworth supplies the trophy each year and Dick Martin from Dalby Tourist Park helped sponsor this year's event.
Photo: Lawrie (left) with Michael Diamond and his championship trophy.
---
MONDAY, JANUARY 24, 2011
Jimmy calls it a day
Jimmy Little is saying farewell to performing after 60 years in country music.
The Country Music Roll of Renowner made the announcement while accepting a "lifetime achievement' Golden Guitar on Saturday night.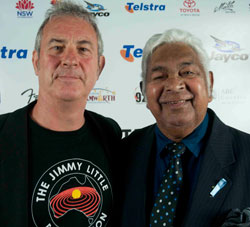 He took to the stage at Tamworth's Capitol Theatre on Sunday for his final concert where he regaled the audience with stories from his life, finishing off with a favourite song, I'll Be Your Baby Tonight.
"Here I am now signing off from the gentle journey of Jimmy Little," he told the audience. "It's time for me to take a holiday and let the next generation take over, like my grandson."
Jimmy, who is already a member of the ARIA Hall of Fame as well as the Roll of Renown, shot to prominence in 1964 with the success of the hit song Royal Telephone.
The single not only soared to number one, it stayed in the top 10 for 18 weeks and went gold twice, making him Australian pop star of the year.
A regular at the Tamworth Country Music Festival for many years, Jimmy is also credited with paving the way for many young indigenous musicians as well as being a strong advocate for Aboriginal health in the wake of his own health struggles
He was diagnosed with diabetes and underwent a lifesaving kidney transplant in 2004.
Jimmy's retirement from performing will allow him more time to focus on his Jimmy Little Foundation which was set up several years ago to increase the life expectancy of indigenous Australians by facilitating nutritional education and advocacy for better health services for indigenous Australians.
Photo (by John Elliott): Jimmy with manager Graham "Buzz" Bidstrup.
Weblink – www.jlf.org.au.
---
SUNDAY, JANUARY 23, 2011
Golden Guitars error
The Country Music Association of Australia (CMAA) has corrected an error in the presentation of Golden Guitars at last night's Awards.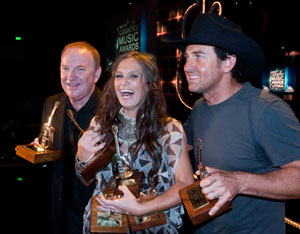 Rumours abounded in Tamworth today about whether something had gone wrong when the wrong music was played following the announcement of the final award, Album of the Year.
Lee Kernaghan's Planet Country was announced as the winner but the CMAA says in a statement on its website that the 2011 Album of the Year is, in fact, Graeme Connors' Still Walking, produced by Matt Fell.
"It is with regret that a major error took place in the presentation of the final award..." the statement said.
"The Country Music Association of Australia has been working non stop since the incident occurred to investigate how this error took place and will be undertaking a full review into this process.
"The Association recognises the magnitude of the error and expresses and extends its most sincere apologies to Graeme Connors, Matt Fell, Lee Kernaghan and Garth Porter. The Association also extends its apologies to the hosts of the evening Ray Hadley and Beccy Cole, the country music industry and fans for the error."
Rather than leave what is resultantly an incorrect story on The Bulletin, we have adjusted the story on this year's Golden Guitar winners to reflect what should have happened.
Photo (by John Elliott): Graeme, Kasey and Lee with their Golden Guitars.
Winners
The Tamworth Country Music Festival is all about winners.
Whether it's those who win Golden Guitars or other awards, or those who win major talent quests, or those young writers and performers who gain experience by entering talent quests or those who win a moderate living through busking...
It's all about moving ahead and winning.
News on most of the major awards and talent quests is already included, but through the next week or so, The Bulletin will be catching up with the various other competitions and talent quests that have taken place during the Festival.
The first results follow...
Battle of the Bands winner
The Conundrums from Queensland have won the 2011 Coca-Cola Battle of the Bands title in Tamworth.
The Battle is celebrating its fifth year this year while the Coca-Cola company celebrates 33 years direct sponsorship involvement with the Tamworth Country Music Festival.
Second place in the contest went to the Megan Kelly Gang from Milawa in Victoria while The Noisy Minors from Boonah, Queensland, were judged third.
Members of the winning band come from all over the Sunshine State having come together as a backing band on the country music circuit over the past three years. On drums and vocals is Kyle Thompson, on guitar Michael Cole, acoustic guitar and vocals Brodie Holmes and on bass Karyl Edwards.
The Conundrums took home $1,000 prizemoney plus a paid gig at one of The Pub Group's leading hotels in Tamworth. Second prize was $300 with $200 for third.
"Development of the Coca-Cola Battle of the Bands has been a great addition to the many successful activities staged this year at Coke Park during the Tamworth Country Music Festival," said Kate Nugent from Rural Press Events, organisers of the activity.
"As the years go by, it has been fascinating to watch the on-going high standard of band entrants that continues to take the full sound of country music to new heights," Kate said.
Past winners of the Battle of the Bands have been the Duke Wilde Band (last year), Ruckus (2009), Craig Morrison Little Cowboys (2008) and President Roots (the inaugural winners in 2007).
Busking winner
Winner of the Australian Country Music Busking Championships is 15-year-old Shahnae Pakoti from Wilton in NSW.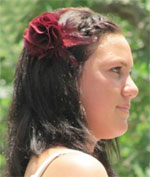 The competition was conducted through the Tamworth Country Music Festival in Peel Street (aka "the boulevard of dreams"), concluding on Thursday evening.
Shahnae won the championship from a tough field of nine finalists including second placing duo Jason Grice & David Cambourne from western Sydney.
She takes home a cash prize of $1,500 from founding Championships supporter The Northern Daily Leader.
Cavalcade 2011
A packed Peel Street witnessed another gigantic Country Music Cavalcade as one of the major highlights of this year's Tamworth Country Music Festival yesterday.
Winners of the various award categories were...
In the commercial section – New England Institute of TAFE Tamworth Campus, first; Monte Dwyer, second; Tamworth Dance Academy, third.
In the non-commercial section – Northwest Harley Owners Group, first; Hunter New England Health Tamworth, second; Northcott, third.
The Australian Miniature Horse Association was judged winner of Best Equine while John Richardson's "The Big Camel" was highly commended.
---
SATURDAY, JANUARY 22, 2011
Kasey, Graeme and Luke dominate the Golden Guitars
Kasey Chambers, Graeme Connors and Luke Austen dominated tonight's Country Music Awards of Australia (or Golden Guitar Awards) presented in Tamworth, Australia's Country Music Capital.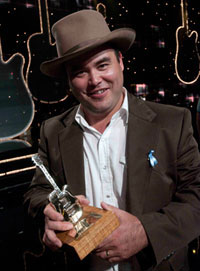 Kasey was the big winner, ending up with four awards, three in her own right (Female Artist, Single and Song of the Year) with Little Bird, and one with Kevin Bennett in Vocal Collaboration (Love Like A Hurricane).
Graeme and Luke both took home two Golden Guitars each... Graeme won Album of the Year for Still Walking (produced by Matt Fell) and Male Artist of the Year with A Good Life while Luke won the Heritage Award with Sacred Bones, co-written with Troy Cassar-Daley, and Bush Ballad of the Year with Everytime He Travels Through Cloncurry, written by Peter Denahy.
Lee Kernaghan won Top Selling Album with Planet Countryand The McClymonts nailed their fourth Group of the Year award with Wrapped Up Good.
Sara Storer won Video Clip of the Year with Coming Home, directed by Duncan Toombs, McAlister Kemp netted the New Talent Award with All Kinds Of Tough and Ian Simpson & John Kane took home Instrumental of the Year with Dixie Breakdown.
Roll of Renowner Jimmy Little was presented with his first Golden Guitar in the form of a lifetime achievement award and The Sunny Cowgirls became the second winner of the new Horizon Award (a new talent encouragement award).
Rod McCormack was announced as Producer of the Year, Jeff McCormack as Engineer of the Year and Glenn Hannah, Musician of the Year.
Photo (by John Elliott): Peter Denahy with, in his own words, the first Golden Guitar he hasn't lost!
Weblink – www.country.com.au.
YoungStars winners
Winners in the inaugural Battle of the YoungStars talent quest held during this year's Tamworth Country Music Festival, were decided yesterday.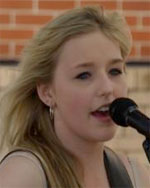 And the future of Australian country music seems well assured, according to organisers of the quest, Rural Press Events (RPE), the organisation that also organises and stages Toyota Star Maker and various other major Tamworth Festival events.
"A talented group of exciting young artists rolled up to the Coca-Cola Park in Tamworth for the inaugural 'Battle'," said chief organiser Kate Nugent.
More than 50 potential young stars lined up over five days to compete in heats for a range of titles and prizes from all over Australia and ranged in age up to 17.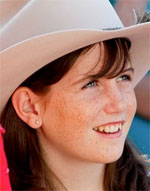 Sixteen-year-old Ashley Knight (top) from Woy Woy, NSW, took out first prize and was named the senior winner.
Twelve-year-old Karrie Hayward (centre) from Walkerston in Queensland came second.
And nine-year-old Kaylea Brown (bottom) from Cattai in NSW came third and was named overall junior winner.
An encouragement award was presented to 15-year-old Shahnae Pakoti from Wilton in NSW.
First place-getter Ashley was presented with her prize by Rod Coe, renowned record producer and music director for the late Slim Dusty. Rod was also heavily involved in the Australian College of Country Music from 1997 to 2003 when he retired as College Music Director.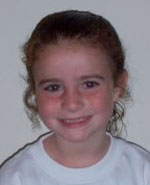 Ashley won $300 in prizemoney and also won automatic entry into the Generation Country Quest (formerly known as the Golden Saddles). Runners took home prizes including $100 and $50, respectively.
Finalists in the "Battle", a number of whom, together with their families, were first time visitors to the Tamworth Festival, were selected from heats staged during the week.
Other finalists included Sarah Grace Buckley from Coraki NSW, Ashlee Esposito from Albion Park NSW, , Jordan Garner from Bligh Park NSW, Codey Hodges from Inverell NSW, Jon O from Wellington NSW, Stephanie Penrose from Tamworth NSW, Kiara Rodrigues from Carindale Qld and Kobe White from Keysborough Vic.

Kate said she and co-ordinator Luci Smith were delighted with response to the event and stunned by the quality of the contestants, many of whom sang traditional bush ballads as well as contemporary country songs.
"These young people show exceptional talent," she said. "We can be confident that in the future they will keep our country musically excellent and Australian to the core."
Sally is Tamworth's Country Music Queen
Sally Laurie from Manilla has been crowned Tamworth's 2011 Queen of Country Music.
Sally (pictured at left) won the title from a field of 29 entrants.
Runner-up, or Country Music Princess, is Zoe Allen (centre).
And this year, a Miss Congeniality of Country Music title has been bestowed on entrant Lisa Hinwood (right).

After completing her schooling at Manilla Central and Calrossy, Sally went on to achieve her Bachelor of Nursing at Newcastle University in 2007. She started work at Tamara Private Hospital, winning Ramsay Health Care's inaugural Award of Excellence (Post-graduate of the year) in 2008.
Sally is currently studying a graduate certificate in Breast Cancer Care through the College of Nursing. Her interests include playing touch football, netball and travelling, having recently returned from Europe.
In 2005, Sally was crowned Manilla Showgirl, representing Manilla at the Zone finals that year. She was nominated in the quest by her employer.
Zoe is employed by Inland Technology as a Service Contracts Officer and has been with the company for two years. After finishing her schooling in Singleton, Zoe completed a Certificate III in Business before moving to the Tamworth region in 2008.
She lives on a property on the outskirts of Tamworth and enjoys horse riding, rodeo and, in particular, steer undecorating, an event she regularly competes in.
Zoe loves the lifestyle of the Tamworth region and would one day like to complete a degree in accounting and breed her own horses. She was also sponsored in the quest by her employer.
Lisa has lived in Tamworth for the past three years following her move from her home town of Armidale. Employed as a Customer Services Administrator for David Newberry, Lisa completed her Diploma in Financial Planning in November 2010 and is looking forward to developing her career as a Financial Adviser in the Tamworth Region.
Lisa is strongly involved in the Tamworth community and acts as Secretary for the Blue Angel Foundation, a local charity that assists people affected by cancer. In her free time, she enjoys working in her garden, reading and catching up with friends. Lisa was sponsored by Keo Design.
The three titles were announced at a special crowning dinner in Tamworth last night. They will now act as ambassadors for the 2011 Festival and the Tamworth Region through the next 12 months.
Sally wins prizes including a trip to New Zealand to represent Tamworth at the Gore Country Music Festival.
The quest is organised and run by the Tamworth & District Chamber of Commerce & Industry with major support from The Northern Daily Leader.
Keith's Tamworth concert a sell-out
Tickets for Keith Urban's "Get Closer 2011 World Tour" went on sale nationally (except Queensland) today, first in Tamworth where sales opened an hour earlier at 8am AEDT and within an hour, tickets for his April 12 appearance in the city reportedly sold out.
A quick review of production requirements saw a small number of additional tickets released and the 5,000-plus venue was again declared a sell-out within three hours.
It's reputed to be the fastest-ever sell-out of a Keith Urban concert and certainly a record-breaker for Tamworth.
"We've never sold out a show on the first day, let alone hours," said Tourism Tamworth General Manager Rebel Thomson, ticket selling agent for the Tamworth Regional Entertainment & Conference Centre.
Keith's concerts in Sydney and Melbourne were close to selling out their gold-priced tickets by lunch time with silver tickets for both shows and gold and silver tickets in Adelaide still available. On-sale details for the Queensland concert remain pending due to the flood devastation.
The world tour starts in Australia.
Weblink – www.keithurban.net.
---
FRIDAY, JANUARY 21, 2011
People's Choice winners
This year's winners of Australian Country Music People's Choice Awards were announced in Tamworth last night.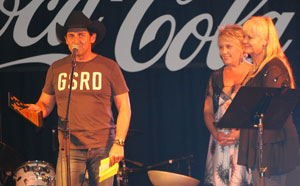 Beccy Cole won the Best Female Vocal award while Adam Brand was named Best Male Vocal.
Best Album went to Simply Bushed for their latest release, Look At The Time.
The Best Song award went to Lee Kernaghan and Garth Porter for Love In The Time Of Drought, released on Lee's latest album (which won last year's Best Album People's Choice award), Planet Country. Lee is picture here responding to the award announcement with presenter Melinda Schneider and Awards co-host Connie Kis Andersen.
Rising stars Brothers3 took out their first People's Choice Awards, and two at that, with the Most Promising Future Star award and Best Group from a very competitive field.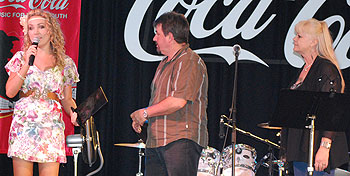 Graham Rodger built on his impressive collection of People's Choice Awards by taking the Best Bush Ballad category with his song The Cooper Coming Down.
Another fast rising star, Katrina Burgoyne (pictured at right with awards hosts Steve Passfield and Connie Kis Andersen), took out the Best Video Clip title with Ghost, directed by Duncan Toombs.
A unique aspect of the People's Choice Awards are the two categories dedicated to the broadcasting industry, that sector of the media so important to the future of country music.
This year's award for Most Popular Country Music DJ went to one of the nation's newest radio stars, Felicity Urquhart, who took over the reigns from John Nutting on the ABC's "Saturday Night Country" and has taken the program to new heights.wsssss
The award for Most Popular Country Music Radio Station went to long-time Sydney dedicated country music broadcaster 2KA Cool Country.
A large and appreciative audience witnessed this year's presentation which also featured performances from Awards finalists David Baldi, Brothers3, Katrina Burgoyne, Beccy Cole, Johanna Hemara, Jason Lee, Gemma Luxton, Markus Meier, Graham Rodger, Simply Bushed, and co-hosts Steve Passfield and Connie Kis Andersen.
Organisers say they were delighted with all aspects of this year's Awards which saw a record number of votes and literally hundreds of artists, groups and duos nominated by the general public.
---
THURSDAY, JANUARY 20, 2011
Leaping Lizards honoured at Golden Fiddle Awards
Australian bush band the Leaping Lizards was honoured today for more than 25 years of dedication to the nation's heritage roots music with the Golden Fiddle Lifetime Achievement Award.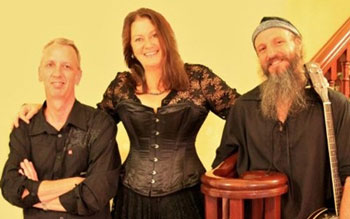 While the band members might have changed over the years, fiddlers have always featured on the front line, say organisers of the Golden Fiddle Awards. "The Lizards are regarded as a leading Australian ambassador band, often being the first Australian music thousands of overseas business leaders and tourists hear at cultural events."
Legendary folk rocker John Schumann recently said of the Lizards: "They have a way of singing old and well known songs that bring them to life – effortlessly."
The Leaping Lizards released their first album in 1986, which is today preserved as an historically significant piece of Queensland's musical heritage. A ground breaking album was released in 1989 when they reached the top of their game, having won both the Battle of the Bush Bands and the National Bush Band title in the same year. For years after, the band travelled extensively on the festival circuit and were regulars on TV shows.
Guitar and banjo player and vocalist on that album Ron Dimmick still holds the Lizards together with co-players Donna Reynolds and a new fiddler, Hugh Curtis.
The iconic band had nominated in four categories of this year's Golden Fiddle Awards, with Liam Kilpatrick on the fiddle.
They made the finals in three of the categories, but the judging panel agreed unanimously to honour their musical history with the Lifetime Achievement Award.
The Golden Fiddle Award for the best solo fiddler in Australasia was won by Melbourne based classically trained violinist Nigel Maclean.
A double National Bluegrass Champion, Nigel was awarded a scholarship to study jazz at the Berklee College of Music in Boston in 1990 and is now an alumni advisor to the faculty. He has worked with Oscar nominee David Hirschfelder on music assignments on films like "Elizabeth", "Sliding Doors" and "Better Than Sex".
Phil Rooke, a Sydney music teacher who has developed an innovative string teaching program underpinned by his five-movement Jazz Suite of the Week, took the Golden Fiddle Award for the best fiddle composition.
Equally hotly contested by some of Australia's leading players was the best fiddle teacher category, which resulted in a winning tie for Sydney teacher Andras Racz and Queenslander Emma Nixon. Emma had won the same Golden Fiddle contest last year.
The judges also had difficulty separating two contenders for the Youth Achievement Award, 20-year-old Emma Barlow from Sydney and 17-year-old Ashleigh Dallas from Tamworth. Emma is already a multi-award winning instrumentalist and songwriter while Ashleigh has recently toured with Kasey Chambers on her Little Bird tour.
An adventurous Bundaberg, Queensland group of four string players whose average age is 14, Quatro, were encouraged with a Highly Commended Award in the youth category.
Best CD by a band featuring a fiddler went to The String Contingent whose fiddler Chris Stone has travelled widely to explore fiddle music and has played at the Edinburgh Fringe Festival.
Best CD by a fiddler as a soloist was won by previous Golden Fiddle solo winner Marcela Taylor, with her CD Move On.
Popular Gold Coast band of two brothers and two sisters from the same family, The Bostocks, beat a strong group of finalists to take the Golden Fiddle Award for best band featuring a fiddler. They have also been nominated this year for two Golden Guitars.
Now in its seventh year, the Golden Fiddle Awards is the only program of its kind in Australasia which showcases both professional and recreational fiddlers across all genres. The awards show, hosted by fiddle legend Pixie Jenkins, has become well entrenched as an alternative feature of the Tamworth Country Music Festival.
Golden Fiddle Chairman Mark Mitchell, whose company Epoch Musical Instruments helped establish the Awards and is still its major sponsor, said this year's entries proved beyond doubt that fiddle playing was in the very best of hands in this country.
"Youth dominates our Awards this year, and we also see big innovation from today's fiddle teachers which I feel will lift fiddle playing to new heights, both recreationally and professionally. The judges also note the professional way in which the young musicians have presented themselves and this was taken into account in the selection process," Mark said.
TSA winners
Winners in the TSA (Tamworth Songwriters' Association) Songwriter Salute Awards were announced last night.
Allan Caswell (pictured below) and Ted Egan (right) were the big winners taking two awards each.
Allan won Country Song of the Year and Contemporary Song of the Year with his hit Behind Bars.
Ted took home Comedy/Novelty Song of the Year with Queensland Opera and Children's Song of the Year with The Laughing Game.
Traditional Bush Ballad of the Year went to Graham Rodger for The Cooper Coming Down while Country Ballad of the Year was won by Tony McKenna & Leanne Hally with Spirit Of The Land.

Debbie Lehmann & Olive Bice won Gospel Song of the Year with Our Angel and Tom Oliver was presented with the SongMaker ward.
Blackwood, Victoria, singer, songwriter and poet Lauren Lee Williams won the 2011 TSA|Capital News New Songwriter Award with her song Happy Birthday To Me.
And the Tex Morton Award went to June Underwood.
Winners in the National Country Song Songwriting Contest were also announced on the night with Robert Cooper taking out the Amateur section with The Cattle Sale.sssssss
In the Amateur/Contemporary category, Rachel Summerell was the winner with One Of The Lucky Ones.

In the Professional/Traditional category, the winner was Graham Rodger with The Silent Deep Lagoon while in the Professional/Contemporary category, Danny Hooper won with Dreamland.
In the Junior category, Romany Elmas won with Good Luck With That while in the Lyrics Only section, Merv Webster took out the title with Hey Banjo!
Winners were announced at TSA's Gala Concert at the West Tamworth League Club. In addition to Ted, guest artists were 8 Ball Aitken, Kaylee Bell, The Bobkatz, Ernie Constance, Dianna Corcoran, McAlister Kemp, Amber Lawrence, Graham Rodger and Anne Kirkpatrick with a tribute to Joy McKean.
Also presented was the Songmaker Award which is decided on votes by TSA's members, and the Tex Morton Award to someone who has made a lasting contribution to the cause of Country Music in Australia.
---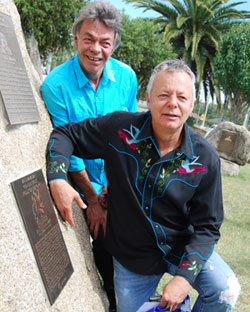 .
WEDNESDAY, JANUARY 19, 2011
Phil and Tommy at "the rocks"
Phil and Tommy Emmanuel unveiled their plaque at the Roll of Renown in front of the Tamworth Regional Entertainment & Conference Centre this morning.
See Saturday's full story here.
.
.
CCMA events
The earliest organisation to have anything substantial to do with country music in Tamworth is the Capital Country Music Association (CCMA) the organisation that runs two major events at the annual January festival.
The CCMA National Talent Quest & Jamboree is the oldest event of the Festival having started actually before the Festival did.
Responsible for providing an entry into country music for many of today's stars (including Keith Urban who competed when he was still a boy), the National Talent Quest now runs on Thursday and Friday (at the Tamworth Golf Club in Mahony Avenue), culminating in a Jamboree presentation concert on Saturday.
Next year will be the 40th year of the Tamworth Country Music Festival. This Saturday will see the 45th staging of the Jamboree.
Stars of the show, in addition to talent quest winners, will include Carter & Carter, Greg Champion, Tullara Connors (last year's talent quest overall winner) and Wayne Horsburgh (pictured).
The show gets underway at the Tamworth Town Hall at 1:30pm. Tickets can be purchased here.
The other major CCMA activity, which has been running for 10 years now, is the Young Guns of Country concert which will be staged at the Tamworth Golf Club tonight from 7:30.
Stars of the show this year are Jemma Beech, Brade (Bre Gerritson & Jade Mellor), Tullara Connors, Melanie Dyer, Jessie Fairweather, Jacynta'lee Glaspey, Megan Kelly, Christie Lamb, Mitchell Murdock, Ryan Sampson and Penelope Somerville.
Greg Champion will be special guest and compere.
Tickets can be obtained from the Golf Club on 6765 9393.
CCMA activities are sponsored by Kensells Holden and NBN Television.
YoungStars new for Tamworth
The 2011 Tamworth Country Music Festival has a new children's talent search with the launch of the Battle of the YoungStars by Rural Press Events, organisers of, among other things, the annual Star Maker quest.
The first YoungStars Battle is calling all talented young people 17 and under to enter the new young performer of the festival competition.
Designed to be a discovery showcase of young singers or musicians from all over Australia, the quest has two sections - Junior for 10 years and under and Senior for 11 to 17 year olds.
Overall winner of the quest will receive a $300 cash prize in addition to "bragging rights" and direct entry into "Generation: Country" (the former Junior Saddles competition). YoungStars will has cash prizes of $100 for second and $50 for third place (plus supplementary prizes awards).
Entrants play for 10 minutes each with the opportunity to be supported by the Alwyn Aurisch Band as well as professional sound and lighting. Each day, the Battle of the YoungStars competition is being compered by Mal Winckle.
The Battle of the Youngstar is running as part of the Coca-Cola Concerts in the Park program at Hands of Fame Park until Thursday January 20, daily from 11am to 12 noon. The grand final be held from 11am on Friday.
Further information can be obtained from Rural Press Events by telephoning 02 6768 5800 or by emailing rpeprojects@ruralpress.com.
Chart Update – Jayne at the top for third week
Jayne Denham's Feral Kev & General Leroy hangs on to number one on the national Country Tracks Top 30 singles chart this week for the third week.
Keith Urban's Put You In A Song is up two to be in second position while McAlister Kemp's Hell, Yeah is steady at three and Reba McEntire's Turn On The Radio is at four.
Troy Cassar-Daley's Yesterday's Bed is at five, Markus Meier's Rope A Cowgirl is at six and Jonah's Road is at seven with End Of The World.
Catherine Britt's Sweet Emmylou bounds into the top 10 at eight, America's George Strait is at nine with The Breath You Take and Tracy Killeen's Metrosexual Craze is at 10.
Bullet performers for the week include Allan Caswell's Who Gets The Friends (15 to 12), the Kristy Cox/Davidson Bros duet Breakin' New Ground (16 to 13), Doug Bruce & Amber Joy Poulton's Close Enough (19 to 16), Rose Carleo's That Season Again (21 to 18), Adam Harvey's Good Enough For Me (24 to 20), Lee Kernaghan's Dirt (26 to 22) and Sandra Humphries' Heartaches, Highheels And A Halo (27 to 24).
New entries to the chart this week are the Tara Naysmith/Rob Wilson duet Do You Wanna Dance (in at 29) and Steve Passfield's Timberman (at 30).
Weblink – www.countrymusicradio.com.au.
---
TUESDAY, JANUARY 18, 2011
Bush Laureate winners
Winners in the 2011 Australian Bush Laureate awards were announced in Tamworth today (January 18).
Book of the Year went to Murray Hartin for his work "A Whole Lotta Muz", a combination of Murray's best poems and hilarious columns.
Album of the Year was won by Jack Drake for his release, Australian Bush Poetry Classics, a CD which forms the basis for a teaching package for students in late primary and high school classes.
Bush Poem of the Year went to "Gallipoli" by Keith "Cobber" Lethbridge, the same poem that won the famed Winton Bronze Swagman Award in its year of entry.
Single Recorded Performance of the Year went to Black Saturday by Jim Brown, the second year running Jim has claimed this award. The poem is a reflection on Victoria's tragic and disastrous "Black Saturday" bushfires.
Children's Poem of the Year was named as "Petunia" by award-winning poet Carol Heuchan.
The Judith Hosier Heritage Award – for outstanding achievement in nurturing Australia's heritage of verse – was presented to Noel Stallard for his work in promoting Australian verse to children, both as a teacher and school administrator, through his shows and workshops in schools and for his service as a past president of the Australian Bush Poetry Association.
The award was also made especially for Noel's "tireless and lifelong promotion of the verse and memory of the great Australian poet Patrick Hartigan (Father John O'Brien) which has led to the planned establishment of a multi million dollar John O'Brien Centre to be built at Narrandera in NSW".
This year was the 16th year for the Bush Laureate Awards which were established in 1997 to recognise excellence in published and recorded Australian bush poetry.
The Australian Bush Laureate Awards will be held in Tamworth again next January, with nominations scheduled to open in August.
Further information, including coverage on the work of all nominees, can be obtained from www.bushlaureate.com.au.
Photo: four of this year's winners (from left) Jim Brown, Noel Stallard, Murray Hartin and Jack Drake.
Weblink – www.bushlaureate.com.au.
Harry and David win Telstra Road
Twenty-two-year-old Harry Hookey and David Garnham, 27, have won this year's Telstra Road To Tamworth finals.
The pair beat hundreds of aspiring country music artists to be crowned the winners of the talent search in the Country Music Capital tonight.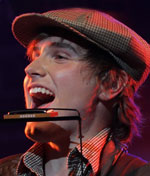 Harry and David take home prizes including return trips to Nashville, domestic and international gigs, publicity to increase their profiles and a 12-month career mentorship deal designed to help them take "the next major step" in their professional careers.
Harry was the winning performer while David was announced as the winning songwriter after performing two original tracks also in the unenviable position as the first contestant on stage.
Originally hailing from Cowwarr, a small country town in Victoria, Harry showed his talent as a singer/songwriter with an original song titled Don't You Ever Treat Me Like A Fool.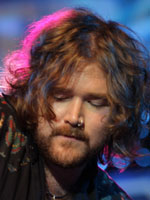 Harry grew up in a musical household with his five siblings and his first ever live performance was at age 16 with his Dad and three brothers at the local Cowwarr Pub. He currently lives in Kooyong and is studying an Arts, Law Degree at Melbourne University.
When his name was called as the winning performer, Harry said: "I feel like a very lucky man tonight in Tamworth. This is really overwhelming, I don't have enough words to say how awesome my fellow performers were, and each one of them has a career in the industry if they want it."
David said his win capped off an incredibly successful year after he was announced as a Triple J unearthed artist in June and flown to Sydney to attend an annual Song Summit.
When his name was called as the winning songwriter, David said: "I'm trying not to swear right now and am full of cliches with no good words to give you. This is the second time I've come through the Road to Tamworth and I was determined to show how much I wanted it – it's such a well run program and I'm stoked."
Performing in front of a capacity crowd of more than 1,000 people at the Tamworth Regional Entertainment and Conference Centre, Harry and David both said they were overwhelmed with their success and excited about the next stage of their Telstra Road to Tamworth journey.
Telstra's Regional Sales and Service Director, NSW and the ACT, Brett Riley, presented Harry and David with their prizes and praised the calibre of entries to this year's program.
"The strength and diversity of talent we have unearthed as part of this year's Telstra Road to Tamworth (TRTT) has been outstanding and goes to show what a rich future country music has in Australia," he said.
"Telstra set up this program eight years ago to connect aspiring musicians with Australian audiences and we're delighted to again be helping two exceptionally talented young Australians with the opportunity to shine both here and on the international stage."
On hand to congratulate Harry and David were Telstra Road to Tamworth Ambassadors The McClymonts who were the final act on the night's program.
Australian country stars James Blundell, Amber Lawrence and Felicity Urquhart added to the entertainment roster, together with last year's contest winners Tenielle and Luke Webb who relinquished their titles to the this year's winners.
Former TRTT alumni include inaugural winner Jessica Mauboy, who has gone on to achieve success on the pop charts, Kirsty-Lee Akers, Corey Colum, Morgan Evans, Nick Kingswell, Brianna Lee, Peter McWhirter, ARIA nominated country artist Jasmine Rae, Aleyce Simmonds and Mark Wells.
Photos of Harry (top) and David (by Ted Sealey)..
Kalesti takes out Star Quest
Kalesti Butler has taken out this year's Australian Bush Balladeers Association Star Quest held at Wests Diggers in Tamworth yesterday.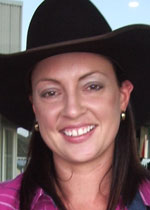 Kalesti, 28, first appeared live at three years of age at the Charters Towers Country Music Festival.
She went on to win the Qld Champion of Champions at the age of nine and has since competed successfully in many other events. She now calls Emerald home.
Kalesti beat fellow Star Quest finalists, Rod Brandt, Trent Holder, Tootie Hiles and Amelia Richards to take the title.
Described as "not just another quest", the annual Bush Balladeer Star Quest winner must be dedicated to the bush ballad style and intent on making a career in the bush ballad industry.
The winner receives recording time for a radio single and major festival appearances around the country throughout their 12 month reign.
This is designed to "bring them in contact with not only new fans for their music, but introduce their talent to the industry, radio and give them lifelong promotion skills," said a spokesman for the Bush Balladeers Association.
The Star Quest Trophy was presented to Kalesti by Australia's first lady of country Joy McKean.
Kalesti will be recording her prize single later in the year.
---
MONDAY, JANUARY 17, 2011
Luke wins Toyota Star Maker 2011
Sydney-based Luke Dickens won the 2011 Toyota Star Maker quest in Tamworth last night.

The 2008 "Australian Idol" competitor won the competition from a field of 20 finalists and five fellow grand finalists David Agius, Kaylee Bell, Lachlan Bryant, Damian Howard and Elizabeth Papalia.
Previous Star Maker winners Lyn Bowtell and Gina Jeffreys were guest artists at the competition together with last year's winner, Luke Austen, and guest judge Tommy Emmanuel.

As the 2011 Toyota Star Maker, Luke said he was excited by the prospects that lay ahead.

"It's an amazing feeling to be awarded a prize that has started the careers of some of the biggest names in country music," he said. "It's a huge opportunity and I intend to make the most of it."

Described as a country kid with a love of the outback, Luke Dickens left school at 16 and plied his trade shearing sheep in Young for the next nine years, but his success on Australian Idol ended that chapter.
Last year, Luke toured with Country's New Stars alongside Luke Austen, Victoria Baillie and Amber Lawrence and it was a major year in his career.
In July, he released his debut album, Underdog, and he and his band kicked off the album tour performing for Australian troops in Afghanistan.
For Luke, the tour was a career highlight and one of his most humbling and unforgettable experiences.

"Following in the footsteps of Australian country music royalty including Keith Urban, Lee Kernaghan, Kylie Sackley and Samantha McClymont (of The McClymonts), the success of previous Star Maker winners has no doubt provided motivation for many of our finalists today," Luke said.
"The title, as well as the prize package, provides Luke with everything he needs to really kick start his career in 2011," he said.

The substantial 2011 Toyota Star Maker prize package includes an album recording contract and a big-budget recording session, 12 months use of a new, fully-serviced Toyota motor vehicle (and fuel card) an acoustic guitar, media promotion, a number of designated performance bookings and return air tickets to Nashville for the CMA (Country Music Association) Festival in June by courtesy of Travelworld Tamworth.
West Tamworth Flood Fundraiser Concert
The Tamworth Wests Flood Fundraiser Concert will be held at West Tamworth League Club this afternoon from 3:30.
"Tamworth Mayor Col Murray will open the concert," said organiser Carolyne Morris. "It will feature close to 30 artists including many wonderful local musicians. (And) we are fortunate to be able to feature several Golden Guitar winners in the guise of 'mystery guests'.
"I was inundated by offers from artists wanting to donate their time and, regrettably, due to time constraints, we are unable to accommodate all artists," Carolyne said.
The event (which is being made possible by total donation) will feature a large raffle with many prizes.
Venue for the concert, promotion, publicity, television and radio ads, musicians, artists, raffle prizes, ticketing, everything, has all been donated for the cause.
Artists confirmed to appear at the time of the latest media release include 8 Ball Aitken, Doug Bruce, Mike Casey & Kerry Walsh, Steve Charles, The Crosby Sisters with Steve Newton, Tori Darke, Jayne Denham (pictured), Johanna Hemara, Jetty Road, Jo Lavelle & Ross McGregor, Jason Lee, Karen Lynne, Bruce McCumstie, Doug McIntyre, Lawrie Minson, Katrina Rodrigues, Ryan Sampson (pictured), Mitchell Steel, Those Gals, Wanita, Sally-Anne Whitten-Aurisch and "mystery guests".
Tickets for the concert are $10 each or $20 for a family of four. All proceeds go to the Aussie Helpers Charity to directly support rural victims of the Queensland floods.
---
SUNDAY, JANUARY 16, 2011
Star Quest finalists
Finalists have been announced for the 2011 Bush Balladeer Star Quest to be decided at Wests' Diggers Club in Kable Avenue tonight.

Star Quest will feature performances from the five finalists (of course (!)) with guest appearances on the 2011 show by Taylor Pfeiffer and last January's winner David Baldi.
And the finalists are (pictured above from left): Amelia Richards, Kalesti Butler, Rod Brandt, Tootie Hiles and Trent Holder.
The Bush Balladeer Star Quest is not just another quest, according to organisers. The winner must be dedicated to the bush ballad style and intent on making a career in the bush ballad industry.
Winner of the quest receives recording time for a radio single and major festival appearances around the country throughout their 12 months as winner.
Hands of Fame
Six new handprints are set to be immortalised in concrete on Saturday following the announcement yesterday of this year's inductees to the Country Music Hands of Fame.
Leslie Avril, The Coad Sisters (Lynette and Virginia) Harry Frost and Bruce McCumstie were announced as this year's inductees while Rod Coe, whose induction was announced last year but could not proceed because of other commitments, will also be imprinted.
This year's Hands of Fame imprinting ceremony will take place next Saturday at 10:30am in Hands of Fame Park.
The announcement was made during the Australian Country Music Hall of Fame Concert Roll of Renown Concert in the Tamworth Town Hall.
Broadcasters Hall of Fame...
Country Music Literary Award
Country Music Capital broadcaster Lorraine Pfitzner was inducted into the Australian Country Music Broadcasters' Hall of Fame yesterday.
And Mildura-based media man Max Thorburn was presented with the Eric Watson Award for Australian country music literary works.
---
SATURDAY, JANUARY 15, 2011
Phil and Tommy elevated to Roll of Renown
Phil and Tommy Emmanuel were announced as this year's inductees to the Australian Country Music Roll of Renown in Tamworth this afternoon.
The extraordinarily talented instrumental brothers are the 40th name to be elevated to Australian country music's highest honour.
From their earliest days as guitar prodigies, to entertaining the planet at the closing ceremony of the Sydney Olympics, the Emmanuel brothers have lived music.
From 1960 to 1966, their family band travelled the country, later joining Buddy Williams on tour.
Skilled and versatile players, Phil and Tommy became sought after session musicians working with top bands and artists.
Phil, with his electric guitar, found fame in Australia. Renowned for his technical prowess, he records and tours widely, often with international stars.
Tommy, inspired by Chet Atkins, is celebrated as one of the most talented, exciting and exuberant instrumental entertainers and composers in the world.
Recording first in 1989, he has many best selling albums and has received countless international and Australian accolades. Moving overseas in 1997, Tommy tours the world, focusing on the USA and Europe.
For half a century, Tommy and Phil have carved out extraordinary careers, dramatically expanding the scope and appeal of instrumental music and proving that as Australian guitar virtuosi they are second to none in the world.
The brothers are currently undertaking a joint tour in Australia in celebration of their 50th anniversary of playing.
Phil and Tommy's Roll of Renown plaque will be unveiled at the Roll in front of the Tamworth Regional Entertainment & Conference Centre at 10:30 on Wednesday morning.
ABC artist album for flood victims
ABC Music's country artists have come together to release a 13 track digital album to raise money for flood victims.
Proceeds from Country Music Supports Flood Victims will go to the Premier's Flood Relief Appeal to help the many thousands of people affected by the floods.
All of ABC Music's local country roster – Catherine Britt, new artists Corey Colum, Shea Fisher, Steve Forde, Lee Kernaghan, McAlister Kemp, Peter McWhirter, Jasmine Rae, Sara Storer and Warren H Williams have donated tracks for the $10 digital album.
Sara Storer yesterday conveyed the thoughts of all the artists...
"Watching the television coverage of the Queensland floods tragedy unfold from my home in Darwin, it has been hard to comprehend the enormity of the devastation.
"Queensland has always been one of my favourite places to tour and I have made friends with a lot of people throughout the state during the past 10 years, many of whom have been directly affected by the recent events.
"My heart goes out to all those who have lost relatives and friends as well as those whose homes and property have been damaged or destroyed. I pray that recovery comes as quickly as possible," Sara said.
Adam Brand, from Compass Bros Records, has also contributed to the release, with his appearance on Spirit Of The Bush with Lee Kernaghan and Steve Forde. Kev Carmody also appears on Children Of The Gurindji with Sara.
ABC's international artists are also supporting Country Music Supports Flood Victims including Canadian band Doc Walker who arrive in Australia next week to perform shows at the Tamworth Country Music Festival, Brisbane and Sydney.
In March last year, Doc Walker performed shows in both Toowoomba and Brisbane and they are keen to contribute anything they can to help victims of the floods when they get here.
American acts Emerson Drive and Dean Brody, both of whom will perform in Australia for the very first time at the CMC Rocks The Hunter festival in March, have also donated tracks.
Multi-ARIA winning designers Debaser have donated their graphic design expertise for the album cover and all label and publishing royalties have been waived for this release.
Country Music Supports Flood Victims is being released exclusively through Bigpond Music, who have also agreed to waive their royalties and pass them onto the flood appeal.
"ABC Music wishes to thank the artists, publishers, managers, Debaser, Universal Music, Bigpond Music and everyone else who has donated their talent, time and expertise for the production and promotion of this unique digital album," a spokesman for the record label said.
Tracks on the album, in order of appearance are, Spirit Of The Bush by Lee Kernaghan, Adam Brand & Steve Forde, Children Of The Gurindji by Sara Storer (featuring Kev Carmody), Country Singer by Jasmine Rae, All Kinds Of Tough by McAlister Kemp, Sleepy Town by Catherine Britt, From Here by Doc Walker, Humm by Peter McWhirter, Something Beautiful by Steve Forde, Family by Warren H Williams, That Was Us by Emerson Drive, West Australian Woman by Corey Colum, Roll That Barrel Out by Dean Brody and Cowgirl In My Jeans by Shea Fisher.
Click here to buy the album.
Tamworth Festival icon venues
A number of venues in and around Australia's Country Music Capital have been providing consistent Festival entertainment for many years.
We've already looked at West Tamworth League Club and West Diggers, today we look at the Tamworth City Bowling Club on the east side of the city.
The Club is home base for leading bush poet and poetry performer Sam Smyth (right) and country comedian Terry Gordon (below right) who host numerous acts each of the 10 days of "Tamworth".
Sam looks after the mornings with his Bush Poets & Balladeers breakfasts from 7:55am and brunch shows from 10:10am while Terry's "Cavalcade of Country" has afternoon and evening concerts.
Featured poetry performers, in addition to Sam, are Emily Breckell-Smyth, Jack Drake, Bill Kearns, Carmel Lloyd, John Lloyd, Garry Lowe, John Norman, Claire Reynolds and guests with a balladeer line-up including Brooks & McGee, Jeff Brown, Ken Lindsay and Daly Stephenson.
Special guest performers include Darren Colston, The Harmonators, Christie Lamb, Karen Lynne, Doug McIntyre and Bryen Willems.
Terry's hosted concerts include Sharon Benjamin, Greg Champion & Colin Buchanan, Don Costa, Carter Edwards, Ted Egan, The Gunbarrell Highwaymen (Owen Blundell, Terry and Reg Poole with guests), Sandra Humphries, Glenn Jones, Diane Lindsay, Matt Manning and Dave Prior.
A number of feature concerts will be staged including a Legends of Guitar showcase on Friday 21st with Charley Boyter, Trent Holder, Lawrie Minson, Peter Simpson, Alisha Smith, Trevor Toltan and Lindsay Waddington.
A Kross Kut Records Showcase will run on Tuesday the 18th featuring John Battle, Alice Benfer, Charley Boyter, Neil Buttsworth, Jamie Davis, Grant Hart, Graeme Hugo, Glenn Jones, Lex K, Sharon Smith and Terry.
Festival FM celebrates 15th anniversary
The Tamworth Country Music Festival "special event" radio station Festival FM celebrates its 15th year of operation this January.
Broadcasting on the 101.5 frequency, Festival FM will be on air 24 hours a day every day of the 10 day event with only Australian country music.
The radio station is located on the first floor of the city's Centrepoint Shopping Centre next to the Capitol Theatre.
Announcers Nigel Bainbridge, Ken Date, Kelly Hope, Peter Leslie, Ray McCoy, Ben Sorensen and Jon Wolfe will all return for 2011 together with first time Festival FMers John Kearnes, Daryl Kirkup, Bryen Willems and Paul Wilson.
Several well-known country music celebrities will get behind the microphone and host programs this year including country stars Carter & Carter, Adam Harvey and Amber Lawrence, recording artist Dave Prior, bush poet Sam Smyth and rising country star Aleyce Simmonds.
Festival FM programs will include live coverage of the Toyota Star Maker Grand Final this Sunday evening and live interviews with more than 200 artists, on-air giveaways and live performances from major and independent artists and new talent.
The station is supported by sponsors including Coca Cola, the Greater Building Society, The Northern Daily Leader, South Tamworth Bowling Club and Tamworth Shopping World.
Battle of the Country Bands
The Tamworth Country Music Festival is renowned for its talent quests and the opportunities they provide for newcomers to the music and the Battle of the Country Bands is known as one of the most significant.
resented by the city's regional daily newspaper, The Northern Daily Leader, the "Battle" is staged at West Tamworth League Club on the final Sunday afternoon of the Festival.
The competition is open to country bands only and carries prizemoney of $1,000 for the winning band, $500 for the runner-up and $300 for third place.
A Tomkins guitar valued at $3,000 will be awarded to the lead guitarist judged to be the best during the competition.
Entry forms can be obtained from West in Phillip Street, West Tamworth or from the club website www.wtlc.com.au.
The actual competition is a no charge event for audience members.
Photo: last year's winner, the Duke Wilde Band.
---
FRIDAY, JANUARY 14, 2011
Tamworth Festival first day
The 2011 Tamworth Country Music Festival kicks off officially today.
And latest reports indicate all roads leading to the Country Music Capital are open... all major highways or alternative routes where appropriate.
Update: some northern NSW highway access may be in doubt so travellers should check the RTA "live traffic" website for updates... http://livetraffic.rta.nsw.gov.au.
Tourism Tamworth has urged visitors not to be scared off by floods, but to find safe ways of getting to the city.
General Manager Rebel Thomson said it was difficult to predict whether floods in Queensland and northern NSW would deter visitors from the Festival which usually attracts 50,000 people.
Of the 30,000 tickets sold so far by Tourism Tamworth (the main event ticket seller), only four people had requested refunds as a result of the floods which, according to Rebel would "definitely" have an effect as far as Queensland visitors were concerned.
"We probably get 15 to 20 per cent of our visitors from Queensland," she said. "Because this isn't a gated event, people come and go and we won't know until it's actually on or until after (whether attendance was down).
A number of special events have been organised to raise money for Queensland flood victims and many regular events have indicated they would support Queensland flood appeals.
Opening Concert
The first major event of this year's Tamworth Festival is the official Opening Concert at the city's Bicentennial Park from 6:30 tonight.
Stars of the show include 8 Ball Aitken, Toyota Star Maker 2010 Luke Austen, Leslie Avril, Catherine Britt, The Bushwackers (pictured), Ashleigh Dallas, Damian Howard & The Ploughboys, "Pixie" Jenkins, Dean Johnston and Tenielle Neda, winner of last year's Telstra Road to Tamworth competition.
The Gomeroi Dance Company will also feature as will the Mayor of Tamworth Regional Council Col Murray who will declare the Festival officially open and entrants in the Tamworth Queen of Country Music Quest are expected to make their official public debut.
Weblink – www.tcmf.com.au.
Major events on the first weekend
A quick check of the official Tamworth Country Music Festival program has well over 100 events or activities each day, but what are some of the major ones?
Following tonight's Opening Concert, the next major event is the Australian Country Music Hall of Fame Roll of Renown Concert in the Tamworth Town Hall Saturday afternoon at 2.
This is the event which features, in addition to a solid bill of entertainment, announcement of the Hands of Fame inductees for 2011, Broadcasters' Hall of Fame inductee/s and Roll of Renown inductee/s for the year.
An additional announcement this year will be the third winner of the Australian Country Music Literary Award, or Eric Watson Award (named after Australia's earliest and best known country music historian). This award was last presented posthumously in 2009 to the late James "Jazzer" Smith.
Tickets for the Roll of Renown Concert can be obtained here.
On Sunday, as always on the first Sunday of the Festival, the major event is Toyota Star Maker.
With finals running through the afternoon and the grand final at night, Star Maker is in its 32nd year and has been responsible for launching the careers of stars including James Blundell, Darren Coggan, Beccy Cole, Gina Jeffreys, Lee Kernaghan, Keith Urban, Brendon Walmsley and reigning Star Maker (until Sunday) Luke Austen.
Tickets for Star Maker can be obtained by clicking here.
Other major activities that get underway during the first three days of the Festival include the bush poetry "brekky" events including the Jim Haynes hosted events at Wests Diggers and Grant Luhrs shows at Wests.
The free Coke Concerts in Hands of Fame also begin, as do tours at the Australian Country Music Hall of Fame and dozens of events at pubs and clubs throughout the city.
Click here for link to the Official Program.
---
THURSDAY, JANUARY 13, 2011
Kasey postpones Queensland tour dates
Due to the catastrophe that has struck her friends and fans in Queensland, Kasey Chambers has postponed shows scheduled for Queensland until further notice.
"My heart goes out to you all," Kasey said. "I can't imagine what you guys are going through and I was very happy to be a part of the telethon on Sunday night. I can assure you that is just the start of our industry contributing to your recovery.
"All you guys in Queensland have supported us for a long, long time, so now it's time for us to support you. We have all been closely watching the TV and seeing the devastation. We are all feeling for you."
Ticket holders for shows will be able to use their original tickets at the re-scheduled dates which will be confirmed as soon as possible.
Any ticket holders wanting to get a refund can do so at the original point of purchase.
Shows postponed are Gladstone March 2, Rockhampton March 3, Mackay March 4, Cairns March 6 and Townsville March 8.
Weblink – www.kaseychambers.com.au.
Keith Brisbane show ticket sales deferred
Meanwhile, Keith Urban has announced that due to the current devastation in Queensland, tickets for his Brisbane concert will not go on sale until further notice.
Keith will play at the Brisbane Entertainment Centre as planned on Friday April 15, however...
"Until the people of Queensland have dealt with the worst of this disaster, our thoughts are with them and their need to focus on managing this situation," Keith said.
An updated on sale date will be advised as soon as possible.
Weblink – www.keithurban.net.
Golden Fiddle finalists
Finalists have been announced for the 2011 Golden Fiddle Awards.
For Best Fiddler as a Soloist, finalists are... Nigel Maclean, Chris Stone and Marcela Taylor.
For Best Band featuring a Fiddler... The Bostocks (Rachel Bostock), The Leaping Lizards (Liam Kilpatrick), Round Mountain Girls (Rabbit Robinson), Smokin' Crawdads (Ian Cooper) and The String Contingent (Chris Stone).
For Best CD by a Fiddler as a Soloist there are no finalists, the outright winner will be announced at the Awards.
For Best CD by a Band, Ensemble or Orchestra... Not By A Long Shot by The Bostocks (Rachel Bostock), Shedding My Skin by The Leaping Lizards (Liam Kilpatrick), Straight To The Pool Room by The Smokin' Crawdads (Ian Cooper) and The String Contingent by The String Contingent (Chris Stone).
For the Youth Achievement Award.. Emma Barlow, Ashleigh Dallas, Quatro (Amity Brand, Claudia Vogel, Vanessa Smith and Radha Shukla) and The String Contingent.
For Best Fiddle Teacher... Karen Jackson, Emma Nixon and Andras Racz.
For Best Fiddle Composition... Jazz Suite Of The Week by Phil Rooke, Run And Hide by The Bostocks, Scutterby Slip by The Leaping Lizards and The Whiskey Club by Rhiannon Fenn.
An eighth award (Lifetime Achievement) has no finalists and will be announced at the Awards presentation which will be held at the Tamworth Town Hall next Thursday (January 20) from 9am.
Weblink – www.goldenfiddleawards.org.au.
Felicity spearheads farm safety for kids
Country star Felicity Urquhart is spearheading a national campaign promoting safe play areas for children on farms.
The campaign is funded by the Australian Government and managed by the Australian Centre for Agricultural Health and Safety with the support of Farmsafe Australia, Kidsafe, Kids Alive and the Royal Life Saving Society of Australia (RLSSA).
"On average, five to six children drown in farm dams and water bodies each year in Australia," campaign organisers say. "Most are under five years of age and a third are visitors to the farm."
Felicity features in a new rural drowning prevention television campaign promoting securely fenced house yards on farms.
Research has indicated that, on average, only one in two farms have a fenced house yard secure enough to prevent a young child under five wandering off without the help of an adult.
Key messages for farm families and rural communities over the summer of 2010-2011 are that young children need close and active supervision (but supervision is not perfect – it only takes a few seconds for a young child to drown; and a securely fenced house yard or safe play area can help prevent a toddler wandering off un-noticed, potentially into a farm dam or waterway.
Weblink – www.farmsafe.org.au.
29 vie for Queen title
Twenty-nine young women have put their hand up to compete for the title of Tamworth Queen of Country Music 2011.
The girls were officially "sashed" last night at a function staged by Quest originators and organisers the Tamworth & District Chamber of Commerce & Industry.
Chamber President Tim Coates said: "It was fantastic at close of nominations to have received 29 applications. The figure doubles the number of entrants in 2010 and reflects positively upon the regard that local young women hold the Festival and shows local resolve to contribute to the success of the event.
The Quest runs throughout the Tamworth Country Music Festival with entrants attending a number of official Festival functions including the Opening Ceremony and Country Music Cavalcade.
Entrants will be seen out and about walking Peel Street and at various venues meeting Festival goers and locals.
"The contribution that these entrants will make to the profile of the Festival through the volunteering, hosting, ushering and other assistance offered at various events will ensure visitors have a memorable experience and return in 2012 for the 40th year of the Festival," Tim said.
Quest entrants will be judged on their general knowledge of the Tamworth region, Tamworth Country Music Festival, presentation and appearance, personality, current affairs, participation in Festival activities, public speaking and communication skills.
The entrants are... Zoe Allen, Elsie Barnes, Jessica Bates, Lauren Bower, Kelly Brogan, Katrina Burns, Natasha Butler, Libby Campbell, Samantha Crebert, Kasey Currell, Makishia Currell, Emily Docking, Caitlin Ellis, Renee Fenton, Renae Gardiner, Loretta Giblin, Elissa Harris, Sally Henry, Lisa Hinwood, Danica Issac, Sally Laurie, Marina Lawrence, Virginia MacCarthy, Marg Marshall, Kaia McDonald, Kierra McFarlane, Rhianna Porter, Elizabeth Utting and Rebecca Ward.

The 2011 Queen (and Princess runner-up) of Country Music will be announced at a Gala Crowning Dinner on Thursday January 20.
Photo: last year's Queen Anna Redden.
Weblink – www.tcmf.com.au.
---
WEDNESDAY, JANUARY 12, 2011
Tamworth set for Festival, rain, hail, or shine
The 2011 Jayco Tamworth Country Music Festival kicks off officially this Friday for 10 days of celebrations and more than 2,500 scheduled events, contrary to bogus reports suggesting otherwise.
The major events, big name acts, buskers, camping and non-stop entertainment will engulf Australia's Country Music Capital as it delivers its 39th event.
While devastating floods and raging waters have torn through Queensland, the NSW inland city of Tamworth is ignoring rumours that its iconic annual event will not proceed in 2011 or that some elements standard within the festival makeup will be shelved due to minimal rains recently received across the region.
Instead, organisers are hoping the event will provide opportunity for the country music fraternity, locals and visitors to show support for the city's northern neighbours.
Providing the opportunity to dig deep and give generously, several major concert events have been organised as fundraising drives for Queensland flood relief.
Some of the confirmed events raising funds include the Queensland Flood Relief Concert at 3pm Monday at the West Tamworth League Club (contact Carolyne Morris on 0429 911 127), the Country Update fundraiser (see below) at The Pub on Wednesday, and the free Lee Kernaghan concert scheduled for next Friday.
In addition to these, Tamworth Regional Council has placed a donation bin at Festival HQ (in the Council building in Peel Street) for the duration of the Festival as a central location to deposit and donate for flood victims.
All monies raised will be delivered to the Queensland Premier's Flood Relief Fund.
"The City of Tamworth is looking greener than ever and more pristine than what most of our previous visitors would have ever seen it before," said Tamworth Mayor Col Murray.
"Whilst we remain dry and move ahead into our 2011 event, we urge the local community and visitors to get behind and support activities planned that will provide assistance to the Queensland communities affected."
Weblink – www.tcmf.com.au.
New Slim CD/DVD pack set for release
The Very Best of Slim Dusty Gold Label Edition CD/DVD pack will be released on Friday (January 14).
The release, by EMI Music Australia, is part of celebrations leading up to the opening of the Slim Dusty Centre at Kempsey later this year, the company says.
"These double disc Gold Label Edition packs will include all the Slim classic songs and videos with a very special exclusive live DVD featuring Slim in concert back in 1999 performing eight songs with the very highly regarded 1990s line-up of his legendary Travelling Country Band (aka TCB)," EMI said.
The performance was filmed in front of a live audience at the ABC Sydney Gore Hill studios for the "Studio 22" concert series, the first time this historic Slim Dusty performance has ever been available on DVD.
It was also the very last concert style performance captured on film before Slim died in 2003.
Included in the Gold Label CD and DVD booklets are Joy McKean's personal reflections and recollections on Slim's songs and videos from The Very Best Of collections.
Herself a six time Golden Guitar winner and a pioneer of our Australian music industry, Joy was Slim's manager, key songwriter, wife and partner for more than 50 years.
Weblink – www.slimdusty.com.au.
Busking Championships
By Rebecca Belt, The Northern Daily Leader
It wouldn't be the Tamworth Country Music Festival without the musical endeavours of the buskers pervading nearly every corner of the town.
If you are a busker, you can now register at Festival HQ (Ray Walsh House in Peel Street) and get your busking pass, as well as enter the Australian Country Music Busking Championships.
Registration is free.
"The Northern Daily Leader" is the major sponsor of the event, having started the competition some years ago.
"Each year we get registrations from more than 600 buskers," NDL Managing Editor John Sommerlad said.
"Busking is the core of the Festival. This is where entertainers of all dimensions can show their wares and it's been the beginning of some very promising country music careers including Kasey Chambers and The Dead Ringer Band, Troy Cassar-Daley and the list goes on."
This year, all genres are covered, in recognition that the Tamworth Country Music Festival attracts street performers from many musical genres.
There will be a country music only section for those country performers and a non-country section for everyone else who brings their musical talents to town.
Judges will be patrolling the streets throughout the Festival to catch the best buskers in action and choose the top entertainers for the finals.
Country artist Deniese Morrison is the Co-ordinator of the Championships, but there will be a number of people who will judge the finals.
The finals will be held in Peel Street on Thursday evening, January 20.
Photo (by Robert Chappel): John Sommerlad congratulates last year's Champion Matt Zarb. (Photo: Robert Chappel Courtesy Northern Daily Leader. (By courtesy NDL.)
Walk with the stars...
The Leukaemia Foundation and Gina Jeffreys will be hosting the fifth annual Walk of Life on Friday January during the Tamworth Country Music Festival.
"An enjoyable, easy stroll through Tamworth, the Walk gives the community a chance to walk with their favourite country music stars," organisers say.
Country music favourites including Catherine Britt, Troy Cassar-Daley, Kasey Chambers, Beccy Cole, Lee Kernaghan, Amber Lawrence and many more will take part this year.
The world record attempt for the largest number of guitar players at one time will be staged again this year at the conclusion of the Walk at 11am.
Tickets for the 2011 Tamworth Walk of Life, which raises money to support people living with leukaemias, lymphomas, myeloma and related blood disorders, are $15 each and can be purchased on-line here.
The Walk commences at 9am in Peel Street.
Further information can be obtained by telephoning Peree Watson on (02) 4960 8677 or by emailing peree.watson@leukaemia.org.au.
"This would not be possible without Gina Jeffreys," said Stuart Allen, Leukaemia Foundation General Manager NSW/ACT. "We would like to thank her for all her hard work and making the Walk of Life possible.
"Participation in the Walk of Life will greatly help to ensure that the Foundation can continue to provide free services such as education and information, accommodation, transport, emotional support, home and hospital visits to the local community in the Tamworth area."
Gina was inspired by a little girl named Louisa more than 10 years ago. Louisa had leukaemia and sadly, Gina never got the chance to meet her, but she did meet her mother and the experience changed her life.
Gina has been working hard to raise funds and awareness for the Leukaemia Foundation ever since.
LBS Open Day
One of the long-running Tamworth Country Music Festival feature events has been he LBS Open Day Concert conducted by LBS (Lindsay Butler Studios) at their Moonbi establishment just north of the city.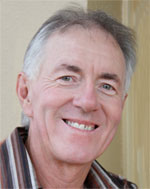 Staged on the first Sunday of the annual Festival, the concert features many of the Studios' recording artists.
This year, the bill will include, in alphabetical order, Trevor Adamson, Greg Bain, Melissa Bajric, Barry Benning, Lindsay Butler, Ashley Cook, Dale Duncan, Bob Easter, Peggy Gilchrist, Dusty Fraser, Lynette Guest, Rachel Jillett, Shaza Leigh, Brian Letton (pictured), Dianne Lindsay, Tom Maxwell, Graham Pearson, Lana Ross, Paul Seils, Peter Simpson, Pete Smith, Judy Stevens, Chic Taylor, Manfred Vijars and Greg Williams.
A number of surprise guests will also appear with backing by the the Lindsay Butler Showband.
The LBS Moonbi Studios are on the New England Gully Road. The show gets underway at 10am and runs through until 2pm. (In the event of rain, the concert will be held at Butlers' Auditorium in town).
Tickets for the show are $20.
---
TUESDAY, JANUARY 11, 2011
Allan buys back the farm
Allan Caswell has regained ownership of virtually every song of his from the last 20 years of his career and the rights to all his future songs.
As one of the nation's most recorded songwriters, over the years he has been a staff writer for a number of Australia's biggest publishing companies.
His songs have been recorded internationally by international artists including Acker Bilk, Cilla Black, Max Bygraves, Patti Page and The Irish Rovers.
Locally, stars and star acts like Doug Ashdown, Arthur Blanch, James Blundell, Bullamakanka, Graeme Connors, Smoky Dawson, Slim Dusty, Col Elliott, The Flying Emus, Anne Kirkpatrick, Chad Morgan, Deniese Morrison, Norma O'Hara Murphy, Reg Poole and Felicity Urquhart have all recorded Caswell songs.
There have also been recordings by artists like The Delltones, The Living End, Ricky May and, of course, Lynne Hamilton, who gave Allan his biggest hit in Australia and the UK with On The Inside.
Allan also worked for many years with Don Spencer creating a series of hugely successful children's albums.
The ownership of the majority of Allan's songs changed on January 1 when he completed negotiations with Albert Music to regain the rights.
"Allan Caswell Music Pty Ltd was probably Australia's smallest publishing company," he said, and "it just got bigger by nearly 500 songs.
"I am really excited to be in control of the future of my career... I can pick who I write with, who records my songs and what happens to them," Allan said.
"I can become a sort of one stop shop where people can come whenever they are looking for an Allan Caswell song."
Indeed, most of the songs on Allan's latest album Behind Bars are now published by Allan Caswell Music, including the current hit single Who Gets The Friends which was co-written with the company's other writer, Allan's wife Marian.
And Allan reports that 2011 looks like being an exciting year for the writer as he already has a Nashville publisher keen to pitch his songs.
Weblink – www.allancaswell.com.
Second floods fund-raiser announced
A second fund-raiser for Queensland flood appeals has been announced for the Tamworth Country Music Festival.
Under the name "Starry Starry One Night Stand", the concert will be held at The Pub on the Gunnedah Road at 8pm, Wednesday January 19.
Organised and presented by "Country Update Magazine", the showcase, which was originally planned as a promotion for the magazine has been turned into a benefit in light of the continuing flood disaster in the magazine's home state.
Included on the concert bill will be Kevin Bennett, Katrina Burgoyne (pictured), Peter Busher, Bill Chambers (pictured), Kim Cheshire, the Davidson Brothers, Steven Jaymes, Brendan Radford and host Luke O'Shea.
Organisers say a roster of "top-secret guests" has also been confirmed to attend.
Having herself experienced the flooding, Editor and Gympie resident Denise Torenbeek says she is thrilled that she can use the concert to assist her fellow statesmen.
"Queenslanders are known for their zealous support of country music, proven again only recently with Alan Jackson's upcoming tour selling out three shows in Brisbane in record time.
"They travel vast distances to attend concerts and support touring country artists avidly. Via the generosity of artists, musicians and supporters, this concert will send reciprocal support back to aid the battle for recovery," she said.
"There will be few unaffected by this disaster, and the flow-on effect will reverberate for months, even years. I truly thank the artists and musicians who so willingly volunteered to support the concert as a way of doing our bit to assist."
Chart Update – Jayne's second week at the top
Jayne Denham's Feral Kev & General Leroy is at the top of the national Country Tracks Top 30 singles chart for the second week this week.
Markus Meier's former number one, Rope A Cowgirl, is steady at two while McAlister Kemp's Hell, Yeah is up two to three and Keith Urban's Put You In A Song jumps to fourth place.
Reba McEntire's Turn On The Radio is at five, Tracy Killeen's Metrosexual Craze is at six and Luke O'Shea's Midnight Train is steady at seven.
Troy Cassar-Daley's Yesterday's Bed is up two to eight, America's Sugarland is at nine with Stuck Like Glue and Graham Rodger's Angels Without Halos is at 10.
New entries to the chart this week include Lee Kernaghan's Dirt (in at 26).
Weblink – www.countrymusicradio.com.au.
---
MONDAY, JANUARY 10, 2011
Performers announced for 2011 Australian Bush Laureate Awards
The performance line-up for the 2011 Australian Bush Laureate Awards gala presentation concert in Tamworth this January has been announced.
The Bush Laureate Awards presentation is one of the most unique of the entire January country music festival with thousands of fans converging on the historic Tamworth Town Hall over the years to witness the awarding of Golden Gumleaf trophies.
Every year, the Awards features finalists from the year's Awards together with a number of special guest presenters and country music guest artists.
This year's featured bush poetry performers are John Best, Jim Brown, Jack Drake, Marco Gliori, Murray Hartin (pictured), Greg North, "Father John O'Brien", Peter Mace, Paddy Ryan and Noel Stallard.
Country music guest artists for 2011 will be Carter & Carter (pictured above), Dianna Corcoran, Melanie Dyer, Christie Lamb, Amber Lawrence, Grant Luhrs and Tamara Stewart.
In addition, each year, the Awards feature the talents of a number of rising stars in both bush poetry and country music. This year, the featured newcomers will be Damien Agius, Karrie Hayward, Margie-May Hockey and Rebecca Holdorf.
Master compere, bush poetry performer himself and entertainer Jim Haynes will compere the Awards.
Seven Golden Gumleaf trophies will be awarded on the day, for Book of the Year, Bush Poem of the Year, Album of the Year, Single Recorded Performance of the Year, Children's Poem of the Year and the Judith Hosier Heritage Award, to a person or organisation for a significant contribution to Australian bush poetry.
The 2011 Australian Bush Laureate Awards will be staged in the Tamworth Town Hall at 2pm on Tuesday, January 18.
Tickets can be purchased by telephone or over the counter at the Tamworth Visitor Information Centre at the corner of Peel and Murray Streets, telephone 02 6767 5300, or online at www.tcmf.com.au.
Weblink – www.bushlaureate.com.au.
Finalists announced for 2011 Bush Ballad Awards
Finalists have been announced for the 2011 Stan Coster Memorial Bush Ballad Awards which will be announced as part of the annual Bungendore Country Muster next month.
For the Male Vocal Award, finalists are Glenn Jones with Goodbye Old Chap, Brian Letton with The Battered Billy Tin and Graham Rodger with Shadows Across the Moon.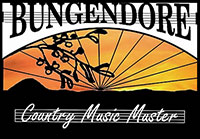 For Female Vocal, Trudy Hintz with Saddle Boy, Charmaine Pout with Song Of The River and Judy Stevens with Australia All Over.
For Album of the Year, Ted Egan's Saving The Best, Glenn Jones' Brumbies Run and Tom Maxwell's Further Out.
For the Songwriter Award, Ted Egan with The Marree Line and Graham Rodger with The Cooper Coming Down and Take Your Bank And Shove It.
For New Talent, Gus Helm with Paroo River Dreaming, Trudy Hintz with Memories Won't Let Me Be and Trent Holder with Cattlemen From The High Plains.
For Group or Duo, Ted Egan & Genni Kane with Ride On Little Cowboy, Glenn Jones with Brumbies Run and Peter Simpson with Akubras In The Snow.
For Comedy Song, Ted Egan with Queensland Opera, Glenn Jones with Stick In The Mud and Charmaine Pout with The Lord Helps Those Who Help Themselves.
Also to be presented will be the Barry Thornton Encouragement Award, an award of special importance to the committee as it gives members a chance to vote for whom they believe to be a hard worker at their "craft" throughout the year and who is an up and coming bush balladeer.
This year's Bungendore Country Muster, the 26th to be staged, will run over the weekend of February 5 and 6.
Weblink – www.bungendorecountrymuster.com.au.
---
FRIDAY, JANUARY 7, 2011
Keith is Australia's top seller
Keith Urban's Get Closer is the biggest selling album by an Australian artist on the Top 50 Country Albums Chart for 2010 released by ARIA, the Australian Recording Industry Association.
Keith also has two other albums in the chart, his Greatest Hits: 18 Kids release (which comes in as the sixth top selling Australian album) and Defying Gravity which is at number 11.
The McClymont's Wrapped Up Good is the second highest selling release for the year, followed by Kasey Chambers' Little Bird then Lee Kernaghan's Planet Country.
John Williamson's Absolute Greatest: 40 Years True Blue is fifth with Adam Harvey's Both Sides Now at seven and The Winners 2010 (with finalists from the year's Golden Guitar Awards) at eight.
Sara Storer's Calling Me Home is at nine, Adam Brand's It's Gonna Be OK at 10 and The Sunny Cowgirls' Summer is 12th.
Adam Harvey's Best So Far comes in 13th, CMAA Presents: The Best Of Australian Country Music is at 14 and Troy Cassar-Daley's I Love This Place is at 15.
Catherine Britt's self-titled work comes in at 16, Steve Forde's Hurricane is 17th, The Very Best Of Slim Dusty is at 18 and Beccy Cole's Pre-Loved is 19th.
Only compilation albums with more than 50 percent Australian content are included here from the ARIA Top 50 Country Albums for the year which also includes releases from artists who are not Australian.
Floods fund-raiser announced for Tamworth
The first Tamworth Country Music Festival event raising funds for the Queensland Flood Relief Appeal has been announced.
Visitors to the Festival are being urged to support the fundraiser which will go towards helping the 200,000 people and 40 communities which have now been affected by the disaster which is not over yet.
Country music star and fundraiser organiser Travis Collins said the flood recovery and clean-up would continue for months.
"There are towns still abandoned," he said. "Many people are yet to return to their homes to assess the damage. People had to abandon their most valuable and loved possessions. Some had to leave their animals behind to fend for themselves. I can't even begin to think what that must be like."
Travis will host a concert at Tamworth's Longyard Hotel on Thursday January 20 and will enlist the help of several other country music stars.
"Just about every country artist has toured and played music in those flood affected regions at one stage or another," he said.
"My little black book is the size of a dictionary. I've spoken to some of the biggest names in the industry. They'll be popping in to play some songs. They're all so keen to try and help the communities hit hard by flooding."
The fundraiser kicks of at 8pm on the 20th. Tickets will be $20 at the venue.
As well as the entertainment, the evening will include fundraising raffles with CD packs and signed artist memorabilia.
Tamworth Festival Countdown kicks off today
Meanwhile, the Tamworth Country Music Festival Countdown – a seven-day lead-up to the main 10 day event – kicked off today.
Hundreds of country music fans have reportedly already arrived in the Country Music Capital to take advantage of their favourite music before the crowds begin to roll in.
Entertainment can be found at pubs and clubs throughout the city, and at other venues, for the entire week.
---
WEDNESDAY, JANUARY 5, 2011
Troy, Neil and Dale to headline Saltwater Freshwater
Country star Troy Cassar-Daley will join Neil Murray and Dale Robert Huddleston to headline the 2011 Saltwater Freshwater Festival at Port Macquarie (NSW) on Australia Day.
Troy and Neil will be supported by numerous acts including country's Shaz Lane for what is billed as "an amazing family day of Aboriginal music, dance, food, art, workshops and games with two massive stages and a fantastic line up of both local talent and national headliners to entertain."
Other headline acts include Jesse Beck, Joe Black, Sean Choolburra, Skychology and Street Warriors.
All the action gets underway from 11am on the day with the Saltwater Freshwater Unearthed talent quest.
The winner of a talent search conducted as part of the week-long Cultural Showcase at the Tamworth Country Music Festival will feature in a performance from 12:30 and the day will, of course, include Port Macquarie's Australia Day Citizenship Ceremony.
Weblink – www.saltwaterfreshwaterfestival.com.au.
Country Pub song contest finalists
Finalists were announced last month in the Great NSW Country Pub Songwriting Competition.
Organisers say there was "a fantastic response" to the competition with entries received from all over Australia in two categories.
And there are some well known names among those up for prizes.
In the Song Category, finalists are Pat Alexander, Sabrina Allison, Tracey Bunn, Ken Evans, Errol Gray, John Grills, Mitchell Harris, Tootie Hiles, Brent Lillie & David Levy, Grant Luhrs, Leanne Murphy, Nev Nicholls, Luke O'Shea, Bob Pigott, Susan Ransom, Wayne Ryder, George Sich, Merv Webster and Ted Sutherland & Kevin Harris.
In the Verse Category, finalists are Tom Daly, Phillip J Flynn-Burns and Mark Newell.
Finalists have been invited to perform their entry at a special concert to announce
the winners during this year's Tamworth Country Music Festival in Tamworth, appropriately, at The Pub, from 12 noon, Thursday January 20.
The competition has been organised by Australian Hotels Association NSW and sponsored by APRA | AMCOS and Tooheys New.
---
TUESDAY, JANUARY 4, 2011
Dianna leads 2010 Country Tracks Top 50
Dianna Corcoran's Thank You For Cheating On Me has taken the number one spot on the Country Tracks Top 50 of 2010.
The Top 50 is tabulated from the weekly positions of tracks on the Country Tracks Top 30, from November the previous year to ensure complete stats are tabulated. Tracks still on the chart at year's end are given speculated points to ensure they are included in the Top 50.
Thank You For Cheating On Me spent five weeks at number one from a total of 20 weeks in the chart from January 23.
Only one other hit, The McClymonts' Wrapped Up Good held the top spot for longer – six weeks – from December 19 the previous year. It came in at number six on the 2010 Top 50.
Dianna (pictured) also took ninth spot in the Top 50 with Wrong Girl which also spent five weeks at number one (from 17 weeks in) after entering the chart on July 17.
Second on the top 50 was Markus Meier's Rope A Cowgirl which has only just been bumped from the number one spot after five weeks by Jayne' Denham's Feral Kev & General Leroy.
At number three was Sara Storer's Calling Me Home (five weeks at number one from 20 weeks in the chart) while Tracy Killeen's Metrosexual Craze came in at four (after five weeks at number two and 17 weeks in) and America's Alan Jackson took fifth place with It's Just That Way (number one for two weeks and 19 weeks in).
Graeme Connors' All The Money's Gone was at seven (two weeks at number one, 18 weeks in), Jetty Road's World Keeps Turning took eighth place (three weeks at number one, also 18 weeks in) and Amber Lawrence was at 10 with Wrecking Ball (number one for two weeks, 17 weeks in).
Markus Meier only missed out on two hits in the year's Top 50 by one place taking 11th position with A Different Land (one week at number one, 17 weeks in).
Jetty Road's Road To Nowhere came in at 12, Kasey Chambers' Little Bird was at 13 and Harmony James Good Enough was at 14.
Troy Cassar-Daley's Chasin' Rodeo placed at 15, Tracy Killeen's second Top 50 hit Brave was at 16 and Harmony James second showing Pretty was at 17.
Adam Harvey's Better Than This came in at 18, Troy Cassar-Daley's I Love This Place was at 20 while Lee Kernaghan's Australian Boy rounded out the top 20 at 20.
Four artists – all Australian – scored more than one number one (two each) in the year... Dianna Corcoran, Tracy Killeen, Amber Lawrence and Markus Meier
First time hit-makers during 2010 included Luke Austen, Kaylee Bell, Natalie Brandt, Doug Bruce, Katrina Burgoyne, Kate Cook, Kristy Cox, Leila Fisher, The Heartleys, Johanna Hemara, Marie Hodson, Adam James, Carline Taylor Knight, Jason Lee, The Lees, McAlister Kemp, Sarah McMonagle, Amber Joy Poulton, Brendon Radford, Chris E Thomas and Peter McWhirter.
The full chart can be viewed here.
Chart Update – Jayne takes over number one
Jayne Denham's Feral Kev & General Leroy has taken over the top spot of the national Country Tracks Top 30 singles chart for the first week of the new year.
Markus Meier's Rope A Cowgirl, number one for the past five weeks, is down to two while Tracy Killeen's Metrosexual Craze is at three and Luke O'Shea's Midnight Train remains steady at four.
McAlister Kemp's Hell, Yeah jumps three places to number five, America's Sugarland down to six with Stuck Like Glue and Keith Urban's latest offering, Put You In A Song, bounds into the top 10 at seven.
Reba McEntire's Turn On The Radio is at eight, Graham Rodger's Angels Without Halos is at nine while Troy Cassar-Daley's Yesterday's Bed enters the top 10 at 10.
Bullet performers for the week include Catherine Britt's Sweet Emmylou (20 to 17), Rose Carleo's That Season Again (26 to 23), Connie Kis Andersen's Steamy Dreams (28 to 25), Adam Harvey's Good Enough For Me (29 to 26) and The McClymonts' A Woman Is A Flame (30 to 27).
New entries to the chart this week are The Bostocks' Done And Dusted (in at 29) and Sandra Humphries' Heartaches, High Heels And A Halo (at 30).
Weblink – www.countrymusicradio.com.au.
---
Click here for recent news
---
.