AUSTRALIAN COUNTRY MUSIC
NEWS ARCHIVE — FEBRUARY 2013
---
WEDNESDAY, FEBRUARY 27, 2013
Songs, stories and singers
The Songs, The Stories, The Singers is the name of a special "songwriters in the round" collaboration by three of Australia's most entertaining and awarded songwriters.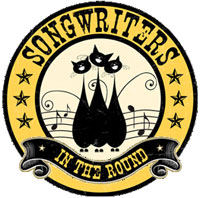 Lyn Bowtell, Michael Bryers and Luke O'Shea take to the stage together this Saturday at the Capella Cultural Centre as part of a Queensland-wide tour, with nothing more than a song and a guitar.
Lyn is a two times Golden Guitar winner and Star Maker winner, Michael has won numerous awards, including for new talent and as a "new songwriter) while Luke has had substantial recent success including winning a Golden Guitar this January.
The three tell the stories behind their songs and deliver them in "a most intimate setting".
"The audience will be taken on a journey of laughter, imagination and sadness, as each artist relates the stories and inspiration behind the songs, before performing them live," according to a spokesman for the three.
"The 'Songwriters In The Round' show plays to full houses at the Tamworth Festival each year, as well as a weekly show at Menai and Rooty Hill RSL in Sydney, but this is the first time the songwriters have taken the show 'on the road'.
"If you love great original music from some of Australia's most respected songwriters and singers, this is an experience not to be missed."
Weblink – www.songwritersintheround.com.au.
First artists announced for Gympie 2013
Organisers of the Gympie Music Muster have announced the first round of artists for this year's event.
In alphabetical order, they are Roo Arcus, Chelsea Basham, James Blundell, The Bostocks, Adam Brand, Catherine Britt, Troy Cassar-Daley, The Casuarinas, Graeme Connors (pictured), Kaylens Rain, Anne Kirkpatrick, Amber Lawrence, The Mavericks, Mental As Anything, Graham Rodger, Reg Poole, Sleepy Man Banjo Boys, Tamara Stewart, Sara Storer, the Topp Twins, Kevin Welch and The Wilson Pickers.
The Muster will run on it's own dedicated site at Amamoor, near Gympie, from Tuesday to Sunday August 22 to 25.
Weblink – www.muster.com.au.
---
TUESDAY, FEBRUARY 26, 2013
New from Ted
Stalwart of the independent Australian country music scene Ted Simpson has released his first solo album Runaway Train.
Well known for his 14 years and two albums with the band Tall Timbre, Ted says all 11 songs on Runaway Train are all meaningful to him.
Ted plans to continue performing with Tall Timbre but has released this album as a solo project as it is something he has always wanted to do.
With some of Australia's best country musicians featured on the recording – Stuie French, Jake Lardot, Ian Lees, Michel Rose and Glenn Wilson, "this album is sure to be a popular buy for all country music fans."
From the title track, written by Aussie rock legend Russell Morris, through to the "chugging" self-penned Outback Girl "the album takes you on a journey of reflection and retrospectivity," the spokesman said, "an ideal album for chilling out at home or calming the nerves in the morning or afternoon traffic."
The first single from the album is the title track which has been distributed to media.
Weblink – www.talltimbre.com.
Chart Update – Catherine continues to dominate
Catherine Britt's latest hit Charlestown Road sits at number one on the national Country Tracks Top 30 singles chart this week for the six straight week.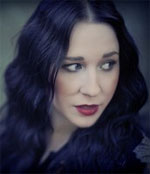 Doug Bruce and O'Shea are steady at two and three, respectively, with Made That Way and The Swimming Song while Tamara Stewart, Felicity Urquhart & Sara Storer jump two places to number four with their collaboration Women In Song.
America's Brad Paisley is at five with Southern Comfort Zone, Adam Brand's I Was Here is up one to six and A Quiet Life, the latest single from Kasey Chambers & Shane Nicholson is up three to number seven.
America's Little Big Town and The Band Perry are at eight and nine, respectively, with Pontoon and Better Dig Two with Amber Lawrence's Try at 10.
Bullet performers for the week include McAlister Kemp's A Good Idea (19 to 16), Kaylee Bell's Unglamorous (20 to 17), The Sunny Cowgirls' Green And Gold (22 to 19), Jayne Denham's Shelter (24 to 20), Tracy Killeen's Driver's Seat (26 to 23), The Wolfe Brothers' It's On (27 to 24), Chelsea Basham'sI Learned The Hard Way (28 to 25) and John Williamson's Prairie Hotel Parochial (30 to 26).
New entries to the chart this week include Lee Forster's Quiet Night In (new at 30).
The full chart can be viewed at – www.countrymusicradio.com.au.
---
FRIDAY, FEBRUARY 22, 2013
Kempsey tourism association looks to Slim Dusty Centre future
The Macleay Valley Coast Tourism Association has thrown more weight behind the almost complete Slim Dusty Centre at Kempsey (NSW) to help consolidate what it sees will be a major attraction at the gateway to the mid north coast city.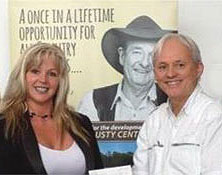 Kempsey, the birthplace of Slim Dusty, will soon lose much of its highway traffic when the Pacific Highway Upgrade Kempsey Bypass opens with a projected loss of a significant percentage of the 20,000 or so vehicles that travel the highway daily and the Association says much planning and work has been undertaken to ensure the town continues to prosper after the bypass opens.
"Tourism has long been recognised as a lifeline to continue to attract visitors to this pretty valley," the Association says, "and the [we] believe that the Slim Dusty Centre will be a key to a brighter future for business."
So strong is this belief, that at its general meeting this week, the Association presented a $20,000 donation to the Slim Dusty Foundation.
Association President Michael O'Neill said the benefits of the Centre being positioned at the "gateway" to the town, and as a major cultural NSW attraction, would stand to not only help retain visitation numbers, but attract new tourists looking for variety in their holiday experience.
"The Slim Dusty Centre has the potential to have a massive impact on tourism here in Kempsey," he said. "I am delighted that the Macleay Valley Coast Tourism Association has been able to make this contribution to assist in funding the final stage [of the Centre]. We are looking forward to an opening."
Accepting the cheque on behalf of the Foundation, Chief Executive Kathryn Yarnold (pictured with Michael O'Neill) thanked the Association for their generosity and belief in the project, and congratulated them on their forward-thinking.
"They have recognised the Centre's value to the local visitor economy since the word go, giving unwavering support. From a broader tourism perspective, the Centre will contribute to the State Government's aim to double overnight visitor expenditure to NSW. It will also help grow the economy by supporting tourism in the region, and by hosting conferences and events. Kempsey is extremely lucky to have an iconic landmark at their front door, with a name that is recognised across the nation and beyond," she said.
The Slim Dusty Centre building stands completed at the gateway to Slim's hometown. Funding is needed to complete access roadwork and exhibition fit out, which will be the heart and soul of the experience. It will house and preserve the rare artefacts from Slim's own collection, along with modern interactive displays depicting his Australian story.
An iconic tourism drawcard, it is also designed as a multipurpose facility to accommodate functions, events and travelling exhibitions, along with a cafe, retail area and visitor information centre.
Recently, it was announced by Regional Development Australia Mid North Coast, that the project had received number one priority in the region via an Expression of Interest for Funding. A full submission will be made in the hope of securing the funds required for completion, which, if successful, will allow a full opening by mid-2015.
Today's $20,000 donation from the Macleay Valley Coast Tourism Association will be dedicated to the co-funding required for the submission, to assist the chances of success," Kathryn said.
Weblink – www.slimdustycentre.com.au.
John O'Donnell is new EMI Australia chief
John O'Donnell, described as one of the nation's most highly regarded music executives, has been appointed Managing Director for EMI Music Australia it was announced today by Universal Music Australasia President George Ash.
In his new position, John will be responsible for the EMI, Capitol and Virgin labels as well as overseeing the creative direction for their roster of Australian artists. He will be based at the company's head office in The Rocks, Sydney, and will take up his new role early next month.
The move is described as a homecoming for John, who ran EMI in Australia from 2002 to 2008.
He first began his career as a music journalist, including stints as Music Editor at Rolling Stone Australia and Editor of Juice magazine, before joining Sony in 1994. In 2002, he left Sony to become CEO of EMI Music Australia/New Zealand. In addition, John was a member of the ARIA Board and also served as chairman of the PPCA (Phonographic Performance Company of Australia) from 2005 to 2008.
He left EMI in late 2008 to start his own music consulting business. In 2010, he co-authored the highly acclaimed and best-selling book "The 100 Best Australian Albums" and its accompanying gold-selling compilation album and is also the co-manager of Cold Chisel.
Max Hole, Chairman and CEO of Universal Music Group International, said: "Everyone who has ever worked with John knows that he is synonymous with great artists and great music. Developing and investing further in our Australian artists is a key international goal for us. I'm thrilled that John has agreed to return to EMI to play such a crucial role."
---
WEDNESDAY, FEBRUARY 20, 2013
JW and the "Big Red" join forces for charity
John Williamson will deliver one of his most memorable concerts yet when he performs atop the 40-metre high Big Red sand dune to raise funds for type 1 diabetes research in July.
John will perform a special sunset concert in the Simpson Desert 30 kilometres west of Birdsville with the iconic dune, the biggest of more than a thousand dunes in the Simpson, as his stage on Monday July 8 as part of a major new charity running event called the Big Red Run.
Based out of Birdsville from July 8 to 13, the Big Red Run will become the annual fundraiser of the Born To Run Foundation, a new charity founded by amateur runner Greg Donovan whose son Stephen was diagnosed with the potentially fatal type 1 juvenile diabetes at age 14.
John, who has written and recorded Australian classics such as True Blue, Cootamundra Wattle, Rip Rip Woodchip and Raining on the Rock, said he was happy to lend a hand to support people living with type 1 diabetes and excited to perform in an iconic Australian location.
"I've performed at Wilpena Pound, I've performed at Uluru, I've performed in Birdsville itself, but never on top of a sand dune. As far as I'm concerned, you don't really know Australia or feel Australia if you don't go to the centre, to the outback. It's really what this country is all about," John said.
Happening on the eve of National Diabetes Week, the Big Red Run also has the support of ultra-marathon champion Pat Farmer, who is serving as event ambassador, and Outback Queensland Tourism Association and Tourism and Events Queensland, who are developing a high profile media campaign to assist in the promotion of the event.
The Big Red Run will give runners and walkers the chance to tackle the famous red sands of the Simpson Desert, participating in either the Big Red Run, a 250 kilometre six-day stage race, the Born to Run 100 kilometre or the Big Red Dash at 42 kilometre.
Those who aren't competing are still invited to come for the concert, share in an unforgettable outback experience and support the more than 130,000 Australians living with type 1 diabetes.
Concert tickets, which include a souvenir concert photo signed by John, are $100 for adults, $50 for 12-18 year olds and free for children under 12.
All money raised from the concert and the Big Red Run will go towards type 1 diabetes research. The Born To Run Foundation will work with the Juvenile Diabetes Research Foundation (JDRF), a charitable organisation dedicated to finding a cure for type 1 diabetes, to identify promising research projects for funding.
"With six new cases diagnosed every day and around a quarter of Australians affected directly or through family and friends, type 1 diabetes is the fastest growing chronic disease amongst Australian children," Greg said. "I know this first hand due to my son Stephen being diagnosed with the disease and I know the best thing I can do to help him is support clinical trials, improved lifestyles and awareness through initiatives such as the Big Red Run.
"We're thrilled to have a legend like John Williamson supporting our event in its inaugural year and I can't wait to sit atop Big Red with a cold drink and take in John's concert as the sun sets over the Simpson."
In an impressive career spanning more than 40 years, John Williamson has been inducted into the Australian Country Music Roll of Renown, the Australian Recording Industry Association (ARIA) Hall of Fame, secured three ARIA Awards, 24 Golden Guitars, Platinum and Gold albums and sold almost five million albums. In 2012, he released his first all-original album in almost four years, appropriately called The Big Red.
Concert ticket bookings and more information on the Big Red Run, which is open to all runners, walkers and their family and friends as supporters, can be obtained from www.bigredrun.com.au.
Adam's a Rich Man
The title of Adam Toms' new single and upcoming album is Rich Man but, as Adam says, the title has little to do with monetary value and plenty to do with personal riches...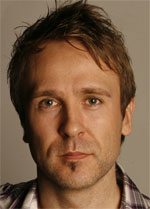 "When I sing about 'being rich without the money' I can definitely relate."
The Benalla-based artist cites his family – wife Jo, two boys Mitchell and Riley – and being able to play music for a living as things money just can't buy.
Rich Man was co-written by Drew McAlister and Tamara Stewart and recorded with backing vocals by Chris E Thomas and is the first time Adam has released a track written by anyone other than himself.
Single number two from his sophomore album, which will be available in early March, was produced by the award-winning Matt Fell.
The album will come packaged with a "real-life documentary" titled "Are We There Yet – On The Road With Adam Toms" DVD which tracks the highs and lows of nine months on the road with his wife and two young boys. The DVD will also include Adam's six video clips to date.
Shine On Me, which also features on the new album, has recently been released as a digital download with all profits going to Aussie Helpers to assist Australians affected by recent fires and floods. The track can be purchased here. The linked video clip by Ross Wood has been added to the Country Music Channel's playlist and can be viewed here.
Weblink – www.adamtoms.com.
Chart Update – Catherine's five weeks at number one
It looks like Catherine Britt may be heading for the record books with her fifth week at number on the national Country Tracks Top 30 singles chart this week with her latest hit Charlestown Road.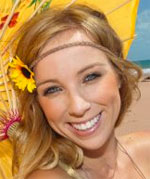 Doug Bruce jumps another two places to number two with his latest hit Made That Way while O'Shea's The Swimming Song is also up two places to number three and America's Little Big Town is at four with Pontoon.
Amber Lawrence's Try is at five, Tamara Stewart, Felicity Urquhart & Sara Storer bound up four places to number six with their collaboration Women In Song and Adam Brand's I Was Here is steady at seven.
Christie Lamb's Invincible Me is at eight, America's Brad Paisley is at nine with Southern Comfort Zone and Kasey Chambers & Shane Nicholson are new in the top 10 this week at 10 with A Quiet Life.
Bullet performers for the week include McAlister Kemp's A Good Idea (22 to 19), Kaylee Bell's Unglamorous (24 to 20), The Sunny Cowgirls' Green And Gold (25 to 22), Jayne Denham's Shelter (27 to 24), Tracy Killeen's Driver's Seat (29 to 26) and The Wolfe Brothers' It's On (30 to 27).
New entries to the chart this week include I Learned The Hard Way by Chelsea Basham (pictured, new at 28) and John Williamson with Prairie Hotel Parachilna (at 30).
The full chart can be viewed at – www.countrymusicradio.com.au.
---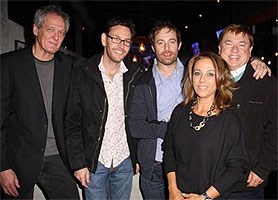 MONDAY, FEBRUARY 18, 2013
APRA in Nashville
APRA – the Australasian Performing Right Association – recently held a networking reception in Nashville.
Milly Petriella, APRA's Sydney based Director of Membership, hosted the event, that was attended by industry executives, writers and performers.
Pictured (from left): Mark Moffatt (record producer and APRA's Nashville Ambassador), Sam Hawksley (musician/songwriter), Phil Barton (songwriter), Milly and Jeff Walker (AristoMedia CEO/President).
Tamworth and Deniliquin win national tourism crowns
Tamworth and Deniliquin have come up trumps at the Qantas Australian Tourism Awards announced in Hobart on Friday night.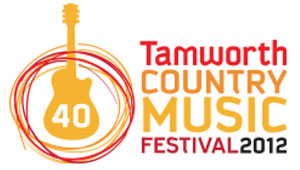 The Tamworth Country Music Festival, judged on the 2012 40th event, was crowned winner of the Major Festivals & Events category while the Deni Ute Muster was announced as winner of the Festivals & Events category.
Canberra's 2011 Floriade was named runner-up in the "Major" with the Audi Hamilton Island Race Week in Queensland taking out the bronze award.
Victoria's Suzuki Night Market and the Cellar Door Wine Festival in Adelaide, SA, were named second and third, respectively, in the smaller category.
The citation for Tamworth's win said: "In 2012, Tamworth Country Music Festival, an iconic annual event recognised as one of the top 10 music festivals in the world, celebrated its 40th year... with more than 55,000 people travelling to Tamworth from all around Australia and the world to attend. Tamworth Regional Council has carriage of the event, however the Festival is a truly community-based, organic festival. The 2012 TCMF was bigger and better than ever, with over 2,500 events and 4,000 different performances or gigs in 80 different venues.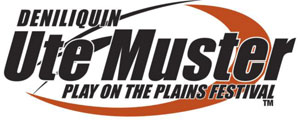 The citation for Deniliquin's win reads: "The Deniliquin Ute Muster and Play on the Plains Festival is one of Australia's largest rural and Australian themed festivals. The idea for a festival celebrating the Australian icon of the Ute, and Australia's rural identity was created in 1999 to encourage tourist visitation on the NSW Labour Day Long weekend. In 2011, despite being severely rain affected, the Festival was hugely successful when it attracted almost 20,000 people to the two-and-a-half-day event.
In a report in Saturday's Northern Daily Leader, Tamworth Mayor Col Murray was quoted as saying the thing about the (Tamworth) is fairly unique and fitted the criteria very well. "It was certainly great to win and good for all the people who put in all the hard work. We were up against some pretty serious events so it was bloody good to win.
There were 27 categories in the Awards in total.
Councillor Murray said the award was very important to the festival and its organisers. "There are two really important things – a recognition of all the good, hard work that so many different people and organisations do, particularly the founders of the festival and those who've put so much energy into it in coming up with the concept and vision to make it what it is today.
"Equally importantly, it's a really good testament to why we have great sponsors like Toyota, Qantaslink and Telstra and those really well-known brands, and the award is a great attribute when you go to negotiate with those people because it's been named the best major festival or event in Australia.
"When you look at the people who put a lot of energy into the event like Barry Harley and the Rural Press Events team, The Pub Group, Wests Entertainment and all the pubs and clubs around town, Peter Greenaway who was the festival co-ordinator for that year, all the press that keep the thing alive and keep it on the national agenda, this just consolidates and strengthens the brand."
---
FRIDAY, FEBRUARY 15, 2013
C
atherine to host "Saturday Night Country"
Catherine Britt will be taking over the reins of "Saturday Night Country", ABC Radio's national country music program, for an extended period while her friend and permanent host Felicity Urquhart has a break to have her and husband Glen's second child.
As the host of the nationally broadcast "Alt Country" every Sunday night on the Country Music Channel (CMC), Catherine said being asked to host "Saturday Night Country" was not something she needed to think about twice.
"I grew up listening to the show and the great voice of John Nutting so to be asked to host the show while Fliss has a break is a huge honour and I really can't wait to start."
Catherine will be on air and hosting the program from Saturday, April 6.
THURSDAY, FEBRUARY 14, 2013
Success for fifth annual Gladstone festival
The fifth annual Elders Gladstone Country Music Festival was held last weekend at the Gladstone Entertainment Centre (GEC) Marquee at the Marina and has been hailed by organisers as the most successful ever.
Entrants in the festival's talent quest came from Brisbane, Broxburn and Sarina, "as well as lots of local talent competing," according to spokesman Rob Hopkins.
"This was especially pleasing given the recent flood conditions and the difficulties and extra travelling time involved in getting into Gladstone," he said.
"The GEC Marquee at the Marina complex was hot but worked well for our type of festival and the whole event ran very smoothly thanks to the professionalism of our team of volunteers and the in-house staff."
Contestants vied for trophies and cash prizes in 26 sections, including a new category for this year, "the Peewees" (for children under nine years of age).
Festival Musical Director Frank Collimore said the entrants were able to gain valuable experience working with a great backing band.
"The band we put together for this Festival were some of Australia's best country musicians," he said, "which meant the contestants received top class backing for their performances. Experience like this is really important for them to understand how the industry works should they choose to pursue a career in music.
"Opportunities like this are rare outside of the capital cities and we're pleased we could bring that to Gladstone for this event," Frank said.
The big winners for this year were local Gladstone boy Athol Gilson who took home four first placings and one second place, gaining him the award for Senior Festival Champion as well, and Brisbane's Hope Ashleigh who won the Junior Festival Champion title following her first placings in five sections.
Karina Kellie from Bundaberg won five of the juvenile sections and had to be separated by points countback for the Junior/Juvenile overall award.
Sydney entertainer Savannah Sharpe was this year's head judge and said the standard of competition was exceptional.
"The senior competitors were very impressive," she said, "and the scores in some instances were less than a point apart, so our jobs as judges were not easy. It was great to see so many juveniles and juniors entering and doing so well. The future of country music in this region is certainly in good hands."
---
WEDNESDAY, FEBRUARY 13, 2013
Smithton announces new festival
The town of Smithton in Tasmania has announced details for a new country music festival.
The inaugural Smithton Country Music Festival will be an all-day even on Saturday March 30 and will feature "great country artists from all over Australia, including a number of local talents," according to organisers.
In alphabetical order, the line-up of visiting artists includes Jeff Brown, Camille & Stuie, Clare O'Meara, Luke O'Shea (pictured), Dean Perrett, Dave Prior, Chris E Thomas and Gina Timms.
Two live bands will also feature together with a number of local artists. A special award presentation is set to be made to a "local country legend".
"This is an RV-friendly event," the organisers said," with a cheap self-contained camping area available across town next to the golf course. Enjoy Tasmania, the music and the golf!"
Weblink – www.smithtoncountrymusic.com.
Chart Update – Catherine's fourth week at the top
Catherine Britt has a stranglehold on the number one place on the national Country Tracks Top 30 singles chart this week as her Charlestown Road hit dominates for a fourth week in succession.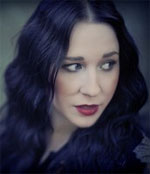 America's Little Big Town is at two with Pontoon while Amber Lawrence's Try edges up one place to number three and Doug Bruce jumps three places to number four with Made That Way.
O'Shea's The Swimming Song bounds up four places to five, Christie Lamb's Invincible Me edges up one to number six and Adam Brand's I Was Here jumps three places to number seven.
Graeme Connors' The Love I Leave Behind is at eight, Jetty Road's Wrong is at nine and Tamara Stewart, Felicity Urquhart & Sara Storer enter the top 10 at 10 with their collaboration Women In Song.
Bullet performers for the week include Toyota Star Maker 2013 Kaylee Bell's Unglamorous (27 to 24) and The Sunny Cowgirls' Green And Gold (28 to 25).
New entries to the chart this week include Driver's Seat by Tracy Killeen (new at 29) and It's On by The Wolfe Brothers (at 30).
The full chart can be viewed at – www.countrymusicradio.com.au.
---
MONDAY, FEBRUARY 11, 2013
Toyota and Tamworth raise record funds for Melanoma research
More than $26,000 was raised by Toyota for the Melanoma Institute Australia at last month's Tamworth Country Music Festival.
Toyota Australia issued a media release today thanking and congratulating festival goers for donating $26,319.75 to the cause... "the highest amount ever raised by Toyota at the annual event".
Peter Hampson, Toyota Australia Senior Manager said: "This is an excellent result for Melanoma Institute Australia. On behalf of Toyota, I'd like to thank the thousands of country music fans who donated so generously throughout the festival to support the incredible work of the Institute to reduce the incidence of melanoma cases in Australia.
"Fundraising is a vital element of our festival sponsorship," he said. "It helps support rural and regional communities in Australia. Every year we raise funds through the Toyota Festival hats and the Concert for Rural Australia... Over the past six years we have helped to raise more than $120,000 for a range of worthy causes. The 2013 festival attendees have really set the bar for future efforts with the funds raised this year."
Melanoma Institute Australia's Lisa Sampson said the organisation was thrilled and touched by the generosity shown by Tamworth festival fans.
"We would like to thank each person who donated so generously during this year's Toyota Country Music Festival Tamworth. The funds raised will allow us to continue our efforts in preventing and finding a cure for melanoma, which affects many Australians working on the land being greatly exposed to the sun."
Toyota Ambassador and 2012 Toyota Star Maker Bob Corbett recently announced his Lucky Country Hall Tour as an awareness and fundraising initiative for Melanoma Institute Australia.
In the spirit of the old Slim Dusty touring approach, the national country hall tour will visit a vast number of regional and rural community halls across Australia in 2013. Bob will donate $5 from every ticket sold to the all-ages events to Melanoma Institute Australia and will also raffle a Fender guitar signed by a plethora of country music stars including Lee Kernaghan, The McClymonts and The Wolfe Brothers.
Further information about the Lucky Country Hall Tour can be found at www.bobcorbett.com.au.
24th annual Bunyip Festival goes indoor
For only the third time since its inception, this year's 24th annual Bunyip Country Music Festival, on Sunday February 24, will be an indoor event.
"The difference being that this time it has been planned that way," according to organiser Joy Batchelor.
"Re-sowing and drainage works to our main oval necessitated a rethink as to how we could run this year's event," she said. "In the end we came up with the concept of a four hour fully ticketed concert with a limited but exclusive bill of artists. A sort of 'indoor day on the green', if you like.
"Making his Bunyip debut will be the extremely talented and experienced entertainer Rodney Vincent... a real wag, Rodney's mix of music and comedy has built him a huge following throughout Australia," Joy said.
"Returning for his third appearance at Bunyip is Harry Hookey, one of Australia's fastest rising stars of country music. This year Harry is bringing along his entire family as his backing band. Coming from a family of seven offspring, as well as his parents. The Hookey family could almost qualify as an orchestra rather than a band!
"Our third artist need's little introduction to Bunyip regulars even though he has not appeared here for several years. As a little known artist on the rise, Adam Harvey (pictured) was booked early to appear at our 1997 Festival and the rest, as they say, is history!
"Adam remains a household name in country music and his deep booming voice has seen him win eight Golden Guitars including multiple Male Artist of the Year awards."
The Bunyip Country Music Festival will run from 1pm at the Bunyip Auditorium, Bunyip Recreation Reserve.
---
FRIDAY, FEBRUARY 8, 2013
Australian record sales increase
ARIA – the Australian Recording Industry Association – has announced a four percent increase in total industry value, the first since 2009.
The increase, in total value of annual wholesale figures in 2012, was to $398.1 million.
In what ARIA described as "a monumental year for the Australian recorded music landscape", the continued uptake of digital music combined with a host of new streaming services entering the local market, resulted in more than 46 percent of the market's value coming from digital products in 2012, compared to 36.7 percent in 2011.
The number of physical products sold in 2012 dropped only 6.42 percent on the previous year, "a vast improvement" on the 13.85 percent drop in 2011 as physical products continued to remain the industry's dominant revenue earner, accounting for a 53.7 percent share of the market.
ARIA said this signaled a continued demand for CDs, DVDs and vinyl among a large portion of the Australian music buying public.
ARIA Chairman Denis Handlin was enthusiastic about the positive results released yesterday: "It is very pleasing to see the industry achieve growth in 2012. The record industry has revolutionised over the past decade and has led the way in new business models, in particular licensing digital services, whilst strongly supporting traditional CD retailers.
"While our work with Government and (internet service providers) to ensure artists and their record labels are properly rewarded for their creative efforts is still far from finished," he said, "the demand for music is as strong as ever and Australian music fans are embracing the many legitimate platforms where an incredible range of local and international music is widely available.
This is testament to the continued creative work of our brilliant artists and the innovative approach of our local industry in marketing and taking music to fans across the country."
Photo: The McClymonts' Two Worlds Collide, named Australia's top selling album country album at thhis year's Golden Guitar Awards.
Weblink – www.aria.com.au.
New from The Apprentices
The Apprentices – Kaylah Anne, Makaylie Foodey, Hannah Smith and Georgia White – release their second album this month.
Titled Light A Match, the album release follows successful appearances at the just concluded Tamworth Country Music Festival.
The quartet, described as four of Australia's finest young singer/songwriters, are backed by Core Music and Sony Music Australia.
Friday February 22 is the album release date.
Weblink – www.theapprentices.com.au.
Lions country music community award
South Australia's Murray Mac has been named winner of this year's Lions Club of Peel Valley Community Service Award.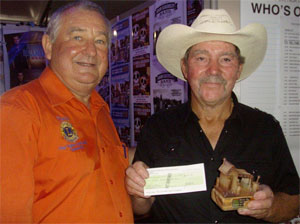 The award, instigated in 1994, honours people involved in country music who have used their musical talents to give community service in a  voluntary capacity.
Nominations are called from Lions Clubs throughout Australia and this year Murray Mac was selected to receive the 20th award at the Tamworth Country Music Festival. He was nominated by the Lions Club of Gillies Plainc in South Australia.
Peel Valley Lions Club president Terry Hill announced Murray's win live on air on Tamworth Toyota Festival FM on Tuesday January 22.
Murray has given many years of volunteer service to many causes including the Royal Society for the Blind, Flying Doctor Service, Convoy for Kids, many cancer organisations, Relay for Life, the Adelaide Line Up for Crippled Childrens Association, Variety Bash and helping to develop South Australia's up and coming young country music talent.
Murray received a distinctive mounted "Tamworth Dunny" created by local Tamworth renowned ceramic artist Fred Hillier and a cheque for $500 which he will donate to Angel Flight.
---
WEDNESDAY, FEBRUARY 6, 2013
Beccy changes her Adam "brand"
Following a number of recent successful tours with Adam Harvey, Beccy Cole will team up with Adam Brand for a tour from this Friday.
Beccy is joining Adam on his "I Was Here" tour that will launch at the Mundaring Weir Hotel in Western Australia and conclude on Saturday March 9 at the Lismore (NSW) Workers Club.
Adam will be performing songs from his current hit album There Will Be Love.
Travis Collins and Matt Cornell will also feature on the tour which will also take in shows at Albany and Drakesbrook in WA, Broken Hill and Thurgoona (Kinross Woolshed) in NSW, Hahndorf and Mt Gambier in SA, Ballarat, Mildura, Shepparton and Warragul in Victoria, and Ipswich and Maryborough in Queensland.
Weblink – www.adambrand.com.au.
Chart Update – Catherine at number one for a third week
Catherine Britt retains the number one place on the national Country Tracks Top 30 singles chart for the third week this week with her latest hit Charlestown Road.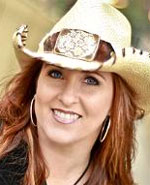 Amber Lawrence's Try jumps two more place to be at number two while America's Little Big Town and Graeme Connors are at three and four, respectively, with Pontoon and The Love I Leave Behind.
Jetty Road's Wrong is at five, while America's Alan Jackson is at six with You Go Your Way and Christie Lamb is steady at seven with Invincible Me.
Doug Bruce is also steady at eight with Made That Way, O'Shea's The Swimming Song edges up one place to be at nine and Adam Brand's I Was Here enters the top 10 at 10.
Bullet performers for the week include McAlister Kemp's A Good Idea (27 to 24).
New entries to the chart this week include Jayne Denham (pictured) with Shelter (new at 29).
The full chart can be viewed at – www.countrymusicradio.com.au.
---
MONDAY, FEBRUARY 4, 2013
Bush ballad winners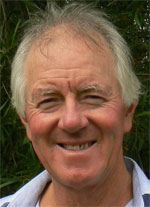 Winners of this year's Stan Coster Memorial Bush Ballad Awards were announced during the Bungendore (NSW) Country Muster on Saturday.
Male Vocal winner was Brian Letton (pictured) with That's The Way They Were, Female Vocal Trudy Hintz with My Heart Is Where The Roper River Flows Tonight.
New Talent went to Ginger Cox with Rusty It's Goodbye while Lawrie Minson & Lindsay Waddington took out Group/Duo with The Warrumbungle Mare.
Tom McIvor won Album of the Year with Son of the Southern Cross and the Songwriter award with We Make Things To Last In The Bush.
Comedy Song was presented to Terry Gordon for Dr Day's Green Pills and Sami Cooke was named winner of the 2013 Track to Tomorrow award.
Universal absorbs EMI... and then there were three
The music news website Noise11.com reports there are now three major music labels in Australia following the absorption of EMI into Universal Music last week.

Universal, already the world's biggest record company with a 2012 market share of 32.41 percent in the USA, has automatically added EMI's 6.78 percent to start the year with an almost 40 percent of music sales.
Sony Music is second with 30.25 percent of the market, Warner has 19.15 percent and independentss make up 11.42 percent combined.
Although the EMI take-over took place late last year, staff were advised of their futures just last week. In Australia, 20 staff were retrenched from EMI, mainly from the Sydney head office.
Noise11 says it understands that remaining EMI staff would relocate to the Universal offices in each state but the Promotions teams would remain separate at this stage, only crossing over to assist while either side had people away on holiday or on sick leave.
Two weeks ago, Mark Poston, EMI Australia's Chairman and Senior Vice President of Marketing, announced he was stepping down from his position and leaving the company.
In Australia, Universal Music Managing Director George Ash will head the combined operation.
The take-over of EMI does not mean the end of the brand. EMI will still exist as a label within Universal, just like A&M, Motown and Island.
---
FRIDAY, FEBRUARY 1, 2013
New from Roger
Roger Knox, the Koori King of Country as he is known, is to release a new album titled Stranger In My Land.
Described as a collection of songs originally written by Aboriginal artists who were Roger's peers and predecessors, the album will be released on Saturday, March 9.
"It is powerful and moving material, heartbreaking and hilarious, downtrodden and uplifting, suffused with longing, alienation, resilience and hope; universal themes arising out of largely unexplored context," according to a spokesman for the artist.
Stranger In My Land features guest vocals and instrumental performances from Bonnie Prince Billy, Kelly Hogan, Dave Alvin (X, Blasters), Sally Trims and Jon Langford (Mekons), the Sadies, Andre Williams, and perhaps the last known recording from Charlie Louvin of the Louvin Brothers.
"All this star power is backed by The Pine Valley Cosmonauts, a loosey-goosey musical collective plus Australians Neville Anderson, Buddy Knox (Roger's son), Jason Walker and Steve Newton.
"This is an album about a man and a people's struggles in their own place of origin, and the experiences in a journey that such a complex life path can take," the spokesman said.
"Knox is the conduit for these stories and these songs, but this isn't ancient history and these songs are not museum pieces. The place names and characters are different, but the humanity remains common."
Weblink – www.bloodshotrecords.net/rogerknox.
Penrith truck show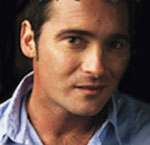 Details have been released for the 26th annual Penrith Working Truck Show to be held on Sunday April 7.
Country stars on the bill this year will include Adam Brand (pictured), Chelsea Basham, Darren Carr, Buddy Goode and Dan Murphy.
In addition to the musical entertainment, the full day program will have amusement rides, games and competitions, trade stalls and displays, and "some of Australia's finest trucks on display".
The day gets underway at 8am and runs through to 5pm.
Weblink – www.pwts.com.au.
Blackened Billy winners
Tamworth's Northern Daily Leader has reported that winners of the 2013 Blackened Billy Verse Competition were announced in Tamworth last Friday.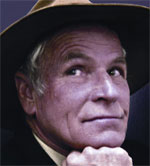 First place went to Milton Taylor (pictured) for his humorous poem, The Passing Of A Legend.
Because of ill-health, Milton could not be in Tamworth for the presentation but poet Melanie Hall stood in for him and gave a reading of his winning poem.
Second place went to three-time Blackened Billy winner David Campbell of Beaumaris in Victoria.
Third place went to Val Wallace of Glendale, NSW.
Judge Keith Jones, of Tamworth, who has judged the Blackened Billy for many years, applauded the entrants for "their creativity and construction of wonderful narratives, ballads and historical subjects".
The competition is sponsored by the Australian Bush Poets' Association and supported by AM Printing.
---
Click here for recent news
---