---
AUSTRALIAN COUNTRY MUSIC NEWS - FEBRUARY 2012
---
WEDNESDAY, FEBRUARY 29, 2012
Troy's new album out Friday
Troy Cassar-Daley's new album Home will be released and available in store and on-line from this Friday (March 2).
The country star says he has been hanging out for this day to arrive. He kicked off what is going to be a huge year touring wise with a sell-out show at the Tamworth Country Music Festival and since then has been on the road and on the phone promoting the new work which is released through Liberation Music.
Home is Troy's eighth studio album. He recorded it in Nashville and for the first time ever took on the role as album producer. He fulfilled one of his lifelong aspirations when he hired his "dream team" of Nashville musicians to record with him.
The players included musical director Biff Watson on acoustic guitar and mandolin; Brent Mason on electric guitar; Eddie Bayers on drums; Michael Rhodes on bass; Steve Nathan on keys; Bryan Sutton on banjo and acoustic guitar; Stuart Duncan, fiddle; Paul Franklin, steel guitar; and John Wesley Ryles on background vocals.
Ed Seay was the engineer.
"I am very proud of this album and hope that Australian country music fans enjoy listening to it as much as I enjoyed writing, recording and producing it," Troy said.
While the first single from the album – Country Is – has topped the Australian national country singles chart this week (see chart update below) the second single, Live And Learn, is about to be released.
Troy will be launching the album and a tour to promote the album on Friday with a show at Lizottes in Dee Why (Sydney) featuring special guest Harmony James.
The extensive tour will continue until May 27 with shows in NSW, Queensland and Victoria.
Weblink – www.troycassardaley.com.au.
Chart Update – Troy hits number one
And as if to emphasise this Friday's new album release, the first single from Troy Cassar-Daley's new album, Country Is, has taken over the top spot on this week's national Country Tracks Top 30.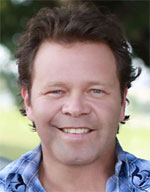 Travis Collins' Fired Today jumps two places to be in second place, Jetty Road's I'm A Dreamer is at three and Amber Lawrence is up three to number four with Everybody's A Mess.
America's Eli Young Band is at five with Crazy Girl, Harmony James' Don't Say It is up three to six and Craig Morrison's Fences is at seven.
Adam Harvey's Falling Into Place is at eight, America's Dierks Bentley is at nine with Home while Doug Bruce's Sweet jumps five places to enter the top 10 at 10.
Bullet performers for the week include The McClymonts' How Long Have You Known (20 to 14), Luke O'Shea's The Drover's Wife (22 to 18), McAlister Kemp's Country Proud (27 to 22) and John Williamson's Hang My Hat In Queensland (28 to 25).
New entries to the chart this week include Kristy Cox's Little Bit Of Wonderful (in at 28) and Morgan Evans' Live Each Day (at 29).
Weblink – www.countrymusicradio.com.au.
---
TUESDAY, FEBRUARY 28, 2012
Musicoz entries open
Entries are now open for the Musicoz Awards, billed as the largest and most credible awards program for unsigned and independent artists.

Celebrating 11 successful years, organisers are expecting the 2012 Awards to be the best ever.
The Musicoz Awards give recognition, exposure and development opportunities to Australian artists who are finalists and winners at the event. Artists are selected and judged by representatives from major labels, independent labels, booking agents, artist managers and record producers.
This year, Musicoz is partnering with BigPond, Facebook and YouTube to give the Awards and its entrants a bigger "exposure platform".
"YouTube is a passionate supporter of new music and together with the Musicoz Awards, we're building an even stronger exposure and reach platform for Musicoz artists to be recognised," according to Richard North, Head of Strategic Partnerships, YouTube, Aust & NZ.  
"BigPond Music is committed to Australian Music and content," said Glenn Hamilton, Head of Music, Telstra/BigPond. "We recognise that Musicoz is a leader in identifying, recognising and representing the interests of the best of the 17,000 independent musicians in Australia."
Artists wanting to enter one or more of the 18 genre categories, including Acoustic Singer-Songwriter, Blues/Roots, Country, Instrumental and Video, can do so online at www.musicoz.org.
All entrants are eligible to win overall awards including Artist of the Year, the APRA Songwriter's Award, the Garth Porter Producer Award and the People's SMS Vote Award.
Entry in the Awards, which were not staged last year, close on March 31.
Boondooma Muster
Details have been announced for what organisers bill as "the original spirit of the bush" Traditional Balladeers & Heritage Muster at Queensland's historic Boondooma Homestead.

The 2012 event will run for five days and nights from April 25 to 29 at Boondooma north of Dalby, north west of Kingaroy and south of Gayndah.
An Anzac Service will be part of the first day's program, from 9am, followed by Poetry & Ballads "'til late" featuring some of Australia's top balladeers and poets.
Artists to feature at this year's event include Neville Anderson, Gavan Arden, Greg Bain, Lindsay Butler, Ashley Cook, Trevor Day, Laura Downing (pictured), Jack Drake, Col Edmonds, Paul Ensbey, Ray Essery (above right), Gary Fogarty, Johnny Greenwood, Bec Hance, Ian Hands, Wave Jackson, Brian Jendra, Lex K, Les Lawson, Shaza Leigh, Alan Luscombe, Dianne Lindsay & Peter Simpson, Merv Maltman, Bruce McCumstie (above centre), Tom McIvor, Dean Perrett, Kiara Rodrigues, Sharon Smith, Buddy Thomson, Stuart Watson, Merv & Chris Webster and Zeta Burns.
Walk-up artist sessions will also feature, along with the Homestead Balladeers & Poetry Competition.
Camp oven meals will be provided by Boondooma's Camp Oven Cooking Team and a licenced bar will operate.
The Muster will include stalls, vintage cars & engines, broad axe, adze, photographic and historic displays.
Bush camping will be available.
Details of competitions and general information can be obtained from Buddy Thomson or Lynne Bennett, telephone 07 4168 0168 or email buddythomson@bigpond.com.
Weblink – www.boondoomahomestead.org.au.
---
MONDAY, FEBRUARY 27, 2012
Stephanie releases debut EP
Singer/songwriter and 2012 Toyota Star Maker finalist Stephanie Jansen has released her debut EP.
Titled Risky, the work has been described as "an incredible first offering... showcasing her diversity as a songwriter and performer".
Stephanie has been performing alongside other artists as a backing singer and session player for years, honing her craft and making sure she was ready to take the step forward with her own solo career, according to a spokesman for the artist.
"While she's been writing her own material for as long as she can remember, Stephanie didn't make a conscious effort to create her style into one specific genre, rather, she wanted to create music that enabled her to express herself," the spokesman said.
"She focused on being herself and making the best music she could, and Risky is certainly a stunning example of this."
"I think the country style of my music has emerged as a natural result of my desire to capture honesty," Stephanie said. "Songwriting for me has always been an exercise in exploring my own opinions, fears and boundaries. It is a constant process of self-discovery and that's why I love it so much.
"What I love about country music is that it captures what it is to be human in a way that is quite unique. It celebrates things like family and the daily struggle of the working person."
Releasing Risky, and the first single of the same name, wasn't a quick process. Stephanie could easily have released the work three or four years ago, but took the approach that she wanted to be 100 percent happy with the product before sharing it with the public.
The five tracks on Risky are penned about things that Stephanie says she cares about the most, has experienced and is inspired by.
Weblink – www.stephaniejansen.com.au.
And the Pub Song winner is...
Terry Lockley (pictured) of Lidcombe, NSW, with The Local .
Catching up on Tamworth, and one of the events that slipped past in January was the Tooheys New Great NSW Country Pub Songwriting Competition.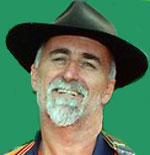 Terry took out first prize while Simply Bushed were named runners-up with their song Chook Raffle.
Third prize went to Louise Egan of Lavington, NSW, for Bar Flies while Tootie Hiles of Toowoomba, Qld came fifth with At The Pub Baby!
Organisers congratulated all the finalists "for their sensational songs and the great performances at the concert at The Pub on January 24.
Broadcasters Hall of Famer Brian Howard emceeing proceedings, the concert attracting "a great audience".
"It was a great opportunity for the AHA (NSW) to showcase its commitment to the live music industry during the iconic Tamworth Country Music Festival," said Colin Waller, AHA (NSW) Treasurer and event organiser.
"The concert was a sensational success and a true credit to the quality of the talent of our finalists. We definitely found some great pub songs in our search this year."
In addition to the performances from the finalists, concert goers were "wowed" with a special performance by two stars of Australian country music, Lee Forster and Stuie French who joined the judging panel and then performed songs from Lee's new album Longnecks And Rednecks featuring Stuie.
---
FRIDAY, FEBRUARY 24, 2012
Toyota raises $20,000+ for CanTeen
Toyota Australia has today thanked and congratulated Tamworth Country Music Festival-goers for donating more than $20,000 to CanTeen this year – the largest amount ever raised at the annual event.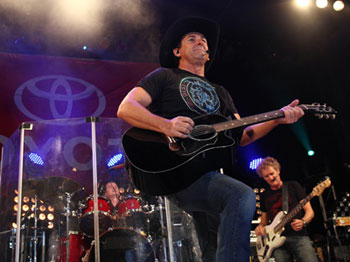 "This is a fantastic result for CanTeen and its members," according to Toyota Manager of Events, Promotions & Sponsorships Andrew Wearing. "Hundreds of people donated gold coins to receive Toyota hats throughout the festival, and thousands more offered donations during the Toyota Concert in the Park.
"Lee Kernaghan, The McClymonts, Luke Dickens, 2012 Toyota Star Maker Bob Corbett and the other artists put on a great show for fans at this year's concert; it was a truly special night and a highlight of the festival," he said.
Over the past five years, more than $100,000 has been raised for charity by Toyota at the Tamworth Country Music Festival. "Providing support to regional and rural Australia through fundraising initiatives at the festival is a demonstration of Toyota's great tradition of giving," Andrew said.
CanTeen Acting CEO Dr Claire Treadgold said the organisation and its members were touched by the generosity shown by Tamworth Festival attendees.
"We would like to thank each person who donated so generously during this year's Tamworth Country Music Festival and express our gratitude to Toyota for their ongoing commitment and support of CanTeen. With the funds raised we will be able to continue providing support to young people in regional areas, ensuring that they are able to travel to, and access all our programs for free."
Photo: Lee performs during the 2012 Toyota Concert in the Park. Photo by Greg Sylvia.
Beef 2012 hosts country stars
Kasey Chambers, Busby Marou and Shane Nicholson will headline the Beef Australia 2012 Country Collaboration Concert in Rockhampton on Friday May 11.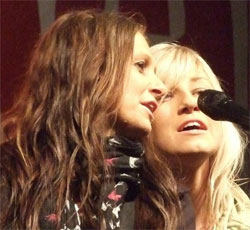 They will be supported by Bill Chambers and Ashleigh Dallas.
The concert is being staged as part of Australia's national beef exposition, Beef Australia 2012, which runs from May 7-12 in the Central Queensland coastal city.
"It is a major coup for Beef Australia 2012 to have not only one of Australia's most celebrated country music artists in Kasey Chambers to perform, but to also feature rising stars and local band Busby Marou, as well as the winner of this year's Tamworth Golden Guitar for best song, Shane Nicholson," said Beef Australia Chairman Geoff Murphy.
"Beef Australia 2012 is not just about showcasing the many new innovations in the cattle industry, it is also about celebrating together as a community. The Country Collaboration Concert is a great way for everyone in Central Queensland to be a part of Beef Australia 2012."
Beef Australia 2012 has been developed under a theme of "Innovation, Collaboration, Inspiration, Celebration".
The concert will be held at the conclusion of five days of trade displays and cattle competitions which are at the heart of the event in the Entertainment Precinct inside the Rockhampton Showgrounds.
The concert is part of a broader live entertainment program which will run throughout the week including the Man From Snowy River Arena Spectacular.
Photo: Kasey performs with back-up from Ashleigh Dallas.
Weblink – www.beefaustralia.com.au.
Bridgetown coming up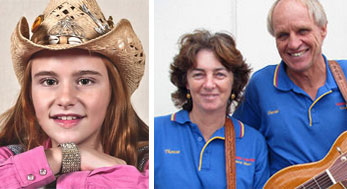 The 2012 Bridgetown (WA) Downunder Country Music Weekend is set for Friday, Saturday and Sunday, March 16, 17 and 18.
Stars of this year's event include The Camerons, Ron Evans, Sid Hewitt, Steve Hill, Hillbilly Deluxe, Kate Hindle (pictured), Keith Lethbridge, Johnny Orr, Bill Rowley, Giulio Perella, Peg Vickers and Chooka Williams, many more local artists and hosts Campfire Country (Therese and David Higginson, pictured).
Billed as a weekend of traditional country music, the event features walk-ups, guest artists, bush poets (including a bush poet's breakfast).
Weblink – www.downundercountry.com.au.
---
WEDNESDAY, FEBRUARY 22, 2012
Adam on tour
Details have been announced for an Adam Brand "up close and personal" tour" kicking off in Melbourne on March 28.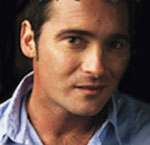 Special guests on the tour will be singer/songwriter Mike Carr, "young gun" Travis Collins and ARIA nominated comedian Buddy Goode.
Adam is fresh from touring the USA with Taylor Swift and looking forward to re-connecting with his local fans.
Mike Carr, who has written and co-written with Adam most of his biggest number one hits (Get Loud, The Anzac, New England Hwy just to name a few), will appear with Adam in what is billed as "a totally and uniquely different show".
Co-support act Travis Collins has just recently concluded a successful support tour with rocker Suzi Quatro.
Adam will play many of his hits from the last 14 years and 11 albums as well as his new single that is about to be released to radio throughout the USA on the Sony label.
"This is not just another Adam Brand show," said a spokesman for the artist, "this is a one off event! One they will be talking about long after the curtain closes!"
Weblink – www.adambrand.com.au.
Aussie country goes Europe cruisin'
Country Music Capital's Travelworld outlet has announced a 15-day Country Music Europe River Cruise departing September 23.

In what is believed to be a first for Australian country music in that part of the world, well known stars Darren Coggan, Graeme Connors and Paul Costa will anchor the trip which will also include a Cat Stevens Show and a surprise guest artist.
Line dancing sessions will also be included, hosted by Tom Glover, Alison Johnstone and Chris Watson.
The cruise will run from Amsterdam to Budapest travelling through well known cities like Dusseldorf, Cologne, Nuremberg and Vienna.
Fares (currently billed as limited time special deals) start at $7,495 per person (twin share) and include free return flights.
Weblink – www.travelworldtamworth.com.au.
Fierce competition at Gladstone
Country music on the eastern seaboard called Gladstone (Qld) home at the weekend as fierce competition underpinned the fourth annual Elders Gladstone Country Music Festival.
A record number of entries was received in more than 25 sections with contestants coming from as far afield as Forbes in NSW to Townsville in the north.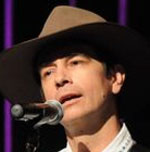 Local boy Jack Viljoen (pictured) scooped the pool with wins in five sections, ensuring his overall success (full results below).
Gladstone Mayor Gail Sellars officially opened the Festival during the Saturday night concert which featured a musical tribute to the contestants and the organisers.
Councillor Clyde Cameron, who also performed at the Concert, said: "I heartily congratulate the organisers on their vision and pragmatic approach in establishing a successful country music festival in a bustling industrial town. This is a fabulous entertainment event for Gladstone."
Festival organiser Cheryl Hopkins said the support of local businesses via sponsorship was crucial in staging the event.
"Our Festival has grown from its infancy in a small hall to the great weekend of country music it is now because companies like Elders, GLNG (Gladstone Liquefied Natural), Rio Tinto and QR National have believed in our idea and continued their financial support.
"This has allowed us to grow and expand into the auditorium of the Entertainment Centre and to provide contestants with a top class backing band. The experience they get from performing in this kind of professional environment is invaluable and also makes a fantastic spectacle for the audience," Cheryl said.
The additional support from local small businesses and individuals meant that this year the event boasted cash prizes of $1000 for the Champion of Festival and $500 for the runner-up.
Cheryl said that although they have just completed the massive administration task necessary to run an event of this type, they are already planning next year's.
"Our fifth festival will be bigger and better than ever and will rival some of the more established ones, which will be a fabulous boon for Gladstone."
In the talent quest... Jack Viljeon placed first in Male Vocal, Male Australian Ballad, Male Country Rock and Male Gospel.
Mikayla Birthisel (pictured) was another multi winner taking out Junior Australian Ballad, Junior Country Rock, Junior Gospel and the Junior Truck/Train section.
Other winners in the Truck/Train sections were Kasey Kilsby, a winner at Tamworth in January, in Juvenile, Aleisha Sealey Female and Ron O'Keefe Male.
Aleisha Sealey, another multi winner, also took out Female Country Rock, Open Instrumental and Female Gospel, as was Karina Kelley adding the Juvenile Australian Ballad and Juvenile Gospel to her collection of trophies.
Alice Benfer took out Female Vocal and Female Australian Ballad sections and Ron O'Keefe was a double winner also coming first in the Golden Oldies section while Margaret Brent took out the Ultra Silver section.
Hayley Marsten won Junior Vocal, Oliver Carter-Beck won Juvenile Country Rock, Jack & Alicia Viljoen won Open Duo and Vicki Walsh was successful in the songwriting with her composition, Dance With Me.
Trevor Stewart was presented with the Senior Achievement Award while the Juvenile/Junior Achievement Award went to Payton Bugeia.
---
TUESDAY, FEBRUARY 21, 2012
Beccy hits the road
Beccy Cole is embarking on a "Songs & Pictures" tour across Australia.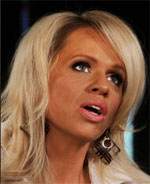 After winning the Female Artist of the Year and Vocal Collaboration of the Year (with Kasey Chambers) Golden Guitars at Tamworth, as well as Best Female Vocal in the People's Choice Award for the second year running, Beccy's tally of awards and accolades now includes nine Golden Guitars, three Gold records, 12 number one singles and two Entertainer of the Year awards.
Last year's release of Beccy's Songs & Pictures album has already produced a number one single in Shiny Things while the second single, Waitress, was released a week after it won Beccy the Female Artist of the Year Golden Guitar.
Joining Beccy on her tour is Catherine Britt who was also successful at this year's Golden Guitars taking home Single of the Year with Sweet Emmylou.
Catherine's 2010 self titled release produced three number one singles and earned her an ARIA nomination for Country Album of the Year.
Award winning singer/songwriter Lyn Bowtell will add to "the girl power" when she opens the show with songs from a brand new album of her own.
Weblink – www.beccycole.com.
Chart Update – Jetty Road's seventh week at number one
Jetty Road's hit I'm A Dreamer is at number one for the seventh time this week on the national Country Tracks Top 30.
Adam Harvey's Falling Into Place is steady at two while Troy Cassar-Daley's Country Is jumps four places to number three and Travis Collins' Fired Today remains at four.
Craig Morrison's Fences is also steady at five, America's Eli Young Band is at six with Crazy Girl and Amber Lawrence bounds into the top 10 with Everybody's A Mess at seven.
Dianna Corcoran's Here's Your Damn Song is at eight, Harmony James' Don't Say It is new in the top 10 at nine while America's Lady Antebellum is at 10 with Just A Kiss.
Bullet performers for the week include Doug Bruce's Sweet (20 to 15), The McClymonts' How Long Have You Known (25 to 20), Luke O'Shea (pictured) with The Drover's Wife (26 to 22), Christie Lamb's Mr Wrong (28 to 25) and McAlister Kemp's Country Proud (new at 27).
Weblink – www.countrymusicradio.com.au.
---
MONDAY, FEBRUARY 20, 2012
Deb wins at WA Awards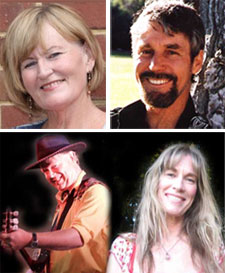 Deb Beckett was the most prolific winner in the Go for 2&5 Western Australian Country Music Awards announced at Boyup Brook on Friday night.
The leading singer/songwriter took home the Best Female Artist crown, Independent Single Of The Year with In The Middle Of Nowhere and was also named Senior Songwriter Runner-Up with her song Circle Of Silver.
Allan Spowart was named Best Male Artist with Jane Germain & Ian Simpson taking out the Best Group or Duo award.
Independent Album Of The Year went to Connie Kis Andersen for Connie Kis while John Bennet won the Senior Songwriter award with Long Way Home.
Code won the Junior Songwriter award for This Is Australia, Ashleigh Magill took home the Best New Talent award and Best Teen Vocalist was Jennifer Hannam.
Photo: Deb Beckett (top left), Allan Spowart (top right), Ian Simpson & Jane Germain.
Weblink – www.countrymusicwa.com.au.
---
FRIDAY, FEBRUARY 17, 2012
Fiddler Ray radio special
A radio special on late Australian fiddle maestro Ray Schloeffel goes to air tomorrow (Saturday February 18) at 4:05pm on ABC Radio National.
"The Life And Tunes Of Ray Schloeffel" is billed as an intimate and quirky portrait of one of Sydney's lesser known folk musicians.
Known as the gentle giant of Australian fiddling, Ray first picked up the violin as a teenage ward of the state.
He had few formal lessons but, within a couple of years, he began making a living from busking.
A professional player for nearly 30 years, Ray was a member of many Sydney bands including Speewah, the Surfin Shamrocks, McCauley's Raiders, Star Maker and Golden Guitar winners Grand Junction, the Wolverines, Tallowood and Gilligan's Ireland.
He was also a founding member of the Fiddler's Festival.
In the radio special, Marcus Holden from Fiddler's Feast and more of Ray's friends remember their intriguing colleague and delve into the Australian folk music scene of which Ray was such an integral part.
Weblink – www.abc.net.au/radionational/programs/intothemusic/the-life-and-tunes-of-ray-schloeffel/3804984.
Bunyip Festival coming up
The 23rd annual Bunyip Country Music Festival will be staged next Sunday (February 26) in the Victorian Gippsland town.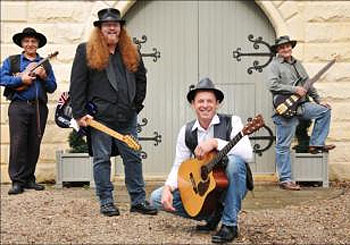 Organisers say this year continues the theme of something old, something new – established artists and unfamiliar names on the way up.
"Back around 1996, a young bloke named Adam Harvey made his first of many appearances here (and, again, won Album of the Year at Tamworth last month). Will there be another gem like him at Bunyip this year?"
Harry Hookey, winner of last year's Telstra Road to Tamworth appeared at last year's Bunyip Festival and will be back this year. "A Cowwarr boy, Harry adds to the Gippsland flavour with Tracy Killeen. Now a renowned performer everywhere, Tracey remains living proof that you can take the girl out of Gippsland but you can't take the Gippsland out of the girl!"
Bec Hance is another Gippsland girl who will be back, just six years after she made her Bunyip debut.
Louise Egan will be a new name at Bunyip, joining acts like Monroe's Mill, a talented bluegrass band comprising familiar country music names.
Peter Denahy will be back and Paul Wookey will appear, together with Newcastle-based independent recording artist Neville Anderson, the Cahoots and Melbourne band Phoenix who return to Bunyip following their appearance at the 2009 bushfire-affected Festival.
Simply Bushed (pictured) will be a headline act and compere will be Andrew Embling.
The Bunyip Country Music Festival will be held at the Bunyip Recreation Reserve, Longwarry Road, Bunyip, Vic.
Weblink – www.bunyipvolunteers.com.au.
---
THURSDAY, FEBRUARY 16, 2012
Major coup for Rose
Rose Carleo will celebrate one of the biggest coups of her career tomorrow with the release of Sony Music Australia's album It's A Blues Thing: A Half A Century Of Molten Electric Blues.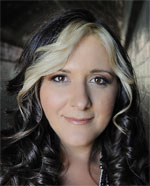 Rose's track That Season Again was selected to appear on the two disc set, as one of only three female artists on the entire compilation, and only a handful of Australian artists (including Billy Thorpe & The Aztecs and Rose Tattoo).
For Rose, the very idea of appearing on a compilation with the likes of such industry greats as Muddy Waters, Albert King, Gary Moore, Fleetwood Mac, The Animals and Etta James, one of her personal heroes, is completely overwhelming, according to a spokesman for the singer/songwriter.
"Adding to her excitement is the fact that each of the tracks was personally selected by the man many call 'the rock brain of the universe', Glenn A Baker."
''I am absolutely thrilled and humbled to be on this compilation,'' Rose said. ''Not only was That Season Again chosen by the one and only Glenn A Baker, but to be included alongside some of the world's most amazing blues performers is truly overwhelming. I'm over the moon.''
Rose has had much reason to celebrate of late.
On Saturday (February 11) she was declared winner of the Female Vocalist of the Year Award in the National section of the 2012 Victorian & National Country Music Awards. This was hot on the heels of her claiming the APRA/AMCOS Australian Independent Country Single of the Year award at Mildura last year for That Season Again.
''It was a fantastic surprise and very humbling to be recognised by my peers,'' she said of the most recent accolade.
That Season Again (co-written with Drew McAlister) appeared on Rose's sophomore album Life Gets In The Way.
Weblink – www.rosecarleo.com.
New TIARAs
The Australian country music awards scheme formerly known as the Tamworth Independent Artist Recognition Awards, or TIARAs, have been renamed as the Tasmanian Independent Artist Recognition Awards, still the TIARAs.

Instigator and organiser Rob Brown has moved to Tasmania and has taken the awards with him to a new home in Latrobe just south of Devonport on the north coast of the island state.
The inaugural re-named awards will be presented at the Australian Axeman's Hall of Fame in Latrobe on Sunday April 1 as the highlight of a country music festival in the town.
Awards will be presented in nine categories... Male and Female Vocal, Group and Duo, Bush Ballad, Instrumental (the Barry Thornton Memorial Award), Vocal Collaboration and Songwriting (the Michael Cowdroy Memorial Award) plus the special Geoff Brown Memorial Award for artists more than 50 years of age.
Entry in the Awards close next Friday, February 24.
Billed as a major event for independent artists, organisers say they are working on a one hour national telecast from the event as a highlight of the festival which runs from Friday March 30 to Monday April 2.
A country music queen completion, parade and busking are all proposed as part of the festival.
Weblink – www.tiara-awards.com.au.
---
WEDNESDAY, FEBRUARY 15, 2012
WA Awards
Attention turns to Western Australia this weekend when the 27th West Australian Country Music Awards will be staged in conjunction with the Boyup Brook Country Music Festival.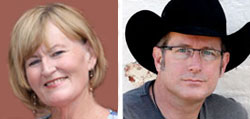 Partly run along the lines of a talent quest, entries for the Awards, sponsored by Go for 2 & 5, come in from all over the state from professional and amateur artists.
Entrants are required to send in a package including a CD recording for pre-judging.
Categories include junior and senior songwriting, teenage artist, sub teen artist, group/duo, male artist, female artist, independent single of the year, album of the year and best new talent.
The Awards will be staged this Friday night (February 17) where nominees from several categories will perform in front of an audience including a high profile industry judging panel and other leading industry talent scouts.
Artists appearing at this year's Boyup Brook Festival, which kicks off this evening with an evening of ballads, songs and yarns "under the stars" include, in alphabetical order, Connie Kis Andersen, Tracey Barnett, Deb Beckett (pictured), Terry Bennetts, Ruby Boots, Jessie Boyle, Doug Bruce (pictured), Peter Coad & The Coad Sisters, Beccy Cole, Peter Delle Coste, Codee-Lee Down, Gary Fogarty, Jane Germain & Ian Simpson, Steve Haywood, Jim Hermel, Carol Heuchan, Billy Higginson, Gina Jeffreys, Pixie Jenkins, Jason Lee, Vicki Lee, Kate Linke, Karen Lynne & Martin Louis, Lucky Oceans, Deb Perry, Evan Platschinda, Fred Ryan, Sara Storer and Jonny Taylor.
The Festival concludes on Sunday.
Weblink – www.countrymusicwa.com.au.
Central Coast country music
Artists have been announced for the 12th annual Central Coast (NSW) Country Music Festival.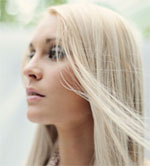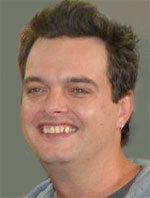 To be held over three days from March 9 to 11, the line up includes The Apprentices, Aubrey & Martin, Luke Austen (pictured), The Bluegum Bush Band, Liam Brew, Katrina Burgoyne, Bill Chambers, Stephen R Cheney, the Chicken Train Skifflers, Travis Collins, Tori Darke, Donella, Col Finley, Dale Hooper, Chris James, Kaylah Anne, Amber Lawrence, Travis List, Gary Lowe, Margie-May & Mayhem, Bruce McCumstie, Craig Morrison, Shane Nicholson, Luke O'Shea, Steve Passfield, The Round Mountain Girls, Hank Sasaki ("The Japanese Cowboy" Mitchell Shadlow, Lucky Starr, the Summerland Kings. The Sunny Cowgirls, Aleyce Simmonds (pictured), Daniel Thompson, Rob Wilson and the Wolverines.
Entertainment will be held at Memorial Park, The Entrance, as well as at local venues within the Wyong Shire and Gosford City with most shows being free during the three days.
Altogether, organisers say more than 90 artists will perform at over 30 venues during the Festival.
Feature events and activities will include a talent quest, poet's breakfast, busking competition, line dancing displays, stalls and amusement rides.
Weblink – www.theentrance.org.
Chart Update – Jetty Road back at number one
Hot on the heels of their Victorian Country Music Awards wins, Jetty Road's I'm A Dreamer has re-taken the number one spot on the national Country Tracks Top 30, for the sixth week.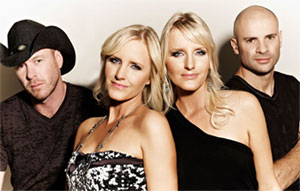 Adam Harvey's Falling Into Place – number one for the last two week's is at number two, Dianna Corcoran's Here's Your Damn Song is steady at while Travis Collins' Fired Today jumps four places to number four.
Craig Morrison's Fences is up two to five, America's Lady Antebellum is at six with Just A Kiss and Troy Cassar-Daley's Country Is bounds into the top 10 at seven.
The Lee & Robby Kernaghan version of Fire is at eight, America's Eli Young Band is at nine with Crazy Girl and the Davidson Brothers My Heart Can't Believe My Eyes remains at 10.
Bullet performers for the week include Amber Lawrence's Everybody's A Mess (15 to 11), Harmony James' Don't Say It (19 to 14), Rose Carleo's Get Back Up Again (18 to 15), Melinda Schneider's Wish You Were Here (21 to 18), Doug Bruce's Sweet (26 to 20) and The McClymonts' How Long Have You Known (new at 25).
Other new entries to the chart this week include John Williamson's Hang My Hat In Queensland (new at 30).
---
MONDAY, FEBRUARY 13, 2012
Jetty Road dominate Victorian Awards
Leading Australian group Jetty Road dominated the 2012 Victorian & National Country Music Awards at Whittlesea on Saturday night taking home no less than five of the awards up for grabs.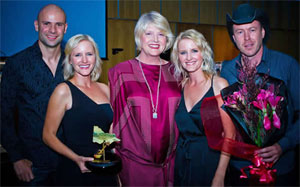 Fresh from their second Golden Guitar win at Tamworth in January, the four piece of Lee and Paula Bowman, Simon Ross and Julian Sammut won the group awards in both the Victorian and National sections, Best Independent Release for Far Away Places in the National section, Best Album for the album of the same name in the Victorian section and the prestigious Victorian Entertainer of the Year title.
"We've always prescribed to the motto 'the harder you work, the luckier you get'," said Pauld, "and winning awards is always going to be an amazing boost for us, but to win this many lately, we are really pinching ourselves.
"We are completely gobsmacked to tell you the truth, and also extremely grateful for everything that has been happening."
A number of sets of double award winners were...
Carter & Carter who took out the Duet awards in both sections with Keeps Getting Better...
The Davidson Brothers, Instrumental of the Year with OMFG and Bluegrass with Rather Be Gone, both in the National section...
Adam Toms, Male Vocalist of the Year in both sections with Fighting For...
And Sal Kimber, winner of the Songwriting award in the National section with Southbound and Female Vocalist of the Year in the Victorian section
Remaining awards in the National section went to...
Rose Carleo, Female Vocalist of the Year with That Season Again; Benn Gunn, Best New Talent with Rawsonville Road; Dean Perrett & Lee Kernaghan, Heritage Award with Channel Country Ground; and Luke Austen, Traditional Country with Every Time He Travels Through Cloncurry.
Reports say the Awards night, that was broadcast across Australia through the Community Radio Network, went off without any problems.
Photo: Jetty Road receiving one of their awards from Grammy Award winner Kim Richey.
Weblink – www.whittleseacountrymusicfestival.com.au.
---
FRIDAY, FEBRUARY 10, 2012
Jayco's Academy donation
On the morning of the Jayco sponsored Country Music Awards of Australia in January, the company has handed over a cheque for $10,000 to Australian Academy of Country Music.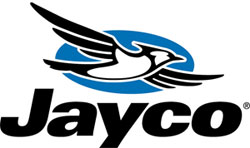 Company Managing Director Gerry Ryan presented the cheque to the President of the Country Music Association of Australia (CMAA), which runs the Academy, John Williamson.
The donation was partly raised ($6,000) from gold coin donations from the Jayco Thong Giveaways at Jayco Place during the Tamworth Country Music Festival. Jayco rounded the figure up to $10,000 for the Academy.
Joan Douglas, Chair of the CMAA, said the Association was grateful for Jayco's continued acknowledgement and support of the Association.
"The CMAA runs entirely on funds generated by the commercial success of our own activities and without donations from our key supporters such as Jayco, we would not be able to provide a platform to young aspiring country music singers and songwriters," she said.
Weblink – www.country.com.au.
Christie released debut EP
Christie Lamb, recently returned from a very successful Tamworth Country Music Festival – including the finals of Toyota Star Maker – has released her debut EP.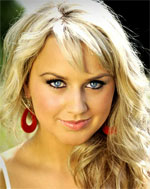 The self-titled debut EP was produced by Rod McCormack and features four tracks co-written by Christie and fellow songwriters Jay Collie, Jasper Somerville-Collie, Gina Jeffreys and Rod.
The lead single – Mr Wrong – co-written by Christie and sibling songwriting team Jay and Jasper, is described as a tongue-in-cheek take on failed relationships and has just entered the Country Tracks Top 30.
An accompanying video clip is currently in production by multiple Golden Guitar winning director Duncan Toombs.
At Tamworth in January, the young western-Sydney based artist performed 18 spots including as the opening act for three-time Golden Guitar nominee Aleyce Simmonds and appeared at a songwriters' spot with Jay Collie from Jonah's Road.
Christie also had a Cavalcade float dedicated to her by the The Johanna Dance School where students danced to her songs behind the float.
"I've watched Christie maturing as an artist over the last few years," said Rod McCormack, "growing into a polished performer with this strength in her voice that draws you in and begs you to listen – a must have trait for any artist. Definitely a star in the making."
Weblink – www.christielamb.com.
Justin heads down under
America's Justin Townes Earle is preparing for his fifth visit to Australia to coincide with the release of his forth album, Nothing's Gonna Change The Way You Feel About Me Now, on March 27.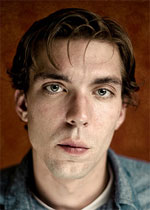 The new album follows the star's critically acclaimed 2010 album Harlem River Blues which led to a Song of the Year award at the 2011 Americana Music Awards for the title track. The album itself was nominated for Album of the Year.
Self-produced alongside longtime collaborator Skylar Wilson, the 10-track album was recorded live with no overdubs over a four day period at an old converted church recording studio.
Of the new record, Justin said: "I think that it's the job of the artist to be in transition and constantly learn more. The new record is completely different than my last one. This time I've gone in a Memphis-soul direction."
The Australian tour kicks off in Sydney on April 4 and concludes in Auckland, New Zealand, on April 22.
Weblink – www.justintownesearle.com.
---
THURSDAY, FEBRUARY 9, 2012
CMC voting closes soon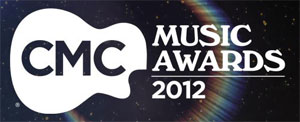 Voting in the CMC (Country Music Channel) Music Awards for this year close at 11:59pm on Tuesday February 28.
Awards are to be presented in four categories from a pre-determined list of finalists... Music Video of the Year, Oz Artist of the Year, New Oz Artist of the Year and International Artist of the Year.
The New Artist of the Year finalists are Luke Austen, Victoria Baillie, Katrina Burgoyne, Busby Marou, Courtney Conway, Tori Darke, Jesse Emmanuel, Benn Gunn, Harmony James, Peter McWhirter, O'Shea, Aleyce Simmonds, Mark Wells, The Wilson Pickers and The Wolfe Brothers.
Weblink – www.countrymusicchannel.com.au.
Reg statue fundraiser this Saturday
East Cessnock Bowling Club in the NSW Hunter Valley will this Saturday host the first in a series of concerts to raise funds for the construction of a life-sized bronze statue of the late country music legend Reg Lindsay.
Multi Golden Guitar winner Adam Harvey will headline the concert with Allan Caswell, The Crosby Sisters, Wendi Jackson, Bruce McCumstie, Ross McGregor and Reg Lindsay Homesteaders Showband members including George Boyer, Eddie Fisher, Steve Newton and Alan Tomkins.
Reg's widow Ros said she has received numerous fan inquiries about honouring Reg for his achievements in the music industry, and the idea of a bronze statue to be erected in Cessnock was born. Estimated cost of the statue is $75,000.
In addition to the entertainment, Saturday night will also include raffles, auctions and a lucky door prize. Some of the items that have been donated for auction include a Fender Guitar (Reg's favourite brand), the boots Reg wore at he and Ros's wedding, one of Reg's rodeo saddles and an Outback Club hat donated by Lee Kernaghan.
An 18-track CD of Reg Lindsay classics, No Stone Unturned, will be released on the night and will be available at major outlets or through www.reglindsay.com.au.
An added attraction on the night will be the auction of a bat signed by Sir Donald Bradman and Harold Larwood presented in a glass and timber case along with a letter of authenticity.
The concert starts at 6pm and tickets are $20.
Further information can be obtained from the club on 02 4990 1444 or Ros Lindsay on 02 4991 1585.
---
WEDNESDAY, FEBRUARY 8, 2012
Whittlesea this weekend
The 2012 Whittlesea Country Music Festival is this weekend, including the announcement of Victorian & National Country Music Awards.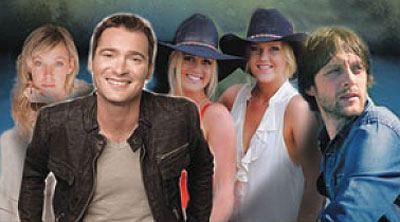 Included in the artist line-up for the Festival are, in alphabetical order, Luke Austen, The Black Sorrows, Adam Brand, Carter & Carter, Kristy Cox, Peter Denahy, Luke Dickens, Sam Hawksley, Jetty Road, Shane Nicholson, O'Shea, Kim Richey, The Sunny Cowgirls and Felicity Urquhart.
The Festival kicks off with the Whittlesea Bowls Club Launch Party on Friday night, followed by the Saturday Street Party centred on the Community Stage in Church Street from 10am (featuring a variety of new up and comers).
APRA's Songwriters in a Round runs in the afternoon from 2pm with Sam Hawksley, Shane Nicholson and Grammy Award winner Kim Richey.
Saturday Night Country at the Showgrounds starts at 6pm with Kristy Cox, Jetty Road and The Sunny Cowgirls.
The Awards are announced at the Plenty Ranges Arts and Convention Centre from 6:30pm. See finalists here.
And the Sunday Round Up runs all day from 8am at the SHowgrounds with, in order of appearance, Luke Dickens, Luke Austen, Kim Richey, Sam Hawksley, The Black Sorrows, Carter & Carter, O''Shea, Shane Nicholson, Felicity Urquhart and Adam Brand.
Pictured (from left): Felicity, Adam, The Sunnys, Shane.
Weblink – www.whittleseacountrymusicfestival.com.au.
TSA workshops
Last year, the Tamworth Songwriters' Association (TSA) started holding workshops and providing state time at various festivals out of Tamworth.

This year, the TSA will be re-starting the program with a one day songwriters' workshop in Sydney's north at the Asquith Leagues Club.
As the venue is located next to the Waitara Railway Station, this provides easy, convenient access to anyone in the metropolitan area and the Central Coast.
The Workshop will have a short session on the business side of songwriting then tutors Kevin Bennett and Pat Drummond will conduct sessions with groups of songwriters wanting to improve their craft.
General feedback from the judges in the TSA National Songwriting Competition was that if one area of songwriting could do with improvement across the board it would be lyric writing, according to the TSA's Duncan Hill.
"The winning songs clearly had well crafted lyrics that fitted with the melody."
The workshop will run on Saturday March 24 from 9am to 4pm and will be open to members and non-members of the TSA.
Booking details, including earlybird offers, can be found on the TSA's website tsaonline.com.au.
The day will include  door prizes including an acoustic guitar, pre-production sessions, discounts, further mentor lessons and guitar kits and those under 18 are welcome.
"Here's a chance for songwriters to start the year off with some expert advice before the next round of songs is written," Duncan said.
Entries for the next TSA National Songwriting Contest and Songwriter Salute Awards open on August 1.
Norma's Bungendore double
Norma O'Hara Murphy was the biggest winner at the 2012 Stan Coster Memorial Bush Ballad Awards held during the Bungendore Country Muster at the weekend taking home the Female Vocal and Songwriter awards with her song Goin' For Glory.
Graham Rodger won his second male vocal award in as many weeks after taking out the Bungendore gong. The leading bush balladeer had previously scored the same title from the Australian Country Music People's Choice Awards in Tamworth a week earlier. At Bungendore, he won with his recording of Such A Shame.
Album of the Year went to Peter Coad with Bush Mates while the Comedy award was presented to Allan Lavender with One, One And One, Two.
Kalesti Butler won the New Talent title with her recording of The Closing Of The Day while the Group or Duo award went to Dean Perrett & Lee Kernaghan with Channel Country Ground.
The Barry Thornton Encouragement Award was presented to Len Teelow.
Organisers said this year's Awards and Muster were successful with "the rain" holding off at least until after proceedings had concluded.
Weblink – www.bungendorecountrymuster.com.au.
Chart Update – Adam's second week at the top
Adam Harvey's latest hit Falling Into Place is at number one for the second week on this week's national Country Tracks Top 30.
Jetty Road's I'm A Dreamer – number one for five weeks through the new year break and January – is steady at number two while Dianna Corcoran's Here's Your Damn Song is up two to three and Lee & Robby Kernaghan's cover of Fire is at four.
America's Lady Antebellum is at five with Just A Kiss, Kaylee Bell's Strawberry Sunset is at six and Craig Morrison's Fences is at seven.
Travis Collins enters the top 10 at eight with Fired Today, as does Luke Dickens with True Love Never Dies at nine while the Davidson Brothers' My Heart Can't Believe My Eyes is at 10.
Bullet performers for the week include Troy Cassar-Daley's Country Is (15 to 11), Amber Lawrence's Everybody's A Mess (20 to 15), Rose Carleo's Get Back Up Again (21 to 18) and Harmony James' Don't Say It (24 to 19).
New entries to the chart this week include Christie Lamb's Mr Wrong(new at 30).
---
TUESDAY, FEBRUARY 7, 2012
CCMA stages successful 46th National Talent Quest and Jamboree
The seminal event that paved the way for the Golden Guitar Awards and the Tamworth Country Music Festival successfully concluded its 46th National Talent Quest and Jamboree Concert on Saturday January 28.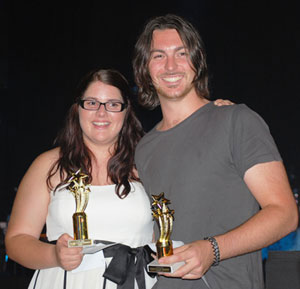 More than 200 individual entries were received in the talent quest from all over Australia and New Zealand.
Groups and duos were most successful with Codee-Lee & Jonny Taylor (pictured at right) from Eaton in Western Australia named Overall Winner and Overall Senior Winner while the three-piece Up & Comin' – Katelyn, Liam & Kasey O'Donoghue (below right) from Charters Towers (Qld) – were named Overall Junior Winner.
Up & Comin' won the Junior Group/Duo section with Olivia & Talisha (Olivia Nolan & Talisha Young) from Gympie (Qld) placed second.
Fellow Junior Group/Duo finalists were Aston Row (Chenaya & Riley Aston from Brisbane, Qld), Kay-Lea & Klaudy (Kay-Lea Brown from Mudgee, NSW & Klaudia Douglas from Wallendbeen, WA) and Lara & Ethan (Lara Northey & Ethan Crosby-Wolfe from Tamworth).
Codee-Lee & Jonny Taylor won both first and second place in the Songwriting section from fellow finalists Mark Menzies & J Vallini from Bellingen, Nathaniel O'Brien from Burra (SA) and Vickie Evans from Kaitangata (NZ).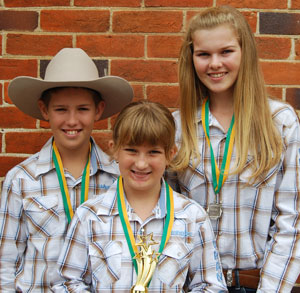 And they were finalists in Senior Group/Duo which was won by Rosemarie & Natalie (Rosemarie Dinaro from St Clair, NSW and Natalie Carboni from Werrington, NSW) with Kat & Gemma (Gemma Kirby from Bunbury, WA and Katrina Goldstraw from Bombala, NSW) in second place.
Remaining finalists in this section were Nathaniel & Emma-Jane (Nathanel O'Brien from Burra, SA & Emma-Jane Montgomery from Bunyip, Vic) and This Side Up (Georgette Berry from Berri, SA & Jordy McMillan from Sale, Vic).
Cameron Scott, from Timaru (NZ, pictured at bottom left) won the Male Vocal Senior section with Ryan Cornish of Tintinara (SA) as runner-up. Fellow finalists in Male Vocal Senior were Brett Clarke from Tamworth, Jonny Taylor from Eaton (WA) and Andrew Thompson from Burua (Qld).
Katie Mason from Mornington (SA, pictured bottom right) was named winner of the Female Vocal Senior section with Gemma Kirby from Bunbury (WA) runner-up. Fellow finalists were Vickie Evans from Kaitangata (NZ), Melanie Todd from Blenheim (NZ) and Gretta Ziller from Seaford (Vic).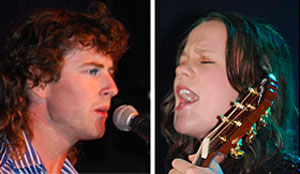 Benjamin Nelson from Warialda (NSW) took out the Male Vocal Junior award with Nathaniel O'Brien from Burra (SA) runner up. Fellow finalists in Junior Male were Jed Gaze from Gympie (Qld), Judah Kelly from Mackay (Qld) and Max Mustonen from Wallendbeen (Vic).
Winner of the Senior Instrumental section was Samara Redman from Tamworth (NSW) with Jason Grice of Colyton (NSW) named runner-up. Fellow finalists in this section were Matt James from Mt Gambier (SA) and Hannah Todd from Blenheim, New Zealand.
Aidan Patrick from Gympie (Qld) took out the Junior Instrumental section with Chloe Nott from Tamworth in second place. Fellow Junior Instrumental finalists were Jaygan Cannon from Tamworth, Katelyn Grimes from Elderslie (NSW) and Sam McCann from Widgee (Qld).
Lane Sinclair from Tamworth was named winner of the Female Vocal Junior section with Emily Markham from Mt Kembla (NSW) as runner-up. Fellow finalists were Chenaya Aston from Brisbane, Brianna Holm from Beaumont Hills (NSW) and Zoe Scott from Geraldine (NZ).
In the Juvenile Vocal section, Kasey Kilsby from Andergrove (Qld) came first with Kay-Lea Brown from Tamworth in second place. Fellow finalists in this section were Tayla Alcock from Toowoomba (Qld), Vivi Crossland from Waikato (NZ) and Lara-Jane Veasy from Rosebery (NSW).
In other accolades announced from the National Talent Quest, Nathaniel O'Brien from Burra (SA) was named winner of the Tamworth Songwriters Association Award for Best Performance of an Australian Composition, Justin Standley from Glebe (NSW) won the award for Best Performance of a Gospel Song, Sian O'Sullivan from Pinkemba (Qld) won the award for Best Performance of a Bush Ballad and Jed Gaze from Gympie (Qld) took out the inaugural Jeff Dallas Memorial Award for the Best Performance of an Alt Country Song.
During the afternoon, Lindsay Butler was announced as a Patron of the Capital Country Music Association, Life Membership was bestowed on long time supporter Deniese Morrison and a special plaque was presented to Alan Clement who has compered all but two of the entire 46 events Jamboree Concerts.
The CCMA is currently considering a plan to reinstigate the Winter Junior Talent Quest that would run in conjunction with Hats Off To Country in July 2012.
Weblink – www.ccma.net.au.
Academy website launched
A dedicated website has been launched for the Country Music Association of Australia's Academy of Country Music.
"The site is a work in progress," according to Academy Director Peter Winkler.
"Our main aim was to have it launched by (Tamworth) Festival time (which it was) so the promotional activities including leaflets which point to the website and the Academy email address are effective.
"There is much we intend to add to the website in due course, particularly the names, profiles and photos of all the staff for the 2012 Academy and some of the great testimonials we have from past graduates," Peter said.
"Now that we have our own website we can enhance it in so many ways."
The website address is www.academycountrymusic.com.au.
The Academy runs two separate and concurrent courses: a senior course (two week curriculum for students aged 18 or more) will commence Saturday, June 23, and will conclude with a graduation concert on Saturday, July 7; and a junior course (one week curriculum for students aged under 18 accompanied by a parent or guardian) will commence on Friday, June 29 and will conclude with a Graduation Concert on Thursday, July 5.
The closing date for applications for both courses this year is 5pm Friday March 16.
---
MONDAY, FEBRUARY 6, 2012
Last year's top country singles in Australia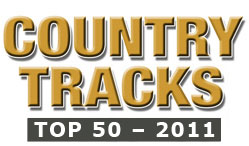 McAlister Kemp (pictured) took out the number one spot on the Country Tracks Top 50 singles of 2011 with their hit Hell Yeah.
Released in January, the Top 50 has nine out of the top 10 as Australian tracks... Kasey Chambers' Beautiful Mess at number two, Harmony James' Pride at four, The Bobkatz' In The Coals at five, Lee Kernaghan's Dirt at six, Doug Bruce's Honky Tonk Shoes at seven, Markus Meier's My Patch Of Dirt at eight, Jetty Road's Serves You Right at nine and their I'm A Dreamer at 10.
The only foreign track in the top 10 was the Brad Paisley hit This Is Country Music.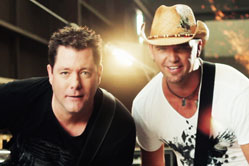 Out of the 50, 42 are tracks by Australian artists.
All of the top 10 were number one hits except for Doug's track which spent three weeks at number two.
Eighteen songs, including the nine in the top 10, made the top spot in 2011. The others, in order of their place in the top 50, were Beccy Cole's Shiny Things, Carter & Carter's Dance In The Rain, Dianna Corcoran's Keep Breathing, Adam Harvey's You Don't Know My Love, Amber Lawrence's Always Kiss Me Goodnight, Doug Bruce's Coffey Road, the Lee Kernaghan/Dierks Bentley collaboration Scars, Jayne Denham's Feral Kev & General Leroy and Keith Urban's Put You In A Song.
There were 116 entries into the Country Tracks chart in 2011, down from 129 in 2010 and fewer than in 2009 (134) and 2008 (133).
Of these, 82 were Australian, down from 91 in 2010 and fewer than in 2009 (99) and 2008 (90).
There were 11 debuting Australian hitmakers in 2011... Brewn, Courtney Conway, Luke Dickens, the Duke Wilde Band, Benn Gunn, Kaylens Rain, Robby Kernaghan (with Lee), Craig Morrison, Tara Naysmith, O'Shea and Luella Widt.
The full top 50 can be viewed at www.countrymusicradio.com.au.
---
SUNDAY, FEBRUARY 5, 2012
Kernaghans unite for Aussie farmers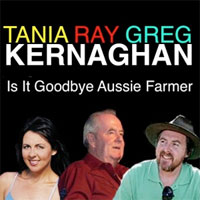 The patriarch of the Kernaghan family, Ray, has joined forces with his daughters Tania and Fiona and youngest son Greg on a new song calling upon all Australians to support Australian Made – Australian Grown.
Written as a collaborative effort by Ray and Greg, Is It Goodbye Aussie Farmer is designed "to send a very clear and important message and one that is sure to resonate across the nation".
The song sees Ray, Greg, Fiona and Tania unite in a spirited vocal reunion in support of troubled agricultural communities and producers struggling to compete with cheap foreign imports and the sale of key manufacturing and farming infrastructure to foreign hands.
Currently gaining national airplay, the song is available now from iTunes and CD Baby.
Weblink – www.taniakernaghan.com.au.
Gabby's bush poetry win
Gabby Colquhoun from Gloucester (NSW) has come out a big winner from the Essential Energy Tamworth Bush Poetry Competition held during the Tamworth Country Music Festival.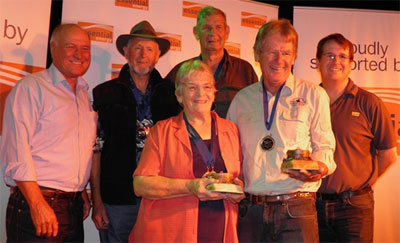 Gabby reportedly had the audience in stitches with her presentation of the Bill Kearns poem Senior Citz Meat Raffle in the Traditional or Established Works Section and also took out second place in the Original section with her poem Line Dancing.
The Original Section was won by Peter Mace of Empire Bay (NSW) with a serious and moving poem entitled Oppression, recalling some of the massacres of Aboriginals in our history. Third place in the Original Section went to John Best of Mango Hill (Qld) with a poem titled You Just Dunno.
Second in the Traditional Section was Roderick Williams of Krambach (NSW) with a strong presentation of The Death of Ben Hall by Will Ogilvie. John Best scored another third place in this section with Bob Magor's funny poem Caravanning Bliss.
Photo (from left) Tony Windsor (judge and patron of the Australian Bush Poets Association), Roderick Williams, Gabby Colquhoun, John Best, Peter Mace and Matt Patterson (Essential Energy Regional General Manager).
Blackened Billy winners
Winners were also announced during Tamworth 2012 for the Blackened Billy Verse Competition.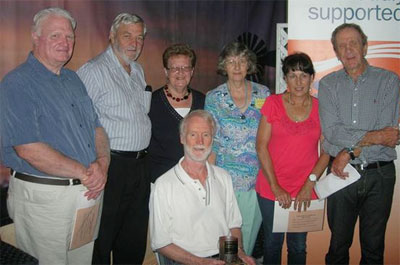 As entries for the competition come from all over Australia and overseas, it is usually difficult getting all winners to the presentation. This year, however, almost all were able to attend which, according to organisers, made for a very exciting presentation ceremony.
The winner was David Campbell from Beaumaris (Vic) who has won the Blackened Billy twice before, but this was the first time he had been able to make the journey.
So it was a very special meeting for organiser Jan Morris and judge Keith Jones to finally meet the man regarded as one of the best modern bush poets in Australia.
David won with a poem entitled A Father's Prayer, described by judge Jones as a beautifully crafted piece of writing.
Val Wallace's poem The First Date, a clever take on C J Dennis' style of writing, came second while third place went to Would You Say Hello to Dad by Terry Piggott.
A total of 217 entries were received in the 2012 Blackened Billy competition. "While this number is down on other years, the standard of entries was again very high," organisers said. These were cut to just 13 finalists.
Highly commended in the competition were A Stranger Walks Along by David Campbell, A Changing Of The Guard by Terry Piggott, A Summer Storm by Neville Briggs, The Colour In My Blood by Brenda Joy Pritchard, Ginger Tom by Milton Taylor, The Gravesite By The Creek by Trisha Patterson, Guilt by David Campbell, Henry's Reply by Max Merckenschlager, Home by David Campbell and On Three Moon Creek – Cania Gorge by Mal Beveridge.
Photo: First placegetter David Campbell seated with (from left): Neville Briggs (NSW), Terry Piggott (WA), Val Wallace (NSW), Jan Morris, Trisha Patterson (NSW) and Keith Jones.
---
THURSDAY, FEBRUARY 2, 2012
Australia Day honours
Two country related individuals received Order of Australia Medals in this year's honours list.
Peter Ellis (pictured at left) from Bendigo (Vic) received his award for service to the arts through the collection and preservation of Australian folk history and heritage.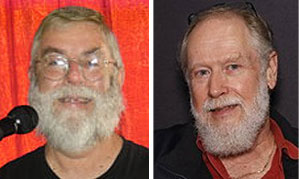 He founded the Bush Dance and Music Club of Bendigo in 1979 and has subsequently been made a life member. He has also been a life member of the Victorian Folk and Dance Music Club since 1986.
Peter founded the Emu Creek Bush Band and was a member for 30 years and has been a member of the Wedderburn Old Timers Orchestra for 32 years.
He is the author of the "Collector's Choice" series in three Volumes (1986-1988) – described as an epic collection of traditional Australian music for dancing.
He also wrote "Music Makes Me Smile" (1998), "The Waltz, the Polka and all kinds of Dance Music" and "The Merry Country Dance" and co-authored "Two Hundred Years of Dancing" (with Shirley Andrews) in 1988.
Peter is also recognised as a donor, notably of the Ellis Dance Music Collection (1850-1980) and the Peter Ellis Papers, 1980-1989 and also worked as a field collector, Oral History and Folklore Collection, National Library of Australia.
His awards have included the Graham Squance Memorial Award, Folk Song and Dance Society of Victoria, 1994; for his dedication to the preservation and promotion of social dance and dance music.
Robert Willis (pictured above right) of Forbes (NSW) has been recognised for his service to the preservation of Australian folklore and traditional music.
He has contributed more than 1,400 hours of original field recordings of individuals and communities from all over Australia, particularly in the field of traditional music, to the Oral History and Folklore Collection, National Library of Australia.
Robert has been a primary collector of the Western Australian Folklife Project since 2004 and has produced traditional music recordings for the ABC Regional Production Fund including "Wag's Tales", "Tales from the Tracks" and "Streets of Forbes" in 2003.
He has been an Affiliate of the Australian Folklore Network and a member of the Organising Committee of the National Folklore Conference for many years.
Robert is a player of traditional instruments including the concertina, button accordion, banjo, mouth organ and whistle.
Weblink – www.itsanhonour.gov.au.
---
WEDNESDAY, FEBRUARY 1, 2012
Lee's Ultimate Video Hits debuts at number five
Lee Kernaghan's Ultimate Video Hits DVD, released as a follow-up to his 42 Track Ultimate Hits CD through ABC Music/Universal Music Australia in September, has been released and debuts on this week's ARIA DVD chart at number 5.
The release marks a major milestone in a music career that has produced 30 number one chart hits and record sales approaching 2,000,000 units in Australia alone.
This year marks another anniversary for Lee... 20 years since his hit Boys From The Bush was released. The Ultimate Video Hits DVD captures Lee's entire musical journey from his debut ARIA Award winning The Outback Club album in 1992 through to his latest Golden Guitar award winning album, Planet Country.
It features 19 music videos as well as live performances from CMC Rocks and the Gympie Muster.
At the age of 27, Lee Kernaghan exploded on to the Australian music scene with a new brand of rural rock that redefined contemporary country music in Australia.
His music was undeniably country but Lee had learnt how to rock in the pubs and clubs of regional NSW. His music cut through to a younger generation of Australians and paved the way for an unprecedented string of hits that has made him one of Australia's most popular artists.
Weblink – www.leekernaghan.com.au.
New SNC compilation
Meanwhile, the latest in the ABC's "Saturday Night Country" series of compilation albums has been released.
It's the second under the direction of new host Felicity Urquhart, not surprisingly titled Felicity Urquhart Presents Saturday Night Country - Volume 2.
This compilation features the most popular tracks played on the nationally broadcast radio program by Felicity.
"Saturday Night Country" is one of the most popular and respected country music programs in Australia. This compilation is billed as featuring "many of Australia's best country artists including Lee Kernaghan, Beccy Cole, James Blundell and even a track from Felicity herself!"
Weblink – www.abc.net.au/snc.
---
Click here for recent news
---