| AUSTRALIAN COUNTRY MUSIC NEWS — DECEMBER 2012 | |
| --- | --- |
---
MONDAY, DECEMBER 31, 2012
TSA songwriting finalists announced
Following the recent announcement of finalists for the 2013 Songwriter Salute Awards, the TSA (Tamworth Songwriters' Association) has now announced finalists in its National Country Songwriting Contest.
For Amateur, Traditional, finalists are... Pam Griffin with Aussie Chick Song, Ian List with The Difference and This Land Australia, Geoff Munro with Anzac Spirit and Savannah Sharpe with Trees Are Green.
For Amateur, Contemporary... James Donnelly & Renee Jonas with Her Kiss, Kiara Rodrigues with Pretty Baby Blues, Lisa Scelzi with The L Word, Savannah Sharpe with Mama Said and Michael Waugh with Heyfield Girls.
For Blues & Roots & Bluegrass... Terry Bradford with Redwood Holla, Alita Fahey & Shardyn with Let The Music Ring Out, David Hyams with A Roadside Lament, Stan Lenz with Picking The Blues and Ian MacGregor with Two Stroke Blues.
For Professional, Traditional... Garry Koehler with To The Pioneers, Graham Rodger with The Bushranger And His Lady and Heart Of The Kimberley, Maree Stacey with The Curio Story and Patricia Thompson with Fair Dinkum Aussie Bushman.
For Professional, Contemporary... Terry Bradford with Eldorado, Dale Duncan with Miracle Girl, Tony King with Song For The Newborn, Ben Ransom with Truck Stop Honey and John Walsh & Mike Carr with The Comfort Of A Stranger.
Finalists in the Junior section are Angus Gill with Names Upon The Wall, Makirum with Hope, Nathaniel O'Brien with Never Gonna Go Home, Taylor Pfeiffer with Toughen Up Princess and Kiara Rodrigues with My Heart.
In the Lyrics Only section, finalists are Geoff Munro & Carol Basstian with Fire, Friend Or Foe, Ed Sutherland with The Ironclad Hotel, Merv Webster with A Love To Own The Land and The Dingo Scalper's Daughter and Wendy Wood with I Wish You Enough.
Winners in the songwriting contest will be announced, together with Songwriters Salute Award and New Songwriter Award winners at the gala presentation concert at Country Music Capital's Longyard Hotel from 7pm on Tuesday January 22.
Tickets can be purchased here.
Weblink – www.tasonline.com.au.
Jayne and Chris E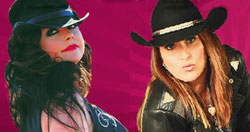 In other Tamworth Festival news, one upcoming show billed as one not to miss is a double act featuring Jayne Denham and Chris E Thomas.
The two rising female stars will perform two shows together at Country Music Capital's Post Office Hotel in Fitzroy Street.
Described as "two explosive power house shows" the performances take place on Thursday January 24 at 9pm and Friday January 25 at 3:30pm.
Weblinks – www.jaynedenham.com, www.chrisethomas.com.
---
SATURDAY, DECEMBER 29, 2012
Chart Update – The McClymonts still at the top
The McClymonts' latest hit Two Worlds Collide remains at number one for the third week in succession this week on the national Country Tracks Top 30 singles chart.
Jetty Road's Wrong is at two, Graeme Connors' The Love I Leave Behind is at three and Amber Lawrence's Try is at four.
America's Lady Antebellum is at five with Wanted You More, Catherine Britt's Charlestown Road bounds into the top 10 at six and America's Carrie Underwood is at seven with Blown Away.
Lee Kernaghan's Beautiful Noise is at eight, Morgan Evans' While We're Young is at nine and America's Blake Shelton is at 10 with Over.
The full chart can be viewed at – www.countrymusicradio.com.au.
---
FRIDAY, DECEMBER 28, 2012
Larry and Gord join tour forces
Award winning KIX Country radio DJ and singer/songwriter and former pro rodeo cowboy Larry Cann has joined forces with one of Canada's biggest country artists Gord Bamford for a tour run starting at Tamworth 2013.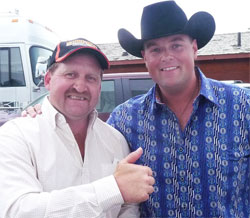 Larry's "Rockin' Rodeo Roadshow" and Gord's "Comin' Home Tour" will visit a number of venues in NSW and Queensland after launching with performances at Country Music Capital's West Tamworth League Club and guest appearances at the ABCRA (Australian Bushmen's Campdraft & Rodeo Association) Rodeo Finals at the Australian Equine & Livestock Events Centre (AELEC) on Thursday January 24.
The pair will be making guest appearances performing at the Rodeo Finals on Thursday the 24th and Friday the 25th while the Wests show will be at midnight Thursday evening.
Larry (pictured at left) is known for his passion for country music fuelled by his life experiences from the farm in Chinchilla, Qld, to an international career as a professional bull rider and bareback rider plus his own musical endeavours, including playing in a band during his time in the USA for almost 10 years after high school.
He is also a graduate of the Hank Thompson School of Country Music in Claremore, Oklahoma, in 1991. Now based in Bundaberg, Qld, Larry combines radio, rodeo and performing and says that's his life in a nutshell. He released his Rodeo Road album in 2009 and has just released a new "six pack" CD called Rodeo Ready featuring new rodeo flavoured tracks and including a cover of the Willie Nelson hit Mamas Don't Let Your Babies Grow Up To Be Cowboys on which he duets with Gord Bamford.
Gord was born in Traralgon, Victoria, moving to Canada at age five with his mother following his parents divorce. In Canada, he has amassed 15 top 10 singles, four number ones and sic top five videos plus awards including nine from the Canadian Country Music Association.
In 2009, his song Stayed Til Two became the year's Top Grossing Song according to SOCAN (the Society of Composers, Authors and Music Publishers of Canada) and in 2010, his Honkytonks & Heartaches album was named Album of the Decade by "Country Music News" magazine.
Weblinks – www.gordbamford.com, www.facebook.com/larry.cann.
---
WEDNESDAY, DECEMBER 26, 2012
New album for Round Mountain Girls
March is the date set for the release of the Round Mountain Girls third, as yet un-named, album.
The album is currently being produced under the watchful eye of Anthony Lycenko who has produced works by the likes of Busby Marou, Pete Murray and The Waifs.
It will contain 12 original tracks written by band members Chris Eaton, Chris Brooker and Rex Carter.
"Lyrically, the songs are a collection of stories of lust, love, parties, family, traveling around Australia gigging and friendships, both new and forgotten," the band says. "Sonically, RMG are aiming to capture their awesome, alt country, live show... driving banjo, blistering solos, tight harmonies and strong rhythm."
This will be RMG's seventh year together.
The band's new album launch and tour will begin at the Port Fairy Folk Festival, Bluesfest in Byron Bay and their hometown launch near Round Mountain, possibly at the Coolangatta Hotel, followed by a nation-wide tour to promote, what Round Mountain locals have described after hearing samples of their new work, as Round Mountain Girls best album yet!
RMG will be road testing new material in Tamworth in January at The Albert, Imperial and Locomotive Hotels and the Southgate Inn.
Weblink – www.roundmountaingirls.com.
Chart Update – The McClymonts hang on to number one
The McClymonts' latest hit Two Worlds Collide holds the number one spot on the national Country Tracks Top 30 singles chart this week.
Jetty Road's Wrong jumps another two places to be in second position while Graeme Connors' The Love I Leave Behind is up another three to number three as is Amber Lawrence's Try to number four.
Troy Cassar-Daley's former number one – Home – is at five, America's Zac Brown Band and Blake Shelton are at six and seven, respectively, with The Wind and Over.
Morgan Evans' While We're Young is steady at eight with America's Lady Antebellum and Carrie Underwood are at nine and 10, respectively, with Wanted You More and Blown Away.
Bullet performers for the week include Catherine Britt's Charlestown Road (14 to 11), Lee Kernaghan's Beautiful Noise (16 to 12), Christie Lamb's Invincible Me (18 to 14), Doug Bruce's Made That Way (25 to 21), Beccy Cole's Hello Happiness (26 to 22), Carter & Carter's To The Moon And Back (27 to 23), O'Shea's The Swimming Song (28 to 25) and Adam Brand's I Was Here (30 to 27).
New entries to the chart this week include Tamara Stewart, Felicity Urquhart & Sara Storer (pictured) with Women In Song (new at 29).
The full chart can be viewed at – www.countrymusicradio.com.au.
---
MONDAY, DECEMBER 24, 2012
Finalists announced for People's Choice Awards
Finalists have been announced for the 2013 Australian Country Music People's Choice Awards to be presented in Tamworth on January 24.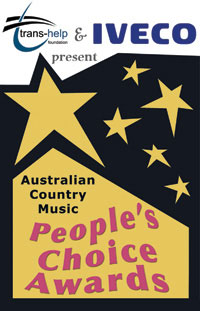 Leading the finalist nods are the very popular "country boy band" Brothers 3 and regular People's Choice winner Graham Rodger with five nominations each, closely followed by the 2012 Most Promising Future Star winner Paul Cowderoy and reigning Best Song and Best Album title holders McAlister Kemp with four each.
Quite a number of artists have multiple finalist nominations, including Dale Duncan, Christie Lamb, Dianne Lindsay and Luke O'Shea all with three each.
The full listing is...
For Best Female Vocal... Beccy Cole, Christie Lamb, Amber Lawrence, Dianne Lindsay and Amber Joy Poulton.
For Best Male Vocal... Paul Cowderoy, Dale Duncan, Dale Hooper, Luke O'Shea and Graham Rodger.
Best Group or Duo... Brothers3, Dozzi, Forever Road, McAlister Kemp and The McClymonts.
For Best Song... Australia, recorded by Brothers3, written by Alita Fahey; Home, recorded by McAlister Kemp,
written by Don Walker; Need To Need You, recorded by Paul Cowderoy, written by Andrew Cochrane & Paul Cowderoy; The Old Tobacco Tin, recorded by Dianne Lindsay, written by Dianne Lindsay & Peter Simpson and Whoever Gets My Dog, written and recorded by Graham Rodger.
For Best Album... Australia by Brothers3, Country Proud by McAlister Kemp, Family Values by Dale Duncan, Now by Paul Cowderoy and Stronger For It All by Graham Rodger.
For Best Bush Ballad... Convict Lady, recorded by Brothers3, written by Alita Fahey; The Drover's Wife, recorded by Luke O'Shea, written by Luke O'Shea & Peter Gabrielides; Looking Back, written & recorded by Graham Rodger; The Old Tobacco Tin, recorded by Dianne Lindsay, written by Dianne Lindsay & Peter Simpson; and Spirit Of Australia, recorded by Shaza Leigh, written by Manfred Vijars & Shaza Leigh.
For Most Promising Future Star... Dozzi, Christie Lamb, Forever Road, Sarah Head and Rachel Jillett.
For the new Best Vocal or Musical Event award... New England Sky by Luke O'Shea & Dianna Corcoran, Right Here Waiting by Paul Cowderoy & Rose Carleo, Stronger For It All by Graham Rodger & Chris E Thomas, You're A Real Good Friend by Dale Duncan & Amos Morris, and Women In Song by Tamara Stewart, Felicity Urquhart & Sara Storer.
For Best Video Clip... Australia by Brothers3, Cold Beer, Hot Women by McAlister Kemp, Invincible Me by Christie Lamb, Love Away The Bad Days by Dozzi, and You're A Soldier Too by Forever Road.
In the two "radio" awards, finalists are...
For Most Popular DJ... Kylie Daniel of Cool Country 2KA, Carter Edwards of the Super Radio Network, Cameron Syrett of Cool Country 2KA, Wally Sparrow of Radio Adelaide and Sgt Ron Trundle of todayscountry94one.
For Most Popular Radio Station or Program... Cool Country 2KA (Western Sydney, NSW), Good Morning Country (Community Radio Network, national), Hot Country Radio Queensland, Radio Northern Beaches (Sydney, NSW) and todayscountry94one (Central Coast, NSW).
The 2013 Australian Country Music People's Choice Awards will be held at the North West Church performance venue at the corner of Anne and Kathleen Streets, South Tamworth, at 7:30pm on Thursday, January 24.
A number of Awards finalists and special guests will perform during the evening.
Tickets can be purchased here.
Weblink – www.peopleschoiceawards.com.au.
---
SATURDAY, DECEMBER 22, 2012
Dean re-releases Buddy classic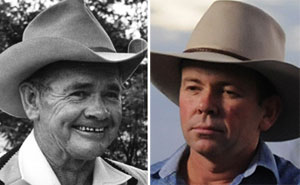 Golden Guitar winning bush balladeer Dean Perrett has released his version of a Buddy Williams classic 70 years ago to the day in 1942 when the late great pioneer balladeer recorded his original.
The song, There's Music In My Pony's Feet, is one of the tracks on Dean's new album, My Bush Heritage, which will be released during the upcoming Tamworth Country Music Festival.
Dean's recording can be viewed here... www.youtube.com/watch?v=5sVmQJZ9KDU 
A video of Buddy singing his classic can be viewed here www.youtube.com/watch?v=E4oven1Zp2A
Country music historian Gary Coxhead said Buddy's recording session on Tuesday December 22, 1942, marked the beginning of a run through to 1946, interrupted by the second world war, when Buddy recorded some of his classics including Stockmen In Uniform, Where The Roly Poly Grass Rolls O'er The Plains, Where The Lazy Murray River Rolls Along, Bushland Paradise, The Overlander Trail, and The Bushmen's Rodeo, to name a few.
Dean photo by John Elliott
---
FRIDAY, DECEMBER 21, 2012
The Winners 2013
The Country Music Association of Australia (CMAA) will release its annual Winners compilation on Friday January 11.
Showcasing finalists from the 41st annual Country Music Awards, or Golden Guitars, the release will have 22 songs on a CD plus 18 tracks on an accompanying DVD.

Weblink – www.country.com.au.
Tamara announces "Busk for Breast Cancer"
Golden Guitar winner and multiple 2013 finalist nominee Tamara Stewart has announced a new charity fund-raiser – "Busk for Breast Cancer" – scheduled for the upcoming Tamworth Country Music Festival.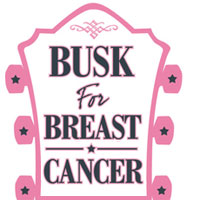 The singer/songwriter's own creation, Busk for Breast Cancer will also be a new feature of Country Music Capital's "Boulevarde of Dreams" during the famous country music celebration.
It will run on Friday January 25 on the "HQ Stage" in the forecourt of Tamworth Regional Council Chambers which is also Festival Headquarters for the duration of the 10 day festival.
A free event, "Busk for Breast Cancer" will see Tamara joined by a few of country music's biggest names to "busk" and raise money for research into a cure for breast cancer.
"I take my responsibility as Ambassador for the National Breast Cancer Foundation very seriously," Tamara said. "As proud as I am of my role, I am even more thankful for the education and understanding I continue to receive about the disease. I want to do all I can to help raise money and awareness for research into a cure,  in line with the Foundation's goal of 'No deaths by 2030'."
Busk for Breast Cancer will also invite local survivors and those affected by the breast cancer journey to come along and be involved. Tamara says since her appointment as Ambassador, she has been moved and inspired many times over by fans who have come forward and shared their own personal experiences with breast cancer.
So how will the activity raise money?
On the day of the event Tamara and the Breast Cancer Foundation will have volunteers collecting donations from the crowd during performances. "The generosity of local Tamworth businesses has been astounding and with thanks for their support running costs are low," Tamara said.
"If you can't make it on the day, there is still an option to support Busk for Breast Cancer via an online charity page... www.everydayhero.com.au/buskforbreastcancer."
Although the names of the stars appearing are going to be kept "Top Secret", Tamara says "fans will definitely get a very unique festival experience as well as the chance to win some fantastic prizes!
"Three prizes will be drawn at the event!" Prizes include two tickets to the Golden Guitar Awards, "Breakfast with Tamara" on the Sunday morning following the Golden Guitars at The Powerhouse Hotel in Tamworth, plus a host of other "great must have" festival prizes!"
Fans enter via Tamworth's daily newspaper, The Northern Daily Leader, that will be carrying a Busk for Breast Cancer entry form which is to be filled in and placed in "the barrel" by 5:45pm on the day of the event for their chance to win.
---
THURSDAY, DECEMBER 20, 2012
Bush Laureate finalists announced
Finalists have been announced for the 2013 Australian Bush Laureate Awards to be presented in Tamworth this January.
In alphabetical order by title of work, they are...
For Book of the Year and (if applicable) Collected Verse Book of the Year... Around The Campfire by Terry Piggott of Canningvale, WA; Award Winning Bush Verse, a compilation by Max Merckenschlager of Caloote, SA; The Bronze Swagman Award... compiled by the Winton Business & Tourism Association; Homely Poems by Bessie Jennings of Port Macquarie, NSW; and Rhymes For Our Times by Frank Heffernan of Narrogin, WA.
For Album of the Year... A Piece Of My World and Another Piece Of My World by Christopher Kessey of Mirrabooka, NSW; A Worn Out Stockman Dreaming by John Davis of King's Point, NSW; The Further I Travel by Jim Low of Alexandria, NSW; and Partners by Carol Heuchan of Cooranbong, NSW.
For Published Poem of the Year... The Dreaded Home Invader by Bessie Jennings; Frank by Stephen Whiteside of Glen Iris, Vic; On The Western Shore by Terry Piggott; The Promise by Grahame Watt of Toormina, NSW; and The Truth About Waltzing Matilda by David Campbell of Beaumaris, Vic.
For Single Recorded Performance of the Year... Buddy Tyson by Jim Brown of Heathmont, Vic; Henry And The Maker by Christopher Kessey; Myall Creek Station by Jim Low; Partners by Carol Heuchan; and A Worn Out Stockman Dreaming by John Davis.
For Children's Poem of the Year... Music Of The Bush by Megan Bartlett-Horne of Sanctuary Cove, Qld; The Sash by Stephen Whiteside; and Toolangiwantigongolope by Gwen Pascoe of Toolangi, Vic.
For Recorded Australian Song Lyric of the Year... Darling Downs by Graham Rodger & Allan Caswell; The Drover?s Wife by Luke O'Shea; Jondaryn by Penny Davies & Roger Ilott; The Man Across The Street by Amber Lawrence & Colin Buchanan, recorded by Amber Lawrence; and Rivermen by Kevin Pye, recorded by Mick Fetch.
Also to be announced and presented on the day of the Awards gala concert is the Judith Hosier Heritage Award, for a significant contribution to Australian bush poetry.
The 2013 Australian Bush Laureate Awards will be staged in the famous Tamworth Town Hall at 2pm on Tuesday, January 22.
A star-studded line-up of bush poets, including Awards finalists, will appear during the gala awards concert together with special guest country music artists and compere Jim Haynes.
Tickets are now available at www.tcmf.com.au, by telephoning 02 6767 5300 or over the counter at the Tamworth Visitor Information Centre on the corner of Peel and Murray Streets.
Weblink – www.bushlaureate.com.au.
Aleyce releases Christmas carol for charity
Rising star Aleyce Simmonds has released her recording of When A Child Is Born, with all proceeds from sales of the single going to charity.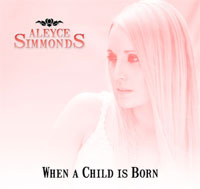 "This is my favourite Christmas carol," Aleyce said, "and one of the first songs I ever sang. It will always hold a special place in my heart and I hope that you will play it loudly on Christmas day knowing that you have helped to make a difference.
One hundred percent of the proceeds of sales are being given to Camp Autism, "a wonderful group of volunteers with huge hearts who work tirelessly to give much deserved respite to those who care for children with Autism and disabilities," Aleyce said.
The recording can be downloaded from iTunes for $1.69...
https://itunes.apple.com/au/album/when-a-child-is-born-single/id586251899
Aleyce thanked her fans for their support this year. "For coming out to shows, buying my album, communicating with me on social media, THANK YOU!
"You have all helped make 2012 the best year yet for me and I'm so thankful. Three Golden Guitar nominations, a sold out Tamworth show for the second year, being chosen to play at CMC Rocks the Hunter in March 2013... thank you for being the familiar faces in every crowd."
Aleyce is in the process of finalising a new album... "It's been so much fun writing and recording and very soon I'll be able to show you all the first single!!!"
And, Aleyce has just been announced as "Melomania's Melomaniac of the Year" for 2012. (A melomaniac [basically] is someone who loves music beyond the point of reason, Aleyce said. And "that's me.. I promise. I love it so much, I could never ever explain.
"Melomania is an amazing radio program, streamed on dozens of radio stations around the world..  I'm blown away to have won when I was up against amazing artists such as Mahalia Barnes, Sarah De Bono and The McClymonts. I didn't think I would have a chance!!!"
Weblink – www.aleycesimmonds.com.
---
WEDNESDAY, DECEMBER 19, 2012
Vale – Merv Maltman
Golden Guitar winning bush ballad singer/songwriter Merv Maltman died on Friday December 7. He was 61.
Merv was a prolific songwriter, a multi-instrumentalist and a singer who not only recorded quite a few albums of his own material, but had many of his songs recorded by other artists. One of his best known works is The Blacksoil Plains Of The Outback.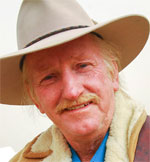 Rick & Thel Carey recorded a full album of his work.
Merv toured with many artists including Rick & Thel, Buddy Williams, Stan Coster and others.
In January this year, he won the Bush Ballad of the Year Golden Guitar for his Channel Country Ground recorded by Dean Perrett & Lee Kernaghan.
Born at Nambour, Qld, Merv's family moved to Cloncurry where he picked up his love for Australian country music thanks to the proliferation of bush ballads specifically in that part of the world.
He got his first guitar at age 13 and began to write songs. After leaving school, Merv began work as an apprentice painter and decorator in Bowen. It was here that a man named Wally Bishop recorded him for a radio Show on 4MK MacKay.
After a stint in the Army, Merv's song The Horse That Could Do Nothing Right was recorded by Brian Young and tours with Buddy Williams and Stan Coster followed.
By 1986, Merv was considered a strong act in his own right and he teamed up with Buddy Thomson and Lynne Bennett to form the Down Under Country Show in which all music was Australian but not long after that, he decided to quit the game and took up a position as a house painter in Blackwater where he stayed for 22 years.
Though he had given up touring, Merv remained in music by taking on playing the bagpipes and for many years he piped the Anzac parades in Blackwater and Bluff.
In 2007, Merv suffered a stroke and thought the end had come so headed off to say his farewells. On meeting up again with Buddy Thomson, he was coaxed into his studio and Buddy began recording him. The result was the Keep Your Candle Burning album.
Merv was encouraged to start recording more and began recording a huge backlog of songs which resulted in the album Just Me on which Merv played all instruments (Merv played guitar, banjo, fiddle, mandolin and bass, as well as the bagpipes and dabbled in keyboards).
The album Witness To Change came next with more to follow.
Merv lived in the Warwick district in Southern Queensland where he settled with his wife Judith and step-daughter Linley.
Words provided by the Australian Bush Balladeers Association and Maggie Stokes, photo by June Underwood.
Jade debuts at 15 on iTunes
Emerging country artist Jade Holland debuted at number 15 on the iTunes International Country Music Charts last month with her debut single release, Mess With A Girl Like Me.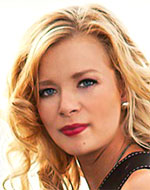 "This is a dream come true," Jade said, "and I am overwhelmed by the support I have experienced."
"This song is very personal to me so it is still a bit weird having it out there for people to enjoy but I hope it resonates and inspires others."
Jade is currently working hard writing new songs and early next year will continue recording her debut album to be released at launches in Tamworth, Townsville, Los Angeles and Nashville mid next year.
She has been writing and competing in country music competitions for many years and was invited to compete at the 15th annual World Championships of Performing Artists in Los Angeles last year where she won four awards.  
"I came home energised and decided to put everything into writing and recording my own music," Jade said. "It has taken the support and encouragement from many people to get me here so a big thanks.
Weblink – www.jadeholland.com.
---
TUESDAY, DECEMBER 18, 2012
Lachlan & The Wildes in Tamworth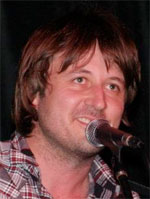 Lachlan Bryan will return to the Tamworth Country Music Festival for one show this January with the full original line-up of his band The Wildes and a number of special guest artists.
The Melbourne-based singer/songwriter will be joined by Bill Chambers, Harmony James, Melody Pool, Henry Wagons and The Weeping Willows for the show at The Family Hotel on Friday January 25.
"This year we're putting on a hell of a show," Lachlan said. "The guests I've asked to join me are the real deal, and The Wildes are the best so-called 'alt-country' band you'll ever hear in this country. This is country music with not just the dirt left on, but also the blood and guts."
It's been a big 12 months for Lachlan with the release of his debut solo record followed by a string of support spots for visiting acts Steve Earle and John Hiatt, major festival appearances at Bluesfest and the Gympie Muster and a gruelling nine-week tour of the USA.
Weblink – www.lachlanbryan.com.
Chart Update – The McClymonts hit number one
The McClymonts' latest hit Two Worlds Collide takes over the number one position on the national Country Tracks Top 30 singles chart this week.
Troy Cassar-Daley's number one from the last four weeks – Home – slips to number two while America's Zac Brown Band is at three with The Wind and Jetty Road's Wrong jumps three places to number four.
America's Blake Shelton is at five with Over, Graeme Connors' The Love I Leave Behind jumps four places to number six and Amber Lawrence's Try bounds into the top 10 at number seven.
Morgan Evans' While We're Young is also new in the top 10 at eight, Camille & Stuie are steady at nine with Things Change and Luke O'Shea & Dianna Corcoran are at 10 with New England Sky.
Bullet performers for the week are Doug Bruce with Made That Way (28 to 25), Beccy Cole's Hello Happiness (29 to 26) and Carter & Carter's The Moon And Back (30 to 27).
New entries to the chart this week include O'Shea with The Swimming Song (new at 27) and Adam Brand's I Was Here (at 30).
The full chart can be viewed at – www.countrymusicradio.com.au.
---
MONDAY, DECEMBER 17, 2012
Jeff heads up new CMAA board
Country music industry identity Jeff Chandler (pictured) will continue as Chairman of Australia's industry body, the Country Music Association of Australia (CMAA), following it's annual general meeting last week.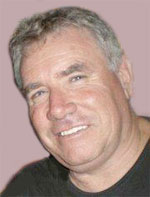 Jeff had been acting as Chairman following the resignation of Joan Douglas but will now take on the role formally.
Country Music Capital's daily newspaper "The Northern Daily Leader" reported that Jeff was keen to see new talent rising through the country music ranks in Australia.
"I stood again as Chairman and I believe I was unopposed," he said. "It's a challenging role, because the music business generally has been going through some rapid changes and country music isn't immune.
"It's as affected as, if not more than, other music genres. It's also quite out in the open that the CMAA has gone through some challenges with the (Golden Guitar) awards.
"The signal for me that there's a chance it's looking bright into the future was the Golden Guitar nominations this year, because there's a real depth in our young talent again," Jeff said.
Board members re-elected for the next term were Roger Corbett (now Vice Chairman), Gayle Madill and Marius Els (continuing as Secretary and Treasurer, respectively, Cheryl Byrnes, Allan Caswell, Rod McCormack and Graham Thompson.
New board members are Tom Inglis, Brendan Radford and Tamara Stewart.
Telstra Road
The Telstra Road to Discovery 10th Anniversary Final will be held in Tamworth in January.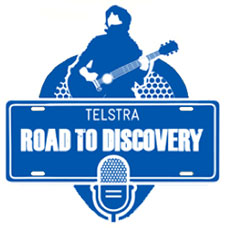 Ten of the 18 heat winners will perform in competition for the performer and songwriter major prizes... each receiving a 12 month music mentorship, a return trip to Nashville including a showcase gig at the Americana Festival plus local gigs in Australia and "face time" with some of the biggest names in Australian music.
The heat winners who were invited to attend the competition's "boot camp" where "the top 10" were determined, are...
Morgan Bain (songwriter heat winner), Sheryn Binks (songwriter heat winner), Peny Bohan (Melbourne heat winner), Gena Rose Bruce (Hobart), Genevieve Chadwick (Canberra), Paige Renee Court (Adelaide), Sarah Raine Dyson (wildcard heat winner), Margie-May Hockey (Orange, NSW), Lani Brouwer Hughes (digital heat winner), Leonie Kingdom (Bundaberg), John Lingard (Elmore, Vic), Karin Page (Dowerin, WA), Melody Pool (songwriter heat winner), Scott Riley (Freemantle, WA), James Sidebottom (songwriter), Jackson James Smith (Toowoomba), Gabrielle Wright (Darwin) and Gretta Ziller (Henty, Vic).
As well as the top 10, the final will feature a guest appearance from The Hillbilly Killers (Catherine Britt, Bill Chambers, James Gillard, Michael Muchow, Shane O'Mara and Tim Rogers).
The event will be hosted by award winning Melbourne singer/songwriter and radio presenter Ella Hooper.
Telstra Country Wide Area General Manager, North West NSW, Tricia Wilson said Telstra was looking forward to "celebrating this proud milestone".
"The Telstra Road program has been a big part of so many personal musical journeys over the past 10 years, giving a voice to the many talented musicians we have across all corners of Australia – all that history and excitement culminating in one event is going to be huge," she said.
Weblink – www.telstra.com/trtd.
---
FRIDAY, DECEMBER 14, 2012
Nellie and Col form Diezel Town
Well-known country performers Nellie Donovan and Col Finley have established a new duo under the name Diezel Town.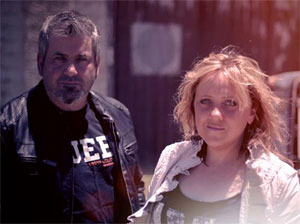 And the pair have just released the first single from their upcoming album Small Town, Big Dreams.
The single – a cover of the 1990's Bonnie Raitt hit Something To Talk About – has been distributed to Australian radio and is available free for download for fans who sign up to a monthly subscription to Diezel Town Community Notice Board at www.join.diezeltown.com.
Described as one of the hot new groups to form in Australia in 2012, Diezel Town say they play "a new brand of roots country" and are gaining momentum with every performance.
Nellie and Col, who are also wife and husband decided to form the duo while touring together with their two boys throughout regional Australia.
The two award-winning artists first sang together in 2006 with the co-written song Those Telephone Calls that was included on Nellie's debut album Steppin' Out.
The album Small Town, Big Dreams is due for release early in 2013.
Keith now up for movie awards with Nicole
Keith Urban is joining wife Nicole Kidman now in the running for a couple of movie awards.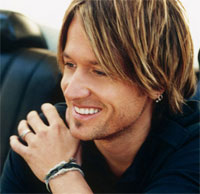 His song For You, co-written with Monty Powell for the official motion picture soundtrack for the film "Act of Valour" recently received a nod for the 18th annual Critics' Choice Movie Awards and has now been announced as a finalist nomination for Best Original Song in the 70th Golden Globe Awards set for January 13.
Another Aussie finalist nomination is Hugh Jackman for Suddenly from "Les Miserables".
For You is also up against Adele (for Skyfall), Taylor Swift (for Safe And Sound featured in "The Hunger Games") and The Civil Wars (for Not Running Anymore from "The Standup Guys").
Nicole is nominated in the Golden Globes for Best Actress, MiniSeries in "Hemingway & Gelhorn" and Best Supporting Actress in "The Paperboy".
The emotional For You became a top 10 hit for Keith and is reportedly making quite the splash among awards' voters.
"Being commissioned to write a song for the film 'Act of Valour' was daunting," Keith told "People Country" earlier this year. "I had no clue how to write a song for this. It was... just before I was going to have vocal surgery, and I thought, 'I can't… I just am not going to have time to do this!' My wife said, 'Just try it!' She's so great, because she knows when I'm operating out of a place of fear – it's one of the many things I love about her."
Keith's 2013 is shaping up to catapult him further into the limelight. In addition to the awards scene, he will also be making his US singing competition debut as a judge on the next installment of "American Idol" following his stint on the first Australian series of "The Voice" this year. He will be joining Mariah Carey, Randy Jackson and Nicki Minaj on the panel.
Weblink – www.goldenglobes.org.
---
THURSDAY, DECEMBER 13, 2012
The McClymonts announce the Acoustic Harmony Tour
The McClymonts – this year's ARIA Best Country Album winners – have announced details for their Acoustic Harmony Tour that will kick off in Tamworth on Thursday January 24.
The McClymonts have come a long way over the last few years. They have now released three albums, with their latest offering – Two Worlds Collide – taking out the ARIA Award, just as its predecessor – Wrapped Up Good – did in 2010.
The group has put in a big effort to take their music to the world over the last few years with constant touring in the USA as well as performances at home. They have earned the attention of many of America's major promoters who have supported The McClymonts by booking them on to all of the largest festivals there.
This led to the group sharing the stage with some of the world's biggest acts including Jason Aldean, Luke Bryant, Ronnie Dunn, Lady Antebellum, Darius Rucker and, on one occasion, Ozzie Osbourne at a biker's festival. The huge crowds were well impressed with the three sisters' harmonies and showmanship.
Not long after, the girls were invited to perform on The Grand Ole Opry and, again making a big impression, they were invited back to perform just two weeks later.
Their live show has won them a legion of fans on both sides of the Pacific and they have amassed an amazing seven number one singles in a row from the last two albums in Australia and two top 30 singles in the America in 2012.
An executive from CMT (Country Music Television) in Nashville said: "These girls are amazing. There is no way you can manufacture a sound like theirs. They have a gift, I call it 'Blood Harmonies' and theirs is one of the best I have ever heard."
After a live radio interview on America's National Public Radio, to an audience of millions, the host, Scott Simon, invited the girls to perform a song acoustically in the studio. At the end of the performance he, Scott Simon, said: "You know, great groups like The Beatles, no matter how much they sang together, were still four separate voices. There's something about the three of you together, which is quite haunting."
Now, after touring Australia extensively on their "Two Worlds Collide Tour" during this year, the girls have come up with a new show – described as "something different and something very special for their fans around Australia".
"For a limited season, Brooke, Samantha and Mollie will present a one-off series of very special intimate shows, The Acoustic Harmony Tour 2013, showcasing The McClymonts songs and harmonies, presented with all musicians playing acoustic instruments, in an event unlike any McClymonts show fans have ever seen before."
"We want to create a more intimate vibe," said Samantha. "People always tell us they just want to sit back and listen to our harmonies, so that's what we're doing. We are going out with just our guitars and singing everyone's favourite songs from the last three albums. Our musicians will all be playing acoustic and unplugged."
"This will be a rare opportunity for audiences to experience the girls' live show in a never before seen setting," said a spokesman for the group. "The emphasis for this show is on the trio's extraordinary harmonies and the girls will take the audience on a musical journey through their career that will include some very funny stories about their amazing ride to date."
"We've been touring non-stop for the past six years and it's always been a high energy show," said Brooke. "We thought we'd change it up a bit by stripping everything back and letting people hear our three voices in a more personal setting."
The tour launches on Thursday January 24 in Tamworth's Regional Entertainment Centre and is so far scheduled to encompass NSW, Queensland and Victoria up until May.
Weblink – www.themcclymonts.com.au.
Taylor shatters 48 year record
Global country superstar Taylor Swift has shattered a 48-year-old "Billboard" chart record with a stint of nine weeks at number one for her latest single We Are Never Ever Getting Back Together Again.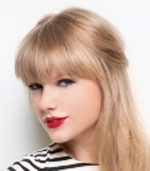 The six-time Grammy winner set the all-time record for most weeks at number one on the country chart by a female artist beating American Country Music Hall of Famer Connie Smith who spent eight weeks at the top with Once A Day in 1964.
The single, from Taylor's triple-platinum selling album Red, is also a monumental pop hit, topping "Billboard's" Hot 100 chart, iTunes charts around the globe, and selling more than 2.6 million downloads in the US.
In the six weeks since its first week debut with US sales in excess of 1.2 million albums (music's highest weekly sales number in more than a decade), Red has dominated the album sales charts spending every week at number one on the Country Albums chart and remaining at number one or two on the all-genre Top 200 Albums chart.
In addition to its US triple-platinum certification, Red has reached number one on iTunes in 42 countries including Australia, and total sales of the album outside of the US have now topped 1.1 million. In Australia, Red achieved double platinum status in less than a month from release. It held the number one position on ARIA's main album chart for three consecutive weeks and is currently up to seven consecutive weeks at the top of the ARIA country Albums chart.
Last week, nominations were announced for the 55th annual Grammy Awards and Taylor earned nods in three categories: Record of the Year (for We Are Never Ever Getting Back Together), Best Country Duo/Group Performance and Best Song Written for Visual Media (both for Safe & Sound featuring The Civil Wars, from "The Hunger Games").
Taylor recently wrapped up an Australian visit and is currently in Europe for a live performance this weekend. Later this month, she will perform live in Times Square, ringing in 2013 as the headliner of American ABC Television's "Dick Clark's New Year's Rockin' Eve with Ryan Seacrest".
Weblink – www.taylorswift.com.au.
---
WEDNESDAY, DECEMBER 12, 2012
Living Legends on show
Details have been announced for a True Living Legends of Country Music Concert to be held during the upcoming Tamworth Country Music Festival.

Starring will be Roll of Renown inductees Rex Dallas, Chad Morgan, Slim Newton and Reg Poole with Trevor Day, Johnny Greenwood and Lynette Guest.
The show will be staged at the Southside Uniting Church on the Sydney Road opposite the Big Golden Guitar at 7pm on Thursday, January 24.
Tickets are $15 and will be available at the door.
Further information can be obtained by telephoning 0427 731 088.
Chart Update – Troy tops the chart for fourth week
Troy Cassar-Daley's latest hit – Home – remains at number one for the fourth week in succession this week on the national Country Tracks Top 30 singles chart.
The McClymont's Two Worlds Collide edges up one to be in second place, America's Zac Brown Band is at three with The Wind and Luke O'Shea & Dianna Corcoran's New England Sky is at four.
McAlister Kemp are at five with Home, America's Blake Shelton is at six with Over while Jetty Road bounds into the top 10 at seven with Wrong.
Roo Marcus' This Here Cowboy is at eight, Camille & Stuie enter the top 10 at nine with Things Change as does Graeme Connors with The Love I Leave Behind.
Bullet performers for the week include Amber Lawrence's Try (16 to 12), Catherine Britt's Charlestown Road (19 to 16) and Lee Kernaghan's Beautiful Noise (21 to 18).
New entries to the chart this week are Doug Bruce (pictured) with Made That Way (in at 28), Beccy Cole's Hello Happiness (at 29) and Carter & Carter with The Moon And Back (at 30).
The full chart can be viewed at – www.countrymusicradio.com.au.
Lee hits number one on CMC Top 50
Meanwhile, Lee Kernaghan has hit the top of the CMC (Country Music Channel) Top 50 this week with the title track to his latest album, Beautiful Noise.                                         
Other local acts featuring in the playlist's top 10 this week are Kasey Chambers & Shane Nicholson with The Quiet Life at number three, Morgan Evans' While We're Young at four, Catherine Britt's Charlestown Road at five, Beccy Cole's Hello Happiness at six and Adam Brand's I Was Here at nine.
Bullet performers on the playlist (up three places or more) are Jetty Road with Wrong, Jayne Denham's Shelter new at 30, The Wolfe Brothers It's On new at 32 and Christie Lamb's Invincible new at 38.
CMC's "Country Pick" this week is Chelsea Basham's I Learned The Hard Way.
Weblink – www.countrymusicchannel.com.au.
---
TUESDAY, DECEMBER 11, 2012
Toyota sponsors Tamworth
The Tamworth Country Music Festival has today officially announced a partnership with Toyota as naming rights sponsor for the 2013 Festival.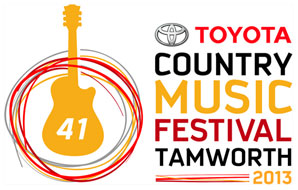 "The two great Australian icons will celebrate 20 years of partnership," according to the official media release.
"The partnership is an invaluable step forward for the two entities who have supported, grown and nurtured country music together since 1993," the release said.
"Toyota have traditionally promoted country music... through their involvement in the prestigious music talent search program Toyota Star Maker, plus Toyota's Free Concert in the Park, the Country Music Awards of Australia (Golden Guitars) and the famed Toyota Cavalcade as well as through their work with country music icons such as Lee Kernaghan and The McClymonts.
"The attachment of the iconic international brand to the Festival as naming rights sponsor is not only the joint celebration of 20 years in partnership, but is an important recognition from Toyota of the rural Australian communities who have supported Toyota in Australia for over 50 years." the release said.
"The partnership is part of Toyota's declaration of thanks to those communities and its pledge of continual support of the country music industry."
The partnership also represents a significant move forward for Tamworth with Mayor Col Murray, saying: "The Tamworth Country Music Festival has come from humble beginnings as a local radio station promotion and grown over 41 years to become a festival on the world stage, the second largest country music festival in the world!
"Toyota have been intrinsically linked with Tamworth Country Music since 1993 and have been invaluable supporters in growing this great Australian event," he said. "This partnership is a wonderful recognition of our joint commitment to the future of Australian country music and represents a great milestone for the city of Tamworth."
Festival Director. Paul Sullivan said the Tamworth Country Music Festival had seen a positive reinvigoration in recent years with crowds swelling well in excess of 55,000 people in 2012 and Toyota's partnership reconfirmed the joint commitment made by Tamworth and Toyota to the future of Australian country music.
"Festivals all over Australia are seeing resurgence in popularity. This partnership with Toyota... will allow our great Australian festival to grow and develop further so that we maintain our rightful position as the biggest music festival in the Southern Hemisphere and the second largest country music festival in the world!"
The Toyota Country Music Festival, Tamworth 2013 will run from January 18 to 27, preceded by the seven-day Festival Countdown.
"All indications are that 2013 will be another bumper year for the Country Music Capital."
Weblink – www.tcmf.com.au.
First round of TSA finalists announced
Finalists for the first round of Awards to be announced by the Tamworth Songwriters' Association (TSA) in January have been announced.
First up are those in contention for the 2013 TSA/APRA New Songwriter Award and for the TSA Songwriter Salute Awards.
All of these awards are for nominated songs that have been recorded and commercially released during the qualifying period, loosely the current year.
Finalists for the New Songwriter Award are Brad Butcher with The Old Man's Gone, Kalesti Butler with She's A River, Kathleen Coleman with Dunedoo Station, Paul Cowderoy & Andrew Cochrane with Need To Need You and Sharon Heaslip with The Little Boy Played The Last Post.
In the Salute Awards, the finalists are...
For Traditional Bush Ballad of the Year... An Old Australian Stockman by Rod Williams, Grandad's Memories by Ged Hintz, Looking Back by Graham Rodger, The Old Journal by Bill Crosbie, Keith Jamieson & Bluey Francis and The Story Of Billy Baxter by Col Millington.
For Contemporary Song of the Year... Forgivable Sin by Chris E Thomas, Need To Need You by Paul Cowderoy & Andrew Cochrane, The Spirit Of Australia by Virginia Hermel & Peter Coad Stronger For It All by Graham Rodger and Til The Cows Come Home by Kathleen Coleman.
For Country Ballad of the Year... Darling Downs by Allan Caswell & Graham Rodger, He Still Remembers by Kathleen Coleman, My First Rodeo by Bill Crosbie & Keith Jamieson, Set A Place For Daddy by Danny Keough and The Wind Blows Cold On The Mountain by Pete Denahy.
For Comedy/Novelty Song of the Year... Auntie Dorrie's Garage Sale by Jim Haynes, The Fence Off by John Peel & Graham Rodger, The Feral Song by Col Millington, Skin by Allan Caswell and Two Left Shoes by Alita Fahey.
For Children's Song of the Year... Come Fly With Me by Pete Smith, Eric The Emu by Megan Bartlett-Horne, I Should Have Listened by Alita Fahey, Joey The Barbecue Blowie by Allan & Marian Caswell & Georgia Flynn-Caswell and Just Say Bula by Jim Haynes.
For Gospel Song of the Year... Believe In Angels by Tania Kernaghan & Fiona Kernaghan,The Keeper Of The Gate by William George Bice & Leigh Francis Bice, Lift Me Up by Deb Bryant, Oh Lord Comfort Me by Pete Denahy and The Shepherd's Fold by Dean Perrett.
The TSA Awards night will be held at The Longyard Hotel at 7pm on Tuesday January 22, together with the winners of The TSA National Songwriting Contest for unreleased songs (finalists for the Contest will be announced  shortly).
Tickets for the Awards Show and Concert are available from Destination Tamworth on 02 6767 5300 or via the internet... www.tcmf.com.au.
The Concert will feature seven 2013 Golden Guitar nominees including Lyn Bowtell, Travis Collins, Rex Dallas,  Jetty Road and Peter Pratt.
Brothers3, Kristy Cox, Melody Feder, Chad Morgan, Luke O'Shea, plus Steve Passfield & Handpicked will include a special tribute to "Tangletongue" Geoff Mack a the night will include "a very special performance" from an as yet unannounced Golden Guitar winner.
Weblink – www.tsaonline.com.au.
---
MONDAY, DECEMBER 10, 2012
Golfers take to country
This year's Jack Newton Celebrity Classic will have a distinct country flavour with a number of well known artists booked to entertain during the event.
Toyota Star Maker winners Luke Austen and Luke Dickens will be playing at the traditional Welcome BBQ while ARIA and Golden Guitar nominee McAlister Kemp and Matt Ross will play during the final night awards presentation.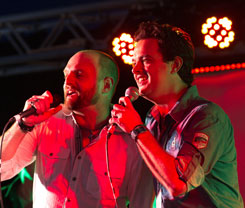 The Classic gets underway next Monday (the 17th) and runs over three days at Polkobin's Cypress Lakes Resort in the NSW Hunter Valley.
The McAlister Kemp song Hell Yeah features in the promotional video for the event and both Drew and Troy are also playing in the prestigious two day tournament, as is Luke Dickens who was a special invitation back by the Newton family after his performance last year.
Anyone who has been to the event over the years agrees on one thing, organisers say, "Jack sure knows how to throw a party."
For that reason, there are players who return any chance they get, and this year is no exception with football greats Terry Lamb, Wally Lewis and Wendell Sailor among the players, together with comedian Jimeoin and former Prime Minister and Patron of the event Bob Hawke.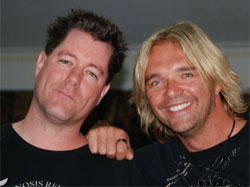 Some other new blood joining in the Classic this year will be former member of AC/DC and author Mark Evans, star of the hit stage show "Legally Blonde", Rob "Millsy" Mills and "House Husbands" star and ARIA nominee Rhys Muldoon.
Also making their debut at this year's classic are Pat Davern, Kris Hopes and Joe Hansen from Grinspoon, just ahead of their appearance at the 2013 Big Day Out, Deadly Awards host and actor Luke Carroll, who appears in the ground breaking series "Redfern Now" currently airing on the ABC, and the winner of the 2012 series of "The Block, Brad Cranfield.
"This spectacular mix of players comes together to raise money for two causes close to the heart of their host, Jack Newton," the spokesman said. The tournament, which is now in its 34th year, has raised more than three million dollars for Diabetes education and prevention and the Jack Newton Junior Golf Foundation.
"Jake Higginbottom who came through the program is testament to its success. The Charlestown 19-year-old made the decision to turn pro on Tuesday after he won the New Zealand Open on Sunday in Christchurch. We are thrilled to have him playing as a professional for the first time in the Classic this year."
"One thing I always encourage my invited guests to make is the Welcome BBQ on the Monday night," said Jack, "where I offer some vital riding instructions, house rules and most importantly the expectations we have around having a good time and raising money for our chosen beneficiaries."
The likes of Michael Hagan, Justin Melvey, Damien Oliver, Ian Stenlake and Wilbur Wilde will all swap their normal attire for their compulsory favourite footy jerseys at the Welcome BBQ, as the games begin.
"There will be regular updates on The Jack Newton Celebrity Classic facebook page, where you can grab a slice of the history and keep up to date with the latest news or you can follow us on twiitter JackNewtonCC. #thejack."
Warner and Festival to release to new Jimmy Little titles
Warner Music Australia and Festival Records have announced the release of two new titles by the late Jimmy Little.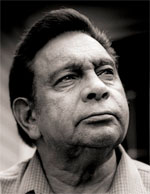 Available now is the single disc collection entitled Treasure: The Very Best of Jimmy Little 1956-2011 and out January 18 will be a three-disc collection titled Songman.
The two titles are the first new Jimmy Little releases since his passing on April 2.
Treasure spans the artist's work from the 1950s through to the 21st century and features 15 perennial tracks including Yorta Yorta Man, Randwick Bells, Winterwood, Mysteries Of Life and Royal Telephone.
Songman is described as "an ambitious set that brings together freshly-remastered versions of Jimmy's landmark comeback album Messenger and its follow-up Life's What You Make It as well as some wonderful material from the archives."
Jimmy's 1999 ARIA-winning Messenger found Jimmy teaming up with producer Brendan Gallagher for a collection of "superbly reinterpreted Australian pop and rock songs including the Church's Under the Milky Way, the Reels' Quasimodo's Dream and the Go-Betweens' Cattle & Cane".
For 2004's Life's What You Make It, Jimmy linked up again with Gallagher "to add his golden touch to songs by PJ Harvey, Nick Lowe, Bruce Springsteen and more. Unfortunately, the album was lost in a record company takeover shuffle, making its reappearance now alongside the hugely popular Messenger cause for celebration".
Songman also features five outtakes from the Messenger sessions, including versions of The Triffids' Wide Open Road and AC/DC's It's a Long Way To The Top, "and a superb, never before released concert recording Live At The Studio, Sydney Opera House, 2001".
---
FRIDAY, DECEMBER 7, 2012
Country fans "log-on" for Christmas
America's Country Music Association (CMA) has reported that country music fans "are logging-on for digital downloads and holiday shopping" from a research study examining holiday activities, shopping outlets and "top gifts" among country consumers.
And if it's happening in America, you can believe it's a trend here in Australia, too!
The research showed that country music fans were embracing the holidays with plans to engage in several seasonal traditions, including the use of modern technology.

Holiday entertaining expenditures were expected to be strong with nearly half of country music fans planning to host a holiday party in their home; just as many planned on going to the movies to take in a new holiday release.
When it came to music, the study showed that 41 percent of county music fans planned to purchase or download holiday music CDs to complement their holiday celebrating. CD/DVDs were among the top three gifts for giving this year, with roughly three in four (72 percent) country music fans considering purchasing and giving country music as a gift.
This year, country music fans would take to the Internet to purchase gifts. Eighty-three percent planned to shop on-line, which is slightly less than the percentage of those planning to shop traditional brick-and-mortar retailers (93 percent). Among smartphone owners, eight out of 10 would shop and do product and price comparisons using their smartphone.
Top stores for holiday shopping included the large discount store chains. Popular online retailers included Amazon and eBay, as well as on-line sites for traditional retailers.
The survey was conducted on-line with respondents aged 18+ from the CMA Insider Fan Panel, a group of more than 13,000 country music fans recruited from various industry and consumer sources. The make-up of the CMA Insider Fan Panel includes adults from all demographic groups.
Weblink – www.CMAworld.com.
Melissa's 2013 Tamworth show
Rising country star Melissa Bajric will stage her "Tamworth Edition" show at the city's Capitol Theatre on Tuesday January 22.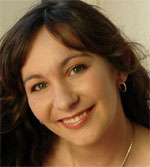 The now Sydney based singer/songwriter will feature material from her forthcoming album Diamonds And Wine and will have a number of guest artists including Lloyd Back, Charley Boyter, Bob Easter, Lynette Guest, Slim Newton, Peter Salata, Donnie Soper and Lindsay Waddington.
A media release promoting the concert said the concert venue was the perfect location for the "Small Town Girl" as Melissa once described herself when she recorded her previous album of the same name, a collection of songs based on her life in the Hunter Valley.
"The transition to 'Uptown Girl' as Susan Jarvis writes in July's Capital News is best captured in the lines 'Now Melissa is focused on her own career – in particular the very successful Melissa Bajric Show and her forthcoming album Diamonds And Wine'."
"The show is very much my journey," Melissa said. "I do some of the old songs, and take the audience with me through the years and right through to the new material that's going to be on the album."
Preludes to Melissa's new experiences widen to getting married and moving to Sydney, travelling overseas several times, one time to her dad's homeland of Croatia, touring the country taking The Melissa Bajric Show across Australia, and visiting landmark places like Uluru.
Melissa says "It is going to be a really exciting year this year with a fantastic line up of special guests joining me at the Capitol Theatre for one big show. The band and I have been working on a brand new set list with a few favourite songs from last year and lots of new ones..."
Diamonds And Wine is due for release later in 2013. Recorded at LBS Studios with producer Lindsay Butler, the album is supported by a video clip by award winning video producer Ross Wood who, like Lindsay. has played a major part in Melissa's career over the last few years.
Weblink – www.melissabajric.com.
---
THURSDAY, DECEMBER 6, 2012
Trans-Tasman ties strengthen
Australian independent production house for country artists LockHouse Productions and New Zealand country artist Aly Cook have signed an exclusive global management agreement that will see Aly join the growing band of entertainers linked to the company.
Aly (pictured), the 2012 winner of the New Zealand Country Music Award for Best Female Artist, has had a long and varied career in the entertainment industry dating back to the 1980s when she toured Australia with the likes of Michael Edgley and with several other promoters in New Zealand and Australia.
The signing with LockHouse is described as the latest coup for the boutique independent company based in Sydney adding Aly to a line up that includes Nicki Gillis and Katie O'Donnell in Australia, Coopers Run in New Zealand and Branch & Dean from America.
"Aly is a wonderful entertainer," said Tracy Dann, Managing Director of LockHouse Productions, "she is a vibrant and exciting personality with the experience and credibility to get her message across in her songwriting. We are really looking forward to representing Aly on the world stage and helping her to achieve her potential."
Aly's first album, Brand New Day, is available at music retail stores, iTunes, Bigpond and Get Music via WJO Checked Entertainment. The next single release from the album, The River, is to be officially released on January 23. It will deliver to Australian Radio this month.
Weblinks – www.alycook.com, www.lockhouseproductions.com.
Toyota Country Music Cavalcade 2013
The Toyota sponsored Country Music Cavalcade, a major feature of the annual Tamworth Country Music Festival, will take place again in 2013 on the main Saturday of the festival week.
And huge crowds are expected in Tamworth's main street to witness the huge, colourful street parade as the Saturday is also Australia Day.
The Toyota Country Music Cavalcade will feature the stars of country music and displays from the country music industry as well as businesses and organisations from Tamworth in one of the final flourishes of colour in the 10 day event.
The theme for the 2013 Cavalcade will, naturally, be Australia Day and entrants are being asked to "go all out" and decorate their floats and displays in theme.
Cavalcade organiser Alisha Hartley says that the Cavalcade was one of the most popular free events at the 40th anniversary Tamworth Country Music Festival in 2012.
"The 2012 Toyota Country Music Cavalcade saw 110 floats in total parade through Peel Street in a flurry of colour and activity. Thousands of Festival fans lined the street and the Cavalcade was one of the biggest and most popular free events of the Festival.
"In fact the Cavalcade grew by over 100 percent on the year before! We are expecting the 2013 Toyota Country Music Cavalcade to be even bigger and better," Alisha said.
The Cavalcade attracts national and international media coverage.
Entrants who dress their floats will be in with a chance to win one of six cash prizes for the best dressed floats.
Cavalcade entries, which are free this year, are now open. Bookings can be made on-line at www.tcmf.com.au.
Photo (ABC New England North West): an image sure to be replicated many times in January, a keen fan waves to Lee Kernaghan, a favourite country star.
---
WEDNESDAY, DECEMBER 5, 2012
"The Opry" comes to Tamworth 2013
A sparkling touch of Nashville will be a feature of the 2013 Tamworth Country Music Festival when Marie Hodson presents Friends of the Opry at the Longyard Hotel's Goonoo Goonoo Room at 2pm on Thursday, January 24.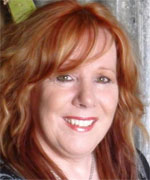 The idea for Friends of the Opry was conceived by the Kiwi-born songstress, who now lives in Werris Creek, just outside the Country Music Capital.
Marie (pictured) has been fortunate to have visited the Grand Ole Opry in Nashville on a number of occasions and wanted to share that traditional style of event with Tamworth audiences.
"I wanted to bring that type of concert to those who might never experience the real Grand Ole Opry – and those who have been to it and enjoy traditional country music," Marie said.
"There is a huge demand for traditional country, and as that's where my heart is, I'm delivering what the public demands."
This year, Marie has secured the services of Oklahoma native Monte Good (pictured), who's now based in Nashville and leads his own band, Monte Good and his Honky-Tonk Heroes.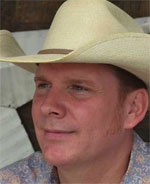 "With a voice as smooth as butter, he's sure to delight the country crowd with his country ballads and Texas swing tunes, as well as his musical dexterity."
The opportunity to perform on the Grand Ole Opry stage a number of times was something Monte has never taken for granted, having dreamed of that honour since he was a seven-year-old kid in his first talent quest.
"Country music just oozes from Marie Hodson as naturally as she breathes in and out. Her pure country vocals are sure to bring the Opry story to life before your eyes."
Yodelling songstress Johanna Hemara, whose vocal range knows no bounds, is a truly accomplished entertainer and will pay tribute to Opry stars, and sing some of her own favourites.
Talented beyond his years, Ryan Sampson is a natural when it comes to entertaining – "he's the complete package and will bring the house down with his big voice and huge stage presence."
No Friends of the Opry Show would be complete without a country pickin' band, hand-selected by Marie, who will back all performers on the two-hour concert.
With gun players Brad Bergen, Henry Czerwonka, Mike ("The Fettler") Kerin, Tamworth multi-instrumentalist Mark Moulynox and Anthony Stewart, it's one of the hottest bands in town.
The show will be compered by Tamworth country music journalist, publicist and sub-editor Anna Rose.
Tickets are on sale from the Longyard bottle shop, from Destination Tamworth and from OzTix.
Chart Update – three weeks at number one for Troy
Troy Cassar-Daley's latest hit – Home – remains at number one for the third week this week on the national Country Tracks Top 30 singles chart.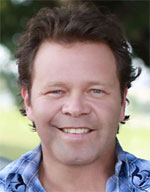 Luke O'Shea & Dianna Corcoran's New England Sky edges up one place to number two, The McClymont's Two Worlds Collide bounds up another three places to number three and McAlister Kemp's Home is steady at four.
America's Zac Brown Band is at five with The Wind, Roo Marcus' This Here Cowboy is at six and Chelsea Basham's Laugh It Off is at seven.
The Harmonators' Save Her Soul edges up one place to number eight, Kaylens Rain's Outta Here is at nine and America's Blake Shelton is steady at 10 with Over.
Bullet performers for the week include Camille & Stuie's Things Change (15 to 12), Morgan Evans' While We're Young (16 to 13), Graeme Connors' The Love I Leave Behind (17 to 14), Luke Austen's Drive (18 to 15), Amber Lawrence's Try (20 to 16), Catherine Britt's Charlestown Road (23 to 19) and Lee Kernaghan's Beautiful Noise (25 to 21).
The full chart can be viewed at – www.countrymusicradio.com.au.
---
MONDAY, DECEMBER 3, 2012
New festival brings country music back to Thredbo
Thredbo (NSW) Chamber of Commerce has announced details for a new festival to take place in the Snowy Mountains town in March.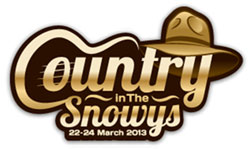 Country in the Snowys will see the return of country music to the area on March 22 to 24 with "some of Australia's hottest country stars performing".
The "all-star line-up" will include Golden Guitars winner Kirsty Akers and Mike Carr, Toyota Star Maker 2012 Bob Corbett, Telstra Road to Tamworth winners Morgan Evans, Harry Hookey and Peter McWhirter, 2012 ARIA Award winner Buddy Goode, CMC Oz Artist of the Year Jasmine Rae and The Sunny Cowgirls plus up-and-comers 8 Ball Aitken, Baylou, Karl Broadie, Doug Bruce & The Tailgaters, Jayne Denham, Craig Morrison, Kaylens Rains, Aleyce Simmonds, Stuie & Camille and Mark Wells and New Zealanders Jackie Bristow and Aaron Jury.
"We're excited to see Country in the Snowys back after a three year break," said Rob Potts, Chief Executive of Rob Potts Entertainment Edge, "especially with such a strong line-up of Aussie and NZ artists embracing the new look festival staged throughout Thredbo village.
"With over 20 fantastic artists, there will be something for everyone and many Aussie favourites playing up a storm.
"Thredbo ticks all the boxes for festivals – the venues are a good mix of small and intimate to large and lively, indoor and outdoor. There's a variety of accommodation options for singles, groups or couples, restaurants and shops plus a village full of things to do including chairlift, nine hole golf course, mountain biking, bobsled and Leisure Centre all at the foothills of Australia's highest peak. And everything is within walking distance so once you arrive, leave your car behind and let the good times begin."
Weblink – countryinthesnowys.com.au.
Debut single for Kristy
Overdrive is the titled of the debut single from Newcastle (NSW) native Kristy James.
The single was "born out of frustration and sending a message of not giving in," according to a spokesman for the artist. "At a time when Kristy felt her hands were tied and her options were limited she put pen to paper resulting in this fiery country-rock track."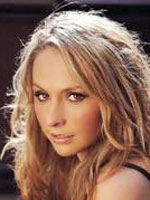 Kristy assembled a "star-studded cast" for her first professional outing. The track was produced by Hillbilly Hut's Simon Johnson (Travis Collins, Buddy Goode, Adam Harvey, guitars and banjo by Glen Hannah, drums by Pete Drummond, fiddle by Mick Albeck, steel by Dave Ristrim, bass by Simon Johnson and backing vocals by Mike Carr and Aleyce Simmonds.
The accompanying video clip for the single was produced by Golden Guitar winning producer Glenn Wilson. The clip can be viewed here.
Kristy started singing and performing at the age of 11 and was a Tuesday night regular at the Steel City Country Music Club. At the age of 14 she started her own business organising school discos and once she turned 18, Kristy started performing every weekend and hasn't stopped for the past 10 years.
Under agents EAO and Whirlwind Entertainment, Kristy has performed all over NSW as part of a duo/trio (Kadence) and band (Funhouse). She has taught at Showbiz Talent School, Rosie's School Of Rock and also offers private singing tuition.
Citing Carrie Underwood as a musical influence, Kristy has also been working on new songs for her debut EP due for release in 2013 with friend and loyal supporter Dave Leslie of The Baby Animals and co-writing with the likes of Mike Carr, Troy Kemp and Marty Worrall.
Kristy will launch Overdrive during the upcoming Tamworth Country Music Festival on January 26 at The Longyard Hotel from 8.30pm.
Weblink – www.kristyjames.com.
---
Click here for recent news
---