---
SATURDAY, AUGUST 31, 2013
Vale – John Bromell
John Bromell, former Managing Director of Warner Chappell Music Publishing and Rondor Music, has died in a car accident at Coffs Harbour. He was 71.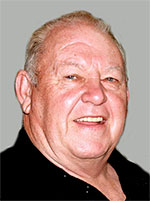 John was driving on the Bucca Road north west of Coffs this morning when reports say his car left the road and hit a tree. It is believed he may have suffered a heart attack.
Friends recounted "catching up with John" at the Gympie Muster only last week.
Prior to his retirement from the mainstream music business, he was Managing Director of Warner Chappell Music Australia for 17 years.
John began his career as a drummer in Melbourne before joining musical group The Cicadas which travelled to the UK in 1964 becoming The Gibsons and releasing 12 singles with some chart success.
He returned to Australia in 1968 to take up a position as Professional Manager with Essex Music. In 1973, he started Rondor Music and in 1981 joined Warner Music which became Warner Chappell in 1988.
During these years John signed many writers including, from country music, Troy Cassar-Daley, Gina Jeffreys, the Kernaghans (Lee, Tania and Fiona) and Garth Porter.
After official retirement, John served a term as Vice Chairman of the Country Music Association of Australia and was awarded the the Association's Industry Award in 1996.
More recently, he was involved for a time with the Gympie based Australian Institute of Country Music.
---
THURSDAY, AUGUST 29, 2013
Nominations open for Slim Dusty Awards
Nominations have opened for the 2013 Slim Dusty Community Mateship and Youth Awards.

Sponsored by Misty Mountain Health Retreat, the Awards recognise particular individuals who represent the values that Slim lived by... fairness, mateship, family and community along with learning, and who make a positive contribution to society.
Joy McKean, lifelong partner of Slim Dusty and Vice Chair of the Slim Dusty Foundation, echoed the significance of the Awards.
"The Slim Dusty Community Mateship and Youth Awards are an important part of our celebrations of Slim Dusty Country Music Memories Week (an annual festival held in Kempsey).
"Recognition of someone in our community who is carrying on the great traditions of mateship, helping your neighbour and simply being a decent person, is a means of spreading the word about living the Australian way," Joy said.
Awards partner Micheal O'Neill of Misty Mountain Health Retreat, said: "It is a privilege to sponsor the Slim Dusty Community Mateship and Youth Awards. Misty Mountain is located in the Nulla Nulla valley with daily reminders of the country that was formative in the career of Slim.
"Slim not only gave us great ballads, but has preserved history in song. It tells of a time that has passed but now, never forgotten. We look forward with great anticipation to the opening of the Slim Dusty Centre in Kempsey and anything we can do to hasten it we are happy to do."
Nominations for the Awards close on Saturday October 6.
Nominations can be made via the website – slimdustycentre.com.au. Nomination can be made on-line or a nomination form downloaded, completed and posted to the Slim Dusty Foundation Any queries can be directed to Kathryn Yarnold at the Foundation via email – kathryn.yarnold@slimdustycentre.com.au – or by telephone (02) 6562 6533.
---
TUESDAY, AUGUST 27, 2013
Entries open for TSA awards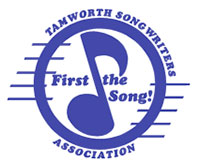 The Tamworth Songwriters' Association (TSA) has announced that entries are now open for the National Country Songwriting Competition for unreleased material, the Songwriter Salute Award for released material and the New Songwriter Awards for latest releases.
For the Songwriter Salute Awards, producers, publicists, publishers and record companies can enter released songs on behalf of their songwriter clients and songwriters can enter their own released material.
The National Country Songwriting Competition features Novice sections in Traditional and Contemporary Country where submissions are one voice and one instrument. The Open Sections are for full demo submissions. Up to 10 songs can be entered on-line with mp3 at www.songcentral.biz/tsa.
Judges feedback delivered on-line will be available for all entries in the National Songwriting Competition, a TSA spokesman said.
Full details and rules for all the competitions are available as pdf form downloads on the TSA website – www.tsaonline.com.au. Entries for the Songwriter Salute Awards and the New Songwriter Award must be by post as the released CD copy must be provided.
Chart Update – Jayne still at number one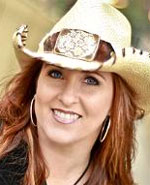 Jayne Denham's current hit Addicted To The Diesel sits at number one for the third week in a row on this week's national Country Tracks Top 30 singles chart.
America's Brad Paisley is at two with Beat This Summer, Graeme Connors' Flesh And Blood is at three an Lee Kernaghan's Flying With The King is up three to number four.
Another American act, The Mavericks, are at five with Back In Your Arms, Morgan Evans' Carry On is at six and the Keith Urban, Tim McGraw & Taylor Swift single The Highway Don't Care is at seven.
Kaylee Bell's Heart First enters the top 10 at eight, America's The Band Perry are at nine with Done and The Sunny Cowgirls' Kids Forever is at 10.
Bullet performers for the week include Keith Urban's Little Bit Of Everything (18 to 14), Sara Storer's Lovegrass (19 to 15), Jasmine Rae's If I Want To (22 to 18) and Tori Darke's No You No Me (23 to 20).
New entries to the chart this week are O'Shea with Be With You Tonight (in at 28) and Baylou with Novocaine (at 30).
The full chart can be viewed at www.countrymusicradio.com.au.
---
MONDAY, AUGUST 26, 2013
John wins at Gympie
Melbourne artist John Flanagan (pictured) has taken out two of the major categories at this years 2013 Gympie Music Muster Talent Search.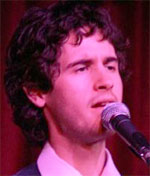 His original composition Last Of The Cassette Men won Best Original Song and his performance earned him the overall Best Performance award.
After submitting his audition on-line, John was selected as a semi-finalist for this year's Search and made the journey from Melbourne to Gympie to perform in front of a panel of experienced music industry experts on Saturday. Qualifying for the Grand Final, John performed on the Mainstage at the Muster yesterday and took out his two awards.
John, who normally plays with his band The Begin Agains, joins past winners of the Gympie Music Muster Talent Search such as Drew McAlister (of McAlister Kemp), Brooke and Samantha McClymont (of The McClymonts) and Mark O'Shea (of O'Shea), to name a few. John takes away more than $30,000 worth of prizes including a Fender guitar, studio recording time and an assistance package to support his next release.
He has also earned a main stage performance spot at the 2014 Gympie Music Muster and at the 2014 Tamworth Country Music Festival.
"I decided to enter the 2013 Gympie Muster Talent Search hoping for a doorway into the country music world," John said of his win. "I couldn't be happier to have won both of these awards."
His Last Of The Cassette Men was inspired by a chance meeting with Australian music legend Paul Kelly. John was asked to drive Paul to a studio in Melbourne and when Paul sat in John's car he commented on John's cassette car stereo and how much he still enjoys making mixed tapes for friends and family and how it's a dying art.
Winner of the Best Junior category was Charters Towers brother and sister trio Up & Comin' (Katelyn, Liam and Kasey O'Donoghue) who have won major awards in the past including Overall Junior Champions at the 2012 Capital Country Music Association National Talent Quest at Tamworth.
Music producer Rob Mackay was one of the panel of music industry experts and said: "The pool of talent this year was awesome. We had entrants ranging in age from 11 to 40 years and performing all styles of country music. This search is all about giving artists an opportunity to showcase their talent and for the panel to help nurture and give direction to their art.
"John Flanagan and Up & Comin' are worthy winners of this year's 2013 Gympie Muster Music Muster Talent Search and we hope they go on to great success in their careers."
Weblink – www.muster.com.au.
---
THURSDAY, AUGUST 22, 2013
2013 Muster underway
The 2013 Gympie Music Muster – billed as the ultimate camping and music experience – gets underway today at its dedicated site in the Amamoor State Forest and runs through to and including Sunday.

Apart from the huge list of country stars scheduled to appear, one of the annual Muster highlights is Muster Talent Search, one of the nation's leading talent quests.
The competition is steeped in history and has produced some amazing winners who have succeeded on national and international stages, including Drew McAlister (of McAlister Kemp), Brooke and Samantha McClymont (of The McClymonts) and Mark O'Shea (of O'Shea), to name only a few.
Organisers say this year's quest will reach new heights, with the opportunity for the winner to gain "priceless mentoring with some of the best industry professionals around and launch an amazing career".
In an ever increasing digital world, auditions were conducted on-line only and for the first time, were free for all entrants. Semi-finalists were selected by a panel of experienced music industry experts and were invited to perform in the new Amamoor Creek Theatre in the Gympie Music Muster entertainment precinct this Saturday from 9:30am.
At this event, judges will select three finalists in the Performance category and the winners in the Song and Junior categories, all of whom will be invited to perform on Mainstage at the Grand Final on Sunday from 11:15am.
There are 12 finalists in the Performance category, five in the junior section and seven in the Song category. As six of the finalists are Song and also in the Performance category, there will be a total of 18 performances in the Semi Finals on Saturday.
The junior talent winner will take home a prize package valued at just less than $1,000 including a Fender guitar and Akubra hat plus publicity via a profile piece in a national magazine.
The Best Original Song winner will receive Fender product value at more than $1,000.
The major Performance Winner will receive a prize package valued at more than $25,000 including a Fender guitar, publicity via a profile piece in a national magazine, a "strategic music industry action plan" donated by J Music Management, studio recording of a four track EP, a music video shoot and production and 500 CDs distributed by WJO for two years, a music business law retainer and scheduled performances at Tamworth and Gympie 2014.
Weblink – www.muster.com.au.
---
WEDNESDAY, AUGUST 21, 2013
Southern Stars 2013 finalists announced
Finalists for the 2013 Australian Independent Country Music Awards – the Southern Stars – have been announced.

Doug Bruce (left), Allan Caswell (centre) and John O'Dea lead the count with four finalist places each.
For Male Vocalist of the Year, the finalists are... Doug Bruce with Thank God I'm A Cowboy, Brad Butcher with The Old Man's Gone, Allan Caswell with It's A Country Song and Pete Denahy with The Wind Blows Cold On The Mountain.
For Female Vocalist of the Year... Kaylee Bell with Heart First, Kristy Cox with I Hate That I Still Love You, Bec Hance with Old Lady and Chris E Thomas with I Don't Want To Know.
For Group/Duo of the Year... The Bobkatz with What's Wrong With Crazy, Carter & Carter with To The Moon And Back, Mustered Courage with Powerlines and Craig Woodward & The Lonely Dogs with Never Be The Same.
For Album of the Year... It's A Country Song by Allan Caswell, Made That Way by Doug Bruce, This Old Guitar by John O'Dea and Wishbone Road by Pete Denahy.
For Single of the Year... It's A Country Song by Allan Caswell, Next To Slim by John O'Dea, Thank God I'm A Cowboy by Doug Bruce and Underneath The Hat by The BobKatz.
For Heritage Track of the Year... Dunedoo Station by Kathy Coleman, Looking Back by Graham Rodger, Next To Slim by John O'Dea
and Where Country Is by Dean Perrett.
For Rising Star Female... Adi Burgess with Woman, Melody Feder with Walk That Wire, Stephanie Jansen with The Life You Mad and Christie Lamb with Invincible Me.

For Rising Star Male... Kane Harrison with Crazy, J P Morson with Where You Belong, Ben Ransom with Truck Stop Honey and Michael Waugh with Heyfield Girl.
Winners will be announced on the Saturday of the final weekend of the 2013 Mildura Country Music Festival on Saturday, October 5 during the Awards presentation concert at the Mercy Theatre, St Josephs College, Mildura.
Tickets can be obtained by calling 1800 039 043.
Weblink – www.milduracountrymusic.com.au.
---
TUESDAY, AUGUST 20, 2013
New Zealand winners
Winners of the 2013 New Zealand National Country Music Awards were announced on Saturday.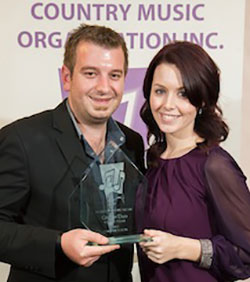 In front of a capacity crowd at Hamilton's Founders Theatre, Kaylee Bell received the award for Best Female Country Artist, Dennis Marsh was named Best Male and the Best Group award was taken out by Hamilton's Cooper's Run (Michael Tipping and Ashley Cooper, pictured).
Cameron Scott was presented with the Horizon Award and will appear at the Global Artist party in Nashville (part of the annual CMA [Country Music Association] Music Festival) next June.
Tony Williams, recipient of the Legend Award, was honoured for "his wide appeal, his ability to perform an impressive mix of blues, jazz, modern, rock and country, and as an entertainer whose warm voice and sparkling personality have earned him a place in NZ music history as a top recording and stage legend".
Finalists, with Kaylee, in the Female category this year were Kylie Austin, Sally Burgess, Marian Burns, Abby Christodoulou, Aly Cook, Melissa Partridge and Carleen Still.
Finalists, with Dennis, in the Male category were Craig Adams, Phil Doublet, Aaron Jury and Roger Tibbs.
Other finalists for the group award were Annette & Kim, The SouWesters, Trevor & Kylie and Trevor V Stevens and the Beasts.
Awards compere Chris Powley pulled the show together with talent and humour, according to organisers, and his tribute to Sir Howard Morrison – a rendition of How Great Thou Art – nearly brought the house down.
Live music included performances from Kaylee Bell, Gena Rose Bruce, Kylie Price, 2012 Horizon Award winner Jody Direen, 2012 Best Female Aly Cook, 2012 Best Male Trevor V Stevens and 2012 Best Duo/Group the Heartleys.
The Kiwi Pro-Am Country Music Organisation is thrilled with the feedback received and with the positive press this year's event has generated. Organisers say they are pleased to report that "the 2013 awards were the best yet!"
The National Country Music Awards are billed as the country's most prestigious country music event and double as an important industry showcase for promoters and international booking agents.
Weblink – www.kiwiproamcountrymusic.co.nz.
---
MONDAY, AUGUST 19, 2013
Adam signs with ABC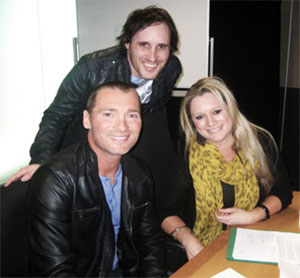 Australian country star Adam Brand has signed with ABC Music.
Adam established himself as one of Australian county music's biggest names more than a decade ago and in recent years, he has also become a mainstream media identity, especially after appearing on the 7 Network series "Dancing With The Stars".
His most recent album, There Will Be Love, debuted at number one on the ARIA (Australian Recording Industry Association) Country Chart and four on the mainstream albums chart while the title track has achieved metropolitan FM radio airtime and broader recognition on major network television and other media platforms.
Adam is a 12 time Golden Guitar winner, has five number one ARIA country albums to his credit, more than half a million album sales and has been voted CMC (Country Music Channel) Oz Artist of the Year a record five times.
"Adam Brand is an undisputed star of Australian country music," said Natalie Waller, General Manager of ABC Music, "and his profile in a broader market sense is higher than ever. The loyalty and on-going commitment of his dedicated fan base is simply legendary. Adam has exciting plans ahead for the next couple of years and we are thrilled to now be playing our part in the next phase of his career as his record label."
Adam joins a label roster that includes leading Australian country artists Baylou, Catherine Britt, Jayne Denham, Lee Kernaghan, McAlister Kemp, Jasmine Rae, Sara Storer and The Wolfe Brothers, as well as celebrated artists The Audreys, Anthony Callea, David Hobson, Tim Rogers and The Wiggles. ABC Music artists won a total of seven ARIA Awards in 2013.
"I am absolutely thrilled to be starting this next chapter of my career with ABC Music," Adam said. "The team at ABC are undoubtedly at the top of their game and I can't wait to work with them."
Adam's first ABC release will be an acoustically focused album titled My Acoustic Diary, on November 8. A new full studio album will then follow in mid-2014.
Photo: Adam Brand (left) signing his new record contract with ABC Music's Tim Holland and Natalie Waller.
Weblink – www.adambrand.com.au.
New from Merilyn
Merilyn Steele has released her latest album titled Bring It Back.
The album, recorded at Matt Fell's studios was launched at the Coogee Diggers Club in Sydney.
Bring It Back is described as a collection of tracks Merilyn says is a "brief journey back in time to the retro era of vinyl records, slow food, simple times and a burgeoning live music industry."
The CD has 11 tracks, all but one written or co-written by Merilyn since the release of her previous album Extraordinary Daze and brings together a collection of musicians on the Sydney music scene – Michael Carpenter, Matt Fell, Robbie Long and Tony Martin.
Hey Dad, a tribute track to Merilyn's father to whom the album is dedicated, was originally recorded at Bloody Dog Studio in Croyden Park by Marcus Holden and Geoff Andrew.

Weblink – www.merilynsteele.com.
---
FRIDAY, AUGUST 16, 2013
Gympie Muster kicks off next week
The 2013 Gympie Muster kicks off next Thursday running for four days through to and including Sunday August 25.

Crowds in excess of 50,000 are predicted to attend the Muster at its dedicated sit in the Amamoor State Forest south of the city of Gympie in Queensland.
Around 100 individual artists will perform during this year's Muster including headliners Adam Brand, Catherine Britt, Busby Marou, Troy Cassar-Daley, Graeme Connors and Sara Storer together with America's The Mavericks and rock star Jimmy Barnes.
The line-up also includes Kirsty Akers, Roo Arcus, Luke Austen, Chelsea Basham, Kaylee Bell, Kevin Bennett & The Flood, James Blundell, The Bobkatz, The Bostocks, Lou Bradley, Daryl Braithwaite, Karl Broadie, Jeff Brown, Colin Buchanan, The Bushwackers, Camille & Stuie, Allan Caswell, Greg Champion, Kim Cheshire, Peter Coad & The Coad Sisters, Travis Collins, Aly Cook, Dianna Corcoran, Kristy Cox, Pete Denahy, Dozzi, Forever Road, Bec Hance, Damian Howard & The Ploughboys, Harmony James, Kaylens Rain, McAlister Kemp, Anne Kirkpatrick, Amber Lawrence, Diane Lindsay & Peter Simpson, Mental As Anything, Russell Morris, Luke O'Shea, Reg Poole, Kylie Price, Brendan Radford, Round Mountain Girls, Jasmine Rae, Simply Bushed, Tamara Stewart, John Stone, Greg Storer, Jonny Taylor, The Topp Twins, Don Walker, We The Ghosts, Kevin Welch and The Wolverines.
A highlight of the 2013 Muster will be the Missing Slim Tribute Concert marking 10 years since the passing of Australia's King of Country Music.
Playing time for all Muster venues, including "main stage" were released just a few weeks ago and can be downloaded from the Muster website www.muster.com.au.
And just a few days ago, Muster organisers announced the release of the Gympie Music Muster smartphone app with "packed with all the info you'll need to help you get around... "Make sure you don't miss your favourite artists by adding them to your planner and receive a reminder when they're about to play."
The app also includes information to help you get to the event, and frequently asked questions.
---
WEDNESDAY, AUGUST 14, 2013
Miracle Girl
Miracle Girl is a song written by country singer/songwriter Dale Duncan celebrating the birth of Dale's daughter Phoebe who arrived prematurely and has survived to grow into a healthy 10-year-old.
Dale recorded the song with fellow country singer and recording artist Johanna Hemara (pictured here with Dale) and the song is now raising money for the Miracle Babies Foundation.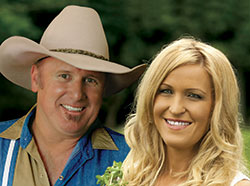 Dale recalls the day his wife Dianne gave birth to Phoebe Ann by emergency cesarean at the Tamworth Base Hospital on June 30, 2003, as the scariest time of his life.
"It was a Monday morning around 11.30am, when I received a message on my mobile phone telling me to contact the maternity unit as my wife was having trouble with her pregnancy and she was to have an emergency cesarean," Dale says.
"As the tears ran down my cheek, I raced into the maternity ward to see my wife being raced up to theatre. My wife developed high blood pressure in the middle stages of her pregnancy and was suffering pre-eclampsia when she was told our baby would be delivered within an hour."
Phoebe Ann Duncan was born at 12:57pm, weighed 770grams (or one pound one ounce), was around 30cm in length and had a head circumference of 23.9cm, roughly the size of a lemon. the next 24 hours became critical and she was given a small chance of survival. Even at this early stage of her life young Phoebe showed her instincts to live and started her greatest fight for her life.
"I'll never forget the following couple of hours for the rest of my life," Dale said. "I just kept staring at this tiny little girl fighting for her life lying on a hospital trolley. There were about five or six nurses around her, putting tubes down her throat and sticking needles into her arms and legs."
The NETS (Newborn and Pediatric Emergency Transport Service) team from Sydney flew in by helicopter to Tamworth around 4pm and helped stabilise Phoebe and were ready to take her to Westmead Hospital's Neo Natal Intensive Care Unit by 8pm.
"Words cannot describe the feeling from within my gut as I stood there and watched the tail lights of the ambulance drive further and further away with my little girl in the back, not knowing whether I was ever going to have the opportunity to cuddle her or tell her how much Mummy and Daddy love her.
"I phoned the Westmead Neo Natal Intensive Care Unit around midnight and as soon as I spoke to the nurse about Phoebe, I had this feeling that things were going to be OK. My wife was admitted into the maternity ward at the Westmead Hospital on Wednesday July 2 and I drove down from Tamworth the same day.
"Right from the start, I felt I could trust the nursing staff. Everybody from the cleaning staff through to the doctors were fantastic," Dale recalled. "Nobody wants to be in NICU (Neo Natal Intensive Care Unit). You're only there because there's a really sick little baby involved.
"But everybody really seemed to understand and tried their utmost to set you at ease or at least help you to feel OK about what was going on. They never minded if I asked the same question 10 times. they understood that my brain wasn't working so well and all and always took the time to explain things and invite questions."
It was about 50 hours after the operation before Dianne had her first proper glimpse of Phoebe and 144 hours (or six days) before she was allowed a five minute cuddle while Phoebe was having her crib changed. Dianne recovered from her high blood pressure and was discharged on day seven.
Fortunately, the hospital staff were able to find accommodation for the Duncans at Casuarina Lodge, a facility usually reserved for cancer patients from out of town who require daily treatment but not hospitalisation. This was Dianne's home for the next eleven and a half weeks until Phoebe was well enough to be taken back to the Tamworth Base Hospital.
While Dale's wife and little Phoebe were in hospital, he wrote Miracle Girl which he finally recorded with Johanna, a mother of two herself.
This year, the recording hit the radio airwaves and has just made the charts. It also made the top five in the Professional Contemporary category of the 2013 Tamworth Songwriters' Association Awards.
Around 1,000 babies die each year from being born premature and Dale wants to do everything he can to try and prevent this number from growing, so he offered the song as a fund-raiser to the Miracle Babies Foundation which has given its endorsement.
All money raised from sales of the single are going to the Foundation.
The single can be purchased by sending a cheque or money order for $8 (includes postage) to PO Box 3182 West Tamworth NSW 2340.
---
TUESDAY, AUGUST 13, 2013
Chart Update – Jayne hits number one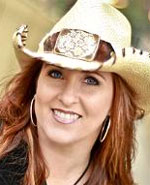 Jayne Denham has taken over the top spot on this week's national Country Tracks Top 30 singles chart with her hit Addicted To The Diesel.
American acts The Mavericks, Brad Paisley and Blake Shelton are at two, three and four, respectively, with Back In Your Arms, Beat This Summer and Sure Be Cool If You Did.
The Sunny Cowgirls are at five with Kids Forever (up two), Graeme Connors' Flesh And Blood is at six (up three from nine) and Morgan Evans' Carry On is at seven (up one).
Another three American acts round out the top 10 this week, Miranda Lambert, The Band Perry and Little Big Town with, respectively, Mama's Broken Heart, Done and Tornado at eight, nine and 10.
Bullet performers for the week include Lee Kernaghan's Flying With The King (14 to 11), Kaylee Bell's Heart First (17 to 14), Beccy Cole's The Clown (20 to 17), Amber Joy Poulton's Rosalie (22 to 18), Keith Urban's Little Bit Of Everything (25 to 21) and Sara Storer's Lovegrass (26 to 22).
The full chart can be viewed at www.countrymusicradio.com.au.
---
MONDAY, AUGUST 12, 2013
National Indigenous Music Awards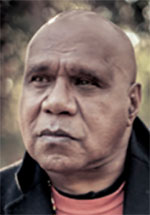 Two artists with strong country connections have featured strongly at this year's National Indigenous Music Awards (NIMAs) announced in Darwin on Saturday night.
Jessica Mauboy, winner of the inaugural Telstra Road to Tamworth country music talent quest, was named winner of the major National Artist of the Year award while Archie Roach (pictured), a Golden Guitar winner, took home three gongs – National Album of the Year and National Cover Art of the Year (for Into The Bloodstream) and National Film Clip of the Year (for Song To Sing).
Archie was also inducted into the NIMA Hall of Fame together with Henry "Seaman" Dan and the Wirrinyga Band, Milingimbi.
The National Indigenous Music Awards are recognised as one of Australia's most prominent indigenous music awards. This year, the Awards, organised and staged by MusicNT, celebrate their 10 year, the third as a national awards scheme.
Weblink – http://www.musicnt.com.au.
---
THURSDAY, AUGUST 8, 2013
Sami – a rising talent
Sami Cooke is a rising talent on the Australian country scene.
Earlier this year, she won the Maureen Wagner Award 2013 for Most Promising Young Artist in Australian country music at the Cancer Council's Country Music Showcase in Windsor.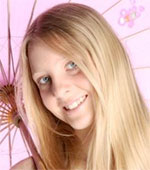 Also this year, Sami was named the Junior Ambassador for Regional NSW/ACT for Aspect (Autism Spectrum Australia), has done some fundraising and plans to continue bringing to attention the needs of people, especially through their school years.
Next year, as part of her album tour, she will be taking her Anti-Bullying program – Stop Bullying...Try Music – to schools where she talks to school students about the confidence she found in music which helped her get past the bullies.
Sami was Beccy Coles' Shiny Star in Canberra and got to sing on her stage, a wonderful experience, Sami said.
This is Sami's final year of high school. She has been recording at Derwent Studio in Canberra her album of originals to be released in Tamworth in January 2014 to be followed by a major album launch/18th birthday on February 8 at the German Club in Canberra ahead of her Australian tour.
---
MONDAY, AUGUST 5, 2013
Warren to stand for the Greens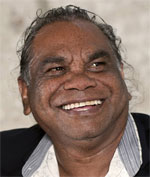 Warren H Williams announced recently he would be standing for a Northern Territory seat in the Australian Senate as a member of the Greens in the Federal election called yesterday for Saturday September 7.
Warren's candidacy makes two from the country music fraternity following James Blundell's announcement (June 3) that he would be standing for a Queensland Senate seat as a member of Bob Katter's Australian Party (KA).
Warren says he will campaign on issues important to all Territorians.
"I know it's a cliche," he said. "People get up and say, 'oh we've got to look after country'.
"But we only talk about it; we never do it... looking after the place for our people, for our children in the future."
The 49-year-old from Hermannsburg in central Australia was nominated for an ARIA Award in 1998 and regularly tours Australia with John Williamson.
---
THURSDAY, AUGUST 1, 2013
Kate gives "the girl a spanner"
Australian Idol finalist Kate Cook has released her debut EP, Come A Long Way and lead single Give The Girl A Spanner.
Inspired by hard working women the world over, the single is set to become an anthem for Aussie females, says a spokesman for the artist.
Co-written with six-time Golden Guitar recipient and songwriter Allan Caswell, Kate said the song was her answer to the multiple
songs written in the past about hard working men.
"I had been working as a trades assistant at a Queensland-based CAT dealer with my sister when Allan and I came up with the single," Kate said. "I looked around one day at the other female employees and realised the industry wasn't as dominated by males as one might think and I thought "there are so many anthems for hard working men out there, the chicks need one too'."
Kate not only took inspiration from all the hard work she's done herself over the past 15 years, but from women serving in the armed forces and the police force.
"Allan and I considered all the industries which are male dominated and before we knew it we 'gave the girl a spanner'," she said.
The EP, meanwhile, had been inspired by love and loss, according to the spokesman.
"Come A Long Way takes you on a journey of Kate's life as the songstress taps into her grass roots and humble beginnings to deliver an electric, inspirational and heartfelt collection of songs."
"I'm really excited about sharing my story with the Australian country music world," Kate said.
She will be touring and promoting the new EP, which is available through iTunes and Kate's Facebook fan page https://www.facebook.com/katecookmusic.
---
Click here for recent news
---