NEWS ... AUGUST 2011
---
WEDNESDAY, AUGUST 31, 2011
Major changes for Star Maker
Major changes have been announced for the next Toyota Star Maker talent search which will be staged during the 2012 Tamworth Country Music Festival in January.
Organisers have announced that only 10 entrants would be invited to Tamworth to compete for a spot in the grand final which would now only comprise three places, unless the organisers expand the number during the day which they have done in the past.
Entries are now open for the talent search, the longest running and most successful in the modern Australian country music industry.
Star Maker has provided a launching pad for some of Australia's biggest country music stars including James Blundell, Beccy Cole, Gina Jeffreys, Lee Kernaghan, Samantha McClymont (of The McClymonts) and Keith Urban.
General Manager of organisers Rural Press Events Barry Harley says the quality of performers continues to grow, in line with interest in the event.
"It's difficult to believe that (Star Maker) is heading into its 33rd year and still continually manages to take country music to new heights.
"This year's winner, Luke Dickens, was the 'underdog' in Channel Ten's 'Australian Idol' in 2008 losing out to Wes Carr, however, his determination to succeed in the music industry saw him enter our competition and win."
"Entering is easy," according to Star Maker Co-ordinator Cheryl Byrnes. "The tough part is grabbing the attention of the preliminary judges who will be listening to a few hundred songs."
A full day of competition will be held from 12:30 on Sunday January 22 at the Tamworth Regional Entertainment and Conference Centre to determine three grand finalists who will compete for the crown from 7:30pm.
The audience will be treated to "a spectacular show" which will include former Star Maker winners as well as the three grand finalists.
Toyota Star Maker is billed as "an annual search for an individual star who has the greatest potential to take advantage of the opportunities offered in the prize package which includes the recording of a full album with a leading producer, full use of a Toyota motor vehicle including fuel card for their winning year and guaranteed performances at major festivals throughout Australia.
Other elements of the package include monthly media exposure in "Country Music Capital News", introductions to many of Australia's leading industry personnel, a return flight to Nashville to attend the CMA (Country Music Association) Music Festival and a performance at Nashville's Global Artist Party.
The prize is valued at more than $100,000.
Entry forms can be downloaded at www.tamworthcountrymusic.com.au.
---
TUESDAY, AUGUST 30, 2011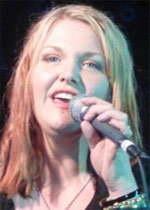 Seleen wins Muster Talent Search
Seleen McAlister has taken out the 2011 Gympie Muster Talent Quest.
Reports say the competition was again tough among a talented group of finalists.
Seleen, who hails from the Brisbane area, also performs with Kelly Black in a successful duo partnership titled Tigerlily.
Muster success
Meanwhile, organisers say the 2011 Muster was a big success.
The 30th birthday event again attracted thousands of fans to the dedicated Muster site in the Amamoor State Forest just south of the Queensland city of Gympie.

Sunday night was the finale featuring Beccy Cole and John Williamson with international stars Montgomery Gentry all playing main stage.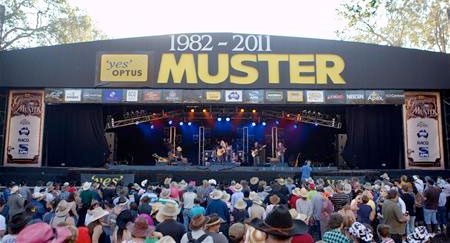 Other major features of the final day were performances by stars including Catherine Britt, Ash Grunwald and visiting star Jace Everett and the announcement of Talent Search winner Seleen.
During the six day event, organisers paid tribute to The Webb Brothers, the sibling trio who started the event in 1982 following their Golden Guitar win with their hit song Who Put The Roo In The Stew. Marius, Fabian and Berard were recognised for their contribution as founding fathers by naming one of the event's roads "Webb Brother's Road".
The Apex Club of Gympie, owners of the event, were also honoured for their contribution and dedication to the now iconic Muster with the club of 28 members and their families working alongside the Muster's management team to produce the event.
Organisers said while a strong sense of history and heritage remained evident over the six days, there was also a feeling of new beginnings, with the event working to ensure it remained at the forefront of live music to continue to attract not only its loyal patrons but increase its audience who can share the Muster experience with patrons in years to come.
With impressive numbers and no major issues, the event's management said they were thrilled with the overall delivery and positive feedback received from the industry and patrons.
Gympie Music Muster CEO Vickii Cotter said: "The Optus Gympie Music Muster is an integral part of the fabric of Australian music. As Australia's largest not for profit charitable music festival, we have the obligation to develop and grow emerging Australian musical talent."
"We would like to extend our appreciation and thanks to all of those who helped make our 30th birthday so memorable, the talented artists who put on such amazing performances, the local community groups who generously donated their time to help produce the event, and our patrons who have supported us over the last 30 years and enabled the event to support our major beneficiaries, community groups and charities."
With the 2011 event over, plans are already underway for the 2012 Muster which will be held again during the last week of August next year.
Weblink – www.muster.com.au.
Entries open for TSA Awards
Entries have opened for the Tamworth Songwriters' Association (TSA) Songwriters' Salute Awards, New Songwriter Award and National Country Songwriting Contest.

The Songwriters' Salute Awards of Australia comprises categories for Traditional Bush Ballad, Country Ballad, Contemporary/Modern Country Song, Comedy/Novelty, Children's and Gospel Song. In addition, Country Song of the Year will be selected by judges for from the other Awards categories,
Entry is open to songs commercially released between October 16, 2010 and October 14, 2011.
The New Songwriter Award carries a cash prize of $1000. Entry is open to material released by an Australasian country music artist between October 16, 2010 and October 15, 2011 to anyone who has had their first commercial release after January 1, 2006.
In the National Country Songwriting Contest, trophies and prizemoney is on offer for the following categories... Amateur Contemporary/Modern, Amateur Traditional, Professional Contemporary/Modern, Professional Traditional, Junior (16 years and under), Lyrics Only and a new section, Blues & Roots & Bluegrass.
Winners of the Songwriting Contest and Awards will be announced at TSA's Gala Concert on Tuesday January 24 during the 40th Tamworth Country Music Festival.
Other awards to be presented will be the Songmaker Award which is decided on votes by all of TSA's members, and the Tex Morton Award, given to someone who has made a lasting contribution to the cause of country music in Australia.
Entries, which close on October 15, can be made on-line at www.tsaonline.com.au. Entry forms can also be downloaded at the website or requested by emailing tsa@tpgi.com.au.
---
FRIDAY, AUGUST 26, 2011
Vale – Jeffrey Dallas
Country Music Capital is in mourning following the death on Tuesday night of Jeff Dallas from motor neurone disease.
Jeff is the son of Golden Guitar winner and Roll of Renown inductee Rex Dallas and Adrienne.
In her weekly "Northern Daily Leader" column yesterday, country music writer Anna Rose said Jeffrey died peacefully in Tamworth Base Hospital surrounded by his family.
"Rex and Adrienne said Jeff had taken a turn for the worse on Saturday night and was admitted to Manilla hospital, and once stabilised, transferred to Tamworth.
"Jeff was diagnosed with motor neurone disease in 2009 and had battled the illness with much courage and good humour."
A gifted bass player, one of the last recordings Jeff made was at Enrec Studio in Tamworth with Steve Newton producing a track for Matty Zarb, the Ross Ryan classic I Am Pegasus.
"If you ever have the chance to hear it, you'll hear Jeffrey Dallas in the finest form ever, playing country bass as very few can," Anna said.
"Rex and his other sons Brett, Colin and Shannan, grandson Lindsay and grand-daughter Ashleigh, recorded a six-track album for Jeffrey which he got to hear only days before he passed away."
Jeff's funeral will be held at his graveside at the Moonbi Cemetery at 10am on Wednesday (August 31). A wake will follow at Jeff's "favourite watering hole" the Kootingal Bowling Club.
---
WEDNESDAY, AUGUST 24, 2011
Australian duo signed to Sony
Sony Music Entertainment Australia have announced the signing of Nashville-based Australian country music husband and wife duo O'Shea to a recording contract which will see the release of their debut album Mr And Mrs in September.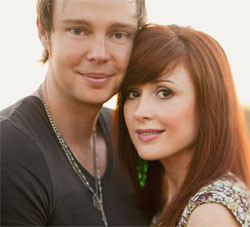 Individually, Mark and Jay O'Shea have already achieved significant success but it was only recently that they decided to combine their talents.
"With Jay's country-soul voice blending perfectly with Mark's country-rock sensibilities, it's a match that has seen them open for some of country music's biggest acts including Trisha Yearwood, Darius Rucker, Phil Vassar, Keith Urban and Sara Evans," said a spokesman for Sony.
"The pair, who have resided in Nashville since 2007, are accomplished songwriters and have written or co-written all eleven tracks Mr And Mrs. Their co-writers include Kim Carnes and Shawn Colvin and top Nashville hit-makers Dave Berg, Georgia Middleman, Josh Leo and Tim Nicholls.
"The songs range from up-tempo tracks such as Old School and the CMC number one single Smash, to the heart-felt beauty of the latest single Meant To Be. Add in the production expertise of [ex-pat Aussie] Mark Moffatt (Keith Urban, Neil & Tim Finn, Slim Dusty) and you have one of the finest debut records you'll hear this or any other year!"
The album release, on Friday September 30, will cap off what Sony say has been a landmark year for the couple who are celebrating the recent birth of their daughter Finley Avalon O'Shea and are enjoying the on-going success of their television show 'O'Shea USA' which airs weekly on CMC in Australia.
"We're so excited to be working with the guys at Sony," Jay said. "When you're a kid you dream about one day signing to a label like this! added Marks "This album has been a long time coming – but now being able to work with such a great team, has really made it worth the wait!".
Denis Handlin, Chairman and CEO Sony Music Australia & New Zealand and President South East Asia & Korea) said: "I am delighted to have Mark and Jay join the Sony Music Australia family. They are excellent singer/songwriters, with a fantastic work ethic and I look forward to future success together."
The duo's Current single, Meant To Be, will go to Australian radio this Friday
Weblink – www.therealoshea.com.
---
TUESDAY, AUGUST 23, 2011
Southern Stars finalists announced
Finalists in the 2011 Australian Independent Country Music Awards - the Southern Stars - have been announced with Doug Bruce, Rose Carleo and Markus Meier (pictured) leading the field of contenders.
Doug, Rose and Markus each have three finalist nominations, followed by Jetty Road, Luke O'Shea and Ryan Sampson with two each.
And the finalists are...
For Female Vocalist of the Year: Katrina Burgoyne with I Wasn't Gonna Cry, Rose Carleo with That Season Again, Sandra Humphries with Heartaches, Highheels And A Halo and Tracy Killeen with Metrosexual Craze.
For Male Vocalist of the Year: Doug Bruce with Coffey Road, Jason Lee with Up A Creek, Markus Meier with My Patch Of Dirt and Luke O'Shea with Midnight Train.
For Group/Duo of the Year: The Bobkatz with In The Coals, The Harmonators with Woo Hoo Hoo, Jetty Road with Serves You Right and Kaylens Rain with Is That All There Is?
For Album of the Year: Doug Bruce with A Good Place, Rose Carleo with Life Gets In The Way, Jetty Road with Far Away Places and Markus Meier with A Different Land.
For Single of the Year: Doug Bruce with Honky Tonk Shoes, Rose Carleo with That Season Again, Markus Meier with My Patch Of Dirt and Luke O'Shea with Midnight Train.
For Heritage Track of the Year: Bec Hance with Are You A Mate?, Dean Perrett withHolding The Redhide, Graham Rodger with Angels Without Halos and Ryan Sampson with Edith Annie.
For Rising Star Male: Paul Cowderoy with After Tonight, Benn Gunn with Every Minute I Wait, Ryan Sampson with Edith Annie and Adam Toms with Fighting For.
For Rising Star Female: Kaylee Bell with Love Was Just A Fairytale, Courtney Conway with Girly Girl, Tori Darke with Someone Else's Baby and Aleyce Simmonds with When I Say Too Much.
No finalists are announced for a ninth award, Australian Independent Artist of the Year, which is announced on the Awards night, this year Saturday October 8 in the Mercy Theatre at St Joseph's College, Mildura.
Tickets for the Awards, which are held during the annual Mildura Country Music Festival, can be obtained by telephoning 1800 039 043,
The Festival runs for 10 days from Friday September 30 to Sunday October 9.
Weblink – www.milduracountrymusic.com.au.
Muster's six-day 30th birthday festivities Underway

Today heralds the start of the biggest ever Gympie Music Muster with 60,000 plus fans set to descend on the Amamoor Creek State Forest venue for the six day event.
The major milestone is being marked by a "mega line-up of international and national artists confirmed to perform," said a spokesman for the Optus sponsored event.
Running until Sunday, the Muster has already seen thousands of early bird fans arrive and lay claim to their campsite place in the forest location.
With the local community getting into the swing last Friday night at a Pre-muster Street Party held in the town's main street, the anticipation for the 2011 major event has now begun.
Headline stars Adam Brand, Troy Cassar-Daley (pictured), Kasey Chambers, Beccy Cole, Graeme Connors, Adam Harvey, Lee Kernaghan and John Williamson will be joined by international acts including Doc Walker and Mongomery Gentry.
While music makes up and takes up the days of the Optus Gympie Music Muster, its main passion remains fundraising and giving which has kept the event unique.
As Australia's longest running not for profit music festival, the Muster has raised more than $14 million for charities and community groups across Australia and has grown to become a nationally and internationally renowned event with fans travelling from across the country and the globe to take in the experience.
Weblink – www.muster.com.au.
Chart Update – Jetty Road's fourth week at the top
Jetty Road's hit Serves You Right is at number one for the fourth week in a row this week on the national Country Tracks Top 30 singles chart.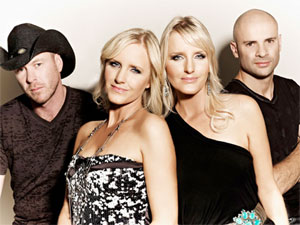 McAlister Kemp's Hard Work is steady at two, Adam Harvey's You Don't Know My Love jumps three more places to number three while America's Kenny Chesney is at four with Live A Little.
Shane Nicholson's Famous Last Words is at five, Connie Kis Andersen's A Man In Boots jumps two places to number six and Catherine Britt's I Want You Back is at seven.
Three new entries in the top 10 hold the last three places... Rose Carleo's Runaway Heart at eight, Jayne Denham's A Farmer's Wife at nine and Tania Kernaghan's Twinkle In My Eye at 10.
Bullet performers for the week include Peter McWhirter's Devil's Daughter (14 to 11), The Bobkatz' Keen Eye For The Ordinary (16 to 12), the Lee Kernaghan/Dierks Bentley duet, Scars (19 to 14), Adam Brand's 455 Rocket (20 to 17), Luella's Mother's Love (23 to 19) and Markus Meier's A Perfect Night (26 to 22).
---
FRIDAY, AUGUST 19, 2011
Beccy releases first single from upcoming new album
Beccy Cole has released the first single from her forthcoming new album Songs And Pictures.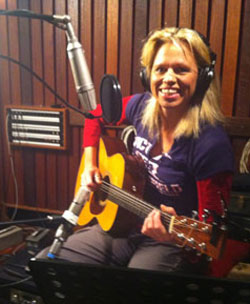 The single is Shiny Things and is said to display Beccy's "newfound songwriting freedom".
"Whilst you shouldn't rely on this single release to encapsulate the entire flavour of the (album) it is fun, upbeat, infectious and the tone setter for the tracks to follow," said a spokesman for Beccy's record label.
"The well-known comedienne has obviously taken this album seriously. Simply look at who she enlisted to help tell the story. Some of the finest in the industry shared the studio with her. From ARIA Award winner Shane Nicholson in the producer's chair through to a cast of musicians made up of Duncan Toombs, Sean Rudd and Malcolm Lancaster as well as special guest and best friend Kasey Chambers dueting on a new version of the song Millionaires."
After almost four years since a new material album, Beccy (pictured in the studio) says she took no chances when settling on her Songs And Pictures project: "I am so proud of this album, this is me with all cards on the table, warts and all. These are my stories but are so common for all. It's been almost four years since I have recorded new and original material and now I know why, I had to wait until Songs And Pictures came to me."
The new album will be released through Core Music in January.
The Shiny Things single will be digitally released by Sony tomorrow with a video clip set for release next Thursday.

Weblink – www.beccycole.com.
Brothers in the city
The award-winning Brothers3 have taken to the streets of Sydney to expose more city-siders to their sounds of country music.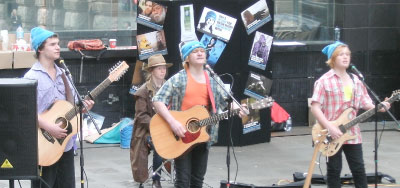 Makirum, Shardyn ad Tayzin played in the Martin Place Amphitheatre recently in support of Brain Injury Awareness Week and the Bang On A Beanie campaign.
The boys swapped their Akubras for beanies, the symbol of the campaign.
"Brain injury affects many families," said Makirum, "and it can strike young and old. We were asked to help out because our uncle had an aneurism and we wrote a song about it. It was really hard to find our uncle social groups he could become involved with and the Brain Injury group helped him."
The song about the boy's uncle, Not A Care In The World, has been played on country radio stations across Australia and in the USA.
"We are really proud of that song because it tells the story about how our Uncle left his carers and everyone was worried sick about him," said Shardyn. "He was in the papers because he was missing but arrived back home none the worse for his adventure."
"So we wrote the song," added Tayzin.
Weblink – www.myspace.com/brothersthree.
Tamborine Mountain Talent Quest
The Tamborine Mountain Talent Quest – in affiliation with the Queenslanld Country Music Festivals Champion of Champions will be staged on Saturday September 24 in conjunction with the Tamborine Mountain Show.
Competition starts at 10am in "the circus tent" with sections including juvenile (up to 12 Years), junior (13 to 17 years) and senior male and female.
A winners concert will be run in the afternoon with the overall winner taking home $500.
Registration forms are available online at www.tamborinemtnshow.com.au.
More information can be obtained from Paul Wilson on 0407 572 786 or by email, countrymusicevents@hotmail.com.
Special guest for the afternoon's entertainment will be "Australia's Got Talent" finalist Bree De Rome.
Steve releases Greatest Hits
Award winning Australian country star Steve Forde will release a Greatest Hits album next week.
The release has been preceded by a single release, Wasted/Revenge which is a new recording of two of Steve's previous releases, Wasted and Revenge.
Twenty tracks and 14 music videos will be included on the new CD/DVD release... hit songs and videos that have helped Steve become the artist he is today over a recording career that is now more than 10 years old. Featured hits include Guns & Guitars, The Letter, Rodeo Freak and Summer's Little Angel.
Steve Forde's career achievements include multiple number one ARIA Australian country albums, more than 10 number one music videos, three Golden Guitar awards, an APRA Award nomination and tour performances with acts including Adam Brand, Brooks & Dunn, Lee Kernaghan and Tim McGraw.
The album will be available on Thursday (August 26).
Weblink – www.steveforde.com.
---
TUESDAY, AUGUST 16, 2011
Kasey to release a new album... and a book
Kasey Chambers is set to release a new album and a book.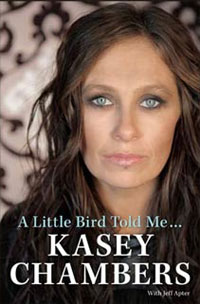 Storybook is the title of the new album, "A Little Bird Told Me" is the title of the book which is an autobiography.
With the impending release of the book, Kasey said she felt the time was also right to "pay some dues" to the artists that have shaped her own music.
"I'll be totally honest," Kasey said, "without the inspiration of a lot of the artists on Storybook, I probably wouldn't be making music today.
"It was exciting to be a human jukebox for this record," she said, "to get the chance to record the songs I love."
One of the darkest songs to ever scale the pop charts, Suzanne Vega's Luka, is the first single from Storybook and has been a personal favourite of Kasey's since she first heard it in 1987.
"I remember when Luka was on the radio" Kasey said. "I heard it and fell in love with it, but wasn't sure why. It's a soft-sounding beautiful song with such a hard-hitting theme. To bring those vastly different elements together in a song is something that's always amazed me about Luka."
Kasey also works her magic on tunes hand-picked from the songbooks of Fred Eaglesmith, Steve Earle, Patty Griffin, Paul Kelly, Lucinda Williams and many others.
The album will be released on Friday September 23 through Liberation Music.
"A Little Bird Told Me" is described as "no traditional muso trip down memory lane or a conventional biography but a fearlessly honest memoir".
Kasey may have won countless awards and sold more than a million albums, a spokesman for the artist said, but she seems so down to earth most Australians feel like they know her.
"I think the only way to genuinely relate to people is to be true to yourself and about yourself," Kasey said. "This means revealing the good and the bad. I hope that someone reading (the book) might think 'I know what that feels like'."
Raised on the Nullarbor by their free-spirited parents, young Kasey Chambers and brother Nash would sometimes go for months without encountering another human being. Then, as The Dead Ringer Band, the family would perform in rough-and-tumble outback pubs, playing for little more than petrol money and sleeping in swags by the highway under the stars.
With her trademark down-to-earth honesty and humour, Kasey shares the highs and lows of her far from ordinary life in the book, from her idyllic gypsy childhood to confronting the personal demons that threatened much more than her career.
"From the Australian outback to the world stage, 'A Little Bird Told Me' is the moving, revealing and powerful story of a true original," the spokesman said.
Weblink – www.kaseychambers.com.au.
---
MONDAY, AUGUST 15, 2011
Catherine joins CMC
Catherine Britt is joining the Country Music Channel (CMC) to present a new series titled "Alt Country".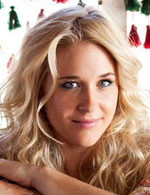 In so doing, Catherine becomes the first person to ever host a video clip-based program on the channel.
"Alt Country" is a program "dedicated to the best in Americana, Bluegrass, Roots and Alternative Country Music," according to CMC.
"Each week, the three hour program celebrates the music of artists such as Corb Lund, Old Crow Medicine Show, The Mavericks, Jim Lauderdale, Kasey Chambers, Rodney Crowell, Alison Krauss (and) Justin Towns Earle.
The program debuts on Sunday September 4 at 7pm.
"One of Australia's finest singer/songwriters, Catherine is the perfect fit for CMC," a spokesman for the panel said. "She has spent six years in Nashville and has toured, performed and recorded with some of music's most respected names: Paul Kelly, Sir Elton John, Kasey Chambers, Jerry Salley and Tim Rogers, and has worked with some of the top producers in Australia and America."
Catherine's recording career commenced in 2000 when, at the age of 14, she released the EP In The Pines to much critical acclaim which lead to the 2001 release of her debut album, Dusty Smiles And Heartbreak Cures. Her second album, Too Far Gone, followed in 2006 which then saw her perform at Nashville's Grand Ole Opry (the youngest Australian to do so).
She released her third album, Little Wildflower, in 2008, with the single What I Did Last Night earning her the 2009 Female Artist of the Year Golden Guitar and a nomination for CMC Oz Artist of the Year
Catherine's fourth, self-titled studio album has produced three number one singles: Can't Change A Thing, Sweet Emmylou and I Want You Back.
In 2010, Catherine received Golden Guitar and ARIA nominations for Country Album of the Year (her fourth consecutive), and Most Popular Australian Artist and was awarded the 2010 CMA (Country Music Association, America) Global Artist of the Year title.
This year, Catherine received her first APRA (Australasian Performing Right Association) Award nomination for Can't Change A Thing and was again nominated for CMC Oz Artist of the Year
Weblinks – www.countrymusicchannel.com.au, www.catherinebritt.com.
Orana Championships coming up
The 2011 Orana Country Music Championships will be staged at the Dubbo RSL Club on Saturday August 27.
Kicking off at 9:30am, the talent quest features 14 sections ranging from junior and sub junior (under 12) to veterans (over 55).
Prizemoney in the order of several thousand dollars will be up for grabs plus trophies.
Winners will be announced and recognised during a special concert in the evening from 7:30pm which will also feature a guest artist and the winners concert.
Enquiries can be directed to Co-ordinator Amanda Manderson on 02 6885 0786 or email amandaandcraig09@bigpond.com.au.
---
FRIDAY, AUGUST 12, 2011
"Lights on the Hill" Trucking Memorial Convoy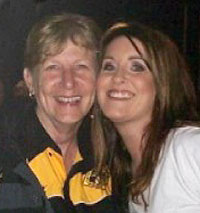 Earlier this month, rising country star Jayne Denham performed with her band The Incredibles as part of the Lights on the Hill Trucking Memorial Convoy at Gatton, Qld.
"It was such a great day," Jayne said, with more than "800 trucks driving in convoy in memory of those lost on the road."
The Lights on the Hill organisation was founded by Kathy White and has raised money for the establishment of a memorial wall.
"I just love what she has created and support it 100 percent,"Jayne said.
"We will all have a special place now to get together and remember our family and friends and support each other through our grief," Kathy said.
Weblinks – www.lightsonthehill.com, www.jaynedenam.com.
Kirsty's new album
Singer/songwriter Kirsty Akers has released a new album titled Naked.
And the new work has already produced its first number one. In Spite Of Ourselves was the first track to be released from the album and recently topped the AirIt chart, a listing published by AMRAP (the Australian Music Radio Airplay Project) of the top 10 tracks most ordered by broadcasters.
Kirsty says she will be featuring the single and more songs off the album while on tour later this month with America's Jace Everett.
A spokesman for the artist said the new album not only marked a new beginning for Kirsty professionally but also personally.
"Over the last few months, the proudly independent performer has been tracing her family's indigenous roots after the recent passing of her grandmother. In doing so, the Kurri Kurri (NSW) local was able to confirm that she was a descendent of the Wanaruah people (also spelt Wonnarua) who have lived in the Hunter Valley for countless centuries."
Kirsty has been marked as an act to watch since she first came on the scene as a 17-year-old winning the prestigious Telstra Road to Tamworth song-writing competition which saw her ensconced in LA and Nashville for writing sessions with a number of hit-making songwriters.
She followed that by winning Australia's most prestigious country music talent search Toyota Starmaker in 2007.
Although now only 23 years of age, Kirsty has been making an impact for the past seven years.
"Hailed as a remarkable talent by fellow artists, musicians, media and stalwarts of the music industry, she is fearless and brutally honest with a penchant for taking her songs to places others fear to tread," the spokesman said.
In addition to her tour with Jace Everett, Kirsty play the main stage at this month's Gympie Muster helping celebrate its 30th birthday.
Weblink – www.kirstyakers.com.
---
THURSDAY, AUGUST 11, 2011
Tim and Faith for CMC Rocks The Hunter
CMC Rocks The Hunter has scored a major coup in booking American country superstars Tim McGraw and Faith Hill as headliners for the 2012 event.
This is the only tour date for "down under" announced at this stage although it would be unusual for two such high profile acts not to perform at additional concerts while here.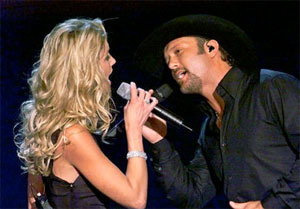 The CMC Rocks announcement was made jointly by promoters Rob Potts Entertainment Edge, Chugg Entertainment and XYZ Networks, producers of CMC, the Country Music Channel on Australian pay TV.
This will be Faith's first concert in Australia and the first time the power couple has performed together outside of North America. Their US tours broke box office records in 2000 and again in 2006-7, when they grossed $141 million.
More than 1.6 million people attended shows in the US and Canada and "Pollstar" magazine chose it as the "Major Tour of 2006" over tours by The Rolling Stones and Madonna.
Tim first visited Australia last year with his "Southern Voice" tour, one of the biggest country tours in Australian history. His sold-out arena shows and headline performance at CMC Rocks North Queensland received rave reviews.
Sydney fans were treated to a surprise appearance by Faith who celebrated her birthday by joining her husband for a performance of their duet I Need You.
Michael Chugg said: "We have been sitting on this news for a while and I'm thrilled that we can now announce it. This festival is growing bigger and stronger every year and what better way to see CMC rocking the Hunter in 2012 than with this awesome pair!
"Tim's show in 2010 was an absolute knockout and we can only expect another killer show when he takes the stage with his better half."
Tim and Faith have been topping the charts since the early '90s, and have 70 million record sales, eight Grammys and 46 number one singles between them.
"This is as big as it gets," said event co-promoter Rob Potts. "McGraw has been talking about coming back since the end of his last tour and we couldn't think of a better gift to the fans than delivering two of the biggest stars in music at one festival."
Now in its fifth year, CMC Rocks... has established itself as the biggest international country and roots event outside of North America, according to the promoters. "One of the premiere events on the Australian music calendar, it brings together the best international and local country and roots performers in a beautiful location," they say.
Previous years have seen performances by local stars like the John Butler Trio, Kasey Chambers and John Williamson and international stars Alan Jackson and Taylor Swift.
In a first for 2012, the promoters have announced the inclusion of a main stage program on Friday March 16 from 4pm to 11pm. The event, now billed as a festival, will continue through Saturday and Sunday when Tim and Faith will close proceedings.
Once again, camping will be available on site at Hope Estate at Pokolbin. Tickets are now on sale.
Weblink – www.cmcrocks.com.au.
---
TUESDAY, AUGUST 9, 2011
Hall of Fame Fundraiser
A special fund-raising concert for the Australian Country Music Hall of Fame will be held in Country Music Capital on this month.
The concert will star Lance Birrell, Mike Casey, Graham Doubleday, Lynette Guest, Bruce McCumstie, Patti Morgan, Bruce O'Hara, Nev Parnell and Those Gals (pictured) with compere Paul Rowe.
It will be held at The Pub, Gunnedah Road, Tamworth from 1pm Sunday August 28.
Admission is by $10 donation.
Weblink – www.countrymusichalloffame.com.au.
---
TUESDAY, AUGUST 2, 2011
Deadlys voting underway

Voting in The Deadlys – the National Aboriginal and Torres Strait Islander Music, Sport, Entertainment & Community Awards – closes at 5pm Saturday, September 20.
The purpose of the Deadly Awards is to recognise the contribution of Aboriginal and Torres Strait Islanders to their community and to Australian society.
"The Deadlys showcases the outstanding achievement of Aboriginal and Torres Strait Islanders and provides identifiable national and local role models to inspire all Aboriginal and Torres Strait Islanders, and particularly our young people," a spokesman said.
Winners of this year's Deadly Awards will be announced at the Sydney Opera House on Tuesday September 27.
Weblink – www.vibe.com.au.
Chart Update – Jetty Road at number one
Jetty Road has hit number one on the national Country Tracks Top 30 singles chart this week with their hit Serves You Right.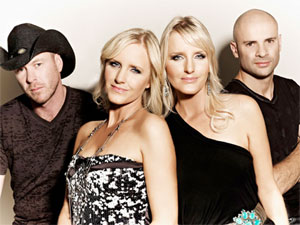 Amber Lawrence's Always Kiss Me Goodnight slips to number two, Graeme Connors' Watching Byron Raise The Flag is steady at three while McAlister Kemp's Hard Work jumps yet another three places to be at number four.
Tori Darke's Someone Else's Baby is at five, Keith Urban's Without You is at six while Troy Cassar-Daley's Ladies In My Life edges up one to seven.
Catherine Britt's I Want You Back is up two to eight, America's Kenny Chesney is at nine with Live A Little and Shane Nicholson's Famous Last Words enters the top 10 at 10.
Bullet performers for the week include Connie Kis Andersen's A Man In Boots (14 to 11), Rose Carleo's Runaway Heart (16 to 13), Adam Harvey's You Don't Know My Love (18 to 14), Peter McWhirter with Devil's Daughter (22 to 18), The Bobkatz' Keen Eye For The Ordinary (27 to 23), Adam Brand's 455 Rocket (28 to 25) and Luella's Mother's Love (30 to 27).
New entries for the week include Lee Kernaghan's duet with Dierks Bentley, Scars (in at 28), Doug Bruce's Coffey Road (at 29) and Graham Rodger's duet with Sara Storer, An Affair Of The Heart (at 30).
Jetty Road on a high
The news of Jetty Road's latest number one hit came as the band was about to go on stage at Canada's Big Valley Jamboree on Friday night.

Serves You Right is the first single from Jetty Road's latest album Far Away Places.
In June, the single achieved number one on the CMC (Country Music Channel) Top 50 Playlist.
Far Away Places was released in May. To promote the release, Lee and Paula "battled it out" in the kitchen on the current series of "Ready, Steady, Cook". The Jetty Road episode went to air in July.
Earlier this year, the band announced it had signed with Canada's On Ramp label, distributed by EMI Canada, following three years of Canada tours and significant airplay for their music.
---
Click here for recent news
---