AUSTRALIAN COUNTRY MUSIC
NEWS ARCHIVE — APRIL 2013
---
TUESDAY, APRIL 30, 2013
Mayworth underway Thursday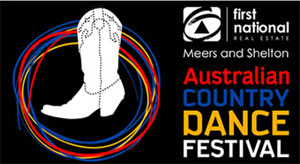 Australia's largest line-dancing event – Mayworth: Australian Country Dance Festival – kicks off in Tamworth, Country Music Capital, this Thursday.
Featuring line dancing, clogging, rockabilly, swing, rock & roll "and more" Mayworth dancing and other activities will centre on one the city's major venue, West Tamworth League Club.
As well as the dancing, the festival will have workshops, socials, choreography, demonstrations and vendors all leading up to the Australasian Line Dance Championships.
Special guests this year include Nicola Lafferty from he UK, Rachael McEnaney from America, Niels Poulsen from Denmark and Simon Ward from Australia.
Chart Update – Tim's second week at number one
America's Tim McGraw hangs on to the top spot on the national Country Tracks Top 30 singles chart this week with his hit One Of Those Nights.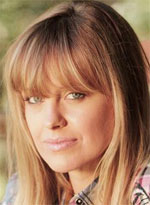 American acts hold down the next two places... The Band Perry at two with Better Dig Two and the Zac Brown Band at three with Goodbye In Her Eyes while Chelsea Basham's I Learned The Hard Way is steady at four.
Tracy Killeen's Driver's Seat is up one to five, Toyota Star Maker Kaylee Bell is at six with Unglamorous and O'Shea's Thank You, Angels is up two to seven.
The Troy Cassar-Daley/Craig Campbell duet The Sunshine Club is also up two to eight, America's Gary Allan is at nine with Every Storm (Runs Out Of Rain) and The McClymonts' Little Beat Up Heart enters the top 10 at 10.
Bullet performers for the week include Paul Costa's Big End Of Town (15 to 12), Natalie Howard (pictured) with Hit The Hay (24 to 21) and Catherine Britt & Tim Rogers with Troubled Man (29 to 25).
New entries to the chart this week include Baylou with Hoedown (in at 30).
The full chart can be viewed at – www.countrymusicradio.com.au.
---
MONDAY, APRIL 29, 2013
Statue fund-raiser for Reg
A fund-raising concert for the proposed Reg Lindsay statue will be held at Sydney's Rooty Hill RSL on Saturday May 11.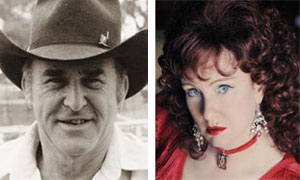 Some of Australian country music's favourite entertainers will donate their services to provide a night of music and pay tribute to the legendary artist.
Billed as "A Night With The Stars" the concert is one of a series of concerts and special events devised to pay homage to Reg, a pioneer of Australian country music who plied his craft over four decades at home and overseas.
Leading songwriter Allan Caswell, Tamworth songbird Jodie Crosby and Australia's "honky tonk queen" Wanita (pictured) are part of the star line-up which will also include Bob Morton & the Summerland Kings with Ross McGregor and George Boyer and a special "surprise guest".
During the evening there will be an auction of some exclusive Reg Lindsay memorabilia, including a pair of his stage boots and one of his guitars.
Award-winning photographer John Elliott has also donated a large framed photograph of Reg to be auctioned.
Tickets are $22 and can be purchased from the club by telephoning (02) 9625 5500, or on-line at www.rootyhillrsl.com.au.
---
FRIDAY, APRIL 26, 2013
Vale – George Jones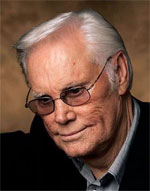 American country music pioneer George Jones has died at age 81.
Described as "the definitive country singer of the last half-century" George died today at a hospital in Nashville.
He was hospitalised on April 18 with fever and irregular blood pressure, his publicists said in announcing the death.
Jones, who was nicknamed "Possum" for his close-set eyes and pointed nose, and later "No-Show Jones" for the concerts he missed during drinking and drug binges, was a legendary figure in country music. His singing, which was universally respected and just as widely imitated, found vulnerability and doubt behind the cheerful drive of honky-tonk.
From the 1950s into the 21st century, he was a presence on the country charts, and as early as the 1960s, was praised by listeners and fellow musicians as the greatest living country singer. He was never a crossover act; while country fans revered him, pop and rock radio stations ignored him. But by the 1980s, he had come to stand for country tradition.
Country singers through the decades, from Garth Brooks and Randy Travis to Toby Keith and Tim McGraw, learned licks from Jones who never bothered to wear a cowboy hat.
George Glenn Jones was born with a broken arm in Texas on September 12, 1931. His father, a truck driver and pipe fitter, bought George his first guitar when he was nine, and with help from a Sunday school teacher he taught himself to play melodies and chords. As a teenager he sang on the streets, in Pentecostal revival services and in the honky-tonks in the Gulf Coast port of Beaumont. Bus drivers let him ride free if he sang. Soon he was appearing on radio shows, forging a style modeled on Roy Acuff, Lefty Frizzell, Roy and Hank Williams.
Why Baby Why, released in 1955, became his first hit. During the 1950s, he wrote or collaborated on many of his songs but he later gave up songwriting. In the mid-1950s he had a brief fling with rockabilly, recording as Thumper Jones and as Hank Smith. But under his own name he was a country hitmaker. He began singing at the Grand Ole Opry in 1956.
In 1962 he recorded one of his signature songs, She Thinks I Still Care, which was nominated for a Grammy Award. Another of his most lasting hits, The Race Is On, appeared in 1964. He was part of the first country concert at Madison Square Garden, a 10-act package in 1964 that also included Ernest Tubb, Bill Monroe and Buck Owens. At the first show of four performances, Jones, who had been allotted two songs like the other acts, played five before he was carried offstage.
In April 1980, He Stopped Loving Her Today, a song about a man whose love ends only when his life does, was particularly popular in Australia, and began a resurgence for the star who became a consistent country hitmaker again, with number one songs including Still Doin Time in 1981 and Always Get Lucky With You in 1983.
Until he was critically injured in an accident on March 6, 1999, when his car hit the side of a bridge while he was changing a cassette tape, Jones was performing more than 150 nights a year. A half-empty bottle of vodka was found in the car and he was sentenced to undergo treatment.
George Jones maintained his career into the 21st century, touring steadily and recording. He received a lifetime achievement Grammy Award last year.
In his last years, Jones found himself upholding a traditional sound that had largely disappeared from commercial country radio. "They just shut us off all together at one time," he said in a 2012 conversation with the photographer Alan Mercer."It's not the right way to do these things. You just don't take something as big as what we had and throw it away without regrets."
---
WEDNESDAY, APRIL 24, 2013
Entries extended for Qld Music Awards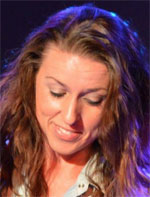 Entries for the 2013 Queensland Music Awards have been extended to midnight on Monday (May 6).
Published and unpublished original songwriters are encouraged to enter in a range of categories, including Country, Music Video, Pop, Folk/Singer Songwriter, Schools (Grade 6–12), and Children's Music.
The judging process for the Queensland Music Awards is a two-tiered process. Music industry professionals comprising of media, managers, A & R representatives, label directors and publishers from around Australia take part, with finalists announced in June. This year also sees the return of The Courier-Mail People's Choice awards, opening to public voting in July.
The awards ceremony itself will take place at the Tivoli Theatre in Bowen Hills on Tuesday August 13, the eve of the Royal Queensland Show People's Day public holiday. 
More details and entry information can be found at www.queenslandmusicawards.com.au.
The Queensland Music Awards is produced by QMusic and presented by the Courier-Mail, with support from Mission Australia and APRA|AMCOS.
Photo: Harmony James, last year's Country winner.
---
TUESDAY, APRIL 23, 2013
Kasey and Shane split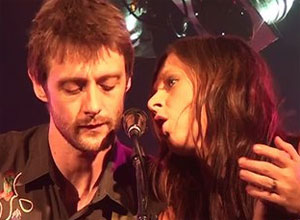 Kasey Chambers and Shane Nicholson have separated after eight years of marriage.
The couple, who are long-time music collaborators, have two children together, son Arlo and daughter Poet.
A statement appeared on the pair's joint website this week saying they have been "living apart for some time now".
"However they remain close friends and have a strong family unit," the statement from their management said.
Last year the two released their second collaborative album, Wreck & Ruin, with all 13 tracks credited to both.
Chart Update – Tim takes over the top spot
Tim McGraw – another overseas act – has taken over the number one spot on this week's national Country Tracks Top 30 singles chart with his hit One Of Those Nights.
The Band Perry's Better Dig Two is at number two while this year's Toyota Star Maker Kaylee Bell is at three with Unglamorous and Chelsea Basham's I Learned The Hard Way is at four.
America's Gary Allen is at five with Find Me A Baby, Tracy Killeen's Driver's Seat is at six and America's Zac Brown Band is at seven with Every Storm (Runs Out Of Rain).
The Sunny Cowgirls' Green And Gold is at eight, O'Shea's Thank You, Angels is at nine and Troy Cassar-Daley's duet with Craig Campbell, The Sunshine Club, is at 10.
Bullet performers for the week include The McClymonts' Little Beat Up Heart (16 to 11), Kaylens Rain's Don't Even Go There (17 to 14), Paul Costa's Big End Of Town (18 to 15).
The full chart can be viewed at – www.countrymusicradio.com.au.
---
MONDAY, APRIL 22, 2013
Legends prepare to entertain for New Zealand's "Kidney Kids"
On Sunday June 16,  five Legends of New Zealand country music – Gray Bartlett, Brendan Dugan, Dennis Marsh, Jodi Vaughan and Paul Walden – will perform at a one night only concert in aid of Kidney Kids of New Zealand, a charitable organisation that supports about a thousand NZ children (and their families) who have kidney disease and/or urinary tract disorders.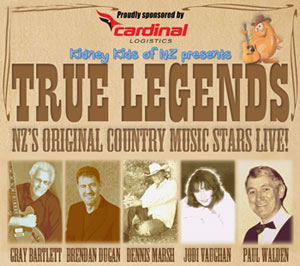 Taking place at The Bruce Mason Centre in Takapuna, Auckland, the Legends will be joined by an all-star band and support acts. All proceeds will go to Kidney Kids of NZ which provides emotional and practical support to children and their families who live with kidney disease, ranging from minor illness, albeit debilitating, through to end stage renal failure requiring treatment such as dialysis and/or a kidney transplant.
Kidney Kids of NZ say they are thrilled that some of New Zealand's most iconic country legends have been so eager to get on board. "We're incredibly grateful that these stars have given up their time to perform and to help raise funds for Kidney Kids of NZ," said Acting Chief Executive Keith Mackenzie.
"Most New Zealanders don't realise how prevalent kidney disease is among children and how quickly it can sneak up on families. Often, the symptoms are mistaken for other things, such as general childhood illnesses and the child simply being out of sorts. Anything we can do to raise awareness of kidney disease as well as bringing in more funds to assist with supporting these children and families will be of enormous value."
The five entertainers involved are all looking forward to helping raise funds for the charity, as well as bringing attention to kidney disease in children, which can have devastating consequences.
"I am really looking forward to this wonderful event for Kidney Kids of NZ," said Gray Bartlett. "To work with such outstanding artists, the very cream of New Zealand's music industry is really an honour. Collectively they have sold millions of records, and played to millions of fans... I can't wait to play at this superb evening concert."
"I am looking forward to being part of the concert as I am aware of what sufferers of kidney disease go through," said Dennis Marsh. "If I am able to contribute anything towards lessening the trauma for kids, I am very happy to do so and look forward to a magic event."
Tickets for the True Legends for Kidney Kids concert can be purchased from Ticketmaster (www.ticketmaster.co.nz) or via The Bruce Mason Centre.
Award winning country artists to launch new Sydney music venue
Multi Award winning country singer/songwriters Tori Darke and Aleyce Simmonds are joining Roo Arcus and Ben Ransom to create a show that will launch a new music venue in Sydney.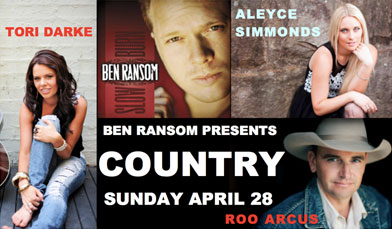 Tori and Aleyce have been dubbed two of the most promising singer/songwriters in the Australian country music industry today while Roo Arcus has been described as one of the finest voices in country and Ben Ransom has a reputation as a "powerhouse performer".
The afternoon launch concert will take place at The King St Brewhouse at The Promenade, King's Street Wharf, Darling Harbour, from 2 o'clock this coming Sunday, April 28.
Last year, Tori achieved chart success on radio nationally, embarked on a successful songwriting trip to Nashville, performed to Australian troops in the Solomon Islands and performed at all the major Australian country music festivals, including a sell-out ticketed show at this year's Tamworth Country Music Festival.
Winning the award for Female Rising Star at the 2011 Independent Country Music Awards of Australia made the masses again stand up and take notice of the 2005 Telstra Road to Tamworth winner Aleyce Simmonds. Gaining three finalist berths at the 2012 Golden Guitar Awards confirmed what many key industry people have been predicting... "Aleyce is a talent not to be ignored".
Both Tori and Aleyce recently performed at CMC Rocks The Hunter alongside America's The Band Perry, Big & Rich, Rascal Flatts, Chris Young and more.
Roo is one of country's "new traditionalists" with a string of awards and Golden Guitar nominations and a new album This Here Cowboy.
The afternoon launch concert will be hosted by Ben whose debut album Slow Burn has just been released including the hit singles Truck Stop Honey and Bourbon & Sunsets.
Weblink – www.kingstbrewhouse.com.au.
---
FRIDAY, APRIL 19, 2013
Nominations open For National Indigenous Music Awards
Nominations have opened for the 2013 National Indigenous Music Awards (NIMA).
Billed as "a celebration of Indigenous music that honours contemporary and traditional artists" the NIMAs went national in 2011 and have since been firmly placed at the forefront of recognising excellence in Indigenous music from across the country.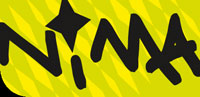 The Awards have been embraced by both the national industry and the wider Indigenous community being seen as a key platform for the celebration of talent from Australia's leading Indigenous musicians and songwriters.
NIMA 2013 promises to build upon this vision and present a special concept show, organisers say, celebrating what has been and what is to come.
Categories are Artist of the Year, Album of the Year, Song of the Year, New Talent of the Year, Cover Art of the Year and Film Clip of the Year. And again this year, NIMA will partner with triplej "unearthed" to undertake the only national Indigenous unearthed competition.
"NIMA has come a long way in a short time," said music industry veteran Michael Chugg, "and is exceptional fertile ground for finding and breaking new indigenous artists. NIMA is gathering much respect both nationally and overseas for the professionalism it is bringing to the indigenous music scene."
Northern Territory artists will continue to be awarded and nominations are now also open for School Band, Traditional Music and the G R Burarrawanga Memorial Award.
A new category being introduced this year is the NT Community Music Project Award, a special category to acknowledge the role that music plays in Indigenous communities. This year the genre is "community music clip" where innovation and merit in the musical performance of the video is the major criteria for the award. The Director/Producer does not have to be resident of the Northern Territory.
"These awards are becoming more significant every year," said singer/songwriter Shellie Morris (Best Female Musician 2004 & 2005 NT Music Awards). "It's a great time for Indigenous talent to gain recognition for their efforts. Artists and their management should use this as an opportunity that is knocking on their door right now."
Culminating in a spectacular awards ceremony in Darwin on Saturday August 10, this year's line up of guest artists will represent the past, the present and the future, organisers say, "all with a common thread that promises an emotional musical experience that should not be missed.
"The NIMAs recognise excellence, dedication, innovation and outstanding contribution to the Indigenous Music Industry."
Nominations can be made via nima.musicnt.com.au up until "close of business" on Friday June 15.
The National Indigenous Music Awards are presented by MusicNT in partnership with the NT Government.
Michael heads off for European tour
Golden Guitar winning instrumentalist Michael Fix heads off for an extensive European tour next week after appearing at this weekend's Maleny Music Weekend.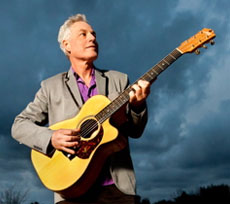 The tour takes in Austria, Germany and Luxembourg and will be followed up later this year (from September) with a return to Europe including a concert in Amsterdam.
Michael is widely acclaimed as one of the world's finest acoustic guitarists. He has won three Golden Guitars and numerous other awards in Australia and tours widely throughout the world, particularly Germany, Italy, the Netherlands and elsewhere.
This year, he made his first trip to South Africa where he performed to standing ovations in every venue.
Over the past two decades, Michael has released 13 albums, together with several singles and EPs, and has established himself globally as a leading performer.
His latest release is Time Lines featuring a collection of new pieces inspired by his travels over the past few years as well as experiences closer to home and unique arrangements of some of the songs that have inspired him over the years.
Michael is also an internationally recognised composer whose music features in television shows and documentaries all over the world.
Weblink – www.michaelfix.com.
---
WEDNESDAY, APRIL 17, 2013
Beccy signs with a new label
Beccy Cole has signed a new record deal and will release her career retrospective album Beccy's Big Hits with new country music label Ambition Country.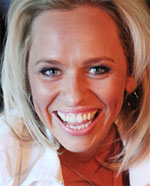 "What better way to celebrate 20 years since bursting onto the national country music scene and a 40th birthday than the release of Beccy's Big Hits," a label spokesman said. The album will have 14 of Beccy's most popular tracks and is described by the star herself as "a country music version of a box of Cadbury favourites!"
"From the heartfelt Australian hit Poster Girl, the award-winning duet with Kasey Chambers about a lifelong friendship, Millionaires, to the side-splitting live version of Beccy's divorce song, Lazy Bones, this album is sure to delight Beccy fans old and new."
Over two decades, Beccy has won nine Golden Guitars, two Entertainer of the Year awards, seven songwriting awards, chalked up three gold records and peaked at number one on the radio chart 14 times.
"It's time to release my greatest hits album for what I like to call Act 1," Beccy said, "before I commence the next chapter of my music career with a new studio album I am writing for release in 2014. It's wonderful to put together a collection of songs that have all been part of this wonderful journey and feel so good about looking back and of course looking forward."
The album will be released on Friday May 17 to coincide with a national tour.
Label head Robert Rigby from Ambition Country said: "Beccy is a wonderful songwriter, recording artist and entertainer who we are very proud to have joining us on our new country label. We are thrilled that she chose to be with us. She is a woman who many people admire for believing in who she is and not afraid to say it. She is also an artist with a great sense of humour and we can't wait to help spread the music of Beccy Cole."
Ambition Country is a division of Ambition Music Group and will have the involvement of both Greg Shaw (former manager of Keith Urban) and Brian Harris (former Chairman and Senior Vice President of Warner Music Australasia) who originally signed Keith Urban to EMI when he was Managing Director in the early 1990s. 

The mission of the new country label will be to sign and develop a "small and unique" roster of artists. Both Shaw and Harris are directors of the parent company Ambition Entertainment Pty Ltd.
Weblink – www.beccycole.com.
Bouldy Bush Ballad Bash
Details have been announced for the Bouldy Bush Ballad Bash which will run from Monday May 13 to Sunday May 19 at Bouldercombe, Queensland.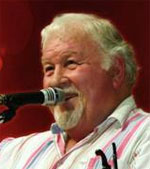 Bouldercombe is on the Burnett Highway half an hour south of Rockhampton.
The Bash will feature walk-up performances until the Friday with bush poets led by Ray Essery and Gary Fogarty to kick in on both Saturday and Sunday mornings and featured guest artists over the weekend including Johnny Greenwood, Sharon Heaslip, Ged & Trudy Hintz, Caitlyn Jamieson, Keith & Alisha, Allan Luscombe, John O'Dea, Reg Poole (pictured).
Other guest artists will include Ally & Rocket, Nell Carter, Ned Dodd, Col Edmonds, Brian Jendra and Ken "Chainsaw" Lindsay
Camping is available with catering provided from Friday night to Sunday afternoon.
Further information can be obtained from Jammo on 0427 731 088. Information on walk-up performances can be obtained from Allan on 0429 130 613. Camping, John & Margaret Staunton on 0427 091 644.
GPS co-ordinates for the event are S 23-34255 E 150-27963.
Click here to download event flyer.
---
MONDAY, APRIL 15, 2013
Widgee Muster
The 2013 Widgee Thornside Country Music Muster is on the weekend after next – Friday to Sunday April 26 to 28.
Organised and staged by the Widgee Country Music Club, the Muster is raising money for Queensland Flood Victims and the local community.
It will be held at the original site of the "4KQ Webb Brothers Country Music Muster" from 1982 to 1984, which eventually became the Gympie Muster, at the Webb Brothers Thornside property at Widgee, Queensland, 34 kilometres west of Gympie.
The Webb Brothers started their Muster back after their Golden Guitar for their song Who Put The Roo In The Stew.
Widgee Country Music Club, a not-for-profit organisation, was established in 2012 after a "chat" at the local Widgee General Store (Widgee has a population of some 700).
The first Widgee Muster was held in August last year with the Webb Brothers performing for a crowd of 450 people.
"The response following our stepping stone event was enormous and the disappointment from people who didn't know about our small event and the chance to see the Webb Brother's perform once again prompted us to hold a larger historical event back at the original Muster site," said a Club spokesman.
Artists appearing at this year's Muster are Glen Albrecht, Adi Burgess, Brett Clarke, Travis Collins, Graeme Connors, Don Costa, Nicole Cross, Jack Deake, Jayne Denham, Neil Duddy, Ray Essery, Gary Fogarty, Sharon Heaslip, Lance Friend, Jade Hurley, Ronnie J, Graeme Jensen, Tania Kernaghan (pictured), Markus Meier, Aidan Patrick, Dean Perrett, Graham Rodger, Ryan Sampson, Terry Simon, Noel Stallard, Mitchell Steele, Stone Crazy, Karen Thomsen, the Webb Brothers, Mike Webb and Paul Wilson.
Students from the Australian Institute of Country Music (AICM) will also perform.
And the event will feature a talent quest which will run non-stop over the weekend. Talent quest enquiries can be directed to Sam Burgess at samzburgess43@hotmail.com or on 0403 059 588.
A bush service will run from Gympie to the Muster at various times during the three days.
Tickets and more information can are available from the website www.widgeecountrymusic.com.
Chart Update – third week at the top for The Band Perry
America's The Band Perry are number one for the third week this week on the national Country Tracks Top 30 singles chart with their hit Better Dig Two.
This year's Toyota Star Maker Kaylee Bell is up two to number two with Unglamorouswhile America's Tim McGraw is at three with One Of Those Nights and The Sunny Cowgirls' Green And Gold is up four places to number four.
Chelsea Basham's I Learned The Hard Way is at five, America's Zac Brown Band is at six with Goodbye In Her Eyes and Tamara Stewart, Felicity Urquhart & Sara Storer are at seven with Women In Song.
America's Gary Allan is at eight with Every Storm (Runs Out Of Rain), Tracy Killeen's Driver's Seat is at nine and Jayne Denham's Shelter rounds out the top 10 at 10.
The full chart can be viewed at – www.countrymusicradio.com.au.
---
FRIDAY, APRIL 12, 2013
All-star Slim Dusty tribute for Gympie 2013
In its 32nd year running, the Gympie Muster will host a special tribute to the late great Slim Dusty called Missing Slim this August.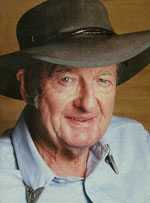 The tribute will include James Blundell, Catherine Britt, Jeff Brown, Colin Buchanan, The Bushwackers, Graeme Connors, Anne Kirkpatrick and Sara Storer.
The tribute will join a raft of stars so far announced for the 2013 Muster including Kirsty Akers, Roo Arcus, Luke Austen, Chelsea Basham, The Bostocks, Lou Bradley, Daryl Braithwaite, Adam Brand, Camille & Stuie, Troy Cassar-Daley, Bill Chambers, Greg Champion, Peter Coad & The Coad Sisters, Diana Corcoran, Kristy Cox, Dozzi, Morgan Evans, Forever Road, Bec Hance, Damian Howard & The Ploughboys, Harmony James, Kaylens Rain, Amber Lawrence, Diane Lindsay & Peter Simpson, McAlister Kemp, Mental As Anything, Luke O'Shea, Reg Poole, Rick Price, Graham Rodger, the Round Mountain Girls, Simply Bushed, Tamara Stewart and Jonny Taylor.
In the latest artist announcement, American star country group The Mavericks was announced as appearing together with the Sleepy Man Banjo Boys, New Zealand's Topp Twins and America's Kevin Welch.
Also a part of 2013's festivities will be an all-new New Zealand showcase called From Across The Ditch featuring Kaylee Bell,  Camille & Stuie, Aly Cook, Tami Neilson, Kylie Price, The Sou'Westers and Billy TK Jnr.
Another special presentation will be On The Road Again: Willie & Roy The Musical, a theatrical tribute.
Bluegrass and bush music to be featured will include the Hillbilly Goats, The Perch Creek Jug Band and Quarry Mountain Dead Rats.
The Muster takes place at the Amamoor Creek State Forest Park south of Gympie from Thursday August 22 to Sunday 25th.
Weblink – www.muster.com.au.
Catherine to support Don
Catherine Britt has been announced as the support act for international star Don McLean on his upcoming tour down under in August.
Catherine will be the support at nine of Don's shows including the first concert in Wollongong on Thursday August 15.
Don is best known for his iconic hit from 1971, American Pie.
Catherine, who has enjoyed success in Australia and America, will miss the Rockhampton and Tweed Heads performances.
---
THURSDAY, APRIL 11, 2013
Jason to release debut album
X-Factor runner-up Jason Owen will release his debut album, Life Is A Highway, on Friday, April 26.
Sony Music Australia, who will release the album, say the work marks the start of a new journey for Jason who, at 19 years of age, has moved from his home town of Albert near Dubbo in NSW to Sydney, and is now ready to embrace a full time career as a recording and performing artist.
The songs Jason has chosen for Life Is A Highway are a collection of songs he performed on the X-Factor, mostly with a strong country theme.
The first single from the album is the Kenny Rogers/Dolly Parton hit Islands In The Steam which he recorded with label-mate and award-winning country star Amber Lawrence.
Jason will join Amber for an upcoming tour which will take in venues as varied as Sydney's Rooty Hill RSL and The Royal Theatre at Castlemaine in Victoria.
Weblink – www.jasonowenofficial.com.
American Hall of Fame inductees
America's Country Music Hall of Fame has announced this year's inductees.

Bobby Bare (left), "Cowboy" Jack Clement (centre) and Kenny Rogers will all be honoured in 2013. Bobby is being inducted un the Veteran Acts category, Jack in the Non-Performer category and Kenny in the Modern Era category.
Bobby had his first hit by accident when he recorded a demo of his song All American Boy for singer Bill Parsons. Fraternity Records liked his version better and put it out under Parsons' name. In 1962, he signed with RCA and had his first country hit, Shame On Me, that same year.
Over the next two decades, he would score numerous country hits including Detroit City, 500 Miles Away From Home (both of which crossed to the pop top 20), Daddy What If and his only chart topper, Marie Laveau.
"Cowboy" Jack is a recording artist but his biggest impact was as a producer and executive. Jack found and recorded Jerry Lee Lewis for Sun Records, wrote hits for Johnny Cash (Ballad Of A Teenage Queen, Guess Things Happen That Way), owned the publishing company Jack Music and was a high profile producer for RCA where much of the country world recorded during the 1960s.
Kenny started his career in the 1950s as a rockabilly performer and, in the early '60s, as a member of The Bobby Doyle Trio and The New Christy Minstrels. In 1967, he formed The First Edition and went on to have hits like Ruby, Don't Take Your Love To Town and But You Know I Love You. Going solo in 1976, he scored a long list of chart toppers in both country and pop including Lucille,The Gambler, She Believes In Me, You Decorated My Life, Coward Of The County and his biggest hit, Lady.

Steve Moore, Chief Executive of the Country Music Association (CMA) which owns the Hall, said: "The highest musical honour achievable for a country music artist or industry leader is to be inducted into the Country Music Hall of Fame, and these are all outstanding and highly deserving individuals.
"'Cowboy' has been responsible for producing many of the iconic songs in country music. Bobby pioneered the country concept album and was one of the first artists to take the format to Europe, and Kenny's crossover success throughout a lengthy career introduced country music to a much wider audience.
Weblink – www.countrymusichalloffame.org.
---
WEDNESDAY, APRIL 10, 2013
Entries open for Australian Independent Music Awards
Entries are now open for the 2013 Australian Independent Music Awards (AIMAs), presented by Musicoz.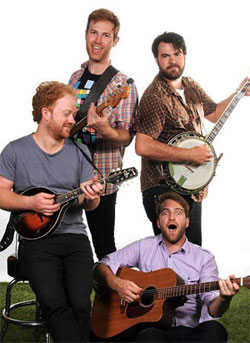 Formerly known as the Musicoz Awards, the AIMA's cover 18 music genres and is being billed as "the most prominent music awards in Australia other than the ARIAs".
"Now is the time to create your profile if you haven't and add all your songs to receive the recognition and exposure you deserve," say Awards organisers, "not to mention the largest prize pool in Australia."
Entry can be made at australianIndependentMusicAwards.com or musicoz.org.
Award winners will be announced in Sydney on Thursday November 7.
Principal sponsor of this year's event is HTC.
Tim Dixon, CEO of the Musicoz Foundation charity, said: "It is fabulous to have HTC come on board and recognise the value of the independent music community in Australia and we look forward to working [them] to maximise the recognition, reach and promotion of all our artists."
HTC Marketing Director Jeremy Matthews said: "This is a truly exciting opportunity for HTC. We see this as a great fit for our brand..."
The Musicoz Foundation is a not for profit organisation. Its charter is to promote and encourage all artists (other than those signed by the four major labels) through an Awards event, songwriting feedback, mentoring programs and education. Musicoz has been promoting independent music from all over Australia since 2000.
Photo: last year's Musicoz Country section winner, Mustered Courage.
Chart Update – The Band Perry hang on to number one
America's The Band Perry hangs on to the number one position on this week's national Country Tracks Top 30 singles chart with their hit Better Dig Too.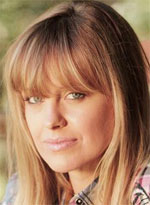 Tim McGraw, another overseas act, is steady at two with One Of Those Nights while the former number one Women In Song by Tamara Stewart, Felicity Urquhart & Sara Storer at three and 2013 Toyota Star Maker winner Kaylee Bell up one to number four with Unglamorous.
McAlister Kemp is at five with A Good Idea, The Sunny Cowgirls' Green And Gold is up one to six and Chelsea Basham's I Learned The Hard Way is up three places to number seven.
America's Gary Allen is steady at eight with Find Me A Baby, as is Jayne Denham at nine with Shelter while America's Zac Brown Band is at 10 with Goodbye In Her Eyes.
Bullet performers for the week include Troy Cassar-Daley's duet with Craig Campbell, The Sunshine Club (18 to 15), O'Shea's Thank You, Angels (20 to 16), The McClymonts' Little Beat Up Heart (22 to 18), Kaylens Rain's Don't Even Go There (23 to 19), Paul Costa's Big End Of Town (24 to 20), Amber Joy Poulton's Lovin' Is The Easy Part (27 to 23), Kristy Cox's I Hate That I Still Love You (28 to 25) and Natalie Howard (pictured) with Lovin' Is The Easy Part (29 to 26).
The full chart can be viewed at – www.countrymusicradio.com.au.
---
TUESDAY, APRIL 9, 2013
First single from Troy and Adam duet album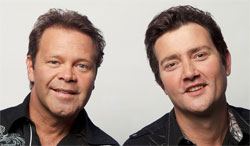 The Slim Dusty classic Lights On The Hill is the first single from the new duet album – The Great Country Song Book – from Troy Cassar-Daley and Adam Harvey due for release on Friday June 14.
"Lights On The Hill is one of my favourite Slim Dusty songs," said Adam. "Coming from a truck driving background and being raised on Slim Dusty records, it was a real honour to get Joy McKean's blessing to record it. The fact that Joy won the first ever Golden Guitar for writing the song just makes it even more special.
"To me, Lights On The Hill is a part of the fabric of our nation," said Troy. The song is "very special to me, and to get  to sing it with a mate like Adam Harvey shows our mutual respect for traditional country music. We wanted to pay homage to an iconic man, his wife and her amazing song."
Weblinks – www.troycassardaley.com.au, www.adamharvey.com.au.
New from Reg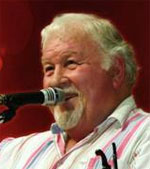 Reg Poole, meanwhile, one of the great storytellers of Australian country music, has released the first single from his upcoming new album.
The three-time Golden Guitar winner and Roll of Renown inductee who has been working in the art of entertainment for almost 40 years received an Order of Australia Medal in 2006 and doesn't seem to be slowing down.
One of Australia's best known bush balladeers, Reg is also a talented award-winning songwriter who has toured throughout Australia many times over.
The new album, Life, is described as a "great cross section of country music performed in traditional Reg Poole manner" and is due for release next month to celebrate the star's 40 years in Australian country music.
Grandpa's Little Girl – the first single – is from the pen of Isla Grant and features the debut of his two year old granddaughter, Macey, singing with her Poppy! Well sort of!!
Weblink – www.regpoole.com.
---
MONDAY, APRIL 8, 2013
Kev wins Australia's richest music award
Golden Guitar winner Kev Carmody has been awarded the most valuable individual music award in Australia... the Australia Council Don Banks Music Award for his outstanding contribution to Australian music.
The award, which is given yearly to one artist over the age of 50, is open to artists of all disciplines, though recent years have seen the areas of classical and jazz music dominate.
Kev's music very much serves as a vessel for stories about his life, indigenous culture and historical themes with a political, religious and socially conscious bent, said a report on themusic.com.au website.
He began using music as a method of presenting essays when enrolled at the Darling Downs Institute of Advanced Education (now the University of Southern Queensland) instead of presenting his work in traditional essay form.
It was as a 42-year-old that he released his first album, Pillars Of Society, in 1988. It was quickly heralded as one of the finest protest albums to come from this country and to this day his songs cut deep; they're unpretentious, sometimes desolate, but never bitter or cantankerous.
His songs are important tales that speak of a shameful history and ought to be used to elicit change in the future.
In 1994, together with another Australian music icon Paul Kelly, Kev win the Heritage Golden Guitar for From Little Things Big Things Grow now an iconic tune for its commercial use as a superannuation advertising theme.
Kedron-Wavell, leading country venue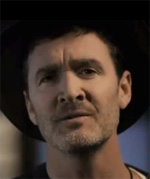 Brisbane's Kedron-Wavell Services Club is one of country music's best known venues.
The modern, three-level, multi-million dollar complex located in the suburb of Chermside just north of Brisbane and is probably best known outside the Queensland state capital for its involvement with, and support of, Queensland's Champion of Champions for many years.
Apart from that involvement, Kedron-Wavell often features both international and national touring artists and the club says it is proud to host many Brisbane-Only shows.
Upcoming entertainment at Kedron-Wavell includes Adam Brand & Travis Collins, Beccy Cole, Troy Cassar-Daley & Adam Harvey, Charlie Landsborough, Songwriters in the Round (with Lyn Bowtell, Michael Bryers and Luke O'Shea, pictured) and John Williamson.
Weblink –www.kedron-wavell.com.au.
---
SUNDAY, APRIL 7, 2013
Vale – Bev Daniel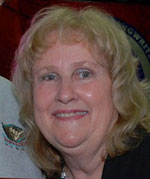 Bev Daniel, a long-serving committee member and past president of the Tamworth Songwriters' Association, lost her battle with Motor Neurone Disease yesterday morning.
Close friend and TSA member Wendy Wood said Bev was an amazing woman and with the help of husband Ron virtually ran the Association for many years.
"Not only was she president/membership co-ordinator/publicity officer she was much more more. I was honoured to call her my friend."
A funeral service is due to be held in Nerang (Qld) next week with a memorial service the following week in Bundaberg.
---
FRIDAY, APRIL 5, 2013
Bob and the band on tour
Folk/country ensemble Bob Corbett & the Roo Grass Band have announced details for their national Lucky Country Hall Tour running from this month through to November.
Led by 2012 Toyota Star Maker Bob, the group also comprises Robbie Long, Dave Carter and Sue Carson, the band is a mixture of vocal harmonies, guitar, banjo, fiddle, mandolin, dobro and percussion.
"A country hall resonates the history of a town from weddings, dances, plays and meetings to weekly martial arts and yoga sessions," Bob said. "It's the place you drive past when you come to town. Just by standing there it represents the generations. From a music stand point they offer great acoustics for our performances. I see no need to leave the memories of these halls in the past. Let's keep making new ones."
"Roo Grass" is the name given to Bob's style of music and unique sound, not to be described by any well known genres. "His fresh take on Australian country and folk has been performed across Australia and North America," according to a spokesman for the artist, "impressing audiences with a mixture of stories, fun, humour and deep thought, all melded into both traditional and contemporary music."
"Performing in country halls is a great way to bring the Roo Grass Band to rural Australia." Bob said.
"The tour offers an excuse for everyone in town, regardless of age, to have a get-together and share the joy of our music." Robbie Long added. "Our musical influences range from old to new, so playing in century-old halls in 2013 seems perfect to us."
Bob kick-started his already extensive career after winning the 2012 Toyota Star Maker competition, the most prestigious country music talent search in Australasia.
"I have wanted to do a tour like this for a long time," he said, "but the reality of getting a band around the country at the moment is something else all-together. If it were not for Toyota's massive contribution of a new Prado as our official vehicle this tour would still be a dream. It's a great show of support for Aussie country music and rural Australia."
Over the years, Bob has produced five award winning albums, undertaken four national tours and performed at many major music festivals in Australia and the USA. He has scored three Golden Guitar finalist nominations and won nine Newcastle ABC Radio Music Awards.
Five dollars from every ticket purchased for concerts during the tour will be donated to Melanoma Institute Australia.
Weblink – www.bobcorbett.com.au.
---
THURSDAY, APRIL 4, 2013
Round Mountain Girls' album launch
The Round Mountain Girls new album will be launched in Coolangatta next Saturday (April 13).
Fresh from career defining shows at two of Australia's premier festivals, RMG are heading back to their home patch to launch their third original studio album title Getting There Is Only Halfway Back.
Demand for the band's live performances at the recent Bluesfest and Port Fairy Folk Festivals saw them play to sell-out crowds, adding to their growing national profile. Having scooped a "Best Band" title for the second consecutive year at Tamworth and a Dolphin Award for Best Folk Song, the Round Mountain Girls say they are now ready to offer up what is tipped to be their finest studio effort to date.
The new 11 track album features cameo performances from Felicity Urquhart on vocals and Jack Thompson, one of the nation's most beloved actors, on harmonica.
Support acts for the launch night will include Mat Brooker, Mr Cassidy and Scott Owen and his wife Emilie. MC for the night will be Pixie Jenkins.
Weblink – www.roundmountaingirls.com.
---
WEDNESDAY, APRIL 3, 2013
We The Ghosts win Urban Country battle of the bands
Southeast Queensland band We The Ghosts have won the Urban Country Music Festival's Play the Main Stage YouTube competition by 42 views.
The competition, which closed at midnight on March 29, saw We The Ghosts YouTube video rack up 1653 views with Penny Rides Shotgun a close second with 1611 views. Sinister Obsession, the third semi-finalist, accumulated 362 views.
We The Ghosts is made up of John Cesar on vocals, Alex Tomlins on guitar and Alex's twin brothers Nic on bass and Jake on drums. Band members say they are looking forward to accepting their prize, opening the Main Concert at the Urban Country Music Festival on Saturday May 4.
"The whole band is really excited about winning the competition and playing the main stage this year," said Alex. "We are all really grateful and humbled by the chance to play the main stage of a festival which is in our backyard. It was a pretty good race to get the views up... well done to all the other artists but we just got there in the end thanks to our amazing fans and friends!"
We The Ghosts will open the Main Concert for country music greats Troy Cassar-Daley. Lee Kernaghan and John Williamson as well as the Chelsea Basham, 2013 Toyota Star Maker Kaylee Bell and Amber Lawrence.
This year marks the 10th anniversary of the popular Urban Country Music Festival which will run from Friday to Sunday May 3 to 5.
In addition to the Main Concert, the Festival includes the Urban Rodeo and Tribute Show, the Urban Blaze Concert and Beaut Ute Show as well as performances at the McCormicks Songwriters' Cafe, Village Stage and Village Hotel.
Country music icon John Williamson says he is looking forward to his appearance at the 10th annual festival.
"It's great to know that the Urban Country Music Festival has survived this long," he said. "Col Watson, Musician of the Year at Tamworth, and I are looking forward to bringing my old and new songs to the enthusiastic crowd.
"As I am always writing new material, I promise some surprises!"
As for We The Ghosts, they are looking forward to showcasing their own material at the concert.
"The win represents a chance for the band to get our music out to a much wider audience than we would ever normally have a chance to," said Alex.
Weblink – www.urbancountry.com.au.
Nicki archived
Leading Australian independent country music artist Nicki Gillis has achieved immortality after having her music added to the Australian Music Collection of the National Film & Sound Archive in Canberra.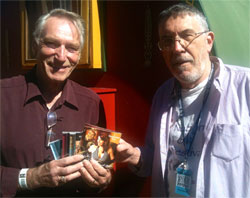 At the National Folk Festival in Canberra in late March, Australian music legend (and fellow LockHouse Productions artist) Frank Ifield presented Nicki's album collection to the Curator of the Collection, Graham McDonald.
"It is so nice to receive Nicki's albums," Graham said, "she really has made a name for herself here and overseas in the last few years. These will be a wonderful addition to the national collection."
Including the albums Lucy's Daughter, On The Mountain and Woman Of Substance, the EP Always On My Mind and single I Remember You (with Frank) the CDs will be kept forever in the Archive.
Frank was at the National Folk Festival with LockHouse Productions Managing Director Tracy Dann to present a spoken word show where he tells stories from his career as a massive pop star interspersed with songs that are meaningful for him being sung by contemporary artists. The show at the festival and another one at the National Library of Australia both played to full houses and were organised by Rob Willis from the National Library.
Nicki, meanwhile, is preparing for her fifth UK tour in June this year which will also include a short leg into Germany where her single The Ballad Of Lucy Jordan has experienced remarkable success. She will return to Australia in July with her new stage show "Nicki Gillis – All Woman which will be hitting the theatre circuit.
Photo: Frank Ifield presents Nicki Gillis CDs to Graham McDonald, Curator of the Australian Music Collection at the National Film and Sound Archive.
Weblink – www.nickigillis.com.
Chart Update – The Band Perry takes over at number one
For the first time in quite a while an overseas act has topped Australia's national Country Tracks Top 30 singles chart with The Band Perry's Better Dig Too at number one this week.
Another overseas act, Tim McGraw, is at two with One Of Those Nights while the number one for the last four weeks – Women In Song by Tamara Stewart, Felicity Urquhart & Sara Storer – is at three and McAlister Kemp are up two to number four with A Good Idea.
Kaylee Bell's Unglamorous is also up two to number five, America's Josh Turner is at six with Find Me A Baby and The Sunny Cowgirls' Green And Gold edges up one to seven.
America's Gary Allen is at eight with Find Me A Baby, Jayne Denham's Shelter is new in the top 10 at nine while Chelsea Basham's I Learned The Hard Way is also new in the top 10 at 10.
Bullet performers for the week include O'Shea's Thank You, Angels (23 to 20), The McClymonts' Little Beat Up Heart (25 to 22), Paul Costa's Big End Of Town (27 to 24) and Amber Joy Poulton's Lovin' Is The Easy Part (30 to 27).
New entries to the chart this week include Kristy Cox with I Hate That I Still Love You and Natalie Howard with Lovin' Is The Easy Part (at 29).
The full chart can be viewed at – www.countrymusicradio.com.au.
---
MONDAY, APRIL 1, 2013
Vale – Ernie Bridge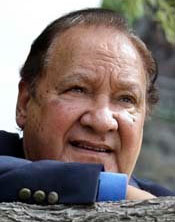 "The Singing Politician" Ernie Bridge has died at age 76 after a battle with asbestosis and mesothelioma.
The former stockman, politician and country music recording artist hailed from the far north Kimberley region of Western Australia and served as a state member of parliament from 1980 until 2001, first as a member of the Australian Labor Party (until 1996) then as an independent.
Ernie's part time country music career saw him release five solo albums, most via the EMI label... Sings Kimberly Favourites (in 1979), Helicopter Ringer (1980), Live At The Concert Hall (1982), Sings It Australian (1983) and Great Australian Dream (1990).
He was a regular visitor to country music events, as his political career allowed, including the Tamworth Country Music Festival. He was inducted into the Country Music Hands of Fame in 1995.
During his time in Parliament, Ernie served as Minister for Water Resources, Northwest & Aboriginal Affairs and Minister for Agriculture & Small Business, and improved the delivery of water to remote towns and communities across the state's north, advocating a pipeline to cart water from the Kimberley to Western Australia's southwest, a proposal later championed by current WA Premier Colin Barnett.
Born in Halls Creek, Ernie launched his political career in 1965 when, at the age of 23, he became President of the Shire of Halls Creek. He became a foundation member of the WA Aboriginal Lands Trust and served as an inaugural member of the Commonwealth Aboriginal Land Fund Commission. He was also called on to serve as a Royal Commissioner inquiring into controversial events at Skull Creek that highlighted problems with relations between Aborigines and the police.
He revisited this work many years later, modernising the initiative, by recruiting and training Aborigines to move into the Police Department, as regular police officers. And he was also pleased to see many of his recommendations implemented, including the first ever recruitment and training of Aboriginal people by the police department to serve as police aides.
After politics, Ernie established the not-for-profit Unity of First People of Australia organisation to run programs that prepared Aboriginal people for employment and to promote healthy lifestyles in remote regions. His work with indigenous children, which pioneered breakfast programs, had a special focus on diabetes prevention and detection.
This month, he launched Supreme Court action against the State government, the Shire of Ashburton and companies CSR, Midalco, Gina Rinehart's Hancock Prospecting and Angela Bennett's Wright Prospecting, claiming damages for personal injury and loss suffered as a result of contracting diseases including malignant mesothelioma and asbestosis while overseeing the winding down of Wittenoom.
Ernie's wife Mavis predeceased him in 2009. He is survived by their four children Kim, Noel, Cheryl and Beverly.
---
Click here for recent news
---