NEWS ARCHIVE ... APRIL 2011
---
FRIDAY, APRIL 29, 2011
May day weekend festivals
Following on from last weekends's big round of Easter festivals, the Queensland May Day weekend is another big time for major country music events in the Sunshine State.
Included is the big week and weekend of celebrations in Charters Towers (see full coverage here), but also the...
Urban Country Music Festival
Now one of the biggest country music events on the Australian festival circuit, the Urban Country Music Festival runs over three big days, today, tomorrow and Sunday at Caboolture.
In addition to activities throughout each day, new this year is a concert series each night of the festival.
Friday night is the Urban Blaze Concert. Formerly held on the Sunday night, this event moves to Friday and combines with the Burbs n Bush Concert. Format will be the same with entry by gold coin donation and will still include fireworks.
Artists at this year's Urban Blaze include The Bostocks, Brade, Paul Costa and Jetty Road and the night will feature the festival official opening.
Saturday night, as usual, will be the main concert, this year starring Star Maker 2011 winner Luke Dickens, Jonah's Road, The McClymonts (pictured), America's Joe Nichols and James Reyne.
This concert has been moved from the Showgrounds to the Alexander Barr Sporting Complex (behind the Historical Village).
Sunday night's concert is a new ticketed event featuring mainly pop acts. On the bill are Sinead Burgess, Evermore, Amy Meredith, The Potbelleez and Thirsty Merc.
Among other changes at this year's festival, the Town Square precinct moves to The Village Town Square because of construction taking place in Caboolture's central business district.
And a new festival hub will be the Village Precinct located ar Caboolture Historical Village on Beerburrum Road.
Weblink – www.urbancountry.com.au.
---
WEDNESDAY, APRIL 27, 2011
Garden City Junior festival
Details have been announced for the Garden City Country Music Association's 2011 Junior Country Music Festival.
The event, which centres on a junior country music talent quest, t is to be staged at Oakey, 20 minutes west of Toowoomba, Qld, at the Oakey Cultural Centre, on Saturday June 25.
Guest artist for the event will be lat year's overall quest winner Alice Benfer (pictured).
"This is always a fantastic event that is highly contested," said event co-ordinator Paul Wilson.The event raises funds for the Toowoomba Hospice.
Enquires can be directed to Paul on 0448 772 972, or email countrymusicevents@hotmail.com.
"Real Country" takes off
Ben Sorensen's "Real Country" radio segment is enjoying a "remarkable uptake" by Australian radio stations, according to distibutors Helmes Media Solutions.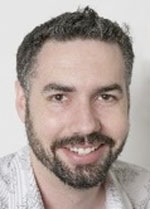 The weekly segment, which has recently come under the banner of Helmes, can now be heard on more than 50 stations across Australia.
Each fortnight, Ben catches up with one of Australia's country music stars to talk about their career and latest work. Each interview also includes one of the artists latest songs.
Interviews are then cut in two, making up the weekly segment.
Ben says the segment, which has been on-air for a number of years now, is really starting to hit its straps.
"'Real Country' is proving extremely popular in video format," he said, "now the radio format is also on the rise, it is very pleasing."
Ben Sorensen's "Real Country" can be heard on Flow FM stations throughout South Australia, Our Country and KIX Country stations in NSW, Queenland and South Australia, on 3MBR in Victoria, Wild Horse FM at Yarraman, Qld, 4OUR FM Caboolture, Qld, 2GHR Holbrook in NSW, Seymour FM Victoria plus ZFM Country FM and Digital Networks.
Helmes Media Solutions General Manager Joel Helmes said the goal was to bring "Real Country" to an even wider audience.
"Any station that has country in its format should get involved," he said.
Chart Update – The Bobkatz top the chart
The Bobkatz (pictured) have hit number one on this week's national Country Tracks Top 30 singles chart with their hit – In The Coals.
Markus Meier's former number one, My Patch Of Dirt, slips to number two after three weeks in the top spot, Harmony James' Painted Pony is steady at number three as is Shane Nicholson's Bad Machines at four.
America's Joe Nichols is at five with The Shape I'm In, Kasey Chambers' Beautiful Mess is up two to six and Doug Bruce's Honky Tonk Shoes is steady at seven.
Americans hold the last three places... Kenny Chesney at eight with Somewhere With You, Chris Young at nine with Voices and Brad Paisley at 10 with This Is Country Music.
Bullet performers for the week include Amber Joy Poulton's Break Even (19 to 16), Luke Austen's Two Miles Down (26 to 23), Tracy Killeen's '42 (Margaret & Vera) (27 to 24), Jasmine Rae's duet with Joe Nichols, I'll Try Anything, (29 to 26) and 8 Ball Aitken's Rogue Pony (30 to 27).
New entries to the chart this week include Dianna Corcoran with Keep Breathing (in at 29).
---
THURSDAY, APRIL 21, 2011
Easter festivals
Country music traditionally kicks into gear in Australia at Easter time with a number of major events annually.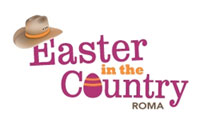 These include the National Folk Festival which is underway now in Canberra and runs through to Monday.
The 34th Roma (Qld) Easter In The Country festival also runs from today until Monday while the Injune (Qld) "Where Country Is" festival runs from today through to the Mayday long weekend.
Roma event organisers say: "yes, the event is still going ahead with local floodwaters expected to go down quickly..."
Charters Towers' Ten Days celebration kicks off this weekend with the All Australian Jamboree which runs tomorrow, Saturday and Sunday (see story below for more).
And the Bundaberg (Qld) Easter Roundup is set for three days, tomorrow through until Sunday.
In Victoria, the Hallam Country Music Round Up is scheduled for tomorrow.
In NSW, the Hartwood Campfires & Country Music Festival is set for tomorrow, Saturday and Sunday near Tambar Springs while the Country Music Hoedown at Poley's Place near Barrington will also run Friday, Saturday and Sunday.
Back to Queensland and the Rathdowney Heritage Festival Bush Poetry Competition will be staged on Sunday.
---
WEDNESDAY, APRIL 20, 2011
Queensland Awards finalists announced
Finalists have been announced for the Queensland Country Music Awards to be staged during the upcoming Charters Towers Country Music Festival.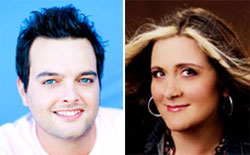 The Charters Towers event is one of the leading Festival events held during Queensland's Mayday weekend.
Finalists for this year's Awards are...
For Male Vocalist of the Year... Luke Austen (pictured), Markus Meier, Col Millington and Graham Rodger.
For Female Vocal... Rose Carleo (pictured), Sarah Kay, Lana Ross and Caroline Taylor-Knight.
For Group or Duo... The Bostocks, The Duke Wilde Band, The Leaping Lizards and The O'Donnells.
For New Talent of the Year... Luke Austen,The Duke Wilde Band, Sarah Kay and Ron Sellars.
For Bush Ballad/Heritage Track of the Year... Luke Austen, Lex K, Markus Meier and Col Millington.
For Instrumental Track of the Year... The Bostocks, Michael Fix, The Leaping Lizards and Lindsay Waddington.
Award winners will be announced on the Friday night, April 29.
The Awards are just part of a 10 day festival period in Charters Towers – dubbed "10 Days in the Towers – which culminates with the annual Charters Towers Country Music Festival, sponsored by McDonalds, which was first staged in 1978.
Thousands of country Music fans and performers from throughout Australia and overseas flock to the Towers in North Queensland for what organisers dub "three days of country fun and festivities".
Centrepiece of the Festival is what has grown to become Australia's largest country music talent quest with some 800 contestants making their bid for fame each year.
The festival also attracts some of the biggest names in the country music industry who are showcased in special cabarets on the Friday and Saturday nights.
This year's guest artists will be led by Troy Cassar-Daley (pictured) with Kirsty Lee Akers, Luke Austen, Victoria Baillie, Rob Black, Liam Brew, Darren Carr, Peter Denahy, Liam O'Donoghue, Kiara Rodrigues, Travis Sinclair and last year's overall winner of the talent quest Levena Stewart.
Visitors are also attracted because they get the opportunity to step back in time to the gold rush era in what is billed as "Outback Australia's best preserved heritage city".
All Australian Jamboree
Part of the Charters Towers "10 Days" is the Red Rooster All Australian Jamboree which was dreamed up in 1991 on the drive home from a Festival where very little Australian composed country music was sung.
The first festival was held at the Dixon Rodeo Grounds in 1992. "We were so excited about having Evelyn Bury (pictured) as our main artist supported by Noel Dobel," said a spokesman for the organisers.
"Evelyn at that time was a Golden Guitar winning artist who had been named in the top 10 female country artists of the year for many years. Noel sang like Slim Whitman. It rained on that Saturday cabaret night and they stayed on to entertain the crowd on Sunday night."
The Jamboree was moved to the RSL for a few years and the Charters Towers Racecourse. Finally a decision was made to move it to a week before the Charters Towers Country Music Festival and hold it at The Barn at Charters Towers Showgrounds in 1998 where it has been ever since.
"We set out then to fill the intervening week with Tamworth-like activities... a 10 day period called 'Towers Bonza Bash' in the beginning but has since evolved to 'Ten Days in the Towers'."
First major event of this year's Jamboree, which runs over Good Friday, Easter Saturday and Sunday, will be the Australian Country Gospel Competition with sections for Juvenile, Junior and Seniors followed by a gospel concert on Good Friday with gates opening at 5pm at the Charters Towers Showgrounds.
Further information can be obtained from Pat on 0447 417 115.
The next major activity is on Saturday with the country music competition where only Australian composed songs are sung.
Competition starts at 8.30am and continues through to the evening where entertainment will include performances from last year's overall winners and guest spots with Katelyn O'Donoghue, Liam O'Donoghue and Kahlita Moods.
Special guest artist on the night will be Evelyn Bury, the winner of many awards including a Golden Guitar, TSA awards and many more. Evelyn will be supported by Ryan Sampson, a Queensland Champion of Champions winner and Star Maker grand finalist.
The Jamboree concludes on Easter Sunday with events including a bush poets breakfast and talent quest finals.
Ten days in The Towers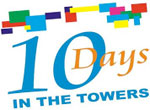 An extensive program of activities runs for the entire April 22 to May 1 period.
The Jamboree is the main focus of the first weekend, the Charters Towers Festival and Queensland Country Music Awards take pride of place on the final weekend and there are dozens of activities scheduled inbetween.
Full details, including program, can be obtained at the website www.tendays.com.au.
---
TUESDAY, APRIL 19, 2011
Felicity and Glen's new arrival
Country star and host of the ABC's "Saturday Night Country" Felicity Urquhart, together with her musician/producer husband Glen Hannah, have welcomed a baby girl to their family.
"The Northern Daily Leader" reported that Tia Joy Hannah was born at 3:35pm on Saturday (April 16), weighing in at 3.3 kilograms.
It's the first child for for the country music couple.
Melrose success
"The Flinders News" (SA) reported a star-studded line-up drew thousands of people to Melrose on the weekend "to experience the amazing atmosphere at Rock the Mount".
Some of Australia's best musical talent entertained audiences with their hits including country stars Victoria Baillie, Beccy Cole and Adam Harvey (pictured) who joined pop icon Leo Sayer for the day.
Now in it's fifth year, the Melrose event is organised by Remarkable Festivals.
"The News" reported that Melrose left a strong impression on Adam and Beccy "who would both love to return to the Southern Flinders Ranges".
Adam appeared a few years ago and had been eager to return ever since. "It is great coming to these little towns," he said. "They're the people that we can connect with most."
He loved Country SA so much that, on one of his most recent tours, he brought his wife and children.
"Melrose is such a beautiful place," said Beccy. "We would definitely love to come back here in the future."
Locals Bob Semple and Bev Taylor enjoyed finding a nice spot at the showgrounds and watching the artists perform. "It's amazing," they said. "Nearly all of Melrose is here at the concert."
Chart Update – second week at number one for Markus
Markus Meier's latest hit – My Patch Of Dirt – retains the number one spot for the second week on this week's Country Tracks Top 30 singles chart.
The Bobkatz' In The Coals is up two to number two as is Harmony James' Painted Pony to number three while The McClymonts' A Woman Is A Flame is at number four.
Lee Kernaghan's Dirt is at five, America's Joe Nichols is at six with The Shape I'm In and Shane Nicholson's Bad Machines jumps three places to number seven.
Jasmine Rae's Hunky Country Boys is at eight, Peter McWhirter's Girls In The Summertime bounds into the top 10 at nine and America's Kenny Chesney is at 10 with Somewhere With You.
New entries to the chart this week are The Harmonators (pictured) with Woohoohoo (in at 28) and Luke Austen's Two Miles Down (at 30).
---
MONDAY, APRIL 18, 2011
Country shines at the Easter Show
Country music again rules the airwaves at Sydney's Royal East Show which got under way last week.

That's the music format for Show Radio, the special event radio station which is staffed every year by radio students from the Australian Film Television and Radio School (AFTRS).
Show Radio will be on air every day of the Show which concludes on Wednesday April 27.
The 20 students are performing all the radio station roles... presenting, producing and reporting from out and about at the event.
They are providing "all the latest up-to-the-minute information including "hot tips" on parking, weather, transport and what's on as well as special offers. Feature interviews with Show celebrities, exhibitors and visitors are being mixed with "all the best from country music;s past, present and future stars".
Show Radio can be heard on 107.9 FM, or streamed at showradio.aftrs.edu.au.
AFTRS is the leader in media training in Australia having launched the careers of thousands of film, television, radio and new media professionals over the years.
AFTRS Director of Radio Mark Collier said its students would be a big part of Australian radio in the future and this was their first chance to do a live broadcast from such a big event.
"Most of our students will start their radio careers in regional towns," he said. "The show is where the city meets the country, where they get to immerse themselves and their listeners in the key fabric of life and characters from regional Australia."
Russell records country album
Air Supply frontman Russell Hitchcock has recorded a solo country album.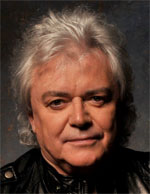 Titled Tennessee: The Nashville Sessions, the album will be officially released on Tuesday May 10.
The US-based star has released two previous solo albums but the new record will be his first dabble into country.
"This is not a departure for me," he says. "I simply stepped outside the Air Supply box to dip a toe into other waters, an ocean of music that I've admired from afar."
The two-disc CD will include 20 songs, of which Russell says: "I am more than pleased with this project. This compilation will touch hearts the same way Air Supply music does"
First single from the new work, Hold Me Like You Love Me, is expected at radio later this month.
Weblink – www.russellhitchcock.com.
---
THURSDAY, APRIL 14, 2011
Logo launched for 40th Tamworth Festival
On the back of Tuesday's celebrations for Keith Urban's visit to Tamworth, a new logo for the 40th Tamworth Country Music Festival, to be staged this coming January (2012) was launched.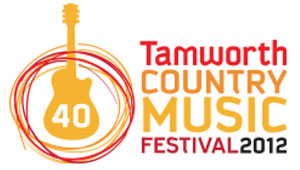 Forty weeks out from the event, the logo was launched by the Festival Working Group together with an audio-visual presentation as planning was well underway to celebrate "this remarkable milestone" between January 20 and 29, the official media release said.
"It is really significant for a regional event to turn 40," said Tamworth Regional Mayor and Chairman of the Festival Working Group Col Murray. "We thought the event and the community needed a visual presentation that depicts the early beginnings, and alludes to the future.
"We are proud that Joy McKean and the family of the late Slim Dusty as well as Troy Cassar-Daley have provided their music to our story.
The audio visual presentation starts with the Slim Dusty song Walk A Country Mile "recognising the role this great Australian entertainer not only played in the development of Australian country music, but also his dedication to Tamworth and the Tamworth Country Music Festival, the Mayor said.
Presentation imagery and song evolve into Troy Cassar-Daley's Big Big Love and combines vision of people, places and the music that has become synonymous with this iconic Australian event.
"The Tamworth Country Music Festival is unique to our community and what we have seen develop over 40 years is truly Australian," Col said. "The music industry and the tourism industry have embraced it as well."
The Festival Working Group, including representation from the Country Music Association of Australia, Tamworth Country Music Festival Stakeholders Group, Tamworth Regional Council and Tourism Tamworth, described the importance of the "golden guitar" image in the logo which uses the colours of gold and ruby (for 40th anniversary celebration).
The 2012 Tamworth Country Music Festival will run from Friday January 20 to Sunday January 29 and will incorporate Australia Day.
---
WEDNESDAY, APRIL 13, 2011
Tamworth Festival 2012 - 40 weeks out
Country Music Capital celebrated yesterday with a soft launch of the 2012 Tamworth Country Music Festival, 40 weeks out from the 40th year of the event.
The celebration co-incided with the first concert on Keith Urban's current Australian tour in Tamworth last night, with the city is closing off part of its main street through the afternoon with a number activities including performances by local country artists.
During a media call, Keith was presented with a commemorative "golden" guitar studded with rubies in recognition of the upcoming 40th Festival.
Keith, who said during his concert he had wanted to get back to Tamworth to perform for many years, is also reportedly trying to plan to be in the city for the January 2012 event.
Keith's career was launched with his win of the Star Maker talent search in Tamworth in January 1995.
Catherine visits for Ronald
Catherine Britt, meanwhile, was scheduled to be in Tamworth today to visit families at Ronald McDonald House.
The Golden Guitar winner and ARIA Award nominee was set to brighten the day for seriously ill children and their families staying at the House.
While Catherine is very busy with the release of her self titled album, she is giving her time to bring laughter and smiles to the faces of children facing often life-threatening illnesses.
Ronald McDonald House Tamworth has been in operation more than two years providing a "home away from home" for more than 500 families and their ill children.
Catherine's schedule also included a visit to the Children's Ward at the Tamworth Base Hospital and wraps up a northern NSW regional tour that included Armidale, Bellingen, Coffs Harbour, Kempsey, Muswellbrook, Port Macquarie and Taree.
The star's latest single and video is I Want You Back.
Weblink – www.catherinebritt.com.
---
MONDAY, APRIL 10, 2011
Country Music Round Up
Victoria's Prairie Oysters have teamed up with the Hallam Hotel to present a Country Music Round Up on Good Friday (April 22).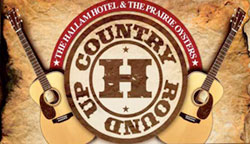 The event is an official fundraiser for the Royal Children's Hospital Good Friday Appeal.
Artists showcasing on the day are The Blackhill Ramblers, Doug Bruce & The Tailgaters, Jan Dandridge, Aaron Daniels Band, The Hannafords, Phoenix, Nia Robertson Duo, Ruckus, Adam Toms and, of course, The Prairie Oysters.
The Hallam Hotel is a major live music venue and is reportedly Melbourne's "headquarters" for country music. "It has supported and showcased the very best of Australian country music including signed and independent acts," said a spokesman for the Round Up organisers.
So "it is only fitting that it should be the venue to host this impressive line up, which has not been seen on the same bill at the same time before."
The Prairie Oysters saw a demand for an event that showcases good local country music talent and to give fans an opportunity to see a line up of their favourite local acts on the same bill.
They say they are delighted to be working with the Hallam Hotel to make such an event a reality.
"The Country Music Round Up is open to the whole family and fans will be treated to the most diverse cross section of talent on the day."
The action kicks off at 2pm on the day.
Chart Update – Markus hits number one
Markus Meier has taken over the top spot on the national Country Tracks Top 30 singles chart this week with his latest hit My Patch Of Dirt.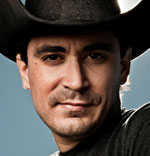 The McClymonts' A Woman Is A Flame is steady again at two while Lee Kernaghan's Dirt is at three and The Bobkatz' In The Coals is at four.
Harmony James' Painted Pony is at five,Jasmine Rae's Hunky Country Boys is at six and Connie Kis Andersen's Steamy Dreams is at seven.
America's Joe Nichols is at eight with The Shape I'm In, Rose Carleo's That Season Again is at nine and Shane Nicholson's Bad Machines enters the top 10 at 10.
New entries to the chart this week included the Duke Wilde Band with The Band Plays (in at 28).
---
THURSDAY, APRIL 7, 2011
Country Mother's Day album released
The Country Music Association of Australia (CMAA) and EMI have joined forces to release The Mother's Day Album featuring local and overseas female country artists.
Australian artist on the release are Victoria Baillie, Chelsea Basham, Catherine Britt, Stephanie Brownlee, Katrina Burgoyne, Kasey Chambers, Beccy Cole, Dianna Corcoran, Kristy Cox, Tori Darke, Jayne Denham, Harmony James, Gina Jeffreys, Jetty Road, Tracy Killeen, Anne Kirkpatrick, Amber Lawrence, The McClymonts, Jasmine Rae, Melinda Schneider, Sara Storer The Sunny Cowgirls, Tenielle and Felicity Urquhart.
Overseas artists include Rosanne Cash, Mary Chapin Carpenter, Emmylou Harris, Faith Hill, Miranda Lambert, Martina McBride, Anne Murray and Carrie Underwood.
The album is set for release on Friday April 22.
Hats and thongs boost Academy
The Country Music Association has also announced a major contribution to the Australian Academy of Country Music.
A "welcome financial contribution" has come via Essential Energy (formerly Country Energy), Jayco and local radio station 2TM through donations received from promotional activity and products delivered this year's Tamworth Country Music Festival.
The Country Energy/2TM cowboy hats and Jayco thongs were worn by many festival-goers in January this year who had parted with a gold coin donation to secure their wearable souvenir. The total collections raised exceeded $15,000.
This year, Tamworth will be hosting year two of the newly formed Australian Academy of Country Music, a combination of the College of Country Music and junior Tamworth Camerata.
The Academy will deliver a senior and junior curriculum in keeping with the success of the previously held College and Camerata.
Held in Tamworth, Australia's Country Music Capital, in July each year, the Academy provides an intense educational course for budding artists and musicians wanting to undertake a professional career in the entertainment industry.
"The CMAA's Australian Academy of Country Music is without question one of the most important elements to the organisation," said Chairman Rod Laing.
"This program, the curriculum delivered and the opportunities the courses provide are about working to build the country music industry, develop and deliver future stars and ensure that the industry continues to evolve, grow and thrive.
Participants in the 2011 Academy are currently being finalised.
Weblink – www.country.com.au.
---
WEDNESDAY, APRIL 6, 2011
Hall of Fame gains extra funds

The Australian Country Music Foundation (ACMF), operators of Australia's Country Music Hall of Fame (pictured) in Tamworth, have gained an extra $1,000 in funding thanks to a promotion on Facebook.
The promotion, which asked Facebook users to rate the "most liked" of seven regional NSW cities was taken out by Tamworth with a cash prize of $1,000.
Then, as a large part of that "like" is "undoubtedly due to our country music heritage and, of course, the Festival," according to Tamworth Mayor Col Murray, it was fitting that the ACMF should be the ultimate beneficiary.
Col presented the cheque to ACMF President and Archivist Eric Scott "to further the Foundation's efforts to preserve country music's film heritage".
Eric said the Foundation had a large collection of movies, videos and photographs depicting Australian country music heritage which would all ultimately be digitalised.
"This money will go towards some major digital storage to allow us to archive all this film heritage," he said.
"It is a daunting task, but when it is complete, digital archives don't deteriorate with age and the benefits for ease of access will be wonderful. And some day, down the track, hopefully, maybe, we will be able to make all these films and pictures available over the internet."
Mayor Murray said the ACMF deserved the recognition and even this small support for "a great job on behalf of Tamworth and country music. I chose this organisation because it is run entirely on volunteer dedication and does so much promoting our city throughout Australia," he said.
"We have a real jewel here that the ACMF are so dedicated in maintaining and preserving for posterity and for all of the rest of us."
Weblink – www.countrymusichalloffame.com.au.
---
MONDAY, APRIL 4, 2011
KIX Country Stampede
A new country music event for 2011 – the KIX Country Stampede – is being promoted by the KIX Country radio network this Saturday (April 9) just out of Bundaberg, Qld.
The inaugural KIX Country event will feature Golden Guitar winner Travis Sinclair, Golden Guitar finalist Rob Black and 2009 National Country Music Award finalist Larry Cann with his Rockin Rodeo Road.
Local talents Mark Lavendar and Kristy Simpson will also appear.
The Stampede will be held at the Avondale Homestead Tavern 25 kilometres north of Bundaberg on the Rosedale Road.
Organiser Larry Cann said that in the last few years, the Avondale had been a concert setting for Jimmy Barnes, The Angels and Diesel, to name a few... "now it's country music's turn".
Travis Sinclair will stage the Queensland launch of his new album Diesel Boy.
The "action" gets underway from 6:30pm.
Details can be obtained by telephoning the Tavern on 07 4156 1206.
Australia's only country dance festival
Contestants and spectators alike are strapping on their dancing shoes in preparation for Australia's only line dancing festival set to go ahead in Tamworth from this Wednesday.



The Australian Country Dance Festival (subtitled Mayworth) is billed as continuing the excitement set in January by the Tamworth Country Music Festival with four days of "toe tapping competitions, socials, street dancing, rock 'n' roll dance workshops, partner and two step workshops and clogging".
This year offers an exciting new program, according to organisers, which includes The Australian Masters 2011, the first Masters event to be held in Australia.
Taking place on Thursday (April 7), the competition will give talented Australian dancers the opportunity to qualify for the World Dance Masters to be held in August 2011 at the Palace Hotel in Manchester, England.
A team of four judges from the UK will be in Tamworth to teach as well as to enjoy the dancing festivities.
Dance competitors from Brisbane, Melbourne, Perth, Sydney and Wollongong all travel to take part in what is described as Australia's premier dance competition "with the elite battling it out for the prize money and prestigious trophy".

The 2011 Australian Country Dance Festival will be run at the West Tamworth League Club from Wednesday through until Monday.
Event Co-ordinator Chris Watson is predicting record numbers for 2011.
"Sales have already had a substantial increase from last year's event and I only expect them to get better. The event is a major draw card to the Tamworth Region with people coming from all over Australia, and from all corners of the globe such as Singapore, China, USA, UK and New Zealand to participate."
Weblinks – www.dare2dance.org, www.worlddancemasters.com.
---
Click here for recent news
---