---
DATELINE : SUNDAY, APRIL 15, 2007
ABC Music have announced the signing of 19-year-old country recording artist Shea Fisher.
"Shea has a fantastic story," said an ABC spokesman. "Originally from Portland in Victoria, she is the daughter of Australian bull riding and bareback riding champion Eddie Fisher and barrel racing champion Joanne Fisher and she has gone on to become a rodeo champion herself."
Shea started to ride and compete in rodeos at the age of three when she entered her first barrel race and has gone on to win several national championships competing against men and women.
She has been singing and performing since her early teens and won her first major talent quest at the 2003 Mud Bulls & Music Festival. In 2004 she was accepted into the Camerata, the junior country music school in Tamworth where she learnt about the art of performing.
At the 2006 Tamworth Festival Shea performed several shows with her band, including performances at the Australian Bushman's Campdraft & Rodeo Association (ABCRA) National Finals Rodeo.
She supported Steve Forde on the National 2006 Rowdy & Loud Tour while managing to fly to America to record her debut album in Nashville. She also performed for the first time at the Deni Ute Muster before returning to the ABCRA National Finals Rodeo stage in Tamworth in early 2007.
Shea's record deal with ABC Music will see the release of her debut album – Everyday Girl – on July 14.
At the announcement, Tim Holland, ABC Music Country Music Label Manager, said: "Shea is most definitely a star in the making. She brings a really fresh and exciting approach to country music. She's a country girl at heart with a great story but like other young woman from the country these days, she's very aware of what's going on around the world and you can see this in the way she conducts herself. She'll be a great role model for her young fans and she's a dynamic performer who just keeps getting better and better."
Shea Fisher's debut single Just The Excuse goes to radio on April 30. The accompanying video clip is due for release to media on May 28.
Weblink – www.sheafisher.com.au.
And Compass Brothers sign Peter
Compass Brothers Records has announced the signing of popular Australian singer, songwriter and multi instrumentalist Peter Denahy.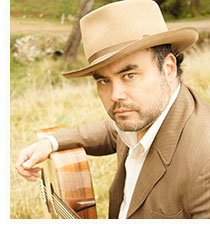 Peter first came to prominence in 1998 playing fiddle, guitar and accordion in Slim Dusty's Travelling Country Band. A regular solo spot on Slim's show allowed him the chance to showcase the lighter side of his broad talent and led to the release of the Petrol Head Fly album in 2000.
To expand on his popularity as a writer and performer of what he describes as his "silly songs", Pete released a self-titled album in 2005 that showed his more serious side and included a version of The Bloke Who Serves The Beer, a song that he originally wrote for Slim Dusty's 100th album, Looking Forward Looking Back.
Pete continues to appear as a band member and opening artist for Troy Cassar-Daley, Anne Kirkpatrick and Sara Storer and recently wrote Coober Pedy for The Sunny Cowgirls latest album Long Five Days.
Compass Brothers Records re-released Pete's 2005 album today with the entire Petrol Head Fly album as bonus tracks.
Weblink – www.peterdenahy.com.
Chart update – Brad hangs on to number one
Brad Paisley retains the number position on this week's Country Tracks National Top 30 Singles Chart with She's Everything.
Another American act, Rascal Flatts, has taken over the number two position with What Hurts The Most while Catherine Britt moves up to number three with I'm Gone and Dianna Corcoran jumps two more places to four with Then There's Me.
The McClymonts' Baby's Gone Home drops to five, Ian Quinn's Can't Cut Gidgee rises three places to six while The Sunny Cowgirls' Still Circling edges up one place to seven.
Nicki Gillis bounds into the top 10 at eight with Leaving You For Myself, as does Lee Forster's Drinkin' Bone at nine and John Williamson's Wildlife Warrors: It's Time at 10.
Bullet performers this week include Carter & Carter's Run Away (15 to 11), Tom Curtain's Chew Like Hell (17 to 13), Travis Sinclair's Rockin' The Rig (19 to 15), John O'Dea with Old Rusty Ute (20 to 17), Luke O'Shea & Medicine Wheel with Ragged Bloody Heroes (22 to 19) James Blundell's Higher Than Heaven (23 to 20) and Jetty Road with Real Smooth Cowboy (24 to 21).
New entries to the chart this week include See Saw Ride by Sharnee Fenwick (pictured, in at 30).
The full chart can be viewed at www.nfspublicity.com.au.
The Top 30 Countdown can be heard Sunday nights (tonight) on CMR (Country Music Radio) across the Super Radio Network.
---
DATELINE : FRIDAY, APRIL 13, 2007
Marge celebrates 30 years on air
NSW North Coast broadcaster Marge Graham is celebrating her 30th year on air this year.
As part of her celebrations, Marge is undertaking a 24 hour broadcast on Saturday April 21 to raise money for charity.
"I will be doing the 24 hours completely solo and will start Saturday at 6am and finish Sunday at 6am," Marge said.
Marge has been doing her Country Breakfast program on 2NCR FM community radio in Lismore.
The 30 year anniversary date is November 11.
And Norm presents his 700th program
This month, Norm Burke presents his 700th program on community radio.
He began at PBS FM in St Kilda – where he says he spent 15 turbulent years – and currently is at 3SER FM in Cranbourne (with wife Coral assisting) where he presents "Rebels, Rednecks and Rock 'n' Roll" with long-time friend Roger Lloyd. Both Norm and Roger have, for decades, they say, "championed the sometimes unpopular cause of Australian artists, culture and accents; and continue to do so".
Along with radio, Norm has also found time to write columns for various magazines, has worked as a professional musician (guitar), performed on live-to-air television and radio programs, once toured extensively with Tex Edwards' Rodeo, has had 60 or so of his original compositions recorded ("by such luminaries as Alan Hawking, Reg Poole, Colin James, Gary Ellis, Desree Ilona Crawford, Chad Morgan, Paul McCloud, Craig Giles etc"), has topped the pop charts in Sri Lanka and figured on the Gospel charts in America.
He has also won the annual Henry Lawson Song Award twice and found time to write a book about it all "The Hillbilly Addict" which was published in 2000.
As well, Norm is currently acting as a consultant to Gary Ellis, Rob Foenander, Michael Read and several others who are putting together a country music television program for airing later in the year.
With all this going on, there's never a dull moment, of course. But Norm reckons he wouldn't have it any other way.
Cabaret Festival coup for Jeanette
Change of date for Northern Suburbs Festival
After many years of running their annual festival on the long weekend in June, the Northern Suburbs (Brisbane) Country Music Club will stage the event a week early this year on the weekend of June 2 and 3.
The Festival will be held at the Gaythorne RSL Club.
Club Festival Event Co-ordinator Leisa Bye said while they were sad that they had to break with tradition, "it was important to us to hold our festival at the wonderful Gaythorne RSL Club as it was a successful venue for us last year.
"Due to a double booking, we have had to bring our festival forward a week," she said. "For many years our festival has been greatly patronised and we are certain that the change of date won't hinder (us) and look forward to seeing all our friends on June 2 and 3.
Further information, including talent quest entry form can be obtained from Leisa on 0403 368 432 or by emailing leisa_bye@hotmail.com.
Tom stars at Country in the Courtyard
Tom Maxwell will star at this month's Country in the Courtyard at Australia's Country Music Hall of Fame in Tamworth.
Tom will undertake the performance before heading out on his 2007 touring schedule.
Country in the Courtyard is held every month at the Hall of Fame in Brisbane Street, Tamworth, on the third Monday of every month with extra shows in January.
This month's event will be this Monday night (April 16) commencing at 6.30pm.
Neil Beeby's on-going treatment for cancer has meant a very busy schedule over the past 24 months but he remains optimistic about the future, reports Shelley Juner.
"Having battled with major surgery and chemo treatments, Neil is keeping his spirits high with the hope that further options will still be available," Shelley said.
"It's all a bit of trial and error and Neil has to be reassessed at regular intervals by his specialist here in Canberra. His most recent medical reports have suggested his condition has not responded as well as he would have hoped for and he has accepted that the next few months will be a very deciding time for him.
In spite of everything, Neil is maintaining a very positive outlook and would like to thank his friends for their on-going support which has meant a lot to him. He welcomes the chance to stay in contact with everyone through email or give him a call... neil.beeby@bigpond.com, 02 6255 0906.
---
DATELINE : THURSDAY, APRIL 12, 2007
Johnny's home destroyed by fire
Johnny Cash's longtime lakeside home in Tennessee, a showcase where he wrote much of his famous music and entertained US presidents, music royalty and visiting fans, and which was bought recently by Bee Gee Barry Gibb, has been destroyed by fire.
Johnny and his wife, June Carter Cash, lived in the 1,290 square metre home (pictured) in Hendersonville from the late 1960s until their deaths in 2003.
"So many prominent things and prominent people in American history took place in that house – everyone from Billy Graham to Bob Dylan went into that house,'' said singer Marty Stuart, who lives next door and was married to Johnny's daughter, Cindy, in the 1980s.
Marty said the man who designed the house, Nashville builder Braxton Dixon, was "the closest thing this part of the country had to Frank Lloyd Wright.'
When Johnny moved there, the road was a quiet country lane that skirts Old Hickory Lake. Kris Kristofferson, then an aspiring songwriter, once landed a helicopter on his lawn to pitch him a song.
The landmark video for the song Hurt was shot inside the house.
"It was a sanctuary and a fortress for him,'' Marty said. "There was a lot of writing that took place there.''
Richard Sterban of the Oak Ridge Boys lives on the same road as Cash. "Maybe it's the good Lord's way to make sure that it was only Johnny's house,'' he said.
The property was purchased in January for a reported $US2.3 million by Barry Gibb, who, with his wife, Linda, had said they planned to restore the home on Old Hickory Lake and hoped to write songs there.
They had not yet moved in to the home.
A spokesman for the couple, Paul Bloch, said the singer and his family were "both saddened and devastated by the news".
Rising Australian star Natalie Howard, currently working on her career in America, has seen her song I Don't Want to Live Like That nominated as a "hot track" on the Independent Music Network Chart in the US.
Last week, the song was a "hot track" on the Independent Music Network Country Top 30 Countdown jumping from number 31 to 13.
In her first week in the Top 30, Natalie found herself among other artists like Todd Fritsch, Aaron Tippin, Mark Wills and Daryl Worley.
I Don't Want To Live Like That won the 2006 Independent Music Awards Country Song of the Year awarde. Co-written by Natalie with Nashville hit writer James Dean Hicks, the song was also a semi-finalist in the Country category of the US International Songwriting Competition.
The Independent Music Network Chart (Los Angeles, New York) is determined by fan votes, radio station requests and DJ reports.
The video clip of the song is currently airing on GAC (Great American Country) TV in America and CMC (Country Music Channel) in Australia.
This week, Natalie's Musicoz CMC Best Country Artist award-winning song I Can't is number one in The Z Country Top 10 on the Ison Live Radio International Network.
Weblink – www.nataliehoward.net.
The recent Murraylands Music Festival at Tailem Bend (South Australia) drew more than 2,000 people during its three day duration and attracted a high standard of entrants in the talent quest, organisers report.
"Overall comments praised the friendly atmosphere, the community spirit and the professional organisation of the festival", said organising committee chairman and co-ordinator Noel Kneebone.
Festival co-founder Les Scott said artists were ringing up to appear in the now nationally renowned music festival. Tourists said the festival had one of the best atmospheres of any in Australia, he reported.
Participants and audience members came from right across the state as well as Queensland, NSW and Victoria. Noel said about 80 percent of the 2,000 people who attended were from out of town.
"The Friday night cabaret set the scene for the weekend's regular huge program. Once again Mallee Blue and Wild Card were superb feature acts. The bands kept the crowd dancing and singing along to their favourite hits with a great blend of Australian, American and original songs.
(Members of Mallee Blue, who retired with their performances at this year's festival, are pictured, from left, Noel Kneebone, Anthony Stewart, Darren Gurney, Brenton Ahrns, Anthony Hodgen and Neil Chapman.)
"Saturday, on the main stage, The Borderers, Greg Champion and Cat Southern showed they are class acts, stunning the crowd with their brilliant stage performances.
"People appreciated the fact that they mingled with the crowd and encouraged talent entrants during the day.
"Proven crowd favourites Dave Prior, Brendan Belski, Mark Tempany, Alison Hams, John O'Dea, Jessie Che, The Rustlers, The Beggars, Finely Tuned and newcomers to our festival, Genevieve Spalding, Vanessa Lee Shirley, Talia Wittman, Leanne Noll, Fred Bowen and Penny Burke were fantastic performers. They freely mixed with the crowd in an informal capacity and lent a helping hand whenever it was needed. Trev Warner made a guest appearance on the Saturday evening and added his class to another great show."
Noel praised the efforts of talent quest co-ordinator Alison Hams and judges Fred Bowen, Gary Burrows, Fred Hams, Charlie McCracken, Wally Sparrow, the backing band and the SA Council for Country Music representatives (the Council helped provide talent entry co-ordination as well as stage management).
Organisers appreciated the sponsorship of the South Australian Tourism Commission, Limestone Coast Tourism, Teusner Wines, G&R Maidment, Fairmont Homes, River City 88.0 FM, Coorong District Council, PIRSA as well as 40 individual sponsors and, of course, "the wonderful community workers and the efforts they put in over the weekend".