NEWS ARCHIVES
APRIL 2006
DATELINE : WEDNESDAY, APRIL 26, 2006
Golden Saddle Finalists announced
Organisers of the Galston Country Music Festival have announced finalists for the 2006 Golden Saddle Award.
Presented in conjunction with the Festival, this year the 10th anniversary event will be staged on Sunday, September 10, the Golden Saddle Award is presented for outstanding ability.
And this year's finalists are...
The Atherton Brothers (from Gympie, Queensland), Paul Costa (Robinvale, Victoria), Carol Donovan (Port Macquarie, NSW), Amber Lawrence (Sydney, NSW), Karen Lynne (Wenthworth Falls, NSW), Drew McAlister (Sydney, NSW), Amos Morris (Kempsey, NSW), Peter Pratt (Ilabo, NSW), Ronni Rae Rivers (Warnbro, WA), John Stephan (Sydney, NSW), Craig Stewart (Laurieton, NSW) and SweeneyKilleen (Sydney, NSW).
Finalists are nominated by "industry spotters" from a pool of Australian professional independent artists whom they consider outstanding at what they do.
Galston Rotary Club (organisers of the Festival) then trim the 12 finalists down to three Grand Finalists who are invited to perform at the Festival. These will be announced in June.
The Golden Saddle winner on the day is chosen by industry judges and receives a hand crafted Cooper's Golden Saddle Award trophy, cash, a production package by courtesy of Herm Kovac (Ramrod Studios), certificate and an invitation to return as a special guest at the next Festival.
The two runners-up both receive a performance fee, publicity, certificate and a Cooper's Golden Saddle Award trophy.
Previous Golden Saddle winners have been Darren Colston (last year), Rob Wilson, Mark Tempany, Double-Decker Dave, Michael King, Dave Debs, Colin Greatorix and Tracey Faith.
Further information about the Festival can be obtained at www.galstonfestival.com.
Anne signs to Compass Bros
Anne Kirkpatrick has signed with Compass Brothers Records and her first album on the label will be released next month.
Daughter of Australian country music icons Slim Dusty and Joy McKean, Anne first appeared on stage at the age of 10 in her parents' travelling country show before rising to prominence as a solo artist in the mid '70s
In 1991, Anne released her watershed album Out Of The Blue (her seventh solo release) on the fledgling ABC Country label and took home an ARIA (Australian Recording Industry Association) Award that year and two Golden Guitar Awards the following January.
At the time, critics labelled her "a true revolutionary… the godmother of Australian new country" and declared "she is now, unambiguously, our finest country performer".
Anne's new album – Showman's Daughter (her 13th including two duet albums with Slim) – has been produced by former Flying Emus and Travelling Country Band member Mike Kerin and Michael Vidale and is described as "a raw and authentic roots country album reminiscent of roots traditionalist Gillian Welsh".
The writer credits for the album read like a branch of the Dusty family tree with contributions from Anne herself, Joy McKean, Slim Dusty and Anne's son James Arneman.
Also featured are songs from writers with long associations with the family: Don Walker, Bernie O'Brien and Stan Coster.
Showman's Daughter, Anne's first solo studio album since 1997, will be released on May 13 on Compass Brothers Records through SonyBMG.
Record enquiries for QUT Urban Country Music Festival
Caboolture Shire Council, organisers of the annual QUT Urban Country Music Festival, have reported record enquiries for the event to be held this May long weekend in Queensland, April 28 to May 1.
"Enquiries have been huge through both our website and the festival hotline," Caboolture Mayor Joy Leishman said.
"There is a significant increase in the levels of enquiry over the previous two years and we are anticipating a record attendance for 2006."
Tickets for the main concert, featuring Lee Kernaghan, Paul Kelly, Adam Harvey, Melinda Schneider, Tania Kernaghan, Troy Cassar-Daley and Aleyce Simmonds, are selling strongly with the announcement that Lee will launch his latest album The New Bush at the concert.
"It's a huge coup for the festival to secure the album launch, Mayor Leishman said. "The opportunity to be the first to experience this major event and buy the album hot off the press has added a unique incentive to an already dynamic concert."
The main concert, sponsored by the Caboolture Shire Herald, is the feature happening of the weekend, but organisers have ensured that this year's event has plenty of events and attractions to provide a diversity of entertainment.
The largely free program of entertainment gets underway in Caboolture's central business district on Friday night with The Burbs 'n Bush Party featuring the Bushwackers and The Borderers, the Caboolture Sports Club Urban Blaze Concert and Fireworks with Jonah's Road, Samantha McClymont, Cat Southern and Claye Middleton, to The Farewell Concert with Tom Curtain and Luella, together with winners of all competitions – the Twisted Arm Busking Championships, RSL Caboolture Talent Search and Queensland Champion of Champions.
Add to that the popular Songwriters Café, Sunshine Coast Coromal Bush Poets Breakfasts, a host of competitions including the RSL Caboolture Talent Search, Telstra Road To Tamworth, the Twisted Arm Busking Championships and bush poetry.
The Caboolture Festival has grown into a real family affair with an increasing number of attractions beyond the music.
These include the Nova Ford Beaut Ute Competition, the Town Square Markets, Australia Zoo and Bunnings with activities for young people in the Town Square, the Trail of Reflections artwork tours through the central business district of Caboolture - and the Hogs Breath Café Bacon Racin' piglet races on Monday morning "a fun event not to be missed".
Further information about the Festival can be obtained from the website www.urbancountry.com.au or by calling the Festival Hotline 1800 810 400.
Port Stephens Festival
The inaugural Port Stephens Country Music Festival will be held on the Queen's Birthday June Long Weekend in NSW, June 9 to 12.
In addition to the music, led by country star Adam Brand, the Festival will include line dancing, country cruises, bush poetry, music bus tours and "plenty more".
Participating venues will include Nelson Bay RSL, Nelson Bay Bowling Club, Newcastle Game Fishing Club, Fingal Bay Sport & Recreation Club, Salamander Bay Shopping Centre, Seabreeze Hotel, Nelson Bay Golf Club, Moonshadow Cruises, Bay Breeze Resort and d'Albora Marinas.
The weekend will also incorporate the Shoal Bay Food and Wine Festival.
Further information can be obtained by telephoning Nelson Bay Town Management on 02 4984 4751 or by visiting www.nelsonbaybusiness.com.
Matt Manning, Australian Bush Balladeers Association (ABBA) Star Quest winner 2004 and Bungendore New Talent winner, released his second CD on Sunday in Casino.
Titled My Richmond River Home, the album has 12 tracks – 10 bush ballads and two instrumentals.
The album was produced at Kross Kut Records by Lindsay Waddington.
It is available from Matt direct at 2 Cascade Drive, Casino NSW 2470 or contact can be made by email lynmanning@iprimus.com.au.
Cost of the album is $27 (including postage).
Further information can be obtained at www.bushballadeers.com.au/manning.htm.
And so does Anita
Another ABBA Star Quest winner, Anita Ree (2003), is also about to release a new album.
Bush Girls Heart, on the Ringbark Records label, will be released on May 6.
The album contains a selection of 13 Australian songs, 10 written or co-written by Anita herself.
Other writers featured include the late Joe Daley (he wrote the words to The Ballad of Joe Daley, a poem he wrote about his own life as "a brokend down ringer") and Ian Quinn who wrote the title track, a song, Anita says, is a picture of her life.
The inclusion of a duet with Tracy Coster of a special Stan song is also a highlight.
"Guitar touches from Charley Boyter and Stuie French head the list of an impressive selection of Australia's finest musicians," Anita said, "including Michel Rose, Mick Albeck, Mark Oates and Roger Corbett.
Further information can be obtained from www.bushballadeers.com.au/anita.htm.
Patti tours in America
Goulburn, NSW, based country singer Patti McKinnon is heading to America for a series of performances through May.
The tour kicks off on May 5, 6 and 7 at the Jamboree by the Lake in Winchester, Tennessee, and takes in appearances including Tootsies in Nashville on May 9, Fiddlers Inn, Nashville from May 11 to 15, Cowboys Red River Dancehall in Dallas, Texas, on May 18, Ernest Tubbs Record Store in Forth Worth, Texas, on May 20, Cross Timbers Opry in Stephenville, Texas, on May 22 and the Memorial Jamboree in Fort Worth from May 26 to 28.
A recording session at Stardust Records, Nashville, is set down for May 8 to 10.
Patti's latest album is Freedom Highway.
For further information, visit www.countryragepage.com/pattimckin.htm.
Australian Festival in Nashville
Applications are now open for Australian artists wanting to showcase their talents in Nashville during the 2006 Australian Festival.
The Festival runs from Thursday September 14 to Sunday September 17.
Applications can be made on line at www.musicdownunder.org.
Further information about the can be obtained at www.australianfestival.com.
Bill Chambers hits the road
Bill Chambers hits the road in May playing gigs to promote his solo album Frozen Ground.
The album was released in February to widespread industry and media praise and Bill is keen to promote his music to audiences all over Australia.
Frozen Ground is Bill's second solo album which he describes as "different styles from classic country to blues and points in between.
"A fine collection of country blues songs with dirt under their fingernails."
Bill's career has spanned many decades and seen him win Golden Guitars for his songwriting, travel the country at the helm of his successful family outfit the Dead Ringer band, travel the world as guitarist in daughter Kasey's band for the past eight years or so, as well as touring the US solo many times.
His live show is simply one not to be missed.
Visit www.essencerecords.com.au for details of appearance dates.
Tamworth 2007 "Festival Information Guide" launched
Planning and preparation for the 2007 Tamworth Country Music Festival is well underway with Tourism Tamworth announcing the early release of the "must-have" booklet, the "Country Music Festival Information Guide".
"This booklet is an essential tool for all visitors planning a trip to Tamworth during January," said Tourism Tamworth General Manager Rebel Thomson. "(We have) been producing this Guide for a number of years and it has always been highly sought-after.
"With almost 1,000 enquiries for information about the 2007 Tamworth Country Music Festival reaching the Visitor Information Centre since January, it's easy to see why the Festival Information Guide is so well received."
The "Festival Information Guide" is a comprehensive database of everything anyone needs to know about visiting the Festival including a full list of accommodation in the Tamworth region (plus alternatives such as riverside camping), coach packages, major events, ticket sales and contact details for entry into major competitions.
"In addition to an increased print-run of this publication to cater for the high level of enquiries, Tourism Tamworth has chosen to upload this booklet on to (our) website to provide visitors with ease-of-access to information," Rebel said.
The Guide can be viewed at www.visittamworth.com (click on the Country Music Festival link on the toolbar), the on the "Festival Information Guide" hyperlink to download (the PDF file).
Anyone without access to the internet, can contact Tourism Tamworth and request a hard-copy of the booklet to be mailed, free of charge.
Changes to NSW Central Coast radio
NSW Central Coast Radio 2CCC 96.3 FM is on the move, literally, and is changing its call sign to simply Coast FM 963.
The new physical address is yet to be confirmed but will still be in the Gosford area according to spokesman "Tubby" Dyer.
Established in March 1984, the station was granted a full 24 hour licence in August, 1992, and is the "senior" community radio station on the coast.
The daytime format (6am to 6pm) will be "easy listening" with specialist program to feature between 6pm and 6am.
Tuesday night is now "country, rythmn 'n' blues" from 6pm to 12midnight with "Tubby Dyer's "Bar-B-Q Country" from 6–8pm, Ian Betteridge's "Heroes & Friends" alternating in the 8-10pm slot with Lyn McKenzie's "High Country and Bill Dewdney's "Highway 49 Blues" filling 10pm to 12midnight.
Sunday mornings will retain "Aussie Country" with Mike Kennedy from 9am to 12noon.
Any enquiries regarding the station or programming can be directed to "Tubby" at tubby2@tpg.com.au.
Smoky – in the March and on canvas
Smoky Dawson took part in his "umpteenth" Anzac March in Sydney yesterday, hot on the heels of an appearance at the National Trust's S H Ervin Gallery in the city on Sunday.
During World War II, Smoky served in the first Australian Entertainment Unit. After a severe illness, he returned from the jungles of Borneo to start "The Adventures of Smoky Dawson" radio show. At its peak, the show was broadcast nationally on 69 stations.
Smoky was at the S H Ervin Gallery to respond to his portrait, painted by artist Ann Cape, selected for the 2006 Salon des Refuses (the alternative Archibald & Wynne Prize exhibition) showing there until May 14.
The painting, of Smoky (with wife Dot), is proving to be one of the most popular works on show, according to a spokesman for the Gallery. It was purchased by acclaimed artist and arts benefactor Margaret Olley who will donate it to the Lismore Regional Gallery following exhibition in Sydney.
Smoky is recognised as one of Australian country music's first pioneers of the music back in the 1930s and '40s.
In 1978, he was elevated to Australia's Country Music Roll of Renown and inducted into the Australian Recording Industry Association (ARIA) Icons Hall of Fame last year.
Further information can be found by visiting www.nsw.nationaltrust.org.au.
Photo: the painting of Dot and Smoky by Ann Cape.
Charts update – Troy takes over at number one
Troy Cassar-Daley has taken over the number one spot on the Country Tracks Top 30 singles chart this week with his current single Going Back Home.
Toby Keith remains at number two with Big Blue Note while last week's number one, Stuie French & Camille Te Nahu's Wives Don't Like Old Girlfriends fell to number three.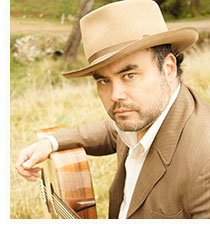 Keith Urban, Joe Nicholls and Travis Sinclair remained at four, five and six, respectively, with These Are The Days, Tequila Makes Her Clothes Fall Off and Midnight Run.
Peter Denahy's Peppercorn Tree crept up to number seven, Catherine Britt's Too Far Gone rose to eight, The Flood's The Flood dropped to number seven with their former number one hit Hello Blue Sky dropped two more spots to nine and Sara Storer's Since I've Gone fell to number eight, and Beccy Cole's So Good For So Long bounced into the top 10 at 10 from number 14.
Bullet performers this week included Natalie Howard's Is It Just Me (15 to 11), Jake Nickolai's Suddenly I (16 to 12), Adam Harvey's That's Just How She Gets (19to 13), Travis Collins' I Was Wrong (22 to 18), Ronni Rae Rivers' It's Only Make Believe (23 to 19).
There are two new entries to the chart this week, Tania Kernaghan with Harley McTaggart (in at number 29) and John Williamson with Bells In A Bushman's Ear (at 30).
The full chart can be viewed at www.nfspublicity.com.au.
Photo (by Helen Mitchell): Peter Denahy, one of this week's Bullet Performers on the chart.