---
FRIDAY, JULY 21, 2017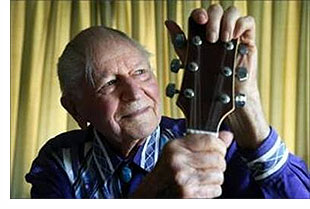 Vale – Geoff Mack
Legendary Australian entertainer Geoff Mack has died. He was 94.
Albert Geoffrey McElhinney, (better known and loved as Geoff Mack) passed away peacefully just after 6pm yesterday.
Geoff's career was established during World War II.
He enlisted in the RAAF on June 4, 1942, and was trained as an aircraft mechanic. He was discharged on 7 January 7, 1946, with the rank of corporal from 62 ACW (Airfield Construct Wing).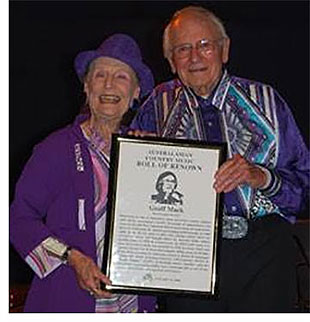 In 1944, while serving in Borneo, Geoff's ability to play the guitar and sing was noticed and he was seconded to entertain the troops with visiting guest stars.
In May 1946, as an ex-serviceman performer in a theatre concert, Geoff was credited for being "responsible for most of the laughs with his vocal gymnastics, in his number, In Der Fuhrer's Face, a gem of its kind, which had the audience in hysterics."
At the end of the war, Geoff went to Japan with the Occupation Forces to perform and was appointed to Radio WLKS as the voice of the British Commonwealth Occupation Forces. In August 1950, he returned to Australia after performing for British, American, French, German, and Japanese audiences, including his rendition of Waltzing Matilda.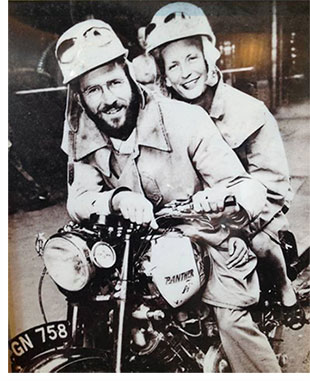 His 1959 composition I've Been Everywhere became a hit in Australia in 1962 with the release of a cover version by Lucky Starr. It later reached the top of the song charts in the USA, Germany, and Japan. The song has now been recorded in 131 different versions, notably on Johnny Cash's 1996 album Unchained.
In 2005, the song was used in The Simpsons' episode "Mobile Homer" when Homer sang part of the American version to fellow RV owners in his yard.
During the late '50s to mid '60s, Geoff (along with fellow legendary Australian entertainer Lucky Grills) operated the famous touring "tent" variety attraction "Carlols Variety Show" which toured the length and breadth of the country entertaining hundreds of thousands in the pre-TV era.
Geoff was inducted into the International Songwriters Hall of Fame in Nashville, Tennessee in 1963, into the Hands of Fame at Tamworth NSW in 1978, the Tamworth Songwriter's Association Song Maker Award in 1997 and was elevated to the Australian Country Music Roll of Renown in 2008.
Geoff is survived by his wife, fellow entertainer, Tabbi Frances (aged 91), whom he met and married post WW2. They have been inseparable ever since. The photo above documents their famous trip from Europe back to Australia, which was mostly executed via motorbike, as the image attests. Geoff and Tabbi were happy to give the motorcycle to Country Music Capital's Walk A Country Mile interpretive exhibition which us now a part of the Australian Country Music Hall of Fame in Tamworth.
"Our Entertainment industry has lost one of our most loved veteran performers," said a spokesman for The Golden Years of Australian Variety. "The lights shine a little less bright tonight.
"Vale Geoff. You will never be forgotten. Our thoughts and prayers are with Tabbi."
This tribute with thanks to The Golden Years of Variety.
---
WEDNESDAY, JULY 19, 2017
Clelia's classic hits
Internationally acclaimed, multi award winning singer/songwriter Clelia Adams, an integral part of Australian country music since l975, has released an album of "classic hits".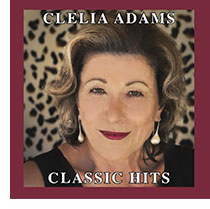 Clelia's Classic Hits traces the artist's solo musical journey beginning with the albums Bring It On in 2000, Heartbeat Highway 2004, Wildflowers 2008 and River Valley Dreaming in 2011.
Prior to her solo career, Clelia performed in a duo act and was a session singer on thousands of tracks recorded in all Tamworth studios for 25 years.
From the outset, Clelia's music has been embraced by the international country music radio community, seeing her become "the darling" of the European, UK, NZ and Australian country music airplay charts with each successive album. 
Classic Hits is a collection of 22 of Clelia's top five, top 10 radio hits during her international recording career through the past 16 years. The release also includes bonus tracks, La Paloma and Forever Young.
All songs were recorded and produced by long time friend Stuart French and the A Team, who have included Mick Albeck, Kevin Bennett, Brad Bergen, Bill Chambers, Camille French, Doug Gallacher, James Gillard, Chris Haigh, Donnie Hopkin, Rudy Miranda, Bill Risby, Michel Rose and Garry Steele.
Weblink – www.cleliaadams.com.
---
MONDAY, JULY 17, 2017
White Ribbon hosts free country music concert at the Isa
Troy Cassar-Daley will play a free family concert in Mount Isa next month to raise awareness of domestic violence.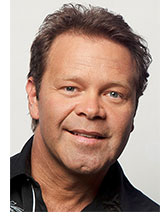 The Isa's North West Star newspaper reported the event was sponsored by the Queensland Police Service in support of White Ribbon Australia. The concert will be held on Thursday August 17 at the Buchanan Park Complex.
"Domestic violence is a serious issue in Australia affecting families and communities nationwide," said a spokesman for concert organisers.
"On average, at least one woman a week is killed by a partner or former partner in Australia. One in three women will experience abuse by someone known to them."
More than 200,000 Australian men have taken the White Ribbon Oath to stand up, speak out and prevent men's violence against women. Domestic & Family Violence Co-ordinator Sgt Paige Barrow of Mount Isa Police said the issue of domestic violence was prevalent locally too.
"Superintendent Kev Guteridge initiated the event to support the work of White Ribbon in the local community," according to Sgt Barrow. "The first reason to have the event is for the community. There ard no tickets – it's free entry, so just show up."
The concert will also feature the local Emergency Services and defence band The Hoax. Gates open at 6pm with The Hoax at 6:30 and Troy Cassar-Daley at 7:30pm.
Troy's career has spanned nine albums over a 26 year career.
He has been awarded numerous accolades including 32 Golden Guitars, four ARIAs, two APRA Country Song of the Year awards, nine Deadlys and four CMAA Entertainer of the Year awards.
Troy is an ambassador for White Ribbon Australia.
"I'm proud to be supporting White Ribbon with my music and equally proud to be playing in front of another Mount Isa crowd," Troy said.
---
FRIDAY, JULY 14
New from Jasmine
Baldivis, WA, singer/songwriter Jasmine Atkins recently released a new EP.
Titled Key To My Heart, the EP contains six songs all written by Jasmine with the assistance of "West Australian heavyweights" Mark Donohoe, The Murphy Brothers, Ian Simpson, Mike Hagerty Jr, Travis Bryant, and Johnny Taylor in recording the tracks.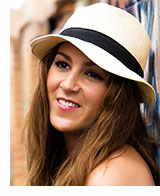 Jasmine said she loved working with Mark who pushed her to be the best she could be. "Mark is very good at encouraging me," she said. "I love him as a producer and engineer because he has a way of getting the best out of me and I still don't know how he does it — he's straight to the point and I respect that.
"I want my listeners to learn a little bit about me and I hope I can help a few people along the way if they're having a few issues."
In an article in The West Australian, Jasmine, who started her musical career when she got her first keyboard at three years old before teaching herself how to read music and starting lessons at age six, said her songs touched on topics including mental illness, domestic violence, being in love and the loss of loved ones.
Three-time Golden Guitar and 1997 Star Maker winner Lyn Bowtell described Jasmine as a vibrant young artist who sung like an old soul.
Her love of country music stemmed from her grandmother who introduced her to the genre at an early age with her influences including the likes of Kasey Chambers, Keith Urban and Carrie Underwood.
After winning the Overall Senior Champion title at the Capital Country Music Association National Talent Quest and graduating from the Academy of Country Music in Tamworth in 2015 and the Western Australian Academy of Performing Arts in 2016 with a Bachelor of Music, Jasmine says she is ready to take her music across the nation and beyond.
"I love the songwriting in country music," she said. "I want to get my music out to everyone I can and break through new markets."
Weblink – www.facebook.com/jasmineatkinsmusic.
---
WEDNESDAY, JULY 12, 2017
Junior Academy graduates
Twenty-five students graduated from this year's Australian Academy of Country Music Junior Course conducted in the lead-up to the 2017 Hats Off to Country festival in Tamworth.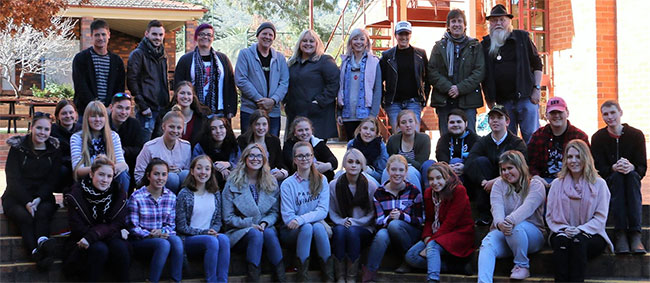 The graduates are Maxine Baker from Leichhardt (NSW), Isabella Burnup, Airlie Beach (Qld), Madi Colville (Laura Byrnes Music Scholarship), Moama (NSW), Billie-Rose Copeland, Charters Towers (Qld), Ella Hebberman (SA Mid North Country Music Scholarship) Jamestown (SA), Elyssa Hawkins, Rankin Park (NSW), Chloe Heyman, East Corrimal (NSW), Justess Jones, Weston (NSW), Kasey Kilsby (Pioneer Valley Country Music Festival Scholarship), Andergrove (Qld), Felicity Kircher (RNA Ekka Troy Cassar Daley Scholarship), Tingalpa (Qld), Matilda Rose Lawler, Bredbo (NSW), Addison Marshall (Capital Country Music Association Scholarship), Ulverstone (Tas), Skye Montana, Tannum Sands (Qld), Kora Naughton, Albion Park (NSW), Harriet Oates, Loomberah (NSW), Lucy Parle, Lisarow (NSW), Sally Pottinger, Serpentine (WA), Chelsea Rollings, Ashtonfield (NSW), Teagan Smith (Far North Qld Country Music Festival Scholarship), Mareeba (Qld), Eliza Spalding, West Wodonga (Vic), Georgie Taylor, Thornlands (Qld) and Trinity Woodhouse, Abernethy (NSW).
In addition, three graduates too part specifically in the Instrumental Course run in conjunction... Jack Carnaby from Waterview Heights (NSW), Dan Henwood, Wangaratta (Vic) and Leyon Milner, Mackay (Qld).
The Australian Academy of Country Music is run by the Country Music Association of Australia.
Photo: students and tutors of the 2017 course.
---
MONDAY, JULY 10, 2017
Anne to headline at Laura
Anne Kirkpatrick will headline at this year's Laura (SA) Country Music Festival at the end of this month.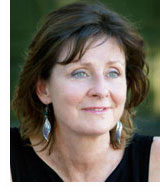 The three-day festival, running Friday to Sunday July 28 to 30, will feature Anne on the Sunday night of this year's event.
Also on the program will be Isabelle Adam, Bernie & The Bandits, Bill Chambers, Craig Giles, Ian List, Trevor Philbey, Ernie Schultz, Kiera Smith, the Wild Card Band and Des Will.
Festival Chairman Ian White said "It is great for the festival to bring such strong country music talent to Laura.
"If you want to experience great country music, and a great country town in Laura, this is the festival for you. In previous years we have had people visit from the south-east, the Riverland, Broken Hill and interstate – we are expecting the same again this year."
Set to be held at the Memorial Civic Centre, the 2017 festival will also offer a talent quest across nine genres and 10 age groups. The competition will be held in conjunction with Burra Country, Port Pirie Harnessing Young Talent and Laura Events.
In addition to $2,000 in prizemoney on offer, the groups are set to offer one junior and senior scholarship to the Australian Academy of Country Music in 2018 to further their musical development.
Weblink – www.facebook.com/lauracountrysa.
---
FRIDAY, JULY 7, 2017
Hats Off underway
The 2017 Hats Off to Country festival is underway now in Australia's Country Music Capital, Tamworth.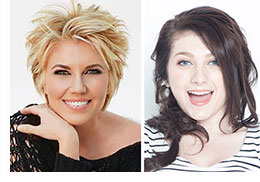 It lanched on Thursday night and swung fully into gear today with numerous events including a performance by graduates of the 2017 Australian Academy of Country Music Junior course.
A new activity this year is the Hats Off Cowboy Crawl tonight which will see a dedicated group of festival goers visit a number of key Country Music Capital venues.
Tomorrow will see two major concerts at West Leagues, the first, Melinda Schneider with guest 2017 Toyota Star Maker Rachael Fahim at West Leagues from 2pm and at night, Catherine Brott and Amber Lawrence in concert.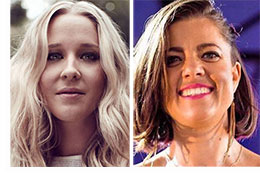 Dozens of other shows are scheduled at pubs and clubs through Tamworth during the official four days of the event, including two fundraising events.
At 1pm tomorrow at Southgate Inn, the Australian Bush Balladeers Association will stage a fundraiser for a bronze bust for the legendary Frank Ifield while at 6pm tomorrow evening at Tamworth City Bowling Club, a Brian Young commemorative CD launch will be held, the aim of this activity to raise funds for a bronze bust of Brian.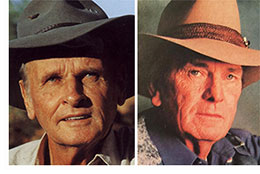 A special Hats Off to Stan Coster tribute concert will be run by the Capital Country Music Association (CCMA) at the South Tamworth Bowling Club on Sunday at 1pm featuring Stan's daughter Tracy with Anthony Baxter, Clancy, Brian Howard and Brendan Smoother.
The CCMA event is inline with the very essence of Hats Off which started back in the year 2000 with a Hats Off to Slim Dusty concert.
More information about Hats Off can be found on the website hatsofftocountry.com.au.
---
WEDNESDAY, JULY 5, 2017
Judah booked to perform at the Muster
Just a few days after his stunning win in The Voice Australia 2017, Judah Kelly has been booked to appear at this year's Gympie Muster in August.
A long time player in Australian country music, Judah's talents were recognised by the Muster in 2011 when he was named runner-up in the 2011 Muster Talent Search.
"His success in (The Voice) has highlighted the diverse talent that Australian country music artists have to offer," according to Muster organisers, "and Judah brings this to the Muster again this year."
Another headline act for 2017 will be pop star Jessica Mauboy who gained her start in the music business via the Telstra Road to Tamworth talent quest staged leading up to the annual country music bash in January each year.
Rounding out the headline acts for Gympie 2017 will be Lyn Bowtell, Adam Brand, The Bushwackers, Graeme Connors, Anne Kirkpatrick, Busby Marou, Chad Morgan, and Caitlyn Shadbolt.

Dozens more will perform during the four day event... Kirsty Lee Akers, 8 Ball Aitken, Chelsea Basham, Kaylee Bell, Liam Brew, Catherine Britt, Travis Collins, Davidson Brothers, Pete Denahy, Adam Eckersly Band, Rachael Fahim, Georgia Fall, Hurricane Fall, The Hillbilly Goats, Christie Lamb, Amber Lawrence, Seleen McAlister, Shelley & Lawrie Minson, Kaylens Rain, Troy Kemp, Fanny Lumsden, Karin Page, The Sunny Cowgirls and Viper Creek Band.
Events during the main event will include a Slim Dusty tribute show, performances by students from the Australian Institute of Country Music, the Gympie Blues Club, bush poets, Songwriters Sessions, Toyota Star Maker Showcase and Fender Guitar Jam.
Held in the Amamoor Creek State Forest, the 2017 Muster will feature more than 100 artists in total in more than 300 performances across multiple stages. One ticket price gives Muster-goers free camping and multi-venue access to all performances.
Run by the community, for the Community, the Muster is a not-for-profit charity event which has raised in excess of $15 million for charities Australia wide since its inception. Proceeds from this year's Muster will again go to charity partner Mates4Mates to help Australian Defence Force personnel with mental and physical injuries as a result of their service.
The Muster runs from Thursday August 24 to Sunday August 27.
Weblink – www.muster.com.au.
---
MONDAY, JULY 3, 2017
APRA PDA finalists
Five country acts have been announced as finalists in the 2017 APRA (Australasian Performing Right Association) Professional Development Awards (or PDAs).
In line for a share of the $135,000 cash prize pool are Kaylee Bell, Danielle Blakey, Timothy James Bowen, Christie Lamb and Fanny Lumsden (pictured below from left).

A total of 40 Australian songwriters and composers have been announced as finalists across six categories... Aboriginal & Torres Strait Islander, Classical, Country, Dance/Electronic, Film & Television, Jazz and Popular Contemporary.
"Held every two years, the APRA PDAs create serious opportunities for emerging songwriters and composers," said a spokesman for the organisation, "just ask previous winners Gotye, Abbe May, Timothy Carroll, Ruby Boots, Briggs, Vassy, Jeremy Rose and screen composer Caitlin Yeo who have all benefited from this career boosting initiative."
A panel of local judges including Kevin Bennett, James Blundell, Mia Dyson, John Ferris, Leah Flanagan, Cat Hope, Lior, Johannes Luebbers, Brooke McClymont, Jenny Morris, Iain Shedden, Graham Thompson and Dan Zilber determined the finalists.
 
Five finalists have also been named for the Indigenous Music and Media Award – a special award and grant of $12,000 – from Smugglers of Light, a foundation set up in memory of Eli Westlake who was tragically killed in 2008 at the age of 21.
PDA winners will be announced on July 25.
Weblink – www.apraamcos.com.au.
---
SUNDAY, JULY 2, 2017
The Voice update
Judah wins!
---
FRIDAY, JUNE 30, 2017
"King" Judah on The Voice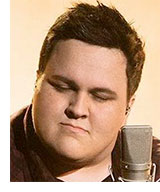 Sunday night sees the culmination of television talent search The Voice Australia with country talent Judah Kelly in the final four competing for the 2017 winner's crown.
Judah has been somewhat of a sensation in the talent quest entering initially from a background as a backing musician in the Australian country music scene but making a huge impact in the series with his impressive singing talent and ability.
Soon after gaining the attention of all four coaches, Judah hit the right note with millions of Australians and notched up a few significant achievements, including the "most downloaded" of all competitors and the "most viewed" blind audition clip.
Judah (Team Delta) will be up against fellow voices Fasika Ayallew (Team Kelly), Hoseah Partsch (Team George) and Lucy Sugerman (Team Seal).
The winner will walk away with a Universal Music Australia recording contract and $100,000 in cash.
Weblink – www.facebook.com/TheVoiceAu.
---
THURSDAY, JUNE 29, 2017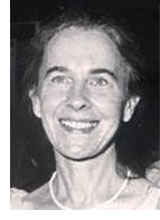 Vale – Coral Dasey
Coral Dasey, a songwriter and poet of note, has died. She was 77.
Late of Redfern, a suburb of Sydney, Coral was originally from Inverell and is probably most well-known in country music for her award-winning song The Warrumbungle Mare which won her and Reg Poole Golden Guitars for the Heritage Award in 1981.
Among her published works of poetry are A Tale of The Never Never published in 1976 in Australian Bush Verse : Selected from The Bronze Swagman Book of Bush Verse, The Clearing Sale, published in the Bronze Swagman Book of Bush Verse in 1981, and The First Encounter published in The Bronze Swagman Award Celebrating 40 Years of Bush Verse in 2011.
Coral also released an album – Listen To A Country Song – recorded at CM Studio, Dubbo, which included five of her own songs – Buddy Williams At The Opera House, Country Jamboree, Echoes In The wind, One Man Girl and Vietnam Lullaby – as well as tracks by Johnny Ashcroft, Henry Kendall, Eric Watson and her father George Dasey.
Industry-wise, Coral was on the first committee of the Tamworth Songwriters Association alongside Joy McKean, Diane Hawking, Nev Nicholls, Eric Watson, Ian Betteridge and Rocky Page.
Her funeral service will be held at the Sacred Heart Catholic Church, Inverell, at 2pm Monday (July 3).
---
MONDAY, JUNE 26, 2017
Countdown on for Hats Off
The countdown is on to this year's mid-year festival in the Country Music Capital, Hats Off to Country in July.
Running from July 6 to 9, Hats Off will feature more than 100 individual acts and dozens of events and activities over the four days and before.
Headline acts include the likes of Catherine Britt, Brothers3, Ashleigh Dallas, Amber Lawrence, Shannon Noll, Luke O'Shea, Melinda Schneider, Simply Bushed and Felicity Urquhart.


Pictured (clockwise from top left) Catherine, Brothers3, Felicity, Melinda, Ashleigh, Luke and Amber.
Now in its 18th year, Toyota Hats Off To Country is Tamworth's chance to welcome back artists from the January Festival and will see country music on show at a host of locations across the city including West Leagues and Wests' Diggers, Tamworth Services Club and its North Tamworth Bowling Club and Manilla RSL, South Tamworth Bowling Club, Tamworth City Bowling Club, The Longyard Hotel, Family Hotel, Southgate Inn and The Pub, The Albert Hotel, Oasis, Post Office Hotel plus one of the city's newer entertainment venues the Cattleman Steakhouse.
The Dag Sheep Station at Nundle will see up and coming country artists gaining tuition from writers Kevin Bennett, Jeremy Edwards, Shane Nicholson, Luke O'Shea, Aleyce Simmonds and Felicity Urquhart. During Hats Off The Dag will also showcase the students and their mentors with a number of performances scheduled.
A new event this year will be the "Cowboy Crawl" – tagged as "a fun-filled tour of the city's nightspots which will see participants get dressed up as cowboys and cowgirls for the crawl through town".
For up and coming artists, the Country Music Association of Australia Junior Academy of Country Music will be in full swing. David Carter, Doug Gallacher, Amber Lawrence, Simon Johnson and recent senior graduate and Toyota Star Maker finalist Liam Kennedy-Clark will instruct and inspire the contingent in a week-long workshop.
"It's extraordinary that Hats Off can boast more artists than any other festival in Australia even though in terms of scale it is much more moderate when compared to January," said Tamworth Regional Council Country Music Unit Manager Barry Harley.
"We are looking forward to Hats Off becoming bigger and better because it continues to attract big name artists and is another fantastic reason to draw people to Tamworth – the home of country music in Australia."
A full program and further information can be obtained at www.hatsofftocountry.com.
---
FRIDAY, JUNE 16, 2017
Yellowbelly Festival
The annual Yellowbelly Country Music Festival kicks off for seven days on Monday June 26 in St George, Qld.
In its fifth year this year, the festival features a number of well known country stars including Jeff Brown (pictuired, left), Rex Dallas (second from left) and Keith Jamieson, Brian Letton (right) supported by well known artists such as Ernie Constance, Amanda Faulkner (pictured), Kev Groves, Caitlyn Jamieson, Anita Ree, Alisha Smith, John & Christine Smith, Pete Smith and Daly Stephenson.

The event also features bush poetry with the likes of Ray Essery and Gary Fogarty.
St George Showgrounds is the venie with camping available and, according to organisers, "you can wet a line if you wish" (in line with the festival's name... fishing in the Balonne River... not quite "catchin' yellowbelly in the old Barcoo", but...)
Further information can be obtained by ringing 0427 731 088 or 0439 130 617.
Weblink – facebook.com/yellowbellycountrymusicfestival.
---
TUESDAY, JUNE 13, 2017
Slim's Odds & Sods
In celebration of Slim Dusty Day today, the day that would have been Slim's 90th birthday, EMI Music Australia has announced the release of Odds & Sods, a new collection of "hard to get, vintage Slim Dusty recordings.
The special five CD set will be released on Friday August 4 with pre-order available here.
Containing 130 tracks in a special hardback book, the packaging includes photos from across Slim's career and is being made available for a limited time. The front inside panel features liner notes from Slim's wife, manager and co-songwriter Joy McKean, who shares the story behind the album title.
Working in a record store in the late 1940s, Joy noticed a colleague replacing her "Miscellaneous" titled section with the sign "Odds & Sods".
"This girl persisted with her re-labelling my beloved 'Miscellaneous' selection," Joy said, "and I was just as persistent in altering it back each and every time I returned to work. It took a minor explosion between my co-worker and myself to finally remedy the issue. Happy to say I won the battle."
But Joy has now come to love the term, enough to name the new collection of songs after it.
Odds & Sods is a much varied collection of recordings, all harvested from Slim's early 78s, seven inch singles, EPs and unavailable compilation albums. Many of the tracks have been out of print for a while but the continued requests for these songs from fans have spurred on the release.
For the Slim Dusty fan, Odds & Sods is described as "an exciting re-discovery" and for new fans, "a first discovery of some of Slim's early and lesser known songs".
Also being announced today is a new range of Slim Dusty merchandise. Designed by EMI Music and Slim Dusty Enterprises, the new "Signature Range" features a selection of polo shirts, a cap, a visor and a t-shirt, a 1000 piece jigsaw puzzle and an Old Purple car keyring.
The new merchandise range is available from www.slimdusty.com.au and for visitors to the Slim Dusty Centre in Kempsey.
---
MONDAY, JUNE 12, 2017
Honours for Denis, Lorraine, Peter and Desree
Four music industry identities – Denis Handlin, Lorraine Pfitzner, Peter Coad and Desree-Ilona Crawford (picturd below from left) – have been recognised in this year's Queen's Birthday Honours.

Denis, Chairman and CEO of Sony Music Australia and President, Asia, received an AO – Officer in the General Division of the Order of Australia – for distinguished service to the Australian recording industry, through leadership and mentoring roles, as a supporter of young artists, and to charitable organisations as a director, patron and contributor.
He commenced his career with the company in 1970 and has been leading it since 1984. Outside of work, he plays a strong role in the community and is the founding member of the Sony Foundation of Australia which has raised closed to $27 million since 1998 for youth bases charitable causes.
Denis has a deep involvement in the music industry, served on the committees of several industry associations and has held various positions including Chairman of the Phonographic Performance Company of Australia (PPCA).
Lorraine – a tireless worker in Australian country music – has been honoured with an OAM (Order of Australia Medal) for service to country music.
For many years Country Music Capital based Lorraine, originally from South Australia, has been heavily involved in major country music activities.
Most notable of her achievements has been the establishment of seven of the nine busts of country music pioneers located in Tamworth's Bicentennial Park, the most recent, of Chad Morgan, unveiled just yesterday.
Well known also as a country music broadcaster, writer and reviewer, Lorraine has been involved with hundreds of artists, songwriters, musicians and other industry people for decades.
More recently, she has been a mainstay of two of the nation's most successful industry organisations, the Australian Bush Balladeers Association (ABBA) and Tamworth Songwriters' Association (TSA).
She is also heavily involved in the Australian Country Music Foundation and its public operation, the Australian Country Music Hall of Fame, and was a founder of one of that organisation's predecessors, the Australian Country Music Heritage Hall.
Lorraine was inducted into the Country Music Hands of Fame in 2005.
Peter received an OAM for service to the performing arts, particularly to country music. Originally part of the popular Coad Brothers), Peter performs with his sisters Lynette and Virginia as Peter Coad & The Coad Sisters, now full time professional entertainers with more than 30 years experience working in the music industry.
Currently President of the Australian Bush Balladeers Association, he was inducted into the Country Music Hands of Fame in January 2007.
Desree is a long-time clountry music recording and touring artist and industry participant. She was presented with an OAM for service to country music as an entertainer.
Her first exposure to performing was in 1947 when she joined other family members as The Melody Kids on Radio 4BU Bundaberg in Queensland.
As well as her own performing, which took her from Brisbane and Ipswich to Melbourne and many other places, Desree would train youngsters to dance on television.
She recorded her first single in 1970 for the Dayman's Sunshine Label (Festival) backing that up with an eight-piece country music show group called Desree Crawford & The High Chapparalls.
Desree's first album – Rodeo Queen – came in 1978.  It was recorded in Dubbo by Ken Cameron's CM Records' and produced by Ken Cameron and Lindsay Butler.
Currently working on a new album to commemorate 43 years of entertaining, Desree was inducted into the Country Music Hands of Fame in 1983.
---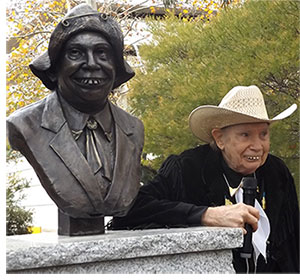 SUNDAY, JUNE 11, 2017
Chad unveiled
The bronze bust of Australian country music pioneer Chad Morgan was unveiled in Tamworth yesterday.
A good crowd of supporters and industry folk attended the event.
Thanks to Eric Scott for the photo which shows Chad responding to the bust unveiling.
---
FRIDAY, JUNE 9, 2017
Kasey wins state scholarship
Fourteen-year-old Kasey O'Donoghue has been named as one of five students in Queensland to win a music mentorship through the Queensland Music Festival On Song 2017 Competition.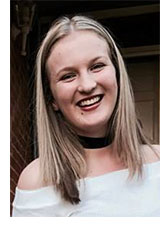 From All Souls Saint Gabriel's in Charters Towers, Kasey entered the competition after seeing it on Facebook through a friend. She said it was too good of an opportunity to pass up.
"I sent in an original song, with a copy of the lyrics and a recording of me singing it," she told the North Queensand Register. "We also had to write a few words on what we wanted to achieve if we got it.
"The song was called Freefalling. It was written about a relationship that seemed perfect but you then realise something bad happened but you still can't help falling in love with the person."
Kasey's mentorship is with Australian musician Jack Carty, including two Skype workshops and a two-day songwriting intensive in July. At the end of each two-day workshop, a concert will be presented to premiere the new material written by Kaycee, alongside other school musicians and choirs.
Already in an established country music band, called Homegrown with suster Katelyn and brother Liam, Kasey is no stranger to the music industry. After winning a national competition, the band released a successful EP.
Kasey says if she had not started busking with her family from the age of seven, she would not know what she might be doing today.
"I have been performing for a long time, locally but also travelling to Tamworth Country Music Festival and gigs in Sydney," she said. "While I am still at school, I plan to continue my music by studying music as an OP subject.
"After school, I would like to continue my music career in conjunction with my new (clothing, accessories and home decor fashion) business Wild Moonfire."
Weblink – www.facebook.com/homegrownmusic1.
---
THURSDAY, JUNE 8, 2017
Blue Water Festival underway
The Blue Water Country Music Festival kicked off yesterday at Port Stephens just north of Newcastle and continues through to, and including, Monday of the June long weekend.

Festival favourites Brothers3, Beccy Cole and Steve Passfield (all pictured) return to the Bay Festival this year; Beccy performing on Sunday night at Soldiers Point Bowling Club.
Steve has played the Blue Water Country Music Festival nearly every year since it commenced and has been the lynchpin for the main free festival stage for many years.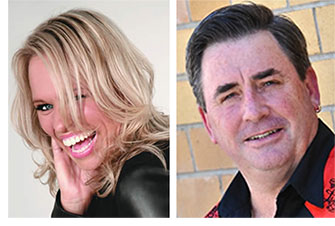 Steve considers himself "almost a local" having played at many other major Nelson Bay events. Steve told News Of The Area: "Going back each year to the blue water of the Nelson Bay area is such a wonderful thing to do.
"It's great to catch up with locals and country music fans who we don't see at some of the far flung festivals throughout the year. But then again, why would you leave the area, you're almost in heaven and add some good music and, well, Eureka!"
This year, Steve has a key role hosting the Port Stephens Toyota Marquee in Apex Park on Saturday and Sunday of the long weekend.
Festival regulars Brothers3, who appeared on the X Factor in 2014, performed at the Blue Water Country Music Festival first in 2010 while still school aged.
Headliners will be supported by well-known names including Allan Caswell, Bob Easter, Johanna Hemara, Sandra Humphries, Kathryn Jones, Troy Kemp, Amber Lawrence, Dianne Lindsay, Aleyce Simmonds, Gina Timms and The Viper Creek Band will stump up through the weekend.
This artist roster will be supported by the likes of Greg Bain, James Bennett, Chelsea Berman, Bowen & Clare, Sophia Chesworth, The Footloose Band, Jade & Willow, Finnian Johnson, Justess Jones, Mick Jones, Kim McKenzie, Karen O'Shea, Thor Phillips, The Rough Diamonds, Luke Schweizer, String Loaded, Cassidy-Rae Wilson and Bryen & The Bayou Boogie Boys, Coastal Bootscooters and Whistle Dizie.
Songwriter sessions will also run organised by the TSA (Tamworth Songwriters' Association) and bush poets Murray Hartin, Graeme Johnson, Bill Kearns, Peter Mace, Claire Reynolds and Kerry Sprigg will also appear.
Weblink – www.bluewatercountrymusic.com.
---
WEDNESDAY, JUNE 7, 2017
Chad bust unveiling
Unveiling of the Chad Morgan bronze bust will take place in Tamworth, Australia's Country Music Capital, this Saturday.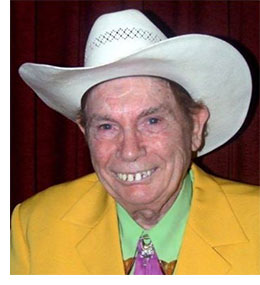 This unveiling is unique for a number of reasons... firstly the timing, as these ceremonies usually take place during the July Hats Off or January Tamworth Country Music events, and because this will be the first bust unveiling with the guest of honour present.
In the past, only Australian country music pioneers who were no longer with us were honoured with the special sculptures.
The historic event takes place in Bicentennial Park in Kable Avenue at 10.30 on
Saturday morning.
Chad will join eight of his country music mates (in order of unveiling) – Tex Morton, Buddy Williams, Stan Coster, Gordon Parsons, Barry Thornton, Shirley Thoms, Reg Lindsay and Jimmy Little.
The busts have been augmented in recent years with statues of the late Smoky Dawson and, more recently, Joy McKean and the late Slim Dusty which are all located in Tamworth's Peel Street, also known during January as "the boulevarde of dreams".
Saturday's ceremony includes the formal handover of the bust, produced from funds raised within the country music community, to Tamworth Regional Council. It was sculpted by Kate French.
Fundraising has already commenced for the next pioneer to be cast in bronze, Frank Ifield.
---
MONDAY, JUNE 5, 2017
Celebrating Slim Dusty Day
Next Tuesday – June 13 – is Slim Dusty Day with a number of special activities set to commemorate the birthday of Australia's King of Country Music.
It's 13 years since Slim died and this year, the question was asked "What Does Slim Dusty Mean To You?" A montage of messages was collected from friends, family and fans and compiled into a video created by media company Cadence Media. Click on the following image to watch the video.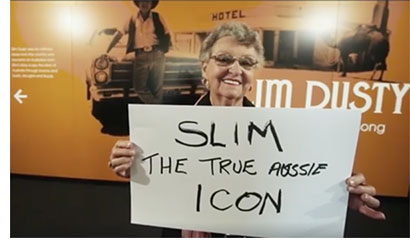 Rich Thompson, Director of Cadence Media, reflected on the process: "We saw how everyone responded to Slim Dusty – the man and his music – through social media, at the Slim Dusty Centre in Kempsey and in letters posted over the years. To celebrate and embrace this collective love and respect it needed to be a collaboration of music, vision, and messages. It was a privilege to be involved in this special tribute."
Following the launch of the video on Facebook, it received a strong global response.
Featuring vision from inside the Kempsey Slim Dusty Centre Museum at Kempsey (NSW), as well as messages from fans and personalities including the likes of Colin Buchanan, Troy Cassar-Daley, Beccy Cole, Pete Denahy, Ray Hadley, Lee Kernaghan, Brendan Nelson, Felicity Urquhart, The Wiggles and Warren H Williams, the video also includes some Kempsey locals who have forever embraced their local hero.
Messages from around the world are flooding in as people share their own story of Slim and can be added by clicking on the image above and viewing the video (viewers need to be logged in to Facebook to do so).
Another highlight of this year's celebrations will be the official launch of a new and exclusive Slim Dusty Movie Exhibition at the Slim Dusty Centre. This additional exhibition is dedicated solely to Slim and Joy McKean's ground-breaking 1984 docudrama The Slim Dusty Movie.
Only showing for a limited time, the new exhibition will feature props, costumes and memorabilia plus many previously unreleased/unseen behind the scenes images from the movie.
To further celebrate this year's Slim Dusty Day, EMI Music has released a special limited edition vinyl LP of Slim's 100th album Looking Forward, Looking Back. Originally released on CD and cassette, the album has been meticulously represented in the vinyl format for the first time ever with a special gatefold sleeve packaging.
Weblink – www.slimdustycentre.com.au.
---
SATURDAY, JUNE 3, 2017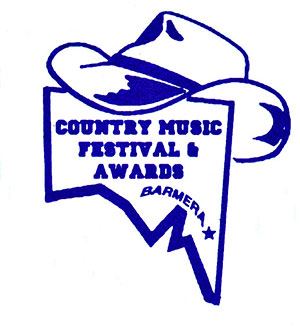 Riverland Festival in full swing
South Australia's Riverland Country Music Festival got underway yesterday and will run for through next week concluding on Monday June 12.
Around 5,000 visitors are expected to head to the region over the next 10 days for the annual event.
Almost 100 official events are listed on the program which comes to a head on the main final weekend.
Highlight activities will include Murray Mac's Campfire Concert, the SA Country Music Concert and the SA Country Music Spectacular.
New to the festival this year will be the Running of the Sheep, the first time this has been held during the festival as a precursor to the Barmera Sheep Dog Trials.
A full program can be obtained from www.riverlandcountrymusic.com.
---
FRIDAY, JUNE 2, 2017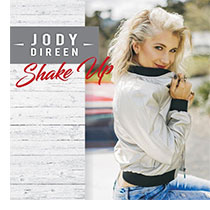 New Zealand Award winners
Jody Direen was named winner of Best Country Album with her latest work Shake Up at the New Zealand Country Music Awards in Gore last night.
Chester Travis was announced the winner of Best Country Song with Toothache.
And winner of the Songwriting Award was Mal McCallum with After The Storm; the runner-up being announced as Kaylee Bell with Mayday.
The New Zealand Gold Guitar Awards festival continues throughout this weekend.
Weblink – www.goldguitars.co.nz.